Your wedding invitation is one of the first glimpses your guests will see of what's in store for them on your wedding day. The invitation's primary purpose is to outline exactly where and when you're getting married, but it should also hint at your wedding aesthetic and reflect your everyday personality. If you're recently engaged, brushing up on the latest wedding invitation trends is a great way to discover what you do or don't like.
Below, we're sharing the wedding stationery trends that we expect to see everywhere in 2020 (you may already be familiar with some of them!) and a few new ideas to consider. Ultimately, your wedding stationer will be an expert source when it comes to choosing a design that captures everything you want, but you can also browse online stationery websites like Elli and Shutterfly to get even more ideas for your save-the-dates, guest book, menu cards, and thank you notes.
See the wedding invitation trends that will be sticking around for 2020.
Marbled paper
Marbled details have been trending in wedding decor and stationery for a few years, and this abstract pattern shows no signs of stopping in 2020. But instead of the popular gray and white swirls that resemble actual stone, the marble trend is transforming into a more colorful, tie-dye inspired look instead. (If you've ever made your own marbled paper in an arts and crafts lesson, you know what we're talking about.) We're predicting it to be one of the most versatile wedding invitation trends of the year, since you can customize the marbled pattern to match your wedding colors and use it for the entire stationery suite as an accent on insert cards or envelope liners.
Alternative materials
In 2019, we saw some amazingly creative ideas from calligraphers and wedding stationers who used non-paper materials for their designs, and it's a wedding invitation trend that will only gain popularity over the next year. From laser-carved wooden invitations to embossed leather menus, your wedding stationery is no longer limited to actual paper. The best way to embrace this trend is to focus on using something that complements your wedding aesthetic—for example, printing your menu onto a piece of linen cloth if you're having a rustic farmhouse wedding, or writing escort cards on palm leaves for a tropical theme.
Boxed invitations
If you're looking for a way to wow your wedding guests from the get-go, boxed invitations are sure to do the trick. While minimalist couples might want to skip out on this trend, boxed invitations are ideal for a very formal wedding or a glamorous wedding theme. Just remember that they'll require extra costs for packaging and postage, so be sure to factor that into your wedding stationery budget before committing.
Antique nature and botany illustrations
Wedding invitations with floral prints and greenery aren't news to us, but this up-and-coming trend takes the idea in a totally different direction. While we still love whimsical illustrated florals à la Rifle Paper Co., there's another way to give your invitation suite a garden-inspired vibe: antique botany illustrations. Wedding stationery designers and couples are pulling inspiration from old-fashioned illustrations that depict realistic portrayals of everything nature-related, from citrus fruits to the anatomy of a rose. (Imagine Victorian-era artwork you'd see in a fine art museum or an encyclopedia from the 19th century.) If animals are more your vibe, you can find the plenty of antique illustrations for those, too, including the famous bird paintings by naturalist John James Audubon.
Acrylic
Don't expect to see acrylic wedding invitations going away anytime soon. Left as-is, this clear material is chic and sophisticated, but you can easily personalize it by painting flowers or marbled colors around the text. If you don't want to use acrylic for your invitations, acrylic drink menus, escort cards, and table numbers are popular alternatives.
Vellum
Vellum, a translucent paper that's often used for place cards and invitation inserts, will continue to trend through 2020. No matter your style or budget, this slightly-sheer paper is an easy way to add texture and visual interest to your wedding invitations. Vellum brings a modern but soft vibe to any stationery suite, and it looks chic when paired with practically all types of embellishments, from metallic ink to elegant wax seals and bohemian greenery. Skip the standard card stock or linen paper and print your wedding invitations directly onto vellum for the trendiest effect.
Minimalist typography
After a whirlwind of romantic, swooping calligraphy for the last few years, minimalist typography is taking over as one of the biggest wedding invitation trends for 2020. Couples are opting for unfussy typefaces to create a streamlined, contemporary look. This trend feels ultra-modern when paired with a black and white color palette, but it's adaptable for essentially any range of colors.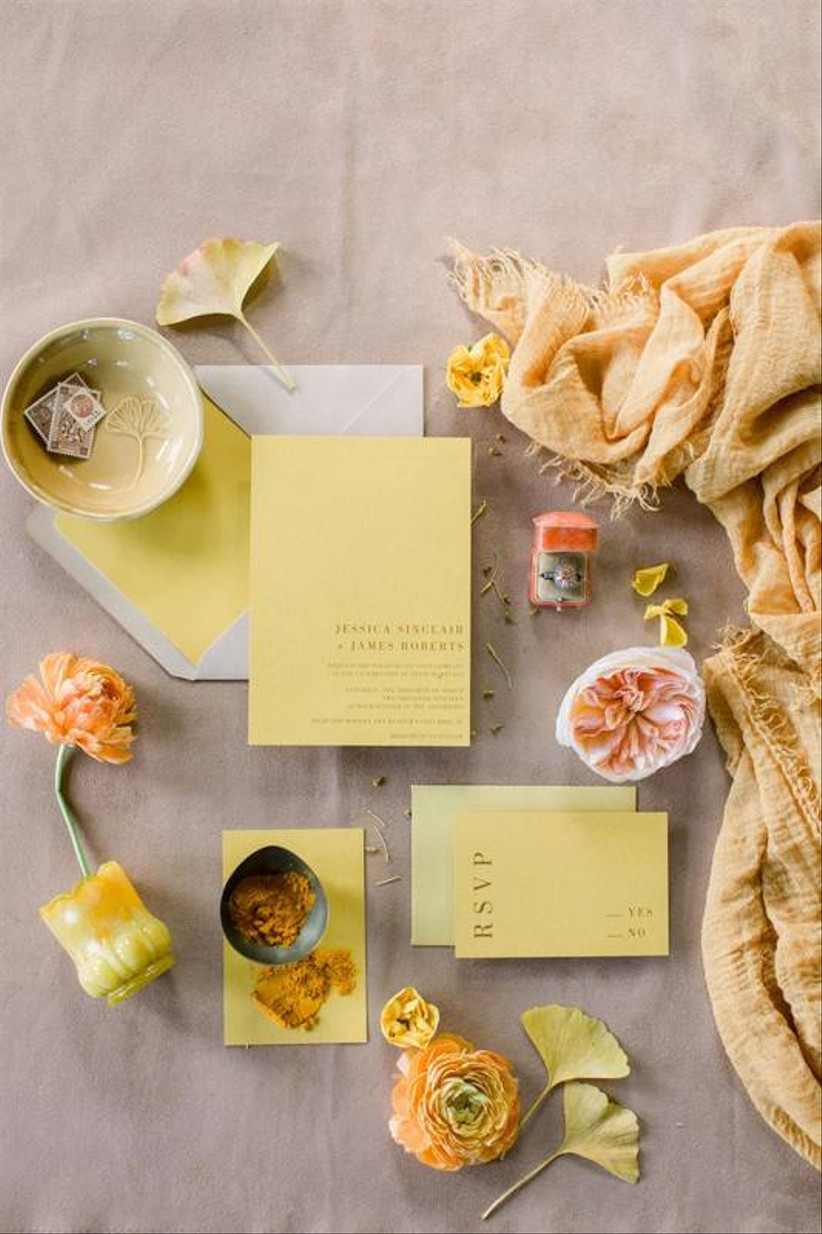 Full-color stationery
Speaking of color, bright hues will be making their return to wedding stationery throughout the year. Single-tone invitation suites (like the one pictured above) are one way to embrace the trend, but we're expecting to see multicolor palettes featuring all kinds of bold hues, including orange, fuchsia, green, and of course Classic Blue, the 2020 Pantone Color of the Year.
Venue illustrations
As the demand for bespoke wedding details becomes the new norm, invitations are following suit. Custom venue illustrations are one of the best ways to personalize your wedding stationery, and we're only expecting to see this idea flourish in the upcoming months. They're already a favorite for destination weddings, but even if you're getting married in your hometown, a custom illustration of your venue feels like a one-of-a-kind work of art just for you. Watercolor venue paintings are the most popular version of this trend, but you can also consider letterpress illustrations, graphite sketches, and even a metallic foil outline of the venue.
Disclosure: This post contains affiliate links, some of which may be sponsored by paying vendors.