The Biggest Wedding Invitation Trends to Expect in 2022
Whether you're looking for inspiration or just want to keep up with the latest styles, these are the top wedding stationery trends of 2022.
We have included third party products to help you navigate and enjoy life's biggest moments. Purchases made through links on this page may earn us a commission.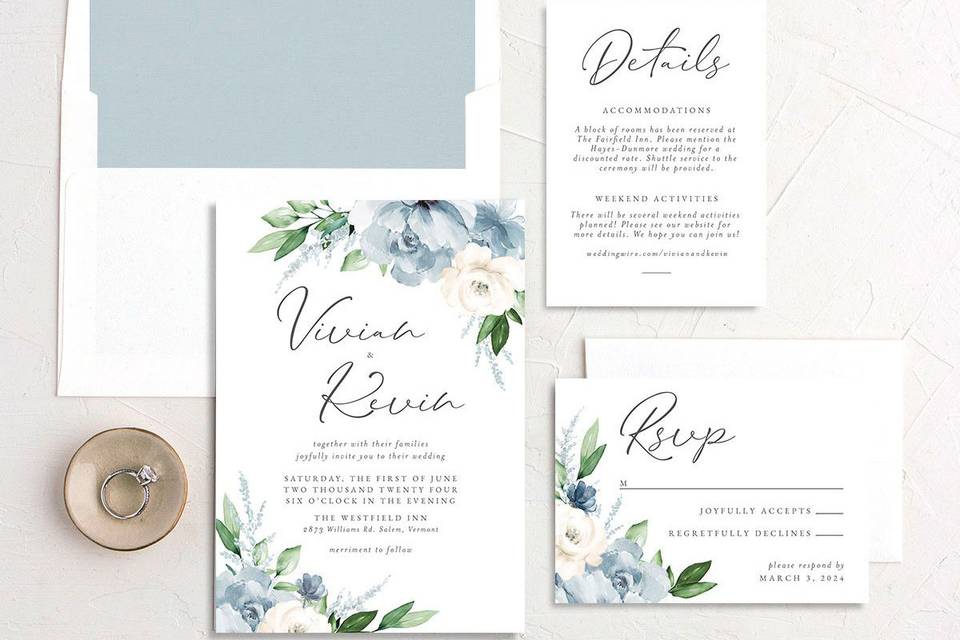 Your wedding stationery is the first official opportunity you'll have to share your unique love story with guests. Not only that, but the save-the-dates and invitations you decide on will really set the tone for your upcoming celebration—sounds pretty important, right? With all of that in mind, choosing the perfect stationery might feel like a lot of pressure. To help lighten the load, we're sharing the top 2022 wedding invitation trends that are inspiring couples right now.
From big pop culture moments like Bridgerton to overarching trends in the fashion industry (vintage is back, baby), there are so many things influencing wedding stationery design for 2022. Keep reading for all the creative ways couples are incorporating fresh ideas in their wedding paper, including QR codes, custom maps, and more. (And check out WeddingWire Invitations afterward to start designing your own—customization is free!)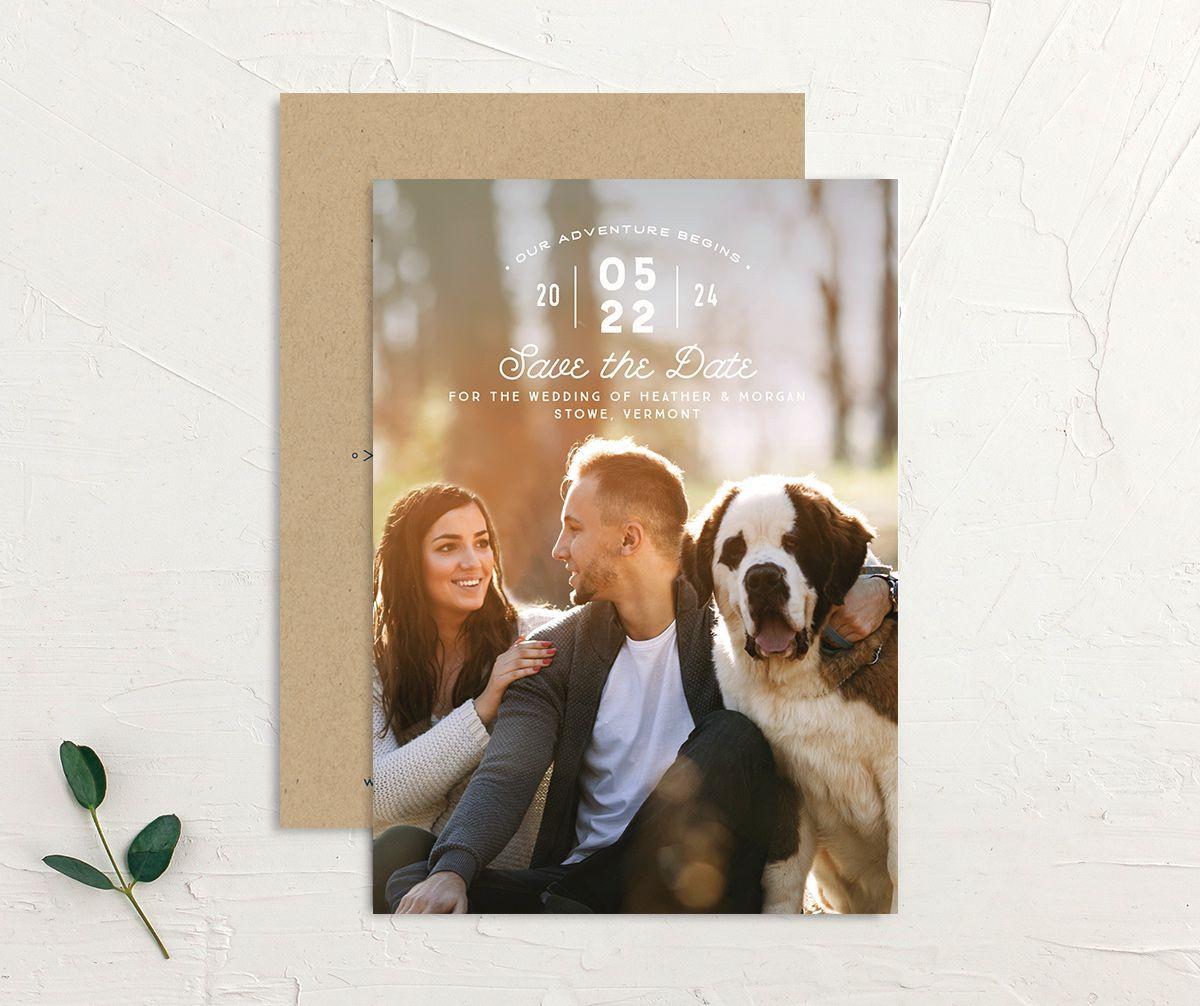 1. Highly Visual Save-the-Dates
Like we said before, save-the-dates are your first opportunity to show off who you are as a couple. One simple and effective way to do just that? Including a picture of you and your partner. Lately, more soonlyweds are opting for save-the-dates that feature an engagement photo, says Ashlea Demarest, creative marketer and stylist at Shine Wedding Invitations. But that's not the only route you can take: In recent years, illustrated engagement portraits have also been gaining popularity. Want to make your save-the-dates even more personal? According to our in-house team at WeddingWire Invitations, many couples also include pets in their chosen photos or artwork.
How to pull it off:
Most wedding stationery websites and designers can create photo save-the-dates (including WeddingWire Invitations). Just make sure you have your favorite engagement snapshot or couple's portrait on hand in high-resolution digital form. When it comes to illustrated artwork, your best bet is to check out the stationers in our vendor directory or browse options on Etsy.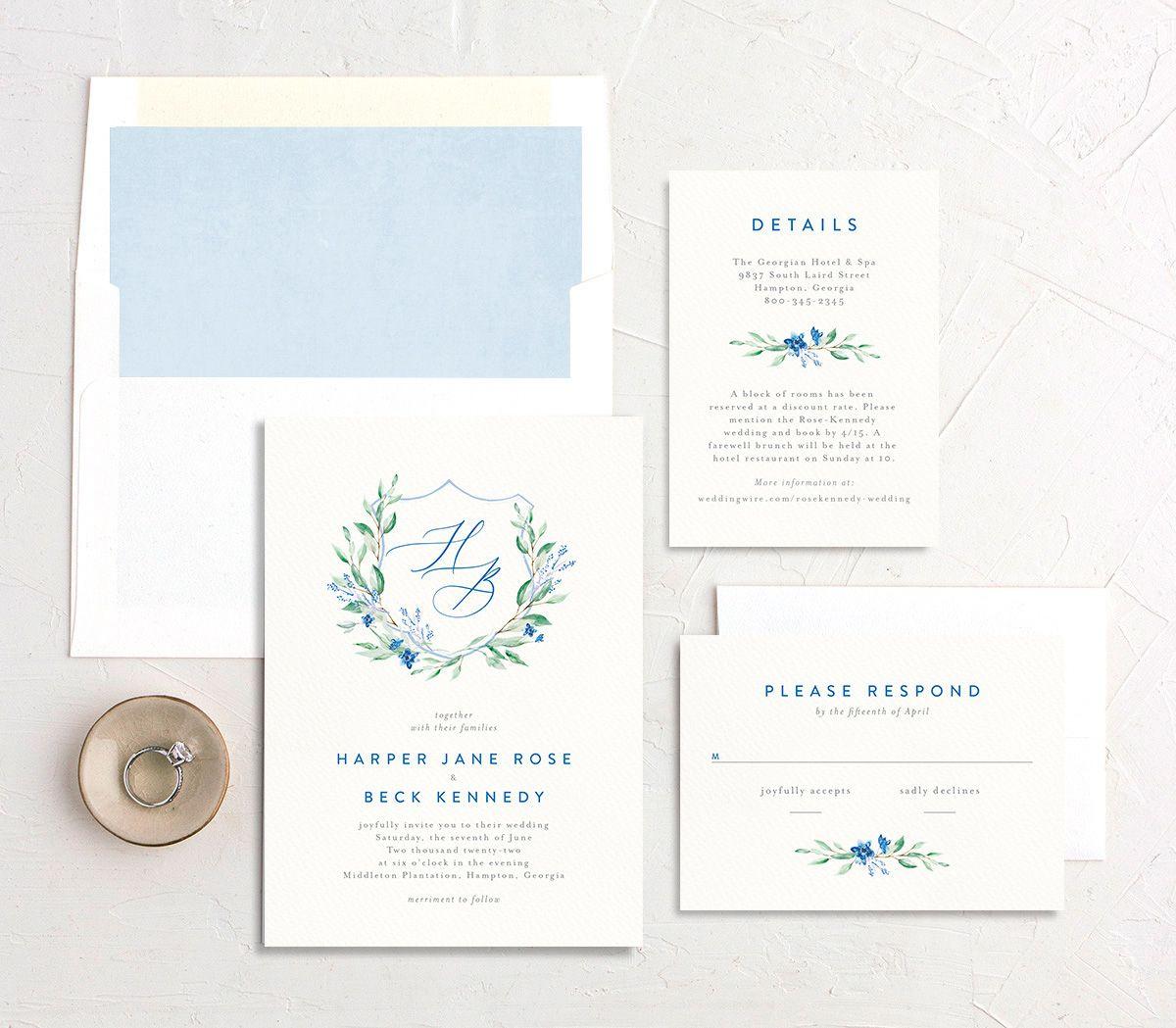 2. Vintage Influences
Wedding dresses aren't the only thing getting a vintage-inspired makeover in 2022. "We're seeing a resurgence in our light neutral colors, such as champagnes, dusty blues, and soft pinks," says Demarest. These pale hues give a nod to the Regency era (and, of course, our favorite Netflix hit, Bridgerton). Unsurprisingly, the show will continue influencing 2022 wedding invite trends—but that's not all. "Art Deco is popping and vintage styles are starting to kick off a trend with our customers," says the WeddingWire Invitations team.
How to pull it off:
Think about which era best reflects your preferred wedding style and season. For example, the signature pale blues, purples, and yellows of the Regency era are perfect for a romantic spring soirée. On the flipside, Art Deco's rich, metallic hues suit an upscale winter wedding—and they're among the trending colors couples are planning to incorporate in 2022.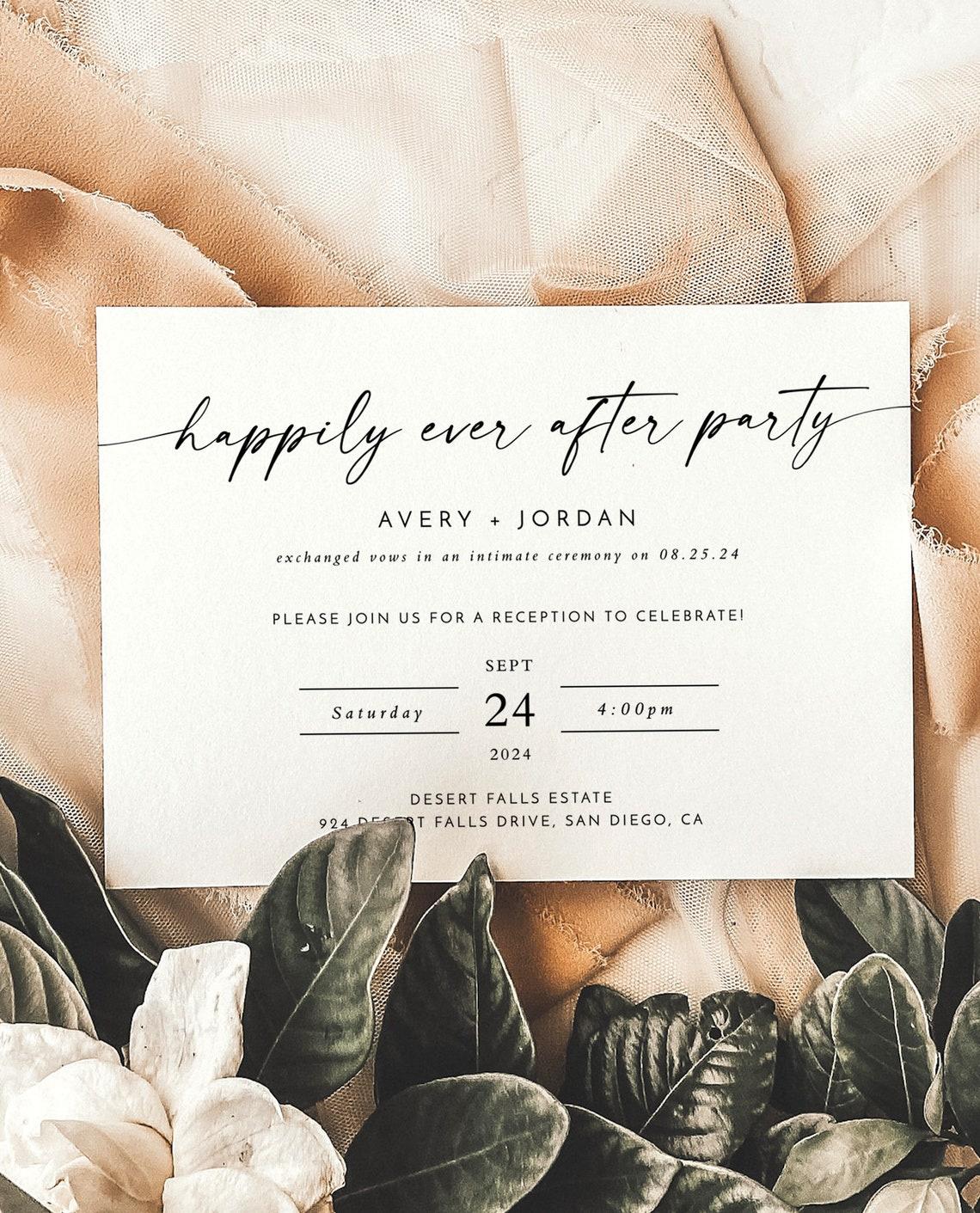 3. Reception-Only Invitations
Intimate wedding ceremonies were the norm in 2020 and 2021, but now, many couples are once again starting to think about celebrating with all of their loved ones. With a brand-new type of celebration (hello, anniversary receptions) comes the need for some cool new stationery. Reception-only invites are a new trend in wedding invitations that we expect to see a lot more of in 2022 and beyond.
How to pull it off:
Work with your chosen stationer (or take advantage of the free design assistance at WeddingWire Invitations) to adjust the messaging on your invites. There's no reason why your favorite wedding invitation style can't work as an anniversary reception invite.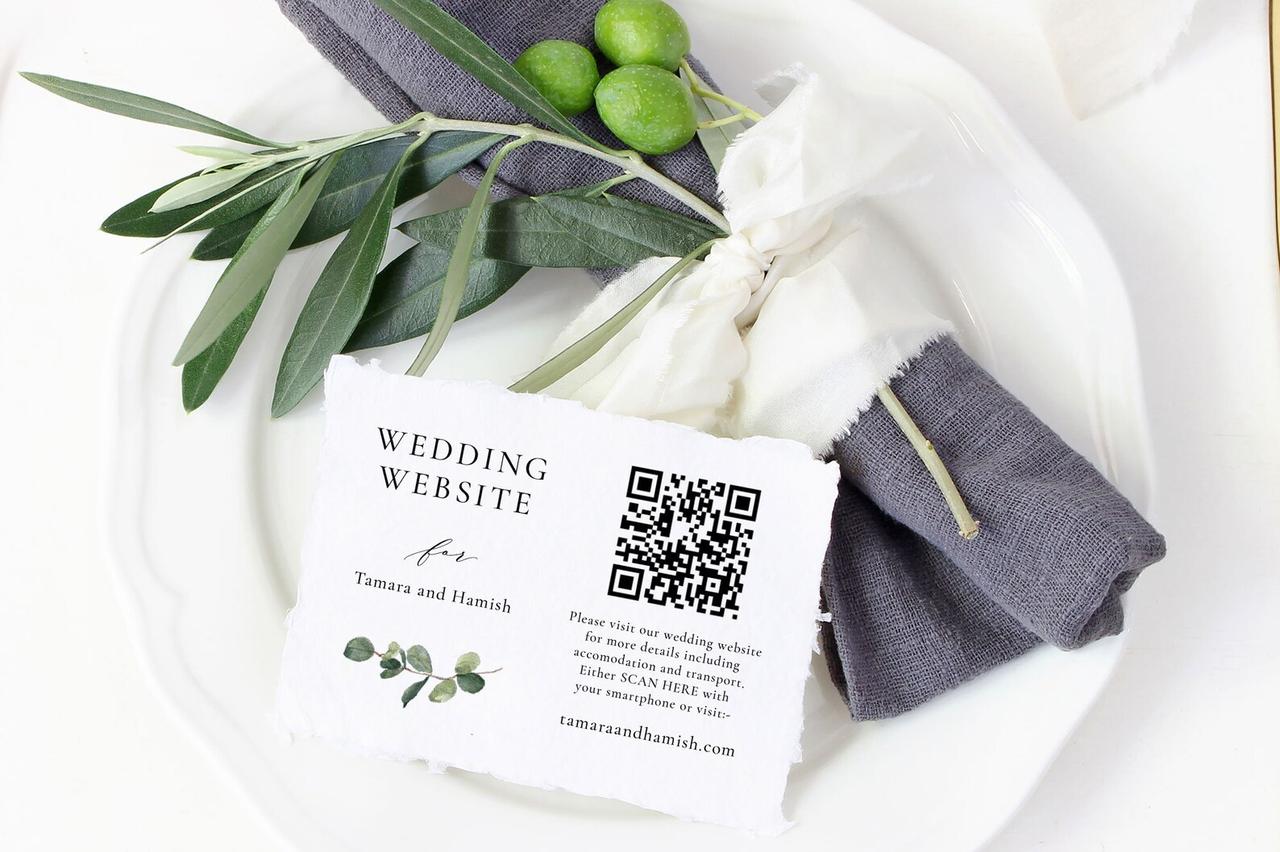 4. QR Codes on Enclosure Cards
The need for quick and easy contact with guests means that wedding websites are more important than ever. "Almost all of our couples include on their details card their URL and RSVP information," says Amy Edwards, who oversees marketing and sales at The Copy Shop. But including a printed URL on an enclosure card isn't the only way to share your website with guests. "We have even had couples incorporate unique QR codes for their wedding RSVPs and registries," Edwards continues. This trendy new feature means that guests can conveniently access your wedding website or registry with their smartphones.
How to pull it off:
There are websites online that allow you to create your very own QR code. From there, you can work with your stationer or the design team at WeddingWire Invitations to incorporate it into your stationery. Some couples choose to include a QR code on response cards as a streamlined way to collect RSVPs, while others include it on a details card to direct guests to their wedding website or registry.
5. Relaxing, Natural Hues
We predict that the most popular wedding invitations in 2022 will feature relaxing, nature-inspired hues. Both soft, natural tones (like tranquil blue) and more lively nature-inspired shades (think: celery juice green) are on the rise. The WeddingWire Invitations team also called out everyone's favorite soothing scented bloom—lavender—as a trending color. Earthy, nature-inspired tones are proving popular too, says Demarest. These warm, neutral colors evoke the same sense of calm and relaxation many of us have found through connecting with nature.
How to pull it off:
Play around with different colors to suit your wedding season. Soft shades of blue look especially on-theme for your wedding stationery during winter and spring, while vibrant greens stand out in the summer. For fall, turn to those rich, earthy hues in shades of brown and red.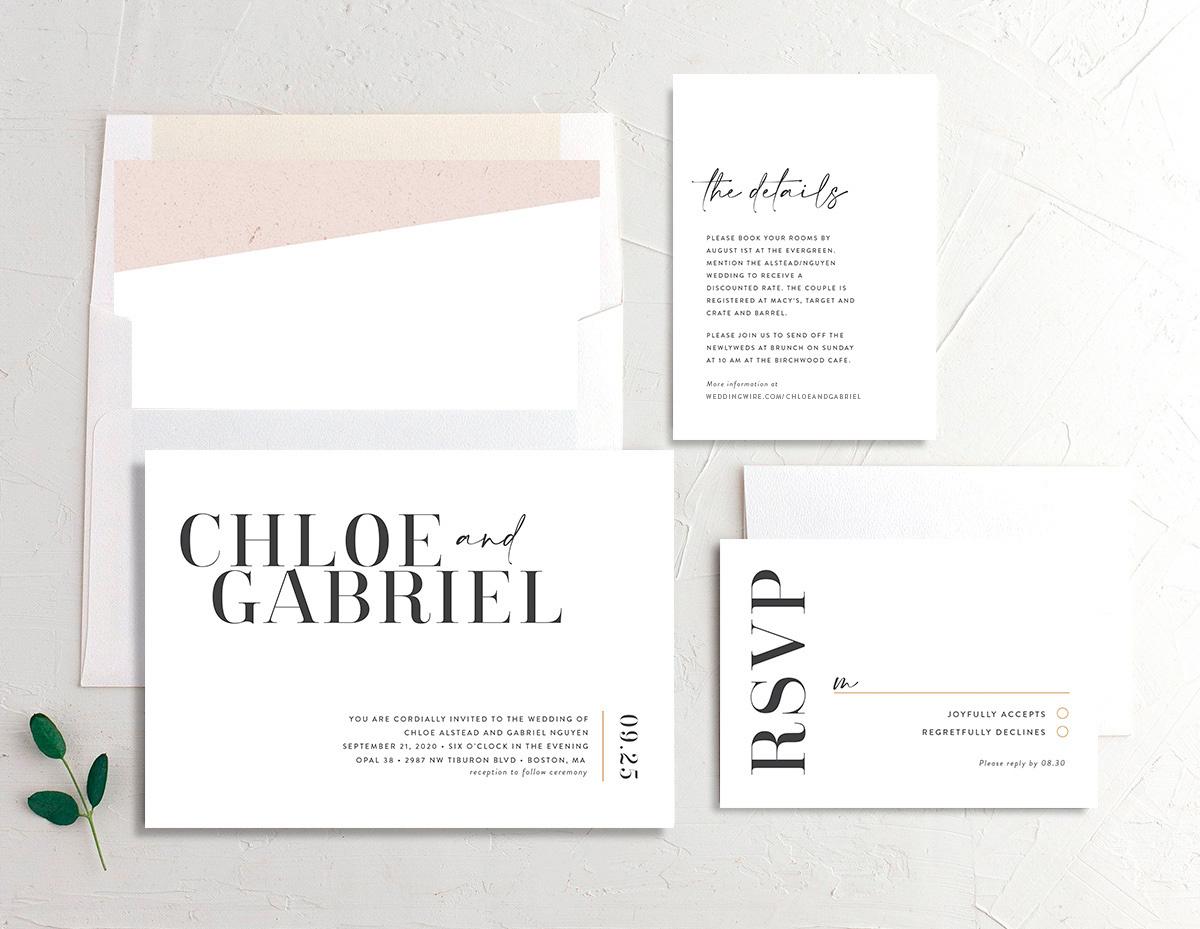 6. Minimalist Suites
There are a few reasons why minimalist wedding stationery is a trend that won't be going away anytime soon. For starters, the simple typography makes communicating important information (think: health and safety guidelines) a whole lot easier. Additionally, the clean, contemporary style ties in beautifully with the intimate and understated celebrations we've seen throughout the coronavirus pandemic. Expect to see minimalist wedding cards continuing to trend in 2022 with neutral color schemes and simple fonts.
How to pull it off:
You know what minimalistic stationery designs typically look like: white paper with spaced-out black text. We love a simple black and white stationery suite, but there are ways to put your own spin on this trending aesthetic. Play with different fonts, colors, and designs for a personal touch. Or, flip the text so it's on its side for an unexpected detail. Collaborate with a professional stationer or find the right design online (WeddingWire Invitations has numerous options for you to choose from).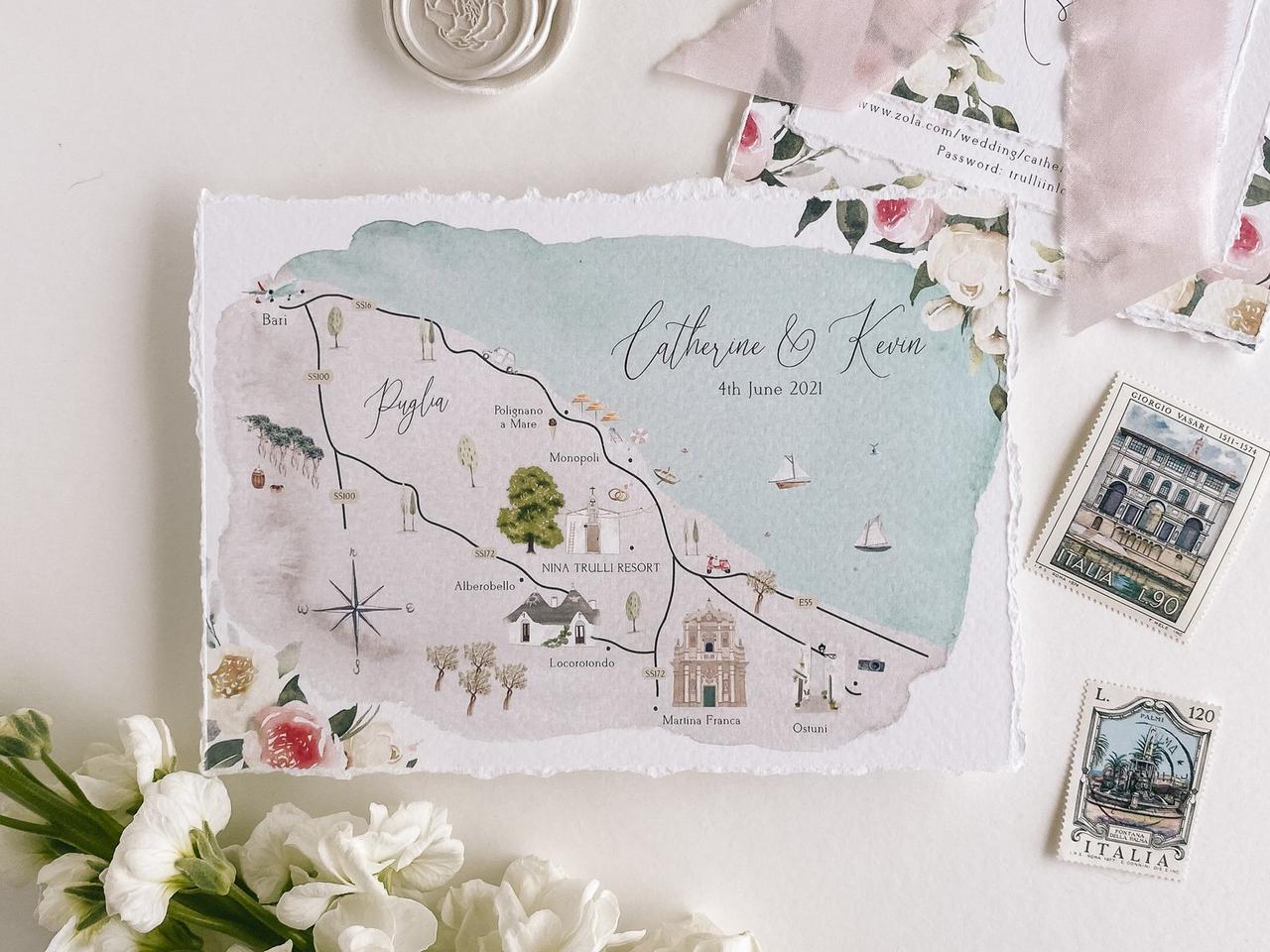 7. Custom Maps
There are so many ways to put a fun, personal spin on your wedding stationery. "Lately, we've seen couples requesting maps for their guests," says Demarest. If you're having a destination wedding or hosting out-of-town guests, providing a map of the area in a welcome bag isn't just a nice touch—it's also another great opportunity to tell your love story. You can include cute personal details as well as the need-to-know locations.
How to pull it off:
Lots of stationery designers offer custom maps illustrating the town in which you're getting married, highlighting your ceremony and reception venues, as well as any favorite local spots you'd like to share with your guests. Think about adding meaningful locations or landmarks to the map, like the restaurant where you had your first date or where your proposal took place.
8. Eco-Friendly Stationery
More couples are consciously planning their nuptials with the impact on the environment in mind. If minimizing your carbon footprint when planning your wedding is a priority, you can be thoughtful about the type of paper you use for your wedding stationery. It's easier than ever to find stationery designers who use post-consumer recycled paper, seed-infused paper, and plant-based paper.
How to pull it off:
WeddingWire Invitations offers the option to print any of their designs on recycled paper. Minted also offers pages of designs that can be printed on post-consumer recycled paper, while Etsy has loads of seed-infused paper options. Couples can also opt for paperless wedding stationery, particularly when it comes to items like RSVP cards and rehearsal dinner invitations.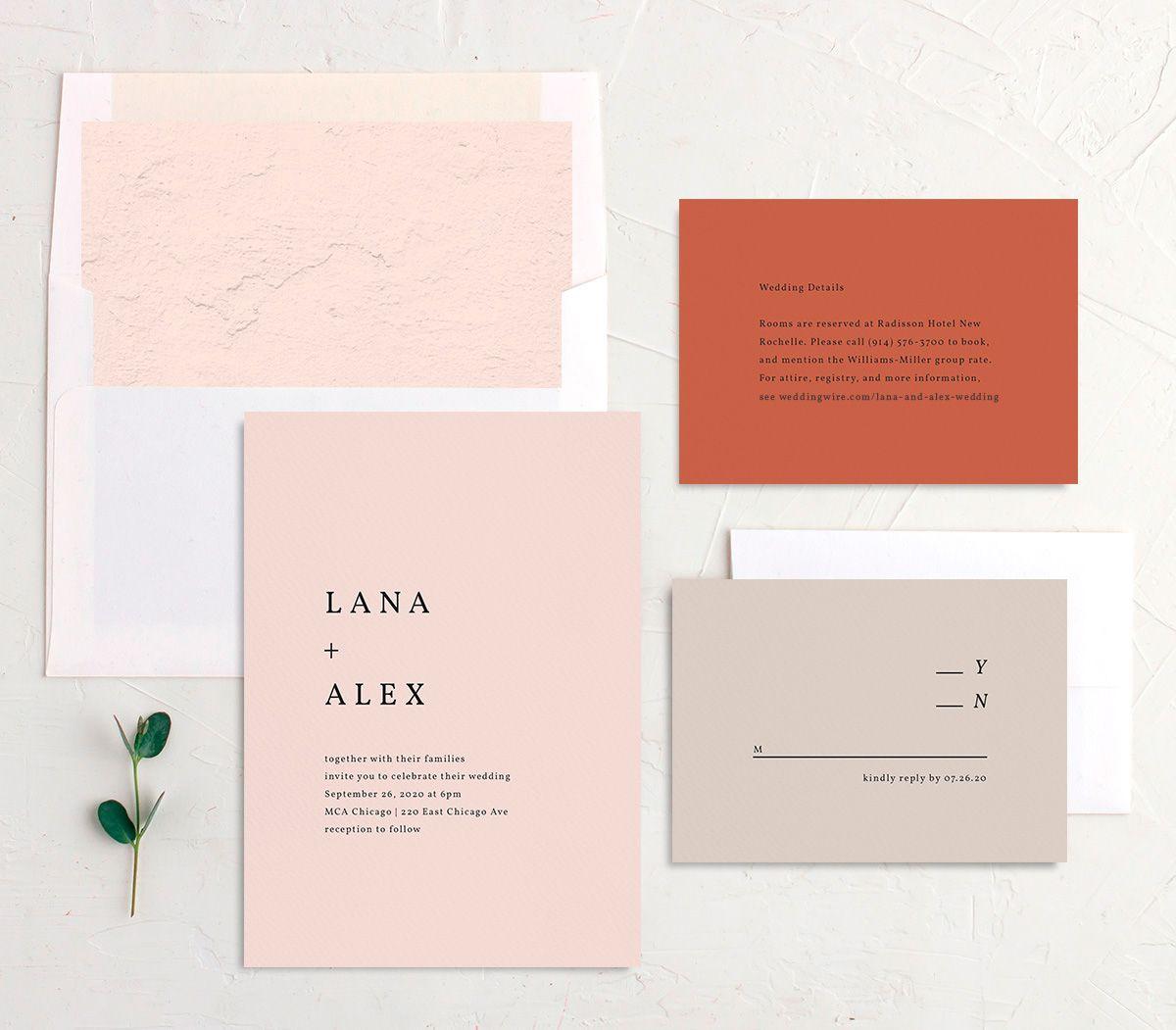 9. Streamlined Typography
While calligraphy can add an elegant and romantic touch to your wedding stationery, many couples are forgoing this traditional typeface in favor of simple, easy-to-read fonts. Typefaces such as block lettering and sans-serif fonts are no longer reserved for the modern and minimalist. Look out for this trending typography on all kinds of wedding invitations, from vintage and bohemian styles to elegant and whimsical designs. Not only will it allow guests to easily read your wedding details, but it'll give your invites a clean, streamlined look.
How to pull it off:
Don't feel limited to modern or minimalist designs. Nowadays, couples are using simple serif-style fonts on many different styles of stationery. Some soonlyweds even choose to mix and match, with their names in a traditional calligraphy font and the rest of the details in clean serif.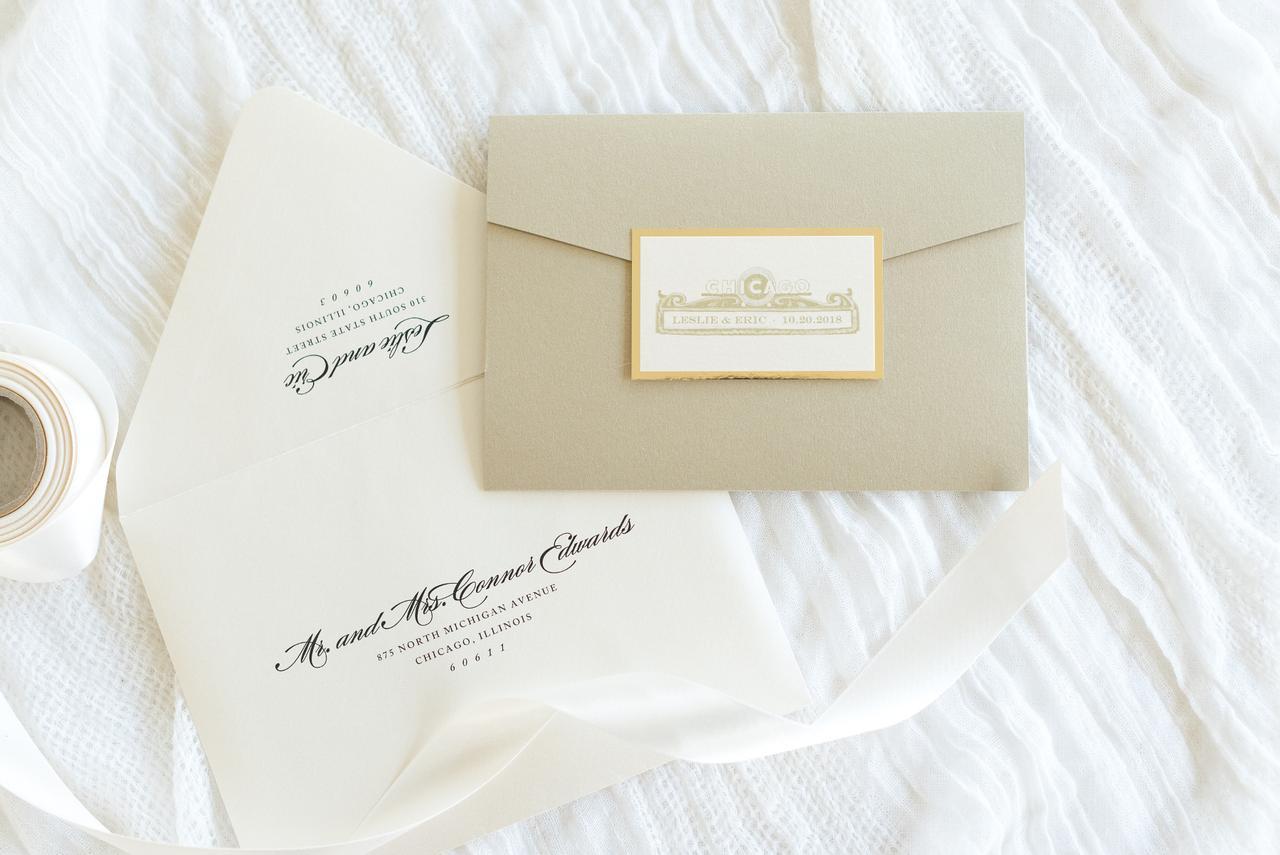 10. Inclusive Etiquette
Wedding stationery has been around for a very long time, and that means it's time to rethink any traditions that may feel outdated or exclusionary. For example, traditional wedding invitation etiquette states that a married couple should be addressed with the same last name, with the titles "Mr." and "Mrs." But keep in mind that many people choose to keep their own last name, and some people identify with the gender-neutral title "Mx." As such, many couples are asking guests for their last names and titles when they collect addresses. That way, they're able to respect their guests and make them feel welcome at the wedding. This inclusivity isn't just a trend for 2022—it's a change that we're going to see from now on.
How to pull it off:
As mentioned above, collect all the information you need when you're requesting addresses. Ask for guests' last names and titles so you have all the information you need when it comes time to send out your save-the-dates and invitations. Another idea is to skip using titles altogether if you feel comfortable doing so.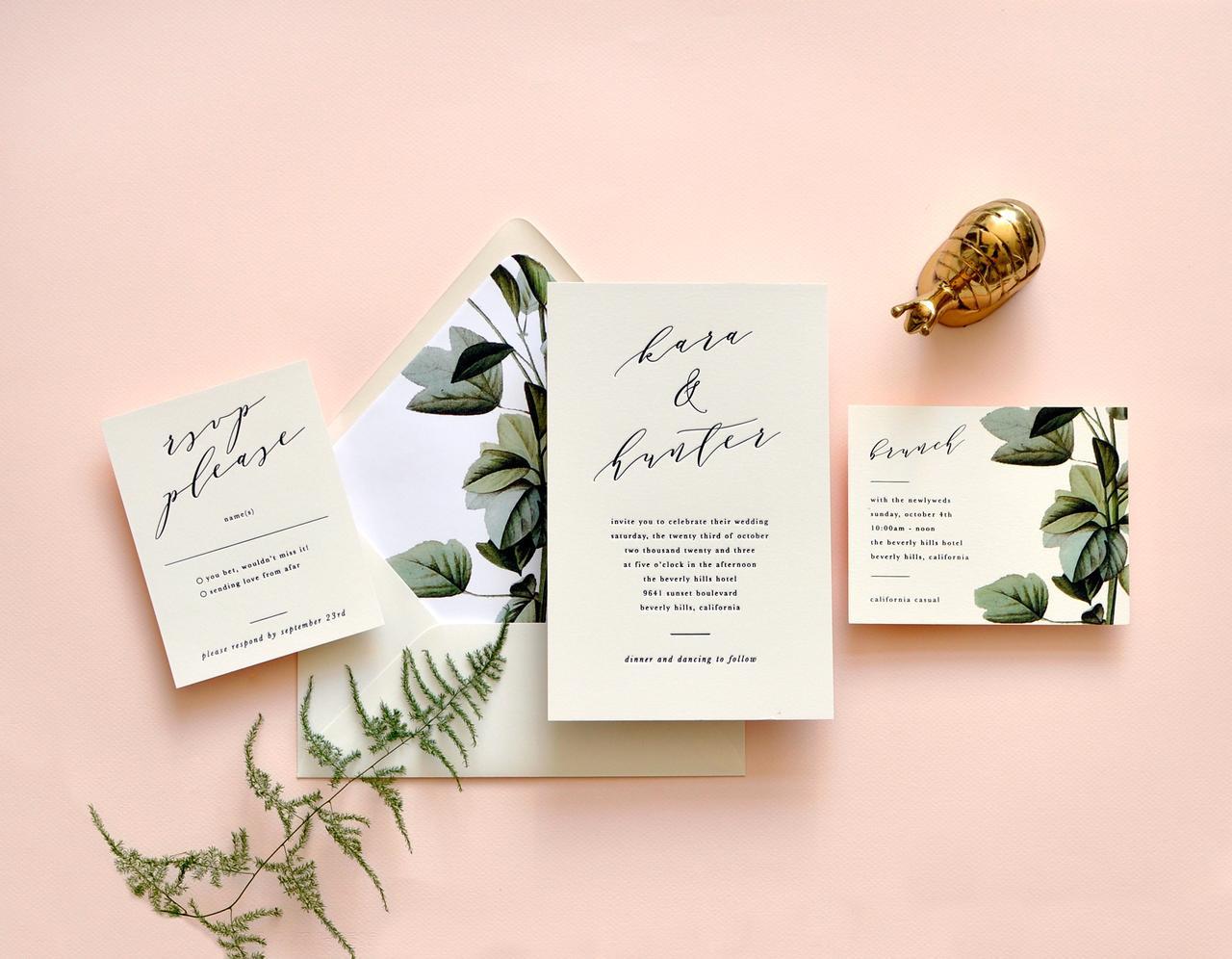 11. Conscious Shopping Practices
One thoughtful way couples are curating their special day is through the vendors they choose to work with. More and more soonlyweds are hiring wedding professionals who align with their own values. For many, this means supporting small and minority-owned businesses—including stationery designers and calligraphers. "We are seeing a huge shift in which vendors couples are choosing to work with and support, as small businesses in the wedding industry attempt to recover from the pandemic," says Demarest. This meaningful trend of thoughtfully purchasing wedding stationery is one we expect to see in 2022 and beyond.
How to pull it off:
Our vendor directory is chock-full of amazing small businesses who specialize in wedding stationery. Search by filters that align with your values, such as LGBTQ+-owned businesses, woman-owned businesses, and Black-owned businesses.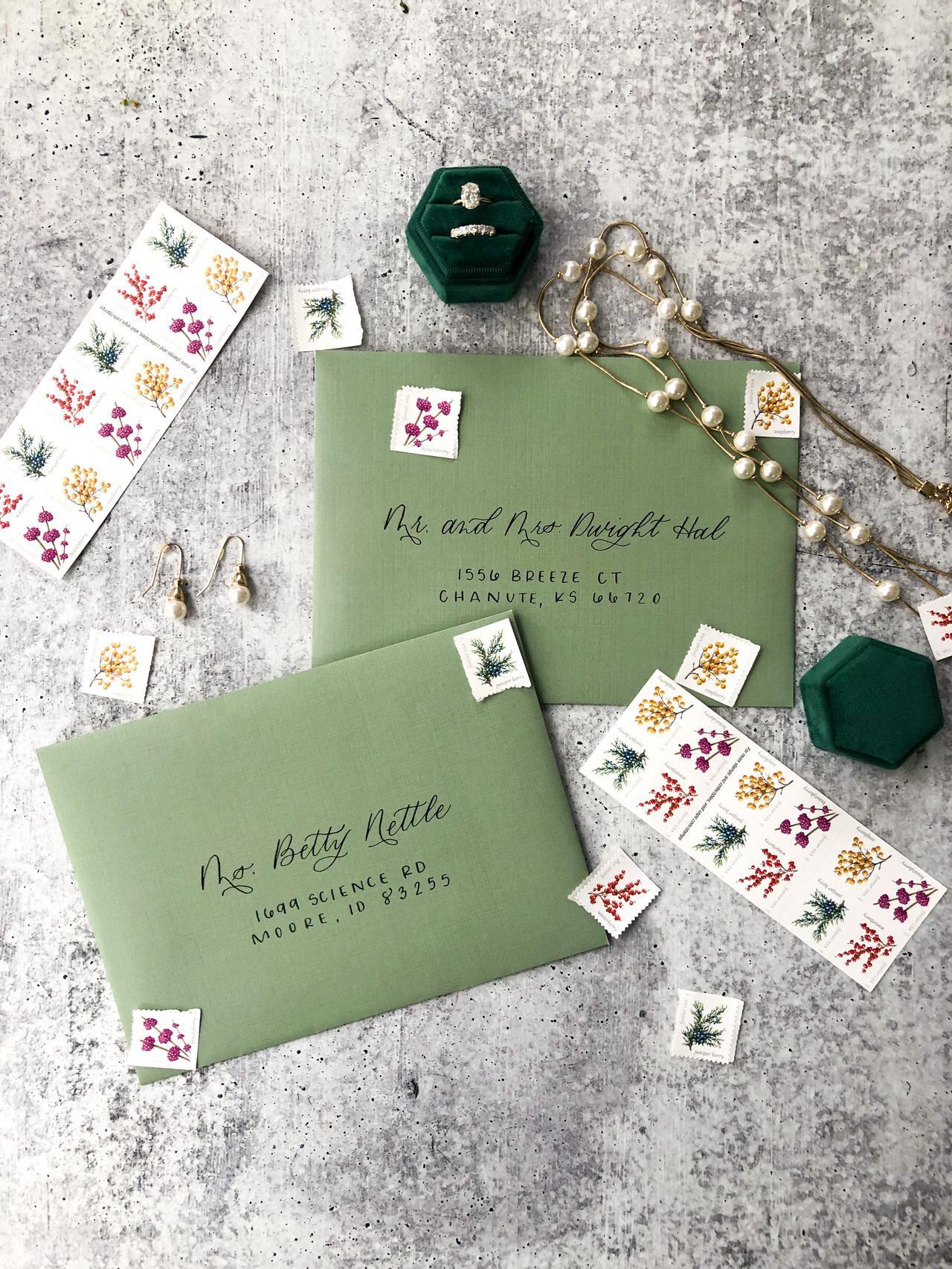 12. Eye-Catching Envelopes
While minimalist invitation styles continue to fly off the shelves, couples are going all out on one particular detail: their envelopes. Edwards says that to-be-weds are gravitating toward statement color envelopes as opposed to traditional, neutral styles. Choosing an eye-catching envelope for your invitations has one big advantage: It'll stand out in your guests' mailboxes. There's no quicker way to garner their excitement than adding a bright, colorful envelope to their usually monochromatic mail stack.
How to pull it off:
You don't need to have over-the-top wedding invitations to go with statement envelopes. Choose a color that appears minimally on your stationery (or that complements your stationery) and run with it for a bold but cohesive design. Or, if you'd rather keep things a little more low-key, choose a colorful or printed envelope liner instead.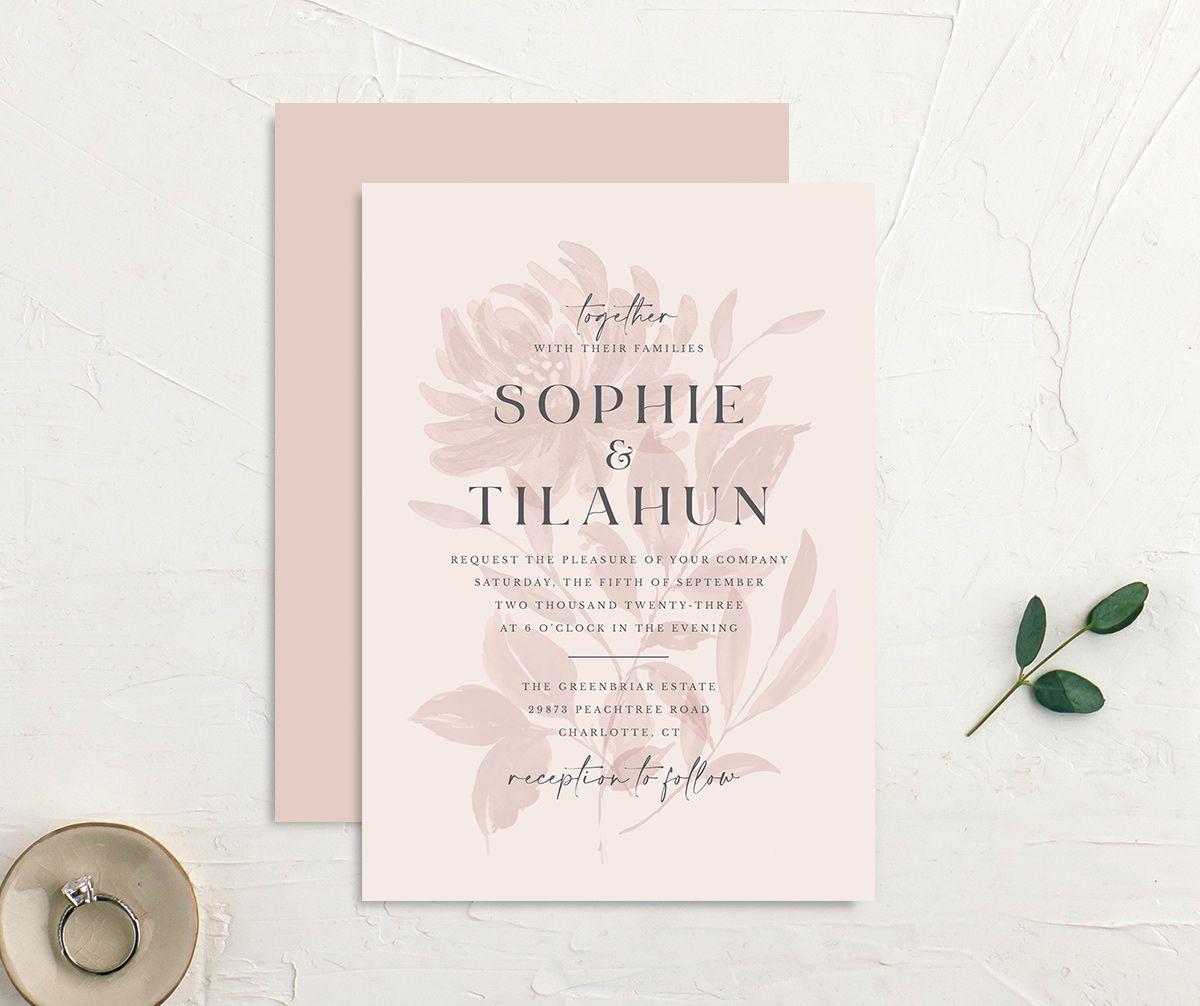 13. Eclectic Styles
Your love story is truly one-of-a-kind, and you deserve one-of-a-kind invitations to match. If deciding on a singular style feels limiting to you, we've got good news. Some of the best wedding invitations in 2022 will seamlessly combine multiple style elements. In addition to couples pairing simple serif fonts with classic calligraphy, you can expect to see invitations that feature traditional, formal wording in a nontraditional typeface. Fonts aside, Edwards reports seeing wedding stationery with both Victorian and bohemian influences. Long story short: You don't have to rely on a single style or theme to get your love story across.
How to pull it off:
As long as you have a solid idea of the styles you're interested in, your chosen stationery designer should be able to work with you to bring your vision to life. WeddingWire Invitations' free design assistance also comes in clutch here. You can make personalized tweaks to your favorite stationery design, such as switching up the font and color scheme.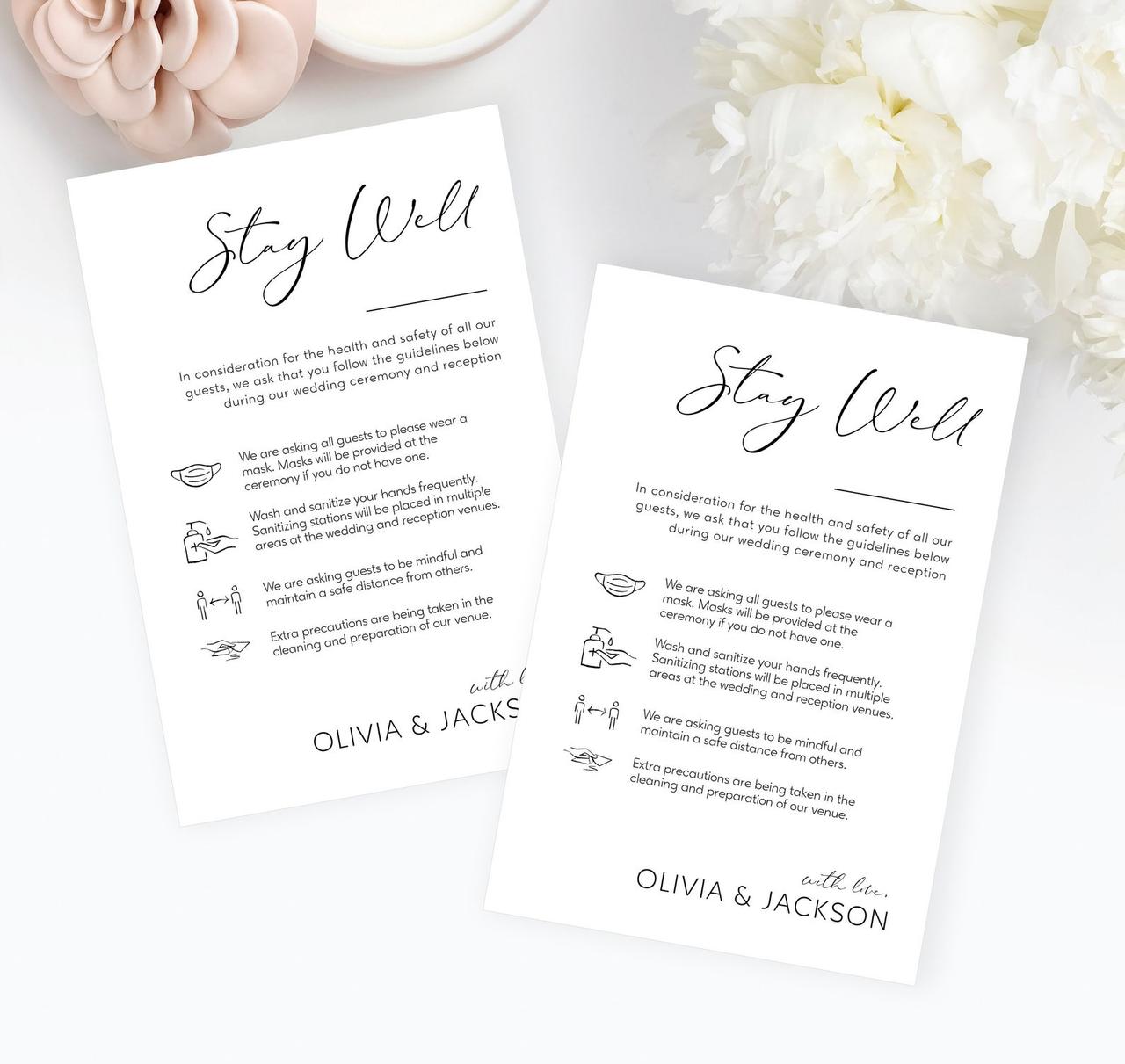 14. Health and Safety Insert Cards
In response to the coronavirus pandemic, couples are investing in stationery now more than ever to clearly communicate with their guests. Enclosure cards highlighting health and safety precautions are set to be a big trend in 2022 as couples continue to carefully celebrate their love. In addition to having specific details cards, to-be-weds will continue to update guests with health and safety information as needed on their wedding websites.
How to pull it off:
Think about what your guests need to know ahead of your big day. If proof of vaccination or face masks will be required, a health and safety enclosure card is a great place to share this information. You can also use your details card to reassure guests that their safety will be prioritized.