Your wedding invitation is one of the first glimpses your guests will see of what's in store for them on your wedding day. Will it be formal or casual? Will it be during the day or at night? Is there a theme for what they should wear?
In addition to the who, where and when, couples can personalize their wedding invitations by choosing a color, motif, details, and perhaps adding some 2019 wedding invitation trends that complement the rest of your wedding's decor and the location or venue. Work with your stationer to create a look that reflects your wedding-day vision. And don't be afraid to mix and match printing methods to help with the final cost.
Discover some of the hot new wedding invitation trends for 2019 straight from the National Stationery Show.
Designs with Maps
Geography is an easy way to personalize a wedding stationery suite by showing where the wedding will be held, where the couple is from or to share all the events over the wedding weekend. Maps can be minimal in design or elaborate and detailed, as shown in the Kari Minnesota suite by Ginger P. Designs. The Minnesota die-cut card has an illustrated map on one side and wedding and accommodation details on the back. $7.95 per set for 100 invitations, outer envelope, die-cut double-sided maps insert card and reply card set.
In addition to a design element on the invitation, a map can also be your wedding's theme with map details shown on coasters and cocktail napkins at the bar, welcome bags, wedding favors and even pillows to decorate a lounge area.
Navy
As the new black, couples are turning to navy for a formal but modern design—and this deep blue hue is definitely one of the top 2019 wedding invitation trends. Navy will look lovely for a black-tie wedding as well as a waterfront affair at a club or on the sand. The Peony design by Haute Papier mixes classic navy with gold in several ways. The fold out invitation has a navy floral pattern with metallic accents and wording. The other pieces in the suite include a navy and white chevron pattern, navy paper with gold wording and a peony, and navy calligraphy. $2,825, 100 fold-out invitation, outer envelopes, reply cards and reply card set. Calligraphy cost not included.
Mixed Metals
Metallics have been popular in wedding décor for the past year or two and as event designers are beginning to mix metals in décor details, stationers are beginning to mix metallics in wedding invitations and stationery designs. Mixing metallic hues like gold, silver, and copper is one of the top wedding invitation trends for 2019. The geometric Facet design by Bella Figura combines rose gold and rust with blush. $2,525, 100 invitations, outer envelopes, reply card and envelope.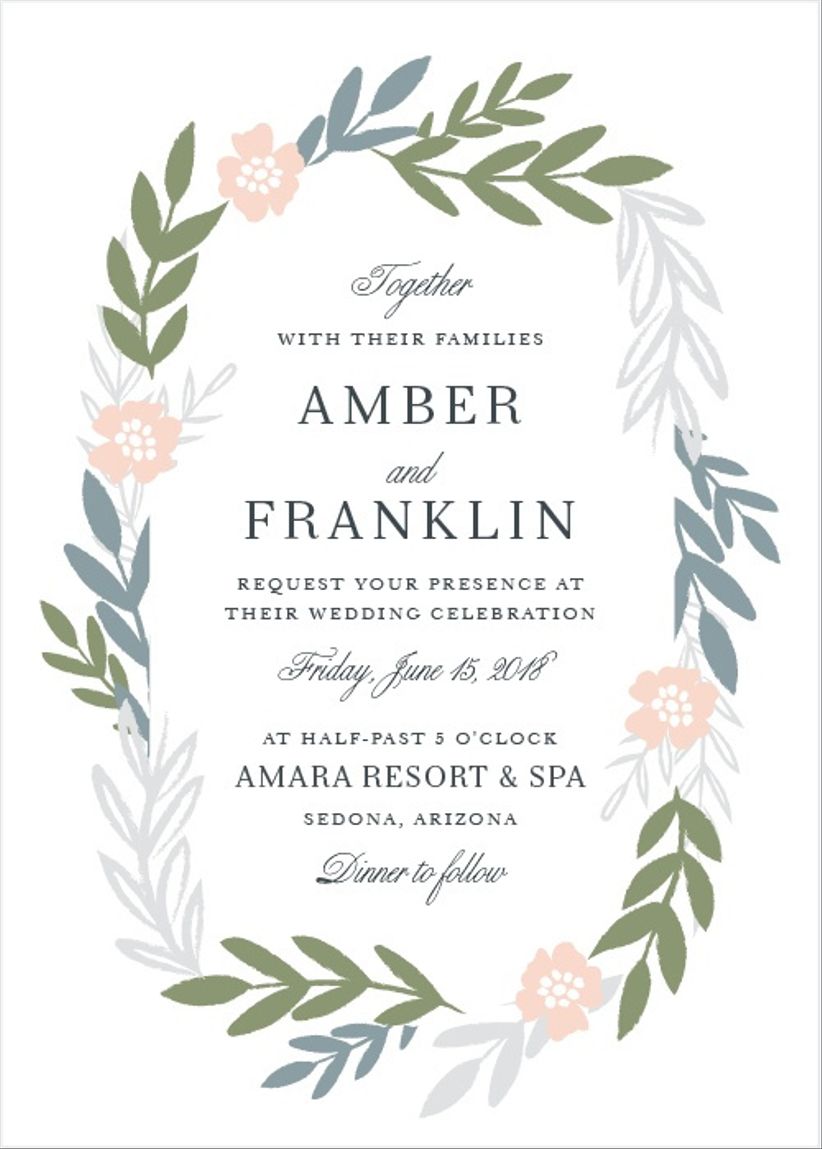 Garlands or Wreaths
No longer limited to tablescapes and doors, a floral garland or wreath can grace your wedding invitation in a variety of blooms and colors. The Glimmering Garland Wedding Invitation by Basic Invite has a green, pink and grey floral frame that encircles the wedding invitation wording. Couples can customize the design by selecting square, rounded, bracket or ticket paper shapes. Starting at $203, 100 invitations and white envelopes with various customization options available.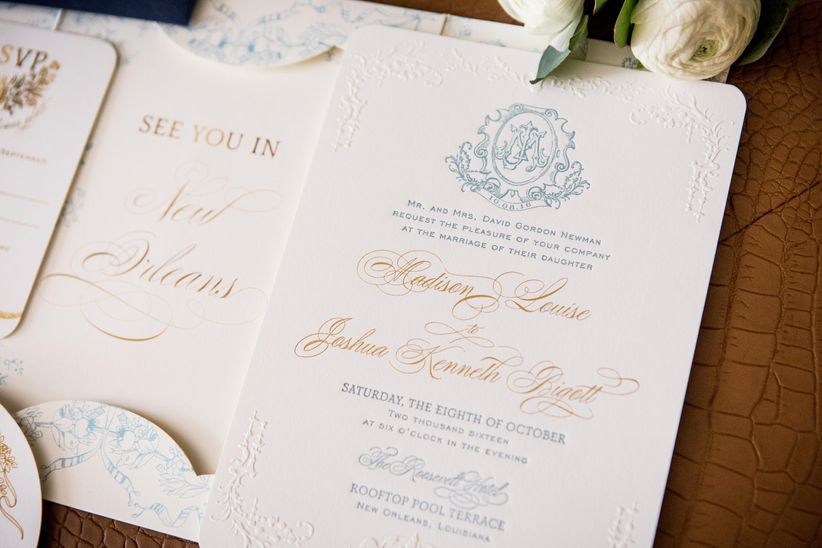 Interlocking Monograms
Monograms are a classic wedding detail that can be created in a variety of ways. You can use your married last name initial for a one-letter monogram, your first initials for a two-letter monogram or your first initials and married last name initial for a three-letter monogram. Then there's the font style – cursive or bold – with or without an icon or imagery and of course the color!
To update a traditional design to fit 2019 wedding invitation trends, choose a style that connects the letters: an interlocking monogram. This custom wedding invitation design by Nico and Lala features a bold, decorative letterpressed monogram that includes the wedding date within the flourished frame. The couple's name is in gold foil and an embossed floral motif adorns the edges. $28 per set for 100 invitations, outer envelope and reply card set.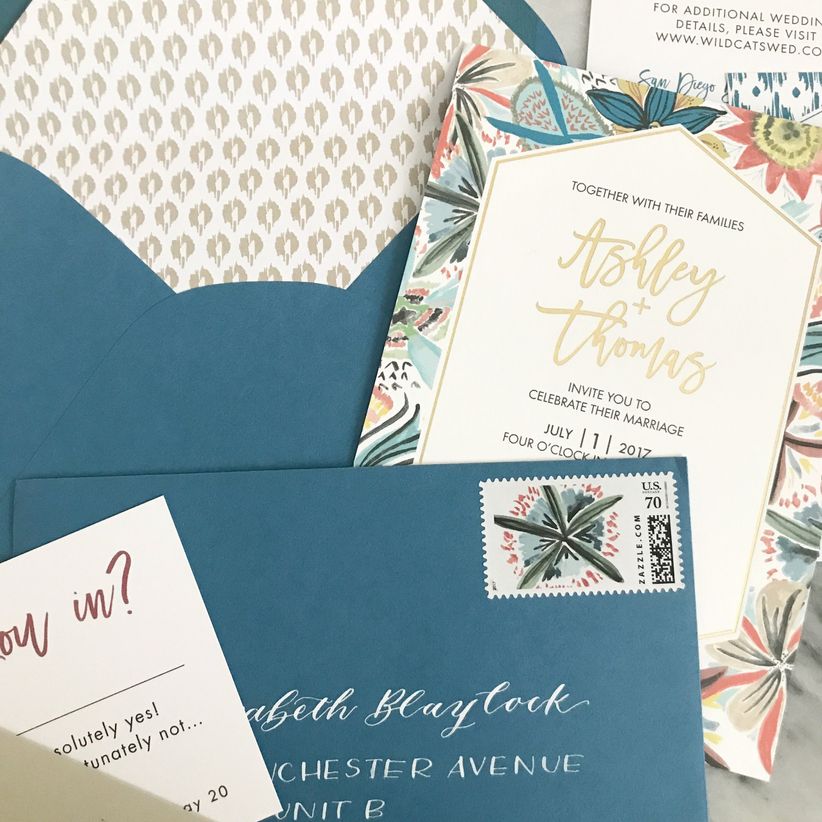 Watercolor
A watercolor wedding invitation can include a painting of the wedding venue or imagery that reflects the wedding's destination, the wedding's theme or the couple. The Mod Floral Watercolor design by Design by Laney has a watercolor border that complements the location of the wedding with matching insert cards, envelope liner and customized stamp. $1,200, 100 gold-foil invitation, outer-envelope and reply card set.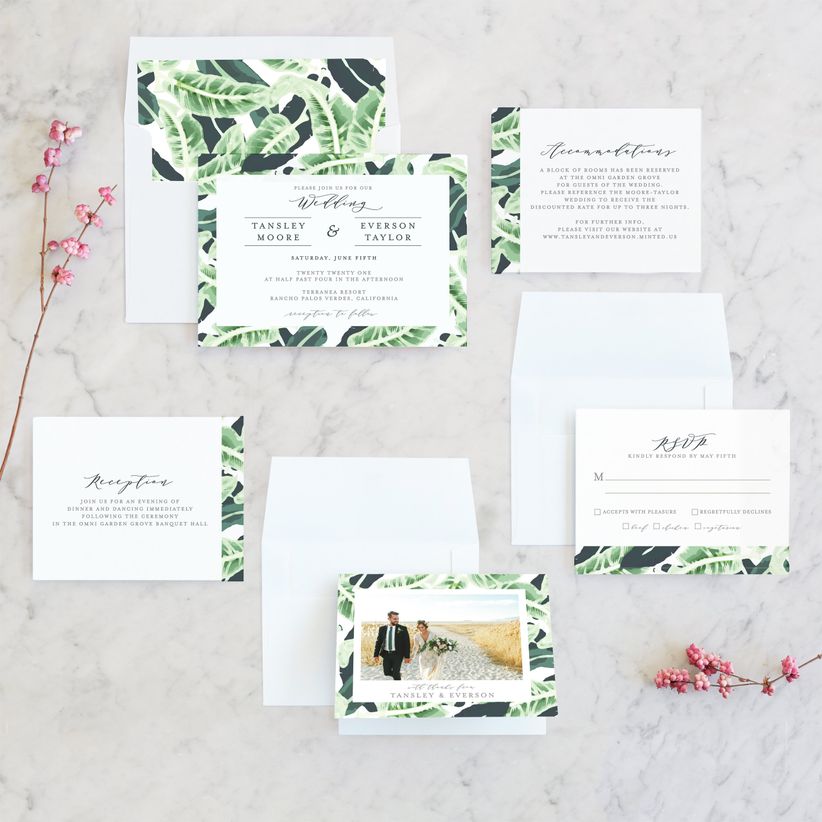 Greenery or Nature-Inspired
Look beyond flowers for nature-inspired wedding invitation designs. Leaves and greenery can be just as stunning as colorful blooms. You can choose from a range of leaf silhouettes from thin and narrow leaves to large and bold palms. Minted has dozens of designs that incorporate leaves and greenery, including this one. Tropical Wishes by Haley Warner, exclusively at Minted, is a flat card with a bright green palm leaves border, which also accents the reply, reception and accommodations cards. $381, 100 invitations envelopes and reply card set.
Bold & Botanical Envelope Liners
This often after-thought of a detail can be just as striking as the invitation itself. An envelope liner is a decorative paper that is placed inside the flap of the envelope so when your guests open it the inside of the envelope pops and complements the rest of your invitation suite. Including envelope liners in your invitation suite is one of our favorite 2019 wedding invitation trends. Smitten on Paper's collection of romantic floral envelope liners match their designs from moody monochromatic florals to lush romantic prints. The Hannah Suite, shown here, is a dark grey paper with gold printing and a lush romantic floral envelope liner. $20 per set for 100 invitations, outer envelope with liner and reply card set.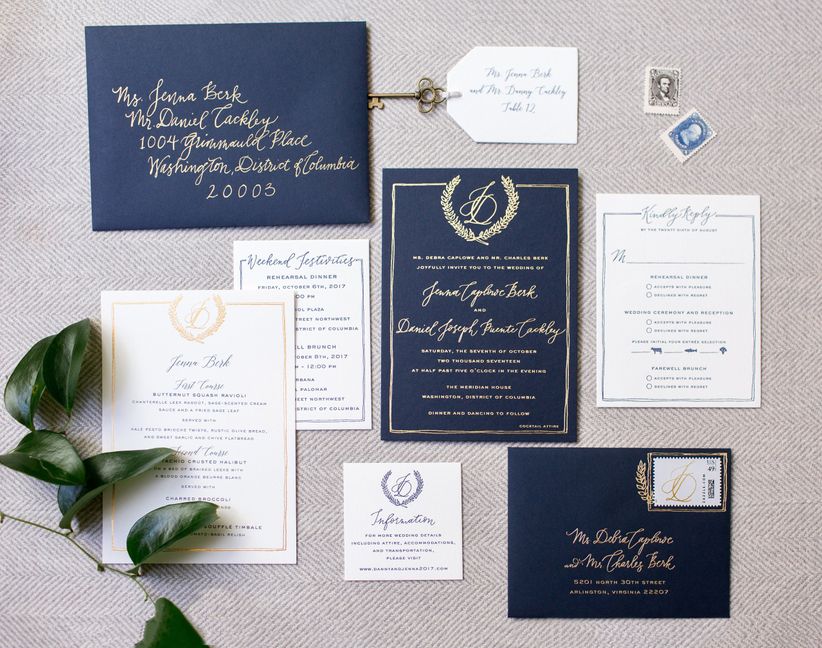 Monogram with Wreath
Combining both the interlocking monogram and garland-style design trends is the monogram encircled either completely or partly with a floral wreath. Flourishing Penguin's navy and gold Taylor suite features an organic calligraphed monogram with illustrated half wreath in gold foil. The design, which can be customized in any color way, is replicated within the stationery suite on the menu card, travel card and stamp. $2,500, 100 invitations, outer envelope with return address, reply card set with front address printed.