Can You Require Guests to Get Vaccinated Before Your Wedding?
With more and more people getting vaccinated against COVID-19 every day, couples are deciding whether or not to require the shot to attend their wedding. Here, experts weigh the options.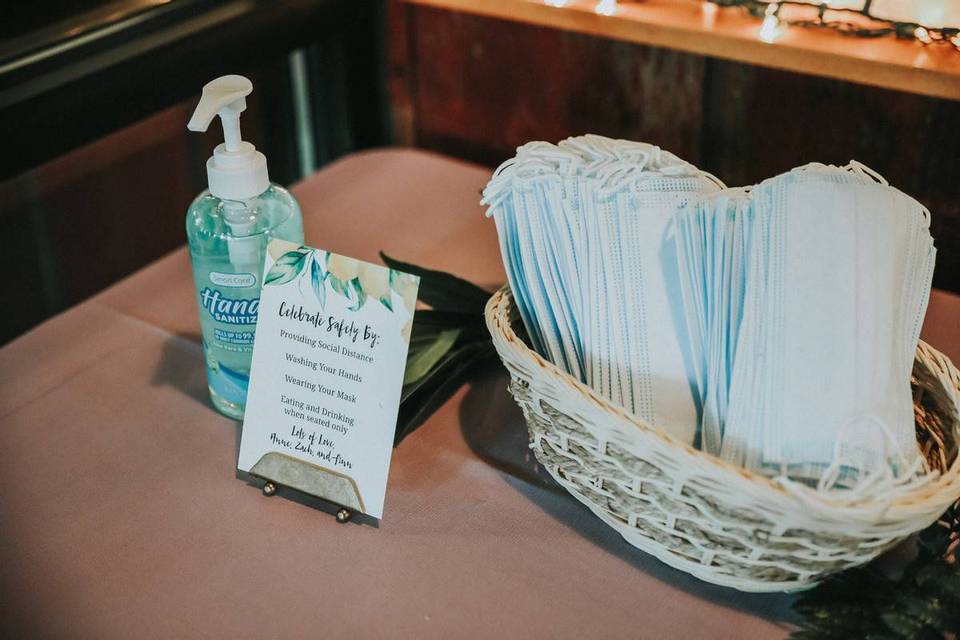 Throughout the COVID pandemic, engaged couples have been faced with many confusing, if not impossible, questions. Do we need to adjust our plans? How can we cut our guest list? How do we communicate safety regulations to our guests? And now, with vaccinations readily available to everyone past the age of 16 in the United States, the question of requiring a vaccine to attend a wedding will inevitably bubble up in discussions.
But, what is the etiquette here? What's appropriate? If you ask the wedding planners we spoke with, the answer is clear: When it comes to keeping your treasured family and friends safe, you have to do what is most comfortable to you and your partner.
If you are considering asking guests to produce a vaccination card to celebrate the start of your marriage, here's what you need to know.
Consider if you'll be requiring vaccination or a negative COVID-19 test.
If you are on the fence about requiring vaccination to attend your wedding, it's worth talking with your partner and families about needing a negative COVID-19 test instead. While safety should come first, a negative test could be a more accessible option for your guests—and in some states, a negative COVID test is required to attend certain events. In fact, JoAnn Gregoli, the owner of Elegant Occasions by JoAnn Gregoli in New York City, recommends adding a section on the invitation response card that the couple does require a negative PCR test 36 hours prior to the wedding.
"Guests should be allowed to make decisions based upon their comfort zone. However, there may be cases that immediate family members are high-risk guests, and their safety is paramount," she continues." In that case, it is reasonable to ask that every guest in attendance be vaccinated to protect those who are immune-compromised, high risk, or on cancer treatments. Guests should understand that your immediate family members are the ones that you should be trying to protect. It truly becomes a case-by-case basis based upon those who wish to attend or not attend."
If your budget allows, you could also have an on-site COVID-19 rapid testing for all who attend, recommends celebrity wedding planner David Tutera. "We have implemented this for our events, and most guests appreciate this offering – it provides an additional level of safety while lessening anxiety for guests," he adds.
Think about the size and venue for your venue when deciding.
At the heart of a wedding is the desire to gather those you love the most to celebrate and witness the start of your marriage. Unfortunately, getting into a philosophical or medical debate with a friend or family member could impact your long-term relationship, says wedding planner Tara Fay. Before you rush to make a choice, Fay recommends gathering all of your facts surrounding your wedding.
First, check with the place you're hosting the wedding: "You need to be aware of what your venue may require, local laws, or if specific documentation will be necessary as well," she continues. "If so, coordinate this well in advance."
If your venue isn't currently implementing specific guidelines, consider the size of your celebration. After all, the number of people, where they're from, and how they've interacted during the pandemic will dictate your level of risk, says Kristin Wilson, the owner and CEO of Our DJ Rocks. As she puts it, if you're having an intimate gathering with only your closest family and friends who have all remained in their COVID-19 bubble together with little outside exposure, vaccinations may not be as needed for each person attending your wedding.
However, if you're planning a mega bash for 50 or more people from two different families and circles coming together to celebrate, then asking for vaccinations and social distancing practices before your wedding should be something to consider.
And remember, it's not just guests who are at your wedding — it's waiters, the officiant, the coordinator, the photographer, and so on. Gregoli says if couples are going to require guests to be vaccinated, vendors should be asked the same courtesy. "You cannot host an event that requires guests to be vaccinated and not include all the service personnel and team members as well," she adds.
Make it clear on your website, save the dates and invitations.
The best place to start the guest communication about your vaccination request is with your wedding website. Since this houses all of your wedding details, it can be an excellent place to explain your request and the reasoning behind it in a respectful and heartfelt way, according to destination wedding planner Jamie Chang of Mango Muse Events in Los Altos, California. "Writing a short letter to your guests will illustrate how you feel, why this is important to you and why you need their help to achieve it," she recommends.
And though you can hope your community will understand and comply, Chang says you should also give them an out, so they don't feel pressured. "What you're doing is sharing your feelings and decisions and then leaving each of them to make their own decision," she adds.
And remember, not every guest will visit your wedding website, so the same information needs to be in the save-the-date and/or your invitation. "Having a little note included with a short explanation and directs them to the website is a good option," Chang says. And, just so you cover all of your bases, don't forget to send out an email to remind them of these requirements, too.
Have a strategy for receiving proof of vaccination.
Once you put the stake in the sand that vaccinations are required, you'll need to have a plan in place to track this information. Wilson says one way to require proof of vaccination would be to hire a company specializing in the execution of safe events. "That can include everything from acquiring the proof of vaccination before your wedding to temperature checks at the door and signage throughout your event space to a post-event health follow-up to ensure they remained safe and COVID-19 free," she says. "This way, your guests feel like they are being taken care of by a professional, and it removes some of the awkward personal aspects from a sensitive topic."
If you would instead handle that task yourself, Wilson suggests politely asking for your guests' vaccination status by adding a link to your wedding website or on your RSVP card. "By simply communicating with your guests that their safety while celebrating with you is your utmost priority and making it a mandatory part of your RSVP, they can simply submit it as part of their number of guests attending, meal choice, and song request," she adds.
Remember, vaccination doesn't mean fewer safety protocols.
Tutera reminds couples (and their parties) that if you require vaccinations at your wedding, it doesn't absolve you from implementing other necessary COVID-19 safety protocols. "Neglecting to implement event safety protocols, like mask-wearing and social distancing, could set your event up for failure on many levels," he says. "Over the past 14 months, we've implemented incredibly effective and valuable safety protocols in all our events and will continue to do so this year."
It's personal, so make it that way.
Remember, this is a personal choice that carries emotion and anxiety for many, so when you communicate it, be as candid and honest as possible, says wedding planner Jodi Harris of Sight and Sound Events in Las Vegas, Nevada. "You could say a loved one suffers from a medical condition and is susceptible to catching COVID-19, and you want them actually to be at your wedding. A required vaccination is a good way to have them in attendance safely," she suggests. Or, to take it a step further, make a video message that explains your reasoning, which creates an intimate touch for your friends and family members.