Outdated Wedding Stationery Rules You Can Skip, and What to Do Instead
Your wedding stationery should be a reflection of you, the couple. Here are six traditional wedding stationery rules you're free to break.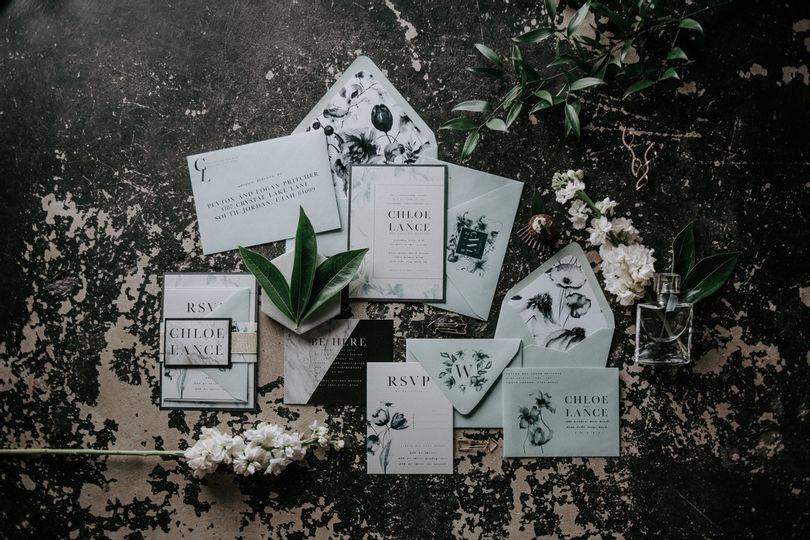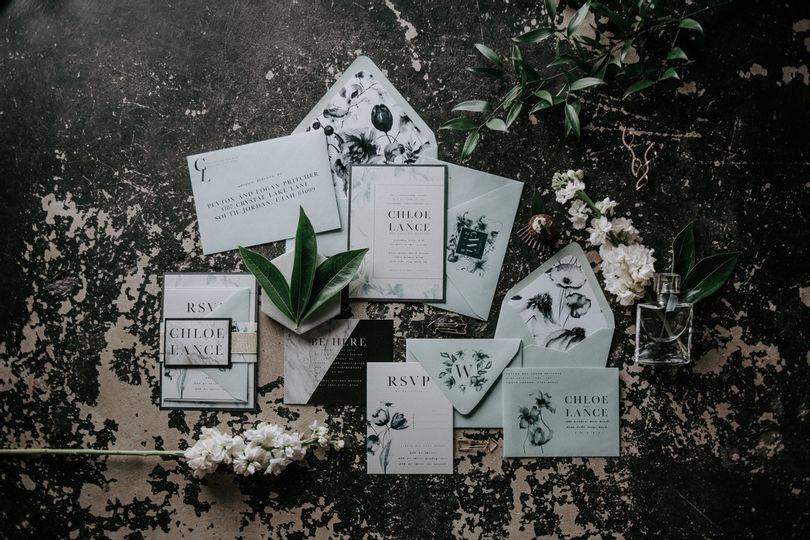 If you've begun your wedding planning journey, you've likely encountered certain old-school rules, like you can't have a mixed wedding party (you most definitely can) or you have to have a wedding cake (spoiler: you don't). There are also many traditional wedding stationery rules that you don't have to follow. In fact, some of these outdated customs (such as assuming a couple shares a last name or only using "Mr." and "Mrs.") can make certain guests feel excluded. Traditional wording, colors and designs can also limit your creativity. Your stationery sets the tone for the whole event, so you want to ensure it represents you, the couple, to the fullest. We're here to help you plan the wedding of your dreams—starting with your invitations and save-the-dates. Here are six traditional wedding stationery rules you can break, and what to do instead.
Here's the traditional wedding stationery etiquette you can retire from your suite.

Outdated rule: You have to use paper for everything.
New rule: Use any material you'd like.
While papers such as card stock, cotton fiber, and vellum used to be the only material available for couples' invitations and save-the-dates, there are many more options available today. If you're hoping to plan a sustainable wedding or you're simply searching for eco-friendly wedding invitations, get creative with the materials. For example, you can send out invites on post-consumer recycled paper, biodegradable paper or seed-infused paper (which your guests can later plant in their yards).
If you want to cut down on paper goods altogether, consider online RSVPs. It's a small way to minimize waste—plus it's an easy way to keep track of who's attending your celebration. Psst: WeddingWire offers online RSVPs as part of your wedding website so you can keep track of your guest list with the click of a button.

Outdated rule: You must include your parents on your invitations.
New rule: Only include parents if they're paying.
Historically, one set of parents used to pay for the wedding. Because the parents were hosting the event, they were always included on the stationery. However, more couples are taking on some or all of the wedding costs. As such, parents don't necessarily have to be included in the wedding stationery. Of course, if they're contributing to a good portion of the wedding, you should give them a shoutout. But if you're covering most or all of the costs, then you shouldn't feel pressure to include your parents on the invites.

Outdated rule: Assume your guests share a last name if they're married.
New rule: Ask for guests' full names before sending out stationery.
Old-school stationery etiquette suggests using one last name when addressing an envelope to a married couple. However, it's becoming more common for people to keep their last names after exchanging vows (or opt for a hyphenated name instead). Rather than assume a married couple shares a name, ask for your guests for their full names before sending out your stationery. (We recommend doing this while you're collecting addresses.)

Outdated rule: "Mr." and "Mrs." are the only title options.
New rule: Know all of your title options (or leave them off entirely).
If you want to make your stationery more formal, titles are a great way to do so. But only using "Mr." and "Mrs." can exclude other gender identifications. You don't need to use titles on your invites if you don't want to, but you can if you're hoping for a fancier vibe. In addition to "Mr." and "Mrs.," you can address guests with "Ms.," "Miss," or "Mx." (a gender-neutral title).
Consider asking your guests for their pronouns as you collect their addresses and last names so you can respect their identities and make them feel comfortable.

Outdated rule: you need to use "formal" language.
New rule: You can phrase your save-the-dates and invitations however you want.
There's a common belief that for wedding invites to be elegant, they need to be worded a certain way. But that kind of phrasing might not be the best representation of who you are as a couple—and that's OK. If, for example, you only go by a nickname, you shouldn't feel pressured to put your full name. Your wedding stationery should convey both who you are as a couple and what your wedding will be like, so feel free to get creative with the wording in order to make that happen.

Outdated rule: only certain colors & designs are formal enough for wedding stationery
New rule: Any colors or designs can be formal.
Good news: your stationery doesn't have to be white, black and gold for it to be formal. If you and your partner love color, then your stationery should reflect that. Don't be afraid to incorporate bold hues, cute designs and unique fonts. Remember: your stationery sets the tone for the whole event, so make sure it feels authentic to your love story. If you take extra time to be thoughtful with it, your stationery can be both formal and fun.