The Colors You Need for a Vintage Wedding in 2019
Looking to mix old and new on the big day? We brought one of the Pantone Color Institute's prettiest color palettes to life with this modern vintage wedding theme inspiration.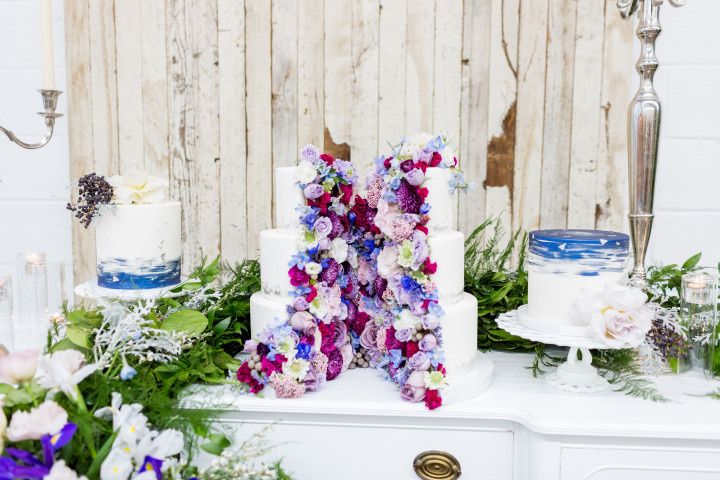 Have you ever gotten butterflies while walking through an antique shop, swooned over classic romance sagas, or thought of yourself as an old soul? If so, then a vintage wedding theme might be perfect for your big day. To inspire you even more, we're excited to share a romantic wedding color palette that the Pantone Color Institute has created for 2019. (Don't miss the rest of the palettes here!) We envision this color palette, called 'Stroke of Midnight,' for a vintage-themed wedding taking place in a majestic ballroom or at a grand estate. The color palette is filled with dramatic hues like bold navy, shimmering silver, and moody purples that remind us of a timeless fairytale, but don't let our vision stop you there. The mix of dark and light colors would also be gorgeous at a glamorous or modern wedding.
We used the 'Stroke of Midnight' palette to create a styled shoot that's full of ideas for an updated spin on vintage wedding themes. From elegant groom's attire to a show-stopping wedding cake that rivals all other dessert displays, we hope these ideas spark your imagination for your vintage-themed wedding.
Here's how to bring a vintage wedding theme to life on your big day.
'Stroke of Midnight'
The Pantone Color Institute is known for its clever color names, and 'Stroke of Midnight' does not disappoint. The color names were inspired by the strong sense of glamour, romance, and energy that this palette conveys, starting with three purple shades: Lavender Fog, Lavenula, and Mulberry Purple. Sangria, a bright purple-red, adds a burst of excitement to the palette. Three blue tones — Navy Peony, Patriot Blue, and Ice Flow — bring a mysterious vibe to the brighter colors. The White Alyssum, Opal Gray, and Liquid Luster, are three shimmering neutrals that remind us of the twinkling night sky.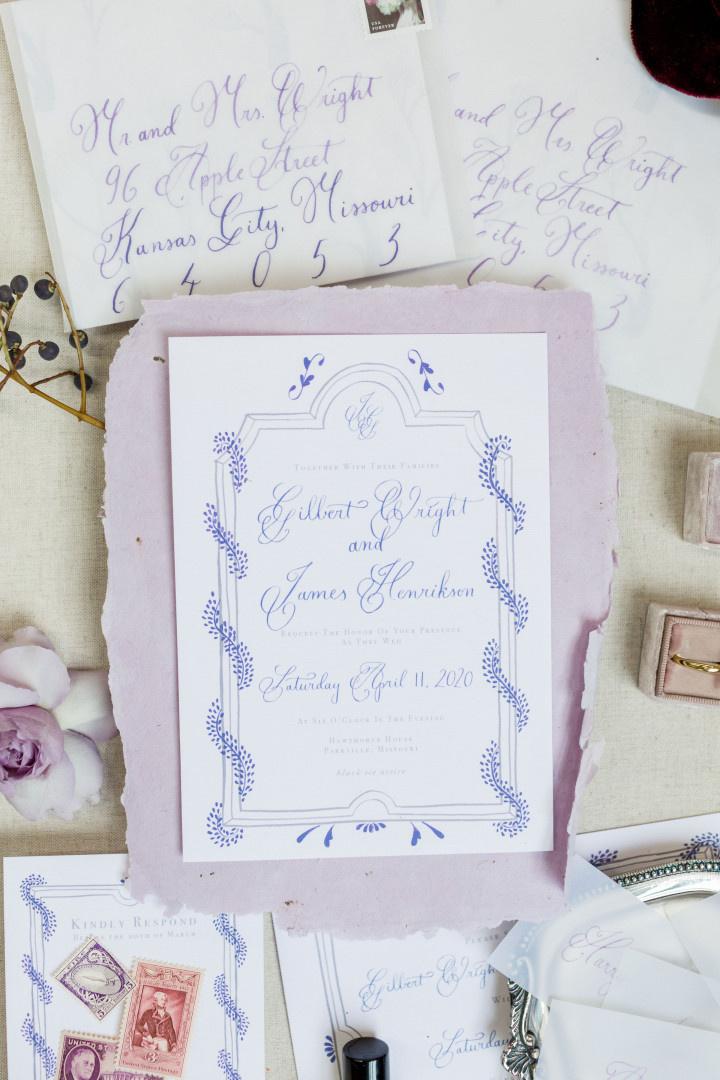 Invitations
Wedding stationery that features classic details, such as calligraphy and laurel leaves, instantly embodies a bygone era when paired with a soft color palette of lavender and pale blue. This invitation would be a perfect match if you're going for a vintage wedding theme inspired by Old World style and fine antiques. On the other hand, you could easily incorporate these soft colors into stationery for a bohemian summer wedding or a wintry black-tie affair by switching up the design.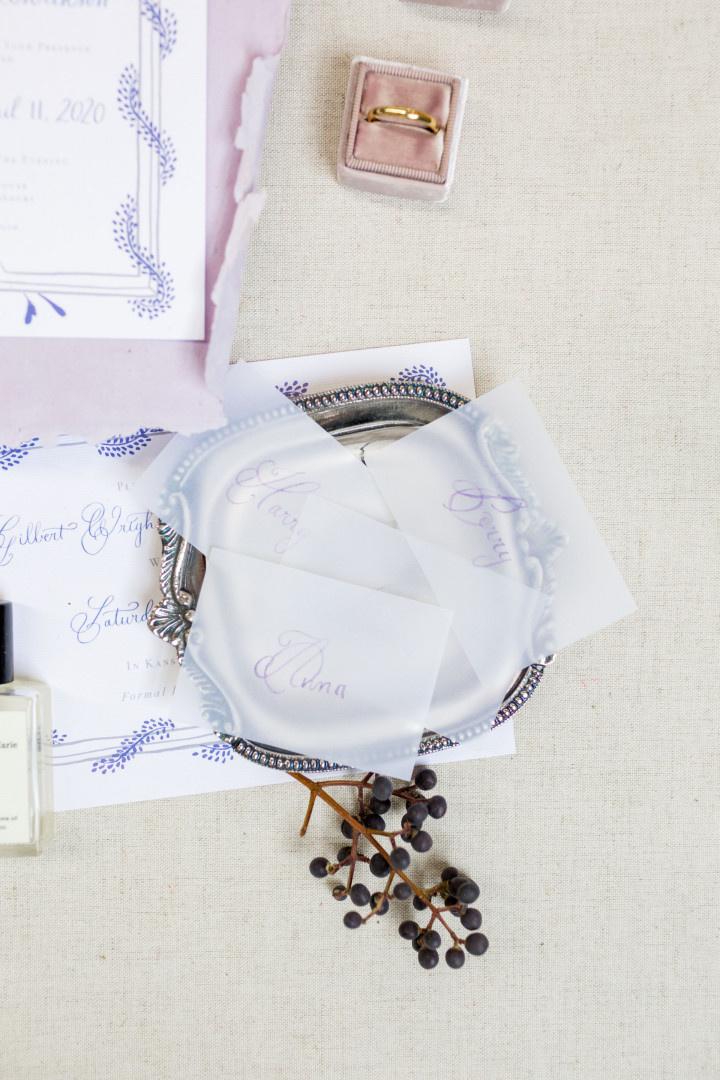 Place cards
For a slightly modern touch, consider place cards made from vellum paper instead of standard parchment. We especially love this idea because it taps into one of our top 2019 wedding decor trends, translucent and transparent details. You can also use vellum as a stylish option for RSVP cards, menus, and invitations — the vellum works wonderfully as an overlay piece, allowing you to layer it with different papers for a unique combination of textures and materials.
Boutonniere
Flowers are a big tradition when it comes to weddings, but they also allow you to express your personal style and showcase your wedding colors (not to mention that they just look pretty!). Inspired by the darker hues in 'Stroke of Midnight', this groom's boutonniere includes a rose, ranunculus, and viburnum berries in purple and blue colors.
Engagement ring
If you have a colored engagement ring, why not consider using it as a springboard for your wedding palette? This aquamarine-and-gold ring tied in gorgeously with our vintage wedding theme, and the stone is an almost-perfect color match for 'Ice Flow', the light grayish-blue color in 'Stroke of Midnight.' We paired the ring with jeweled high heels in a similar color, but you could also use your engagement ring to inspire your invitation suite, floral arrangements, and miscellaneous decor.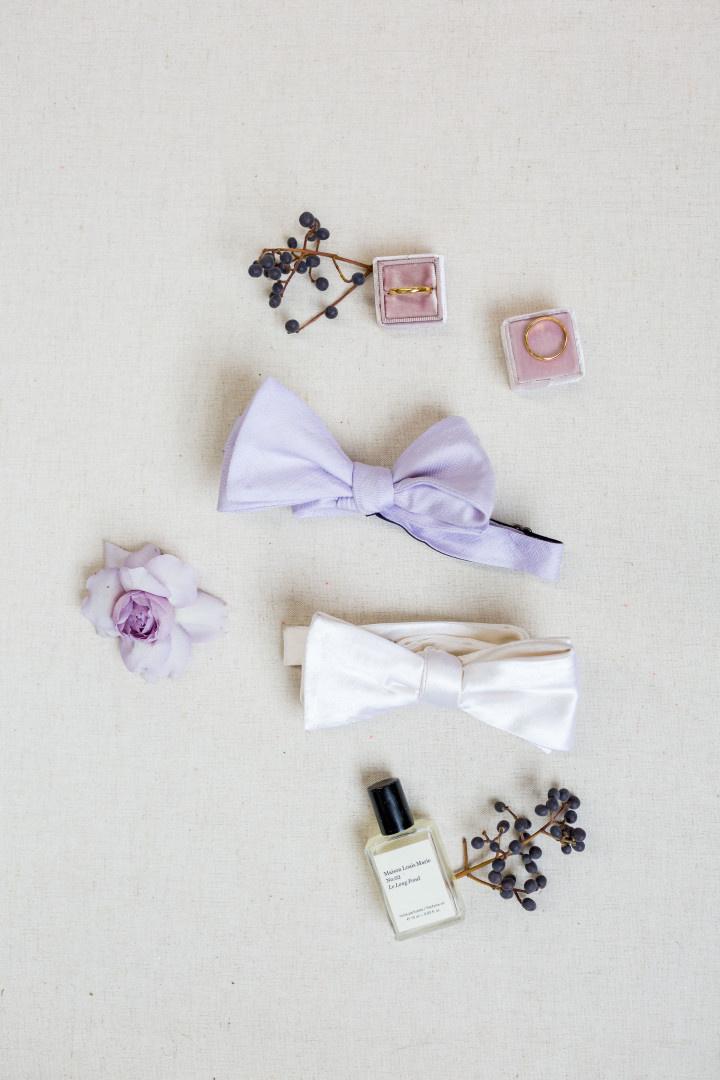 Accessories
We can't talk about vintage wedding ideas without mentioning bow ties. This dapper groom's accessory adds a bit of retro flair to any ensemble, making it a must-have for grooms who are planning to rock a vintage-inspired look on the big day. While bow ties are traditionally associated with formal dress codes, they're appropriate for casual weddings depending on the type of fabric and colors used. A satin bow tie in a lavender hue is chic and semi-formal, but also a bit playful. For dress codes that are even more relaxed, opt for bow ties in cotton, linen, or printed fabrics.
Sleek suits
If you're opting for a vintage wedding theme, don't feel obligated to stick with traditional black tuxedos if that's not your vibe. Groom's attire that mixes old with new will bring a bit of personalization to your big day while creating a stylish "modern vintage" feel. For suits and tuxedos, start with the basics — like the traditional white and blue jackets seen here — and then add bold accessories, like a fuchsia tie or floral pocket square (yes, it's made with actual flowers!).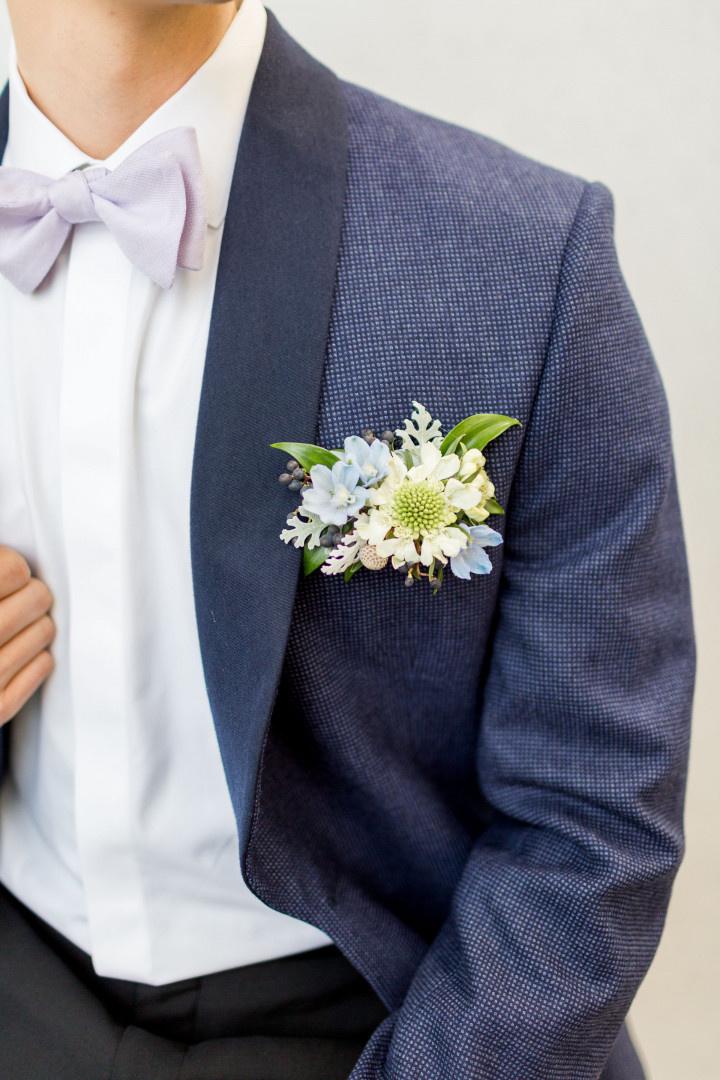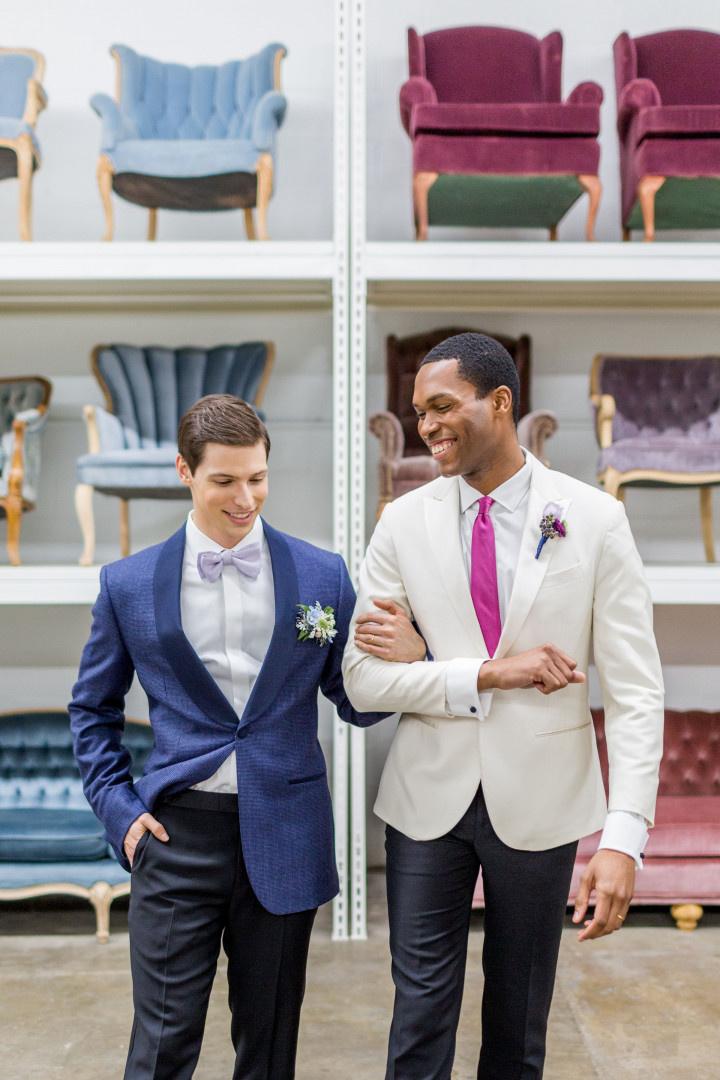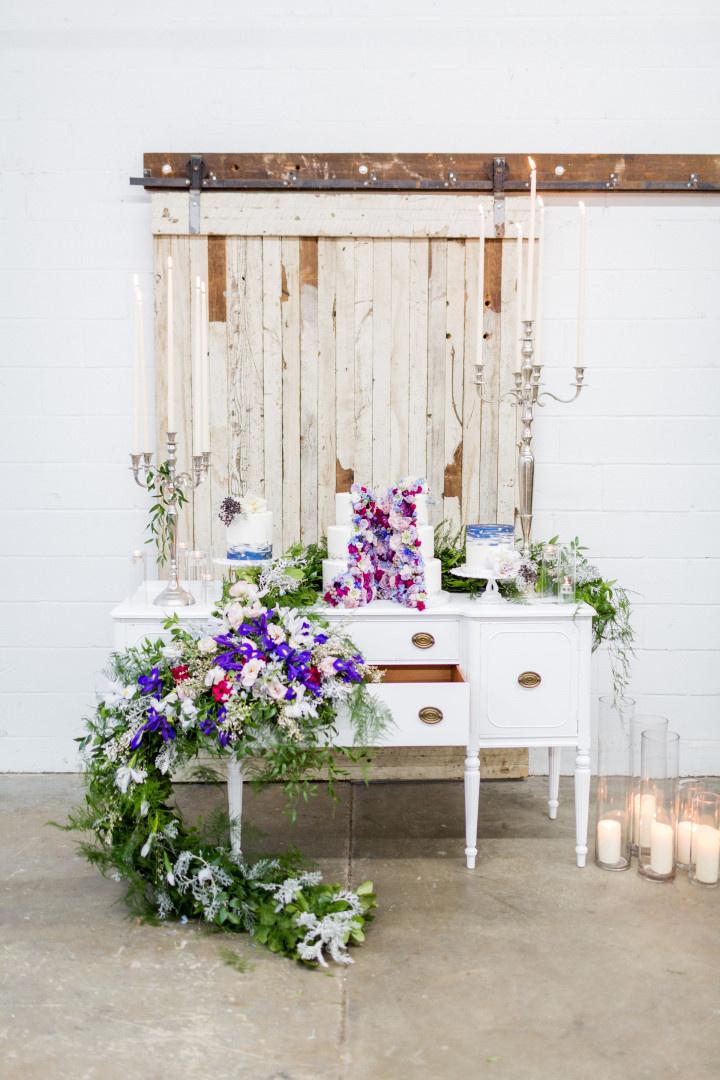 Dessert display
Elaborate cake tables aren't going anywhere anytime soon, especially when it comes to vintage-themed weddings. The best way to nail this trend at your wedding is to incorporate the table itself into the display — adorn it with flowers, greenery garlands, candles, and linens that complement your vintage wedding colors. If you're feeling extra-creative, we love the idea of repurposing a piece of vintage furniture for your cake table. This vintage white buffet cabinet inspired us to create an overflowing floral arrangement that spilled out of the bottom drawer.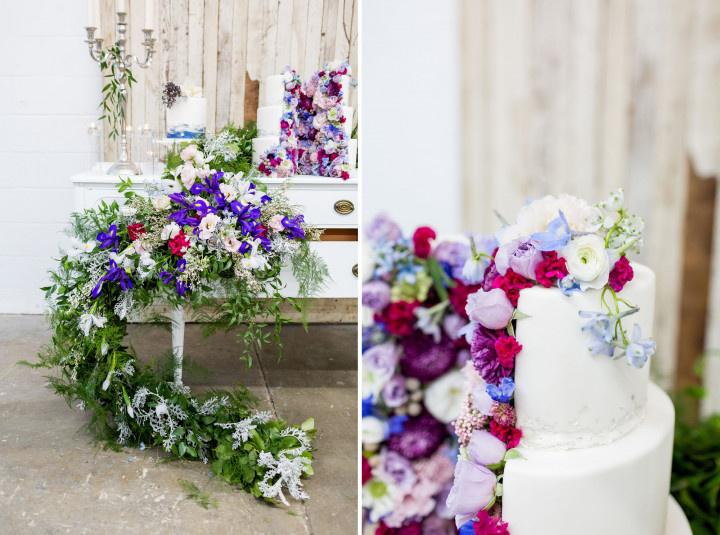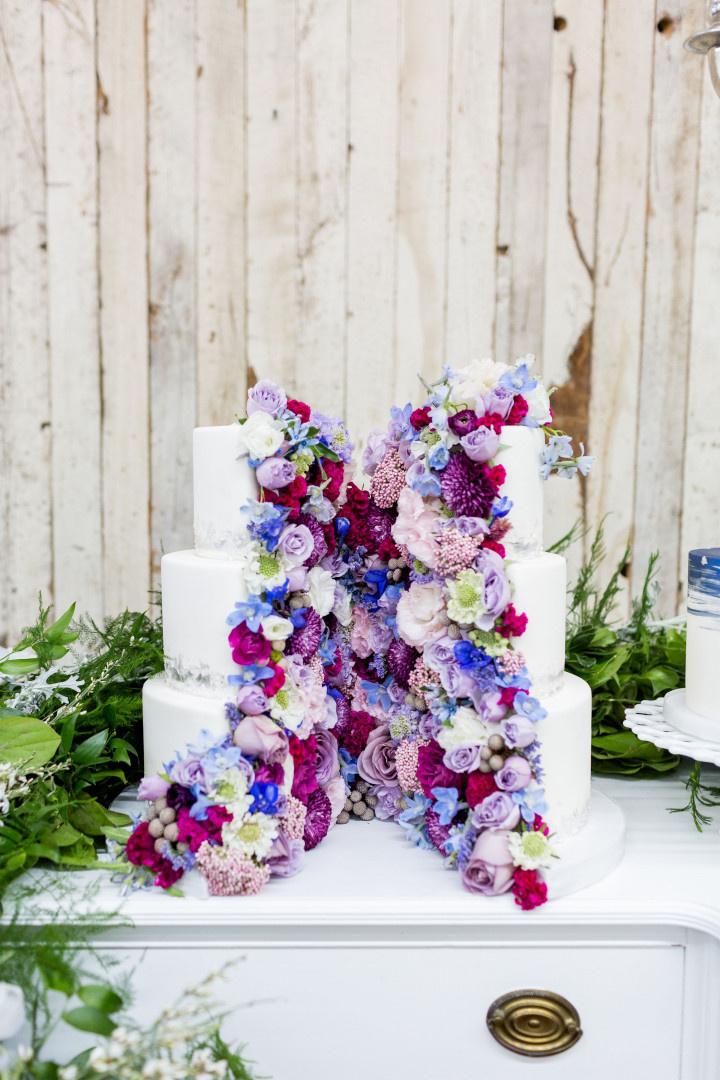 Flower-filled cake
This flower-filled cake, which has been cut in half and filled with real flowers from top to bottom, is one of the coolest ideas we've seen for a vintage wedding theme (or any wedding, for that matter). It's romantic and whimsical — two main elements of vintage wedding style — and will definitely wow your guests as soon as they see it. To recreate this botanical-inspired confection, your wedding cake baker will need to construct the halves of the cake as two separate pieces. Once the pieces are stabilized, your wedding florist can fill the inside of the cake with fresh flowers that match your wedding decor.
For this cake, we used delphinium, spray roses, button mums, ranunculus, scabiosa, lisianthus, coxcomb, and brunia berries in various colors inspired by the 'Stroke of Midnight' palette.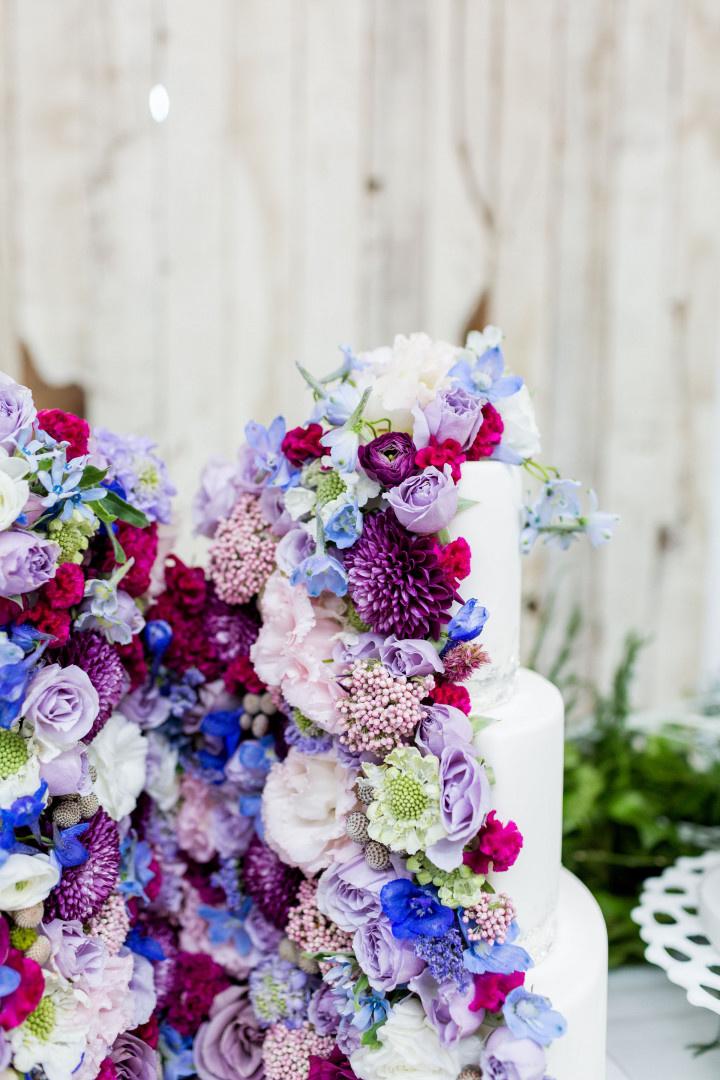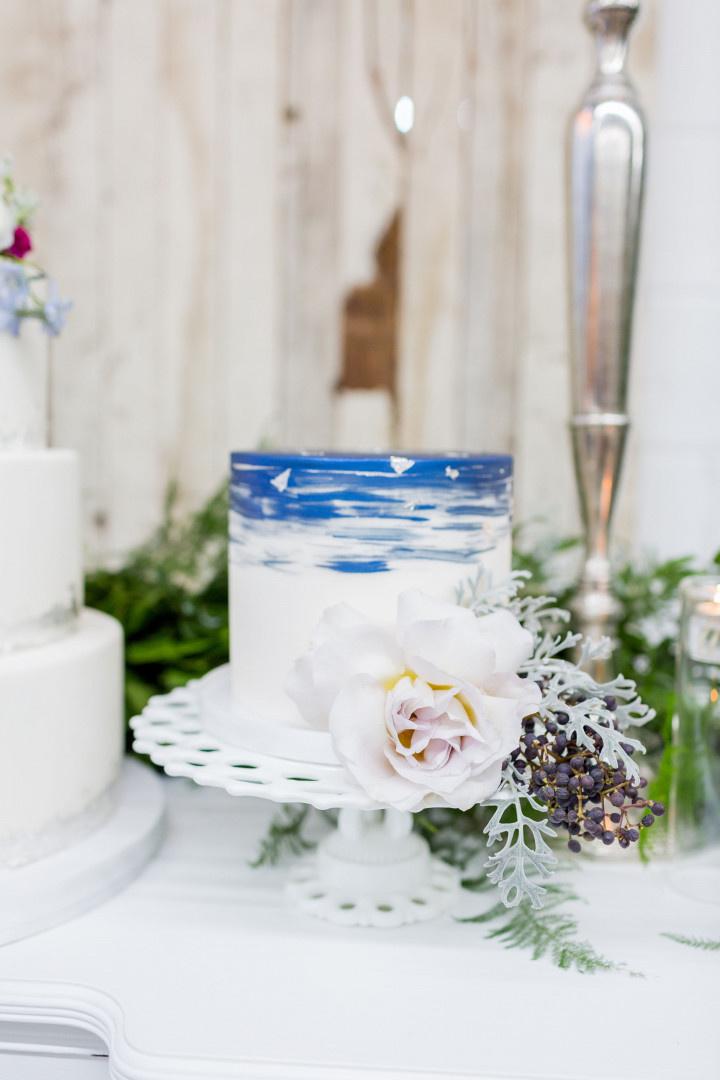 Mini cake
Watercolor cakes are another way to use your vintage wedding colors on the dessert table. This art-inspired look is achieved by painting edible pigments (called lustre dust) onto white fondant, which provides a smooth surface for colors. For this mini cake, we used a twilight blue for the watercolor effect and accented it with edible silver leaf, an Earl Gray rose, dusty miller, and privet berries.
Photography: Kir2Ben | Styling: Sincerely Pete Events | Stationery: Calligraphette & Co. | Floral Design: The Rosy Posy | Rentals: Something Vintage Rentals | Cakes: Fluffy Thoughts Cakes | Men's Attire: The Black Tux