How to Use Wax Seals for Your Wedding Invitations (And What to Buy)
Wondering how to recreate this Pinterest-worthy look? Here's everything you need to know about using wax seal stamps for your wedding invitations and more.
We have included third party products to help you navigate and enjoy life's biggest moments. Purchases made through links on this page may earn us a commission.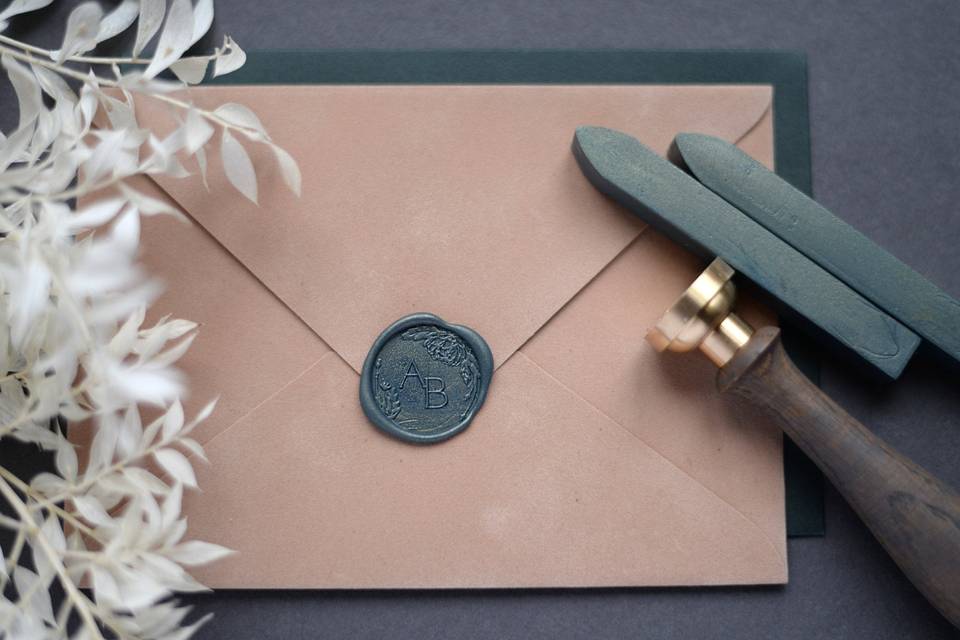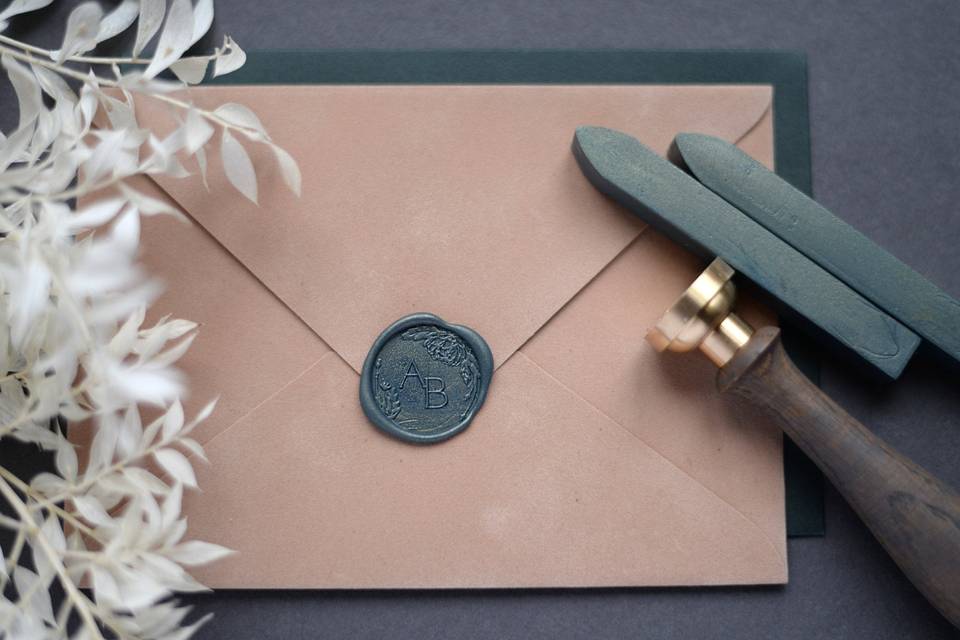 If you've spent any time browsing wedding invitations and stationery trends recently, we know that you've likely come across dozens of envelopes, escort cards, and various paper products decorated in elegant, tiny, embossed circles—otherwise known as wax seals. These pretty little details have taken the wedding stationery world by storm, but there's more to using wax seal stamps for your big day than you might first anticipate. Your wedding invitation designer should be your first point of contact if you're thinking about using wax seals for your stationery, but it's worth it to also brush up on the subject yourself. To help you understand exactly what goes into making wax seals and the logistics of using them for your wedding invitations, we've created this handy (and shoppable) guide that includes all of the essential info.
Learn all about using wax seal stamps for your wedding and shop our favorite wax seal ideas below.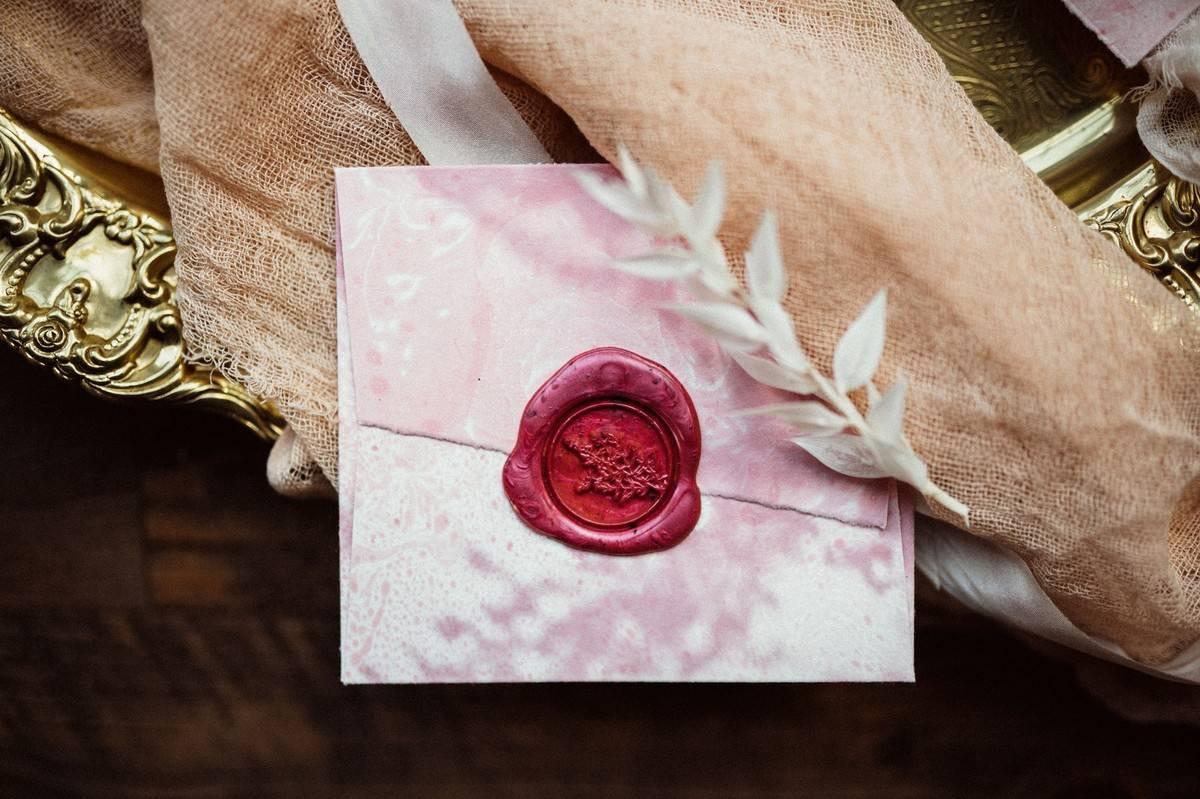 What are wax seal stamps?
Before self-sealing envelopes and tape were invented, wax seals were used for centuries as a way to secure envelopes, scrolls, and other papers. For important letters and classified papers, an unbroken wax seal ensured that the document had not been intercepted or tampered with. Wax seals primarily served a functional purpose, but they were also decorative and commonly featured insignias, monograms, or family crests.
Today, wax seals are purely ornamental, but they're especially great for evoking a regal, Old World aesthetic. The traditional method of creating a wax seal involves melting a stick of wax at one end (imagine a small taper candle) and allowing it to drip directly onto the parchment. An engraved metal stamp is then pressed into the cooling wax before it hardens, leaving an imprint of the design.
When can you use wax seal stamps?
The most popular way to use wax seals is to close the flaps of your wedding invitation envelopes. This antique-inspired look has been a design staple for the last few years, particularly when it comes to classic and vintage-style weddings, but you can find wax seal stamps in almost any design imaginable. From traditional monogrammed styles to elegant floral motifs, tropical greenery, and even animal silhouettes, this decorative stationery detail is truly versatile for all wedding themes. If you're looking for easy ways to elevate your wedding stationery, wax seals are a small but mighty detail, and they'll make your invitations feel like bespoke works of art.
Wax seals are suitable for all different types of wedding invitation paper, including classic card stock, vellum, linen paper, and cotton fiber. You can also use wax seals on wedding escort and place cards, table numbers, and favor boxes. If you're really feeling creative, use your wax seal stamp to decorate non-paper items, like champagne flutes, wine bottles, and even handmade desserts (use melted chocolate instead of wax, of course!).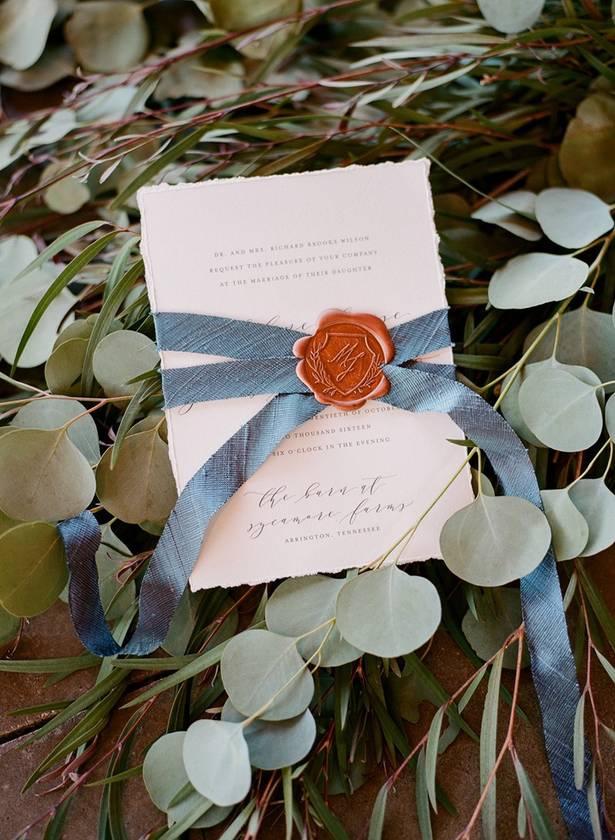 How to mail wedding invitations with wax seal stamps
Traditional wax-on-paper seals should be sturdy enough to send through the mail, but if you're concerned about the seals getting damaged, you have two options: use outer envelopes to protect the seals before mailing, or ask your local post office about hand-sorting (also known as hand-canceling) the mail. Instead of the invitations being inspected and sorted by a machine—this is when the envelopes are marked with a timestamp so they can't be reused—a postal worker will manually inspect and approve each invitation. Expect to pay additional postage and factor in extra time for the invitations to be sent if you opt for hand-sorting.
If you're mailing invitations with self-adhesive wax seals (more on those in a minute), we recommend always using a protective outer envelope, because the self-adhesive can sometimes be less permanent than putting wax directly onto the paper.
Self-adhesive wax seals
Self-adhesive wax seals are ideal if you don't feel comfortable making your own wax seals at home or if you don't have a lot of free time to commit to assembling and decorating your wedding invitations. These seals feature adhesive backings and are handmade by professional wedding stationers or calligraphers—think of them like really fancy (and really beautiful) stickers. The great news is that choosing self-adhesive wax seals won't limit your options when it comes to customization—many stationers will still allow you to personalize them with your initials or another custom detail.
Shop our picks for self-adhesive wax seals: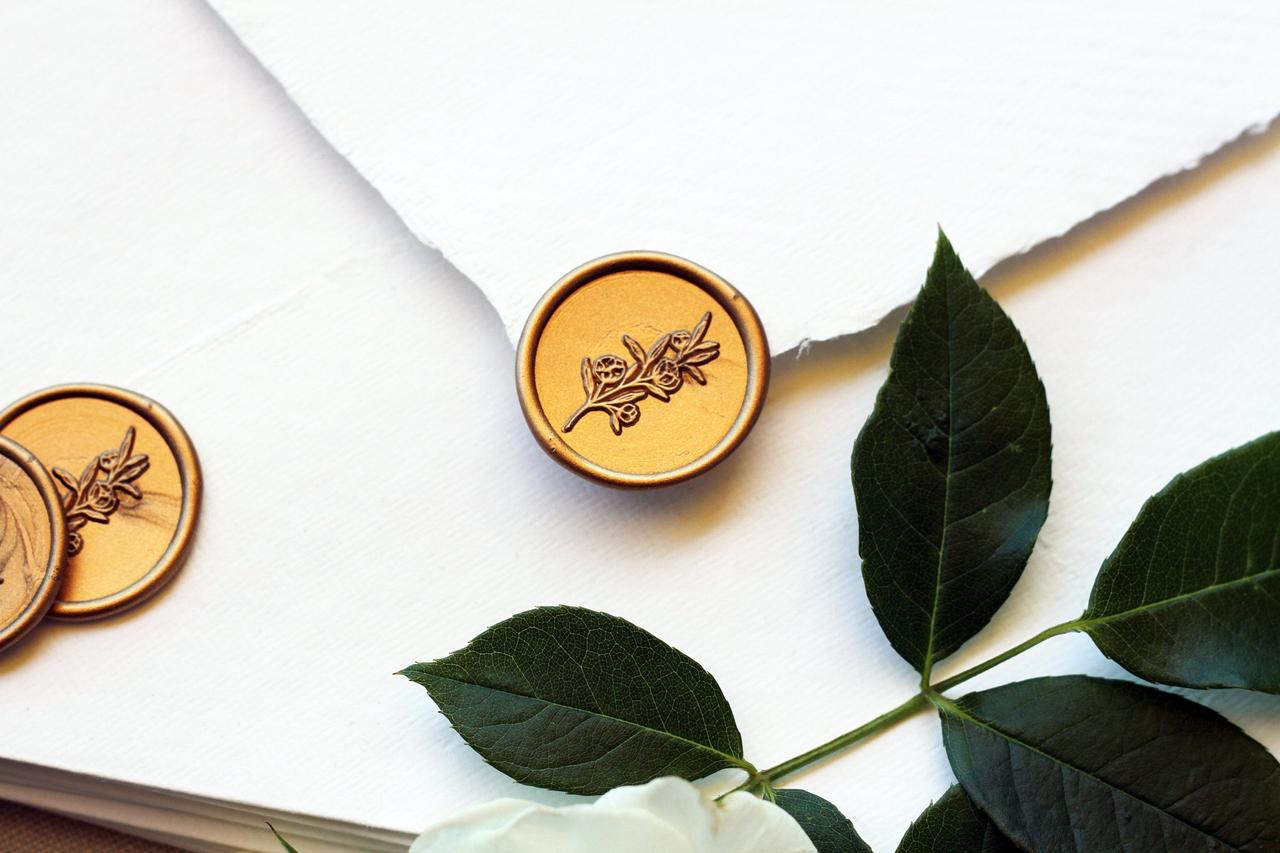 Aralette self-adhesive floral wax seals, from $69 (pack of 50), Etsy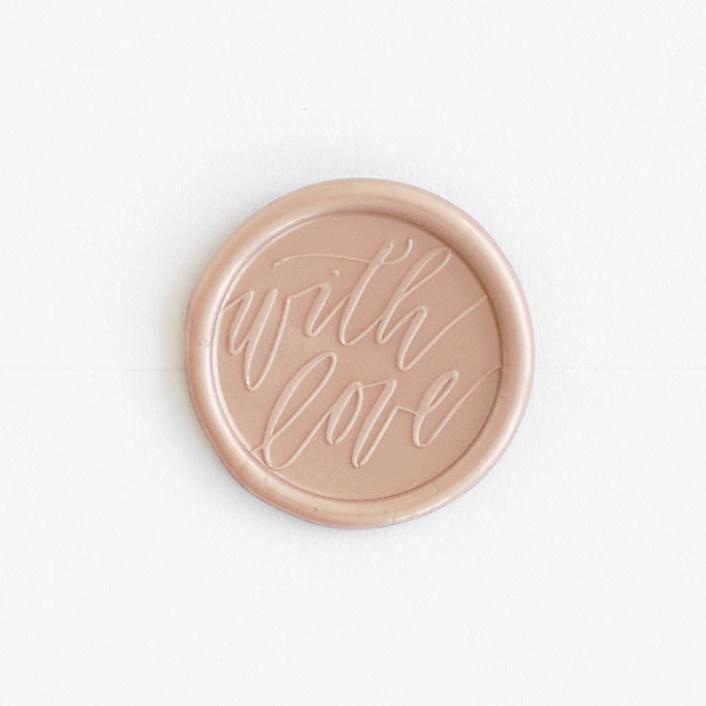 Artisaire self-adhesive "with love" wax seals, from $25 (pack of 25), Minted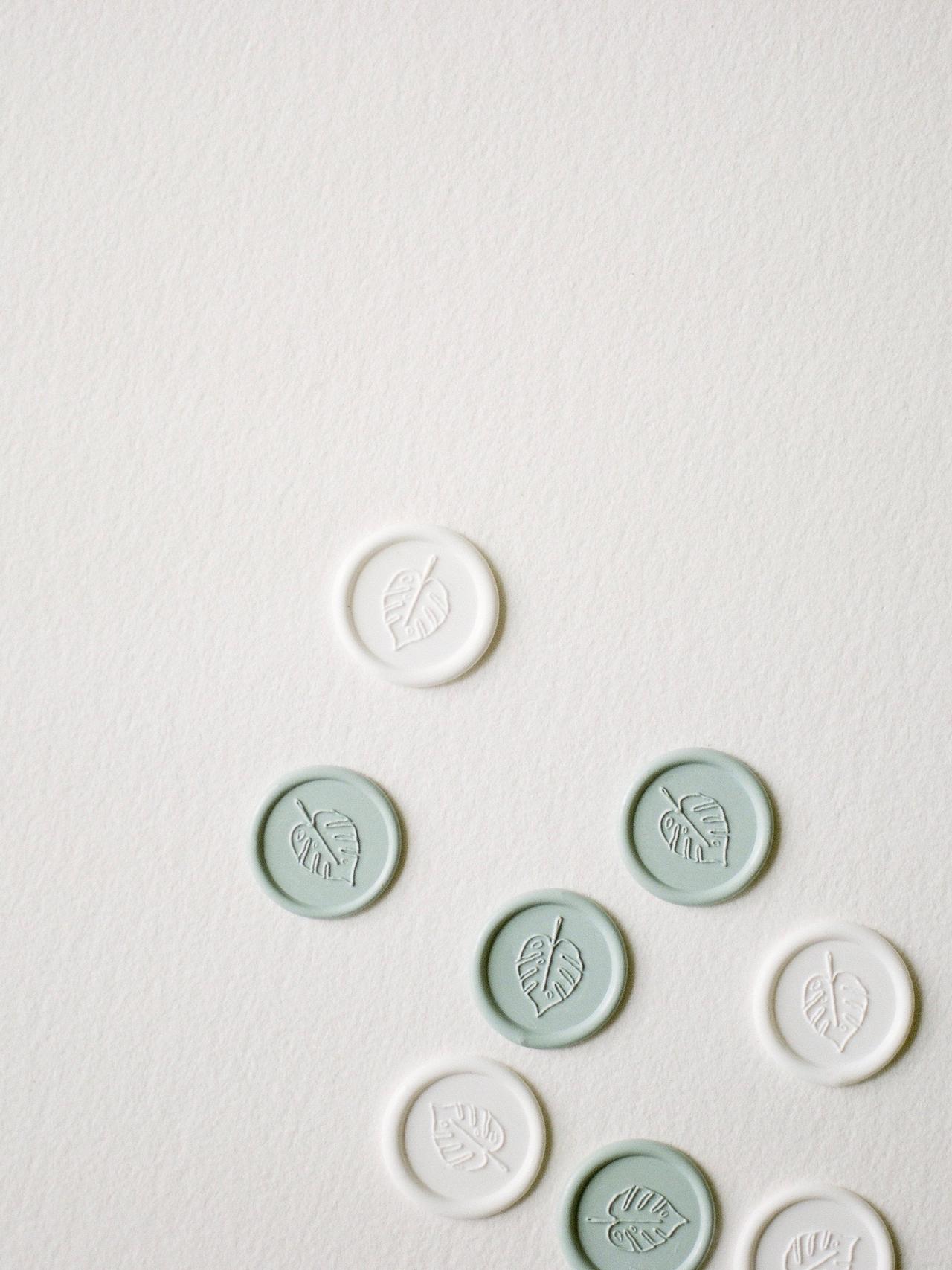 AdorationDesign self-adhesive monstera wax seals, $30 (pack of 20), Etsy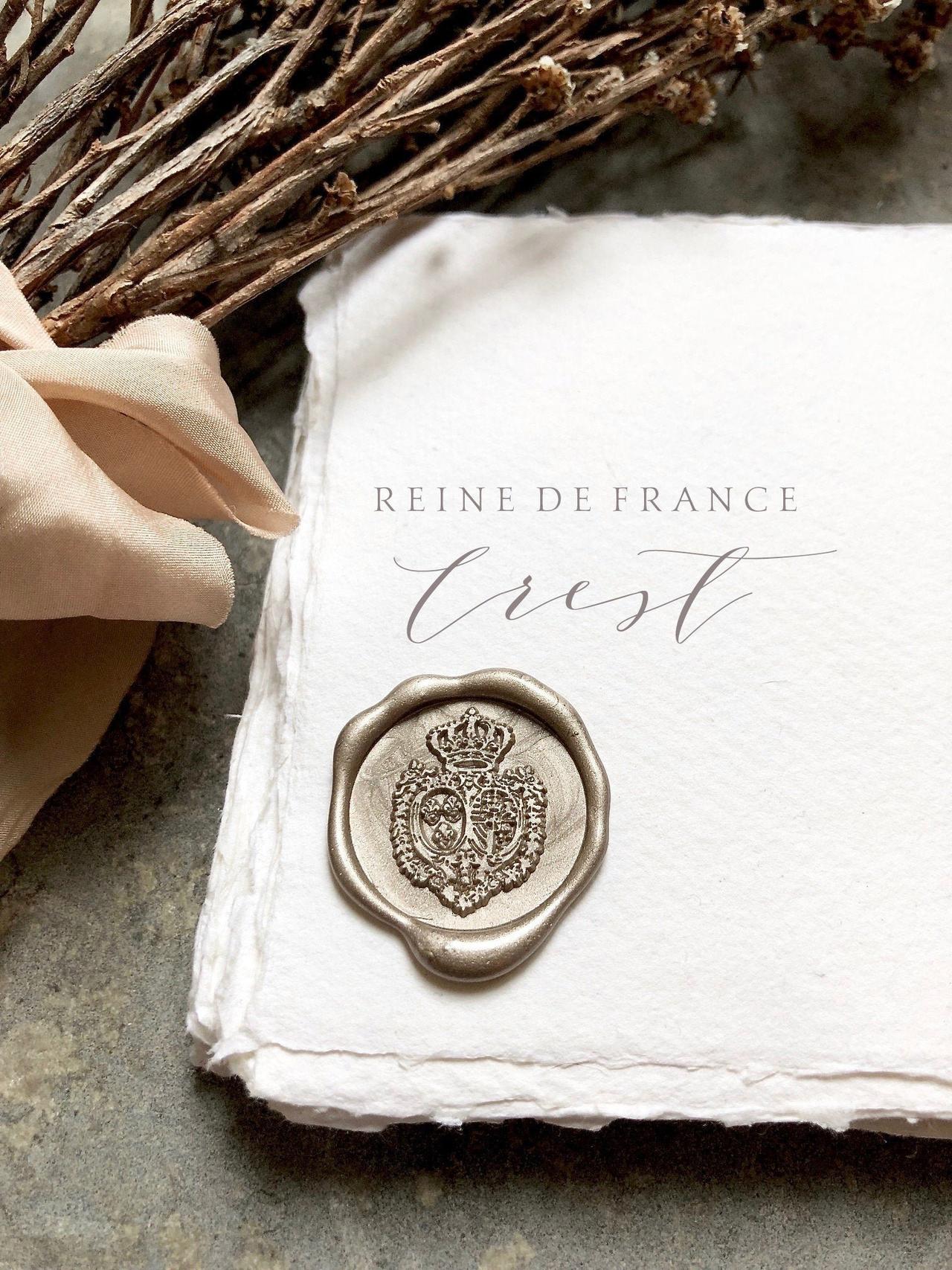 LaPommeEtLaPipePress self-adhesive queen crest wax seals, from $8 (pack of 10), Etsy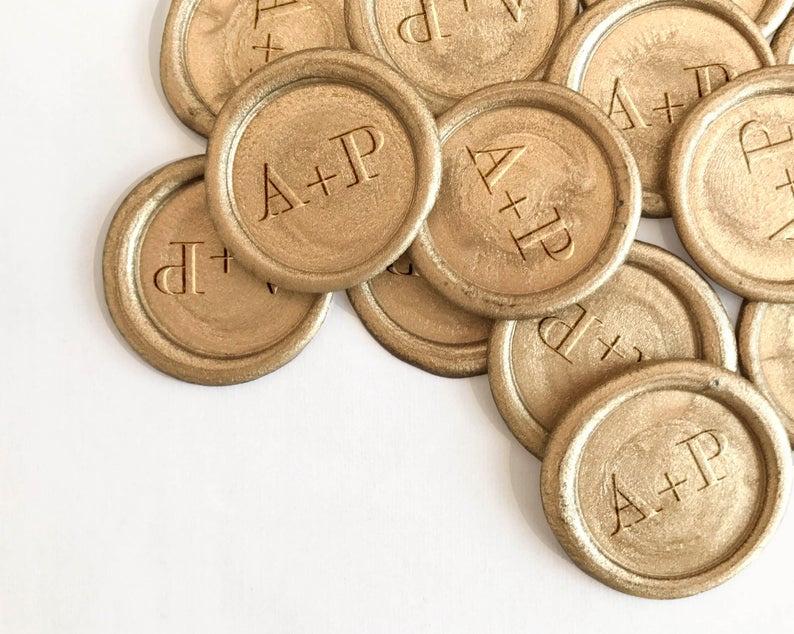 TheStampPress self-adhesive monogram wax seals, from $110 (pack of 100), Etsy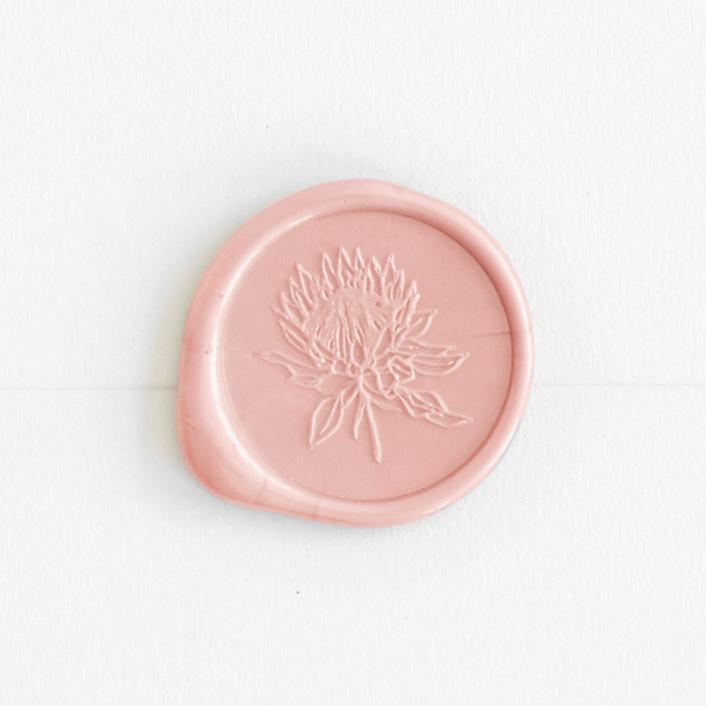 Artisaire self-adhesive protea wax seals, from $25 (pack of 25), Minted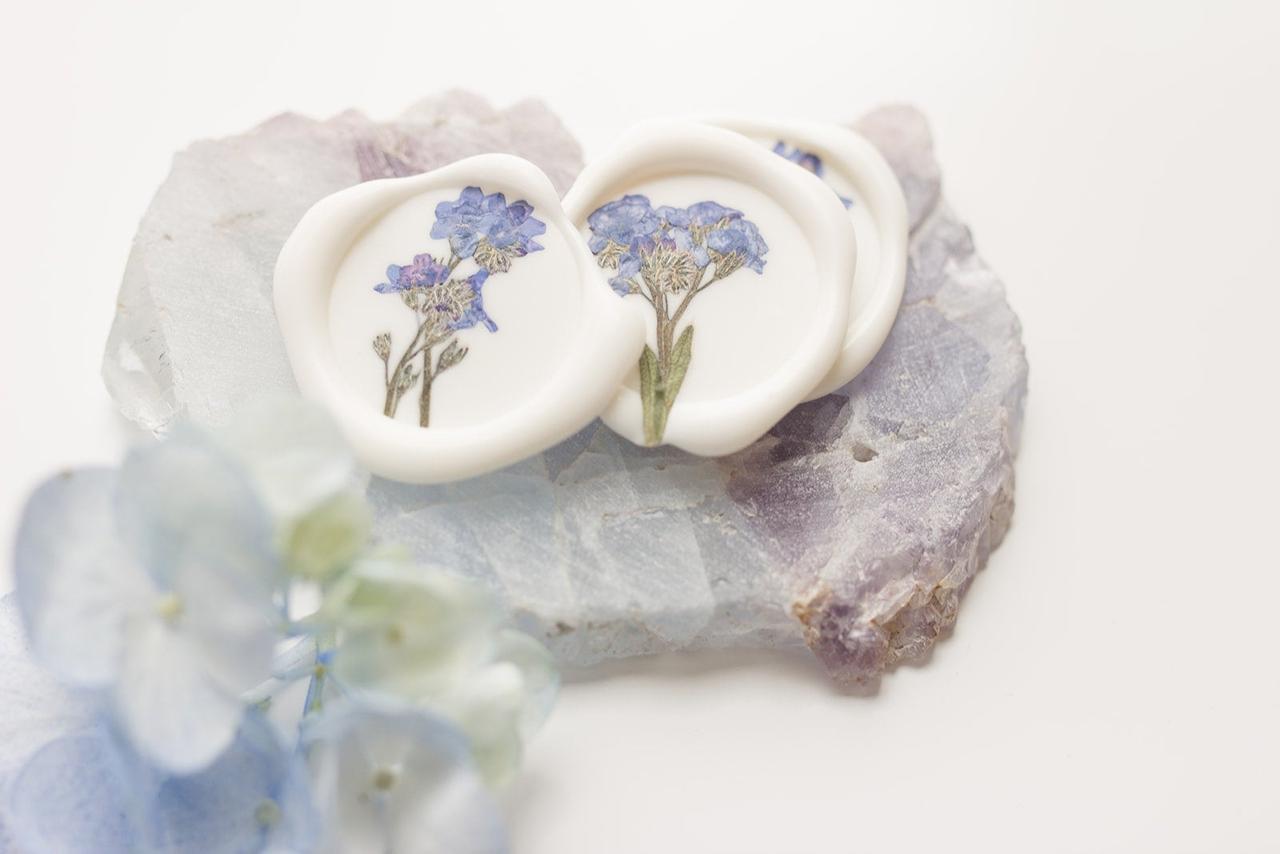 VenusEnvyPaper forget-me-not self-adhesive wax seal, $2, Etsy
Metal wax seal stamps
If you want to truly personalize your wedding stationery, making your own wax seals by using a metal stamp is a great way to add individuality and artistic flair. Work with a professional stationer to create a custom wax seal stamp that features your monogram, wedding date, or any other detail that reflects your wedding aesthetic—the options are endless. Practice pouring the melted wax to create perfectly round seals, or leave them uneven for a more unique look. And when you've finished using the wax seal stamp for your wedding stationery, it becomes a special heirloom you can keep for decades to come.
Here are some of our favorite wax seal stamps you can buy online:
LottesPapery floral wax seal stamp with initials, $35, Etsy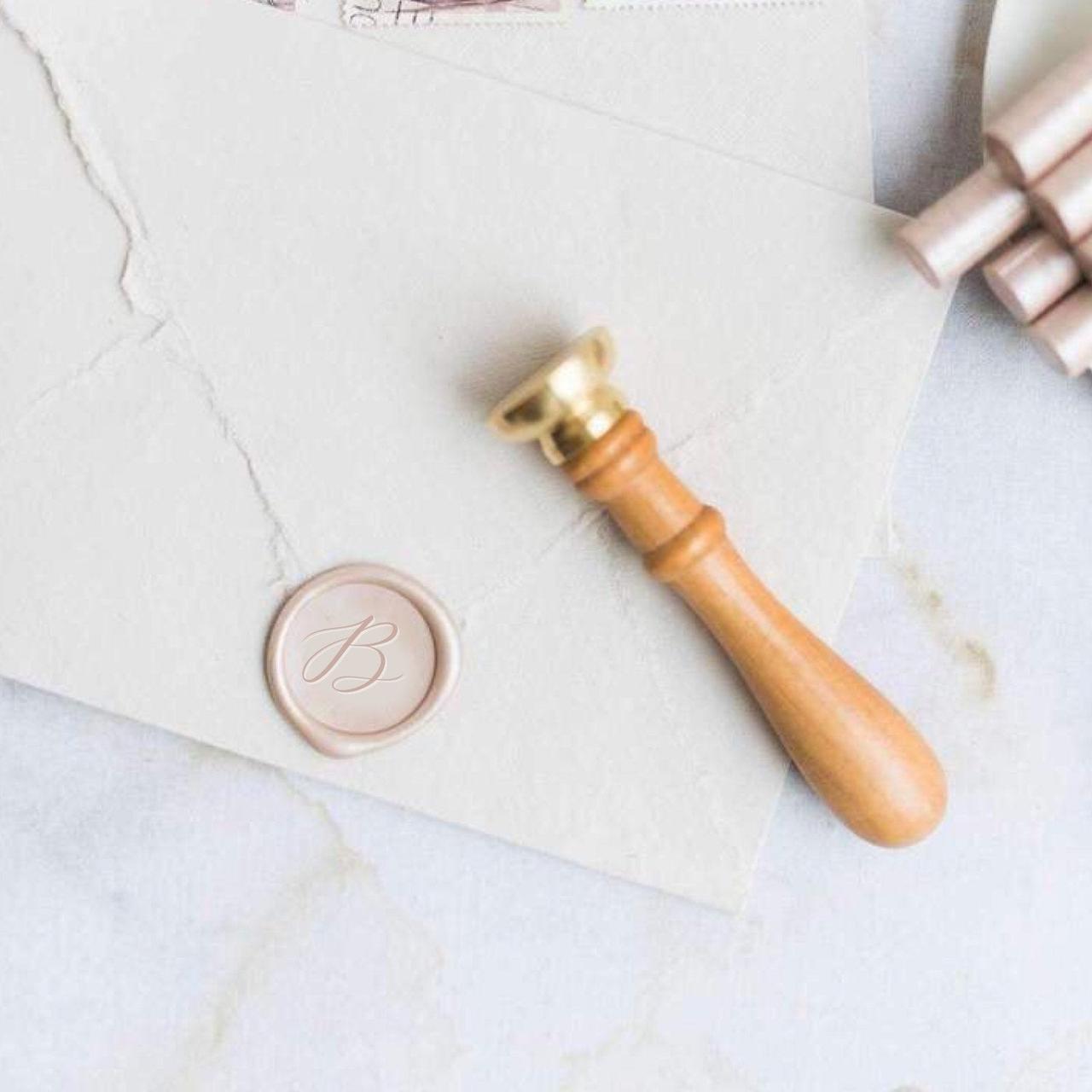 AGstationary modern calligraphy wax seal stamp, from $64, Etsy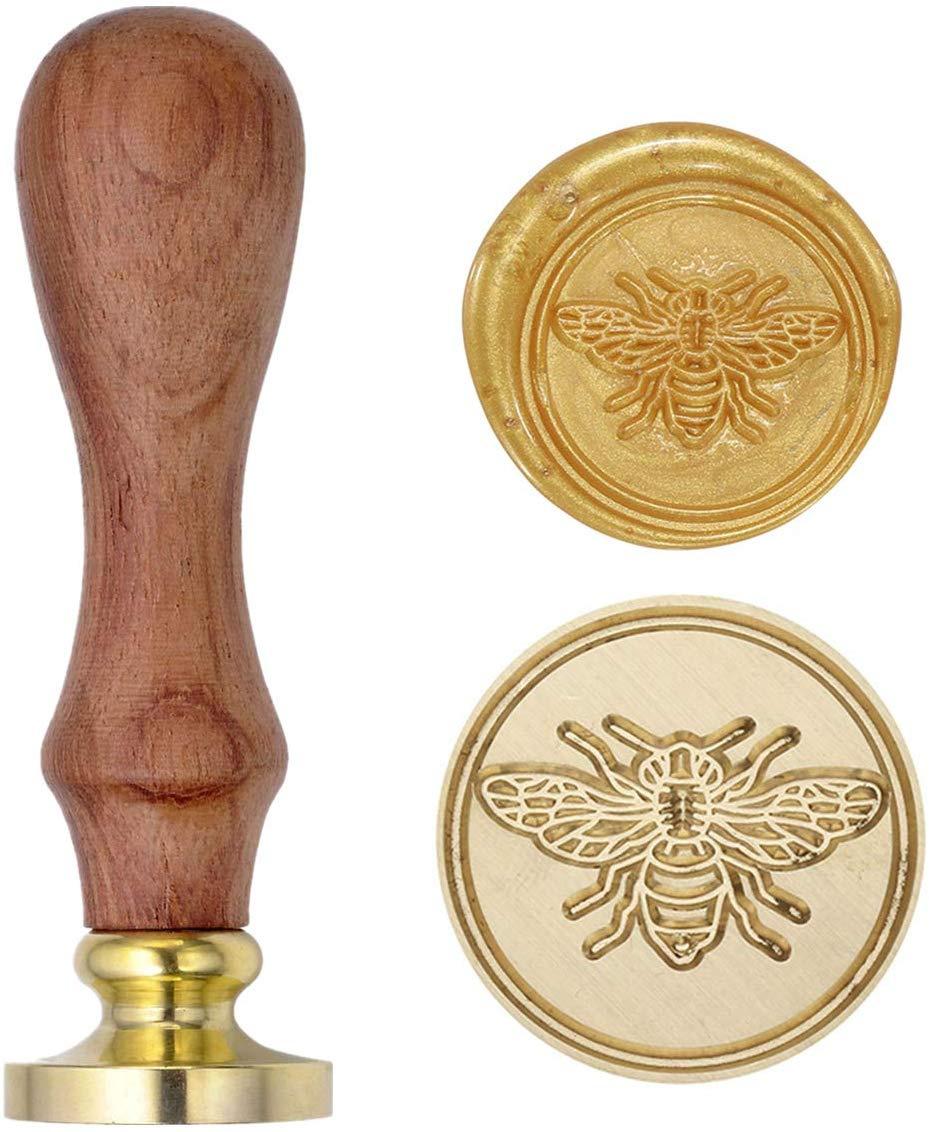 Yoption bee wax seal stamp, $10, Amazon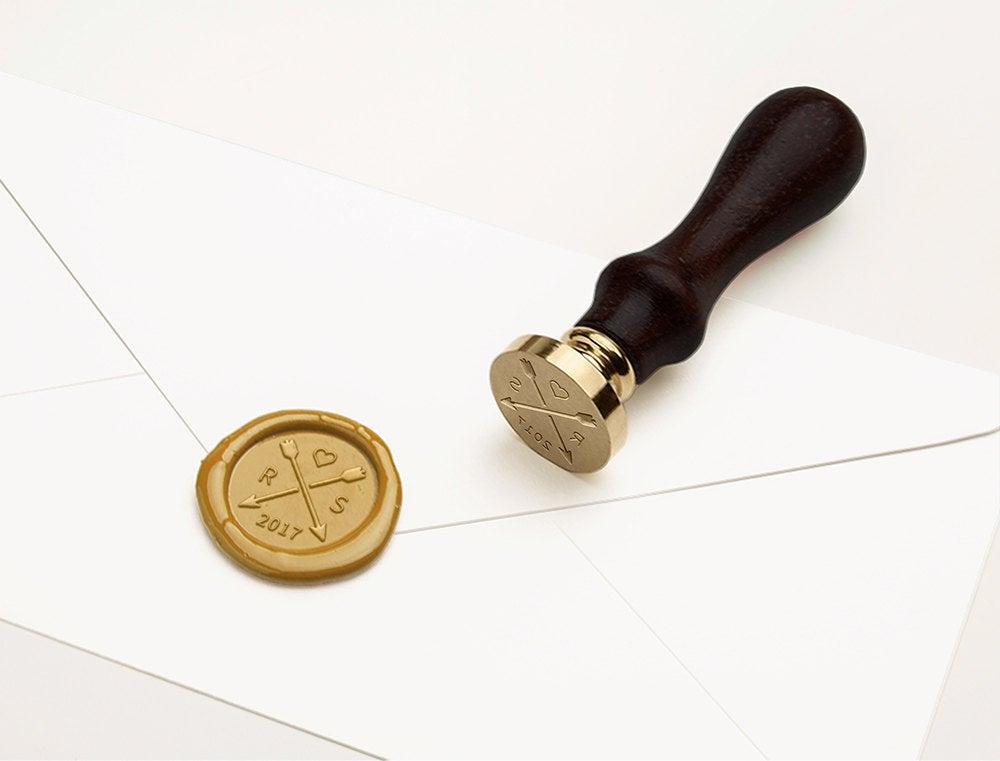 TheStampPress arrows wax seal stamp, from $60, Etsy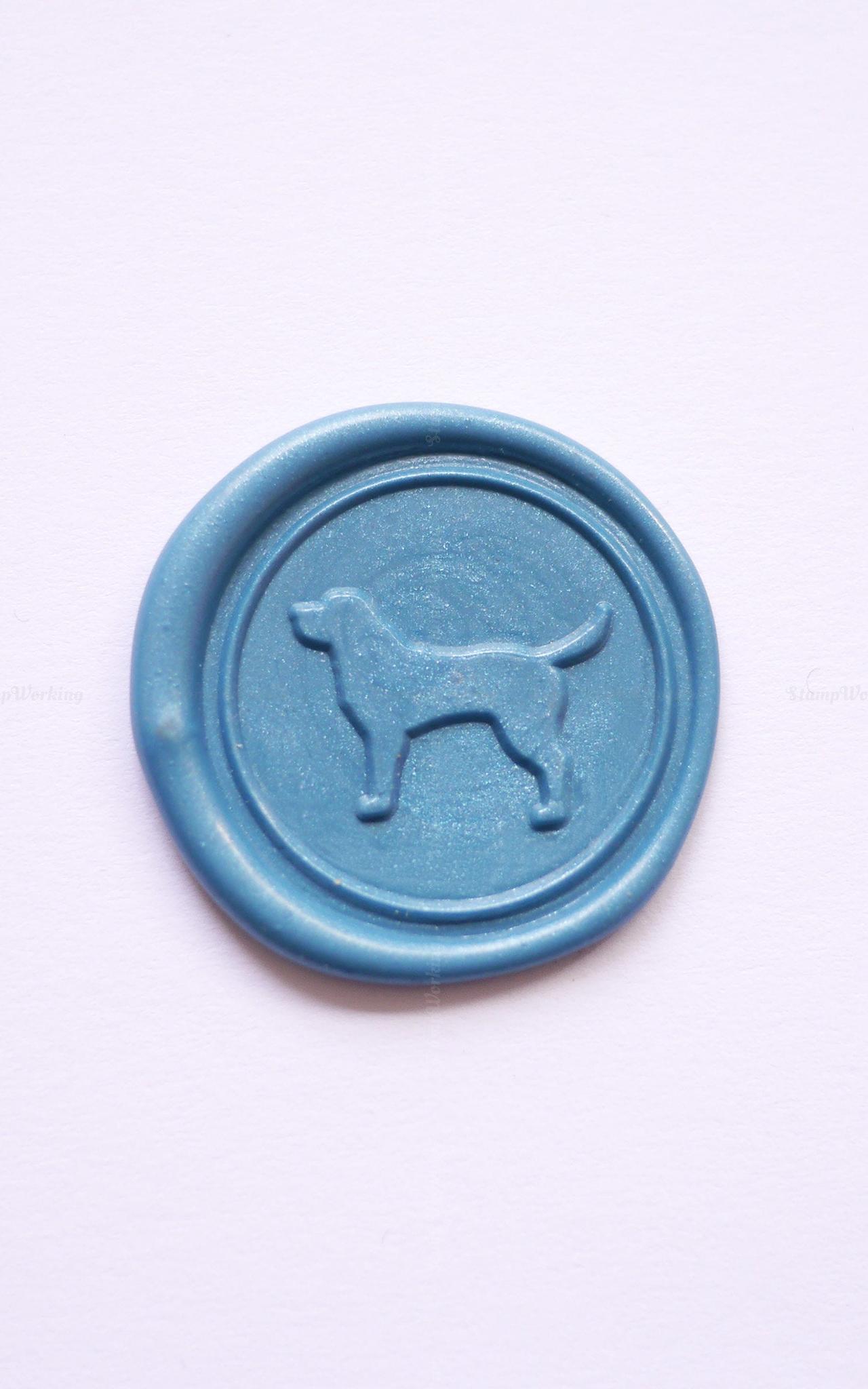 StampWorking labrador wax seal stamp, from $7, Etsy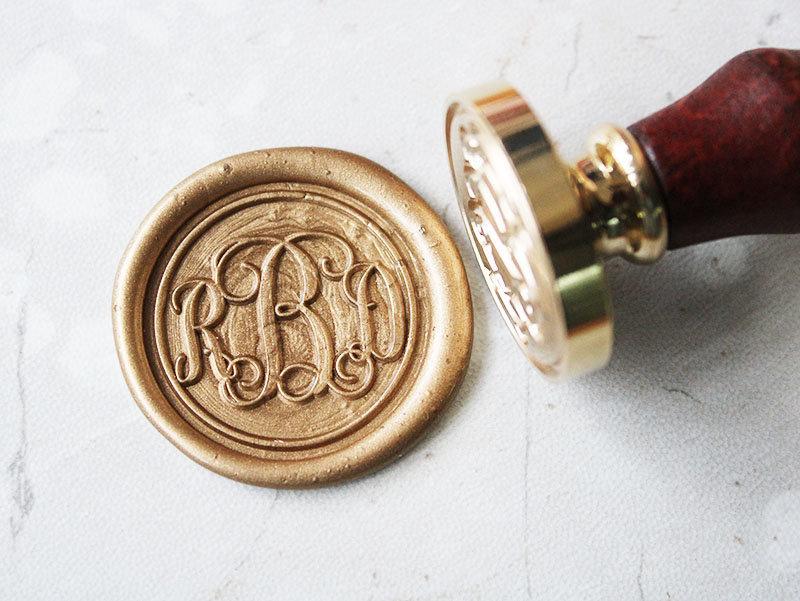 LycheelifeCraft wax seal stamp with three initials, from $5, Etsy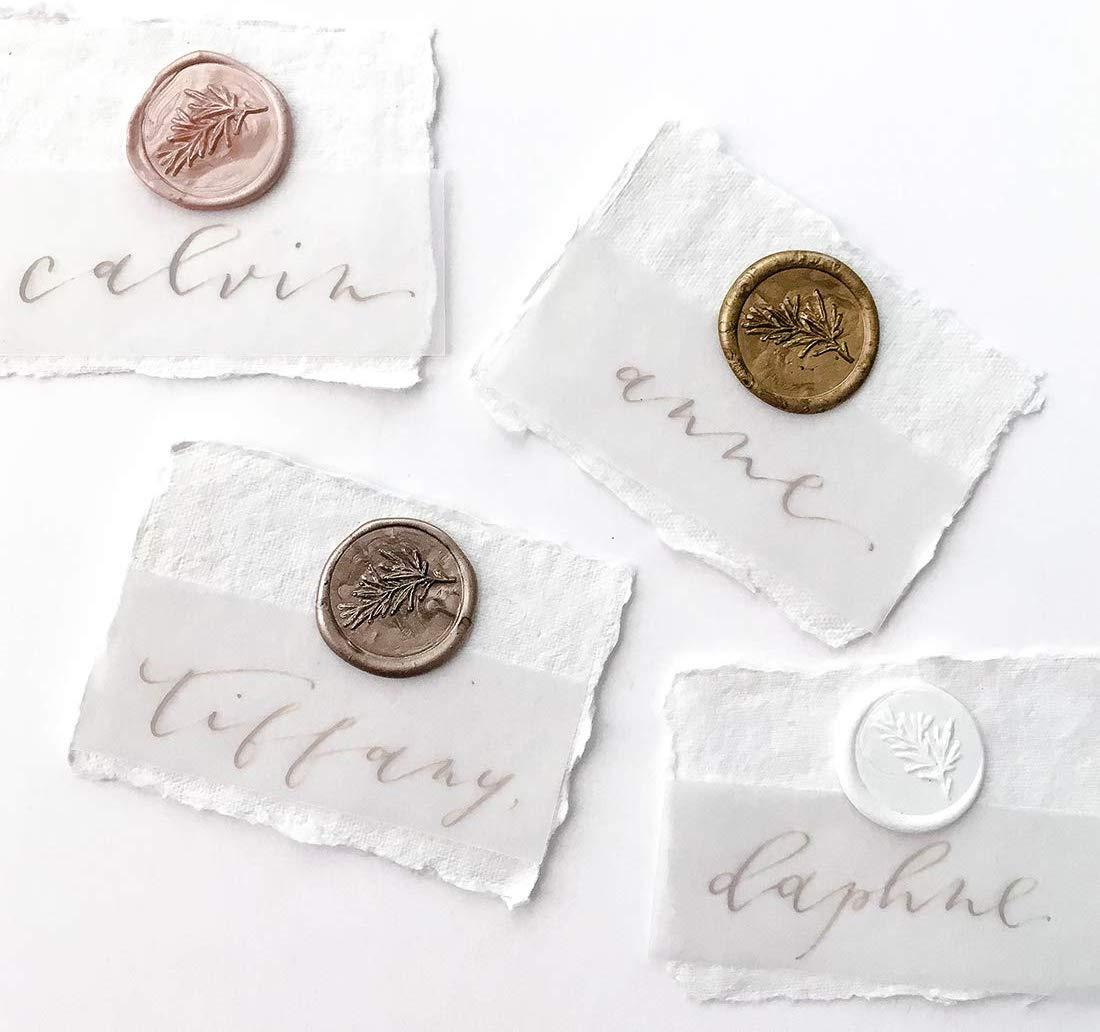 Uniqooo rosemary leaf wax seal stamp, $14, Amazon
Wax sealing supplies
Before making your own wax seals, you'll need to buy a few extra items in addition to the actual wax seal stamp. First, choose how you want to melt the wax.
Option one: Use a wax furnace (a metal or wooden device that holds a metal spoon above an open flame) to melt small wax beads into liquid that can be poured onto paper.
Option two: Use traditional wax sticks that you light, similar to birthday candles. The melting wax drips down the wick and onto the paper. It can sometimes be tricky to keep the sticks lit without burning yourself or the wax.
Option three: Use a glue gun and round wax sticks to dispense the melted wax onto paper. This is the most straightforward method for beginners.
Finally, decide which color you want your wax seals to be. Metallic gold and silver are the most traditional wax seal colors, but it's easy to find wax in practically any color you can imagine. You can also use an assorted color palette or create your own marbled wax by mixing different colors together.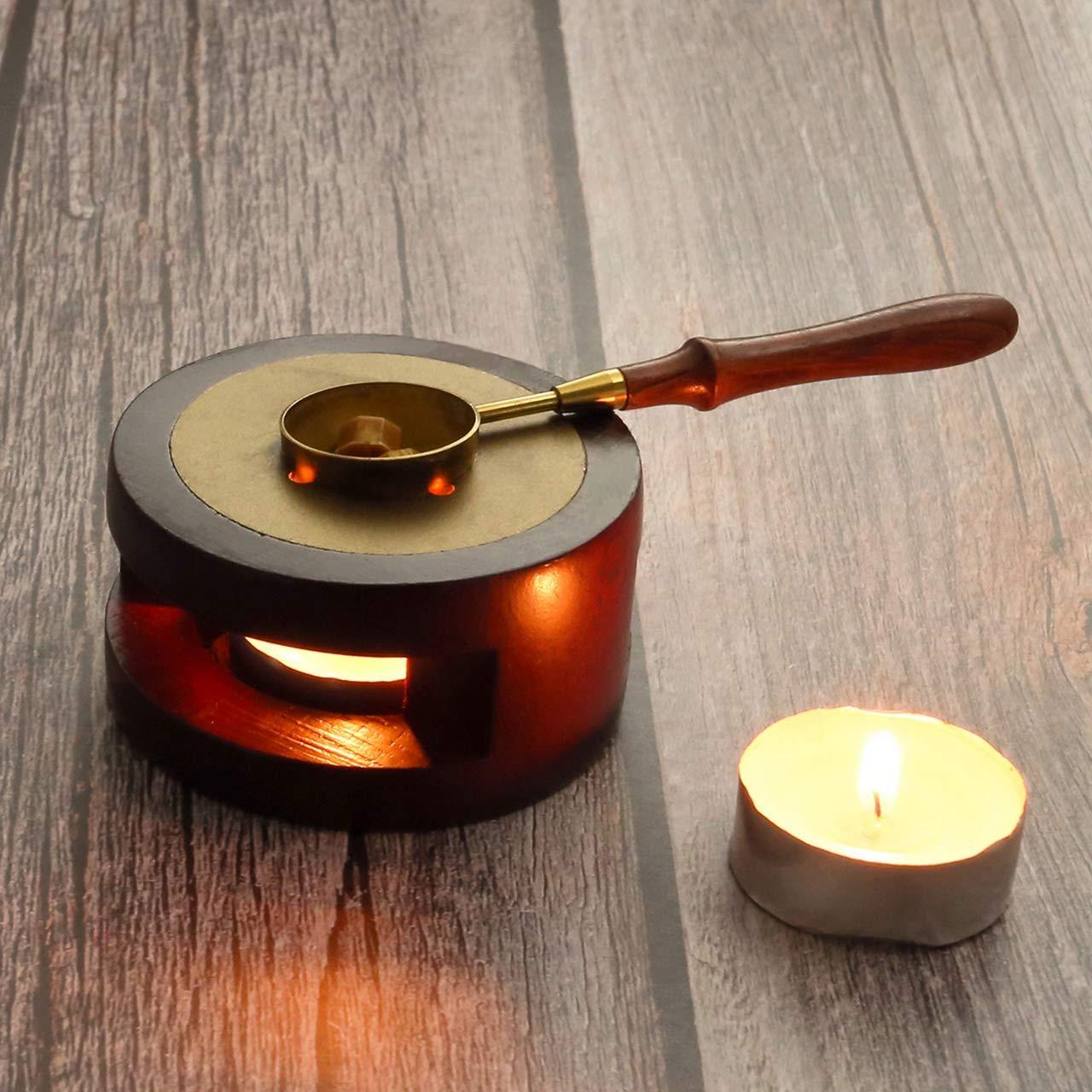 Yoption wax melting furnace, $18, Amazon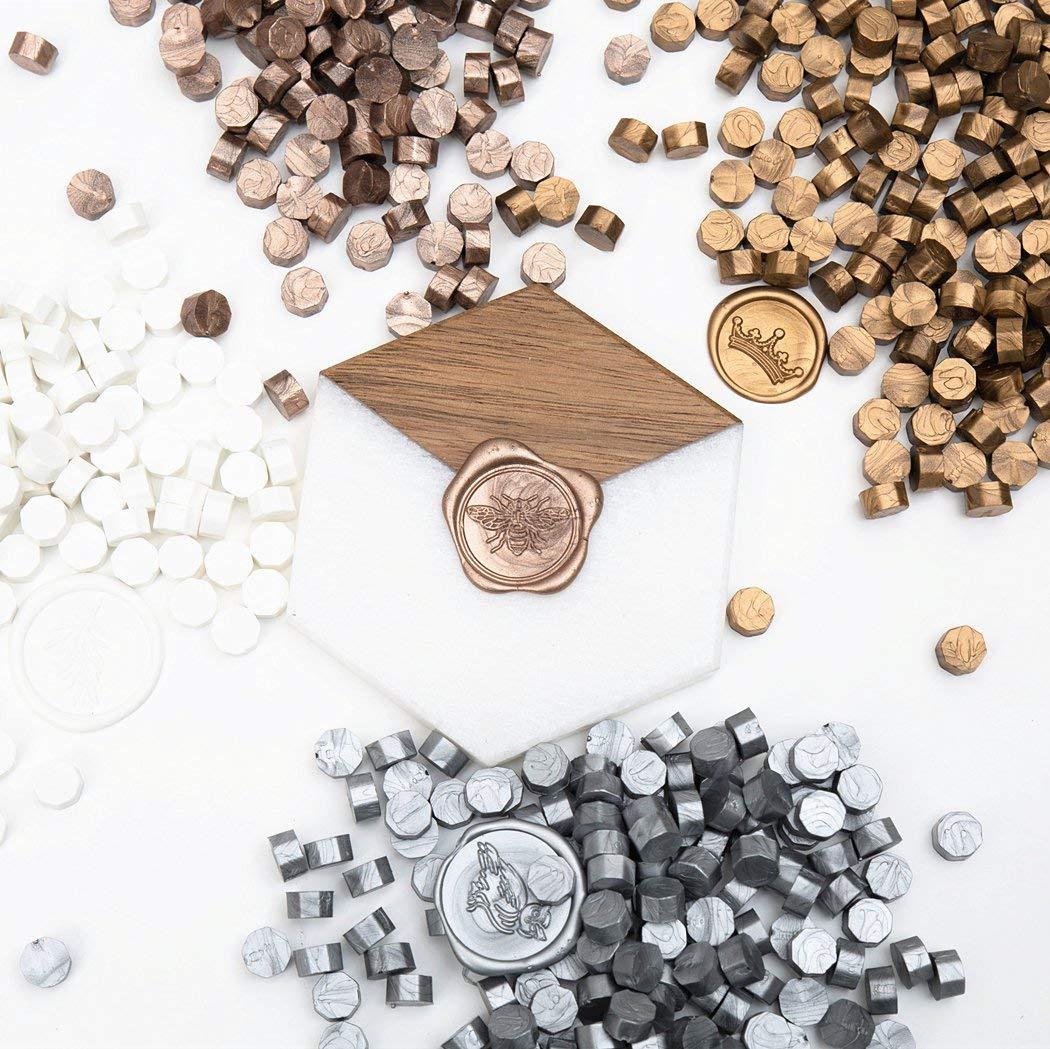 Uniqooo wax beads in champagne gold, $11, Amazon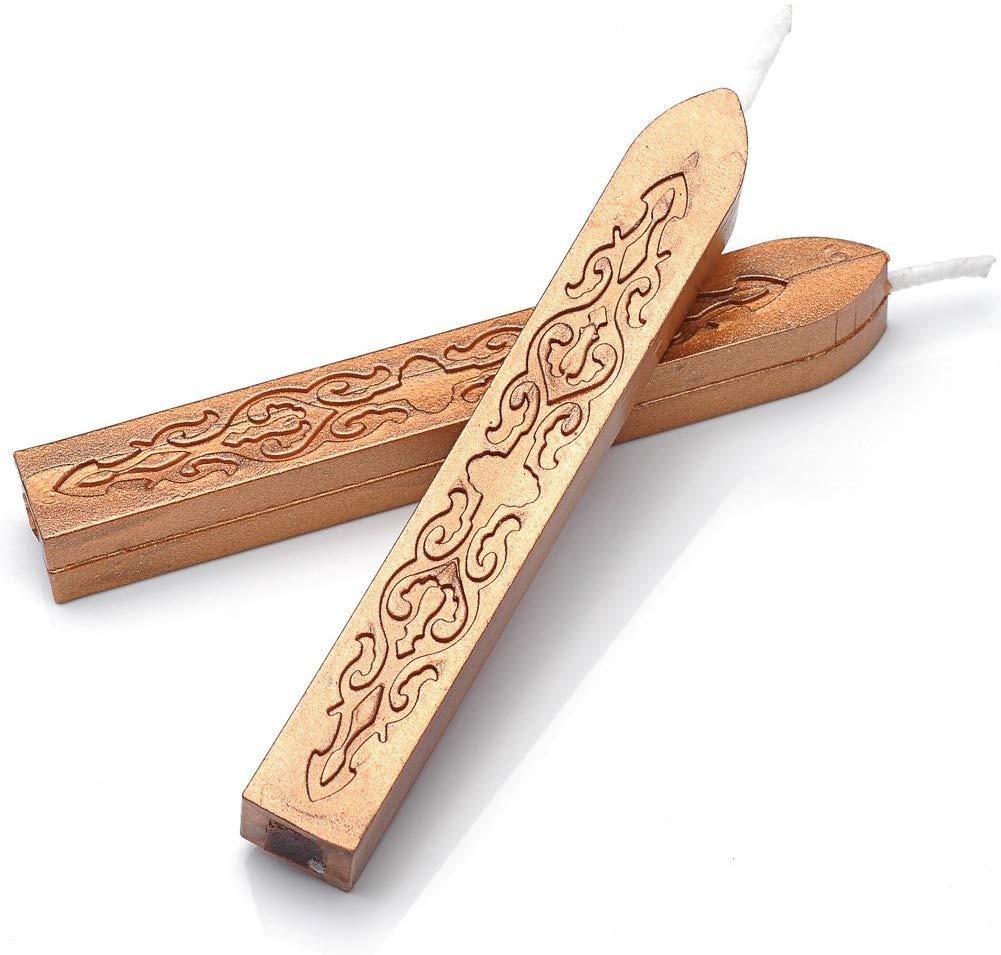 Yoption wax seal sticks in dark golden, $7 (pack of 5), Amazon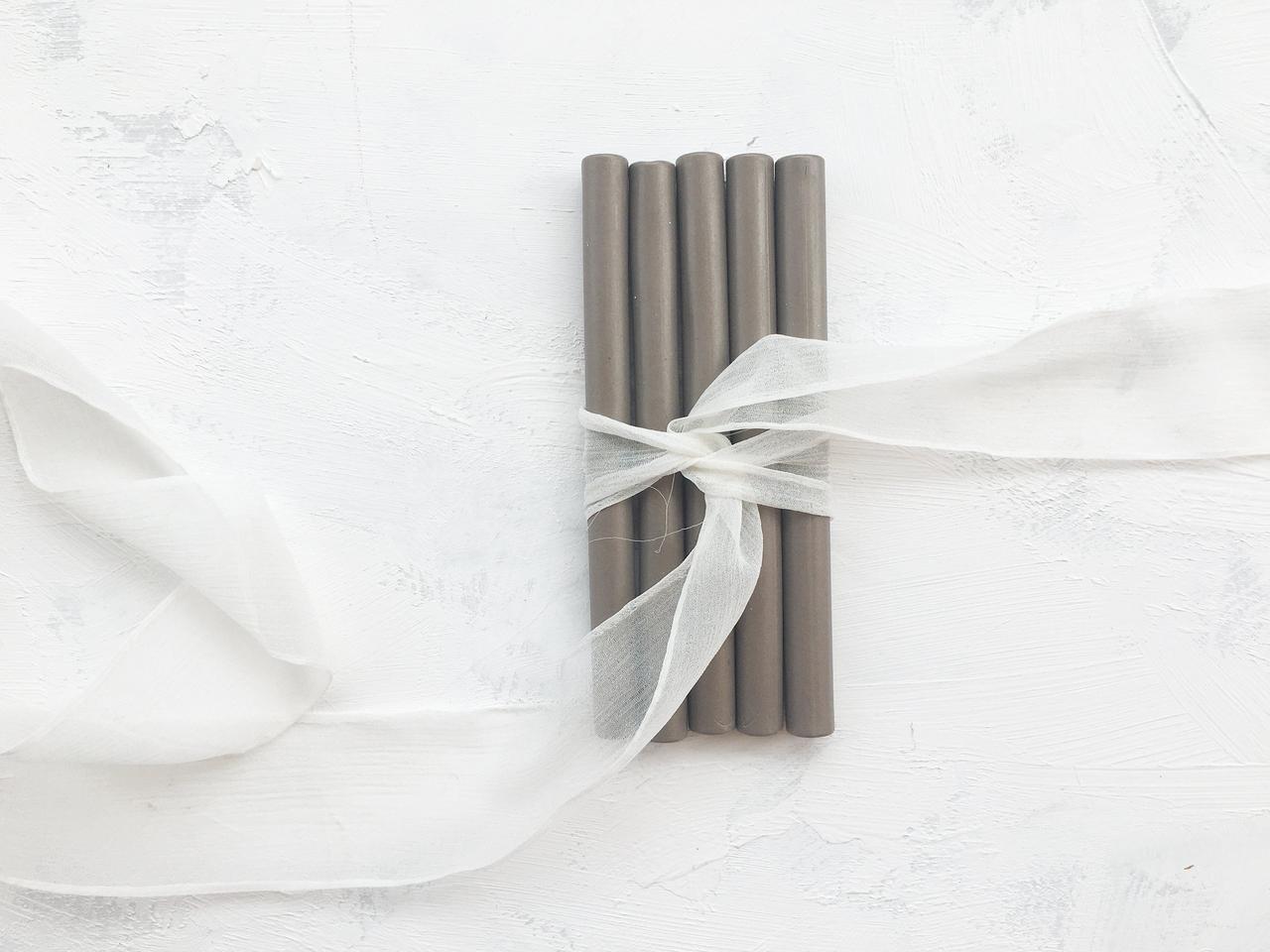 Meilifluouss semi-shimmer sealing wax sticks in warm gray, $6 (pack of 5), Etsy
Disclosure: This post contains affiliate links, some of which may be sponsored by paying vendors.