21 Beach Wedding Invitations for Your Waterfront Nuptials
Get your guests excited for your big day with this coastal-inspired stationery.
We have included third party products to help you navigate and enjoy life's biggest moments. Purchases made through links on this page may earn us a commission.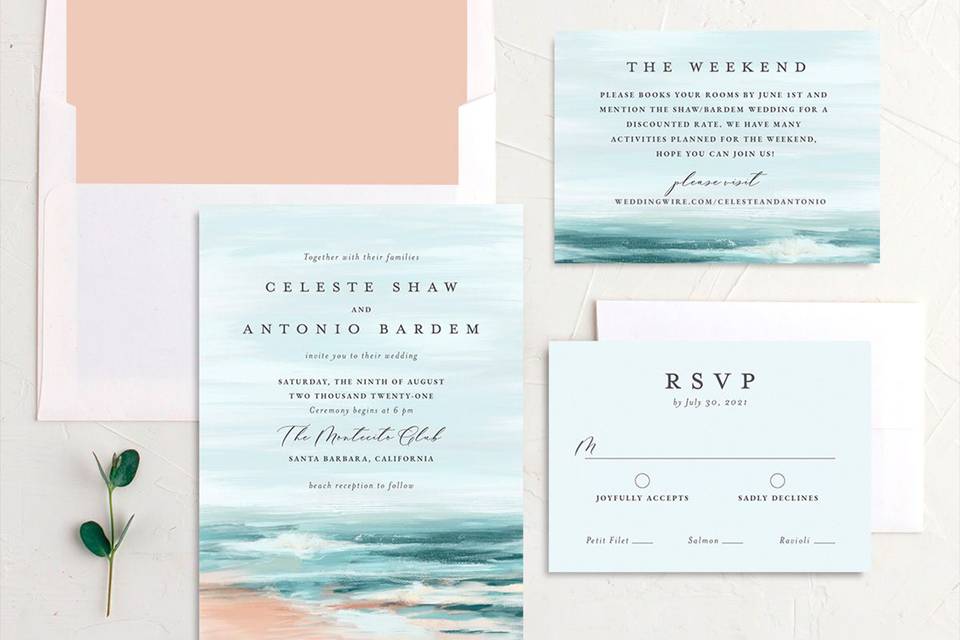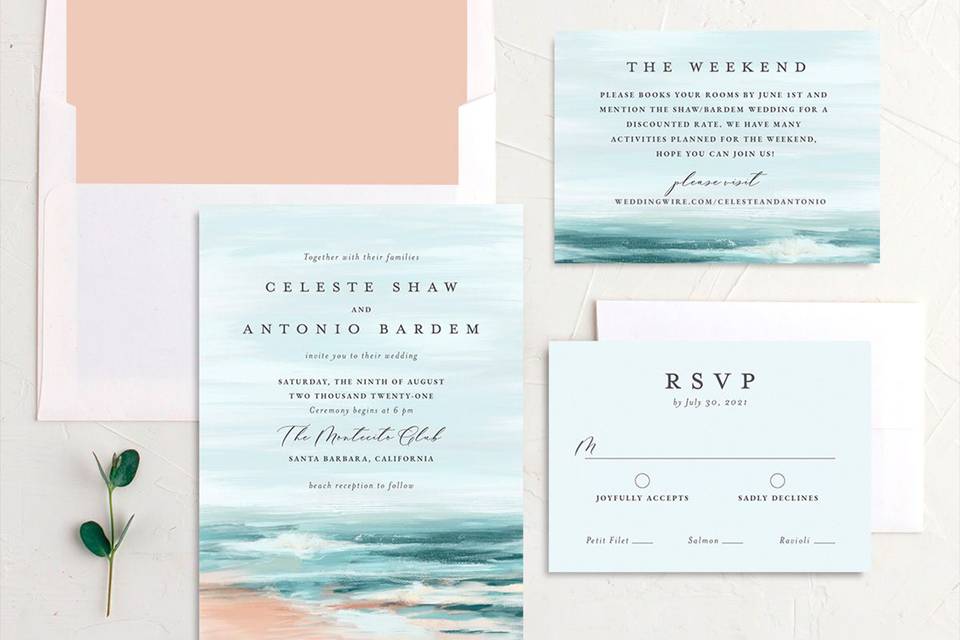 When we think of beach wedding invitations, there are a lot of go-to designs, like anchors, seashells, sailboats, and greenery details, just to name a few. Whether you're planning a beach wedding in your favorite quaint seaside town or you're hosting a tropical destination wedding on an island abroad, your invitations play a big role in getting your loved ones excited for the special day, along with providing all of the important details. That's where we come in. We've rounded up some of our top picks for stylish beach wedding invitations, from classic watercolor beach scenes and ocean waves to minimalist designs that are ideal for an understated coastal theme (see more beach wedding ideas here). The best part? All of these invitations—including our favorites from WeddingWire Invitations—are available to buy right now, so you can checkout and cross stationery off your wedding planning to-do list in no time.

Wedding Invitation with Sea Kelp Illustration
You can practically feel the sea breeze blowing through the air with this invitation. The watercolor illustration depicts sea kelp moving in the waves, complemented by a timeless serif font.
WeddingWire classical coastal wedding invitations, from $2 each, WeddingWire

Anchor and Calligraphy Wedding Invitation
This beach wedding invitation keeps it simple, but beautiful coastal illustrations come to life throughout the rest of the wedding invitation suite. The back of the invitation card features a nautical anchor, while the envelope liner is decorated with a watercolor coastal scene of waves and seagulls. The matching reply cards include cute lobster and fish motifs.
WeddingWire watercolor coast wedding invitations, from $2 each, WeddingWire

Wedding Invitation with Seashell Border
Pastel seashells and starfish outline this classic beach wedding invitation. The pale blue, pink, and yellow tones are reminiscent of the soft sand and blue waters of the Caribbean (which is why this design is aptly named 'St. Lucia'), making it a perfect option for destination weddings taking place at a dreamy seaside resort.
Papier Saint Lucia wedding invitations, from $35 for 10, Papier

Painted Shoreline Wedding Invitation
Your wedding details float above a scenic shoreline panorama on this beachy wedding invitation card. The artistic brushstrokes make this invitation look like a hand-painted piece of art.
WeddingWire romantic shoreline wedding invitations, from $2 each, WeddingWire

Tri-Fold Beach Wedding Invitation
With this beach wedding invitation, a single piece of vellum paper unfolds to reveal your invitation, wedding details, and a detachable response card at the bottom. This particularly invite features palm leaves and bold typography for a trendy design.
Truly Inspired Paper Co. tri-folding wedding invitation, from $127 for 30, Etsy

Watercolor Greenery Wedding Invitation
Hosting your beach wedding somewhere tropical, like a Caribbean island? The lush greenery border on this modern wedding invitation will remind your guests of sunny rainforests and palm trees.
WeddingWire exotic greenery wedding invitations, from $2 each, WeddingWire

Golden Accent Wedding Invitation
Antique-style gold accents complement the calming sea green background on this invitation. This elegant design continues throughout the matching save-the-date cards, RSVP cards, wedding programs, and menus. It's a lovely choice if you're having a beach wedding at a formal venue, like an oceanfront estate or yacht club.
WeddingWire golden accent wedding invitations, from $2 each, WeddingWire

Boarding Pass Wedding Invitation
If you're hosting a destination wedding, this one's for you. Have fun with your invitation by turning it into a boarding pass that will get everyone excited about their upcoming travel plans. Your guests will appreciate the attention to detail in the text, with phrases like "departure date" (your wedding date) and "first class" adding whimsy to the design.
WeddingWire classic boarding pass wedding invitations, from $2 each, WeddingWire

Tropical Wedding Invitation with Palm Trees
Keep the vibes sleek and contemporary with this trendy beach wedding invitation. The gold foil palm trees shine against a warm, ombré background, reminding us of a glowing summer sunset. Choose from seven other metallic foil colors if gold doesn't match your wedding decor.
Lulu and Isabelle sunset by the sea wedding invitations, from $3 each, Minted

Simple Greenery Wedding Invitation
The single palm branch stretching across the top of this invitation is a fitting accent for a classic beach wedding. The other cards in this wedding invitation suite include coordinating greenery details, with protea flowers for added tropical flair.
WeddingWire lush verdure wedding invitations, from $2 each, WeddingWire

Modern Wedding Invitation with Waves
An artful watercolor illustration of waves gives this beach wedding invitation an understated but modern effect. The soft pastel color scheme (choose from blue, mauve, white, or sage green tones) creates a soothing coastal vibe.
Nicoletta Savod at sea wedding invitations, from $3 each, Minted

Abstract Watercolor Wedding Invitation
Beach wedding invitations don't always have to include sand, seashells, or palm trees to remind your guests of the beach. The jewel-toned green watercolor detailing on this invitation brings to mind sea glass.
WeddingWire ethereal watercolor wedding invitations, from $2 each, WeddingWire

Sailboat Wedding Invitation
Do you and your future spouse love boating or sailing together? Showcase one of your favorite pastimes and the nautical theme of your special day with this sailboat invitation. Bonus: you can even get matching wedding programs, RSVP cards, place cards, and more.
Sarah Brown set sail wedding invitations, from $3 each, Minted

Monstera Leaf Wedding Invitation
This statement greenery is a staple for any tropical beach wedding. If you're using monstera leaves in your beach centerpieces, give your guests a sneak peek by working them into your stationery too. This modern wedding invitation is accented with gold speckles and a pink watercolor wash on the back of the card.
WeddingWire tropical foliage wedding invitations, from $2 each, WeddingWire

Rustic Beach Wedding Invitation
If you're planning a beach wedding with rustic decor accents, this invitation combines both wedding styles into one design. The printable template showcases string lights hanging above a beach scene. It's ideal if you're short on time and need to DIY your invitations quickly.
Happy Paper Moments wedding invitation beach theme, $18 for a download, Etsy

Botanical Beach Wedding Invitation
Flowers belong at the beach too. This invitation's painted flowers look like they could be growing seaside in any quaint beach town, while the watercolor design has a calming effect. If you're unsure which color to choose, take advantage of WeddingWire Invitations' free samples.
WeddingWire breezy botanical wedding invitations, from $2 each, WeddingWire

Nautical Wedding Invitation
Whether you're saying "I do" on the shore or on a boat, this invitation will clue your guests into your coastal wedding theme. The metallic foil border pops against the rest of the card, while the anchor detail adds a simple nautical touch. Personalize the design by choosing from more than a dozen color combinations and foil options.
Sandra Picco Design down by the sea wedding invitations, from $3 each, Minted

Artistic Brushstrokes Wedding Invitation
You don't have to take the beach theme literally if it doesn't match your wedding vision. While this invitation design doesn't include seahorses, palm trees or anchors, the blue and green brushstrokes evoke a coastal aesthetic in a subtle way.
WeddingWire floral brushstroke wedding invitations, from $2 each, WeddingWire

Passport-Themed Wedding Invitation
Guests traveling abroad for your big day will love this destination wedding invitation designed to look like a passport cover. Stamp motifs, maps, and airplane details carry the travel theme onto the back of the card and throughout the matching invitation inserts for this suite.
WeddingWire vintage passport wedding invitations, from $2 each, WeddingWire

Lighthouse Wedding Invitations
Wedding guests will love the idyllic lighthouse scene illustrated on this wedding invitation—especially if your ceremony or wedding reception takes place near a lighthouse. Your names are printed in a whimsical script font, adding to the casual vibe. The matching RSVP cards, detail cards, and wedding menu cards create a cohesive wedding stationery suite.
Paper Source lighthouse wedding invitation, from $2 each, Paper Source

Sand and Sea Wedding Invitation
This seaside wedding invitation comes in three color options that each depict a different beach scene. If you're having a sunset ceremony, we love the corresponding 'Sunset' design with pink, purple, orange, and blue ombré hues.
Laura Condouris painted sea wedding invitations, from $3 each, Minted