11 Wedding Hashtag Sign Ideas for the Best Guest Snapshots
Tell everyone exactly how to share their photos from your big day with these wedding hashtag sign ideas.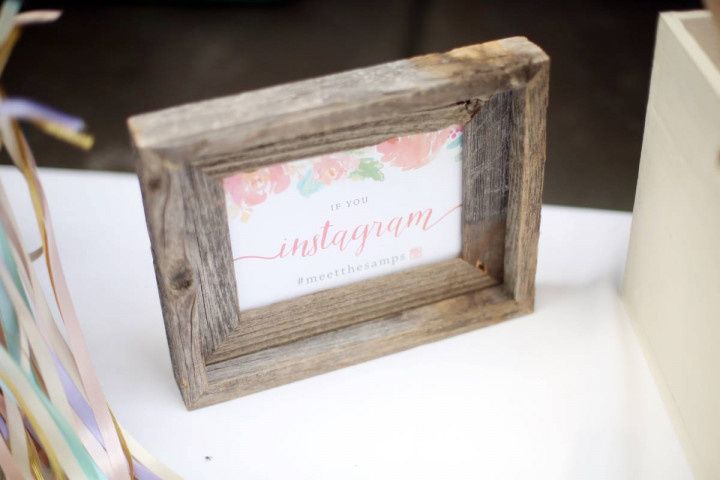 Hashtags are basically a given at weddings these days (thanks, social media!), and they're a fantastic way to relive your big day from your guests' point of view. A creative wedding hashtag sign is a must-have when it comes to encouraging friends and family to share their photos from your #bestdayever, so we've rounded up some of our favorite ideas to spark your imagination.
If you're still trying to think of the perfect wedding hashtag, we've got you covered there, too. Check out our Wedding Hashtag Generator for unique, personalized suggestions based on your name(s), wedding date, and wedding city!
Ready to start 'gramming? Here are 11 wedding hashtag sign ideas we love.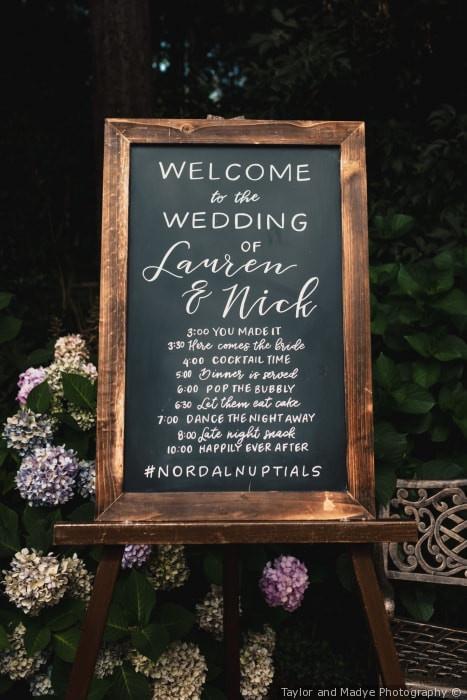 Welcome sign
It will be impossible to miss your wedding hashtag when it's prominently displayed on an important sign, such as this welcome chalkboard. List out the wedding timeline and conclude with your wedding hashtag in clearly-written print, then display the sign in a place where guests will see it (like the entrance to your venue, for example).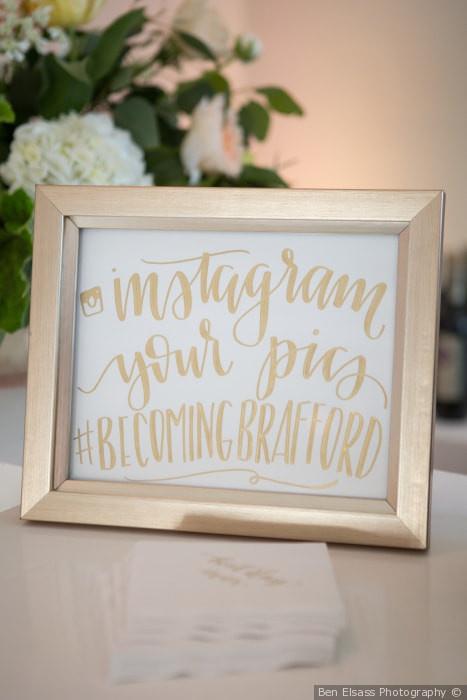 Framed display
Want to keep things simple for your wedding hashtag sign? No problem. Opt for a straightforward message, such as "Instagram your pics with (insert hashtag here)", then jazz things up with metallic ink and a complementary frame. Voilà — short and sweet!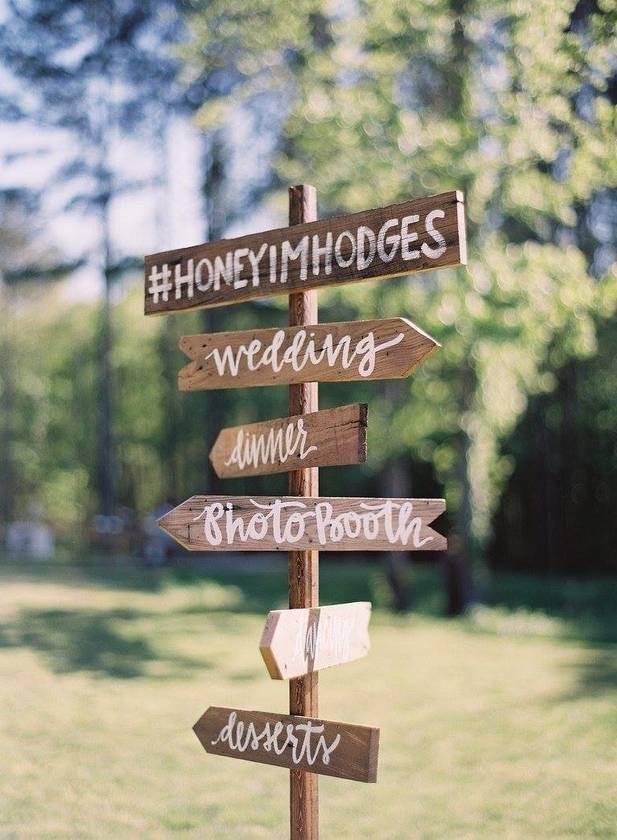 Arrow signage
If the timeline of your wedding day is spread out across your venue, an arrow sign can be a helpful detail for your guests to ensure that everyone is going the right way. This decorative element serves double-duty as a wedding hashtag sign when you add the hashtag to the top of the list.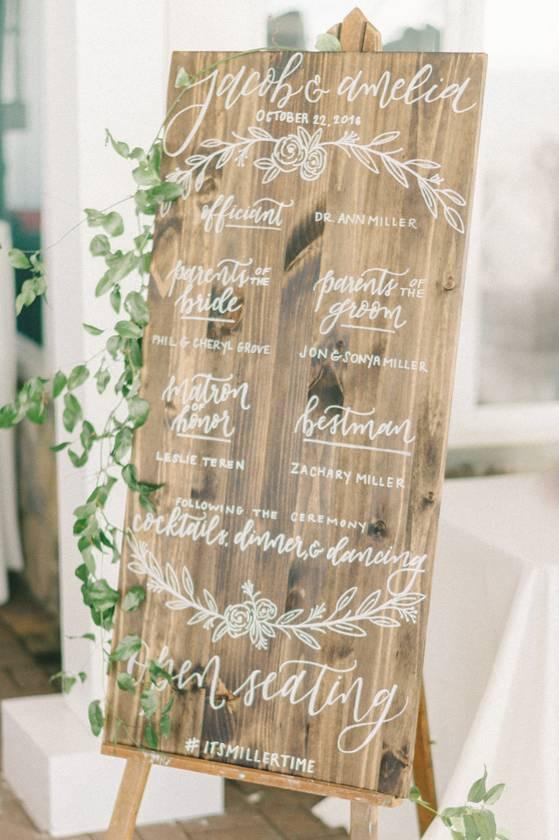 Ceremony program sign
Encourage guests to "gram during the ceremony by including your hashtag at the bottom of a sign that lists your wedding party members and officiant. We love this greenery-adorned wooden sign for a rustic wedding, but you can easily switch up the look to match your theme. Try using a mirror for a classic or romantic aesthetic or a piece of acrylic for something more minimalistic.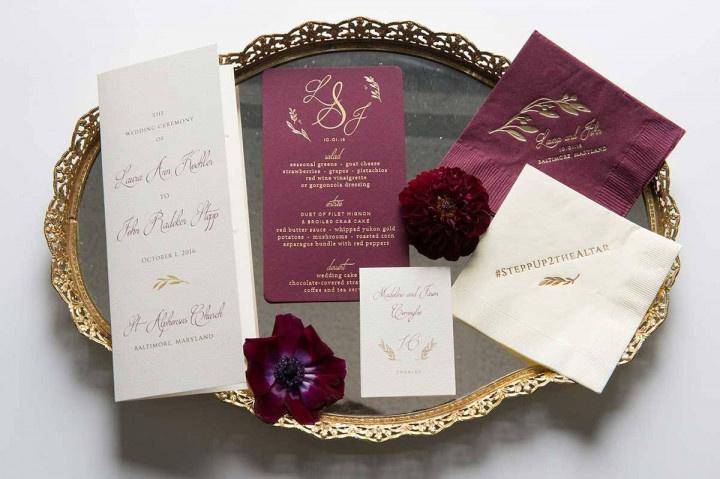 Cocktail napkins
Personalized cocktail napkins are a small but mighty detail, and they're a great option if you're looking for alternative wedding hashtag sign ideas. Place them on the bar and throughout your venue during cocktail hour, which is a prime time for guests to post selfies using your hashtag!
Chalkboard sign
Chalkboard signs are still a crowd favorite when it comes to displaying wedding hashtags. This vintage-inspired idea looks best when you keep the design simple — use a white calligraphy pen instead of actual chalk for the cleanest look (no eraser smudges, please!).
Koozies
Custom koozies are a tried-and-true wedding favor, but they're also a fun alternative to the traditional wedding hashtag sign. This idea is perfect for guests who forgot to share pictures during the actual wedding (too busy hitting up the dance floor, maybe?), since they'll have your hashtag on hand for any post-celebration 'grams.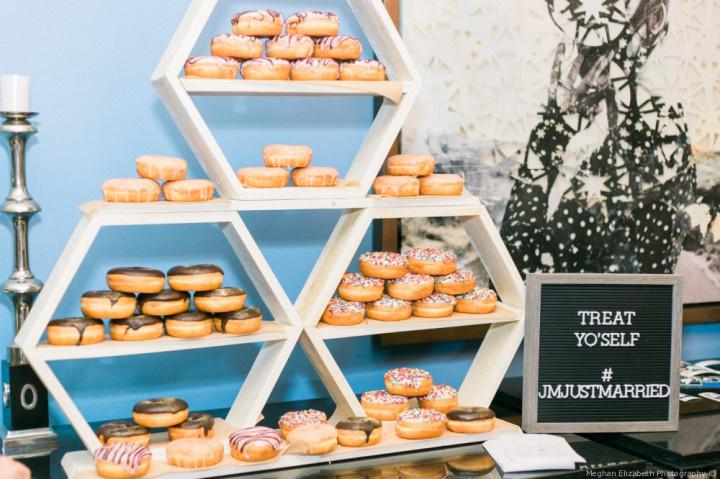 Dessert table
An eye-catching dessert installation is a prime spot to show off your wedding hashtag. Felt boards are one of the top 2019 wedding decor trends, but they're also perfect for your wedding hashtag sign display.
Transportation
Want to catch everyone's attention with your wedding hashtag? Write it loud and proud on the side of a party bus (or a car, shuttle, etc.) and we guarantee you'll stop traffic en route to your wedding venue! Check with your local wedding transportation companies to see if they allow this type of customization (usually via decal) — if not, you can always opt for a less permanent solution, like a removable sign or other wedding car decor.
Potted plants
Why stop at one big wedding hashtag sign when you can have dozens of little ones? Miniature potted plants are a cute and eco-friendly way to spread the word about your hashtag on the big day. Plus, the potted plants can act as creative escort cards or non-traditional wedding favors.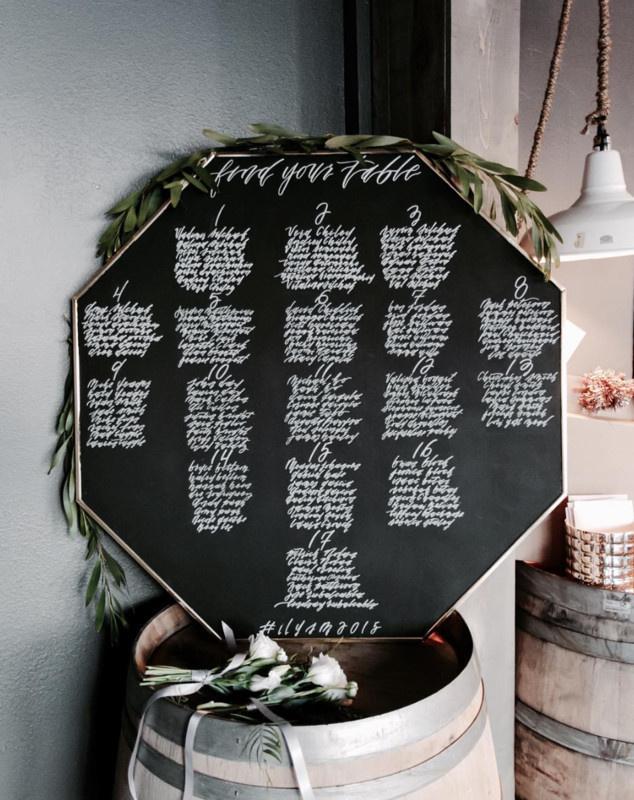 Seating chart
Another way to guarantee maximum exposure for your wedding hashtag: add it to your seating chart. All of your guests will have to look at the chart in order to find their table assignments, making this wedding hashtag sign idea a no-brainer.