16 White Wedding Flowers to Include in Arrangements for Any Season and Style
We asked expert florists to share their favorite white wedding flowers, plus what to consider when finalizing your own decor and arrangements.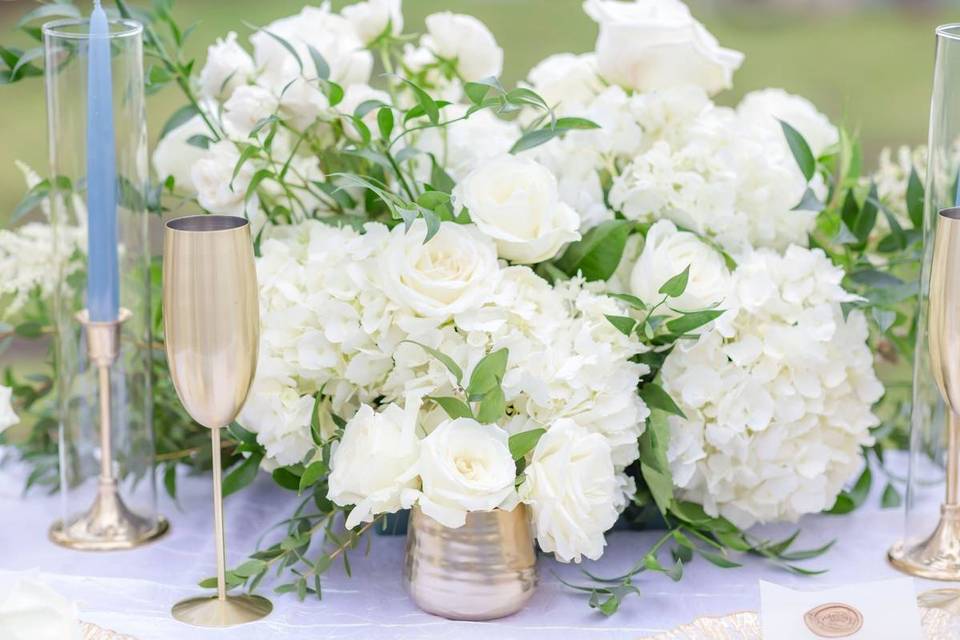 Working with your florist to choose your flowers is one of the most exciting parts of finalizing your wedding decor. Whether you accent them with greenery and colorful flowers or go for a monochromatic look, white wedding flowers will bring a clean, timeless feel to your wedding, no matter the season or theme. Below, we're outlining some of the most popular white wedding flowers you can choose from, whether you're planning your centerpieces, wedding bouquet, bridesmaids bouquets, altar arrangements, and beyond.
What do white wedding flowers symbolize?
The color white is traditionally a symbol of purity and innocence. In floral design, white flowers can work for a range of wedding styles, whether your theme is classic and formal, relaxed and bohemian, or tropical and beachy. White wedding flowers act as a base for bright colors, eucalyptus and greenery, or other floral accents, which makes them versatile for almost any time of year and wedding aesthetic.
"When working with monochromatic white flower arrangements, it is quite important to incorporate texture and dimension through selecting blooms in different shapes and sizes," says Carol Guedes, founder and creative director at Flying Little Birds in Brooklyn, New York. "Greenery foliage choices also contribute to the overall look. The contrast of tropical and unusual leaves with white flowers, such as a white anthurium, can translate into a modern and minimalist look."
When are white wedding flowers in season?
"When couples mention they envision white florals for their weddings, it is still a very vague approach," says Guedes. "White flowers come in a vast variety of shades, sizes, and also different color accents. Not to mention the season/month when the wedding will take place in order to consider the most gorgeous blooms available."
The specific flowers that are available for your wedding date will depend on the time of year you're getting married (and how much you're able to spend). Your wedding florist will be the expert source in determining what they are. If you want a certain flower that's not typically in season on your wedding day, be prepared to allocate more of your budget, since it will likely be a higher supply cost for your florist.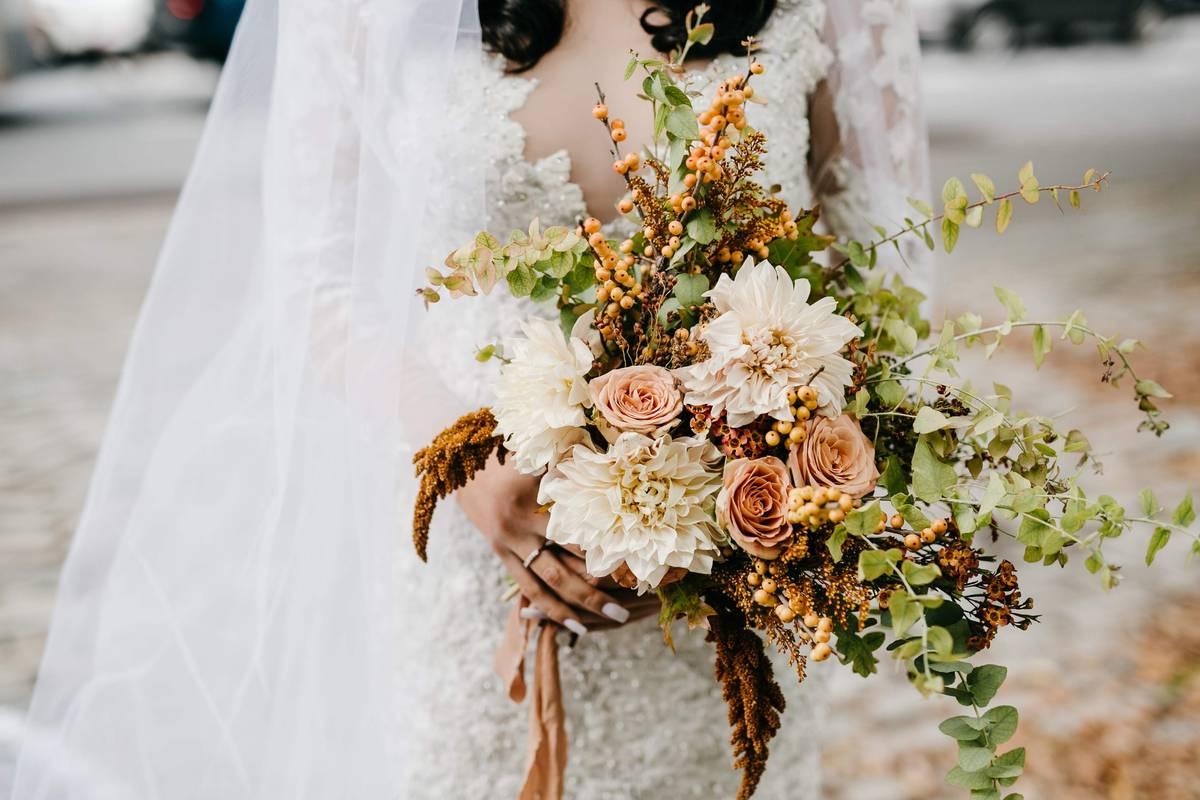 Types of White Wedding Flowers
Anemones
The white anemone is a flat, small flower with a dark blue center. They thrive in cooler weather, making them ideal for winter and early spring weddings.
Baby's breath
Along with being a favorite for rustic weddings, baby's breath often has a bad reputation for being a 'filler flower.' And while it is commonly used for flower girl bouquets, to build out arrangements, or as an accent in boutonnieres and corsages, baby's breath is also experiencing a resurgence as a wedding flower trend over the last few years. Colorful baby's breath that has been dyed or spray-painted can be used to create a cloud-like hanging centerpiece or floral ceremony aisle.
Calla lilies
This white wedding flower doesn't have petals, but rather an elongated, cup-like shape. Calla lilies are usually associated with elegant and formal wedding themes, but they're also a popular choice for beach wedding bouquets. Their unique shape makes them a statement flower that won't need much else.
Carnations
The carnation is a small, rounded flower with compact ruffled petals. In addition to the pure white variety, carnations also bloom in cream, beige, and antique pink shades that complement other white wedding flowers.
Dahlias
This large flower has cone-shaped petals with either a pale yellow or green center, depending on the variety. "If you are getting married late in the summer or fall, the white dinner plate dahlias are show-stoppers on any arrangements," says Guedes.
Gardenias
Sometimes confused with garden roses, gardenias feature broad petals and waxy green leaves. These elegant wedding flowers are valued for their rich floral scent and are a favorite for Southern weddings, since they naturally flourish in humid, sunny regions.
Hydrangeas
Recognizable by their large, snowball-shaped heads, white hydrangeas are among the most popular flowers for summer weddings and beach venues. They also bloom in blue, pink, green, and multicolor varieties.
"Hydrangeas are versatile—they can be used and are available year-round," says Vennissa Scarlett, CEO and lead designer at Scarlett Expressions in Orange, New Jersey. "You can use them for a more rounded arrangement or you can use them in looser arrangements. However, they need a lot of water, so they can be tricky in the summer months. Proper processing and hydrating prior to creating the arrangement is crucial."
Lily of the Valley
This unique white wedding flower features tiny bell-shaped blooms with a sweet fragrance. The Duchess of Cambridge famously carried a posy bouquet comprised of Lily of the Valley for her 2011 wedding.
Lisianthus
With a similar appearance to spray roses, lisianthus have long, thin stems and petals that spiral into the center of the flower.
King proteas
Bold proteas are the ultimate bloom if you're looking for floral arrangements that truly stand out. These oversized, crown-shaped flowers are native to South Africa and are popular for boho and beach weddings.
"Incorporating white king protea can be a great statement piece for [those] who want to share their unique personalities," says Guedes.
Orchids
There are thousands of different orchid species and varieties throughout the world, but a few of the most popular options for weddings include cymbidium orchids, phalaenopsis (moth) orchids, vanda orchids, and dendrobium orchids. These stately orchids all bloom in shades of white and are favorites for tropical-themed weddings.
Peonies
A classic springtime flower, the white peony is romantic, understated, and sophisticated. Depending on when the flower was cut, the petals will either form a dense globe shape or fan out to reveal a fluffy center.
Queen Anne's Lace
Although this white wedding flower is actually considered a weed in some places, it's an ideal choice if you love the look of natural, wildflower-inspired arrangements. Sometimes confused with baby's breath, Queen Anne's Lace features a broader, umbrella-shaped head with tiny clusters of white blossoms. It works great on its own or as a floral accent in your centerpieces.
Ranunculus
Ranunculus are tiny, ball-shaped flowers with petals that spiral tightly into the center. White ranunculus are popular for spring and winter weddings, while the brighter varieties, like red, yellow, orange, and pink, are often used in summer and fall wedding arrangements.
Roses
White roses are one of the most popular flowers if you're going for a classic look, but there are actually several different varieties you can choose from. According to Scarlett, the Tibet rose "is an off-white rose that opens up and blooms so beautifully," she says. "It's favorite for centerpieces and especially bouquets." She also recommends Majolica spray roses and white garden roses.
Tulips
Cheerful and sophisticated tulips are a common white wedding flower for springtime arrangements. Carry an all-white wedding bouquet of tulips if you're going for a classic, unfussy look.