The 5 Types of Roses You Can Have in Your Wedding Decor
Red roses get all the attention when it comes to this romantic flower, but we're here to show you that there are other types of roses that are just as noteworthy for your big day.
Roses are an international symbol of love (name a more romantic flower, we'll wait). But did you know that there are actually several types of roses you can choose from for your wedding day? The rose is one of the world's most beloved flowers, and it's also one of the most diverse, with hundreds of species and thousands of varieties. If you're thinking about using this iconic blossom in your wedding decor, there are five basic types of roses you should know about. We're breaking down the essential differences between wedding roses for all you flower-obsessed brides and grooms, but remember that your wedding florist will ultimately provide plenty of guidance based on your personal needs.
Here are five types of roses you need to know about for your wedding day.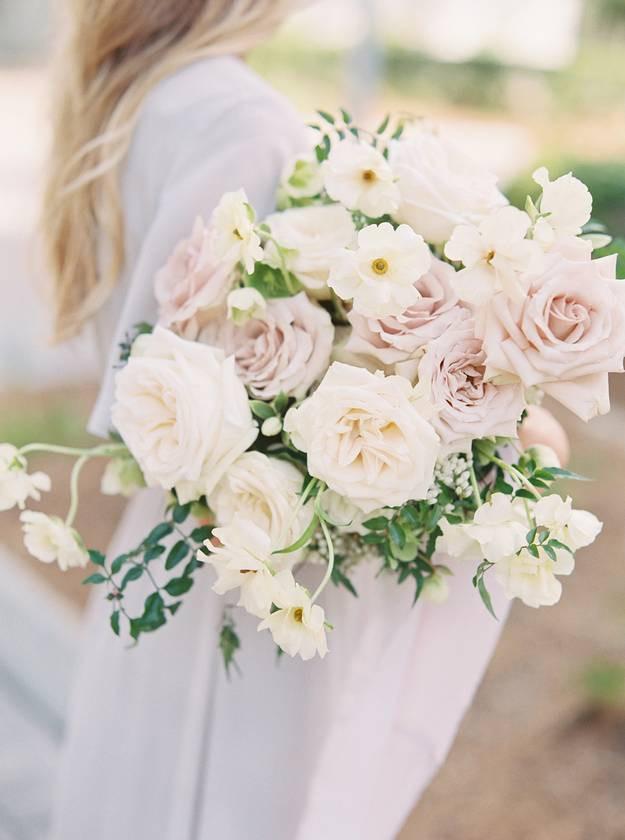 Old garden roses
Also known as heirloom and antique roses, old garden roses are classified as any variety that existed before the late 19th century — some types of roses even date back to the Roman Empire. Old garden roses are prized for their strong, heavenly aromas and are also known for their size, which is larger and fuller than the standard rose (more on that in a minute).
These types of roses are a gorgeous option for classic, romantic, and vintage wedding styles, since they have a high petal count and bring a lush, timeless feel to your decor. Tea roses are the most popular variety of old garden roses, and they grow in pastel colors like white, pink, yellow, and apricot orange. This rose variety produces blossoms with high centers and outer petals that roll back, creating a pointed shape around the edge of the flower. Cabbage roses (centifolia roses) are another common variety of old garden roses. The cabbage rose is recognized by its dense petals that swirl out from the center of the flower to create a lovely round shape, which is why they're often confused with peonies!
The bottom line: Because most old garden roses are grown outdoors on shrubs that only bloom once a year, they're not as readily available as other types of roses. This means you can expect to pay a higher price if you want to use old garden roses in your decor, and your florist may not be able to easily find them, depending on your wedding season. You'll also be limited to a smaller selection of colors, which range from white, cream, peach, and yellow, to pink and sometimes purple.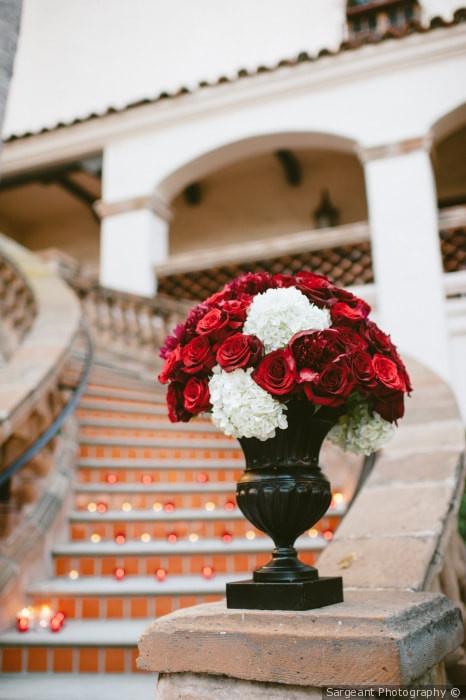 Modern garden roses
The modern floral industry has created a demand for roses that can be grown in mass quantities and are more versatile than old garden roses. That's where modern garden roses come in. These types of roses are made by combining the pollen from two rose varieties to form a hybrid rose with characteristics from both of the "parent" roses. Unlike old garden roses, modern roses are often grown in greenhouses, providing florists with year-round supplies. Modern garden roses offer more colors, repeated blooming seasons, and longer stems compared to old garden roses. As a result, these flowers can be more affordable and easier to source for your wedding, depending on the specific variety.
Hybrid tea roses are the most popular type of modern garden roses. They are the "standard" rose that you can find at flower shops, grocery stores, and basic plant nurseries. Hybrid tea roses are grown in a huge range of colors, which is why they're frequently used as wedding roses. Along with pastels, you'll find these types of roses in red, burgundy, and unique two-tone color varieties. Hybrid tea roses are more compact and have fewer petals than old garden roses, so you may need a higher quantity for them to really make an impact in your wedding flower arrangements. These types of roses also tend to be less fragrant, which is a side effect of the breeding process.
Sweetheart roses
Sweetheart roses are a smaller variety of modern garden roses. Their petite size makes them daintier and easier to incorporate into small floral arrangements like boutonnieres, corsages, flower girl bouquets, and wedding hair accessories. Sweetheart roses are available in traditional colors such as yellow, red, orange, and white. Despite being smaller than the average rose, sweetheart roses are considered a specialty flower, which could mean a higher cost for you in the long run.
Spray roses
Like sweetheart roses, spray roses are smaller than other modern roses. The main difference is that instead of one flower per stem, spray roses have clusters of flowers per stem or branch. This gives them a wilder, garden-inspired appearance compared to modern long-stem roses. Spray roses look great as accents in arrangements with other flowers, such as hydrangeas and greenery. When purchased in bulk, they tend to be more affordable than long-stem roses.
David Austin roses
You may have heard of these referred to as English roses, but their proper name comes from David Austin, the British rose breeder who created them. Austin began developing his roses in the 1950s to blend the fragrance and appearance of old garden roses with the colors, hardiness, and repeat flowering of modern garden roses. Today, David Austin roses account for some of the most popular wedding roses in the world, including the Juliet rose, the Patience rose, the Constance rose, and the Beatrice rose. These types of roses are treasured for their cupped shapes, ruffled petals, and rich colors.
While David Austin roses aren't officially recognized as their own category of roses, they are highly valued by many florists and gardeners for their unparalleled fragrance and beauty. If you're looking to include the most romantic roses in your wedding decor, these flowers are your answer! David Austin roses will cost you more than standard roses, but you'll only need a few to transform your floral arrangements. Our opinion? They are definitely worth the investment if you can swing it, because they're just so darn pretty.