8 Ways to Save Money on Wedding Flowers
From bouquets to boutonnieres, weddings typically include lots and lots of floral arrangements. Here's our best advice for wedding flowers on a budget.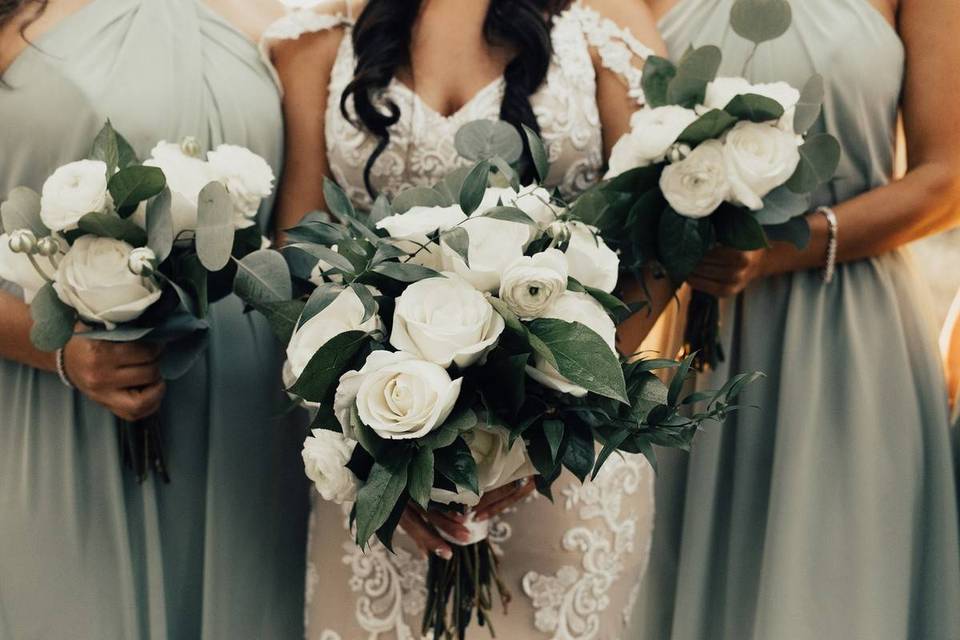 Of all of the vendors you hire for your wedding day, a florist is one of the most important. Wedding flowers on any budget can go a long way towards making your vision come true. "Flowers add that magical touch that turns the tables and venue into a wedding and really help set the festive atmosphere so that guests know right away that this is a wedding versus a baby shower or birthday party," says Lindsey Nickel at Lovely Day Events in Napa, California. "Flowers are also a way for the couple to add their own personality and personal taste to the wedding."
Post-pandemic, flowers are becoming even more of an integral staple and a must-have for today's weddings, according to Deborah McCoy, president of the American Academy of Wedding Professionals. "Because weddings were limited during the pandemic, couples are now budgeting even more on flowers now than they did pre-pandemic," she says. "They've become a predominant feature in a couple's wedding planning priorities."
The catch when it comes to wedding flowers, however, is that they're not cheap. According to the WeddingWire Cost Guide, the average cost of wedding flowers ranges from $700 to $2,500. And in fact, they're usually significantly more expensive than most couples anticipate them to be—and this is especially true post-pandemic. "When the pandemic hit, flower farms across the globe shut down, which created a major flower shortage," explains McCoy. "Flights into the U.S. are also not running up to steam, further inhibiting access and distribution."
In addition to these factors, Ashley Greer, owner of Atelier Ashley Flowers in Alexandria, Virginia, points out that political and civil unrest in major flower producing countries like Colombia has even prevented flowers from getting to the airport and thus being unable to be shipped. "Flowers show up days late if they even show up at all, so the added stress, the need to quickly find more expensive substitutes, and the time it takes to sort all this out is a very real price factor," she says. "Another factor is that many of the more inexpensive freelance floral designers who were learning the ropes had to give up and find more secure jobs, making it harder to find good people to help design."
The good news is that it's certainly possible to secure a talented florist who can create a one-of-a-kind floral design for your big day. Here are expert-approved ways to score yourself wedding flowers on a budget.
Choose floral designs you can use for both your wedding ceremony and reception.
Bron Hansboro, florist and owner of The Flower Guy Bron in Richmond, Virginia, recommends choosing designs that can be used in your ceremony, but easily repurposed in the reception, to help save on your flower budget. "Oftentimes wedding floral arrangements, structures, and other designs are built to be incorporated into other areas to add additional value without adding cost," he says. "This tip will extend usage of previously budgeted items into new areas."
Limit the variety of flowers.
A wedding bouquet that delicately mixes a variety of flowers may look dreamy, but that doesn't mean it's the savviest of choices. "Many flowers are sold by the bunch or box," says Cindy Zingarella of Engaging Events, LLC in Charleston, South Carolina. "By limiting the variety, you save yourself money because your florist can order a large quantity of one or two types of flowers rather than a couple of bunches of ten types of flowers, enabling your florist to get better pricing." We promise — a bridal bouquet of one or two flower types makes as equally beautiful of a statement.
Partner with another couple.
Although it might take a lot of coordination on your part, Hansboro suggests inquiring with your venue to find out which couple(s) are getting married before and/or after you during your wedding weekend so that you can potentially share the flowers, as well as the cost. "Once you have gauged the interest of the other couple, identify a florist who is willing to partner with you," he says. "Although colors may vary, hopefully the defining characteristics of the designs are similar enough that simple wedding color palette revisions can accommodate both visions and save thousands on separate services."
Take your wedding florist's advice.
While your own ideas are wonderful and important, it's also a good idea to be flexible with what your wedding florist is able to find for your wedding. "Trust your florist to use their best taste to pick flowers that will work with your overall vision," says Nickel. "Think about other ways your florist can bring your design vision to life that doesn't include flowers, such as different votives and table numbers."
Find alternatives to expensive flowers.
"My usual suggestions for wedding flowers on a budget are to avoid garden roses and peonies," says Bernie Hsiao of Creative Floral Designs in San Gabriel, California. "They have a higher price tag because there are fewer wholesalers and growers that carry them, so there is less competition compared to regular roses or other locally grown flowers."

If you have your heart set on either of those, fear not — there are alternative and more inexpensive wedding flower options with high petal-count flowers that achieve the same lush look. Consider ranunculus, double flowering tulips, carnations, and of course, standard roses.
Be kind and considerate to your wedding florist.
For couples looking to save money on your flowers, one of the easiest and the most effective things you can do is to simply be kind. "Most floral businesses are actually run by real human people who want to be treated with consideration and respect," says Greer. "The accommodations and extra touches for couples that treat us well are abundant, and the opposite is true for those couples that are difficult and don't engage on a human level."
It's also worth noting that florists, as well as other wedding vendors, experienced immense hardships during the pandemic. "The truth is that while putting on a brave face, we haven't had time to grieve, process, or heal from what the pandemic shutdown did to our businesses and personal lives," adds Greer
Put your money in your wedding party flowers.
If you don't have a large enough room in your budget to buy flower arrangements for all the areas of your wedding day that you'd ideally like to, McCoy recommends investing in your wedding party flowers, like bridesmaid bouquets, boutonnieres, and corsages. "They are forever remembered in your photos," she says. "You can instead use non-floral wedding centerpieces, like greenery, that can be elegant, or fun, whatever your heart desires."
Use in-season flowers.
Zingarella points out that fresh flowers are typically less expensive than silk, so don't go for silk flowers unless you have to. "While you can always get silk flowers in the type you want, oftentimes they're more expensive than real flowers," she says. "Just try to pick flowers that are in season. Your wedding florist should be able to recommend flowers similar in style if there's a flower you love that isn't available."

She adds that you should also keep in mind that wedding flower pictures on Pinterest are often color adjusted and may come from a photo shoot — meaning they may not keep or look the way you expect on your wedding day. So, trust your florist when they tell you what color the flower really is and remember they can't copy the exact shape and color you're envisioning. When it comes to wedding flowers on a budget, let Mother Nature do the work and be flexible!