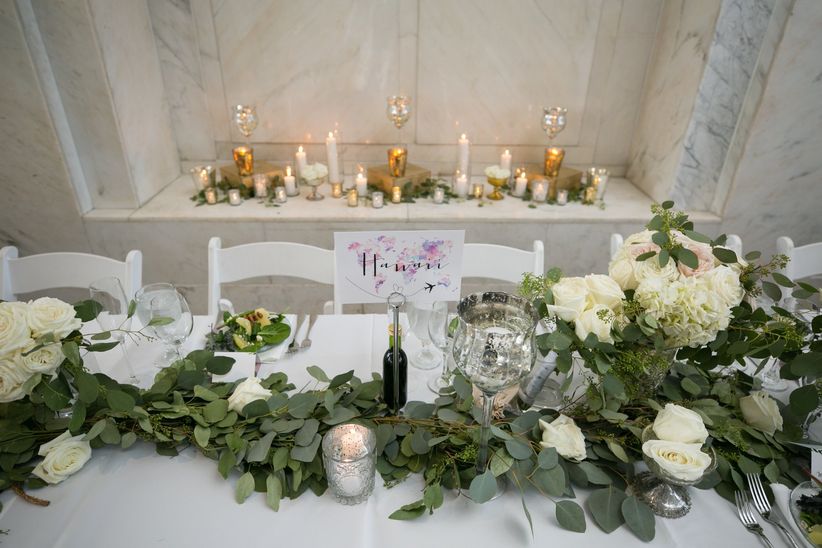 Photo: Peachy Keen Planners
From bouquets and centerpieces to ceremony arches and ceiling décor, there's no denying the statement bountiful blooms will make on your wedding day. While these beauties can come at a cost, that's not say you need to skimp on this wedding essential to stay in budget. With the right amount of planning, you can get your dream floral designs without breaking the bank.


Here, the experts share their cost-cutting tips to save money on wedding flowers.
Limit the variety of flowers
A bouquet that delicately mixes a variety of flowers may look dreamy, but that doesn't mean it's the savviest of choices. "Many flowers are sold by the bunch or box," says Cindy Zingarella of
Engaging Events, LLC
in Charleston, South Carolina. "By limiting the variety, you save yourself money because your florist can order a large quantity of one or two types of flowers rather than a couple of bunches of ten types of flowers, enabling your florist to get better pricing." We promise — a bouquet of one or two flower types makes as equally beautiful of a statement.
Find alternatives to pricey blooms
"My usual suggestions for budget brides are to avoid garden roses and peonies," says Bernie Hsiao of
Creative Floral Designs
in San Gabriel, California. "They are pricier because there are fewer wholesalers and growers that carry them, so there is less competition compared to regular roses or other locally grown flowers."
If you have your heart set on either of those, fear not — there are alternative options with high petal-count flowers that achieve the same lush look. Consider ranunculus, double flowering tulips, and of course, standard roses.
Repurpose your flowers
Get resourceful and let your flowers serve double duty. "Depending on your reception centerpiece, double-purpose items for the ceremony," advises Tricia of
Arlene Floral and Event Design
near Tampa, Florida. "For example, aisle flowers or
ceremony flowers
by the altar or gazebo can be used for a sweetheart table."
"Repurpose bridesmaids bouquets and use them as centerpieces by putting them in vases, either for the head tables or guest tables," adds Courtney Guthrie of
Peachy Keen Planners
in Atlanta, Georgia.
Think outside the box
Flowers aren't the end all, be all. "
Greenery does go a long way
and adds to the tables," says Guthrie. "You can do simple small greenery garlands, wreaths, or greenery bunches mixed with candles in cylinder glass, which looks beautiful."
Illusion tricks can also work some serious magic. "Sometimes, using more greenery or filler flowers can help create the illusion of large pieces at a lower cost," explains Ely Castellanos of
EC Floral Design and Events
in Miami.
Use in-season flowers
Zingarella points out that
live flowers are typically less expensive than silk
, so don't go for silk flowers unless you have to. "While you can always get silk flowers in the type you want, oftentimes they're more expensive than real flowers," she says. "Just try to pick flowers that are in season. Your florist should be able to recommend flowers similar in style if there's a flower you love that isn't available."
She adds that you should also keep in mind that wedding flower pictures on Pinterest are often color adjusted and may come from a photo shoot — meaning they may not keep or look the way you expect on your wedding day. So, trust your florist when they tell you what color the flower really is and remember they can't copy the exact shape and color you're envisioning. Let Mother Nature do the work and be flexible!