Photo: BFA
There are a lot of articles on how you may be able to save money on your wedding, but not all of them are accurate. Some of these "tips" may actually cost you the same or more in the end.

There are, of course, ways that you can cut costs, by cutting your guest list, choosing a venue that doesn't need a lot of décor, and limiting the bar menu, but most importantly before you pass over your credit card, make sure you've read the contract in its entirety, so you understand all the charges for each vendor. (And use WeddingWire's Budget Tool to keep track of what you're spending!)


Below are 8 cost-saving myths every couple should be aware of so you can know whether you're really saving big money or not, with some actual wedding cost-savings tips too.
Myth: DIY will save you money.
The idea that crafting some or all of your wedding details can save you money has been around for over a decade, but in actuality it may not. DIYing can really add up when you think of all the supplies you need to buy, testing each project, and the time it will take to make each item, especially if you have a long guest list. Before deciding if you should DIY parts of your wedding you should research if the item is available for sale and then price out the supplies and time it will take you to make them. You may be surprised that the DIY price may be the same or more than purchasing it.
Myth: A fake wedding cake costs less than a real wedding cake.
Couples thinking they'll save money by having a fake wedding cake at their wedding reception and a sheet cake to slice in the kitchen may not realize that if the design of the fake cake is more than simple buttercream or fondant they're not going to save at all. It's not the
cost of the cake that adds up
, but the decoration on the outside of the cake that does. Ask your baker to show you the price difference in the having a real cake vs a fake cake and sheet cake combo, and you may be surprised at the lack of a price difference.
Myth: A destination wedding is less expensive than a wedding at home.
When
destination weddings
became popular in the aughts, many people planned a wedding away with a small guest list and a simple design. And while an intimate wedding can also be an inexpensive, don't assume all destination weddings are. It's up to the couple to decide how intimate there wedding away will be, as well as what their final budget is. You can have an inexpensive destination wedding, but that's only guaranteed if you plan accordingly: keep the guest list low, research
all-inclusive venues/resorts
, and hire a planner who can help you find local vendors so you don't have to pay for their airfare and hotel.
Myth: Hire friends instead of wedding professionals.
Friends and relatives may offer to gift you their "services" as their wedding present, but just because Aunt Edna loves to bake and your BFF from second grade takes great photos on her iPhone that doesn't mean they can create what you're envisioning for your wedding. If they are a professional vendor, take them up on their offer if their style matches yours, but wedding vendors have years of experience and will think of everything you'll need on your wedding day, that a friend with a hobby may not.
WeddingWire's vendor directory
can help you find a pro in your area and within your budget too. Tell your friend or relative offering to help that you'd rather have them enjoy themselves at the wedding.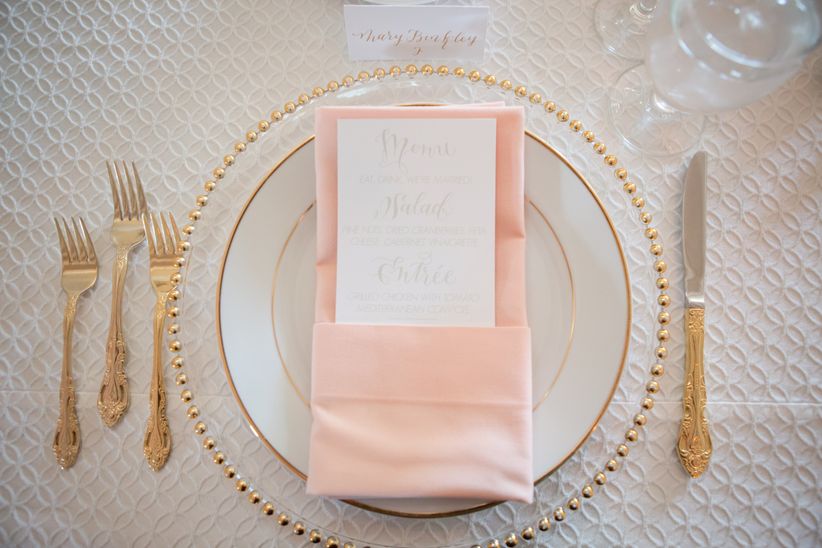 Photo: Ben Elsass Photography
Myth: A DJ won't be as good as a live band.
DJs today can offer a couple the great songs they're looking for, sung, as they know them, and not just covers of Top 40 hits. You'll be hard pressed to find a DJ that still has the Chicken Dance or the Hokey Pokey on their wedding play list, and you will pretty much guarantee that guests will be out of their seats and on the floor, singing along to their favorite tunes. Plus, a
DJ has amazing versatility
, offering a wide range of genres literally at his or her fingertips. With this bonus service, you won't have to pay additional fees to add specialty musicians to your wedding music budget.
Myth: A backyard wedding will be cheaper than at a traditional venue.
Unless you have a really short guest list, a wedding at a private home can actually be more expensive than some venues. Depending on the number of guests you invite, square footage of the house and the grounds, you'll probably need to
construct a few tents
for the ceremony and reception, and for the service staff and kitchen. Your kitchen won't be able to whip up food for 100+ guests so you'll need to bring in a kitchen with all the appliances, dishes, flatware, and glassware, etc that's needed to serve dinner to each of them. Plus, you'll need bathrooms, permits, heating, lighting, generators and flooring if the ground is uneven.
Myth: A buffet dinner will be budget-friendly.
Caterers often hear from couples that they want to save money by
serving dinner
buffet style, but a buffet can sometimes be more expensive than a seated meal. A buffet involves more tables, linens and service staff to clear tables, serve and refill the buffet stations. At a wedding you shouldn't have empty stations that look picked over, or as if the caterer has run out of food, meaning your caterer will have to order more food than if you just served each guest a meal. To save on your catering bill, opt for a brunch wedding or a cocktail-style reception. And avoid including expensive food—shrimp or lobster, for example—on your buffet spread.
Myth: Silk flowers are more affordable than real ones.
Fake blooms can look just like the ones grown in a garden, so don't expect the price tag to be any less. Ask your florist to explain what the price difference would be, if any, and you'll be surprised to learn that most silk flowers can cost just as much a stem, $2 to $4 or more depending on the type of flower.