19 Gay Wedding Attire Pics Proving 2 Grooms Are Better Than 1
Whether styling in a tux or maxing-and-relaxing in shorts, these stunning grooms brought their best style game to their weddings.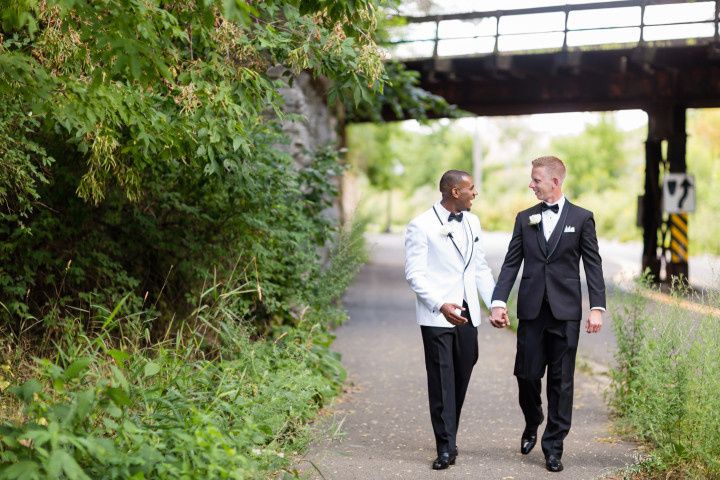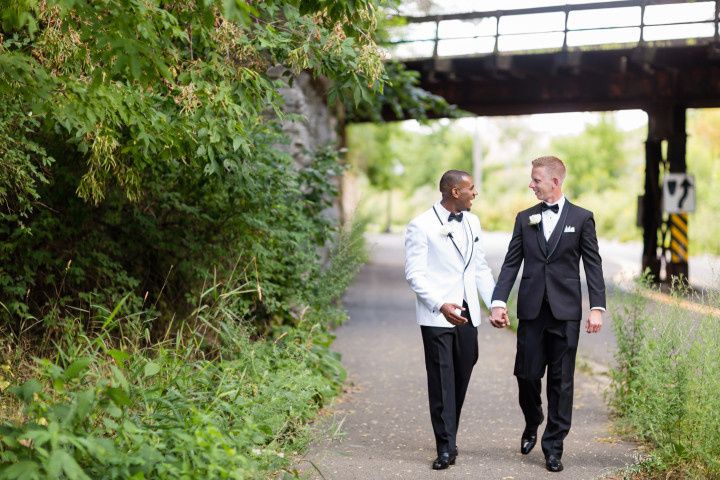 Selecting the perfect menswear is no small feat, especially when there are two sets to purchase for the grooms. Should you go with matching gay wedding attire with differentiating accessories, or select two different colors, cuts or styles and hope they don't clash? The good news is there's no right or wrong way, as these stylish real grooms prove.
From formal tuxedos to more casual wear, check out these 19 creative gay wedding attire looks.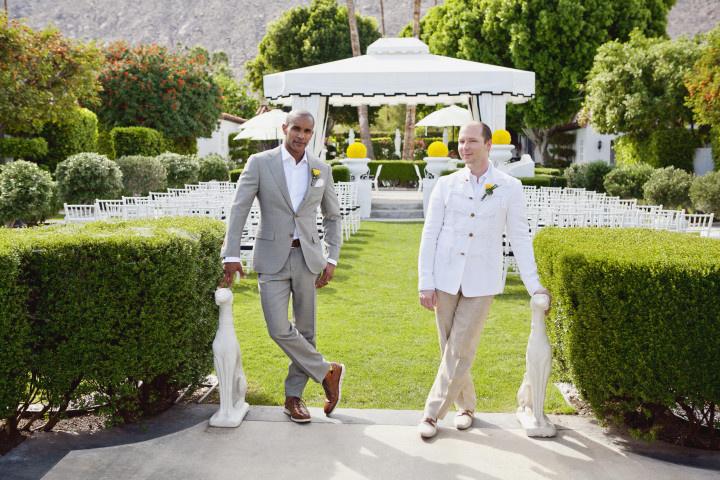 Photo: Christine Arnold Photography
When both grooms have a specific style they'd like for their wedding, just be sure to stay within the same color family, like Philip and Ryan's individual wedding suits.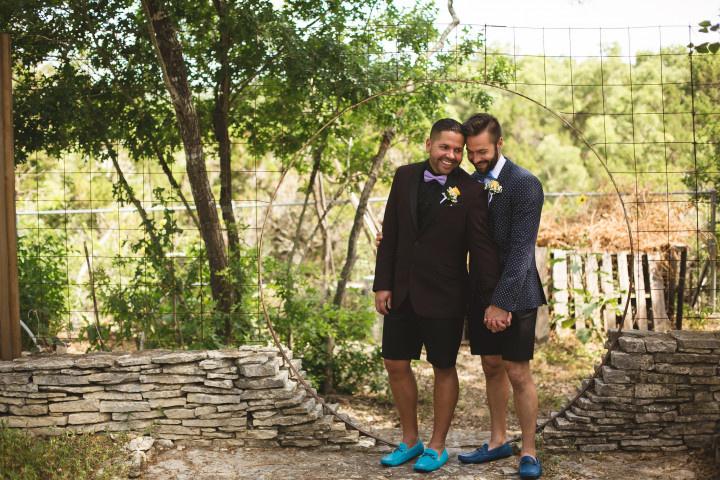 Photo: Creatrix Photography
Rick and Jody were all about causual, but tailored suits for their wedding. The pair ditched long pants and went for fun shorts that showed off their colorful loafers.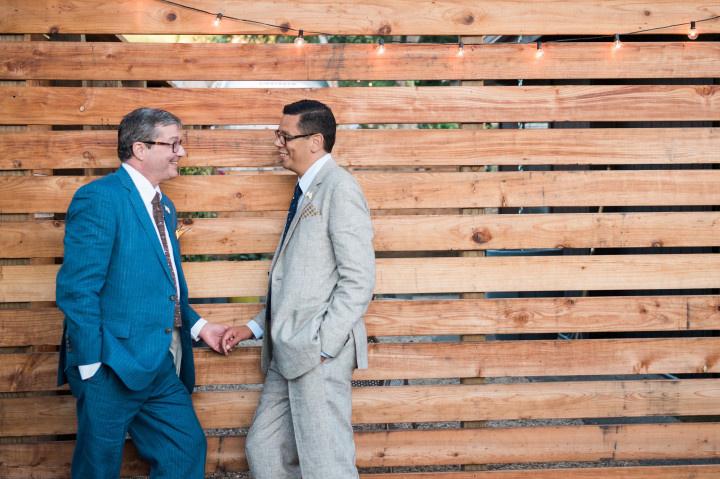 Graham and Ryan's rustic wedding called for loose-fitting suits in coordinating, but not matching shades. The grooms kept their accessories to a minimum with bold-colored ties and patterned pocket squares.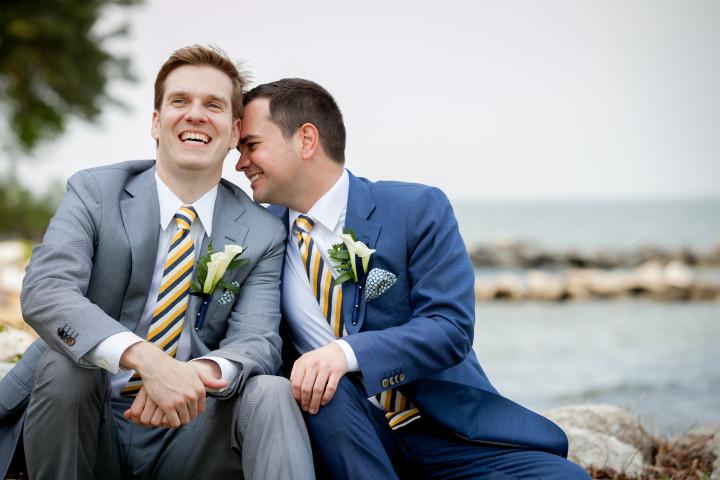 Photo: meredith hanafi photography
Grey and blue are great neutrals that almost always play well with each other, like Aaron and Justin's wedding suits. The pair chose matching striped ties and patterned pocket squares to tie the look together.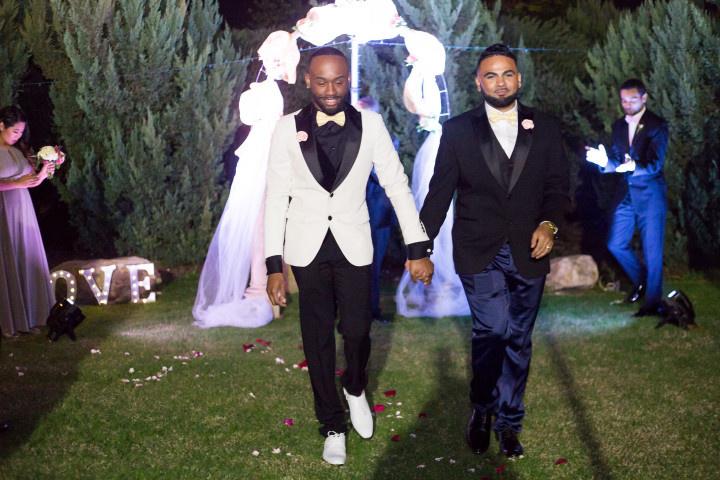 Photo: Brandi McComb Photography
Sticking with basic black, white and navy, TOny and Cortney each got creative with their semi-formal suits.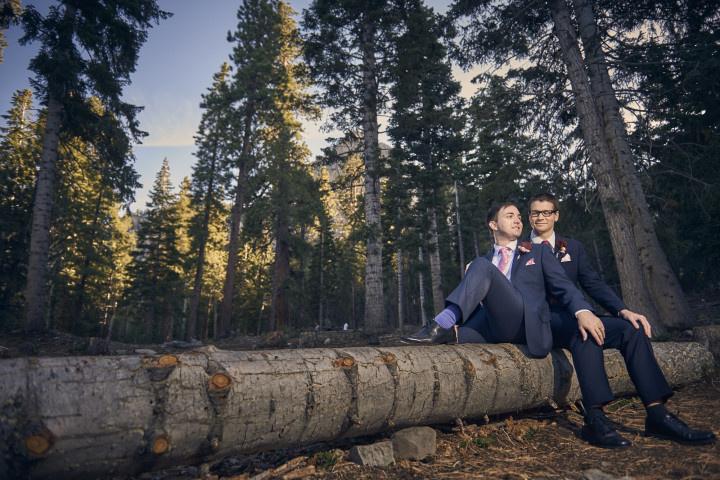 Photo: Fabio & Adri Photography
Two tailored suits are better than one! Dillon and Milam went for identical blue suits, but added splashes of coordinating colors in the form of their ties in different shades of berry.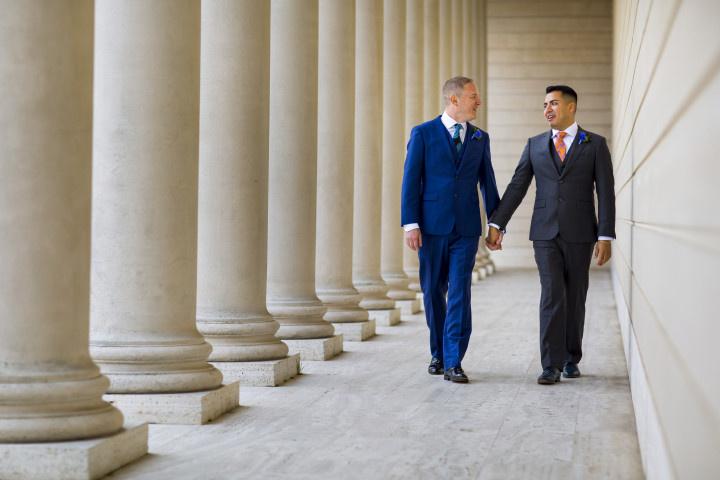 A dark, slate gray suit is a fashion jumping off place — you can go anywhere! Rafael and Steve chose one suit in dark gray then went for a bright blue to great effect.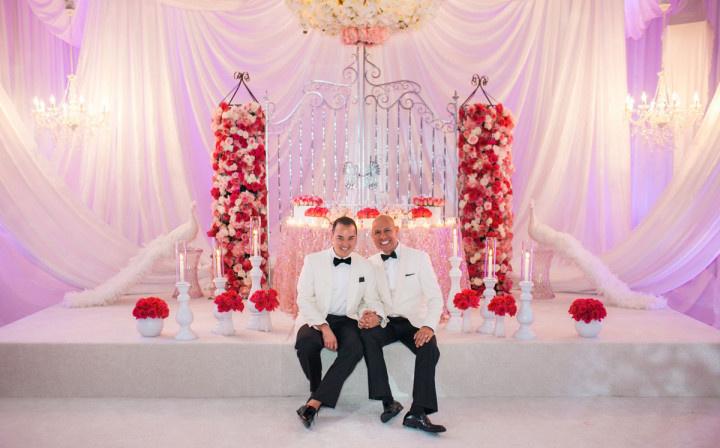 Photo: Clane Gessel Photography
Edgar and Macio's went for matching, formal white tuxes and black bow ties and pocket squares. The Black Tie look was perfect for giving their elaborate floral designs lots of attention!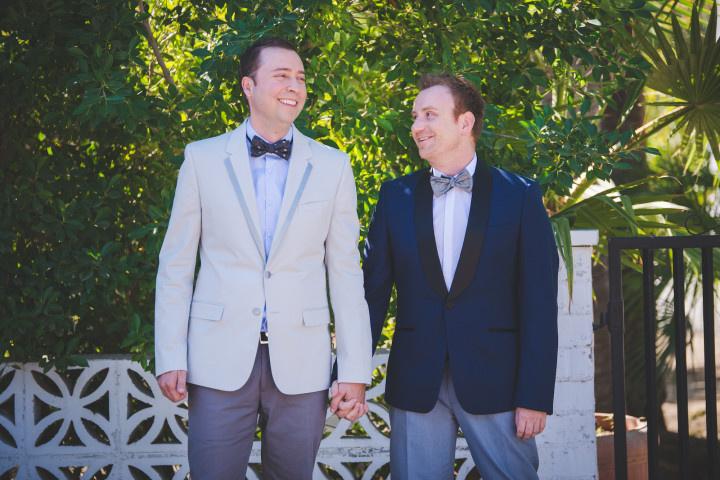 Photo: Randy + Ashley
Lots of shades in the same color palette — like Stefan and Arnaud's blue and gray looks — are another way to be sure you and your fiance match, but aren't necessarily matching.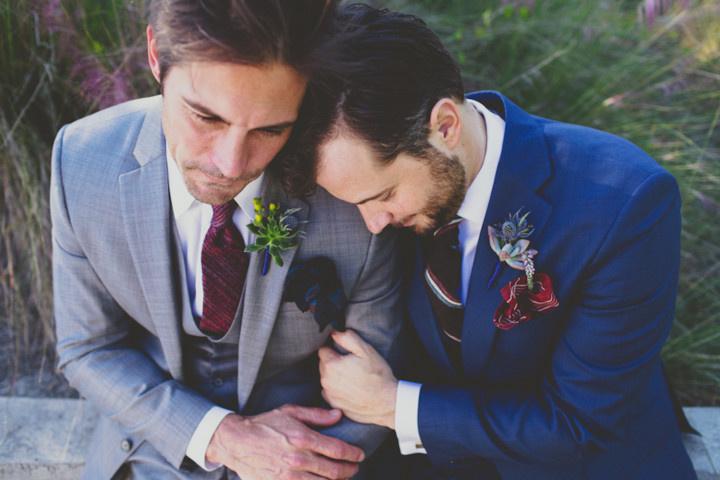 Photo: Hyer Images Photography
Variations of deep blue, burgundy and gray were the unifying threads with Todd and Joe's stylish wedding suits (and accessories).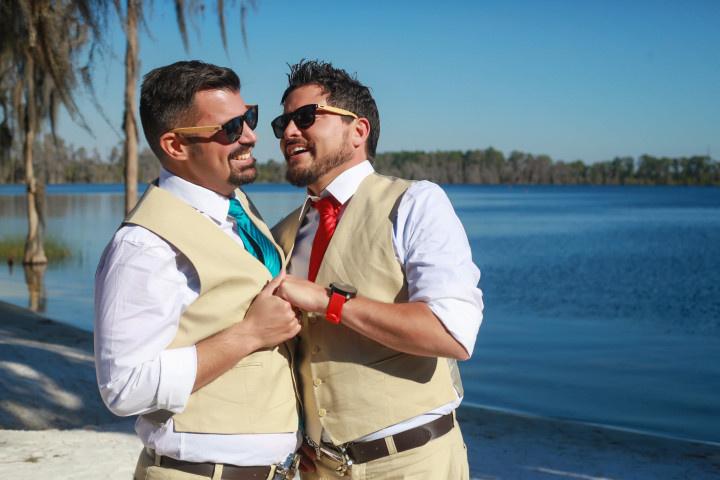 Photo: Castaldo Studio
Ties, pocket squares and watches give coordinated grooms a chance to play with color and still match, like Roberto and Joe.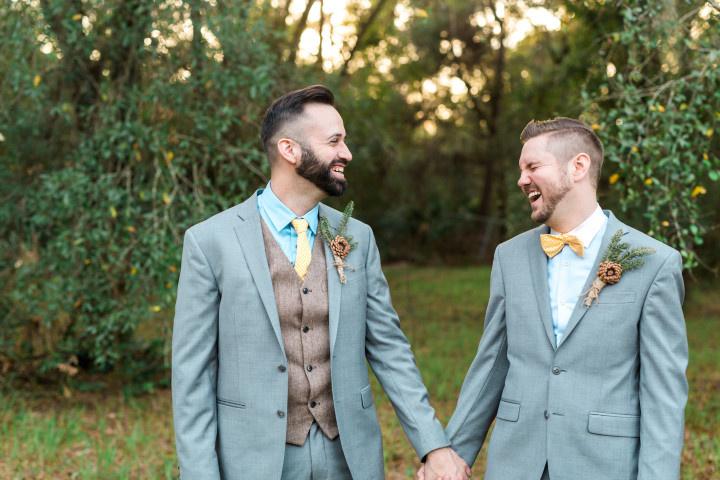 Photo: Rising Lotus Photography
Tony and Mike chose the same grey suit, but personalized with vests and ties (one bow tie and one necktie). Their pinecone boutonnieres added another thread of commonality.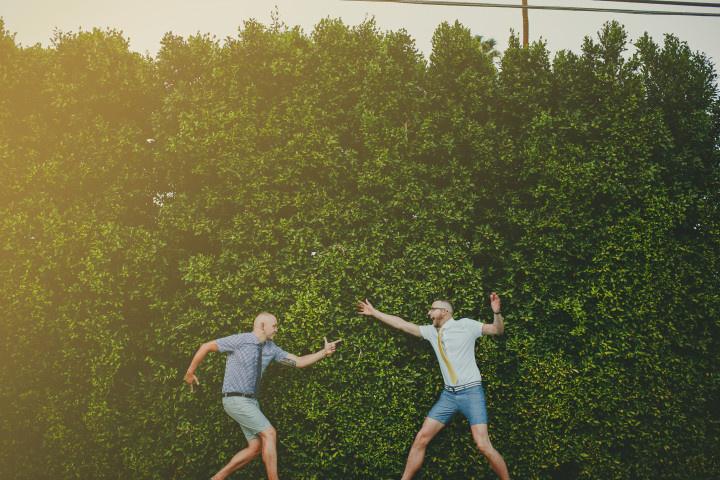 Photo: Ryan Horban Photography
Shorts in bright shades, patterened button-down shirts and fun ties were the look of the day for grooms Darryn and Zach.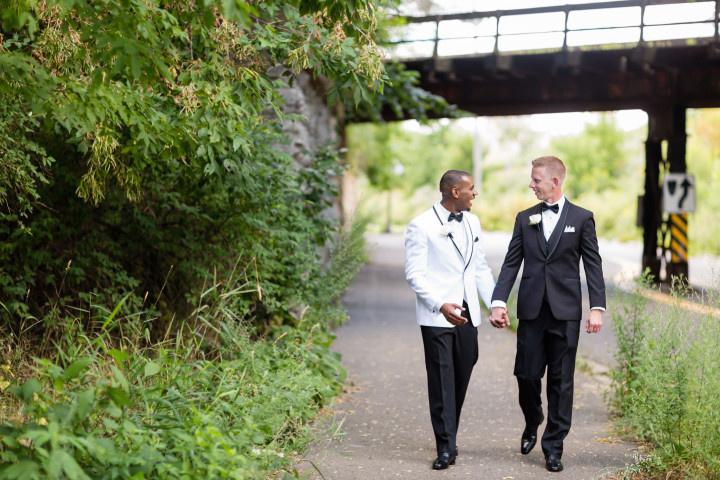 Photo: Carina Photographics
Rocking nearly identical suits, Chris and Antonio add pop of brightness in the forn of Antonio's white jacket. Opposing color pocket squares balance out black ties and white boutonnieres.
Photo: Derek Chad Photography
Jon and Andrew selected the same deep shade of blue for their suit jackets, but played to their personalities with different tie choices and pocket squares in opposing colors.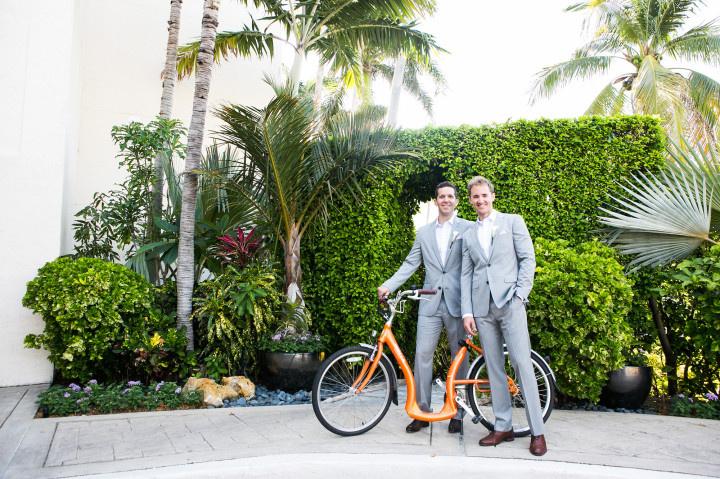 Photo: Derrick Tribbey Photography
Steven and Alexander chose matching grey suits, white shirts and accessories for their wedding day.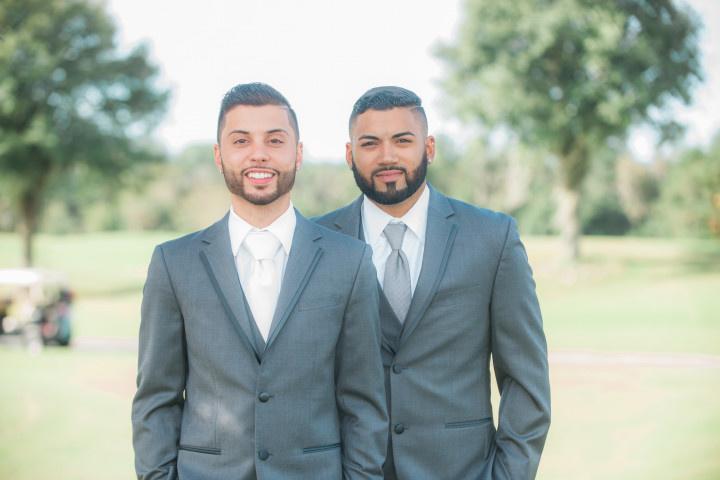 Photo: Napoleoni Photography
A simple switch in tie shade — one gray and one off-white — kepy Joey and Nick matching, but donning different details.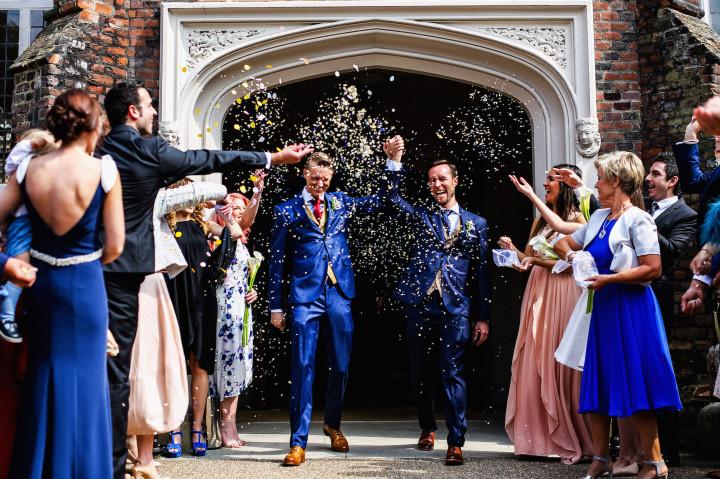 Photo: Paul Rogers Photography Limited
Miguel and James started with an electric blue suit as the base for both of their wedding attire looks, but added neckties and vests to show his personality.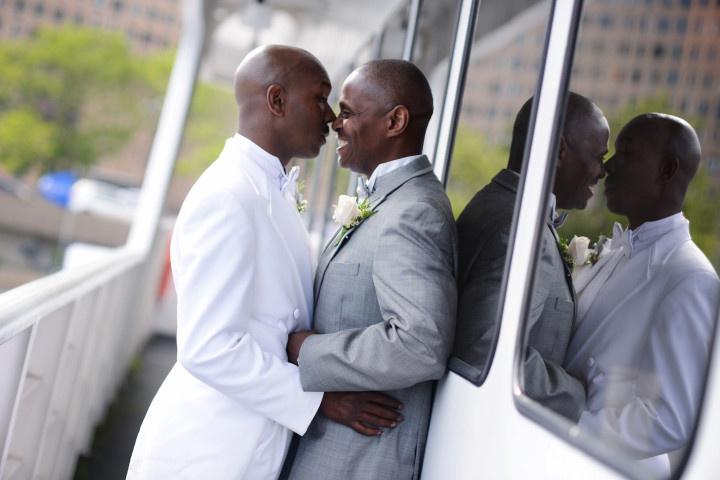 Photo: VeroLuce Photography
One is classic white and one is trendy gray, grooms Eric and Kiel's unique wedding attire coordinated beautifully.