17 Yellow Wedding Theme Ideas to Instantly Boost Your Mood
It may not be the most popular wedding color, but we think these yellow wedding theme ideas—and the 2021 Pantone Color of the Year announcement—might be about to change all of that.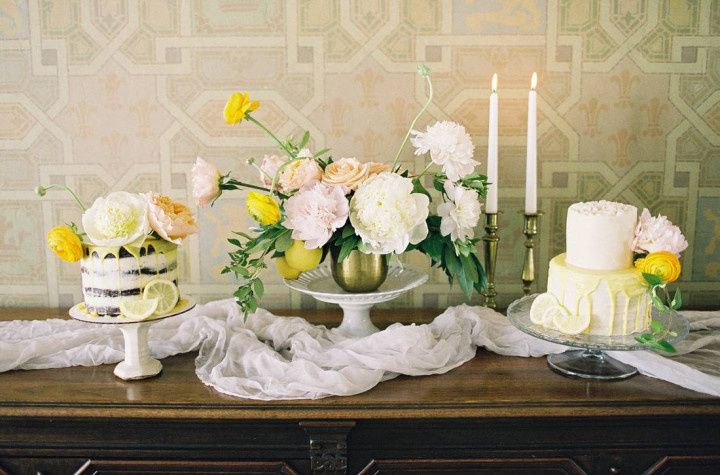 Yellow can often be a tricky option to use in your wedding color palette, but when it's done right, the results are always a home run. We know that a yellow wedding theme isn't for every couple—maybe it seems too non-traditional or flashy for your taste, but we've hand-picked some of our favorite yellow wedding ideas to prove just how adaptable this sunny hue really is. We like yellow so much that we expect it to be a huge trend for 2021 wedding colors—but if you needed any more convincing that this bright hue is going to be the next big thing in weddings, it was recently named as the 2021 Pantone Color of the Year. The Pantone Color Institute chose not one but two colors for its annual spotlight: a lemon-yellow hue called 'Illuminating' and a versatile, neutral gray called none other than 'Ultimate Gray.' The best part about using yellow for your 2021 wedding is that it's like an instant dose of happiness for your special day, and after the year we've all had, who wouldn't want that? Grab your sunnies and check out these cheerful yellow wedding theme ideas.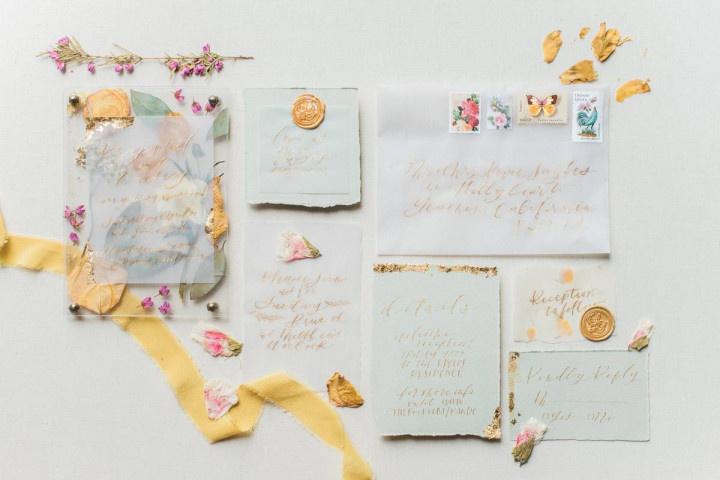 Wedding Invitations
Yellow may be a bold choice for your wedding invitations, but this color feel less overwhelming when used sparingly and paired with complimentary hues like soft pink and rich gold. This stationery suite incorporates muted yellow tones through vintage-inspired stamps and dried petals. How unique is the acrylic wedding invitation made with pressed flowers? Perfect for a springtime fête.

Invitations by Stephanie Somodi
Yellow Wedding Envelopes
If you're daring to be different, consider completing your wedding invitations with bright yellow envelopes. Greenery details tone down this bright color in a gorgeous way.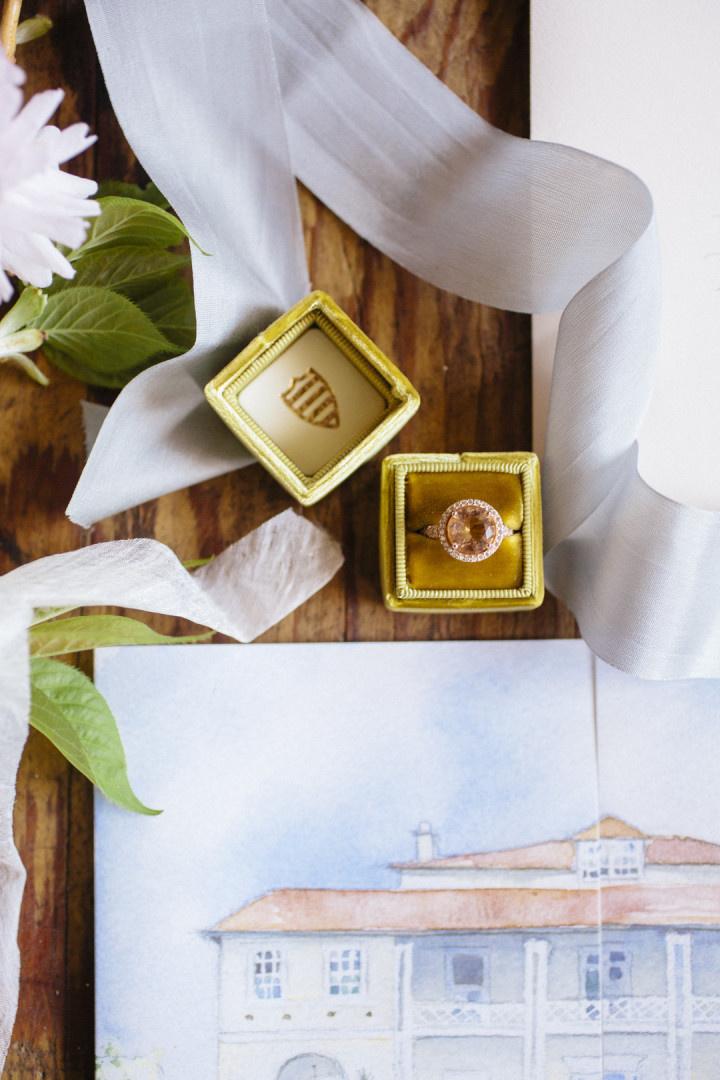 Ring Box
Your engagement ring box is a small detail, which makes it a great opportunity to experiment with color. Velvet ring boxes are especially popular these days — we're sure you've seen hundreds of them on Instagram and Pinterest by now — and while they do serve the purpose of keeping your ring secure when you're not wearing it, they're also just pretty to look at!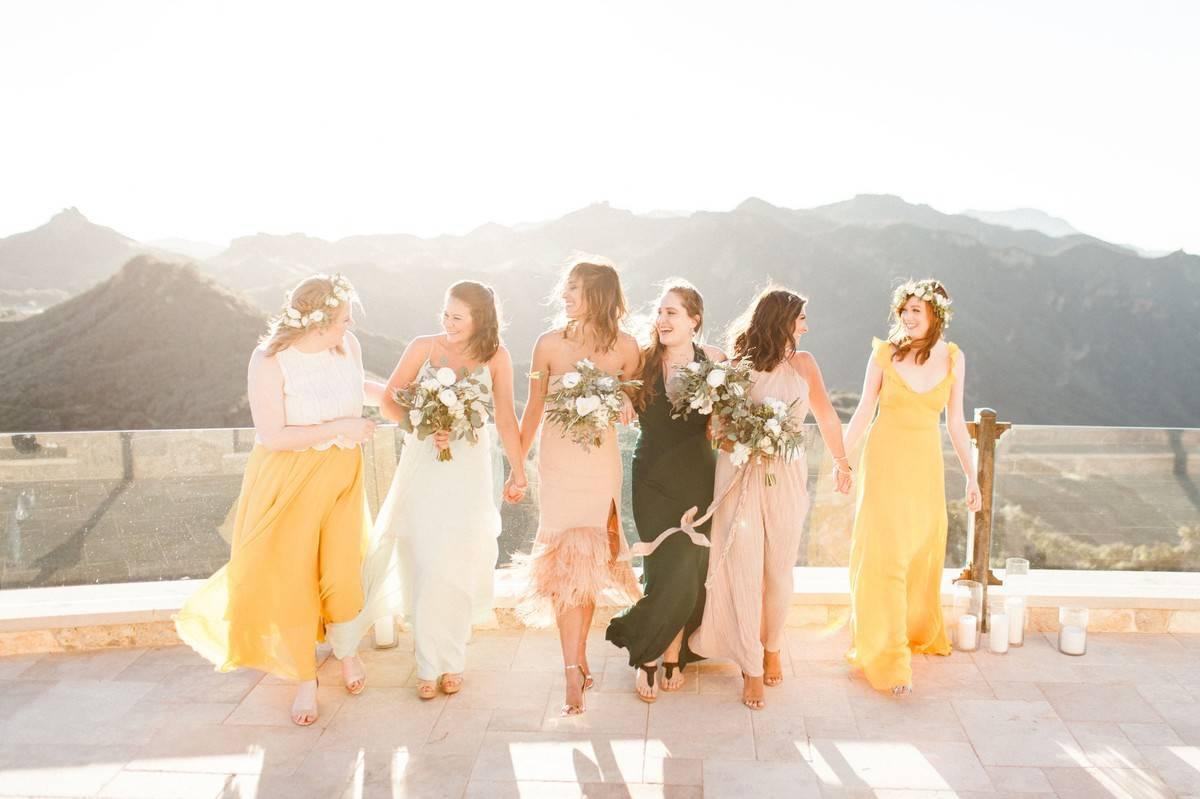 Yellow Bridesmaid Dresses
Feeling bold with your wedding party attire? Check out these marigold yellow bridesmaid dresses. Balanced out by groomsmen in calming blue tones, the warm yellow brightens the overall appearance of this group. Dresses with shorter hemlines will prevent your 'maids from looking like they've been overpowered by this sunny hue.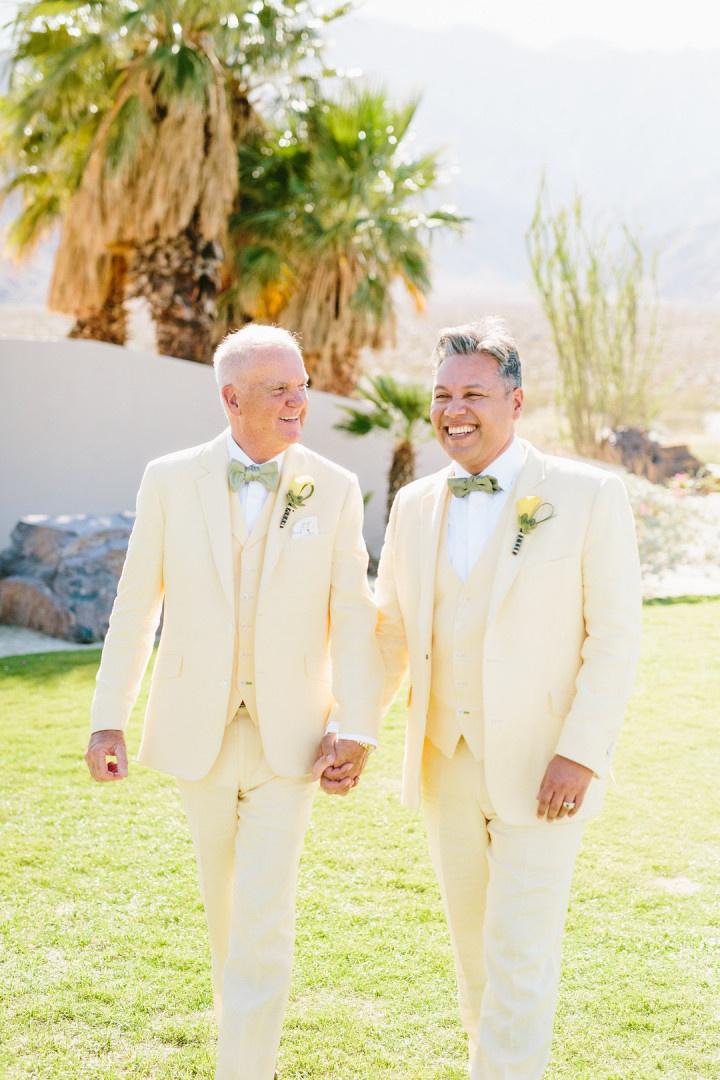 Suits
Are you daring enough to rock a creamy yellow suit? These dapper grooms might just inspire you to take the plunge! We can confidently say that a three-piece suit in a pastel yellow color will have you looking (and feeling) totally radiant on your wedding day.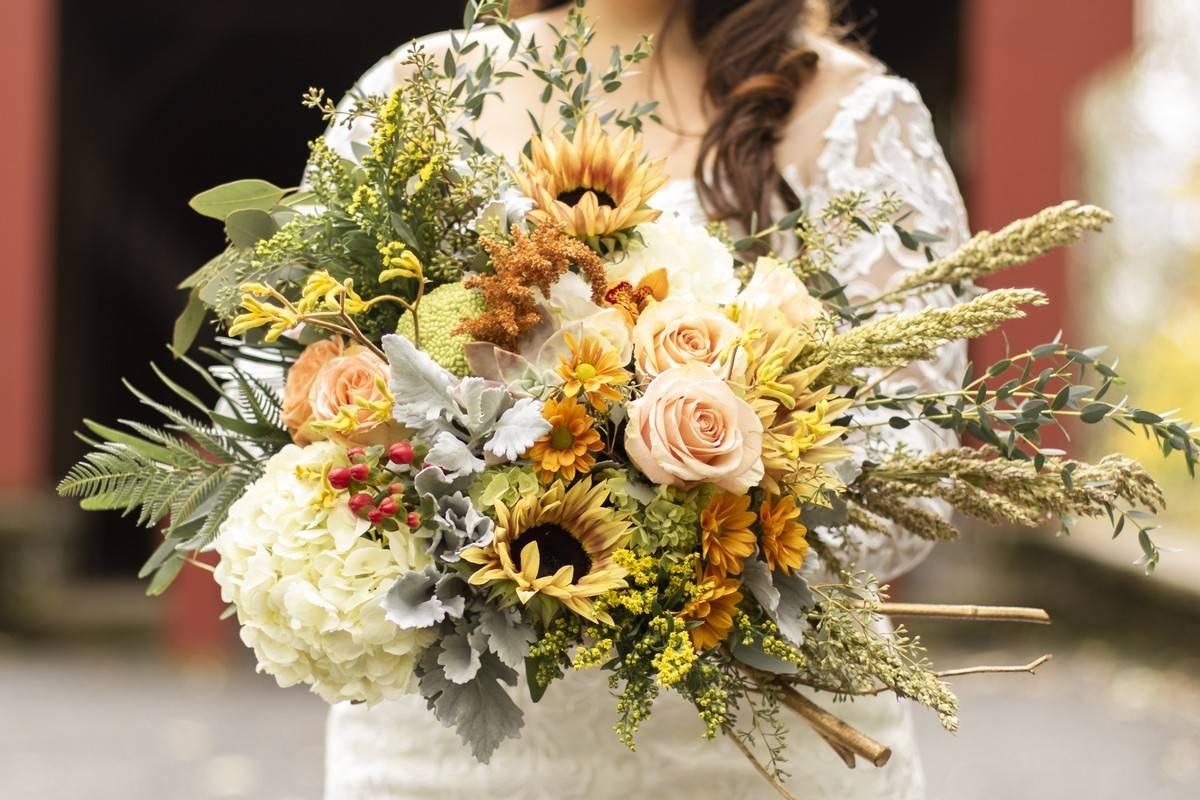 Wedding Bouquet
Bright yellow flowers are a lovely choice for spring, bouquets, summer bouquets, and fall wedding bouquets. Use a variety of orange and yellow flowers, like these sunflowers, roses, and mums.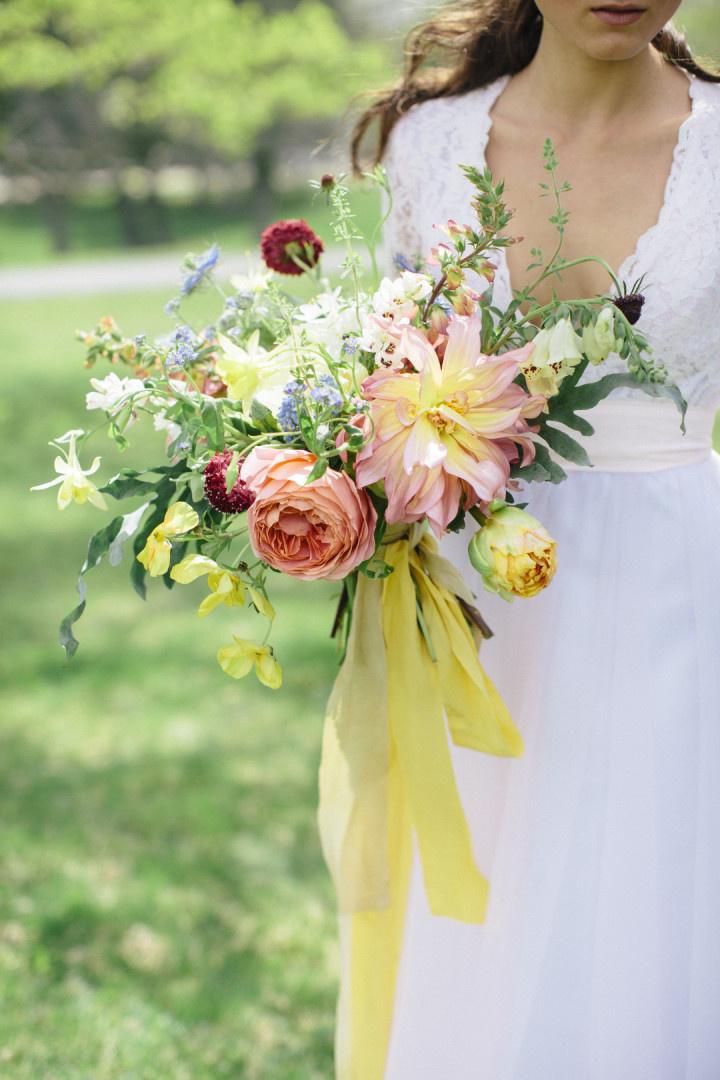 Floral design by Lotus Floral Designs LLC
Bouquet Ribbons
On the other end of the spectrum, there's something irresistible about this vibrant bouquet by Lotus Floral Designs. Tied with long ribbons and overflowing with flowers in buttery hues, it's gorgeous for a yellow wedding theme, especially if you're getting married in the late summer or early fall. We love the hints of periwinkle and burgundy to break up the yellow blooms just enough.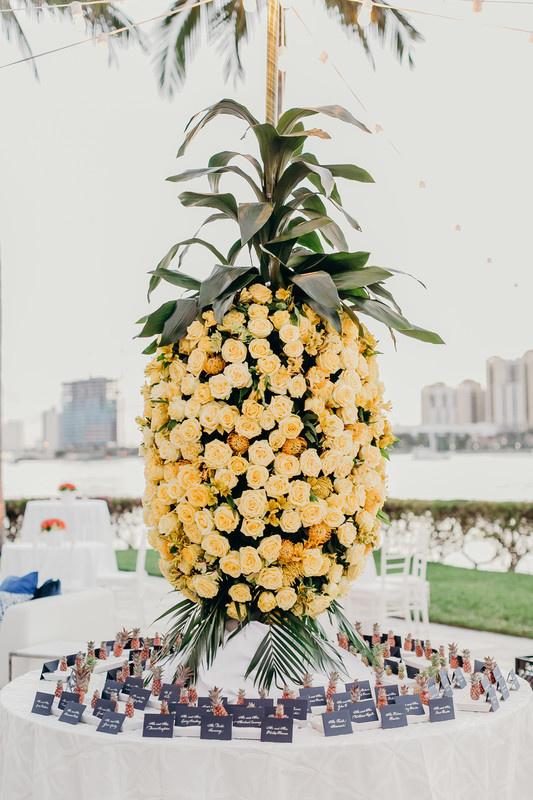 Pineapple Centerpiece
A giant pineapple made of yellow roses will be the show-stopper of your reception, and it's probably one of the coolest ideas we've seen if your yellow wedding theme is inspired by tropical decor. Use this idea to create a focal point at your venue, such as the escort card display or dessert table.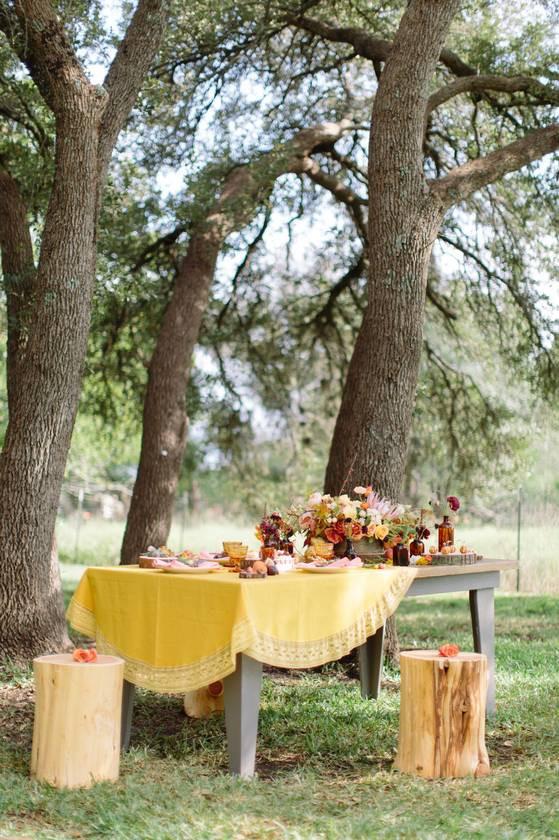 Yellow Table Linens
Bring a dose of bohemian coziness to your wedding tablescapes with amber yellow linens. For an eclectic look, leave part of the tables uncovered (whether it's with off-center tablecloths or smaller table runners) and accent the yellow with darker colors, such as burgundy and brown. We could totally envision this setup at a harvest-style wedding in the fall.
Accent Chairs
We didn't know how badly we needed these yellow velvet chairs until we saw them. Velvet is just one of our latest wedding decor obsessions, and velvet chairs in a dandelion yellow color really take this trend to the next level. This yellow wedding idea is especially great if you're getting married in a modern venue — the colorful chairs will really pop against white walls and marble tile floors.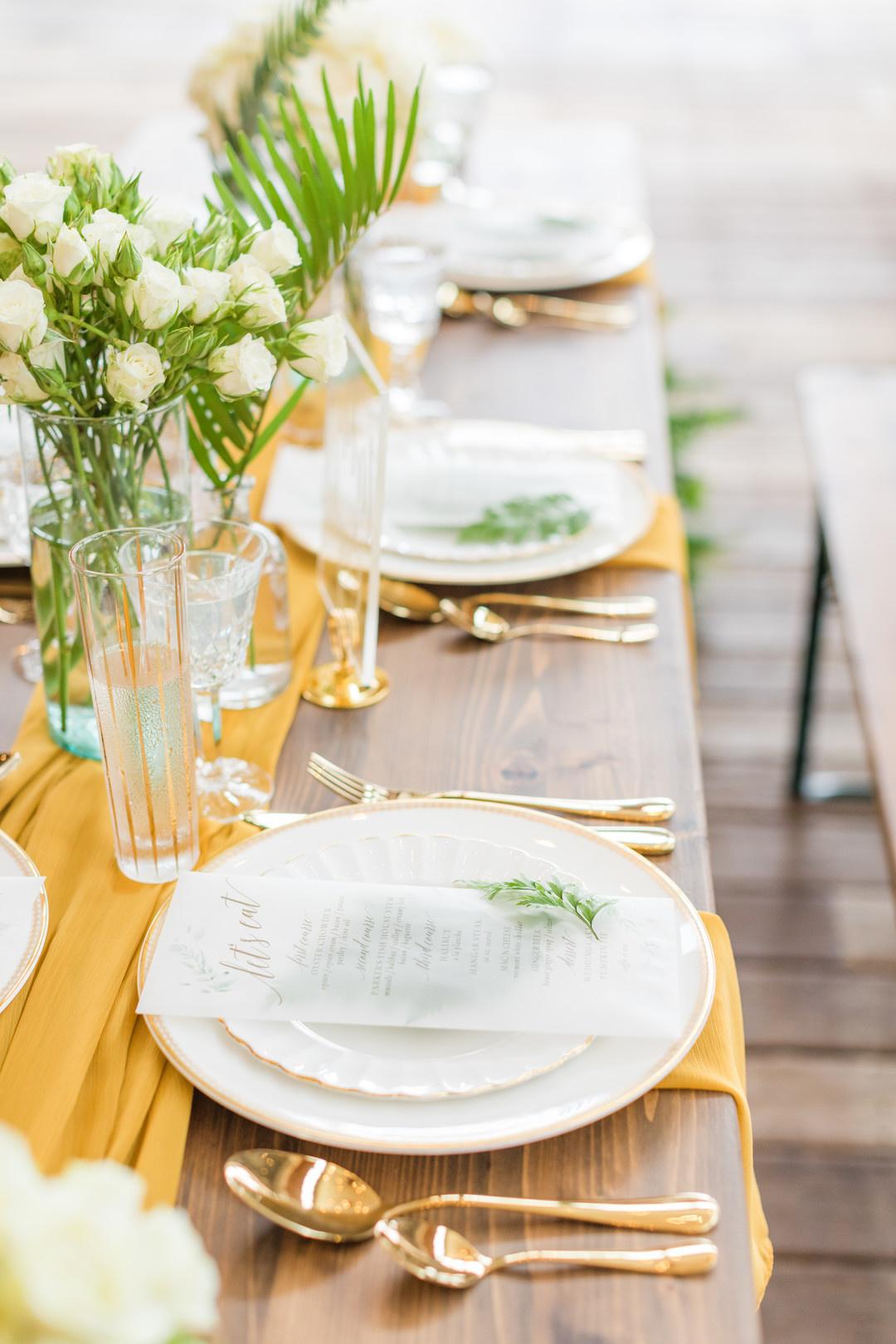 Place Settings
If you're in the "less is more" camp, then we think you'll love this subtle take on a yellow wedding theme. Simple yellow napkins boost an otherwise neutral tablescape adorned with greenery centerpieces and classic china.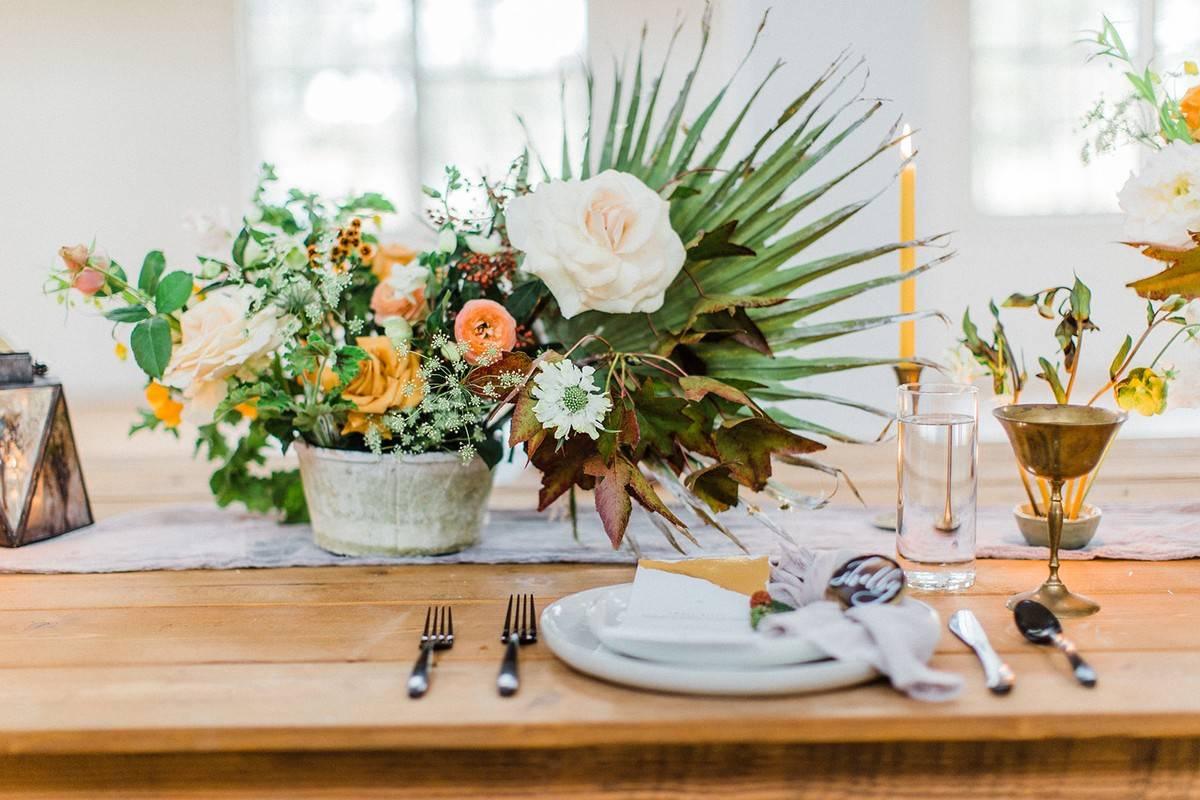 Taper Candles
Yellow looks beautiful with antique brass and gold accents, as proven by this luxe tablescape above. Put your own spin on the taper candle trend by using candles in a cheerful yellow color to line a long banquet table. Honey jar wedding favors double as decorative touches for the place settings.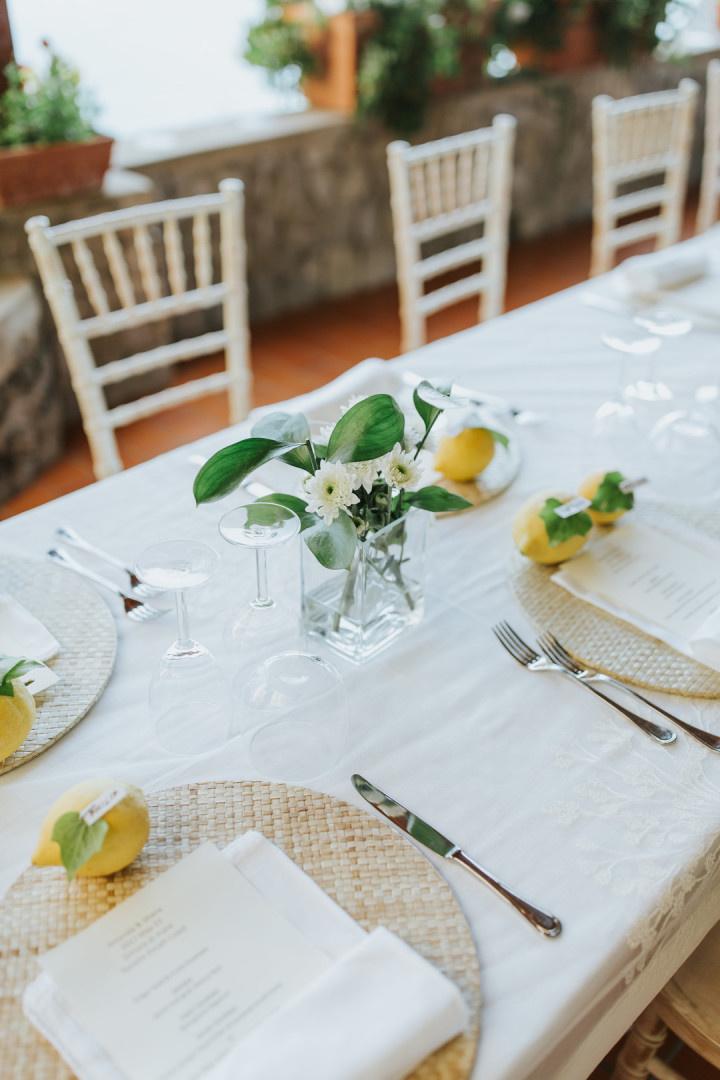 Lemon Wedding Place Cards
Whether you're actually getting married on the Amalfi Coast (this photo is from a wedding in Ravello, Italy) or simply want to bring some European flair to your big day, lemon place cards are a fun, unexpected detail. Not only do they align perfectly with a yellow wedding theme, but they're right on par with the fruit-as-decor trend that's still going strong.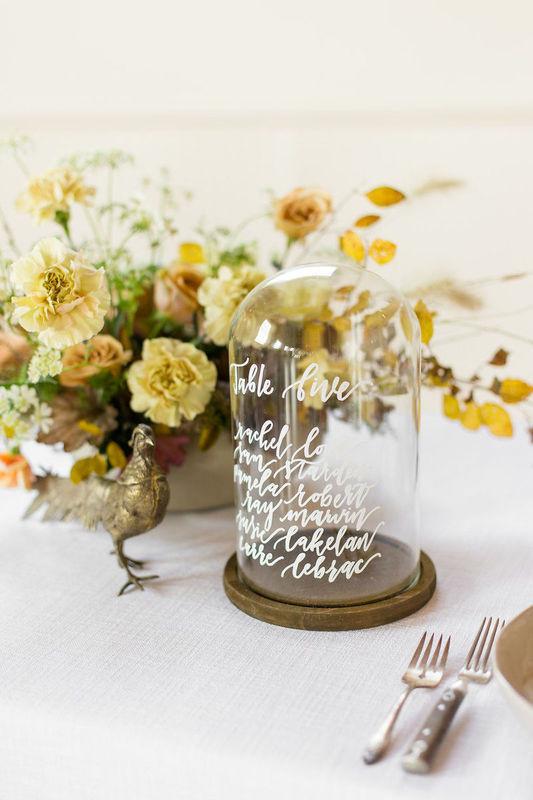 Centerpieces
Your wedding flower arrangements are one of the best ways to show off your color palette, and this photo has made us realize that yellow centerpieces are seriously underrated. Create an ultra-romantic vibe by using loose centerpieces filled with soft yellow flowers, such as carnations and garden roses. Foraged accents, like leaves and pampas grass, will add an earthy effect.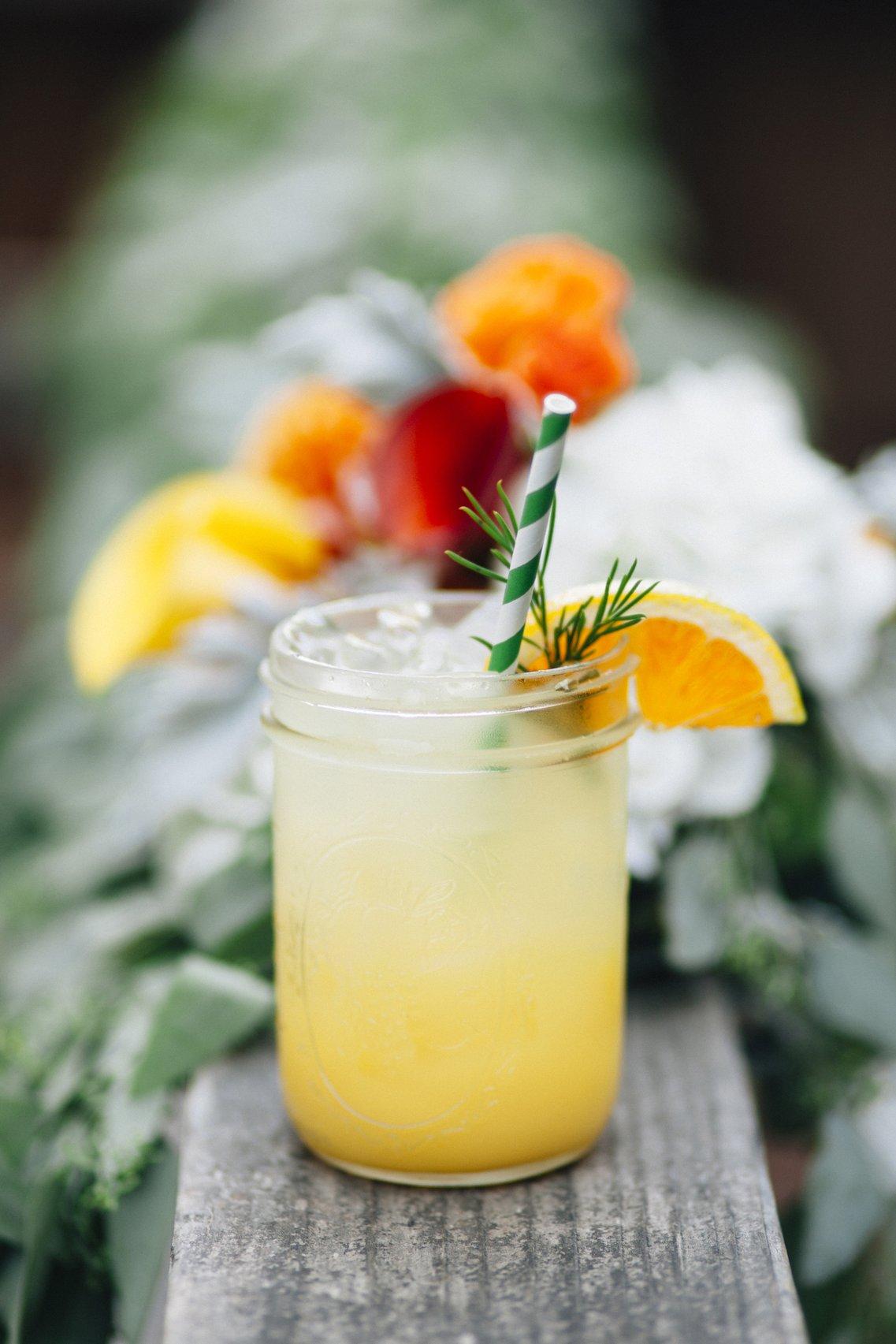 Signature Wedding Drink
Creative signature drinks can be fun, but sometimes, there's nothing wrong with going back to the basics. Classic wedding cocktails are making a comeback, and we love the idea of serving a bar cart staples, like the French 75 or Aperol spritz, on the big day. This citrus-topped drink looks oh-so-refreshing for a summertime wedding.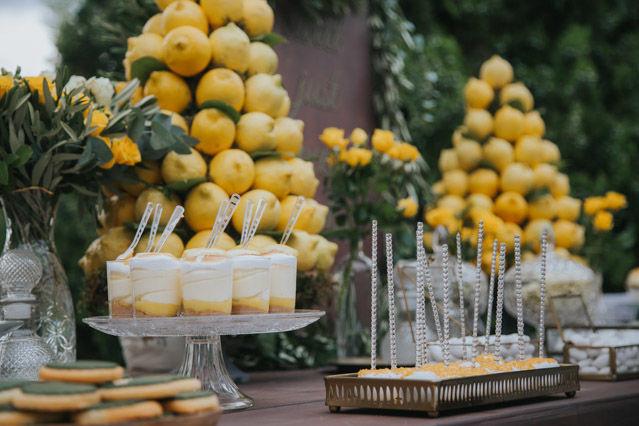 Dessert Table
It's not a requirement that your wedding desserts match your decor, but we have to admit that the end result is stunning when they do. Tie everything together for your yellow wedding theme by adding hints of the color to your dessert bar—this layout features yellow pudding cups and cake pops.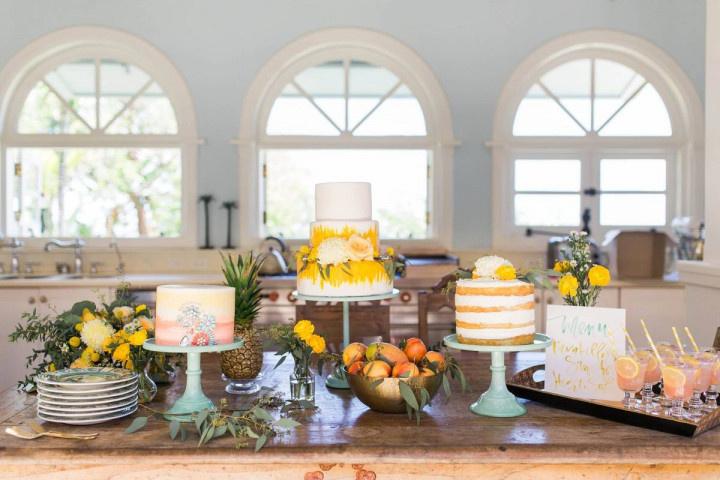 Wedding Cakes
Feeling even more artistic? Use this trio of colorful cakes to inspire your own yellow wedding ideas for the big day. Statement wedding cakes are trending for 2021, and this assortment is right on the money.