42 Fall Wedding Bouquets That Epitomize Autumn Style
Are you planning an autumn wedding? If so, you'll love these stylish fall wedding bouquets full of seasonal flowers and foliage.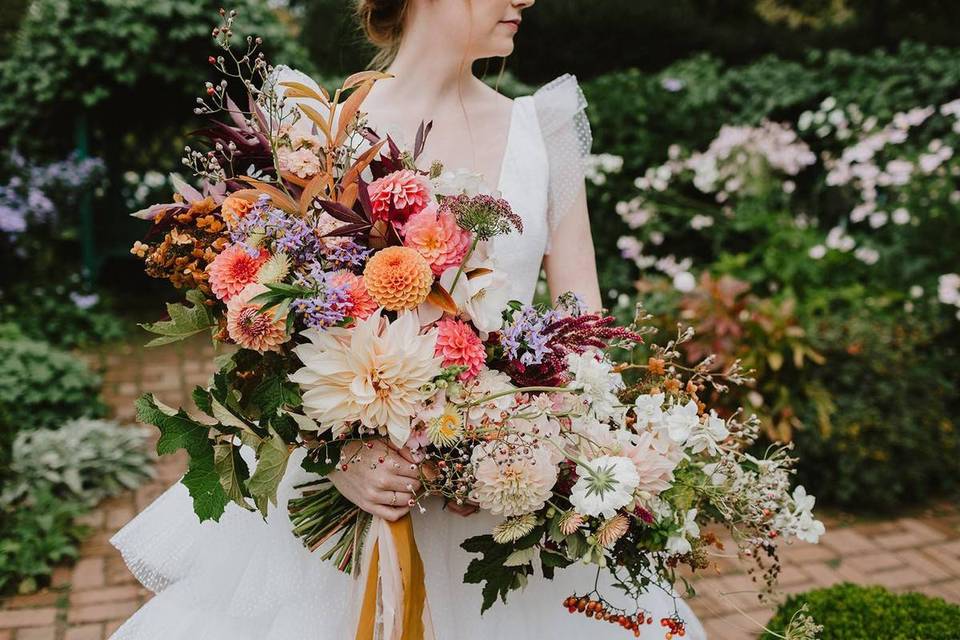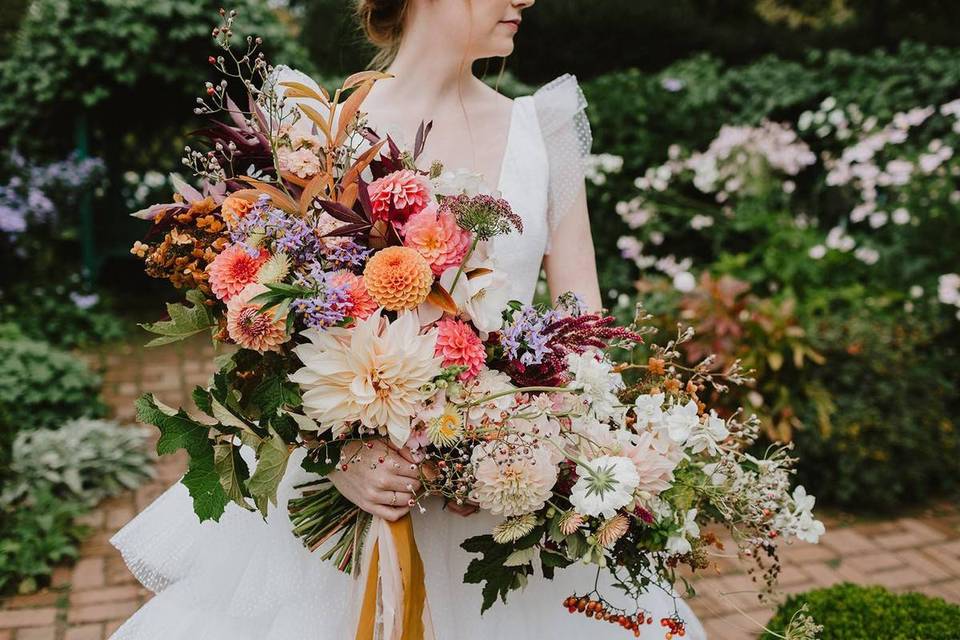 Sunflowers, roses, dahlias, and mums (okay, basically any flower that blooms in a shade of yellow, burgundy, or orange) are some of the most popular choices for fall wedding bouquets, and we won't argue that they're stunning. But your options for fall wedding flowers don't stop there, which is why we've created this guide to our favorite seasonal blooms, color schemes, and bouquet ideas for autumn. If you're having a fall wedding, you're in luck, because this season is one of the best for beautiful, colorful blooms! Learn more about fall wedding bouquets and get inspired with these gorgeous examples below.
What are the best fall wedding flowers?
Remember that your wedding florist knows best when it comes to choosing fall wedding flowers, but brushing up on the basics will help you describe your overall vision and identify your favorite blooms.
Dahlias: Cafe au lait dahlias are arguably the most popular dahlia variety when it comes to weddings (you'd probably recognize these oversized blush pink flowers if you saw them), but there are actually hundreds of different types of dahlias you can use in your fall wedding bouquet. Ball (or pompon) dahlias, cactus dahlias, and waterlily dahlias are a few other options.
Sunflowers: The cheerful sunflower is quintessentially autumnal. It's ideal for rustic weddings and outdoor venues.
Chrysanthemums: Sometimes confused with dahlias because of how similar they look, these fall wedding flowers have dense, elongated petals. Since they naturally bloom during the fall season, chrysanthemums are easily available in a range of colors, from light pink and purple to yellow, orange, and dark red.
Calla lilies: This elegant flower is a beautiful choice for a fall wedding with a traditional theme or formal dress code. Calla lilies bloom in white, dark purple, and orange, which are all versatile options for an autumn celebration.
Ranunculus: Whimsical and colorful, ranunculus are another popular flower for fall weddings. Their range of colors, which includes yellow, fuchsia, red, orange, purple, white, and peach, makes them a staple in many fall wedding bouquets and centerpieces.
Roses: These timeless flowers, which are in season year-round, will give your bouquet a classic, romantic look. Roses bloom in a rainbow of colors, from crimson to blush and even mauve. Work with your florist to choose the best type of rose for your budget and personal style—there are more than a thousand different varieties!
What are the best fall wedding colors?
Pumpkin-inspired hues probably come to mind when you think of fall wedding colors, but you don't have to limit yourself to oranges, yellows, reds, and browns if they don't match your overall aesthetic. Other fall wedding colors we love include:
Jewel tones: Burgundy, navy blue, emerald, dark purple, amber yellow, and most other gemstone colors are all gorgeous options for a fall wedding color palette. Choose two or three jewel tones, then add metallic copper, gold, or silver to jazz it up. Amaranthus, dahlias, chrysanthemums, and orchids are a few floral options for this type of palette.
Pastels with contrasting shades: While pastel colors are usually associated with spring weddings, you can pair a lighter color with its darker counterpart for an instant fall palette. For example, blush pink and dark mauve will create a moody, romantic combination, while sage green and dark teal are perfect for a glamorous theme. You can consider roses, anemones, ranunculus, and lisianthus for this mix.
Neutrals: If you're envisioning a modern, minimalistic theme for your fall wedding, stick to neutral colors such as gray, beige, black, and cream. Adding greenery and unexpected details (like feathers) to a neutral-toned wedding bouquet will add visual interest and personality.
Fall Wedding Bouquet Inspiration
The great thing about your fall wedding bouquet is that it will be uniquely yours—there won't ever be another one exactly like it! Even though your wedding florist will likely put their own spin on the design, it's helpful to share visuals of the types of fall wedding bouquets you like so the florist knows your preferences for flowers, colors, and overall shape.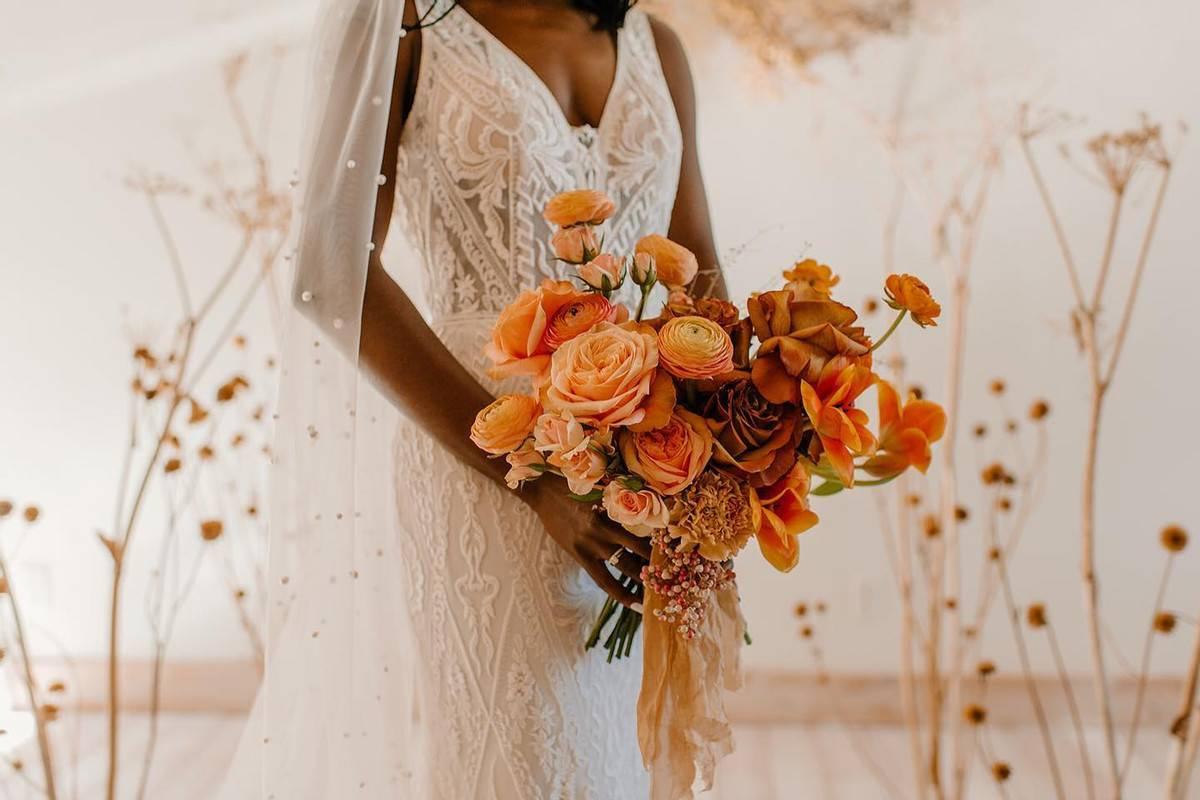 Orange fall wedding bouquet
If you think your wedding bouquet has to include a rainbow of flowers, think again. This bold orange bouquet is proof that you can create a stunning arrangement using flowers of the same color. All you need is a combination of different sized blooms and petals—for example, this assortment of garden roses, ranunculus, tulips, and berries.
Fall wedding bouquet with trailing vines
Create a free-spirited, bohemian look by accenting your fall wedding bouquet with flowering vines that trail down from the edges. Some of our favorite vine options include clematis and jasmine.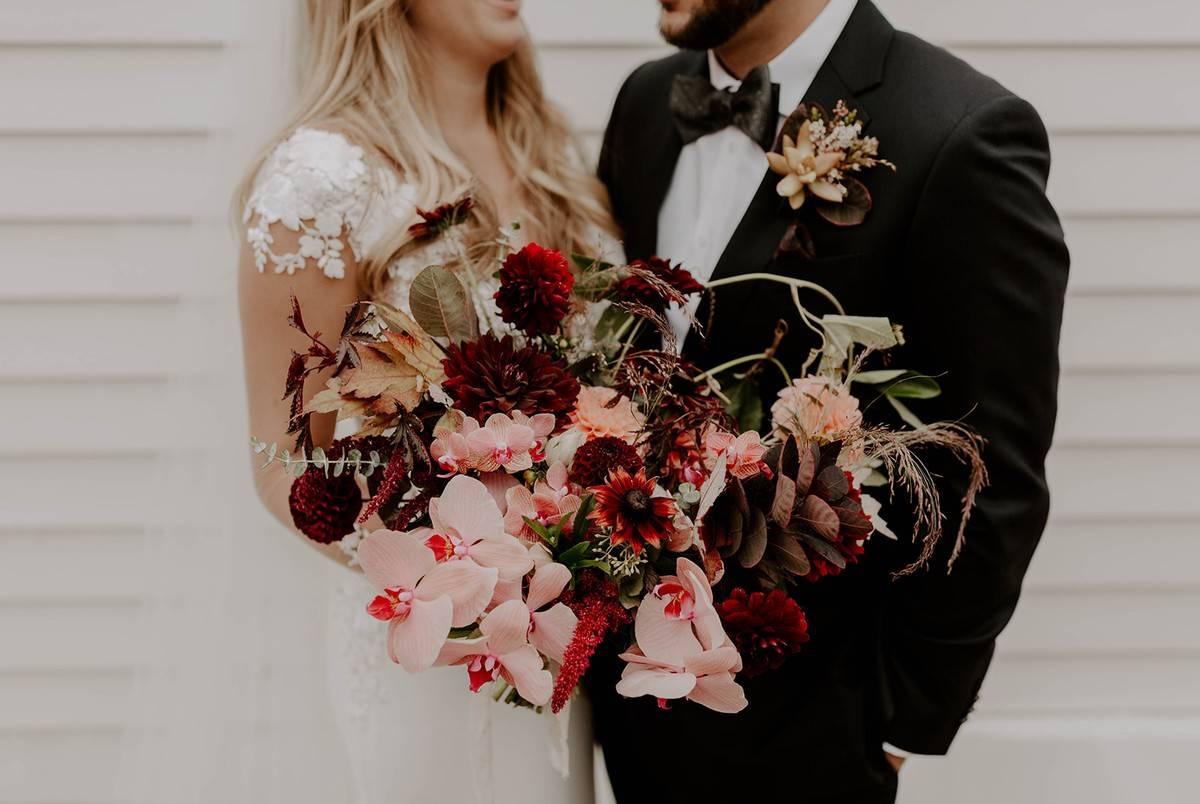 Pink and burgundy wedding bouquet
Going for a sultry romance aesthetic? A light pink and burgundy color palette looks gorgeous for fall wedding flowers. Recreate this bouquet by using phalaenopsis orchids, dahlias, amaranthus, and botanical fillers, like spiral eucalyptus and fall foliage.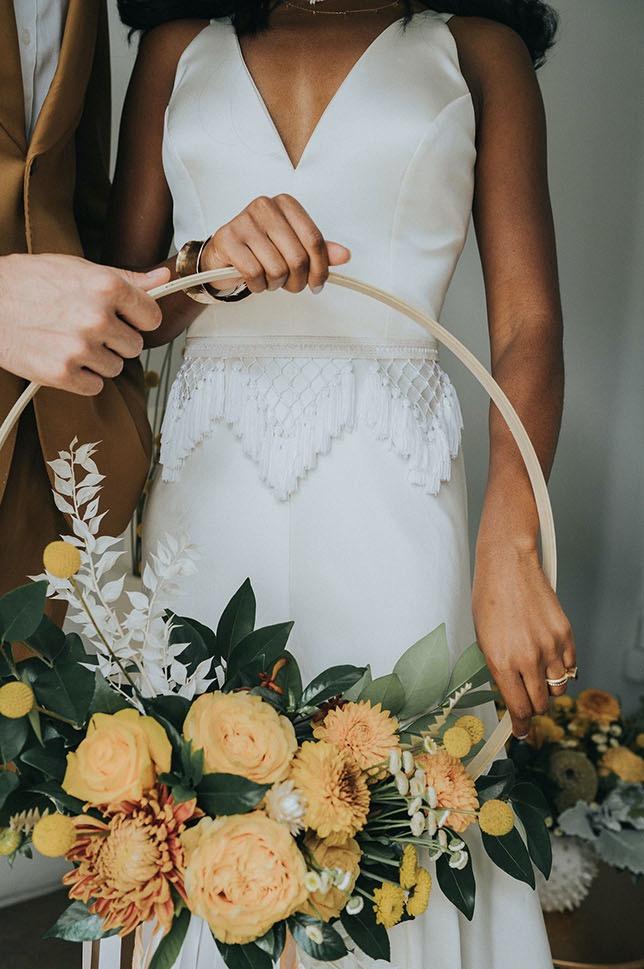 Floral design by Flaura Botanica
Wedding hoop bouquet
If you're really feeling adventurous, skip the handheld fall wedding bouquet and opt for a bridal wreath instead. This alternative bouquet idea makes a total statement as an accessory, either for you or your bridesmaids. The best part: When you're tired of carrying it, you can simply loop it over your arm!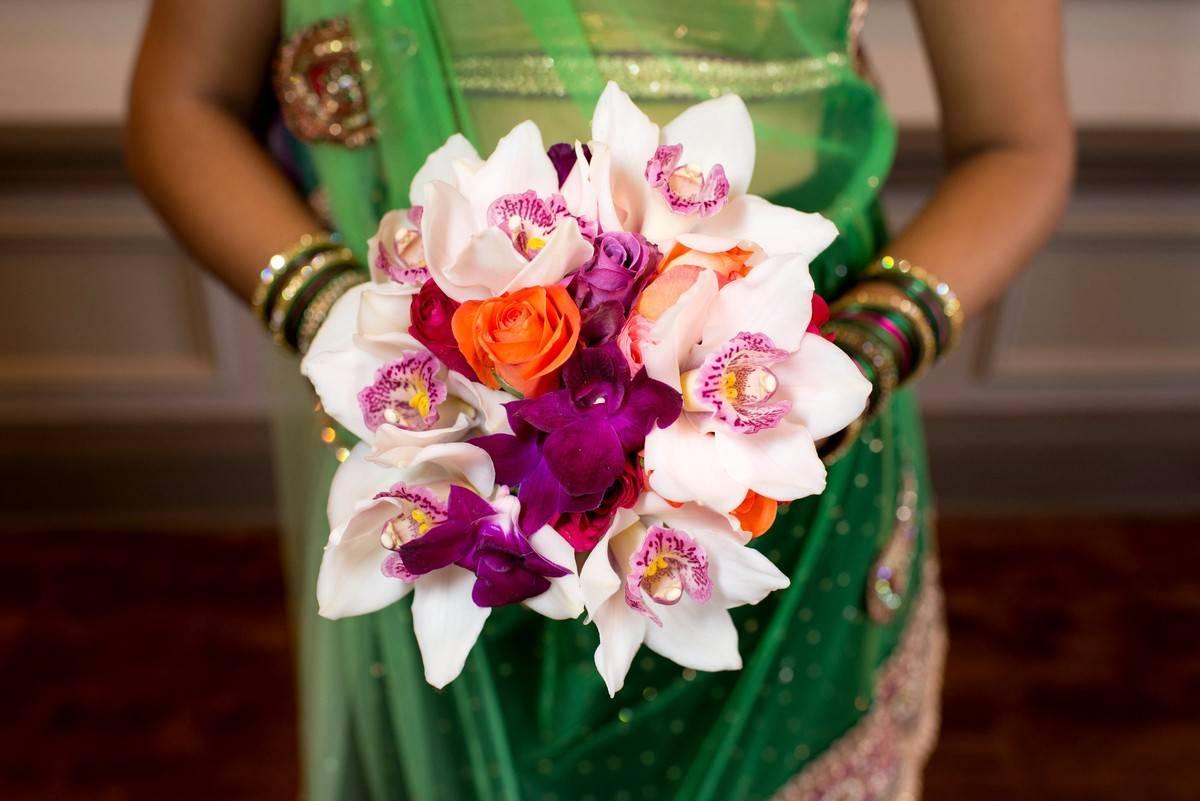 Vibrant fall wedding bouquet
Orange and purple are traditional colors for fall wedding flowers, especially if you're going for a vibrant, colorful look. This bright arrangement includes orange tea roses, white cymbidium orchids, and purple vanda orchids.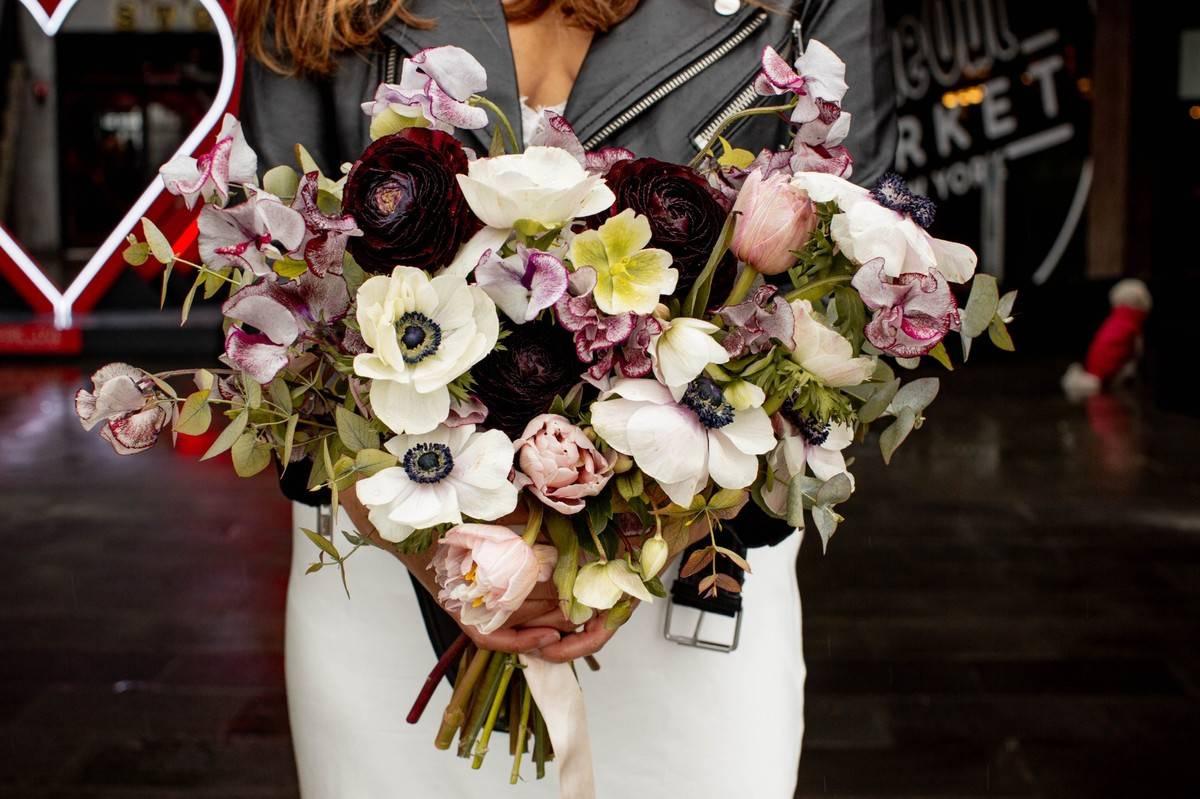 Purple and white fall wedding bouquet
We love purple for autumn bouquets, especially when light and dark shades are mixed together. Use flowers like ranunculus, tulips, anemones, and bicolor Japanese sweet peas in a range of purple, pink, and white hues.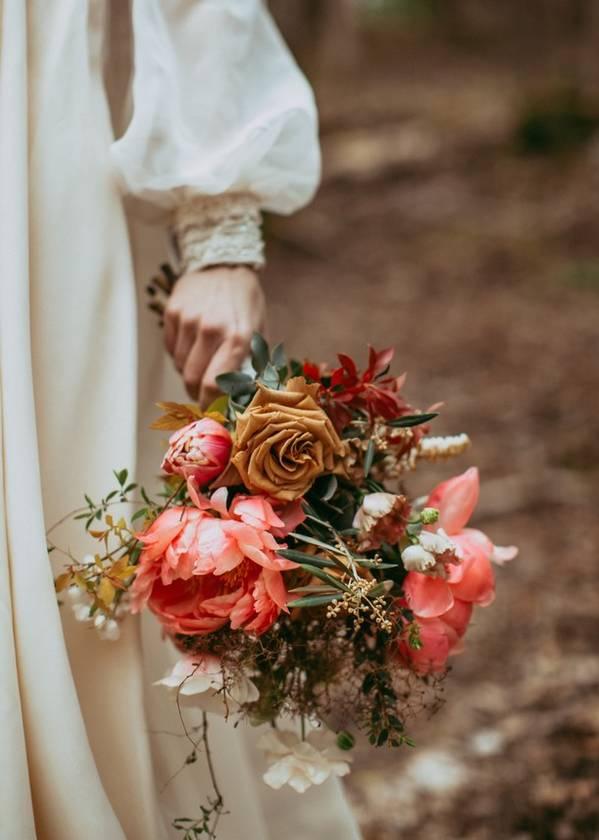 Peony wedding bouquet
If you've always dreamed of having peonies in your bouquet, you can definitely make them work for a fall wedding, even though they're most often used for spring and summer arrangements. Large coral charm peonies look especially autumnal when you arrange them with golden yellow foliage, greenery, and toffee-colored roses.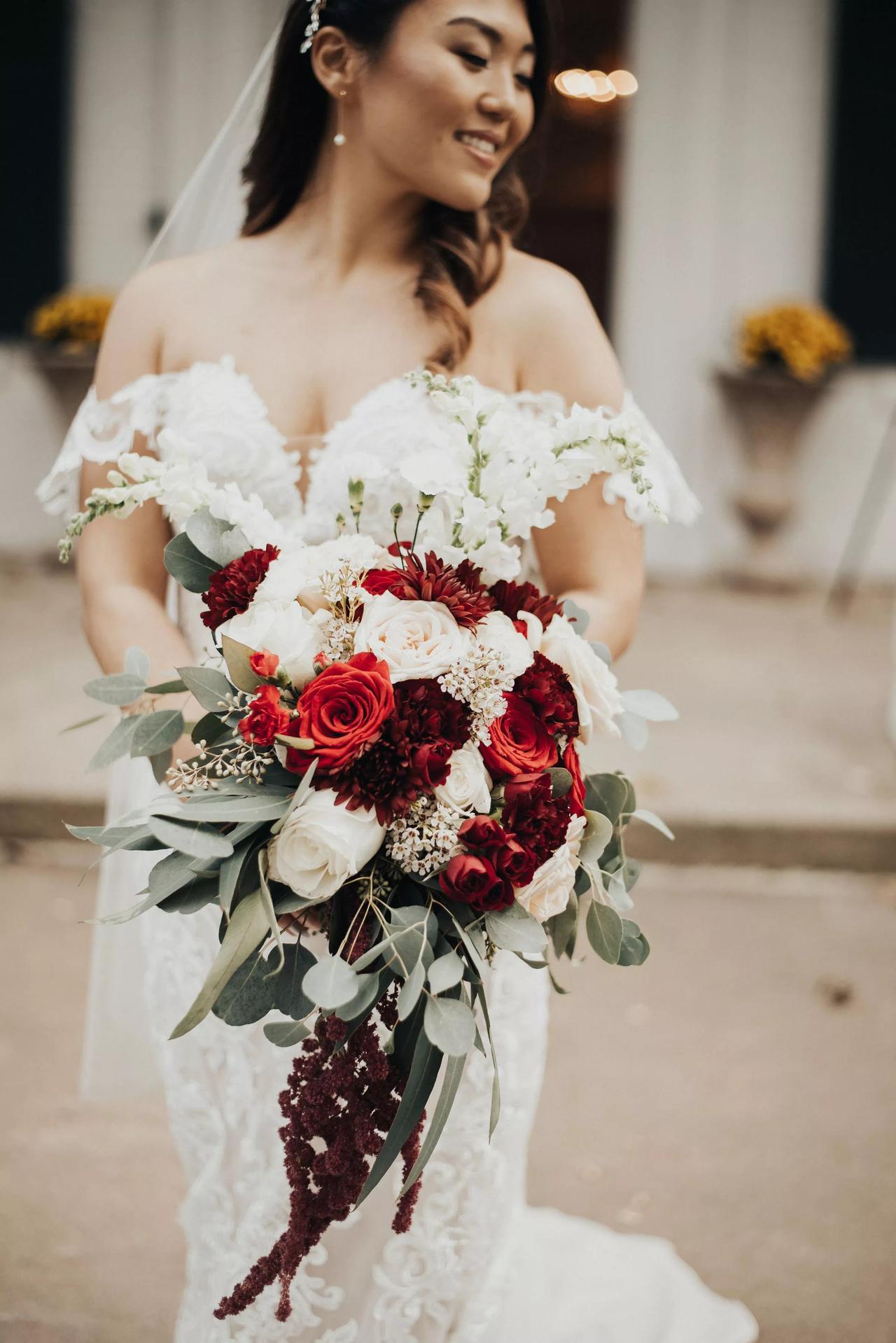 Fall wedding bouquet with amaranthus
Red flowers add drama and romance to your fall wedding bouquet. This arrangement uses roses, dahlias, wax flowers, stock, silver dollar eucalyptus, and red amaranthus to create a cascading shape.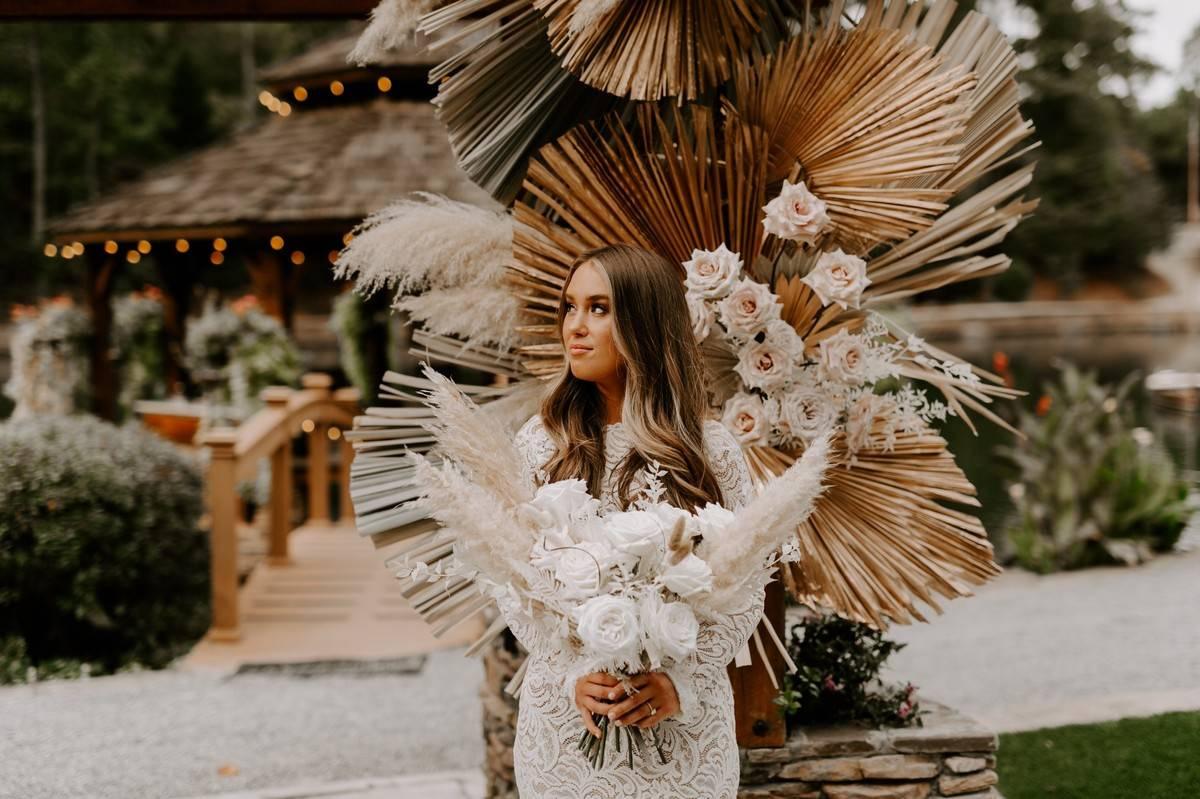 Pampas grass wedding bouquet
This fluffy, feathery grass is a staple for boho wedding bouquets. Pair it with white roses and bleached Italian ruscus for a monochromatic fall wedding bouquet that's totally on-trend.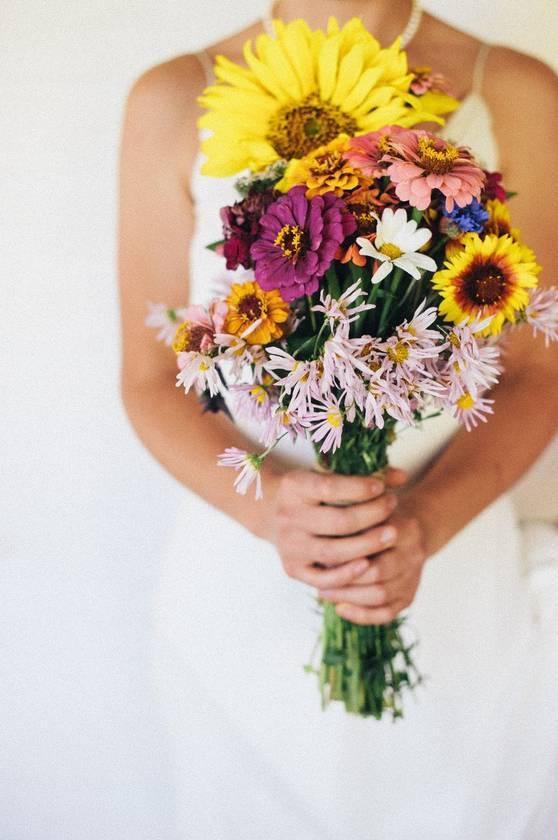 Sunflower wedding bouquet
As the most iconic fall wedding flower, sunflowers look beautiful on their own or combined with other colorful wildflowers, such as zinnias and Shasta daisies. The end result is an arrangement that's whimsical, laid-back, and eco-friendly.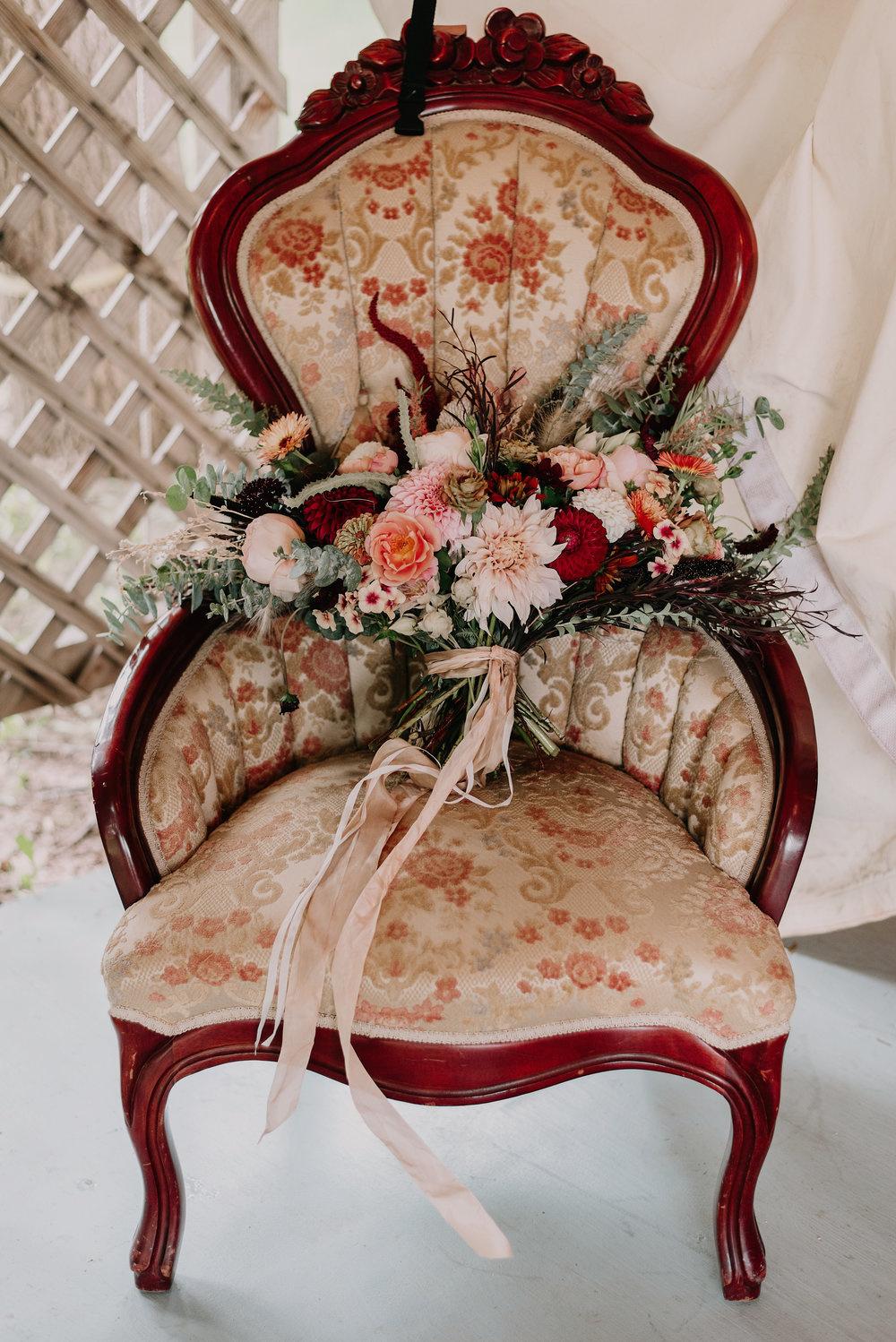 Soft pastel wedding bouquet
Who says pastel colors are only for spring weddings? We're in love with this pretty blush, peach, and green bouquet. The hints of dark red make it feel appropriate for the autumn season.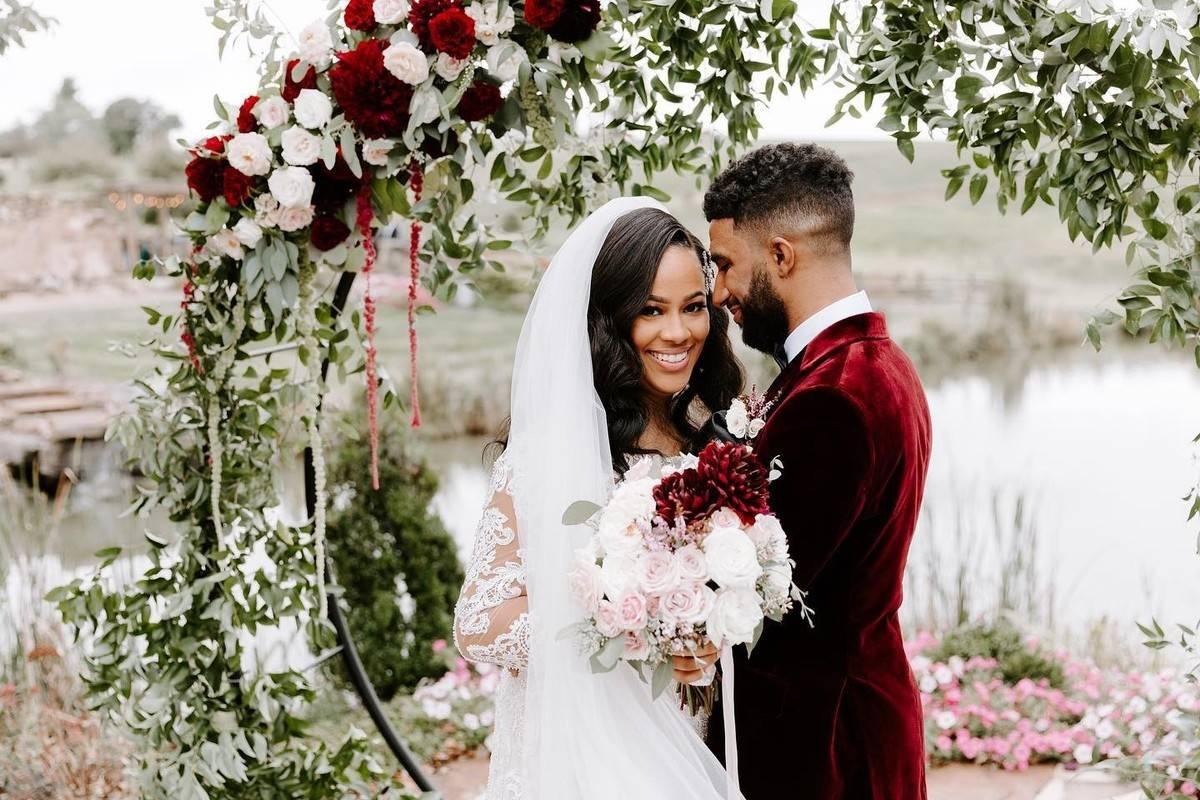 Rose fall wedding bouquet
We can't think of many things that are more classically romantic than a bundle of roses. This beautiful fall wedding bouquet of pink and blush roses, accented by burgundy dahlias, is perfect for a formal theme.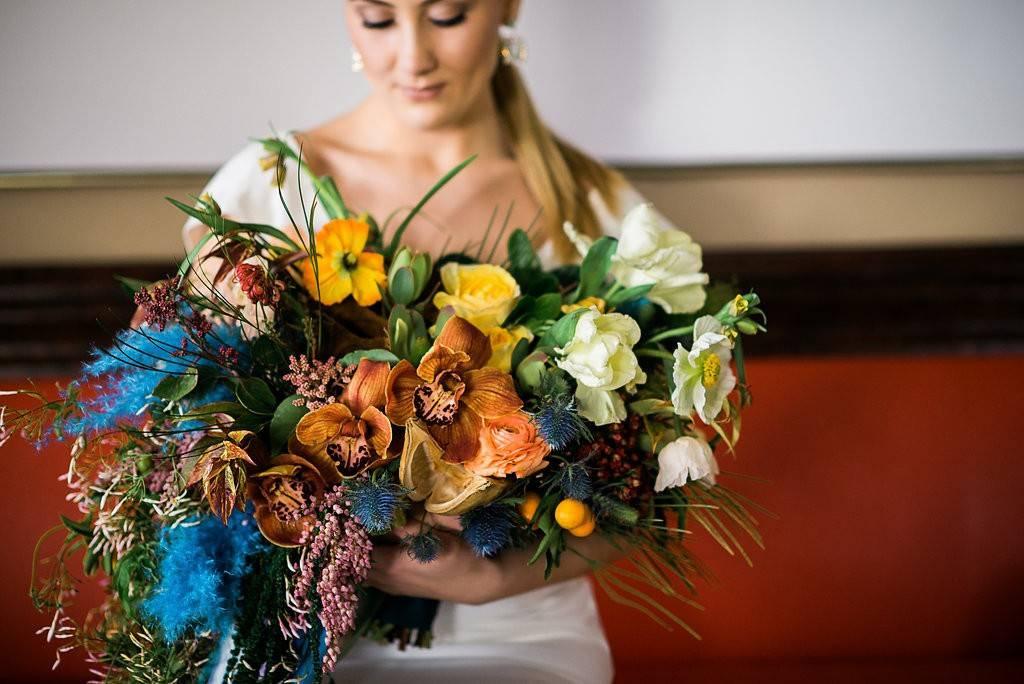 Floral design by Stacy K Floral
Blue and orange wedding bouquet
Embrace these bold colors by adding them to your fall bridal bouquet to make a statement. Orange orchids, ranunculus, and poppies will look even more vibrant when you pair them with blue thistle and blue dyed pampas grass.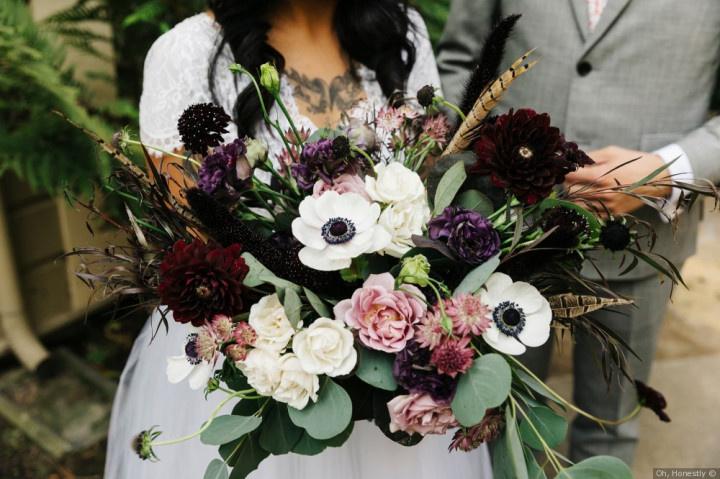 Jewel tone wedding bouquet
Combine dark purple and burgundy blooms with contrasting white and pink flowers for a bouquet that's dramatic yet soft. The feathers and leafy agonis in this arrangement give it a subtle bohemian vibe.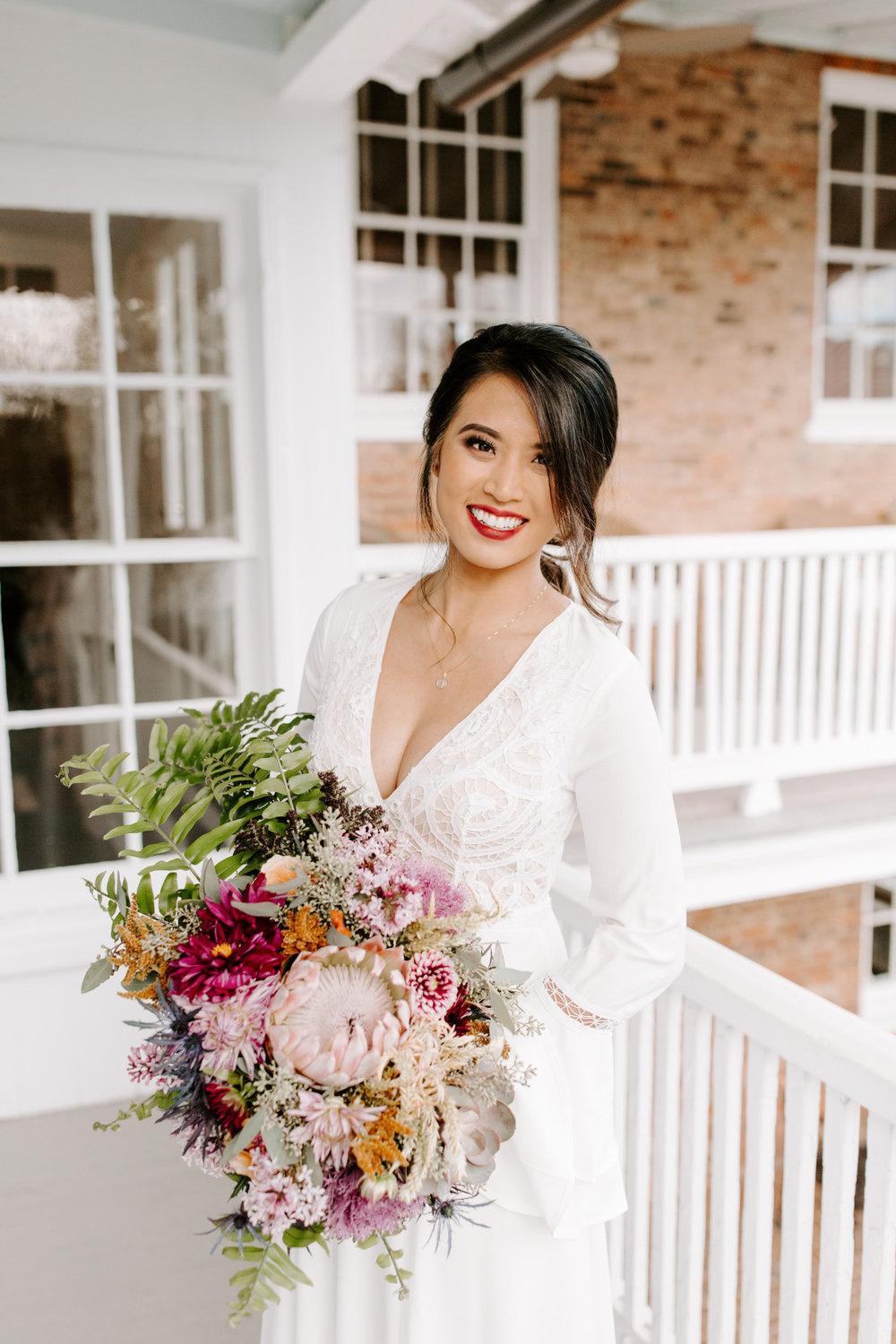 King protea wedding bouquet
King proteas were made for the statement-loving bride. A single protea is all you need to add the wow factor to your fall wedding bouquet—we love how this one is surrounded by pink flowers and greenery.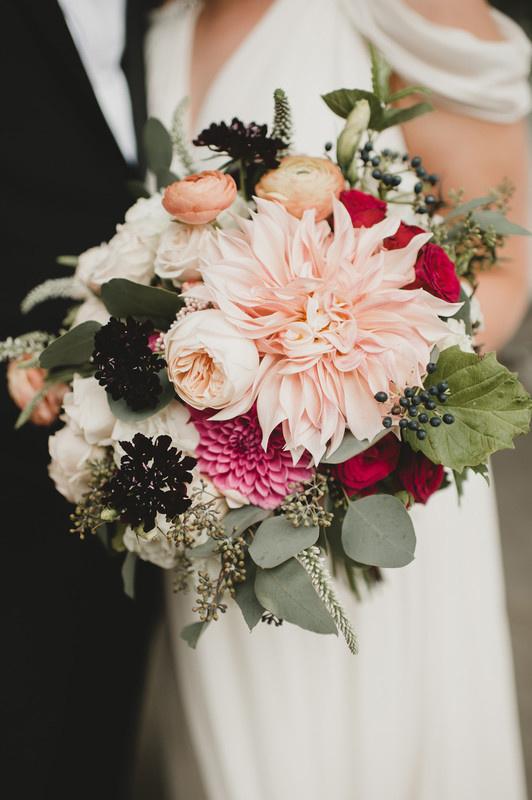 Cafe au lait dahlia bouquet
Dahlias make us swoon every time, and this stunner is no different. A giant cafe au lait dahlia will be the centerpiece of your bouquet and looks amazing alongside garden roses, ranunculus, and greenery.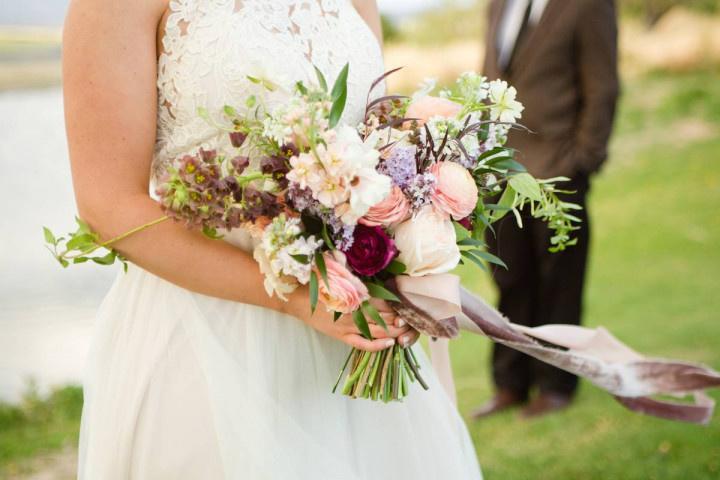 Hand-tied wedding bouquet
For a picked-straight-from-the-garden effect, try a hand-tied bouquet. The asymmetrical shape of this arrangement feels relaxed and natural, with velvet and silk ribbons adding a hint of opulence.
Greenery wedding bouquets
Greenery can instantly boost a smaller bouquet, eliminating the need for a lot of flowers without sacrificing on substance. Eucalyptus one of the most popular types of greenery, and it pairs beautifully with so many different fall wedding flowers and colors.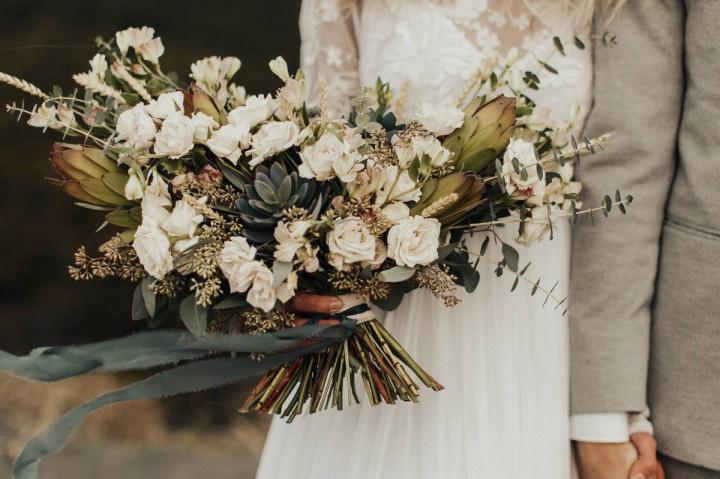 Neutral-colored wedding bouquet
Go modern and simple for your fall wedding bouquet with a neutral color palette. This neutral arrangement is far from boring — the combo of succulents, dried proteas, eucalyptus, and fresh roses give it plenty of texture and dimension.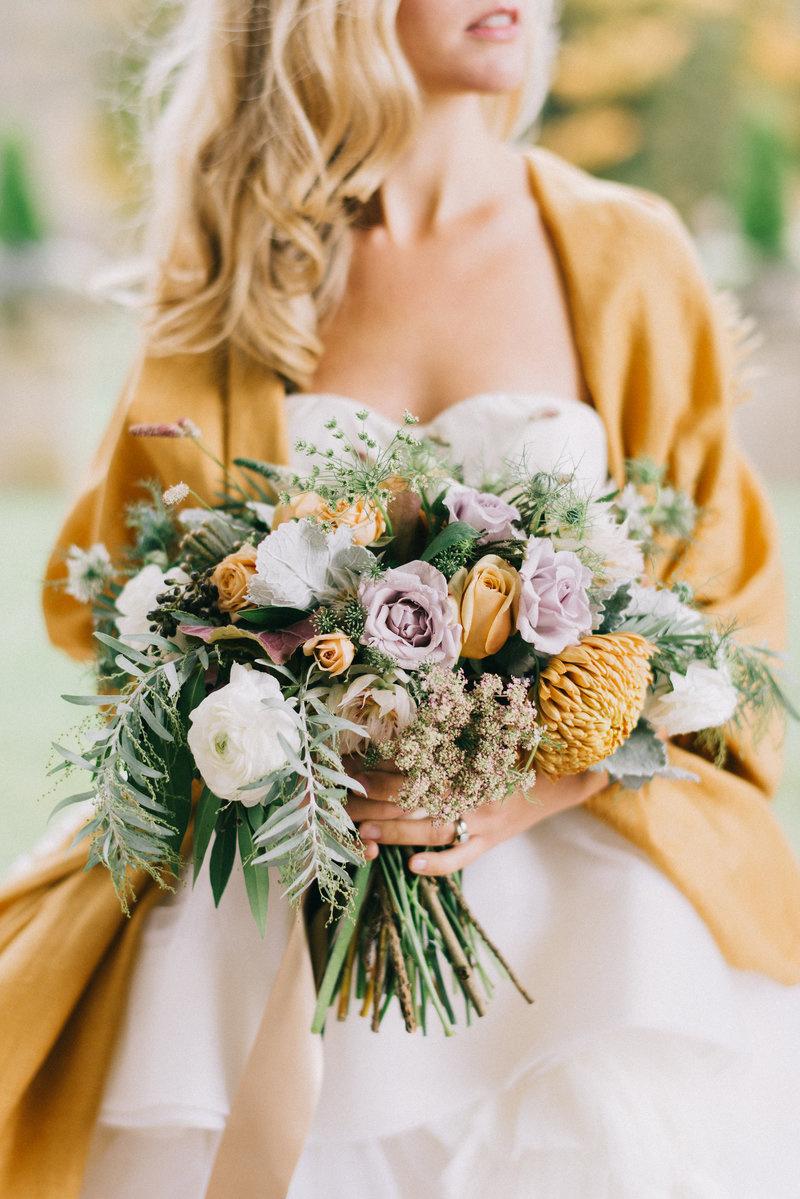 Floral design by Apotheca Flower Shoppe & Tea Chest
Yellow and lilac wedding bouquet
This cheerful color is one of our favorite hues of the moment. Give your bouquet a burst of energy by adding warm marigold yellow flowers, like the chrysanthemums and roses seen here.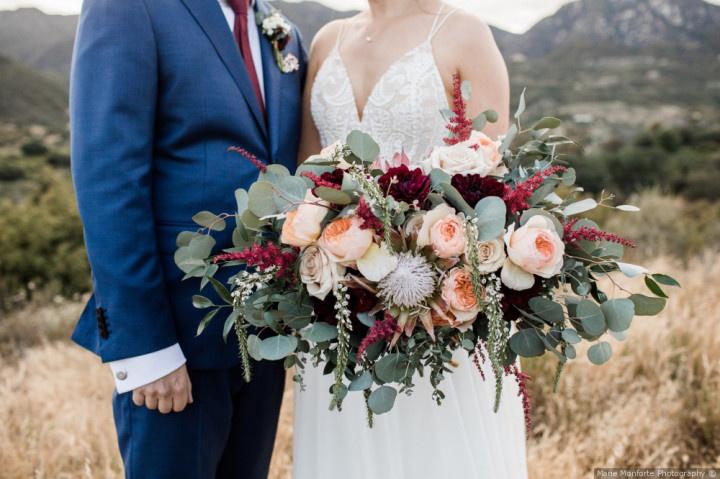 Oversized bouquet with garden roses
Roses are always in season and can look beautiful in any type of arrangement, but when it comes to fall wedding bouquets, they're especially pretty when paired with lush greenery and burgundy blooms. These peach David Austin roses are utterly dreamy!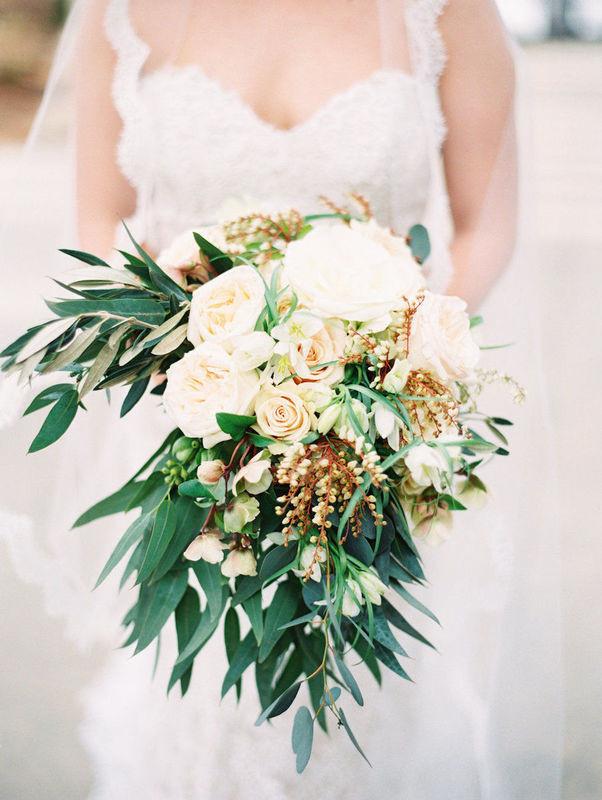 All-white wedding bouquet
Monochromatic white flowers are forever a classic choice. This autumnal bouquet of roses, pieris japonica, hellebores, and eucalyptus is sophisticated and ethereal.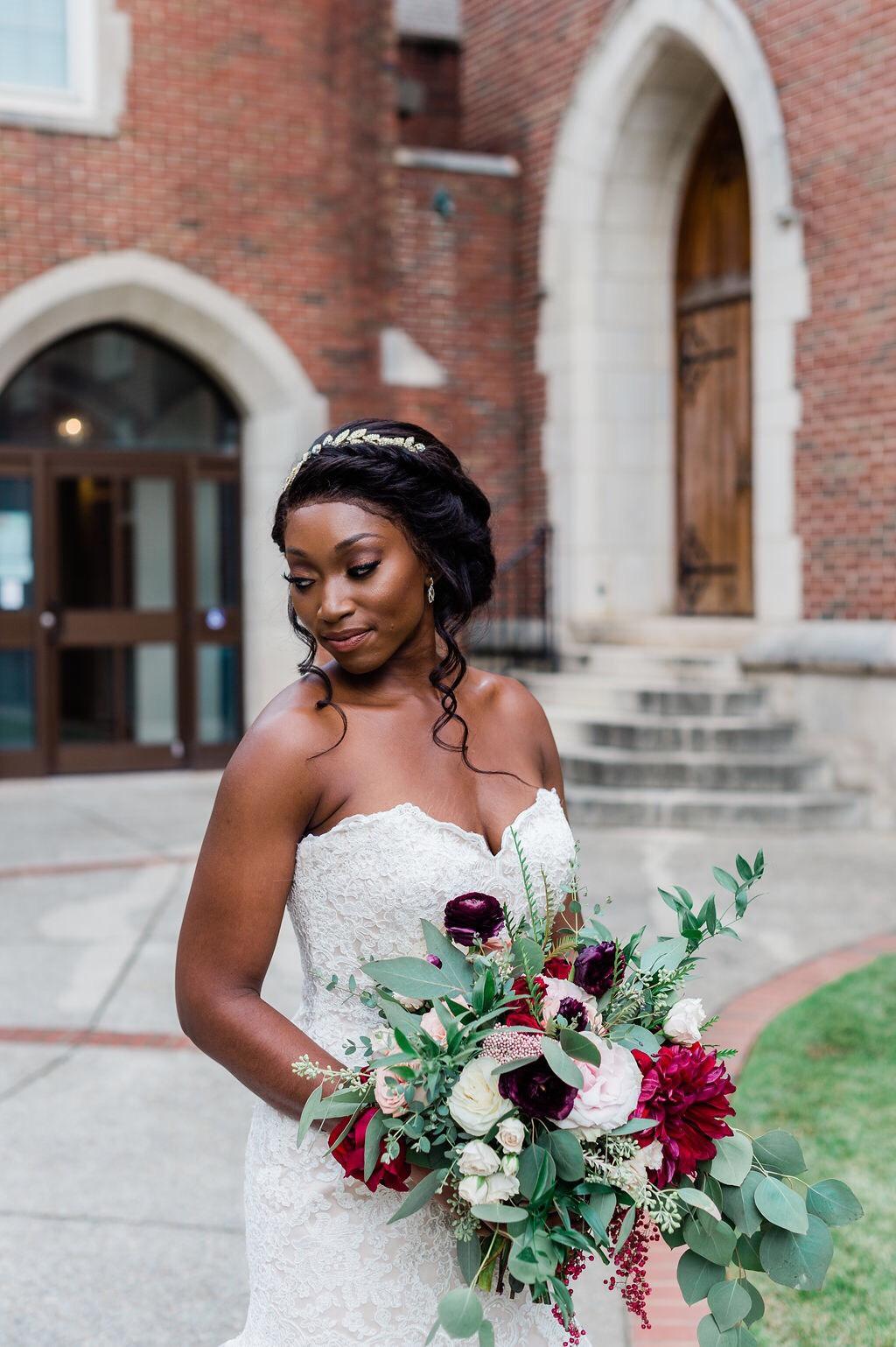 Fuchsia and purple fall wedding bouquet
A little bit romantic, a little bit dramatic—this fall bridal bouquet is full of jewel tones and gorgeous greenery, and we think a similar arrangement would be perfect for a garden wedding.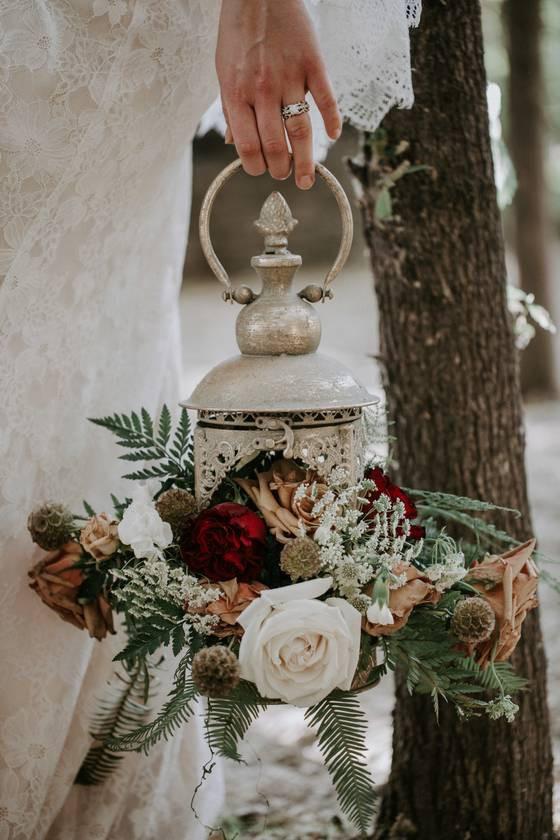 Alternative lantern wedding bouquet
Looking for something totally unique? Instead of a traditional fall wedding bouquet, try carrying a flower-filled lantern, which would be perfect for a vintage or rustic wedding theme.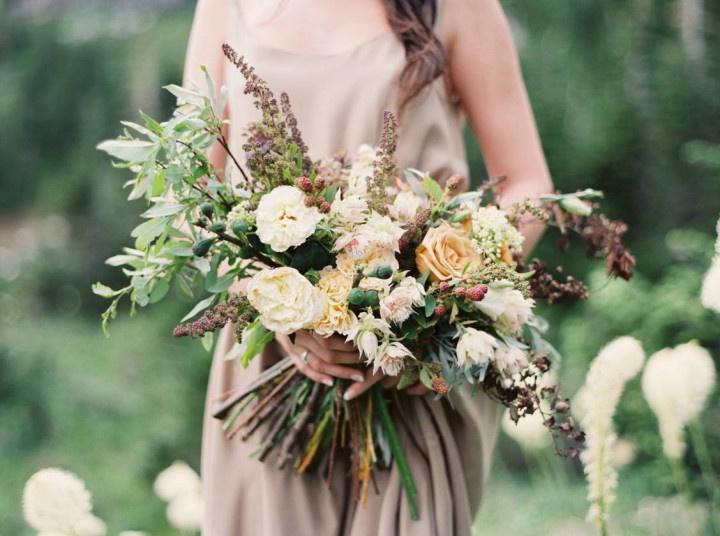 Floral design by Intertwine
Mauve and greenery wedding bouquet
If you're not into dark colors but not quite into pastels, either, this tonal fall bridal bouquet is the perfect compromise. Muted shades like mauve, butter yellow, cream, and green are an unexpected but stunning option for a unique arrangement.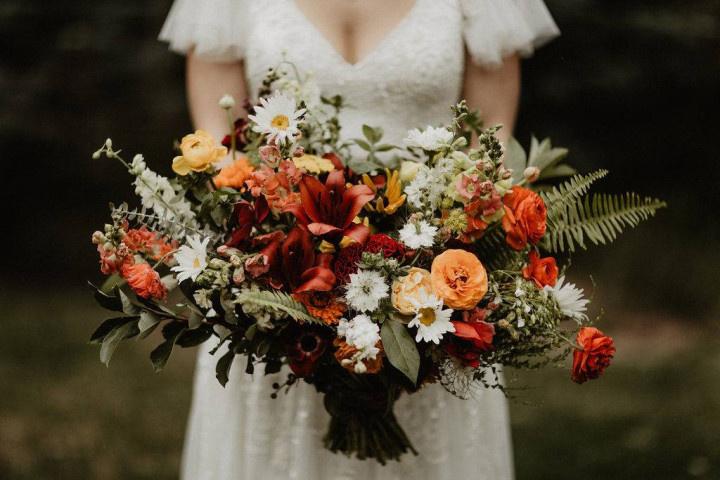 Sunset-hued wedding bouquet
You can't go wrong with red, yellow, and orange—this golden hour-inspired palette is a no-brainer for fall wedding flowers.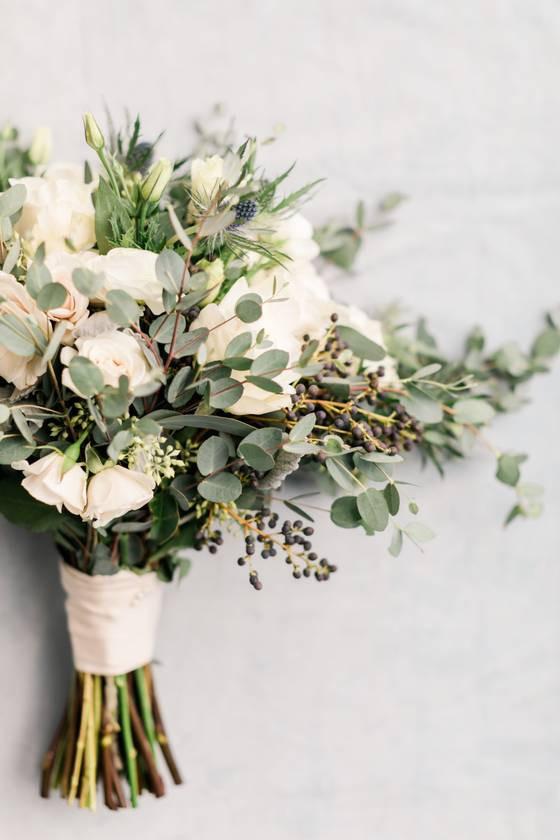 Blue thistle wedding bouquet
Dusty blue is a subtle yet sweet accent color for your fall wedding bouquet. This chic arrangement includes thistle and viburnum berries in muted blue tones.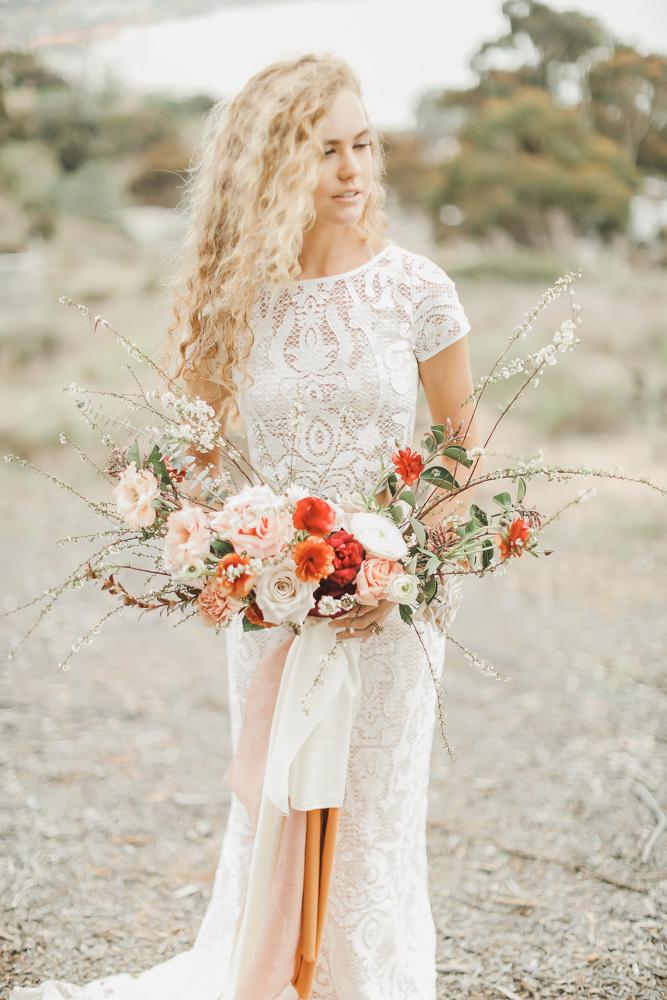 Floral design by Flora & Fauna Productions
Fall wedding bouquet with foraged branches
This one is for all of the free-spirited brides out there: a bouquet filled with foraged branches is bohemian and unexpected (and undeniably cool). The blush and red color palette keeps the arrangement soft and romantic.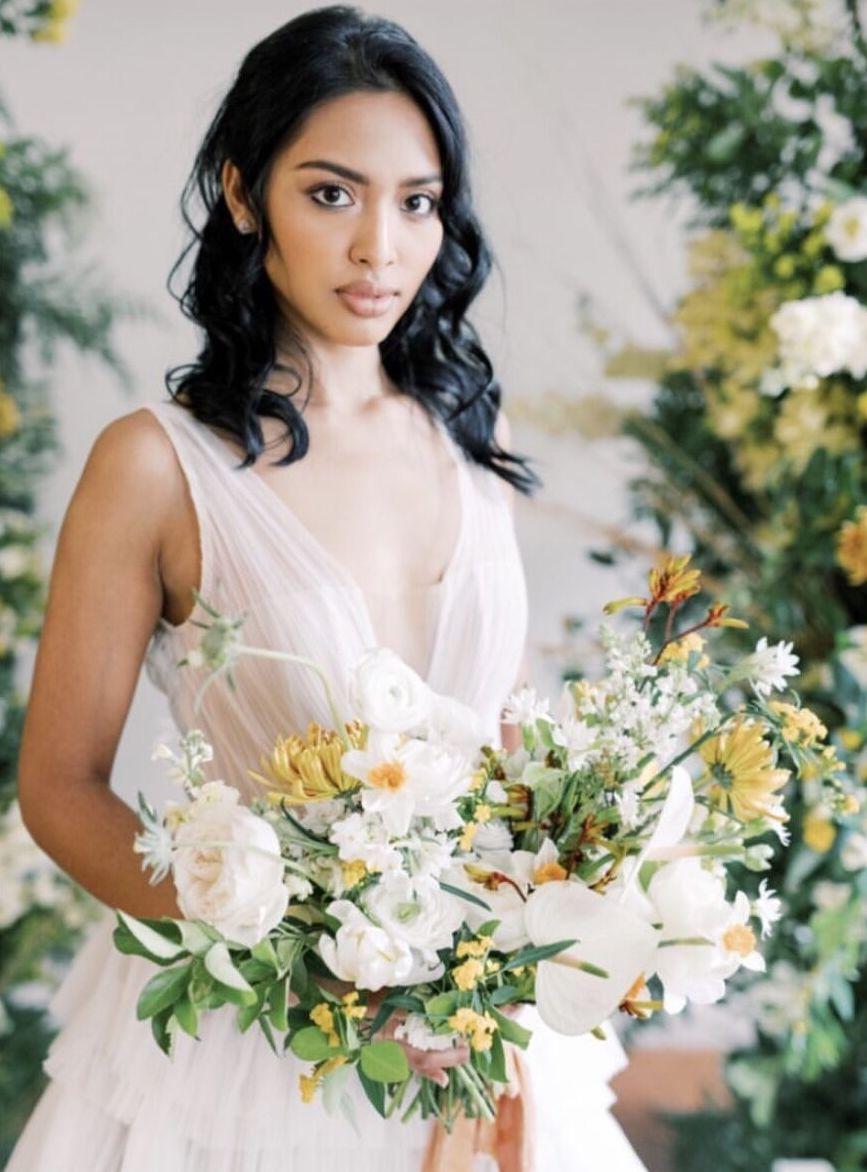 Yellow and white wedding bouquet
If you're having a late summer or early fall wedding, combine flowers from both seasons to create a transitional bouquet. This asymmetrical arrangement is a great example, with summery anthurium and daffodils alongside autumnal yellow chrysanthemums.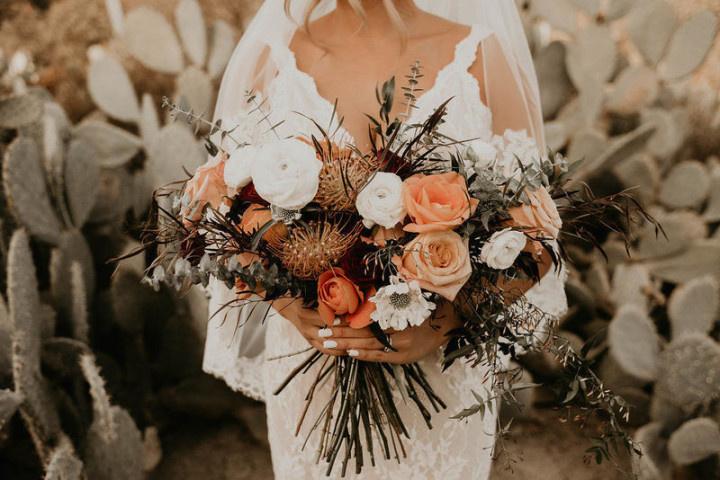 Yellow pincushion protea bouquet
Pincushion proteas are a playful and modern accent to classic roses and scabiosa, but somehow, it all works! The added greenery creates a cool abstract look that suits any boho bride.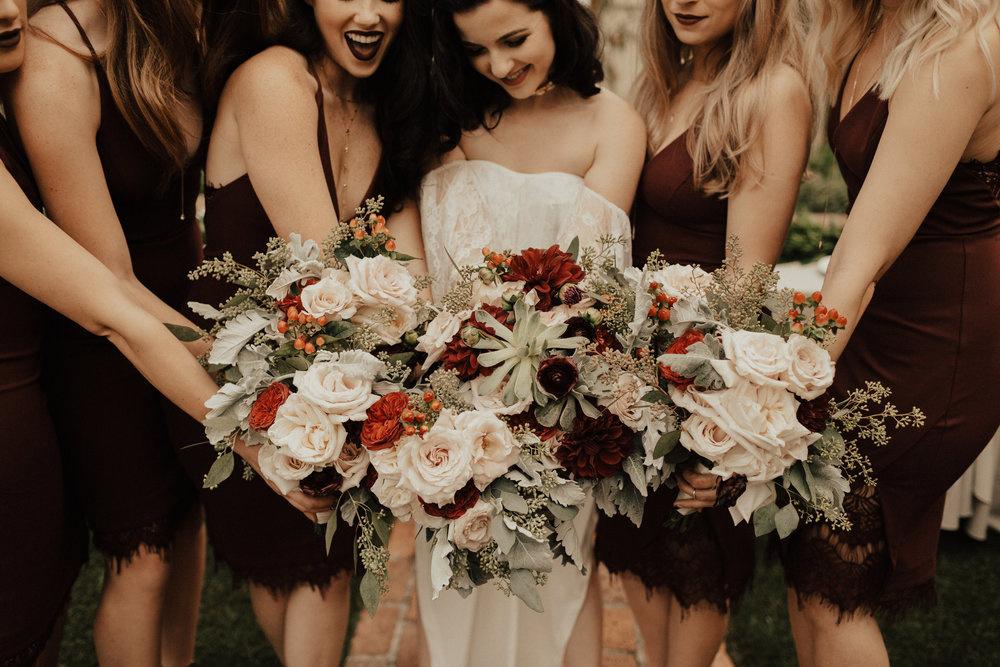 Planning by Blue Ribbon Wedding
Succulent and rose wedding bouquets
These plants are some of our favorite year-round accents (get more succulent ideas right here!), but they look especially lovely in a fall wedding bouquet. Pair succulents with greenery and hypericum berries for an eco-chic vibe.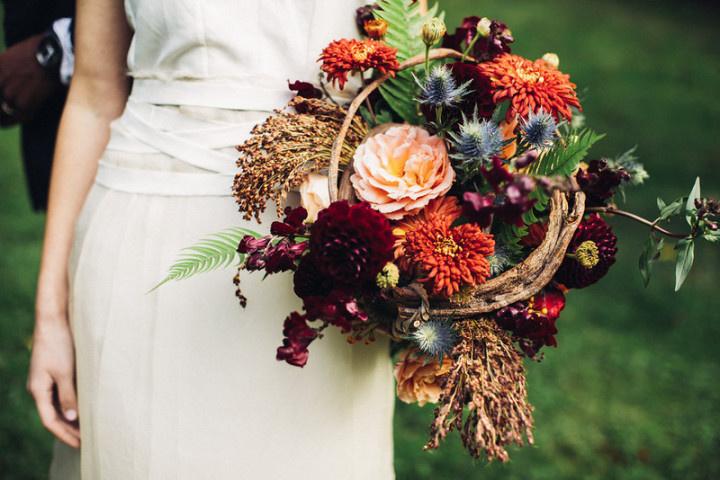 Grapevine wedding bouquet
Speaking of vines, even the dried ones can serve as a gorgeous accent to your wedding bouquet. This architectural bouquet includes dahlias, chrysanthemums, thistle, and ferns molded around a halo of grapevine.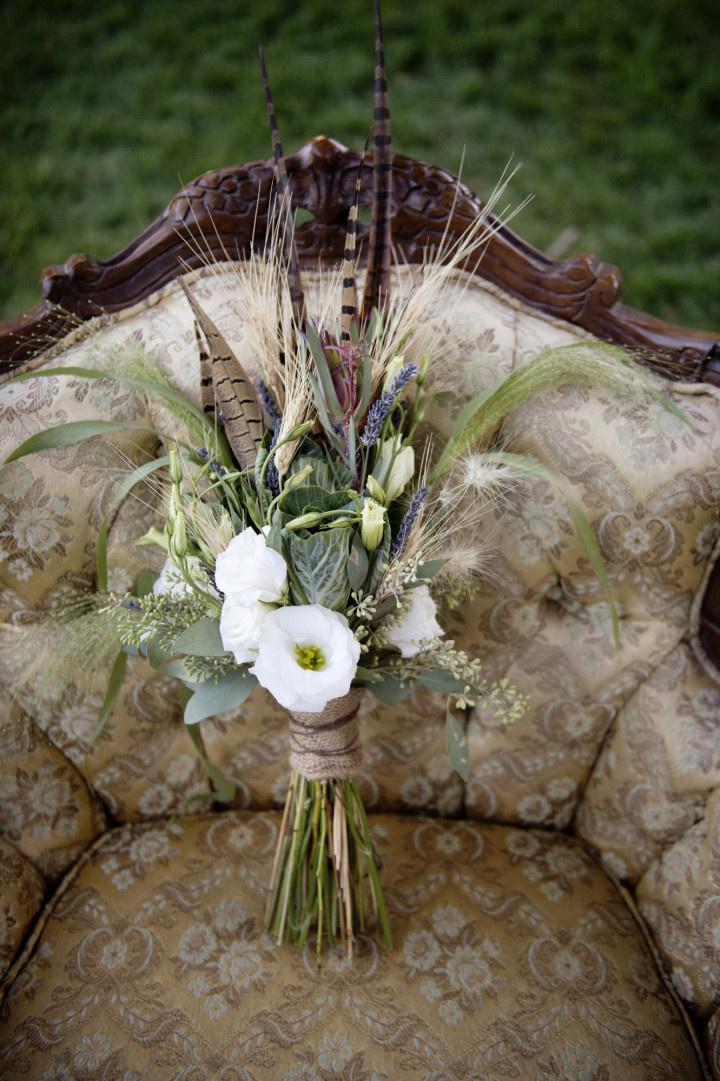 Rustic wedding bouquet with feathers
Not a huge fan of flowers? No problem! Feathers, wheat stalks, and greenery are all trendy alternatives to over-the-top blooms.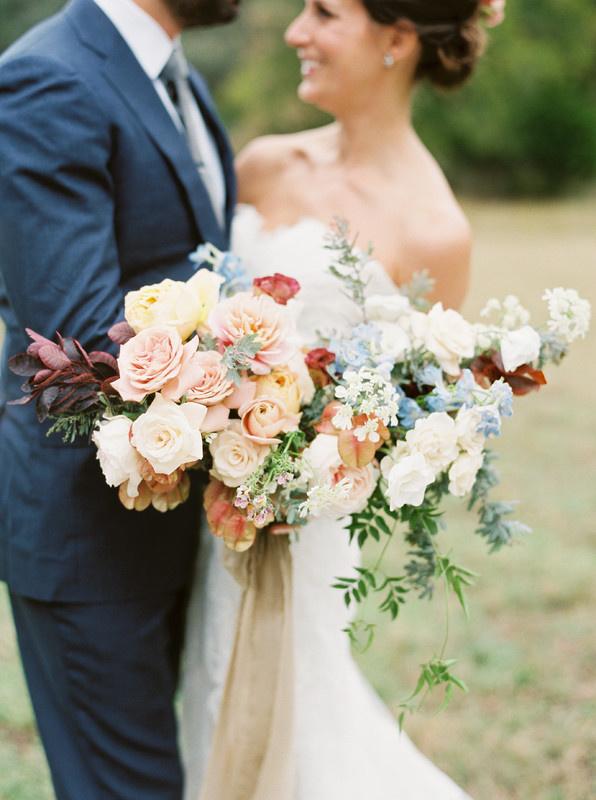 Ombré fall wedding bouquet
Combine dark and light flowers into one bouquet by using a subtle ombré effect. Look closely and you'll see how the lightest flowers are clustered to the right — with a pop of blue delphinium for good measure — while the darker blooms are on the left. This elegant arrangement proves that not every bouquet has to be symmetrical!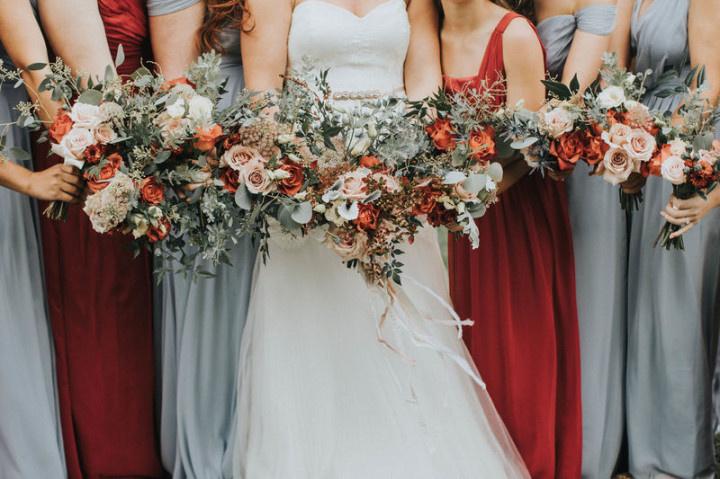 Blue and burnt orange wedding bouquet
Embrace this unique fall wedding color palette by adding blue thistle and dark orange roses to your bouquets. Soft eucalyptus and blush pink hues tone down the blue and orange flowers, giving them a more versatile look that's still unexpected.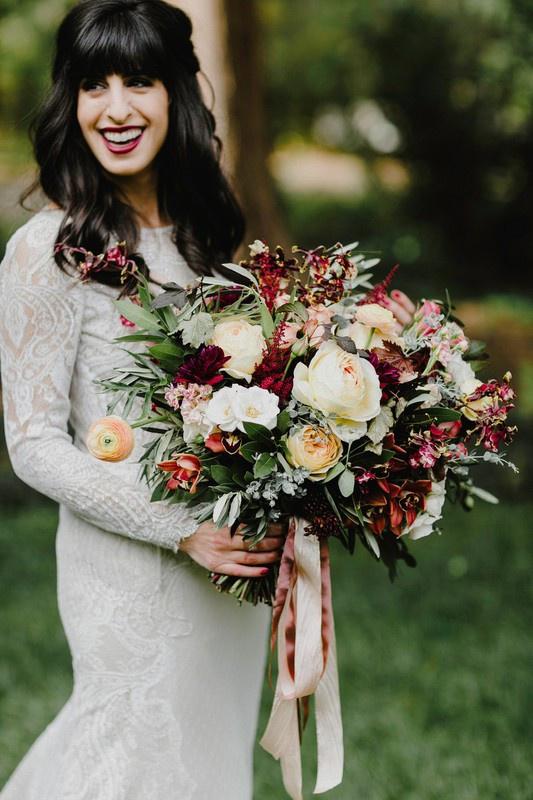 Oversized fall wedding bouquet
As the saying goes, go big or go home! Oversized bouquets have been trending for several seasons now, but they still make our jaws drop. This bouquet style is typically asymmetrical and even a bit untamed at times, which is what gives it so much personality. But if you don't like the asymmetrical look, a giant rounded bouquet offers the same oversized effect while being a bit more reigned in.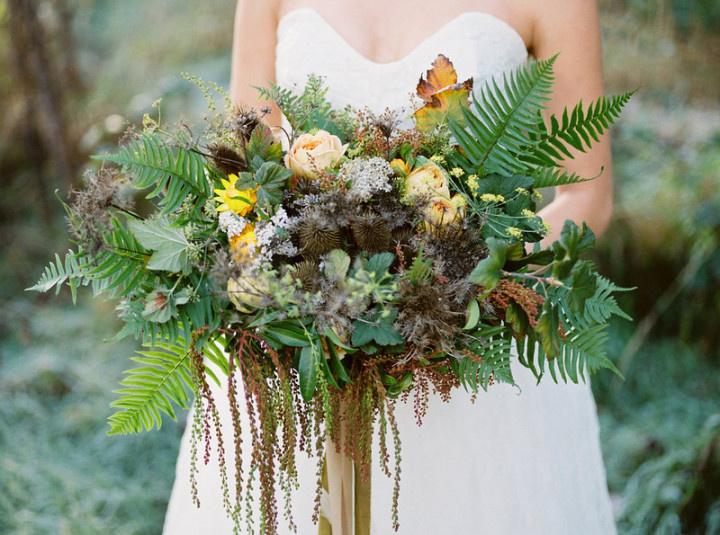 Forest-inspired wedding bouquet
For a bouquet that has a woodland, fairy-themed look, go heavy on the greenery and wildflowers. Add dried accents, like thistle, and a dash of color for a truly enchanting, picked-from-the-forest result.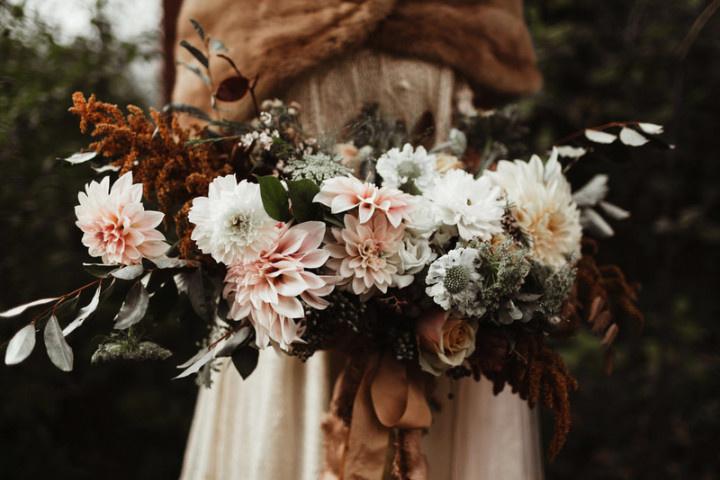 Dark and moody fall wedding bouquet
The dark and moody wedding trend is perfect for fall brides. Offset a bouquet of blush dahlias and white carnations with rust-colored amaranthus, blue viburnum berries, and purple agonis.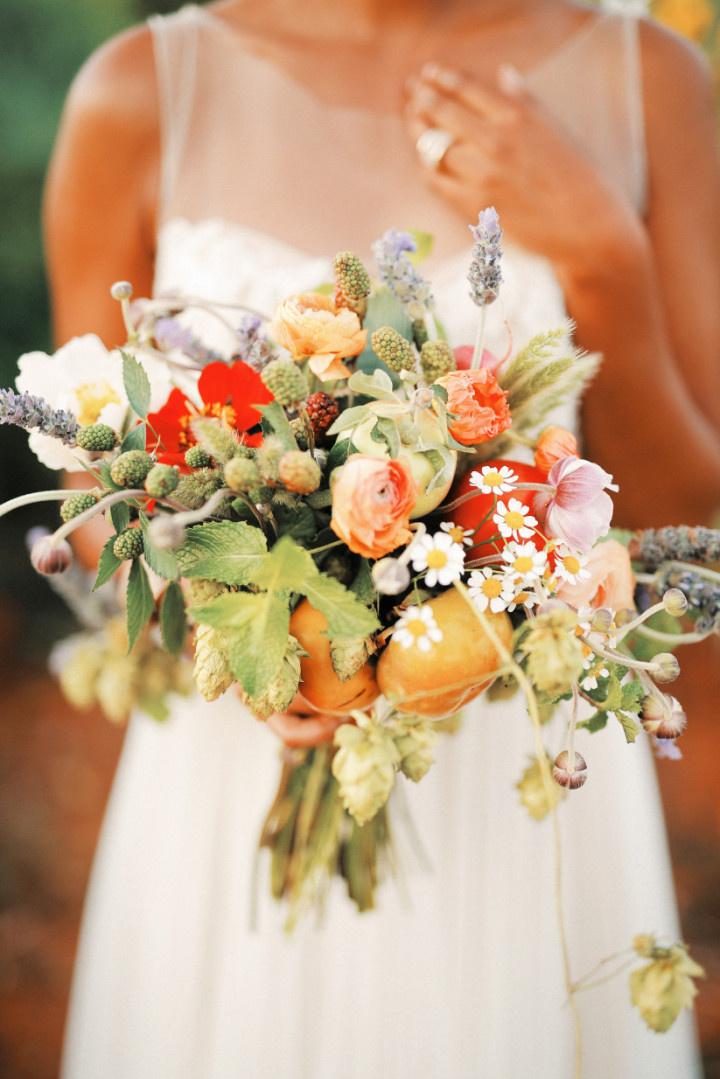 Farm-to-table wedding bouquet
Tomatoes in a wedding bouquet? Why not! Take advantage of the seasonal harvests by including fresh veggies or herbs in your floral arrangements. This non-traditional idea is surprisingly photogenic, and it's especially great if you're getting married at a farm or pastoral venue that supplies its own produce.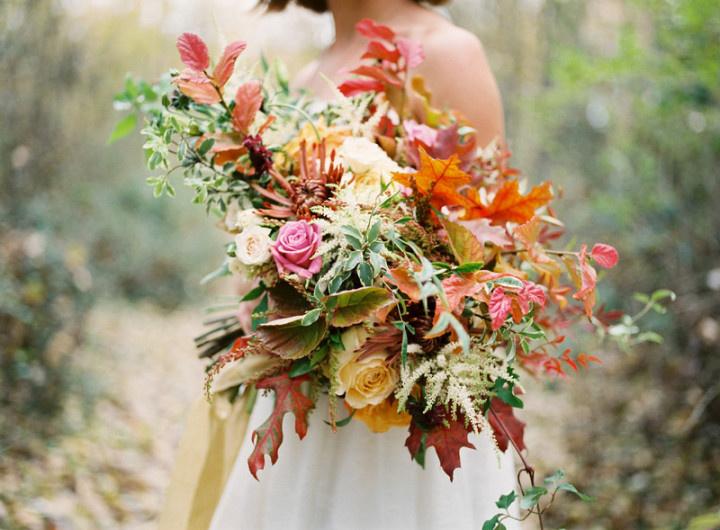 Colorful fall wedding bouquet with foliage
Put an autumnal spin on any bouquet by including a few well-placed branches of fall foliage.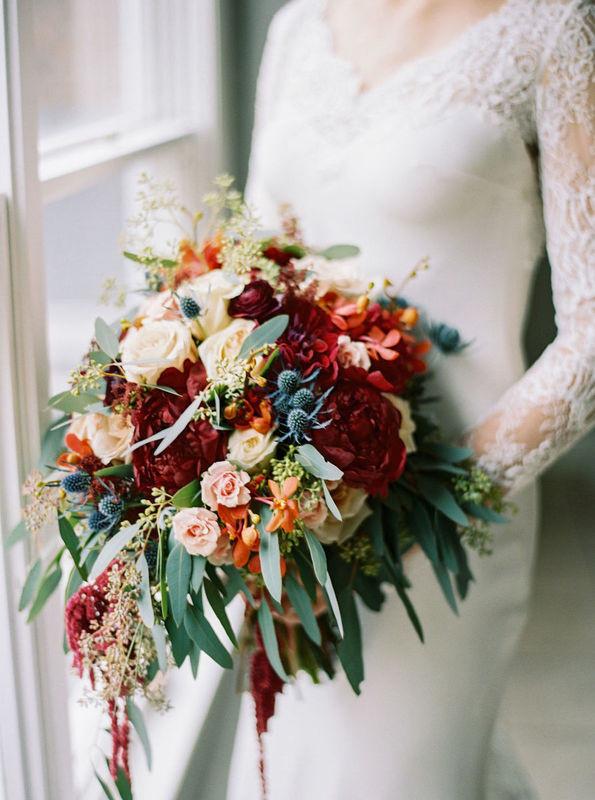 Red and blue fall wedding bouquet
A cascading wedding bouquet is traditional with a twist. For fall brides, we love the lush look of this red peony and rose arrangement accented with blue thistle, amaranthus, and seeded eucalyptus.
Purple fall wedding bouquet with succulents
A pint-sized posy of lilac and ivory blooms is a great choice for your bridesmaid or flower girl bouquets. Succulents and dried wheat stalks are spot-on for fall!