21 Mermaid Wedding Ideas for Major Under the Sea Vibes
Saying "I do" by the sea? These enchanting and elegant mermaid wedding ideas are straight out of a fairytale.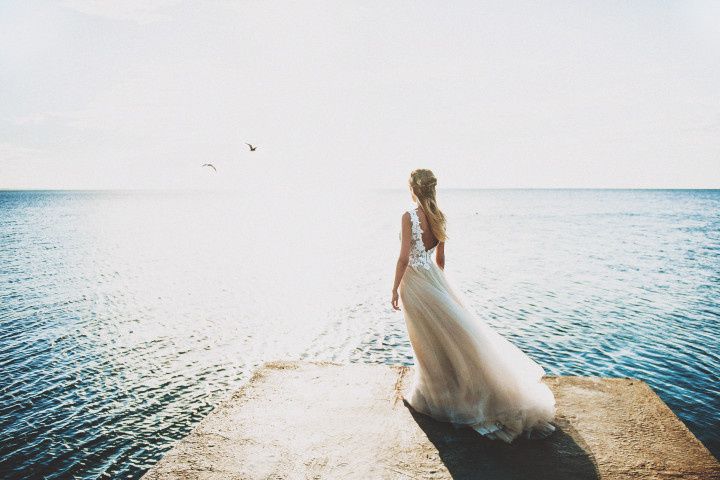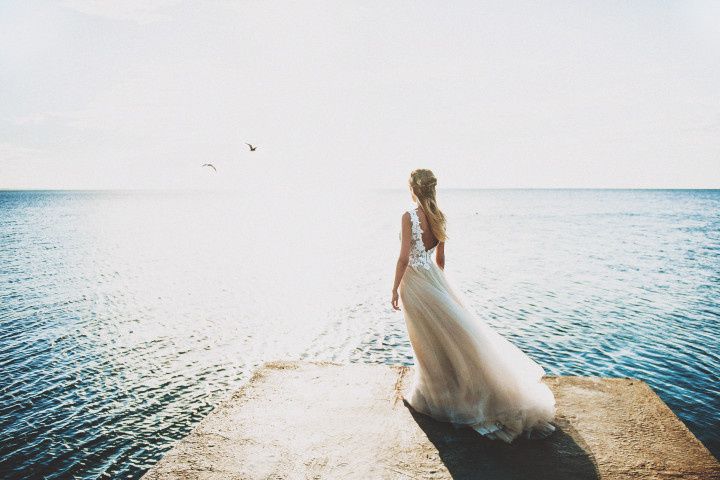 If you're getting married by the sea (or have simply dreamed of being where the *mermaids* are ever since you first heard Ariel sing), we're hoping these mermaid wedding ideas will sweep you off your feet. Mermaid-inspired weddings focus on the use of ethereal details, soft colors, a hint of shimmer, and lots of natural elements to create an airy, fluid aesthetic — not unlike water itself. Our favorite mermaid wedding ideas are whimsical yet elegant, and we think the modern-day Ariel would definitely approve of this trending style.
See why we're mesmerized by these gorgeous mermaid wedding ideas.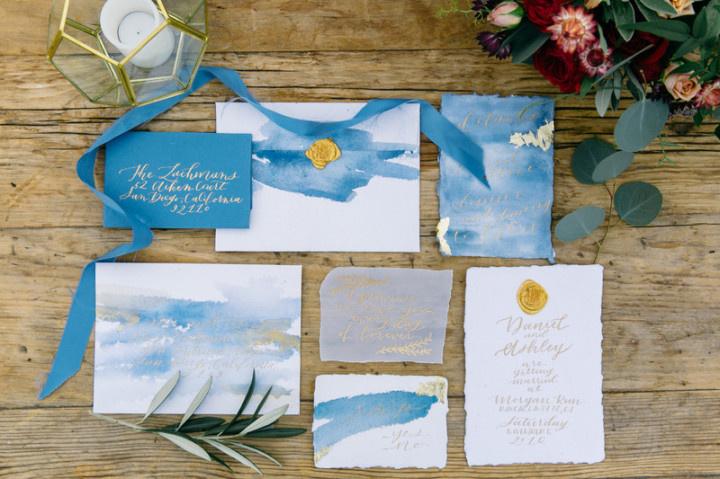 Blue Watercolors
Embrace the abstract look of uneven watercolor washes to create a "painted by the waves" effect. Gold foil accents and wax seals make the invitation suite look intentional rather than unfinished.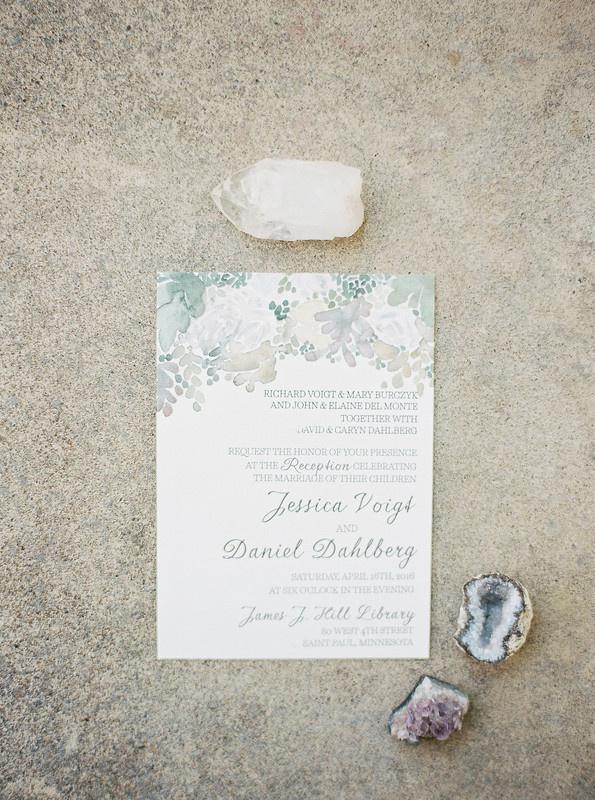 Muted Pastels
Use objects from nature, such as rocks or crystals, to inspire your wedding color palette. The muted pastels on this invitation pick up all the subtle hues of these cool geode stones.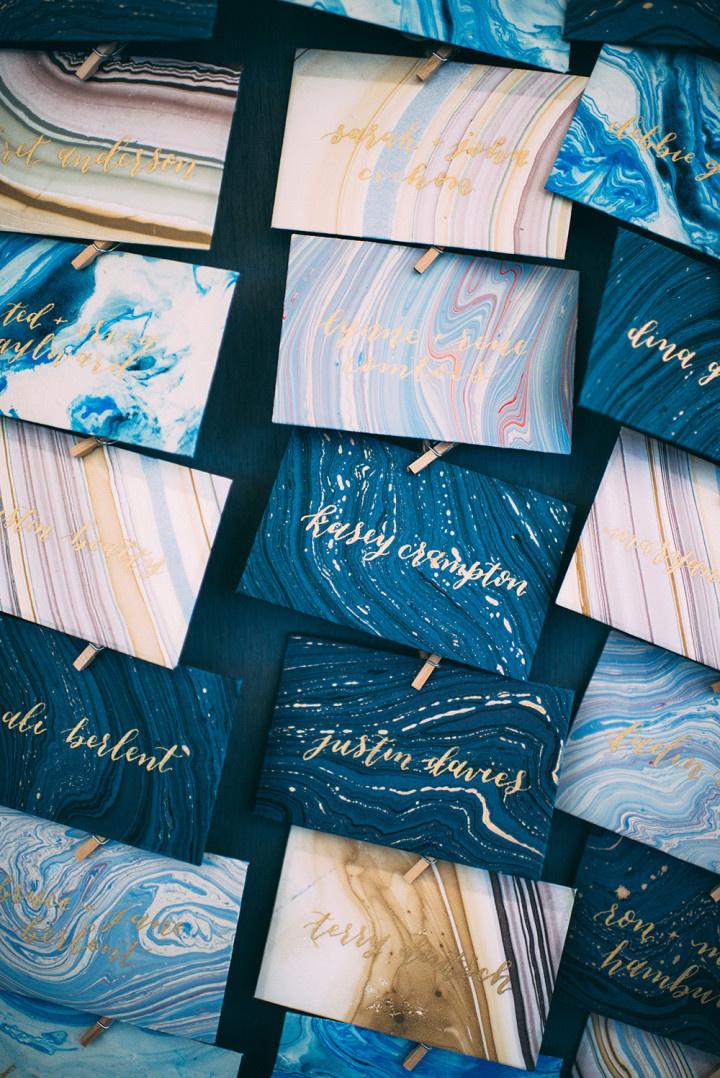 Marbled Stationery
First came marbled wedding cakes, then came marbled paper. You can create this stunning swirled effect by dipping escort cards into paint and water. Each one is unique!
Blue Wedding Dress
Shake tradition by wearing a pale blue wedding dress instead of classic white. A flowy, intricately embellished style is one of our favorite mermaid wedding ideas (the skirt on this Leanne Marshall dress reminds us of rolling waves and sea foam).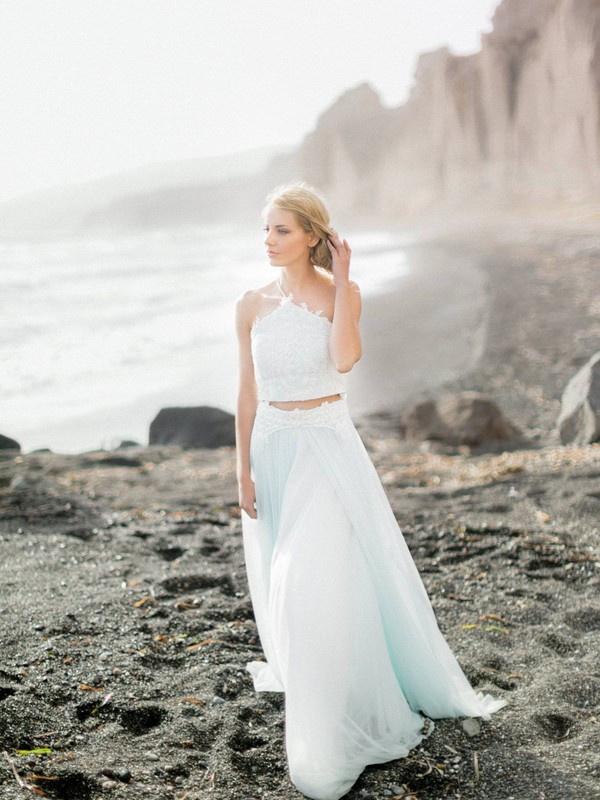 Crop Top
Two-piece outfits are a staple in any mermaid's closet. A crop top and skirt is a perfect option if you're searching for a whimsical wedding dress. Just be sure not to show too much skin — you still want to look like a bride!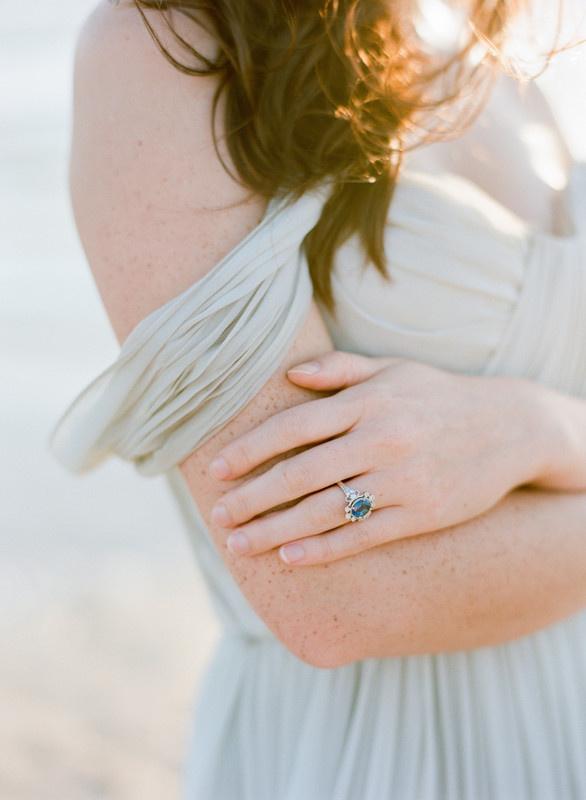 Aquamarine Engagement Ring
Diamonds are pretty, but colored engagement rings can really make a statement. Blue gems, like aquamarines, sapphires and moonstones, give off ocean-inspired vibes.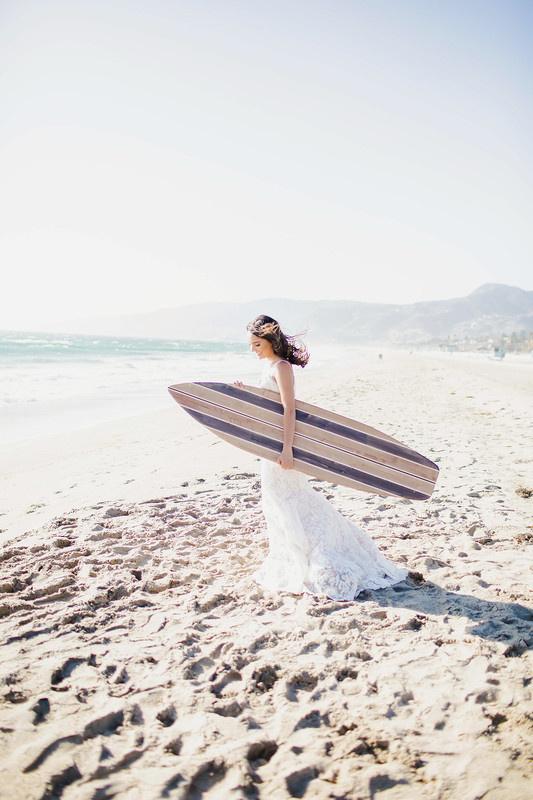 Surf's Up
Sure, actual mermaids don't need a surfboard to get around, but if you're a surfer girl, your board makes a fun wedding photo prop on the big day (although we don't recommend catching any waves until after you've changed out of your wedding dress of course).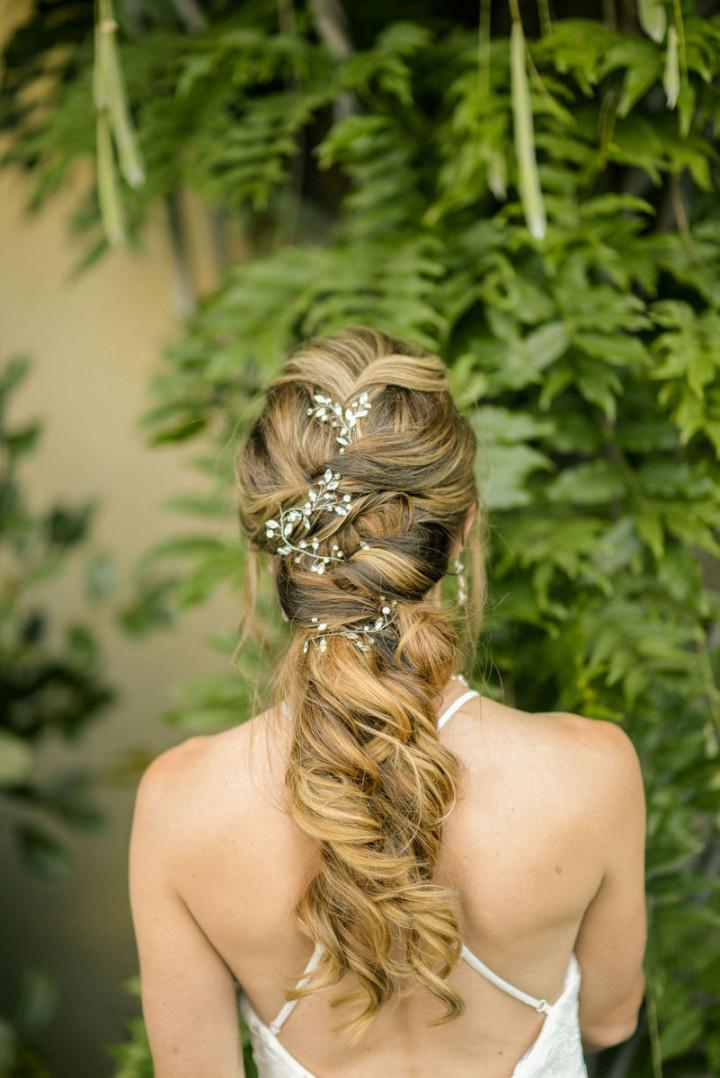 Long & Loose Hair
A slightly undone bridal hairstyle is essential to our list of mermaid wedding ideas. If you're putting your hair back, leave the ends of your tresses long and loose to create a romantic, lived-in look.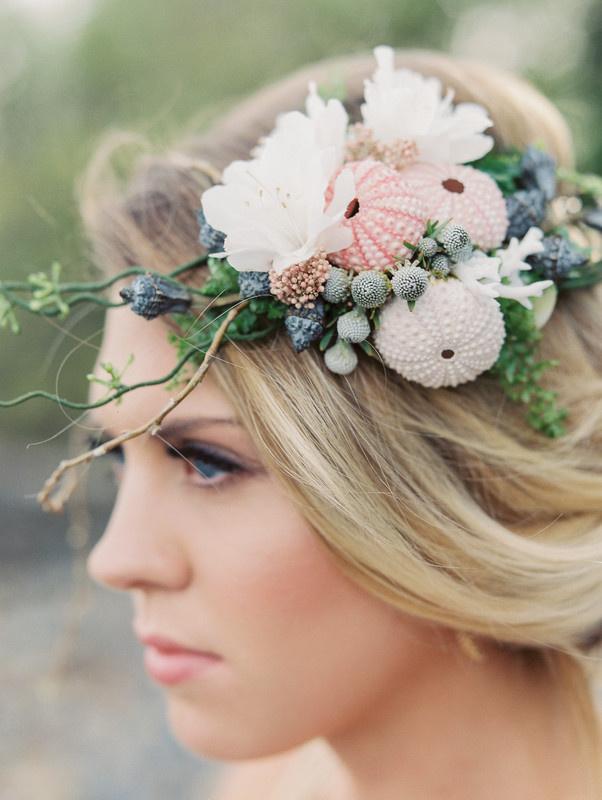 Foraged Headpiece
Head to the beach and collect items to create a custom wedding headpiece. Seashells and coral pieces are just a few ideas. Add fresh flowers on the wedding day as the finishing touch.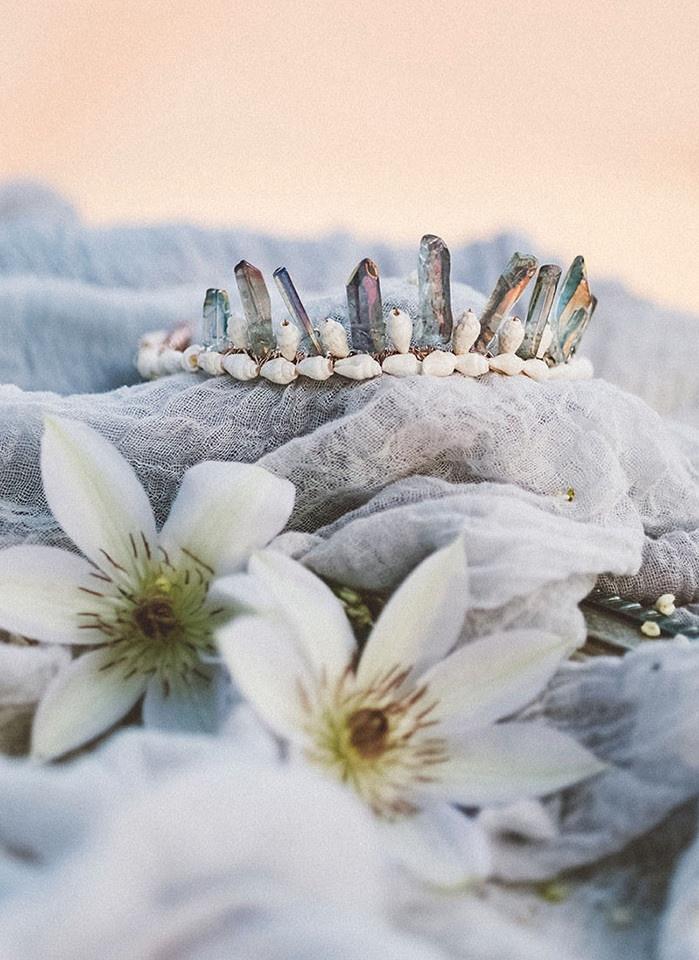 Crystal Tiara
For even more magical and majestic vibes, wear a tiara made of tiny shells and opalescent crystals. It's a total mermaid-meets-princess accessory.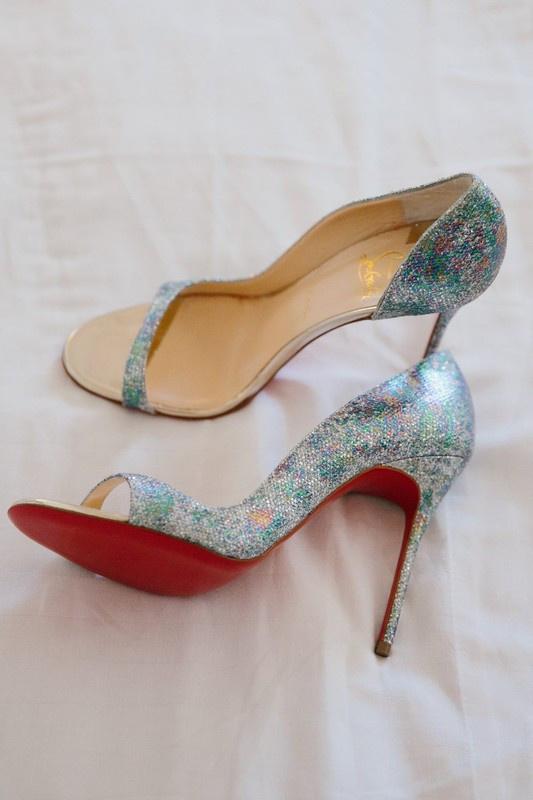 Iridescent Shoes
While it's easy enough to simply go barefoot on the big day (especially if you're having a beach wedding ceremony), it's more fun to complete your bridal look with the perfect wedding shoes. An iridescent pair like this go hand-in-hand with a mermaid wedding.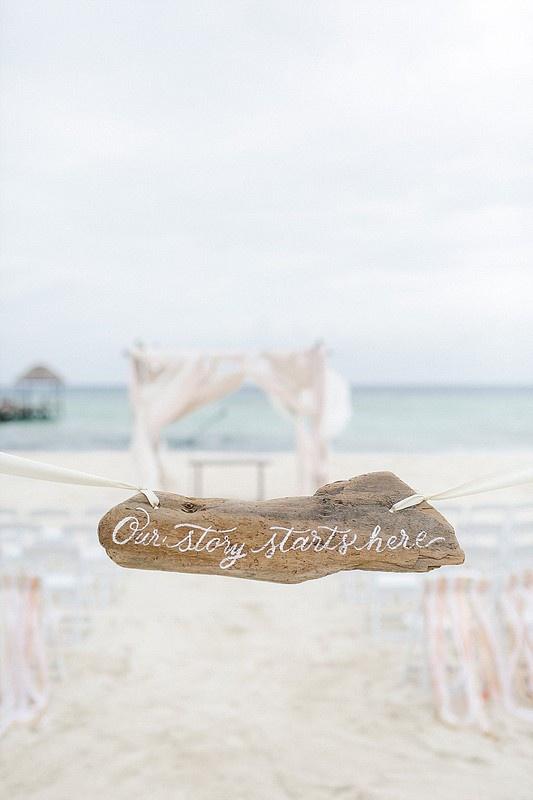 Driftwood Signage
Instead of writing on chalkboards or framed mirrors, use pieces of driftwood for your wedding signage. Half the fun is going to the beach to find all of the wood!
Seashell Strands
Getting married outdoors or on the beach doesn't mean that you have to skip the decor — the key is choosing pieces that complement your surroundings. Seashells, fishing nets, air plants, and distressed wood details are all sensible choices for a mermaid wedding.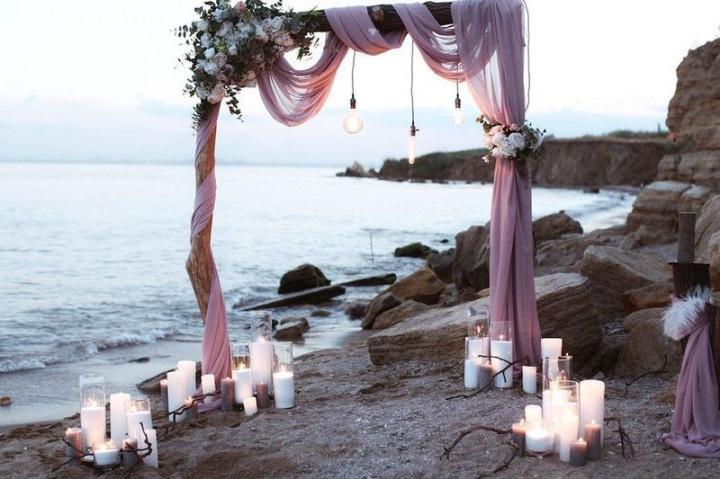 Waterfront Ceremony
If we had to choose our favorite mermaid wedding idea, it would be this waterfront ceremony setup. From the mauve linens to the assorted candles and rugged backdrop, it's intimate, scenic and a bit mysterious.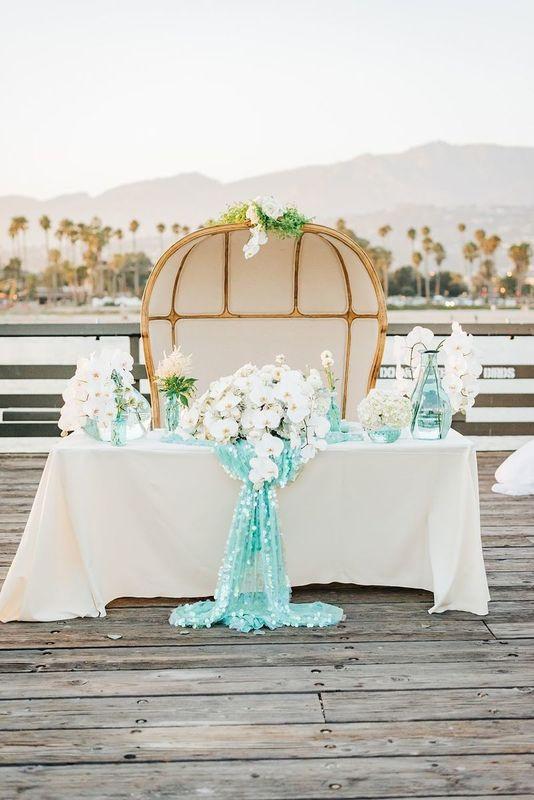 Sparkling Linens
Every mermaid needs a bit of sparkle! Dress up your sweetheart table with a sequined tablecloth that cascades onto the floor like a waterfall.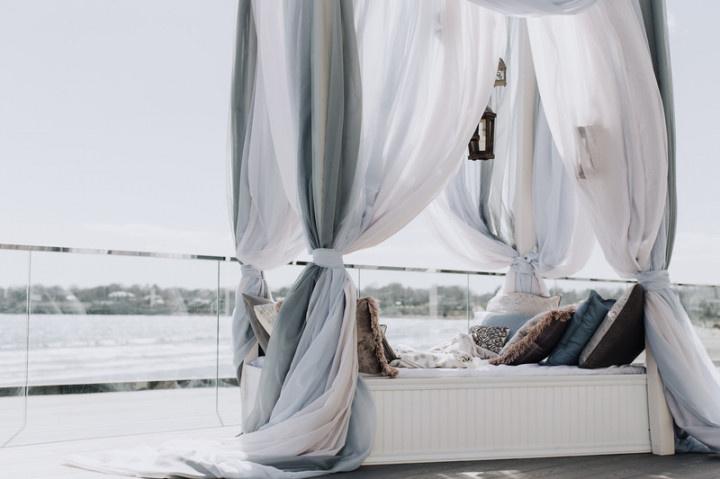 Breezy Lounge Area
Wedding lounges are a great way to entice your guests to walk around the venue instead of sitting at their tables all night long. An airy fabric canopy with lanterns and throw pillows is perfect for relaxing, mingling and taking in the view.

Sea-Inspired Quotes
If you have an open space at your venue (like near an entryway or behind your dessert table), a laser-cut quote is an easy way to fill the area. Choose a quote about water, the ocean or sailing to complement the rest of your mermaid wedding ideas.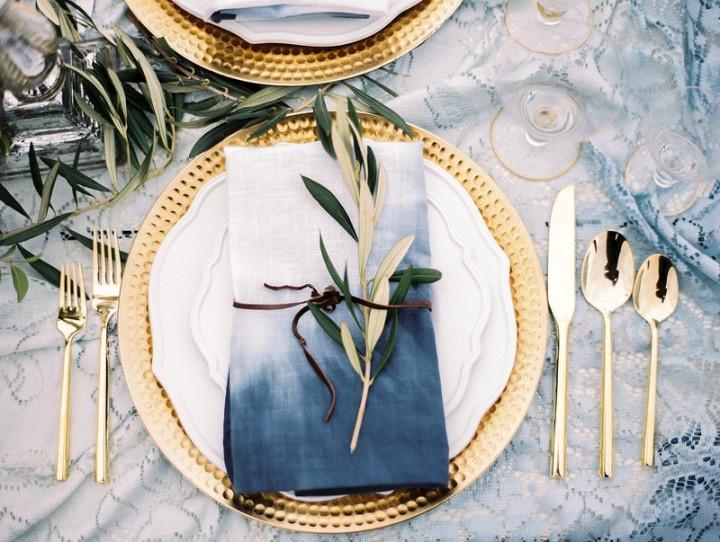 Ombré Accents
Sometimes, all you need is a bold ombré napkin to take your place settings to the next level...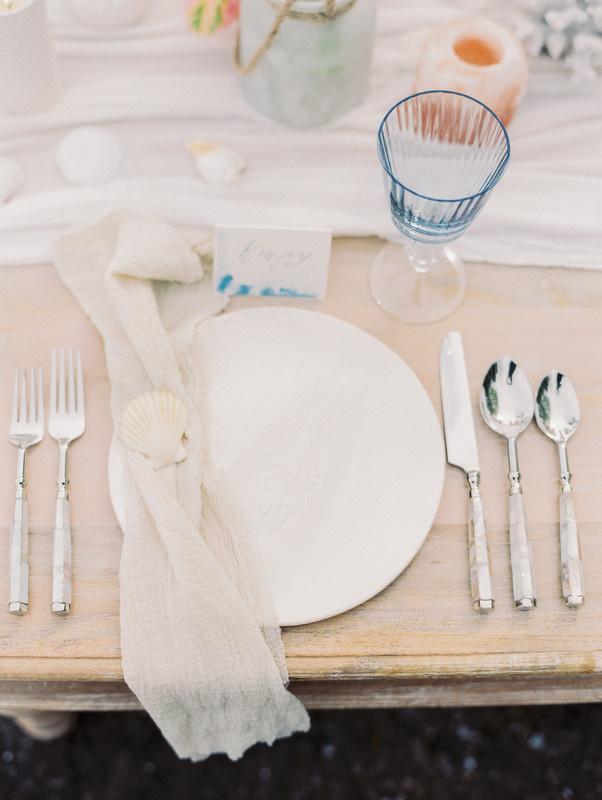 Simple Place Settings
...Or you can opt for neutral hues accented with soft gauze and seashells for an earthy vibe.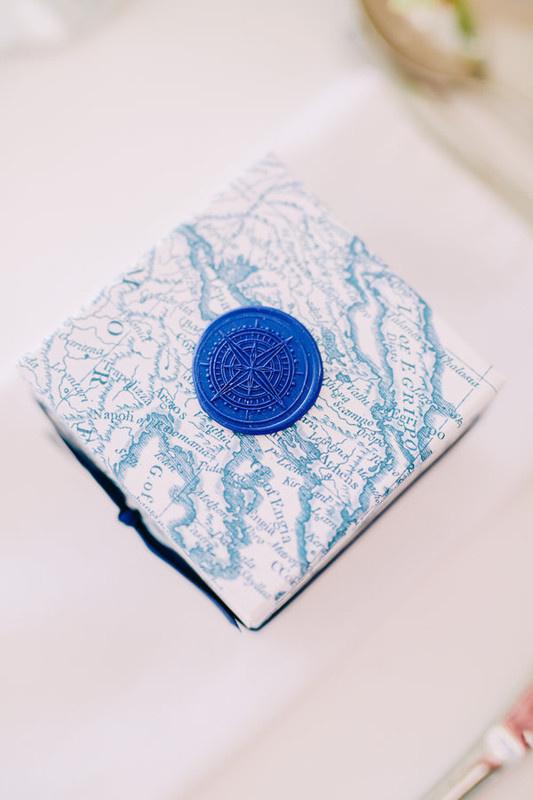 Nautical Map Favors
Boring wedding favors, be gone. Package your favors in individual boxes wrapped with vintage nautical charts or maps.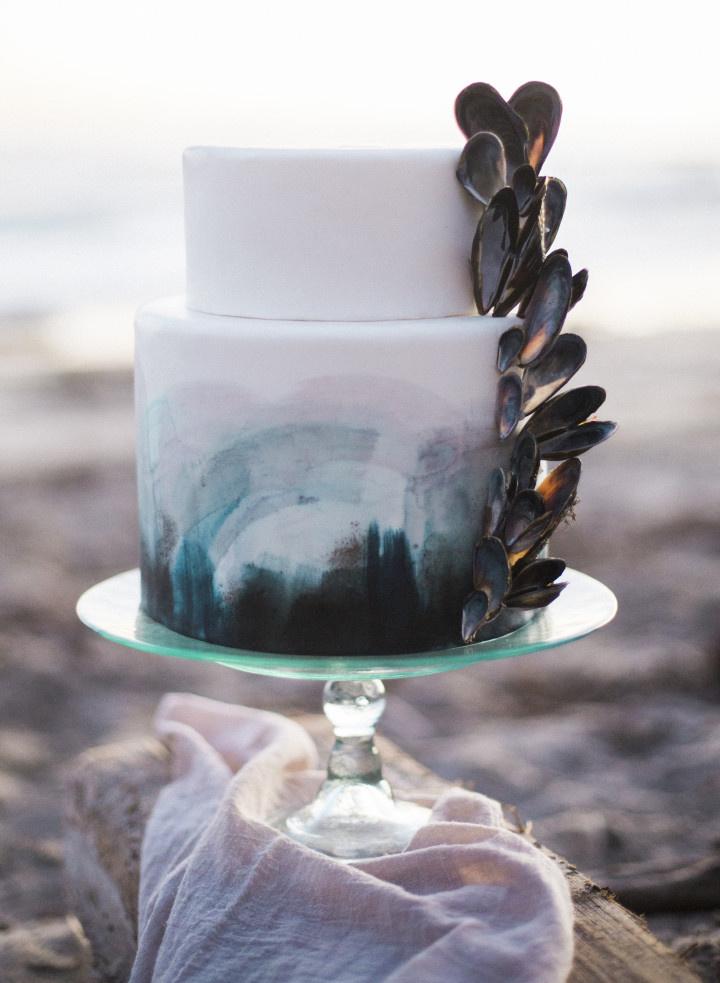 Hand-Painted Wedding Cake
Dark blue brush strokes and a grouping of mussels transform an ordinary fondant cake into a mermaid-worthy dessert.