Men's Wedding Bands' Metals Pros & Cons: Everything You Need to Know
Ready to select your wedding ring? First things first, pick a metal that best suits your taste and lifestyle. Here are the most popular men's wedding bands' metals pros and cons.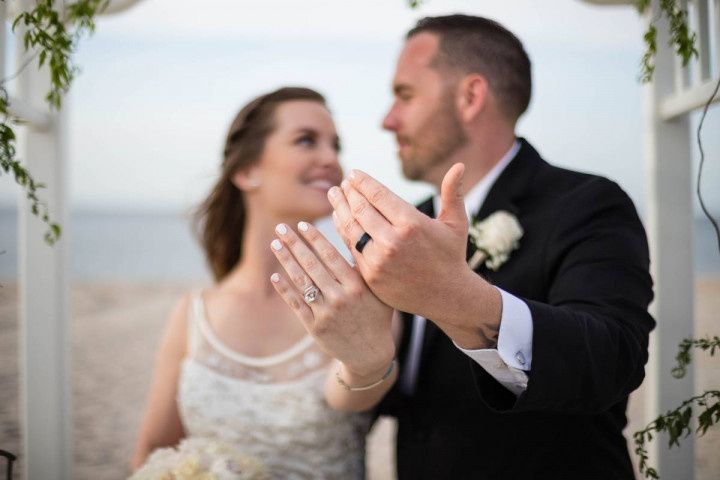 One of the most important decisions you'll need to make when shopping for wedding bands is picking the metal. You'll want to weigh each men's wedding bands' metal's pros and cons before choosing the ring you'll wear pretty much every day. Turns out there are lots of wedding band metals to choose from, and it can be tricky to tell the difference just by looking at a bunch of rings. We recommend doing some research before setting foot into a store so you'll be an educated consumer.
Here, we'll break down the most popular wedding bands' metals pros and cons so ring shopping will be an absolute breeze.
Gold
Pros: Gold is the most traditional option, and is available in several finishes including white, yellow, and rose golds. Higher karat golds tend to have more luster and are more tarnish-resistant. Gold is also relatively easy to resize.
Cons: Because white gold is mixed with a material called rhodium to make it more durable, white gold rings will need to be replated every few years. Gold also tends to scratch easily, making it not the best choice for those who work with their hands.
Platinum
Pros: Platinum is stronger and heavier than gold, and it's hypoallergenic. Platinum's white finish won't tarnish, meaning it will pretty much last forever.
Cons: In thinking about men's wedding bands' pros and cons, price is definitely a major factor. Platinum happens to be the most expensive metal—often twice as much as gold.
Palladium
Pros: Palladium is comparable to platinum in its appearance, but it's less expensive. It's also harder than gold and platinum, and lighter weight. This is another hypoallergenic metal that doesn't tarnish.
Cons: Palladium is quite rare, so you might not find as many style options available as you would in gold or platinum. Palladium also scratches more easily than many of the other metals on this list.
Titanium
Pros: Titanium is the hardest natural metal, and is available in several finishes. It's scratch- and tarnish-resistant, making it ideal for those who work with their hands. Plus, for those who aren't used to wearing jewelry, it's quite lightweight. Because titanium has a lower density than other metals, it's more affordable than gold or platinum.
Cons: Titanium is among the most difficult metals to resize.
Tungsten Carbide
Pros: Tungsten carbine is even harder and stronger than titanium (because it's man-made, not a natural metal), and more scratch-resistant. It has a higher luster than titanium as well, plus it's extremely tarnish resistant. This is another great metal for people who work with their hands.
Cons: This metal is impossible to resize. It's also heavier than titanium, which may feel less comfortable. And because tungsten is quite a brittle material, it can break if you drop it. The price also may be slightly higher than titanium, but it's definitely still affordable.
Stainless Steel
Pros: Stainless steel isn't just for silverware. In fact, it's becoming a popular metal for jewelry. In terms of this men's wedding band metal's pros and cons, stainless is tarnish- and scratch-resistant, while still remaining lightweight. Along with being hypoallergenic, this metal is quite affordable. It's also among the most environmentally-friendly metals to produce.
Cons: Stainless steel is still a relatively new metal when it comes to wedding bands, so you'll have limited style options. It's also quite difficult to resize. And stainless steel rings are likely out for swimmers—chlorine can damage this metal pretty easily.
Cobalt
Pros: If you like the look of white gold, but want a metal that's more durable and affordable, cobalt may be a great option for your wedding band. Cobalt is very hard, while remaining lightweight. It resembles white gold, but doesn't need to be replated like white gold does.
Cons: Like some of the other metals on this list, cobalt is still a newer metal, so there aren't a ton of different styles available. Cobalt is also very difficult to resize or cut off in case of an emergency. Though it is scratch-resistant, it's not completely scratch-proof. And because some cobalt rings have been mixed with nickel, those who are allergic to nickel may have an allergic reaction to a cobalt ring.
Ceramic
Pros: So ceramic isn't technically a metal, but it's rising in popularity as a material for wedding bands. Why? It has a unique look and many color options. Ceramic rings are also scratch-resistant and quite lightweight. And because they're not made of metal, they're ideal for people who prefer not to wear metal jewelry. Ceramic rings are also quite affordable.
Cons: You'll have to be pretty careful if you choose a ceramic ring—they can break if dropped. And like several other metals on this list, ceramic rings can't be resized.