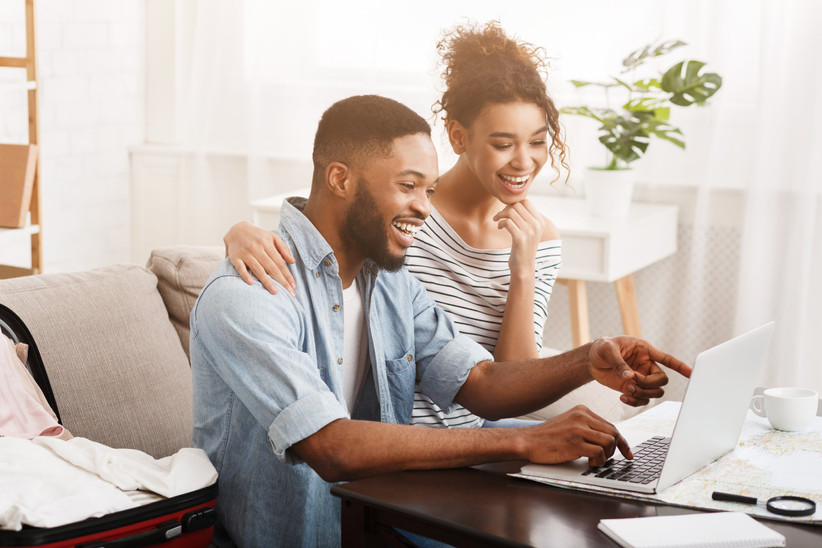 Your wedding party plays an essential role in both your pre-wedding prep and on the big day itself. From shopping trips to bachelor and bachelorette parties, there are usually lots of wedding party bonding activities to enjoy—particularly important if you've gathered a crew from different parts of your life (relatives, high school pals, college friends, etc.). In this time of social distancing, however, you might find that these bonding activities are few and far between, leaving you feeling disconnected from your wedding party, and vice versa. It's still totally possible to create a strong bond among your wedding party members, even if you're all staying home in different parts of the country.
These easy-to-plan wedding party bonding activities and ideas will ensure that your crew stays close while staying safe at home.
Create a special groomsman or bridesmaid proposal.
If you haven't yet "popped the question" to your wedding party, don't delay. Particularly during this difficult time, sending your crew a special gift will be even more appreciated. Your groomsman or bridesmaid proposal doesn't have to be anything elaborate, but a thoughtful treat will kick things off on the right note, ensuring that your wedding party is excited and motivated for all that's to come.
Chat with the person or people in charge.
Your maid (or man) of honor and best man (or woman) are probably super-psyched to be playing such a central role in your day—but they also may be feeling a bit lost as to how to handle their position during such a strange time. Talk to your VIPs to level set—and this doesn't mean presenting a list of demands. How can your lead wedding party members be most helpful? What are you thinking in terms of pre-wedding events (keeping everyone's safety at top of mind)? What about budget? Having these discussions early on will ensure everyone feels comfortable with what's to come.
Make sure everyone is properly introduced.
If your entire wedding party already knows each other, that's awesome. But if you've curated a wedding party of people who aren't close, you'll need to facilitate introductions. This can come in the form of a Zoom or Houseparty meeting, complete with games to help break the ice. While your crew may not be able to gather in person at the moment, making sure everyone has the chance to meet is essential.
Start ongoing communication.
Figure out the best form of communication for your wedding party, whether it's a group text, Whatsapp, private Facebook group, or email chain and set it up. Perhaps your wedding party members will set up their own private group to plan surprises, but it's important for you to set up that initial communication. And don't only talk about your wedding—check in to see how everyone's doing, send funny memes, and talk about what you're binge watching. Of course, if you need to make an announcement or ask your crew to take on a task, do it in a relaxed way, no all-caps yelling!
Plan virtual events.
If face-to-face events aren't in the cards right now, then schedule a few Zoom or Houseparty wedding party bonding activities per month so that the crew can get some (virtual) FaceTime. Again, these shouldn't necessarily be wedding-focused, but more ways to keep everyone connected and feeling like they're part of a community. You can plan virtual events for bridesmaids, groomsmen, the whole wedding party, or other smaller groups to mix things up.
Schedule one-on-one chats.
Make sure to check in with each member of your wedding party individually from time to time. They may have questions or concerns, but could be feeling afraid to bring these issues up with you—or they're just too busy to think about your wedding right now (which is totally okay). Don't dominate the conversation—ask questions about how your friend or family member is doing, so they'll feel safe expressing any concerns with you.
Let them help (if they want).

Some of your wedding party members might want to help you with wedding-related tasks, like attire shopping, choosing invitations, or assembling favors, while others might just be too busy right now. In your one-on-one chats, get a sense of who is willing and able to help, and provide opportunities for them to do so. If you feel comfortable delegating responsibilities to your wedding party members, go for it, or else you can check in with them to help you make decisions. From creating a poll to help pick your save the dates to trying on rehearsal dinner dresses via FaceTime, you can be totally creative in how you involve your wedding party in the process.
Switch up the event timeline.
One of the biggest wedding party responsibilities is planning the pre-wedding events like showers, bachelor and bachelorette parties, and more. Try to be as flexible as possible with your crew. If your crew isn't able to throw certain pre-wedding events right now for safety reasons, schedule a virtual event with plans to celebrate in person after the wedding (yes, we give full permission to throw a shower or bachelor or bachelorette party after the big day!).
Keep things low-pressure.
Many of your wedding party members may be dealing with a lot right now—caring for children, dealing with a job loss, or health concerns. Be as understanding as much and conscious of everyone's time and budget. If your bridesmaid doesn't show to the latest virtual happy hour, don't freak out. As long as you keep the lines of communication open and make your best effort to connect your wedding party members, you'll likely end up with a happy crew that's excited to celebrate your big day with you.