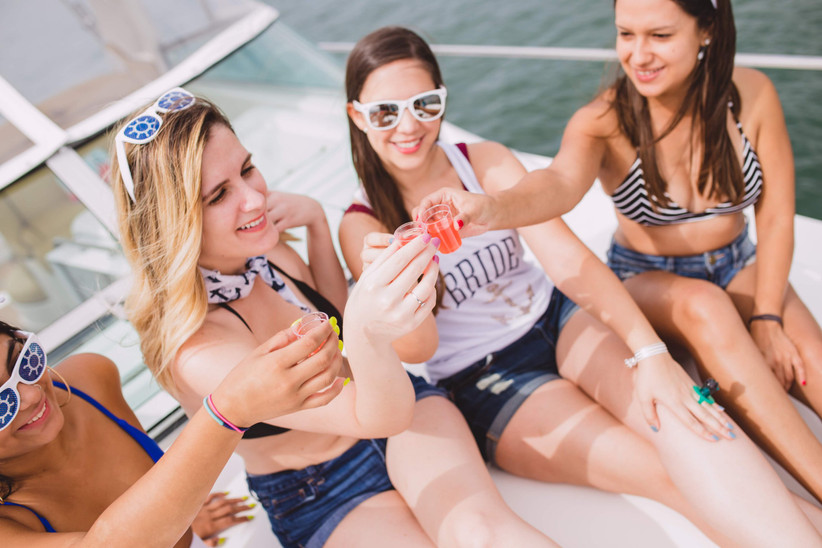 Planning a bachelorette party? There are so many fun themes to choose from! One we're loving right now? A nautical-themed bachelorette party! There are so many cool design options to go with, whether you opt for the classic navy-and-white look, or incorporate a fun twist to make it your own. And there's no shortage of nautical bachelorette party supplies, either. From bachelorette staples like sashes, tanks and can koozies, to beachy decor like coral and anchors, your options are pretty much unlimited.
So if you're planning a nautical bachelorette party, take a peek at our round-up of the best nautical bachelorette party decorations for the inspiration you need for your aquatic adventure.
Everything You Need for a Nautical Bachelorette Party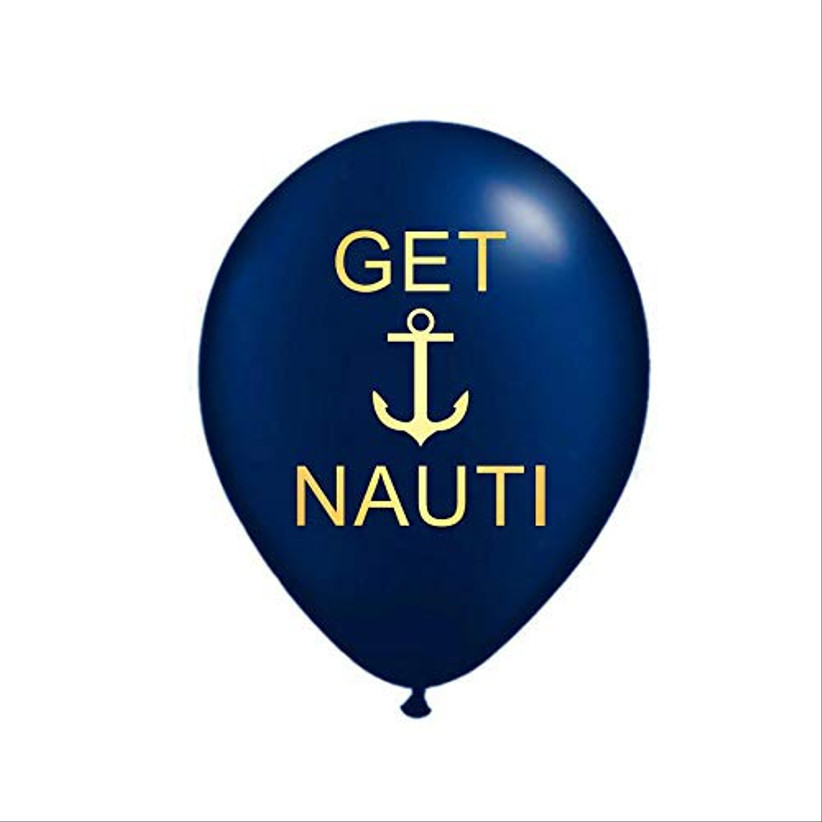 If navy will be part of the color scheme for your nautical bachelorette party, these navy and gold "Get Nauti" balloons will be the perfect touch for your affair. They come in a set of three ready to inflate with helium or air, depending on how you're decorating.
White Rabbits Design metallic nautical bachelorette balloons, $7, Amazon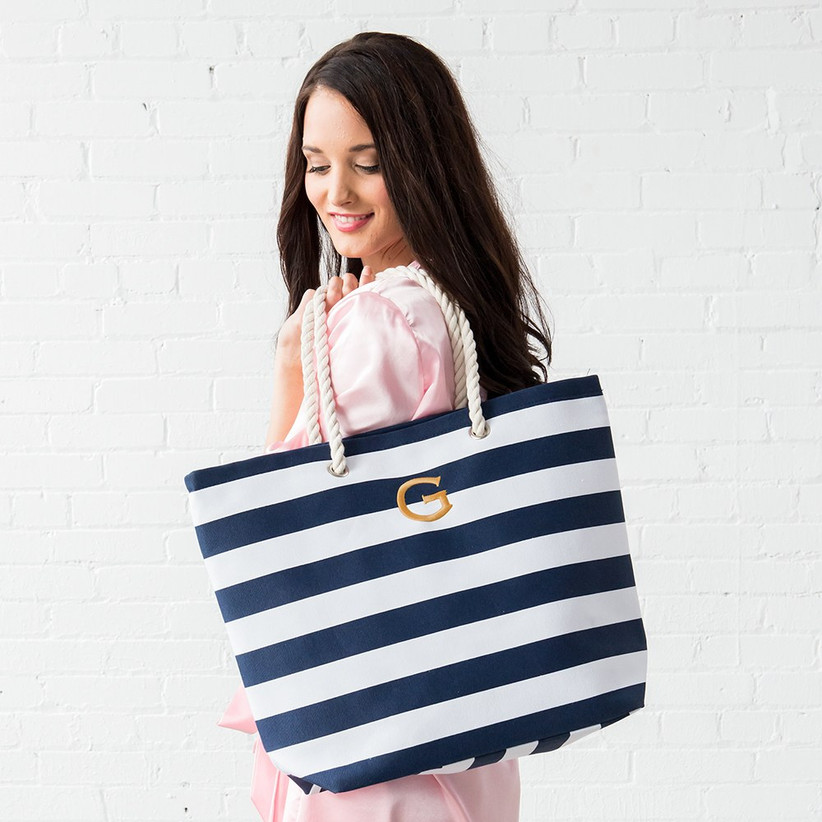 Give your best mates a gift that's perfect for all their "stowaways" when you opt for this cute navy-and-white striped canvas tote. The color palette fits right into your theme, while this useful gift is one they won't cast overboard after your fete. This oversized tote with rope straps can be monogrammed in a variety of different colors at no additional charge.
WeddingWire Shop wide stripe cabana tote, $15, WeddingWire Shop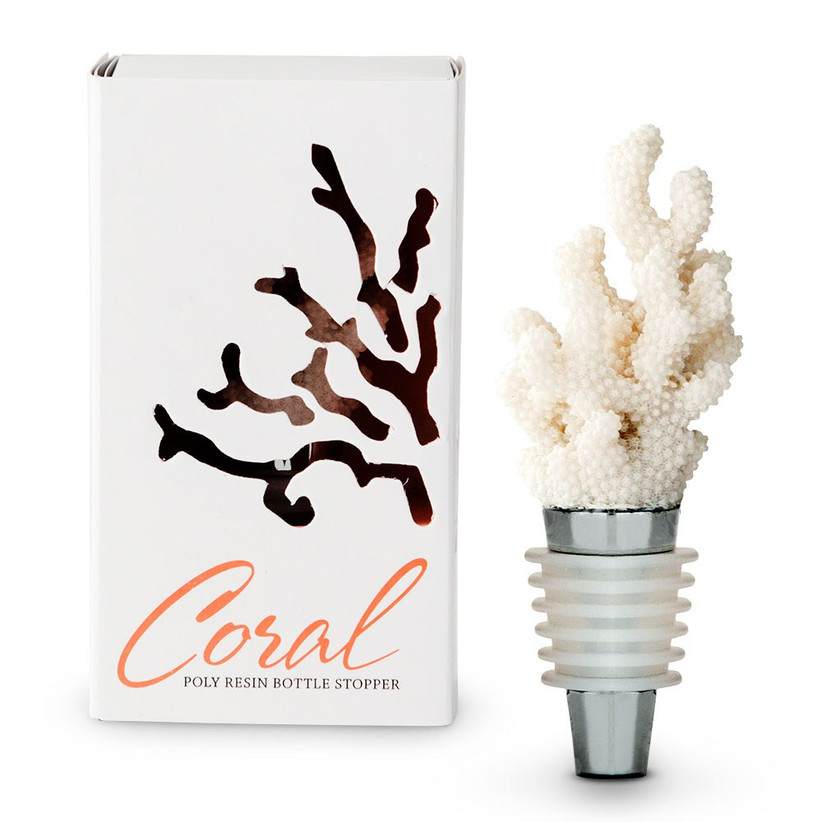 Attention to detail is what makes any good bash great. That's why we love these coral wine bottle stoppers. They're an adorable way to dress up the wine at your nautical bachelorette party, or you could purchase them for your best mates as a party favor. Either way, these cute bottle stoppers are sure to be a hit.
WeddingWire Shop coral bottle stopper, $3 each, WeddingWire Shop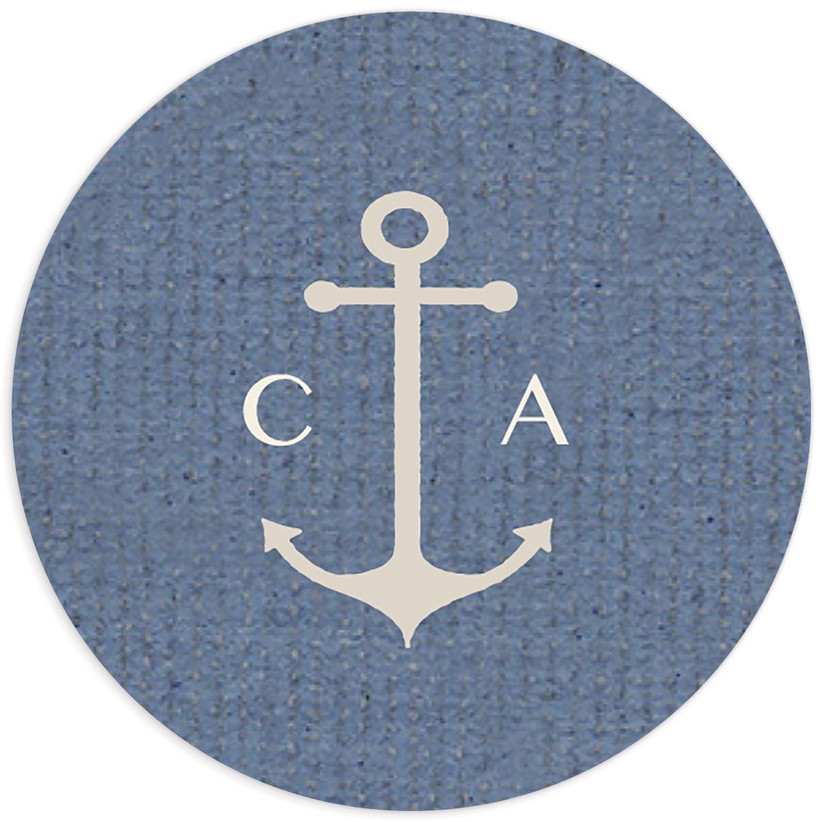 Thought stickers were just for kids? Wrong! Wedding stickers are all the rage now, and there's no better time than your bachelorette party to debut yours. We love these simple, modern wedding stickers in nautical colors white and blue, called "Coastal Love" from stationery shop Elli. Whether you choose to hand them out, decorate with them, or create a unique sign or backdrop, they'll be right at home at your nautical bachelorette party.
Jennie Coastal Love wedding stickers, $49 for 100, Elli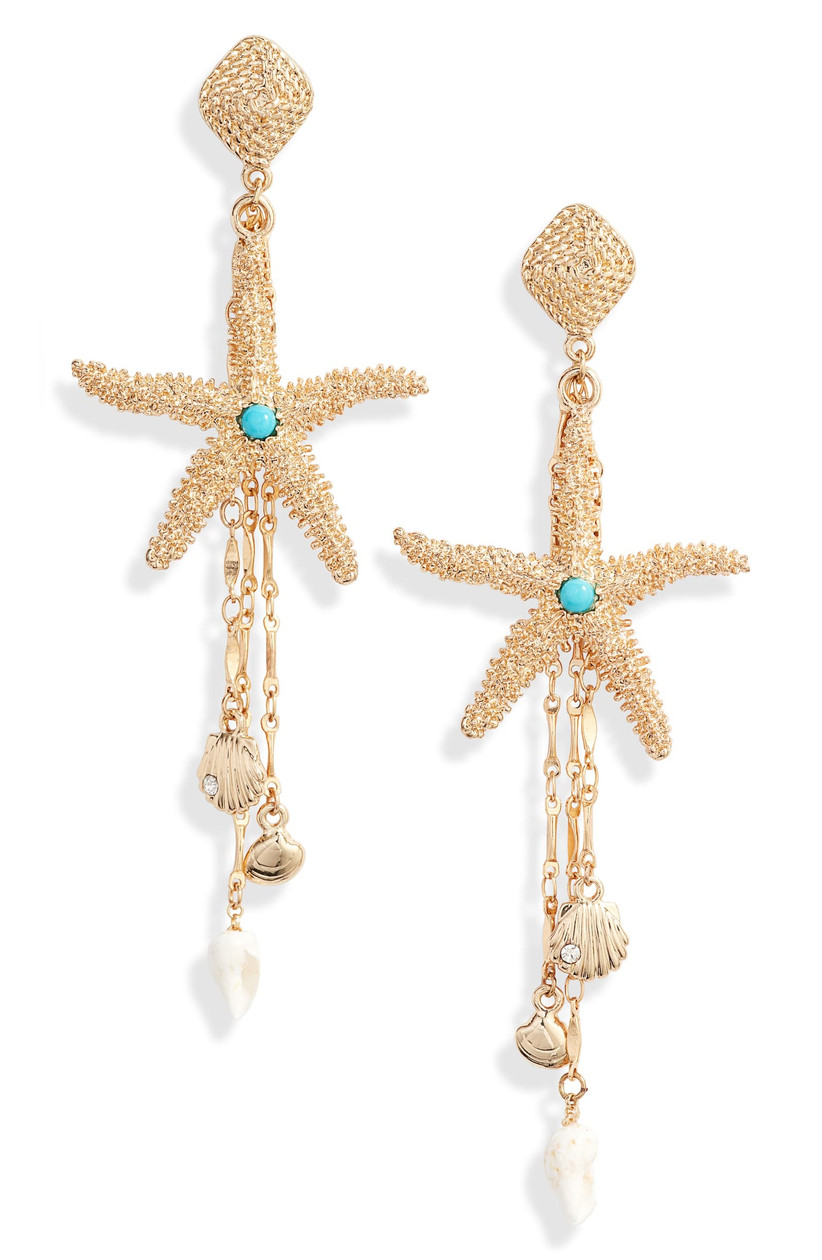 It's your party, so you need to shine! If you're having a nautical bachelorette party, we've found the perfect earrings for you. These dramatic starfish drop earrings from Ettika are a must; there's no two ways about it.
Ettika starfish seeker drop earrings, $40, Nordstrom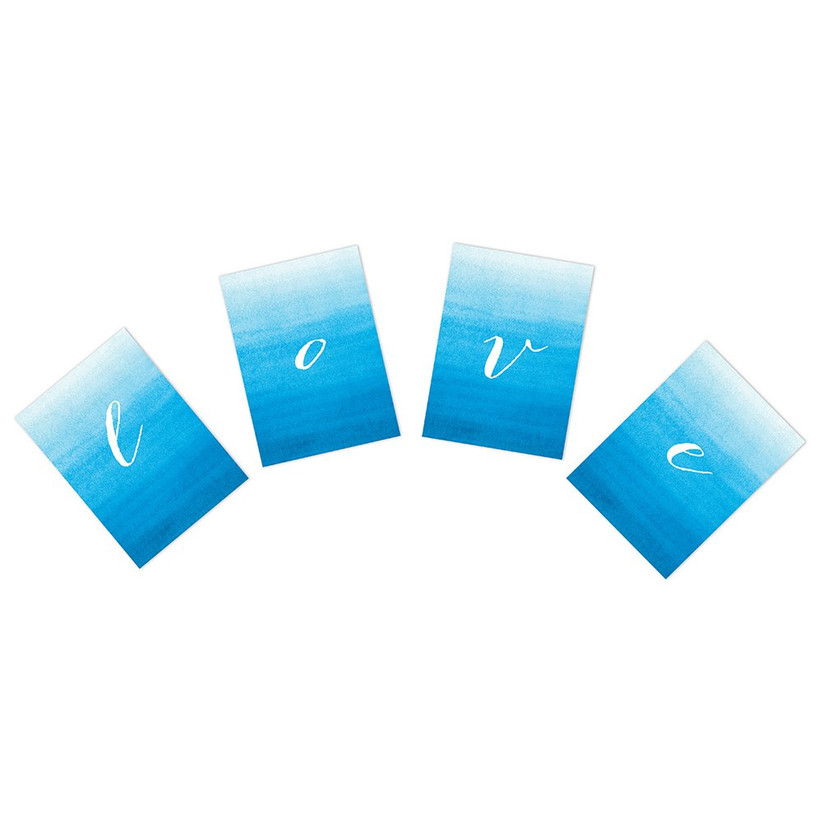 For a subtle nod to your nautical themed bachelorette party, try this beautifully crafted bunting banner. It's adorned in ombre shades of blue for an ocean vibe that's just right. What's more, you can customize it to say anything you'd like.
WeddingWire Shop Aqueous bunting banner, $.50 per character, WeddingWire Shop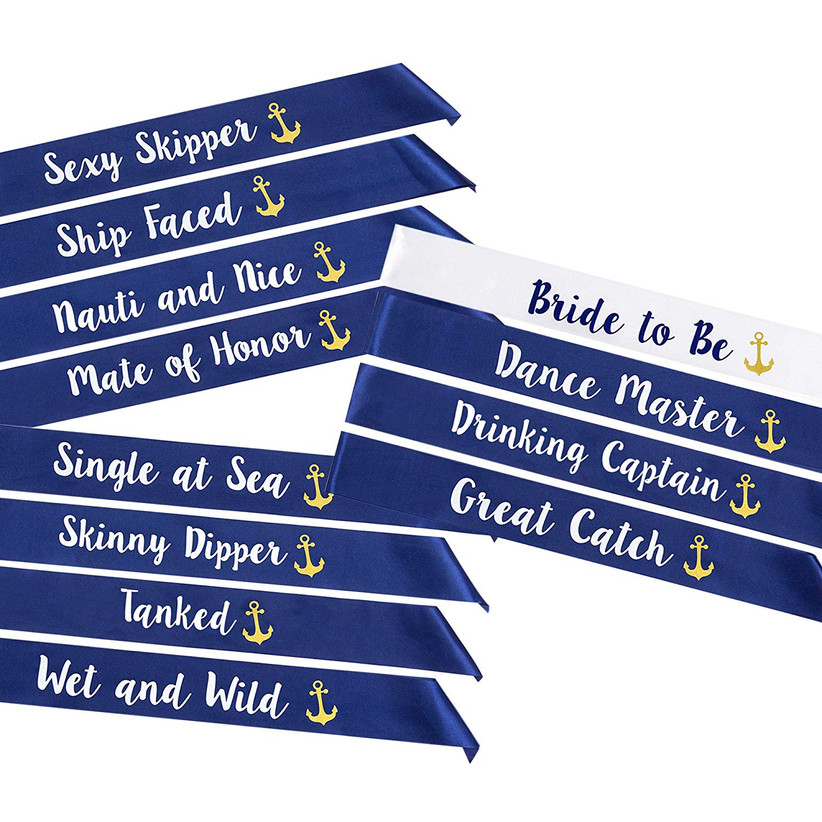 Your crew of mates can help you flaunt your to-be-wed status when you snag these nautical-themed bachelorette party sashes. There's a white one for you, while your girls can choose from a variety of slogans (from tame to slightly nasty!) on a coordinating navy sash. All sashes are adorned with a gold anchor to fit with your theme.
Pop Fizz Designs nautical bachelorette sashes, $22 for 12 pack, Amazon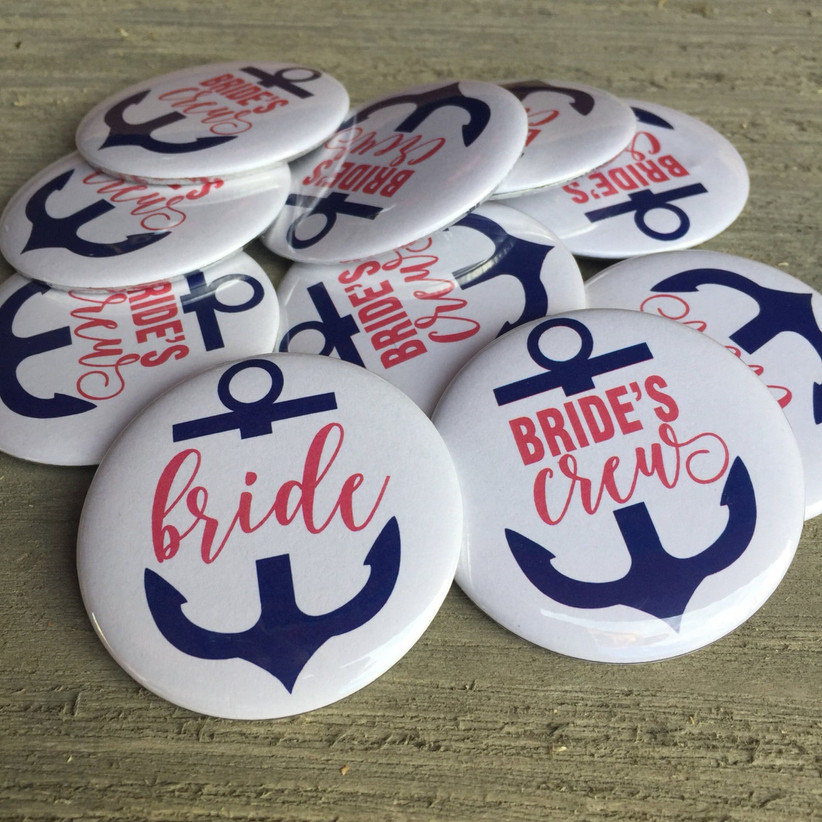 What could go better with those sashes than these adorable wearable pins? These cute navy and white pins are the perfect accessory for your nautical-themed bachelorette party, or you can order in bulk and pass them out at a bridal shower. Quantities available from 5 to 50.
White Rabbits Design Bride Crew nautical pins, from $6 for 5, Etsy
Throwing a nautical bachelorette party? Don't forget the napkins! When every detail counts, these party napkins are the perfect choice. They boast gold anchors set against the background color of your choice. Two separate lines of personalization allow you to customize these napkins to say just about anything you'd like.
WeddingWire Shop anchor printed napkins, from $15 for 50, WeddingWire Shop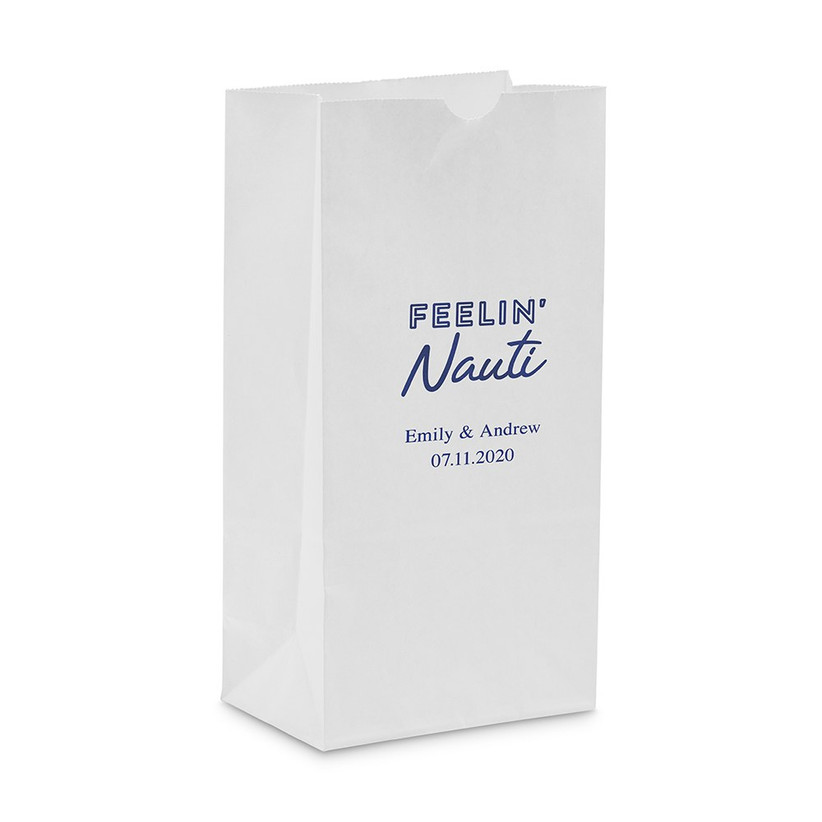 If you're in search of the best goodie bags for your nautical bachelorette party, look no further. These "feeling nauti" gift bags are just the right touch for your seafaring event. With a gusseted bottom to help them stay upright, these paper bags are available in a variety of colors, and can be personalized with your names and event date if you choose.
WeddingWire Shop Feelin Nauti goodie bags, from $29 for 25, WeddingWire Shop
If you and your girls will be enjoying a cold one at your nautical-themed bachelorette party, these adorable anchor can koozies simply must be on your shopping list. They're fully customizable to match any color you're decorating with, and there are even tons of font choices for a look that totally suits you. This cute collector's item will have you remembering your wild weekend every time you use it in the future.
Chessa Creations Too nautical bachelorette can koozies, $5 each, Etsy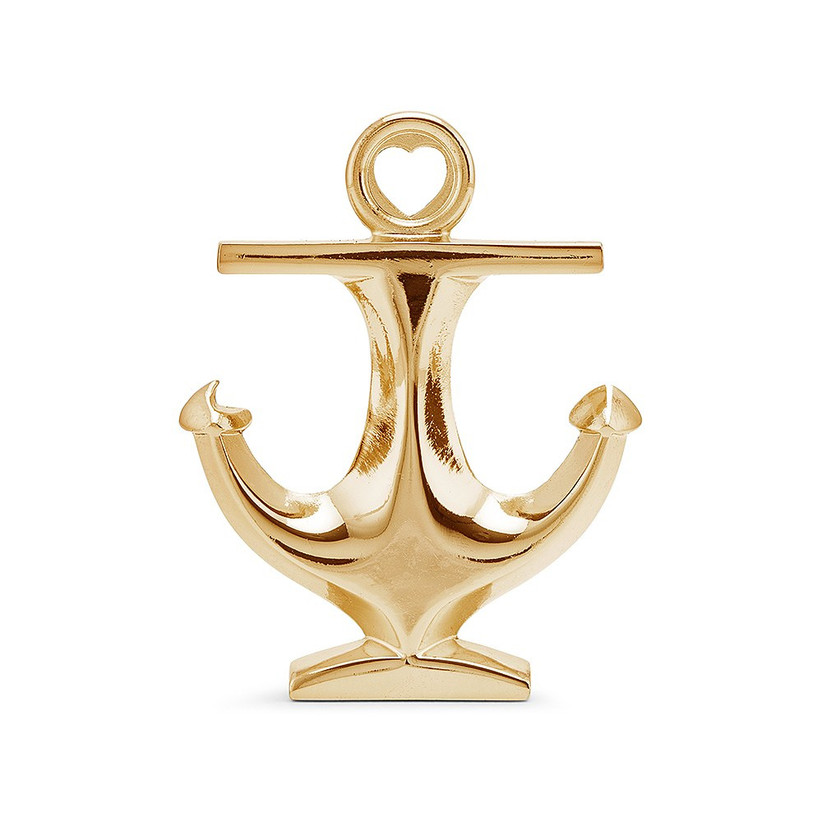 Looking for a cute, inexpensive trinket for your first mates? Why not toss this super cute gold anchor bottle opener into their gift bag? Or, for the ultimate nautical gift, include it with that striped tote we included above! It's a cute nod to your nautical bachelorette party. And let's face it—they'll totally use it!
WeddingWire Shop gold anchor bottle opener, $5, WeddingWire Shop
When deciding on the best decorations for a nautical-themed bachelorette party, don't forget this totally apropos banner that states, "Last sail before the veil." Crafted with shimmery gold glitter and adorned with a navy anchor, it's the perfect addition to your party space.
Wulagogo nautical bachelorette banner, $13, Amazon
And don't forget your party games! Every great bachelorette party needs a fun game to play after the bubbly starts flowing. We've got you covered with this adorable Last Sail Before the Veil scavenger hunt. What a perfect game to incorporate into your nautical-themed bachelorette party!
Big Dot of Happiness bachelorette party game, $13 for 12, Amazon
It's a nautical bachelorette party, and that means there's a good chance the beach will be involved! If you and your girls will be celebrating seaside, we've got the perfect bachelorette party gift. This luxe beach towel is made of dreamy combed cotton and styled with a modern color-blocking aesthetic for a look they'll absolutely love. This trendy beach towel also doubles as a pareo they can wear when the day in the sun is over.
Kassatex block pareo beach towel, $50, Nordstrom
You can't throw a nautical-themed bachelorette party without the requisite "get nauti" tank tops! We've got them for you right here from Etsy shop IceCreaMNLove. These white and navy tanks are just right for your afternoon at the beach or on the town, so everyone will know who the main event is. Select from a variety of colors and sayings.
icecreaMNLove Let's Get Nauti racerback tanks, $10, Etsy
Don't forget the nautical tableware when planning your bachelorette fete! We love this beautiful set from Etsy shop Celebrated Party. It comes with two different dinner plate designs: red striped and blue striped, and a coordinating anchor dessert plate. Also included are napkins and plastic cups to match your nautical theme.
Celebrated Party Let's Get Nauti tableware kit, $50 service for 12, Etsy
Disclosure: This post contains affiliate links, some of which may be sponsored by paying vendors.