A Disney World Bachelorette Party Itinerary
Grab your mouse ears and gear up for the ultimate Disney bachelorette party experience. This insiders' guide will help you plan it all, from where to stay, where to eat, what to do, and more.
We have included third party products to help you navigate and enjoy life's biggest moments. Purchases made through links on this page may earn us a commission.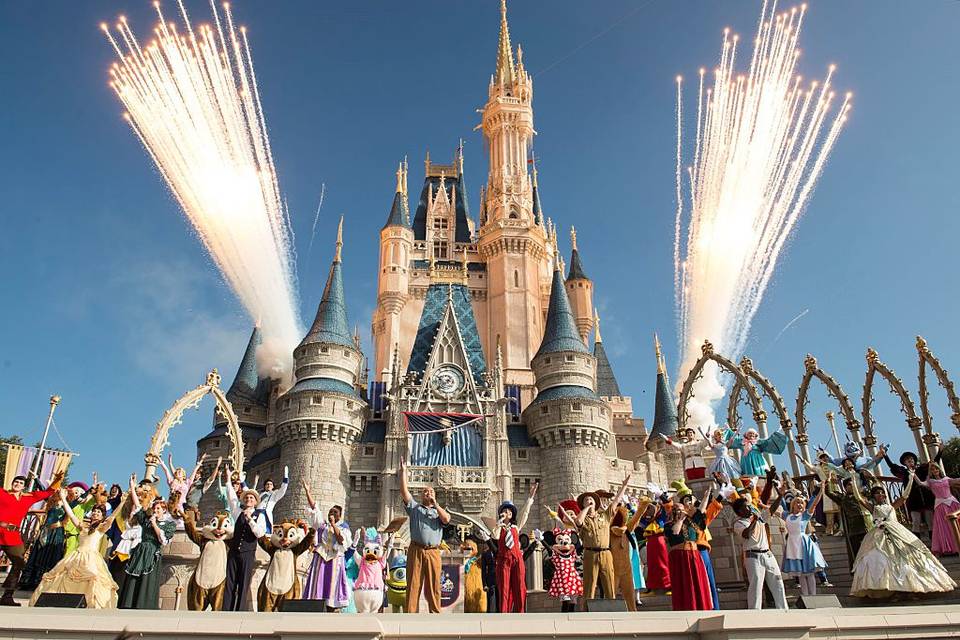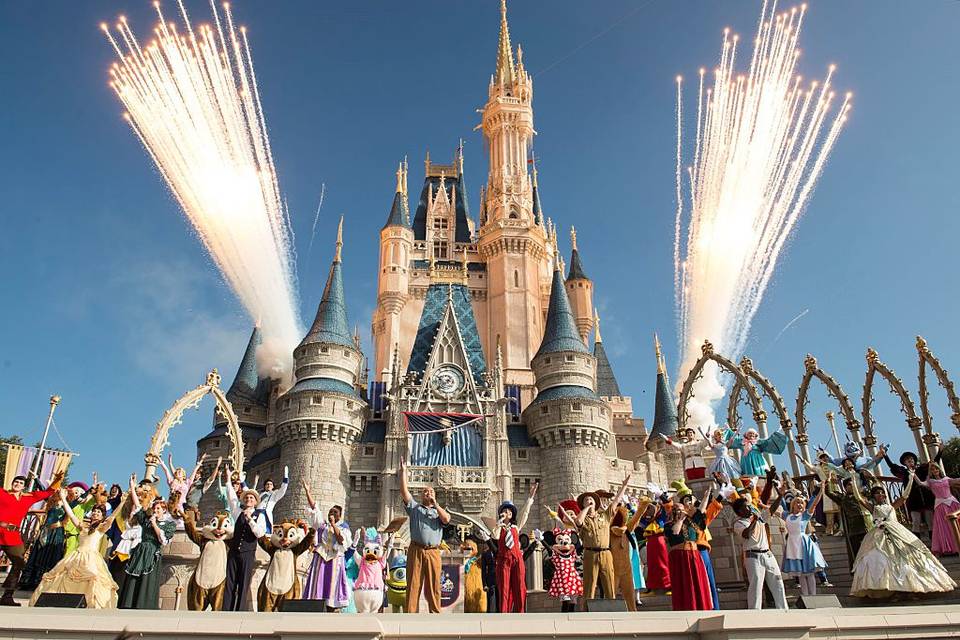 If you're a bride-to-be who's obsessed with a certain cartoon mouse, there's a good chance you're dreaming of a Disney bachelorette party. And why not? Between the fine dining, outrageously fun theme parks, and resort hotels with all the amenities you could dream of, there's no better way to feel like a Disney princess during your last fling as a single Cinderella.
But if there's one piece of advice we could give you if you'll be spending your bachelorette weekend at Walt Disney World in Orlando, Florida, it's to plan ahead! When it comes to planning a trip to Disney, you've got to nail down your trip as far in advance as possible and know which parks you'll visit and when, where you'll dine for each meal and what you'll do in between. And don't forget to head to WeddingWire Shop and Etsy to buy some matching swag to wear to the parks.
Once you've got a rough itinerary in mind, it's time to order your Magic Bands. These handy tools are critical to a stress-free Disney vacation these days, serving as your single point of access for everything from your hotel to your bar tab and even your ID. Since you'll be managing lots of different schedules, a Magic Band will definitely come in clutch. If there's time, mail one to each attendant in advance so everyone's got one in hand when they arrive.
And if your crew of gal pals is pining to ride some of the park's more popular rides, be sure to schedule Fast Passes early, too. No one wants to wait in line for hours when there's partying to do!
Without further ado, it's time to get to it. Whether you're a die-hard Disney fan, or a bride to be looking for a good time with your besties, it's time to unleash the magic that a Disney bachelorette party can be. Keep reading to learn how to put together your very own personalized fairy tale before your ultimate happily ever after at the Disney parks.
Note: Some of these locations and attractions are temporarily closed due to the COVID-19 pandemic. Be sure to check the Disney World website for the most up-to-date information.
Where to Stay
The first decision you'll have to make when planning your Disney bachelorette party is where to stay. With a long list of Disney resorts and hotels to choose from, it's not an easy choice! Our advice? Splurge a bit and stay in the park if you'll only be visiting Disney for a weekend. The time, money and hassle you'll save getting back and forth from the park is priceless, and your room key is your Magic Band, which will serve as your access point to any one of Disney's hundreds of establishments. That's a huge bonus that means you won't have to worry about lugging around a purse full of cash, cards and your ID.
Here are some of our top suggestions for where to stay during your Disney bachelorette weekend.
​Grand Floridian: you'll enjoy a bridal vibe all weekend when you stay at this opulent hotel that houses Disney's wedding pavilion. Only one monorail stop away from Magic Kingdom, you'll be able to see the nightly fireworks show from the hotel. Or, hit the pool or enjoy a luxurious massage with your crew. Amazing dining abounds at this beautiful Victorian-style hotel.
Saratoga Springs: when you're at Disney with your best girls, there's a good chance you'll be doing some partying. If so, we've got one word for you: villa! Staying in your own private space allows plenty of room for everyone, and you'll avoid disrupting little ones nearby. The villas at Saratoga Springs are top notch, but you'll have to reserve far in advance to ensure your spot.
Disney Yacht Club: If you'll be spending a lot of time at Epcot, the Disney Yacht Club Resort is the place for you. It's walking distance from the park, and you'll gain access to the property's amazing, 3-acre pool, the largest of any Disney resort. Great, casual eateries include Hurricane Hanna's Waterside Bar and Grill and Crew's Cup Lounge.
Where to Eat
One thing's for sure: when it comes to eating at Walt Disney World, there's something for everyone, and dining is an experience unto itself. If you're a total foodie, you'll want to hit up some can't-miss spots like Jiko in Animal Kingdom, one of the most highly acclaimed restaurants in the park, and Le Cellier Steakhouse, part of Epcot's world showcase. Jiko is an African-inspired eatery that turns out delectable dishes like piri-piri chicken from its wood-burning ovens. There, you and your bridesmaids can also enjoy a huge selection of South-African wines. At Le Cellier, a steakhouse designed like a wine cellar, you'll indulge in top-notch cuts of meat, and salad at the height of freshness. For a truly special culinary experience, try the Prix-Fixe lunch here.
Craving some Mexican? La Cava del Tequila (also in Epcot) does it right, with a full menu featuring all your favorites. And bonus - you and your crew can snag a Tequila flight here, or enjoy your favorite margaritas. What a way to start your wild night at Disney!
What To Do
It's no secret that Disney World is packed with things to do. You could easily spend an entire week and not do everything on your list. But since most bachelorette bashes take place over a weekend, our Disney bachelorette party itinerary assumes you'll fly in on a Friday morning and fly out on a Sunday evening.
Since there's so much to do, we'll show you a truly action-packed weekend. Will you be tired at the end? Yes! But you'll be busy making memories to last a lifetime during this one last hurrah before you head down the aisle.
Day 1
Plan to arrive bright and early on day one, especially if you're traveling from anywhere on the East Coast, where early-morning flights into Orlando are the norm. After you check into your hotel, it's time to hit the parks! Aim to visit only one park today, since you'll be arriving around the busiest part of the day. We recommend starting at Magic Kingdom.
When dinnertime rolls around, channel a real-life Beauty and the Beast experience at the elegant Be Our Guest Restaurant, in the Beast's Castle in Fantasyland. You'll enjoy classic French dishes along with your choice of beer and wine at this upscale venue. Once you're finished, hit the park again for some nightlife with your favorite mouse; Magic Kingdom often stays open until 10 or 11 p.m., allowing you an opportunity to squeeze in plenty more rides and events that can get super crowded during the day. Fun nighttime events to enjoy with your leading ladies include the incredible nightly fireworks display. Elevate the experience with a dessert party, which offers all-you-can-eat desserts at a designated viewing place for a fee.
Day 2
If you and your crew will be springing for ParkHopper passes, try to split this day in half, hitting up one park in the morning, then the other after lunch. If you visited Magic Kingdom on day one, Epcot and Animal Kingdom are great choices for today. If you're lucky enough to be at Walt Disney World during the Epcot Food and Wine Festival (often September through November), the event is a must-do, especially for a bachelorette event. This around the world style event allows you to sample food and beers from different foreign countries.
If you're still on your feet after a long day at the parks (and after a fantastic dinner, of course), it's time to hit the town for some nightlife sans Mickey and Minnie Mouse. Disney Springs offers plenty, with popular establishments like The Edison nightclub and Wine Bar George. There, you and your crew will enjoy an upscale evening featuring an extensive wine selection and tasty appetizers.
Or, head down to Disney's BoardWalk for a spate of other bars in close proximity to one another, perfect for bar-hopping with your leading ladies.
Day 3
After a long day in the sun (and a long night at the bars), you and your bridesmaids may find yourselves craving nothing more than the pool. And you're in the right place for that! Most Disney resorts boast amazing pools, but here are some of our favorite must-do pools during your Disney bachelorette weekend.
Stormalong Bay: This enormous pool is more "aquatic playground" than pool, and there's something for everyone at your Disney bachelorette party. Float peacefully down the lazy river as you wake up, then plunge down the 230-foot waterslide that falls from a pirate ship. You'll have access to Stormalong Bay if you stay at either the Disney Beach Club or the Disney Yacht Club.
Silver Creek Springs Pool: Located at Wilderness Lodge (a great hotel in its own right), this unique pool was built in the spirit of the iconic Old Faithful Inn at Yellowstone National Park. You and your bridal party can relax and unwind in the heated pool and whirlpool spas. Trust us - you'll be glad you did!
Lost City of Cibola Pool at Disney's Coronado Springs Resort: If you're feeling up for fun, you and your besties can zoom down the 123-foot-long waterslide. But if it's peace and quiet you're seeking, the resort features three other pools, which means you can likely carve out your own space without having to worry about crowds.