Wedding Dress Shopping vs. Wedding Dress Browsing
We've outlined the differences between browsing and shopping for your wedding dress, and why both are equally important in their own way.
Photo: Rebekah Jackson Photography
Shopping for your big day ensemble isn't like taking a trip to the mall to buy a new pair of jeans. This may be one of the most expensive clothing purchases you'll ever make, so you'll want to do some browsing and research before starting the shopping process. We've outlined the differences between browsing and shopping for your wedding dress, and why both are equally important in their own way.


Here is everything you need to know about wedding dress browsing vs. wedding dress shopping.
Browsing
Browsing for dresses can be done online or in bridal shops, and it's all about figuring out what you like and what you don't like. Chances are, you've never put on a wedding dress before, so it's important to get a sense of what's out there. The goal of your browsing experience is to get an idea of what you'll want to try on at your future salon appointments so you don't feel completely overwhelmed, perhaps collecting photos of dresses that you like to share with salon consultants. You're using the information you get from browsing to help you make decisions during your shopping experience. While browsing, keep the following things in mind:

Personal style
Think about what you wear in your day-to-day life. Are you more of a yoga pants and comfy sweater person, or do you treat every day like a fashion show? Your personal style will definitely have an impact on what you end up wearing. If you're a casual dresser in everyday life, you might want to browse more simple, lightweight styles. On the other hand, if you love dressing your outfits up with bling and fun patterns, you might want a gown that makes more of a statement with ornate beading and ruffles.

Silhouettes you like
Would you prefer to show off your curves, or would you rather don something more modest? Do you want to show some skin, or would you prefer to keep things more conservative? The answers to these questions will help steer you in the right direction. You already know what makes you feel the best, so keep that in mind while you're perusing.

Style
When you picture your wedding, do you see yourself in a big ball gown with a never-ending train? Or do you envision yourself wearing a flowy V-neck gown that moves with the ocean breeze? Think about how you see yourself on your big day and what kind of ensemble you're wearing. Browse our dress galleries and your local salons for gowns that match the image in your head so you won't feel overwhelmed at your first bridal appointment.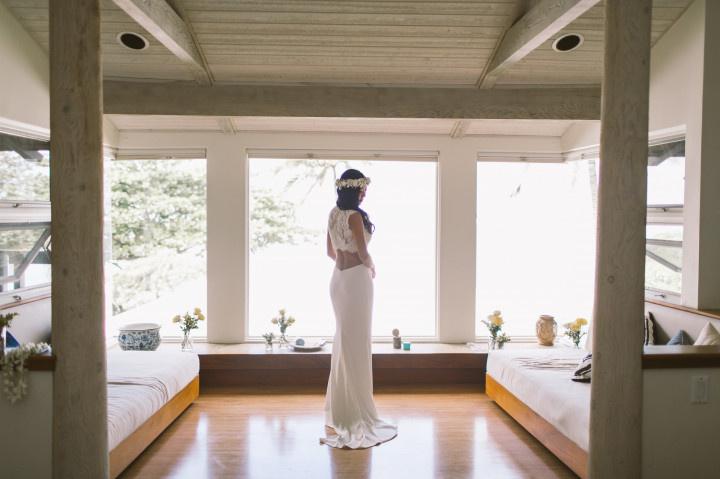 Photo: Meg Courtney Photography
Shopping

Shopping with the intention to buy is a completely different experience than browsing, which is all about style and figuring out what you like. Shopping requires a bit more focus and thought aside from whether or not you like the gown at first glance, so it's important to keep what you've learned from browsing in the back of your mind, while still being flexible and willing to try on styles you might not have initially considered. Here are a few things to remember while shopping:

Budget
While a price point doesn't need to be the focus when you're browsing, it should be the guiding factor when you're looking for a dress to buy. Give your stylist a price point right off the bat so you don't end up trying a gown that's way too expensive. Shopping is the time when you have to be a little more strict with yourself, so go into it with a realistic approach.

Fit and comfort
You might think your dream wedding dress is a fitted mermaid gown with elaborate beading, except for one detail: you feel incredibly uncomfortable when you try one on. If this sounds familiar, you might want to reconsider. It's important to feel comfortable and confident on your wedding day, so if the dress you imagined doesn't make you feel that way, it's probably not the one.

Venue
Think about where you're getting married and how it will influence what you'll wear. If you're getting hitched in a glam ballroom, you might want to try on a more opulent gown. Alternatively, if you're having a destination wedding on the beach, something laid-back might be more appropriate. Location is an important factor to consider while you're shopping because you want to make sure you fit in with your surroundings.