Need a Last-Minute Wedding Dress? Read This.
Finding a last-minute wedding dress can feel like a huge task, but you actually have many options. Here's our advice on how to find a gown, like, yesterday.
We have included third party products to help you navigate and enjoy life's biggest moments. Purchases made through links on this page may earn us a commission.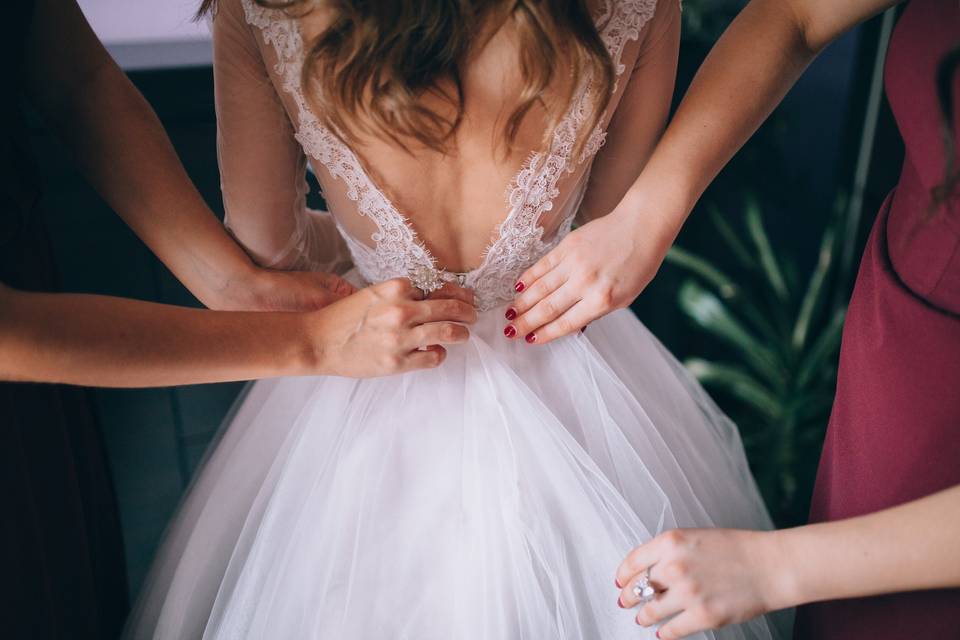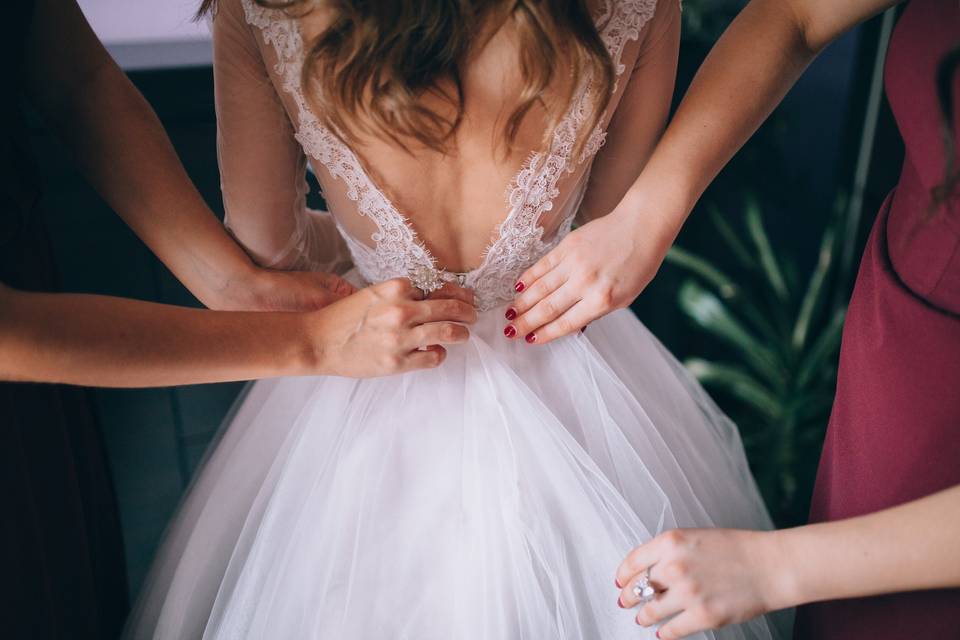 While most brides start shopping for a gown at least eight months before their big day, there are lots of reasons why you might need a last-minute wedding dress. These emergencies include alteration snafus, dress salons or brands unexpectedly shutting their doors, or just hating how your dress turned out. Or what if you want to get married, like, next week? Turns out it that it is totally possible to find a last-minute wedding dress, so long as you're willing to be flexible and do some research.
Read on to learn a few ways to find a last-minute wedding dress.
Be prepared to compromise.
First, remain calm. You will be able to find a last-minute wedding dress—but it might not be your dream dress. And that's okay. The less time you have to find a dress, the more flexible you'll need to be as it pertains to style, details, designer, etc. Remember that your partner is marrying you for you, not what you're wearing.
Start at the salon.
Depending on how much time you have, a bridal salon may be able to assist you in your quest for a last-minute wedding dress. Call up a few salons to find out how quickly a dress can be ordered and received. While it usually takes between four and six months to receive a wedding dress (and that doesn't include alterations), if you're willing to pay rush fees, you may be able to get your dress faster than that. Since gown salons have the widest array of dresses to choose from, it's best to start there to see what's available.
Try sample sales
For those brides who have some extra time, ask a few nearby wedding dress salons if they are having a sample sale—or if they have any older sample dresses they are selling off the rack. Bridal salons frequently get rid of older dresses to make room for new inventory. If you're a sample size (usually a bridal 6 or 8), you may be in luck—these dresses tend to come at deep discounts and you can take them home right away. Remember, though, that these last-minute wedding dresses can be in far from pristine condition so will need a thorough cleaning and alterations.
Check out (trusted) online retailers.
While ordering a last-minute wedding dress online can be somewhat risky, there are certain trusted online dress retailers, like BHLDN, Floravere, and David's Bridal, where ordering a wedding dress is virtually as simple as ordering a t-shirt. These sites ship relatively quickly and have a wide selection of styles and sizes, so that you can easily find something that suits your style. If you're looking to purchase a wedding dress online, be sure to read reviews of the site to make sure it's reputable—there are many websites out there that sell counterfeit or low-quality dresses, and you don't certainly don't have time for that!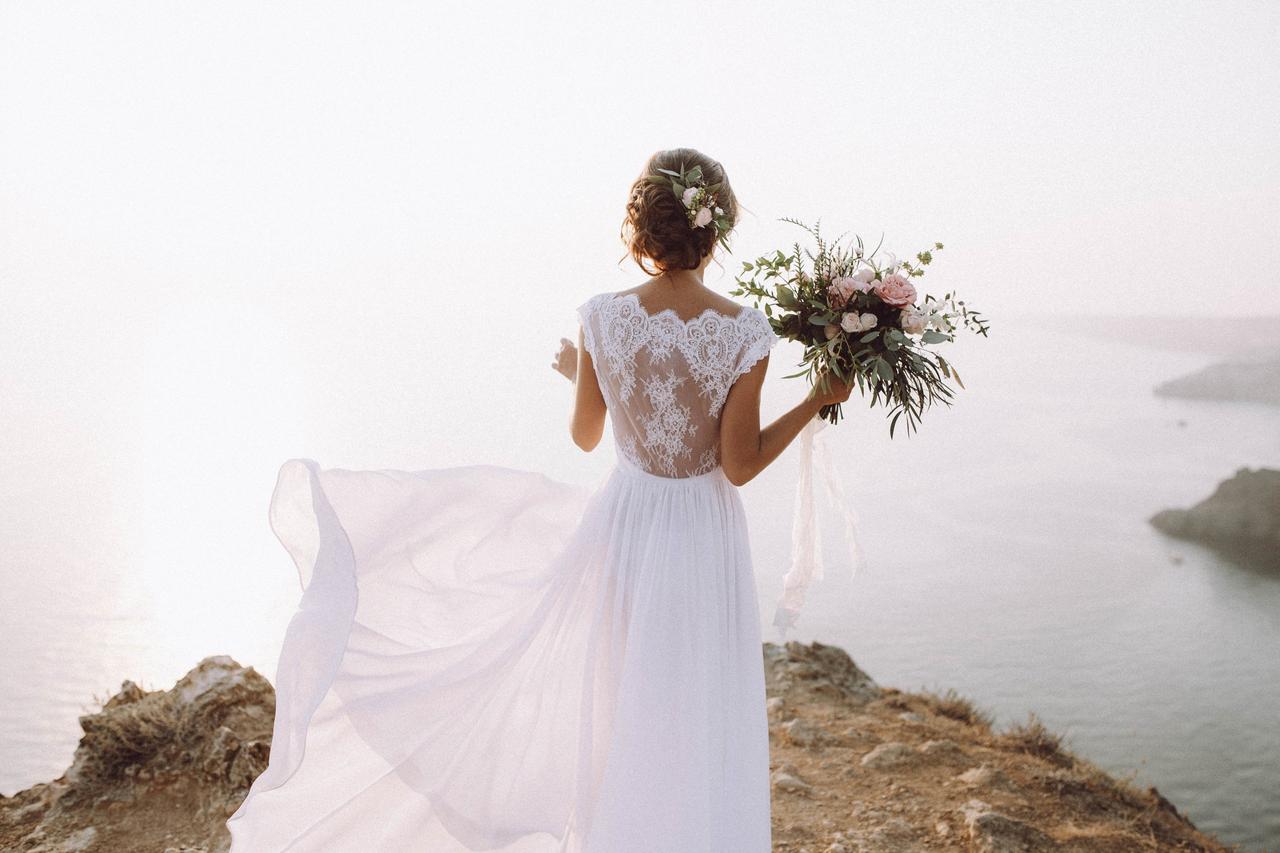 Try department stores.
Finding a wedding dress off the rack means that you can take it home the day you purchase it—which can be huge if you're on a super-tight timeframe. Many department stores, like Nordstrom and Saks Fifth Avenue, sell long white gowns (sure, they might not technically be wedding dresses, but no one will know the difference) in their evening section that can totally work for your big day—particularly if you're having a more casual wedding. Also, many department stores have tailors on staff who can help you make quick alterations (major alterations will take more time and may need to go to a tailor who specializes in wedding gowns).
Look for secondhand dresses.
If you have a bit more lead time before your wedding day, you may want to research secondhand wedding dresses on a site like Nearly Newlywed. Many brides resell their dresses (in good condition!) or even sell unworn gowns. There are several websites that specialize in selling preowned wedding dresses, but again, be sure to do your research so you know it's reputable. Also remember that a secondhand dress was tailored to fit someone else, so try to leave time for alterations if at all possible.
Rent it.
Dress rental companies have been popping up in the past few years, with the most popular being Rent the Runway. While these rental companies tend to specialize in bridesmaid dresses, if you're looking for a less-formal last-minute wedding dress, they may have just the right style. Note, however, that renting a dress means you won't be able to alter it—but you can usually order a few different sizes to ensure you'll find one that fits.
Bring on the accessories.
It's relatively easy to find a basic last-minute wedding dress on a tight timeline, but more difficult if you're looking for a dress with lots of beading and adornments. Looking for a glam gown? We recommend purchasing a simple gown and going to town with the accessories—an intricate beaded sash or amazing veil can go a long way in adding a little oomph to a basic dress. Let your creativity shine through and make that dress your own!
Disclosure: This post contains affiliate links, some of which may be sponsored by paying vendors.