10 Wedding Dress Shopping Etiquette Rules You Must Follow
Turns out, bridal salons adhere to some pretty strict wedding dress shopping etiquette rules — all of which are super important to follow.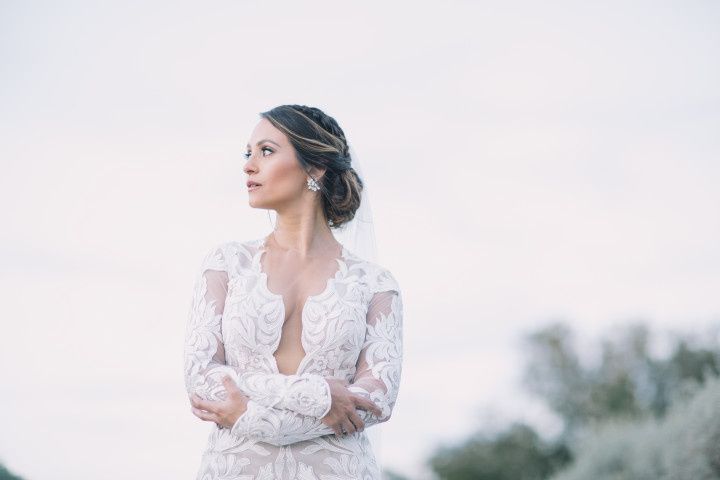 When it comes to wedding dress shopping etiquette, there are some pretty strict rules a bride needs to follow. Visiting a bridal salon is different than simply going to the mall with your besties, and there are a few common courtesies you should keep in mind for your appointment. Not sure what these golden commandments are? Here are the top wedding dress shopping etiquette rules to remember when hitting up bridal salons.
Let these wedding dress shopping etiquette rules be your guide.
Choose your entourage wisely.
Don't feel obligated to invite all of your bridesmaids, relatives and friends to the appointment — this isn't your bachelorette party. Limit your group to just two or three people if possible, such as your mom, sister, MOH, or future mother-in-law. If people ask whether or not they're invited, politely tell them that you're only bringing family or that the salon can't accommodate a large group. Don't want to leave anyone out? Feel free to bring them along for one of your fittings after you've already found your dress.
Avoid drama.
There's bound to be a few conflicting opinions when you're shopping for your dress (price, style, etc.), but don't get discouraged. If someone in your entourage doesn't like a dress you try on, try to keep your emotions under control and be open to their feedback. It can be tough when you love a dress that your friends and family don't, but the last thing you should do is make a scene about it in the store (that's not exactly adhering to proper wedding dress shopping etiquette, ladies). If the situations feels too overwhelming, it might be best to end the appointment and come back another day.
Arrive on time.
Plain and simple: don't show up late, and don't expect the salon to extend your appointment if you don't arrive on time. Being late not only rushes the remainder of your appointment, but it's disrespectful to the salon and the other brides who are waiting—and not to mention, it's definitely not within the bounds of wedding dress shopping etiquette.
Be honest about your budget.
Discuss your wedding dress budget at the start of your appointment and stick to it—don't try on dresses that are out of your price range. You don't want to fall in love with a dress you can't afford, and your stylist doesn't want that to happen either. A great stylist will be able to pull dresses that make you feel fabulous without breaking the bank. If you do find a wedding dress that's over your budget, ask the salon if they're having any upcoming sales or trunk shows that could lower the price.
Don't hijack the appointment.
Traditional wedding dress shopping etiquette states that pulling random dresses from the racks is a no-no, unless you're asked to do so (this goes for your entourage, too!). If you know you want to try on a specific style, that's totally fine, but it's your stylist's job to suggest whatever they think would work best for you. Just let them do their own thing!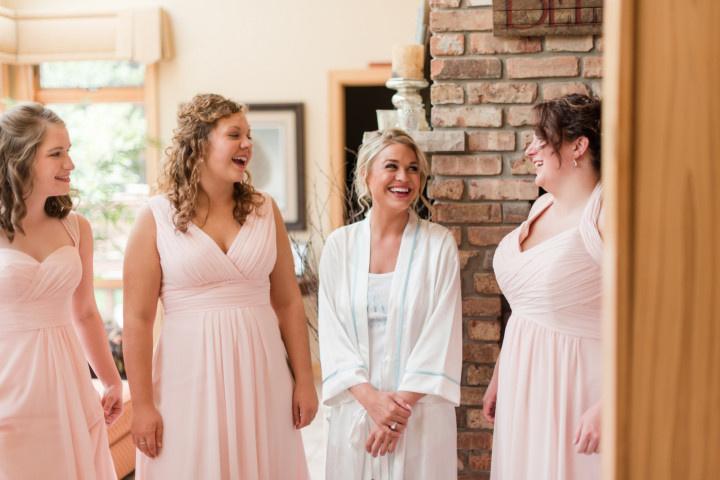 Handle the dresses with care.
The dresses on the racks will be samples and likely won't be sold to anyone, but it's still proper wedding dress shopping etiquette to handle them with care. Brides-to-be will be trying on these dresses after you, so you'll want to be extra careful getting into each gown. Pay extra attention to intricate beading, lace or other delicate embellishments. Your stylist will help you get dressed and undressed, but be gentle if you're browsing dresses on the racks or moving things around in your fitting room. Also be mindful of any makeup or self-tanner you're wearing, since both can leave stains behind.
Fess up if you already have a dress.
Maybe there's a dress at a different salon that you can't stop thinking about, or maybe you already purchased one and are having second thoughts about it. Either way, it's proper wedding dress shopping etiquette to give your stylist the scoop. That way they can tailor the appointment to your needs.
Put your phone away.
Don't get distracted by sending texts or browsing social media in the fitting room. It's rude to the stylist, and you should be focused on finding your dream dress, not messing around on Snapchat. Also, be sure to ask about the store's photography policy and be respectful if they ask you not to take pictures.
Don't be afraid to (politely) voice your opinion.
It's completely fine to speak up if you don't like a dress that your stylist picks out, but do it in a gracious way. If the appointment is winding down and you're on the fence about making a decision, don't feel pressured to purchase something. You won't offend the salon if you aren't ready to commit, just be honest and say you'd like some time to think it over first.
Know when the appointment is over.
Whether or not you've found the dress, don't overstay your welcome at the salon. Your stylist has other appointments lined up, even if they truly would love to spend the whole day helping you. Don't worry if you're leaving the store empty-handed or feeling disappointed. You can always schedule another appointment to continue shopping.