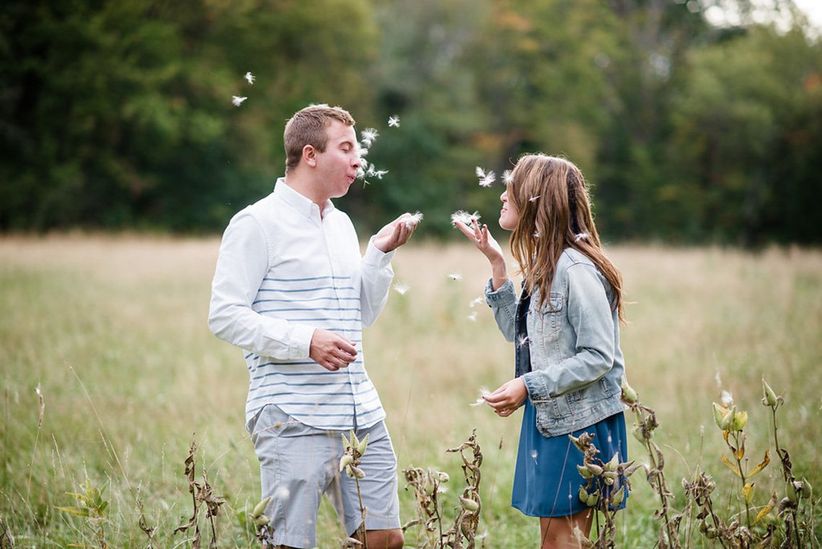 Photo: Emily Millay Photography
From the moment you get engaged to the moment you walk down the aisle, we know you've got a ton to do. Planning a wedding is no easy feat, and it's easy to be overwhelmed by the process.


There are certain times throughout the course of your engagement that we recommend you take a break from all the craziness, so we've outlined them for you below.
During someone else's wedding
You want your wedding day to be about you and your S.O., right? Keep that in mind when you attend the weddings of friends and family members throughout your engagement. Don't make their special day about you by chatting about your own wedding plans during the cocktail hour, or telling other guests how your wedding will be different. With that being said, other weddings are a great place to find inspiration for your own, so take mental notes! Just make sure it doesn't take away from the focus of their day. Give yourself this time to let loose and have fun!
While you're on vacation
If you have a trip planned during your engagement, take that time to really enjoy each other rather than hash out wedding details. You leave work behind when you go on vacation, so why should wedding planning be any different? Take the time to hit the refresh button on your relationship. You'll have plenty of opportunities to plan away when you come back.
When you or a loved one celebrates a major life event
While a wedding is undoubtedly a major life event, there are going to be many others that happen to your friends and family members while you're engaged. From pregnancy announcements and graduations to retirements and new jobs, make sure you stop and take time to celebrate those milestones as well. Weddings are important but they aren't the only thing worthy of celebration and attention.
When it becomes the only thing you talk about
You'll likely be asking friends and family for advice and input while you're planning, and a lot of people will be dying to know each and every detail about the big affair. Just make sure it's not the only thing you're talking about. 24/7 wedding talk will likely tire you (and others) out. Not sure how to respond when people ask too many questions about the big day? Here are a few details to keep under wraps.
When you're falling behind at work
While a little planning during lunch won't hurt, make sure you're keeping up with your job responsibilities. If you notice you're cutting deadlines a little closer or your mind constantly drifts to floral arrangements during a big meeting, take a break! Set aside time each week where your focus is just on planning, so your focus at work can remain on work.
When it becomes more stressful than fun
We may be biased, but we promise that wedding planning is supposed to be enjoyable. When fun activities like picking a gown or cake tasting feel more like a burden than a blessing, take a few days off. When you get back into it you'll be able to hit the ground running in a happier state of mind. If you need a refresher on what is supposed to be fun about the planning process, check out our
list
!
When you start to lose sight of why you're doing this in first place
The most important thing to remember while you're planning is the end result. By the time the whole process is over, you'll be married to the love of your life. When you find yourself getting wrapped up in stationary fonts and seating charts, take a step back and remember that this is all to celebrate the commitment you're making. At the end of the day, that's what matters most!