20 Non-Boring Ways to Decorate a White Wedding Cake
Mix tradition and personality by cutting into one of these creative white wedding cakes at your reception.
A white wedding cake is one of the most traditional desserts you can serve at your reception, but that doesn't mean yours has to be boring. Your wedding cake should be a reflection of not only your wedding theme but also your personality, from the flavors inside the cake to how you decorate the tiers. Whether you choose fondant or buttercream frosting, white serves as a blank slate for so many different designs—we've picked 20 stylish cakes you can use as inspiration when searching for your cake baker or attending your first cake tasting.
Check out all the ways you can decorate a white wedding cake for any season or style.

Cake by Crushcakes Cafe
Geometric stripes
Your cake baker can use fondant strips to create a chevron pattern on your wedding cake. The geometric element looks ultra chic when you use a monochromatic, white-on-white color scheme. Finish with fresh flowers on top to add soft contrast to the hard lines.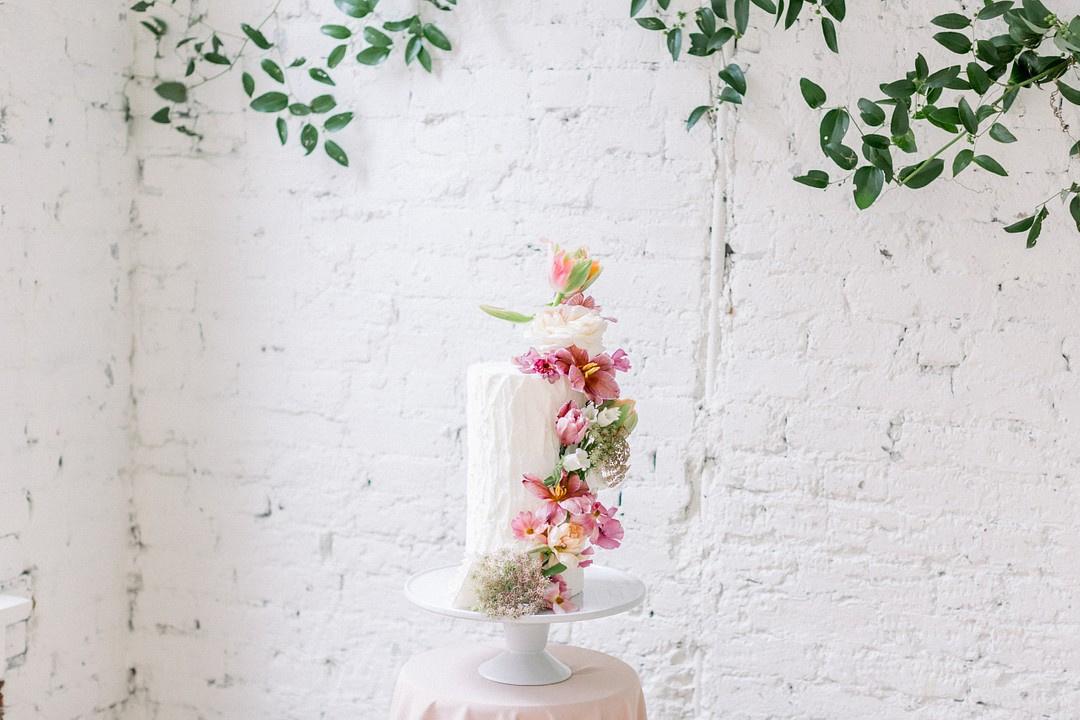 Cake by Just You & Me Cakes
Climbing florals
Adorn a basic white buttercream cake with colorful flowers climbing up one side, like this assortment of orchids and tulips. This idea looks even cooler with an elongated cake—stack multiple tiers of the same size together and finish with frosting.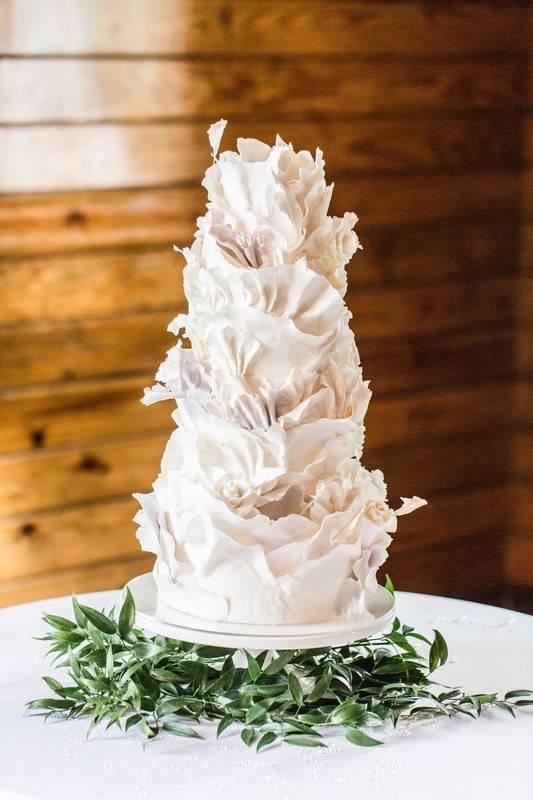 Ruffled layers
This definitely isn't your traditional white wedding cake. The ruffled layers, which can be created using either fondant, wafer paper, or piped buttercream, are whimsical and artistic if you're looking for something totally unique. A tonal color palette of white, ivory, and barely-there pink will give this type of cake the right amount of color without being over-the-top.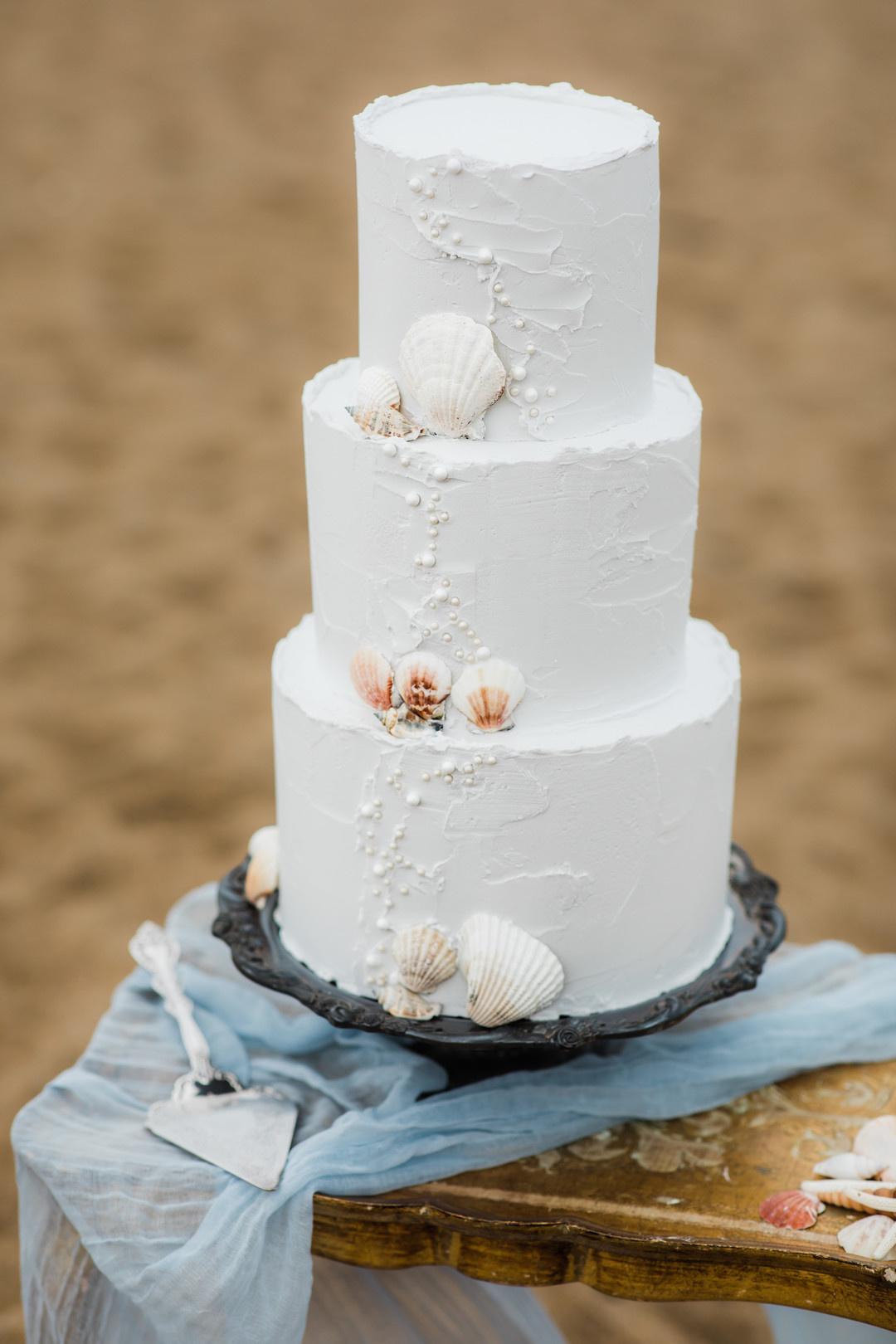 Cake by Gorham Village Baking Co.
Coastal details
If you're getting married at the beach or having a tropical wedding theme, consider decorating your cake with ocean-inspired details. Seashells (whether real or sugar) and edible pearls, called dragées, will immediately turn a white wedding cake into a mermaid-worthy confection.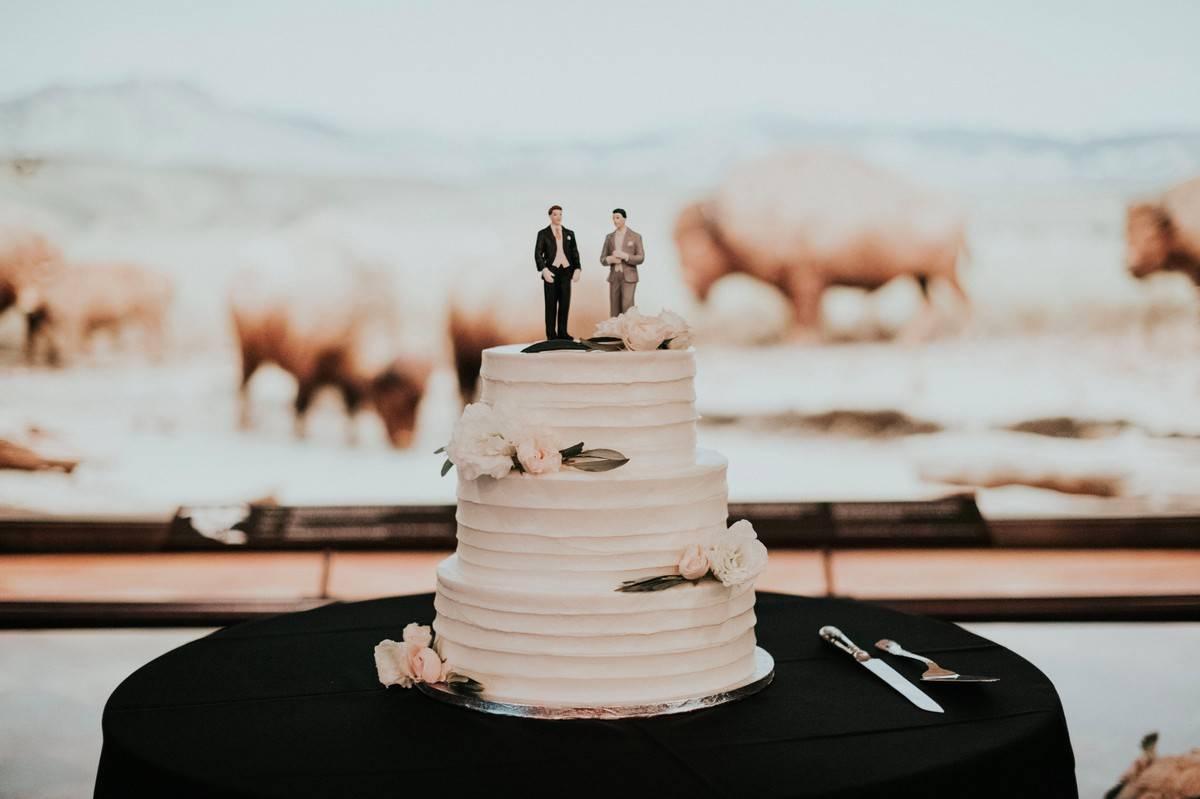 Personal cake topper
Spice up an otherwise basic white cake by adding your personality with a custom topper. This couple chose miniature figurines of themselves, but you could also showcase your favorite love quote, your pet, or your wedding date.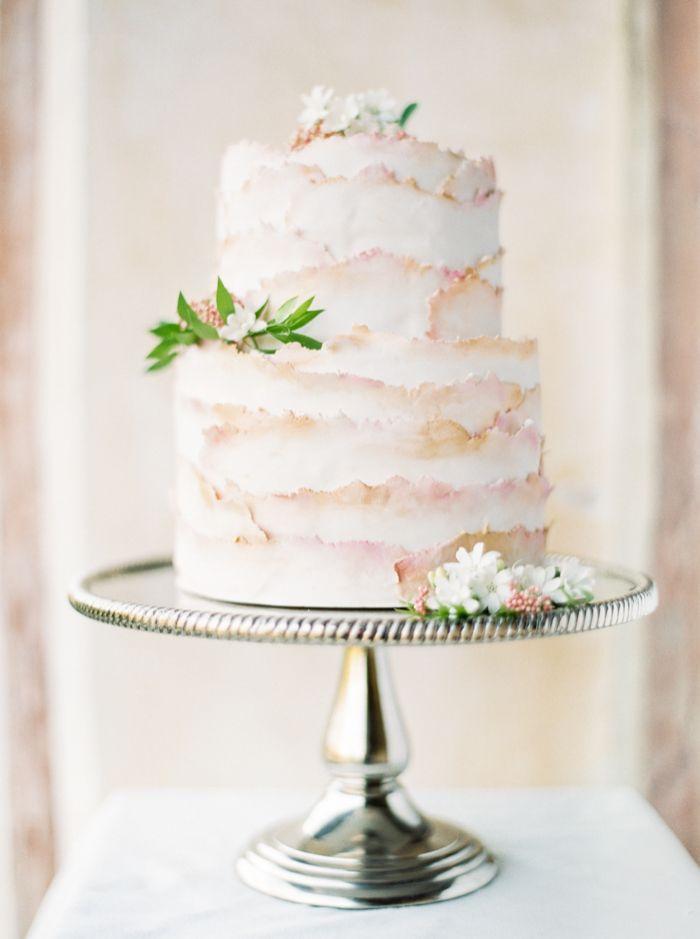 Cake by MJB Cakes
Deckled edges
Deckled edges are a more subtle take on the ruffled layer effect, and they're one of our favorite wedding cake trends of the moment. The word deckled refers to an intentionally uneven edge, as pictured on this cake—you can add a hint of color to the edges to enhance the texture even more.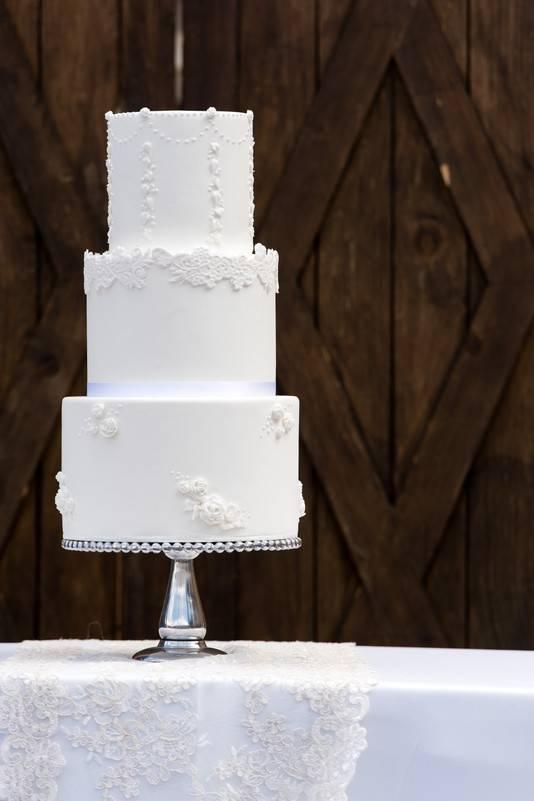 Cake by Sweet Cheeks Baking Company
Lace appliqués
Lace-inspired details are a sophisticated way to decorate your cake for a classic or formal theme. Add in delicate Swiss dots for a timeless design.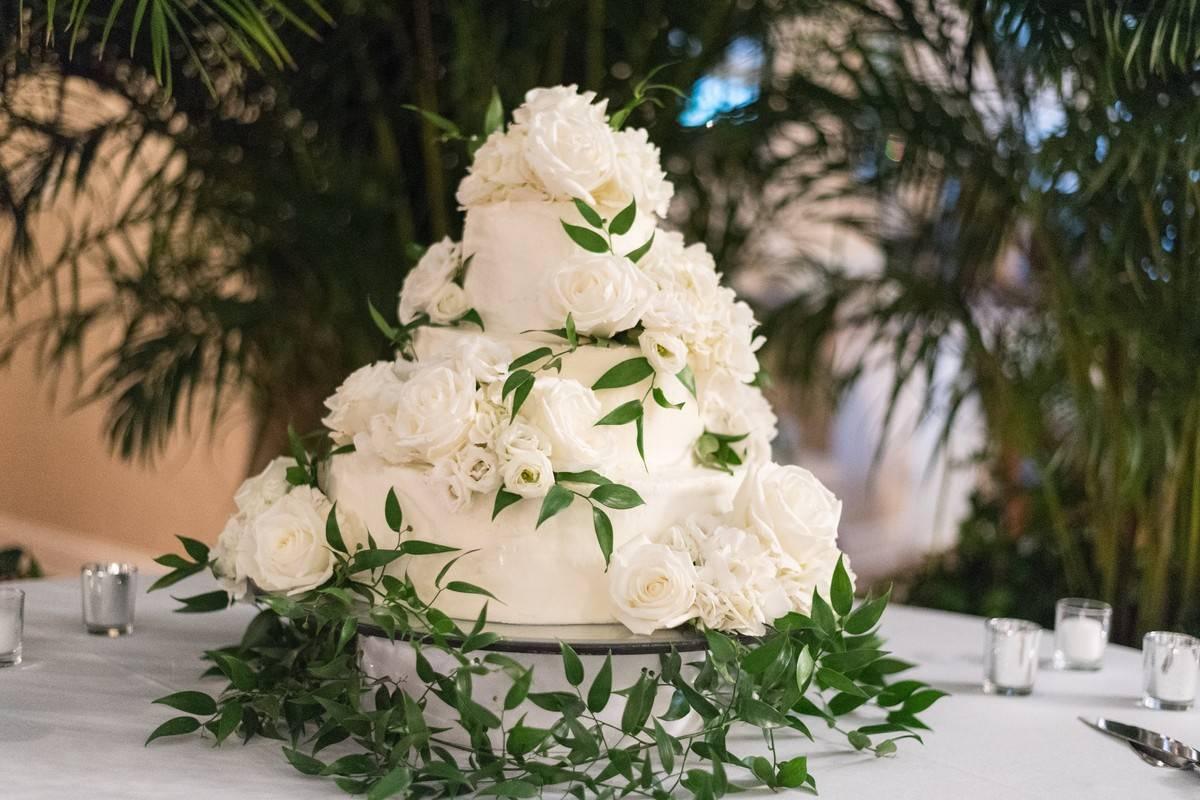 Monochromatic blooms
Flowers are one of the easiest ways to decorate a cake, no matter what time of year you're getting married. Work with your cake baker and wedding florist to choose three or four types of white flowers you can use to finish your wedding cake.
Cake by Cakebee
Stone effect
You've seen marble cakes, but what about stone cakes? Concrete may not sound like the most appetizing way to describe your wedding cake, but we can't deny that this stone effect is totally unique. It's an unexpected option if you're looking for something your guests have never seen before!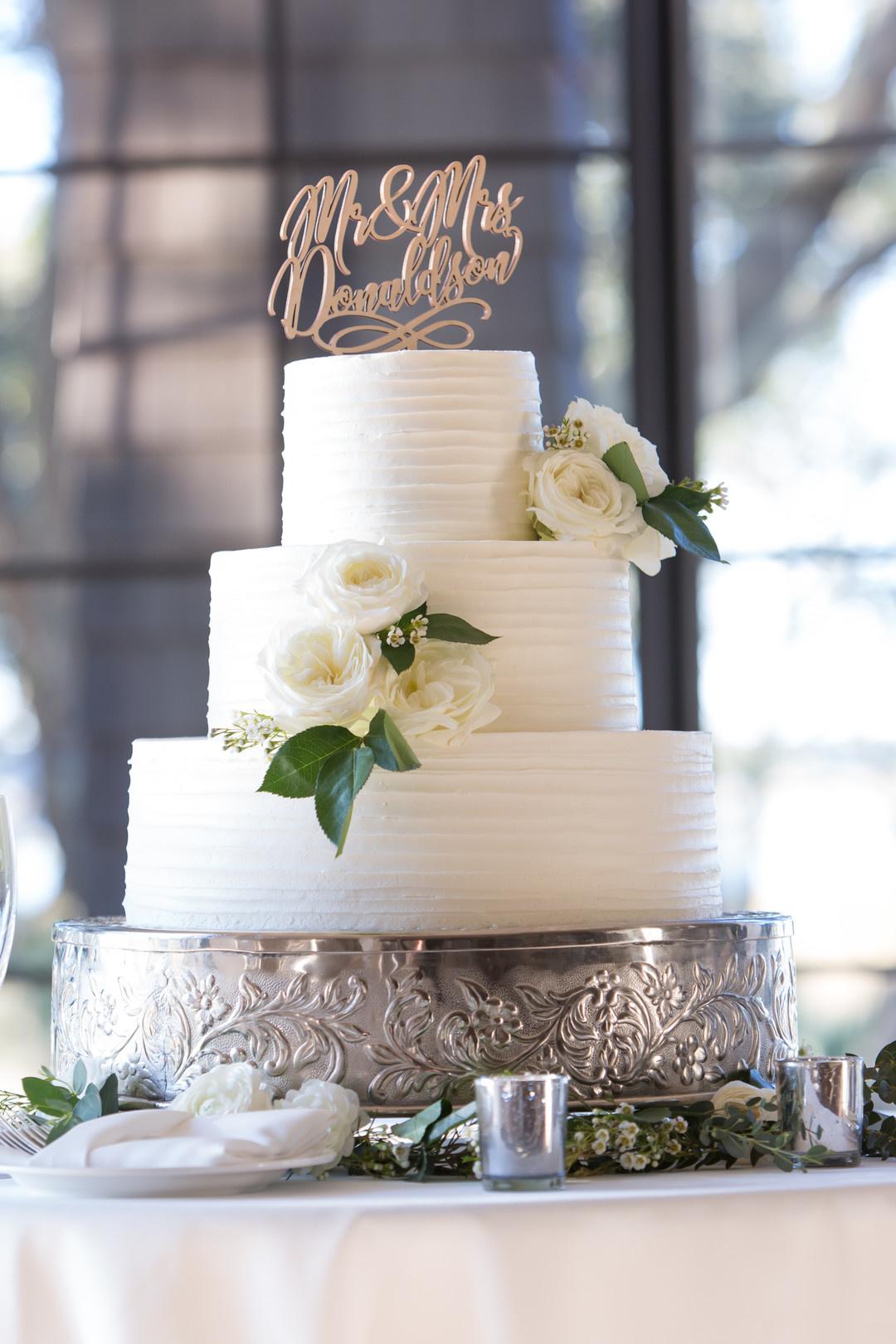 Cake by Ashley Bakery
Textured buttercream
Sometimes, simple is best! If you're not into overly embellished cakes, a few well-placed roses and a gold topper will give your white wedding cake an elegant, no-fuss look.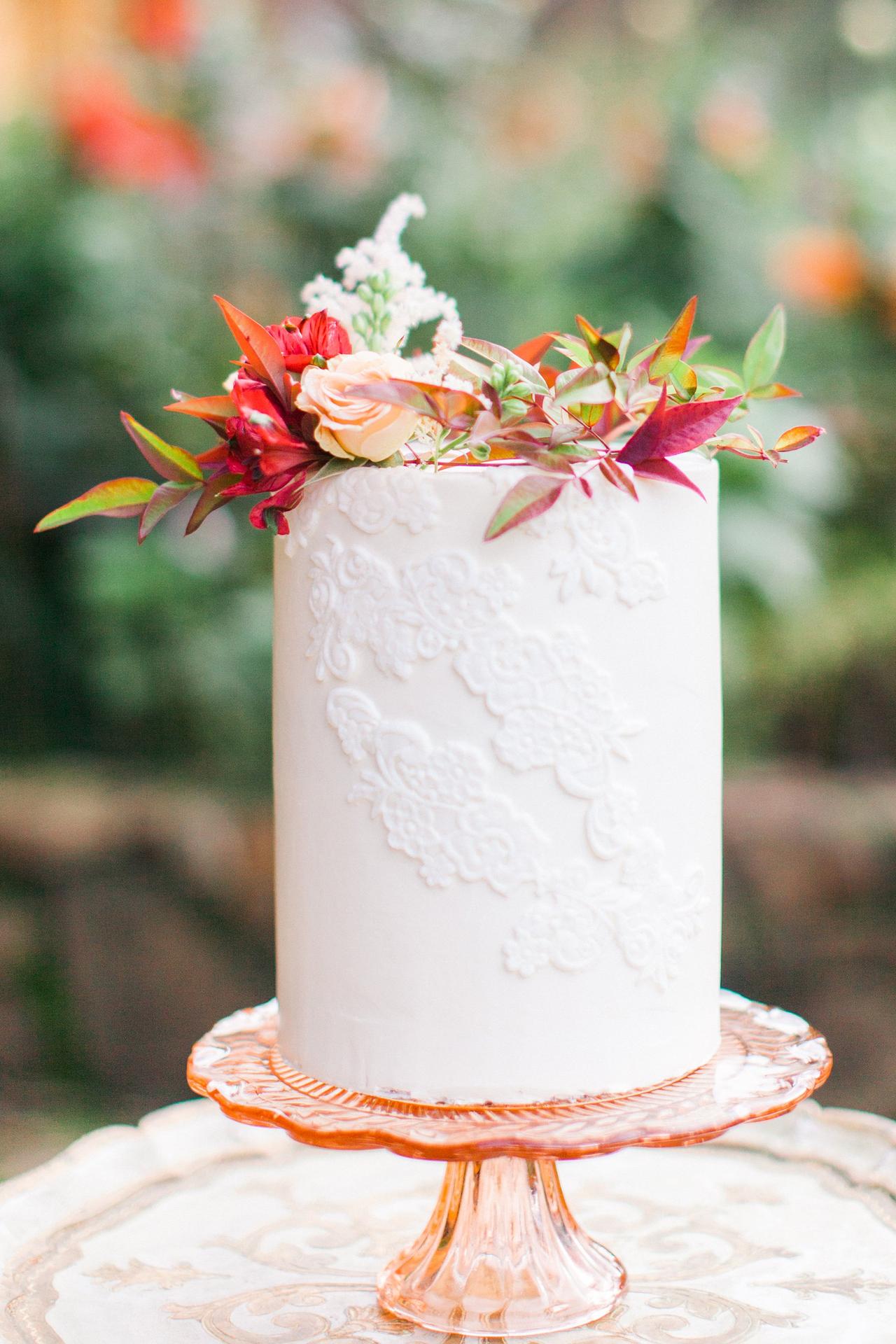 Cake by Lux Sucre Cakes
Fall foliage
Look to your wedding season for ideas on how to decorate your cake. For fall weddings, your florist can set aside some colorful foliage in yellow, burgundy, and green hues, which will pop against white fondant or buttercream.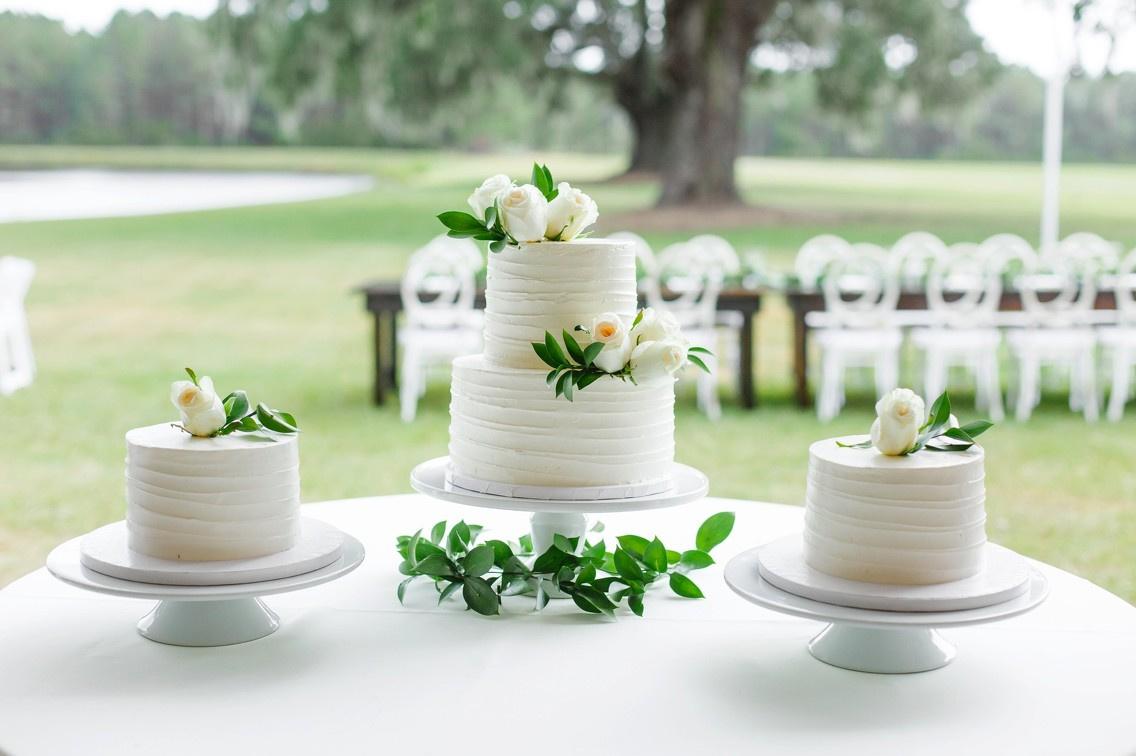 Cake by Swank Desserts
Cake trio
Why have one wedding cake when you can have three? Instead of a single three-tier cake, split it into three different cakes to make more of an impact. A trio of white wedding cakes with buttercream frosting will work for any season or venue.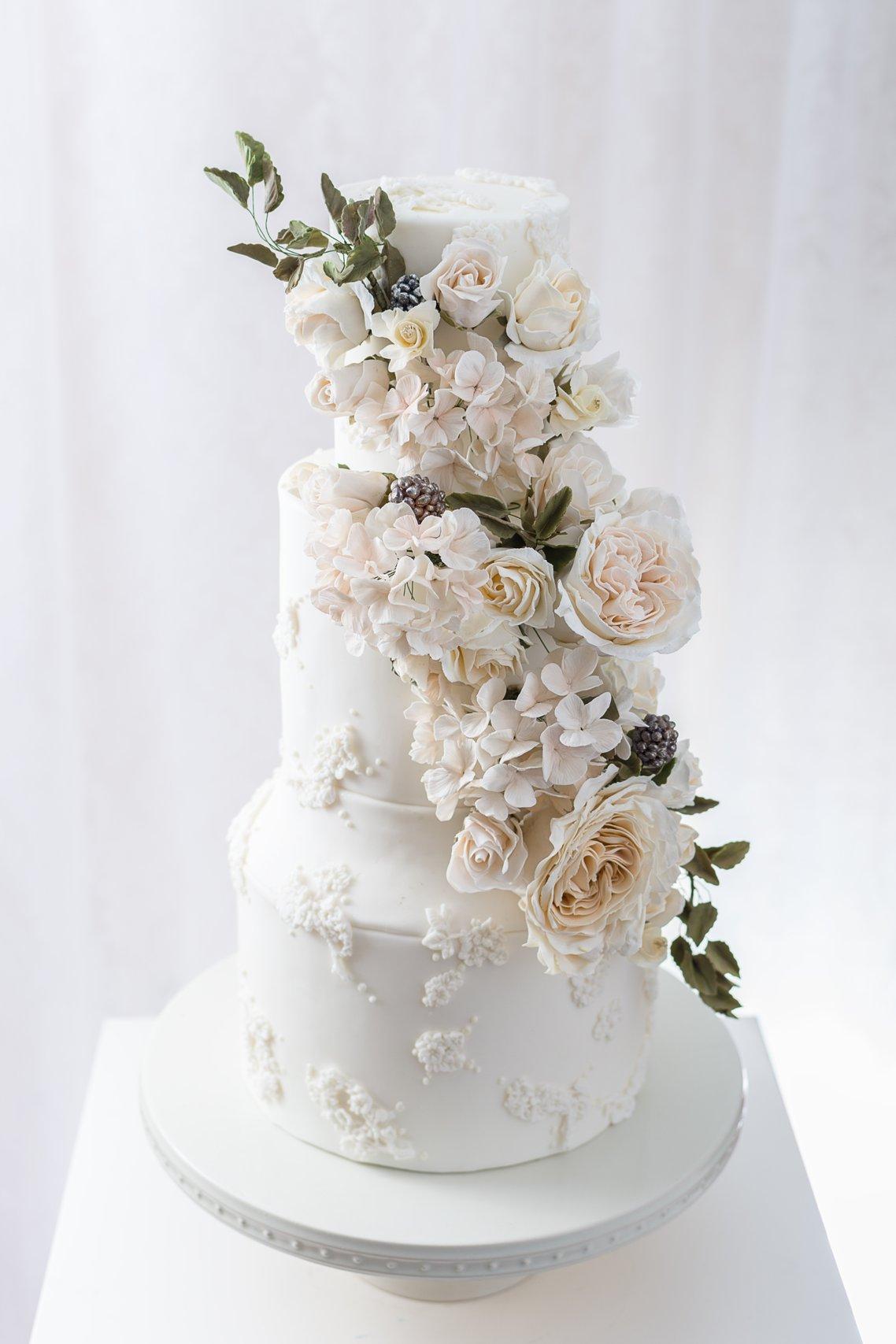 Handmade sugar flowers
Real flowers are always pretty, but sugar flowers will turn your wedding cake into a work of art—your guests will be blown away at the level of detail. We love the softness of this pale yellow, blush, ivory, and green color palette.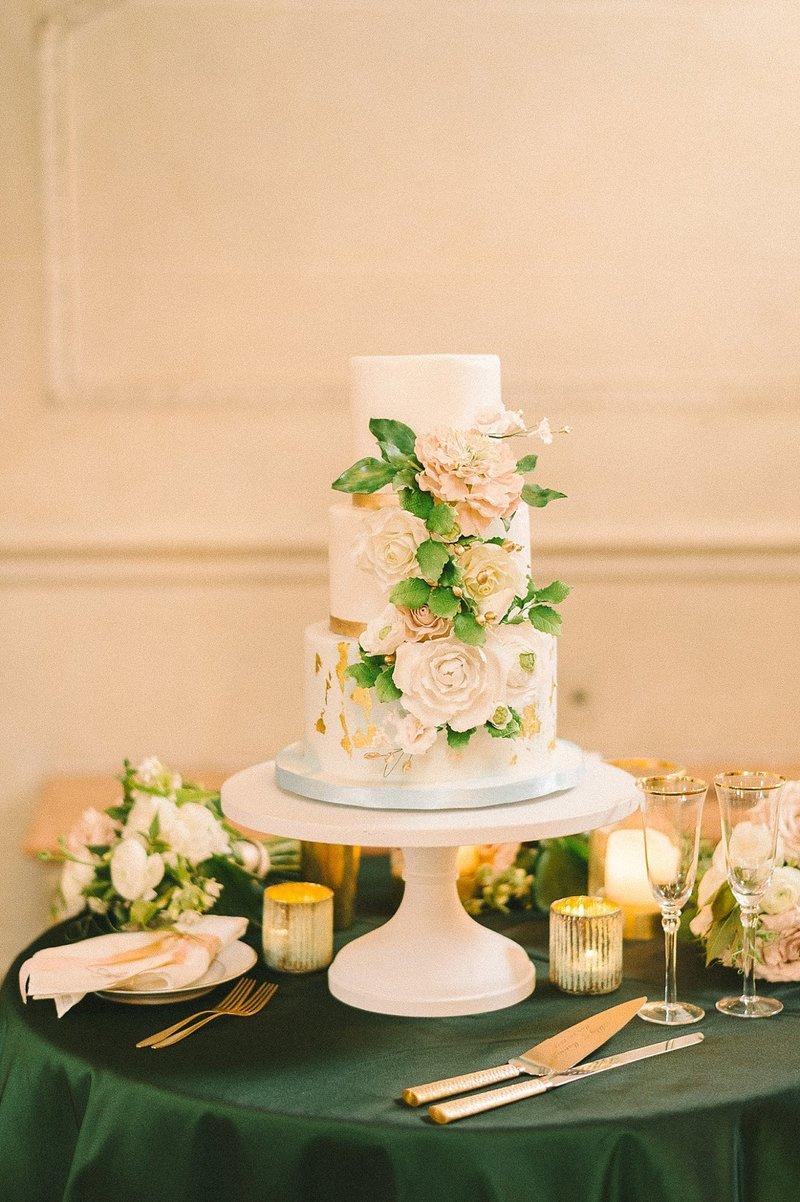 Cake by Couture Cakes by Sabrina
Gold leaf accents
If you're incorporating metallic accents into your decor, add a bit of shimmer to your wedding cake too. Decorate a white fondant cake with edible gold leaf and display it on a table with votive candles and a satin tablecloth for a romantic, glamorous look.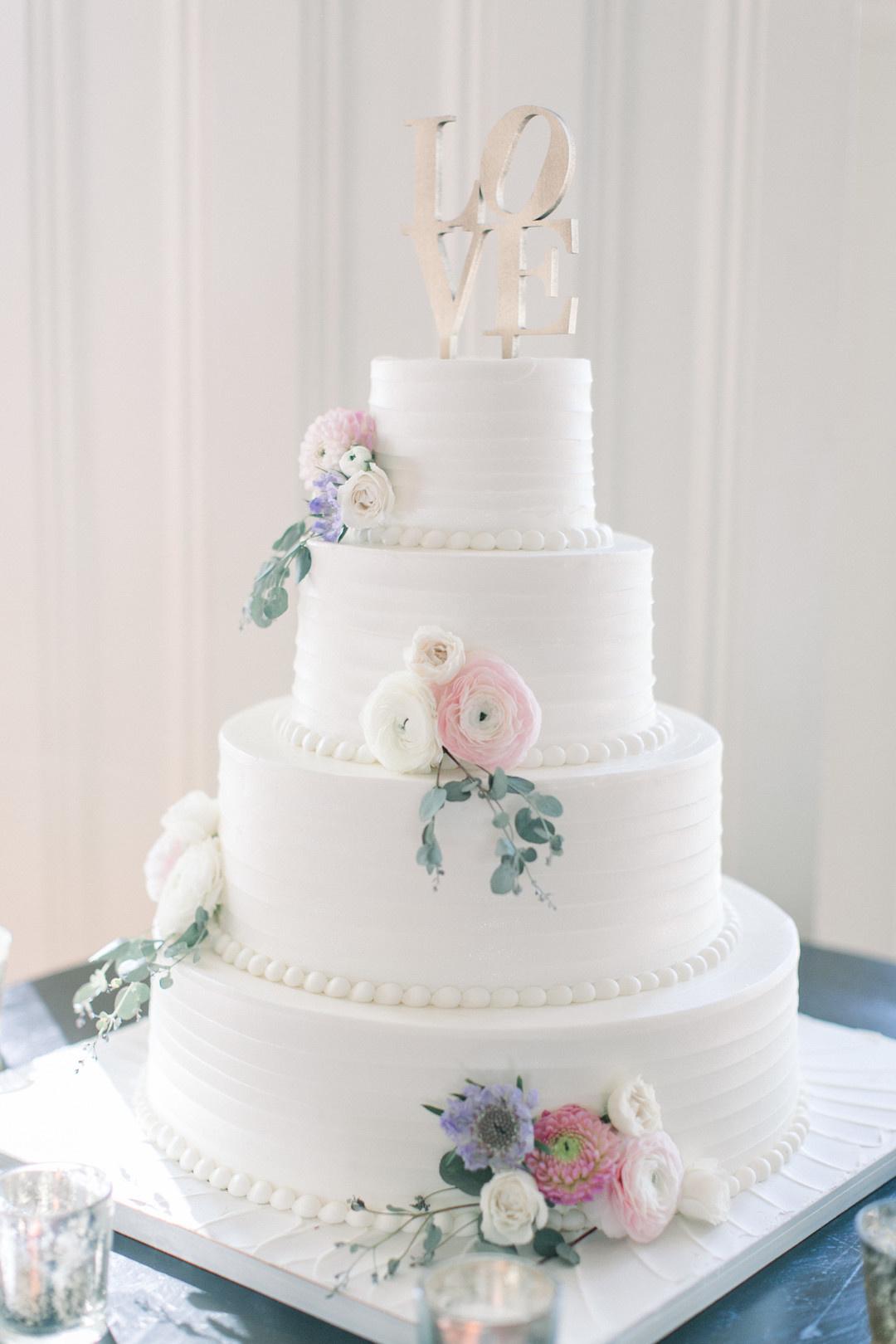 Cake by Palermo's Custom Cakes & Bakery
Pastel posies
Pale blue and pink flowers are a popular way to decorate a white wedding cake for springtime events. Personalize yours by adding a special cake topper or even a hand-piped monogram.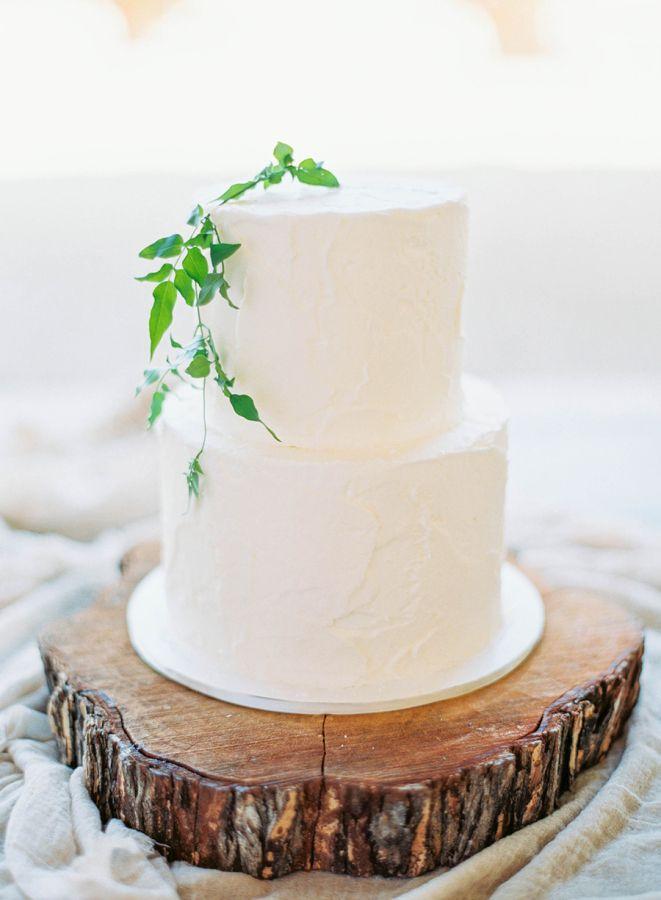 Greenery vine
If you're going for a minimalistic wedding theme, keep your cake super simple—think one or two greenery vines and swirled buttercream frosting to add texture.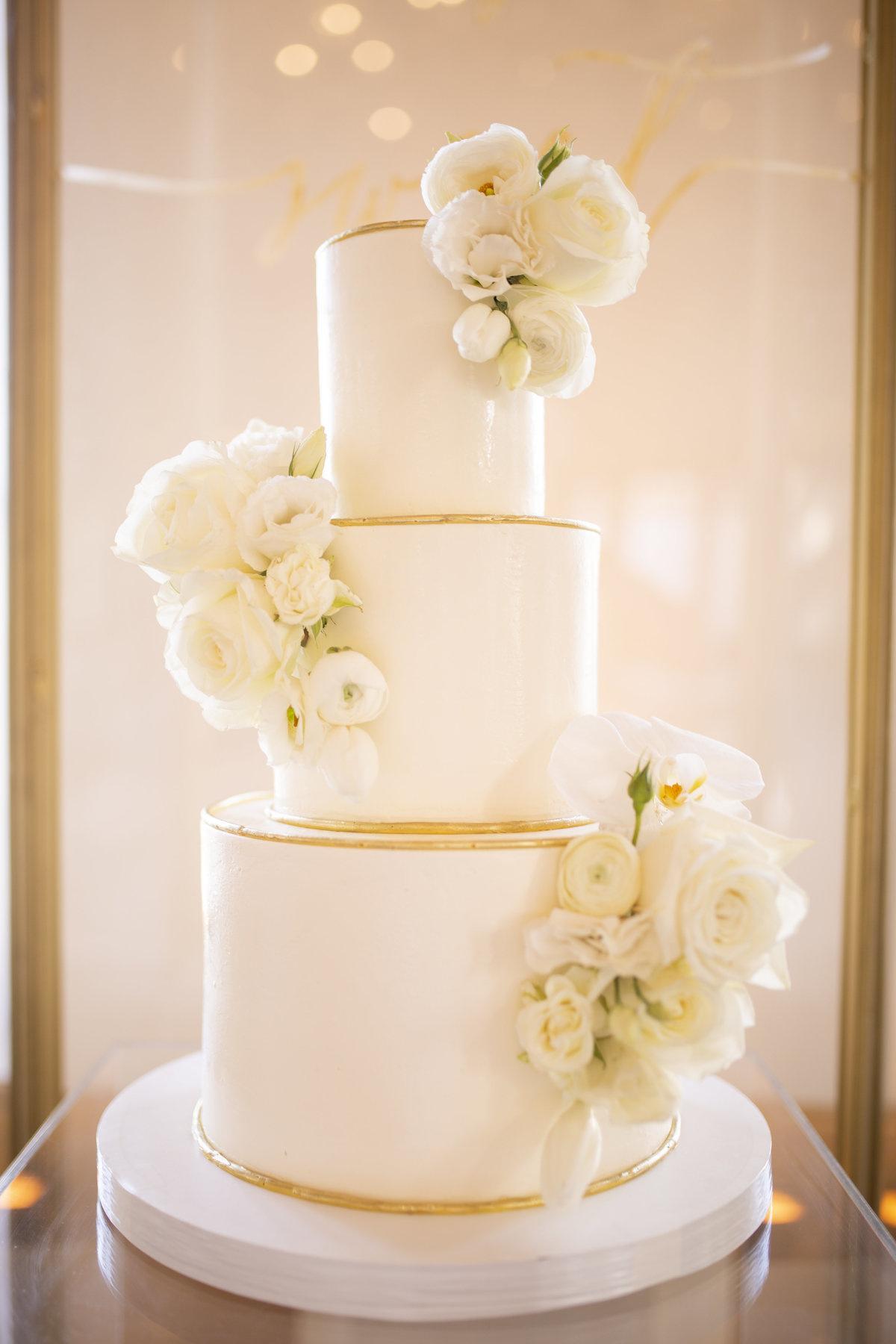 Cake by Lilac Patisserie
Gold rings
Trim each tier of your white wedding cake with metallic gold piping or edible paint. Finish the design with clusters of white flowers, like roses, ranunculus, and phalaenopsis orchids, to create a glamorous, luxurious dessert.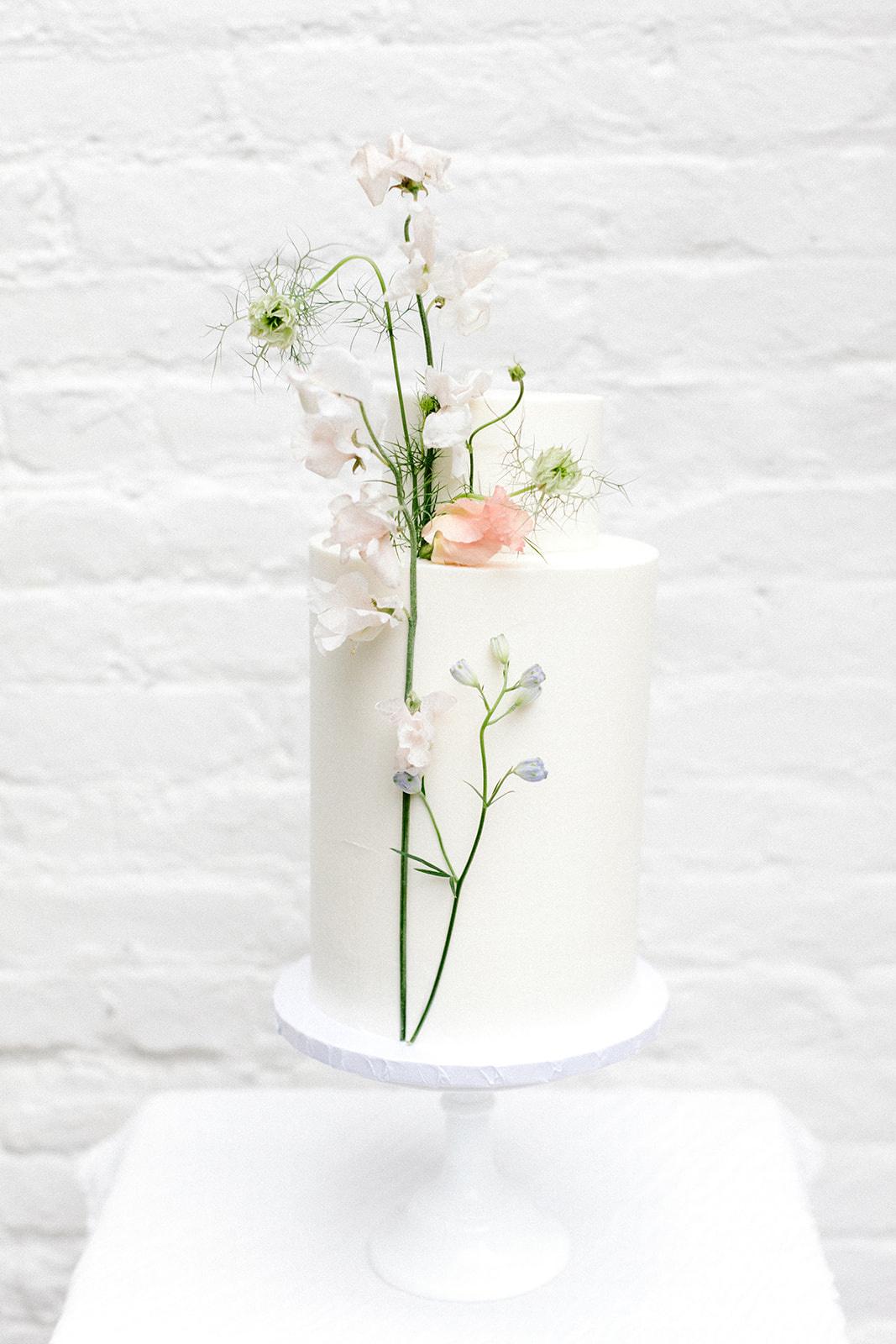 Abstract stems
Use long-stem flowers to decorate your wedding cake in a unique, whimsical way. This elongated two-tier cake is perfect for a spring or summer wedding thanks to the sweet peas, delphinium, and greenery stems.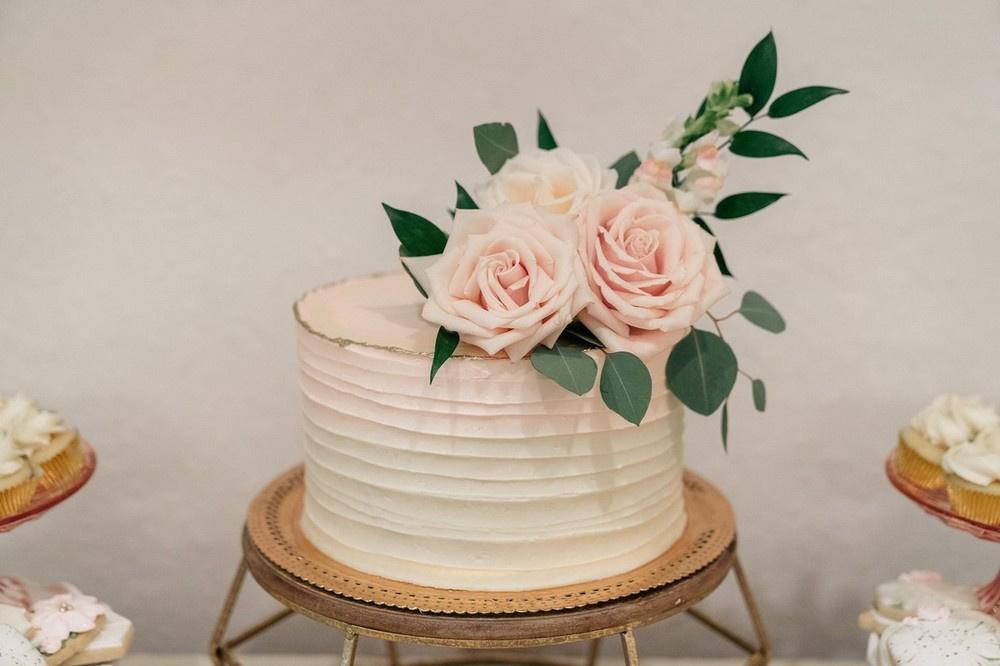 Ombré frosting
Use ombré frosting to add a hint of color to your white wedding cake. Finish the design with coordinating flowers, like these blush pink roses.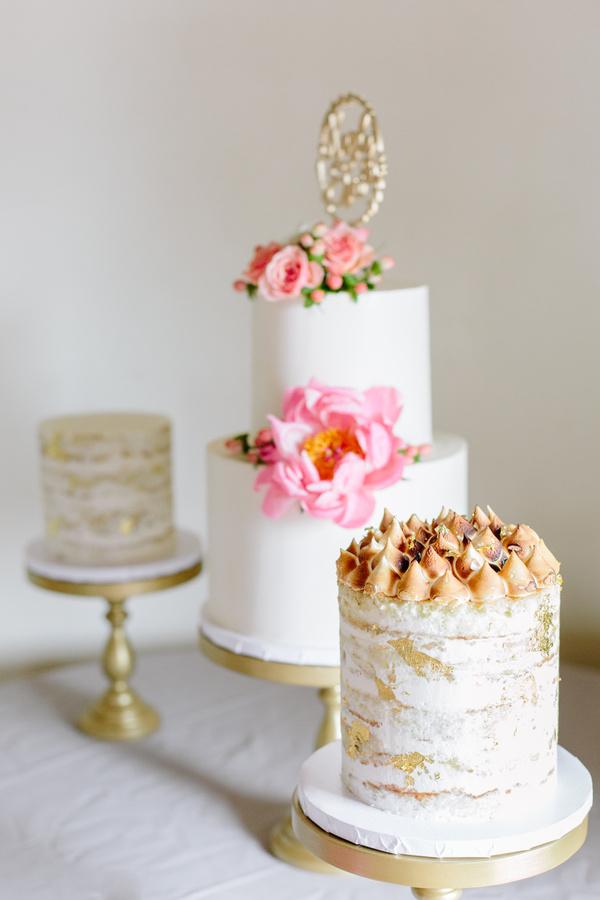 Cake by Swank Desserts
Mini meringues
Here's an idea we love for anyone with a big sweet tooth (guilty!). Instead of using a cake topper or fresh flowers to decorate your cake, cover the top with miniature meringues for a French pâtisserie-inspired vibe.