17 Three-Tier Wedding Cakes That Make Show-Stopping Desserts
From fresh flower embellishments to metallic details, these decorative three-tier wedding cakes are showing us how it's done.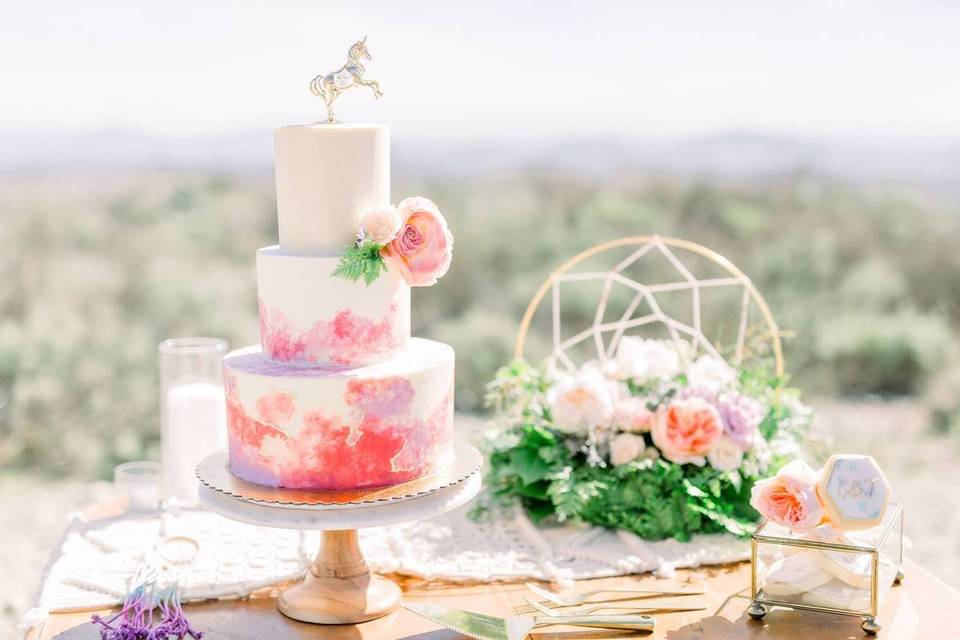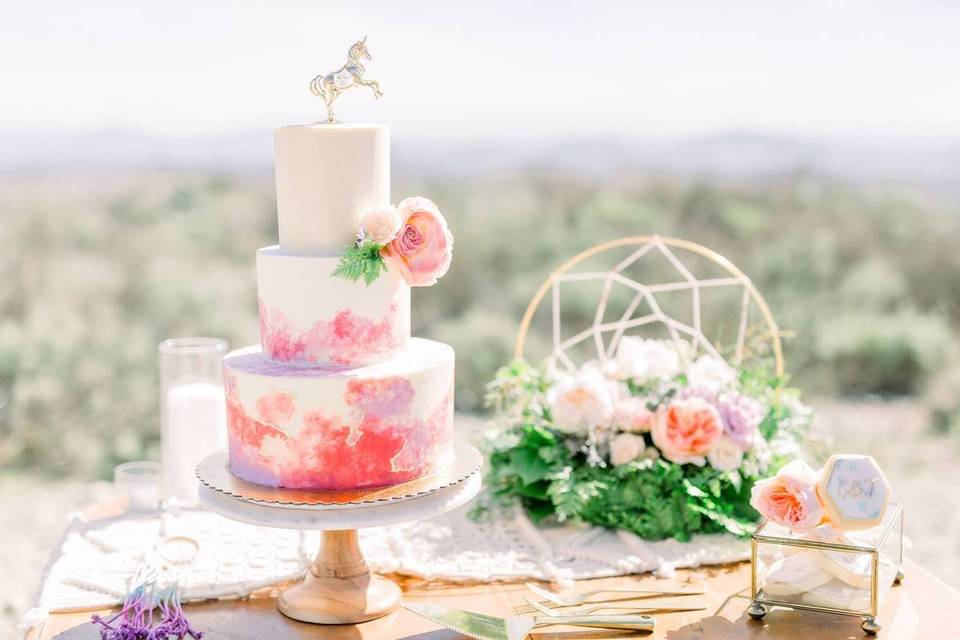 Three-tier wedding cakes are one of the most popular options when it comes to choosing a wedding cake size, and there are so many different ways to decorate your cake depending on your season, theme, or budget. It helps to brush up on wedding cake trends and inspiration before your first meeting with a wedding cake baker, but remember to also keep an open mind about their recommendations for the design and how much cake you'll actually need to serve for your guest count. In the meantime, get ideas from some of the cakes we're loving right now.
Here are our favorite three-tier wedding cakes of the moment.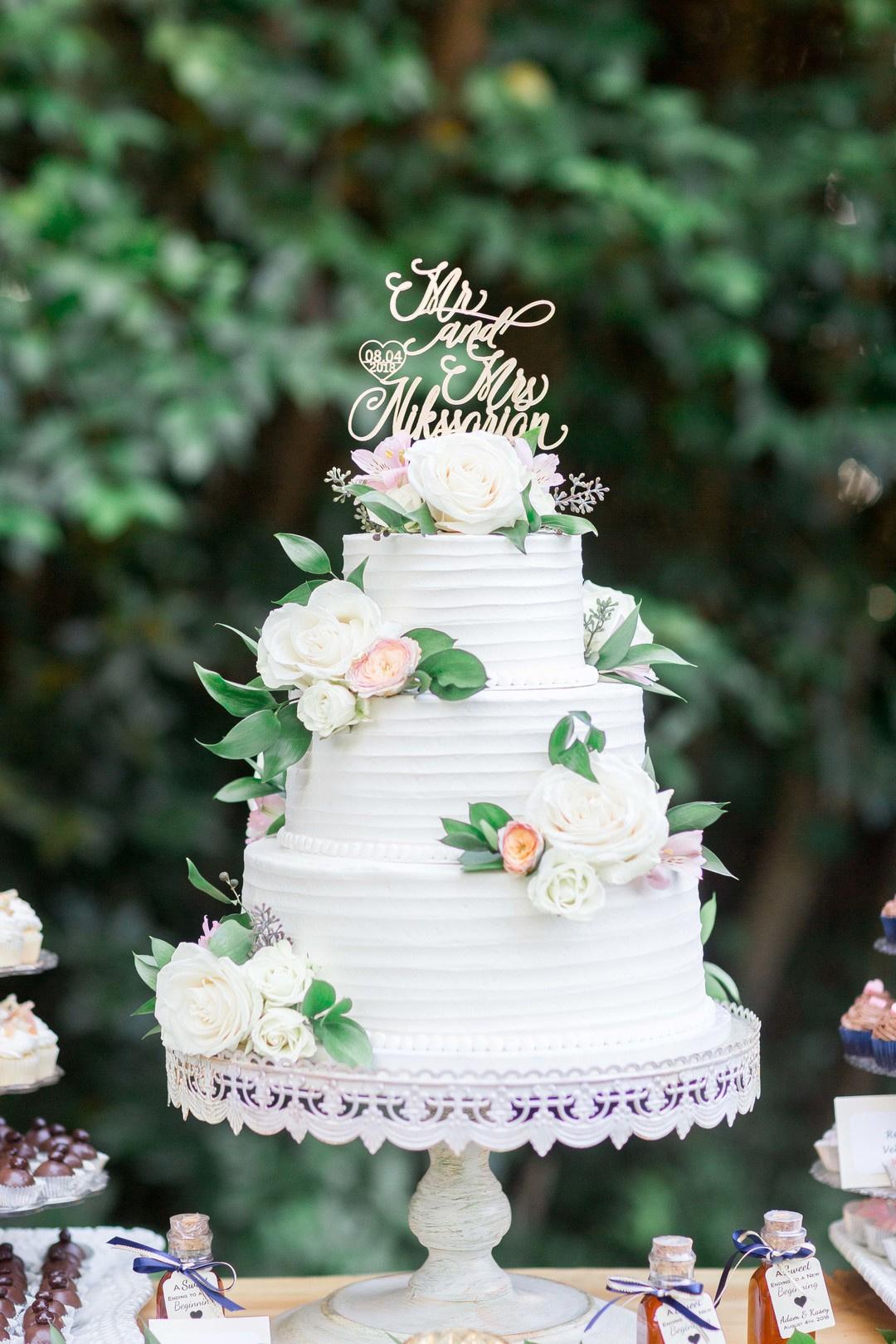 Cake by Timothy's Bakery
Fresh roses
Clusters of roses will transform any simple buttercream cake into a decorative masterpiece. Ask your florist to provide extra flowers to match your other wedding arrangements, and your cake baker will use the flowers to decorate the cake when it's delivered to your venue.
Geometric details
Add texture and visual interest by decorating your three-tier wedding cake with a hexagonal pattern. We especially like how this cake features some three-dimensional hexagons and a coordinating cake topper.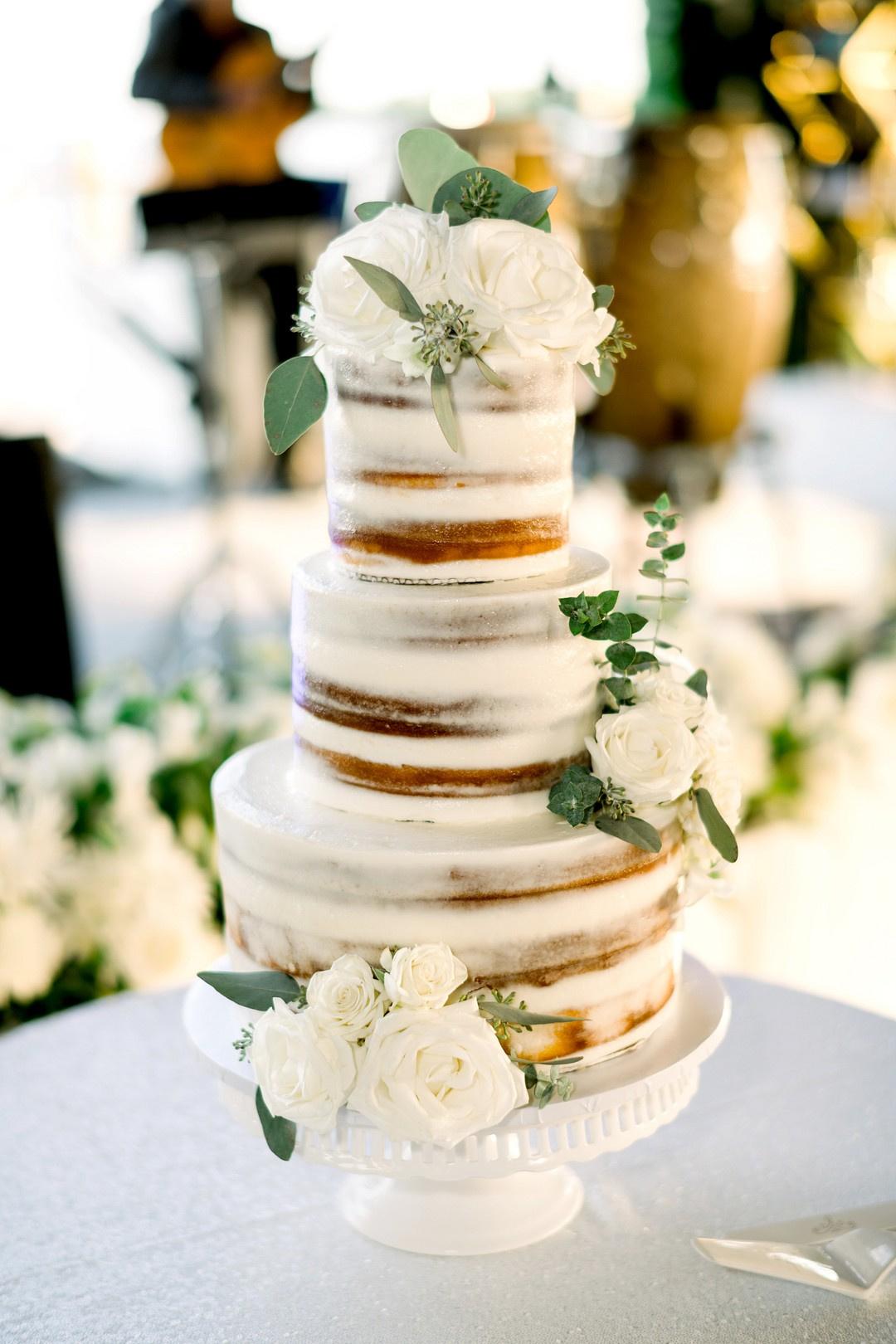 Cake by Sweet Tiers
Semi-frosted tiers
The semi-naked cake trend is still going strong, and with the help of a few eucalyptus branches and white roses, the trend feels like a modern take on classic confectionary design.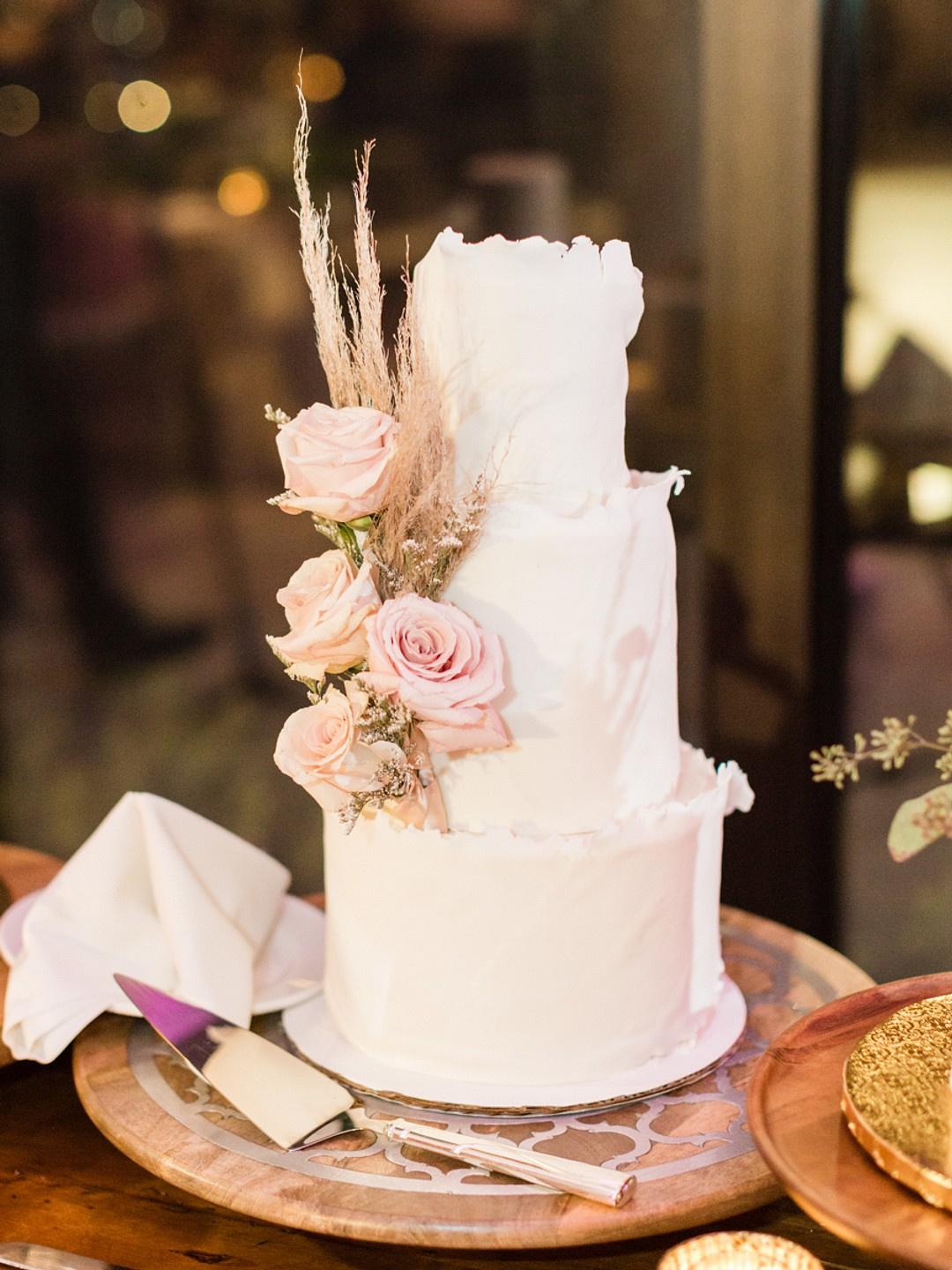 Cake by The Sugared Oven
Deckled edges
This term refers to the unique look of the "ruffled" fondant—it's intentionally left a little uneven around the edges. With this eye-catching detail, you won't need to add much else to your cake other than a few fresh flowers to finish it off.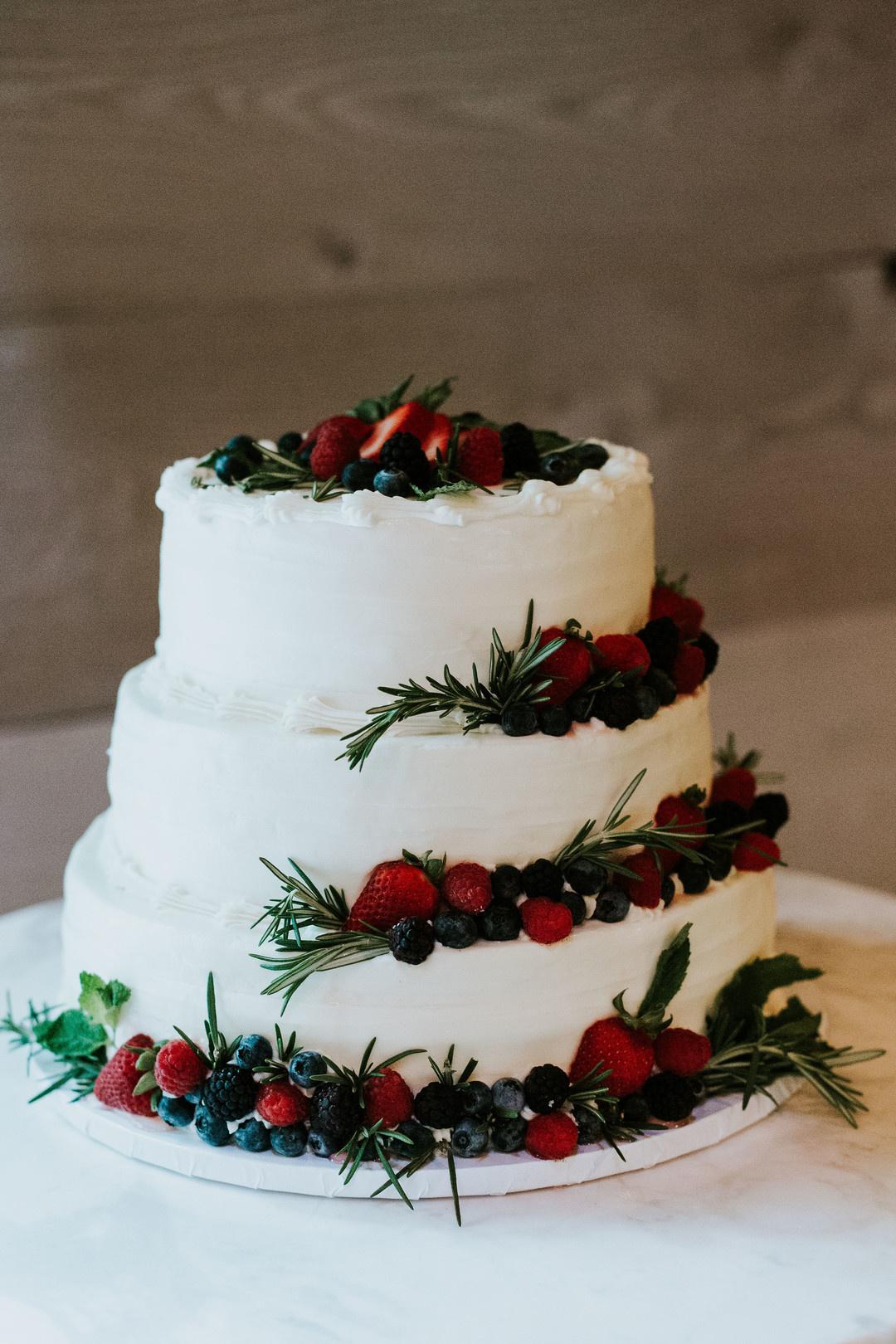 Assorted berries
There are so many ways to use fresh fruit on your three-tier cake, but colorful berries always look appetizing. Use a mixture of blackberries, blueberries, strawberries, and raspberries to add contrast to a buttercream cake. Add greenery or fresh herbs to match the season.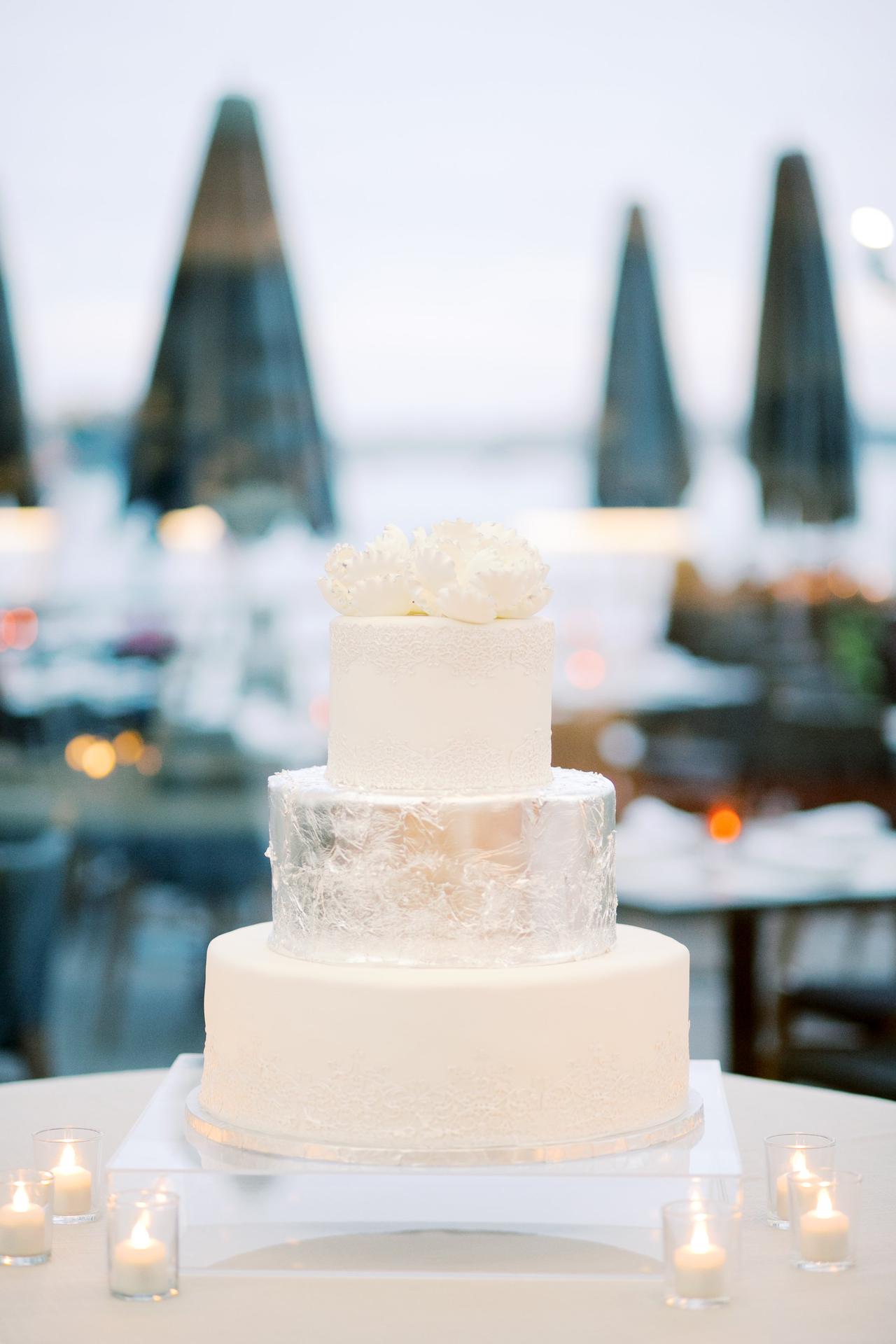 Silver leaf tier
This white fondant cake is anything but boring, thanks to a shimmery middle tier covered in edible silver leaf. The lace pattern on the top and bottom tiers is subtle but oh-so elegant.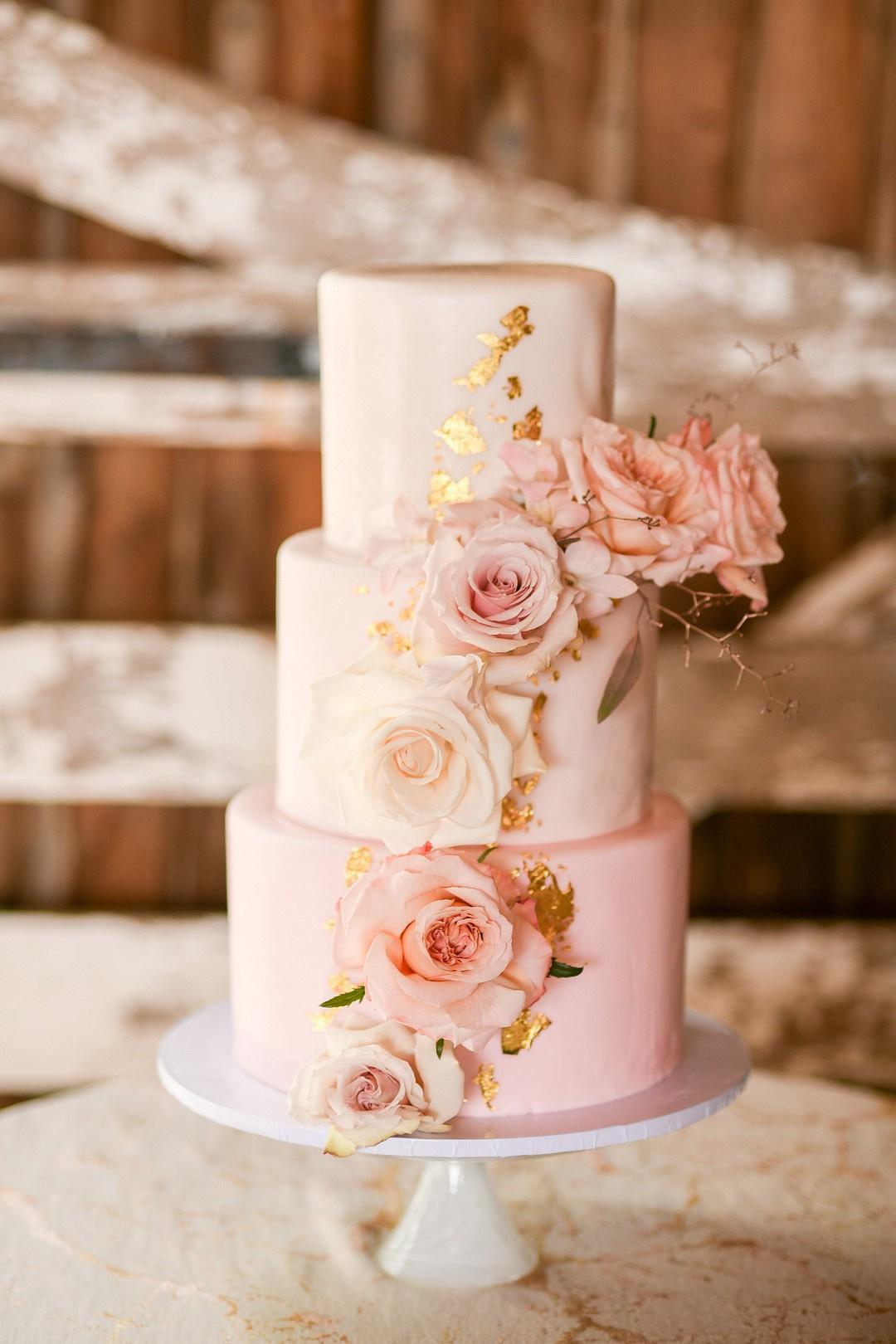 Cake by Lilly Magilly's Cupcakery
Pink and gold palette
You can't go wrong with this pretty color combination. Decorate a blush three-tier cake with oversized garden roses and gold leaf pieces cascading down the front.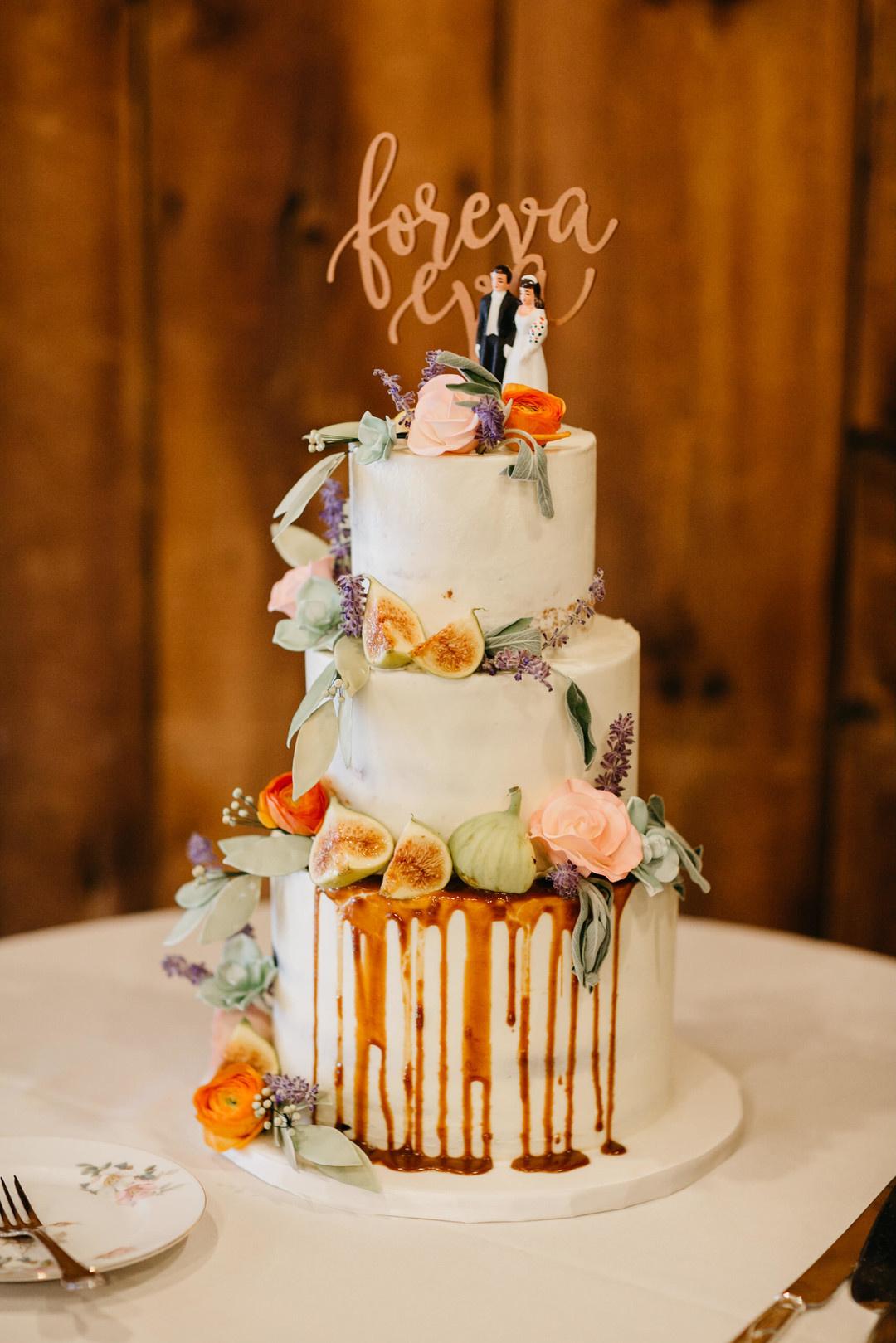 Cake by Zingerman's Bakehouse
Drip icing
How yummy does this three-tier cake look? We love the mix of bright orange ranunculus and muted green figs, all finished off with a caramel glaze dripping down the side. You can use almost any type of frosting to achieve the same look, whether you're into dark chocolate icing, raspberry glaze, or white ganache.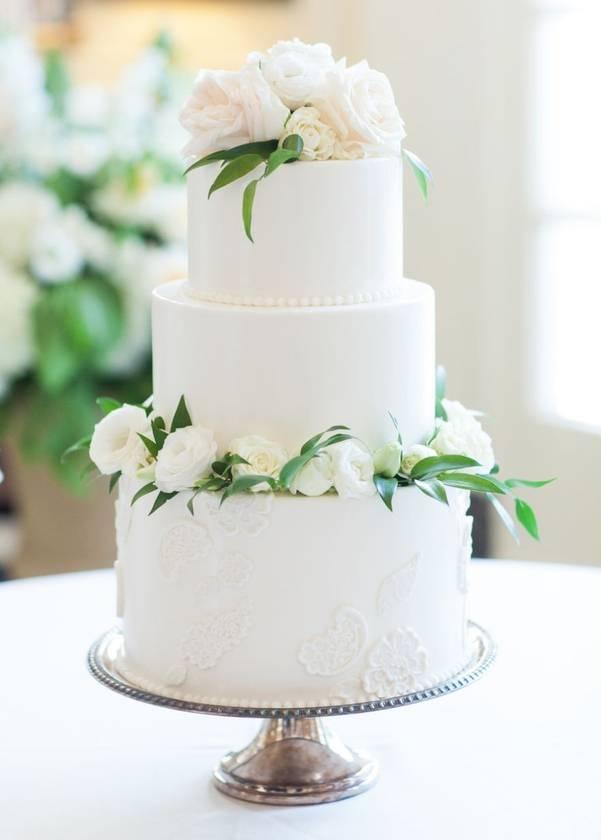 Cake by Celestial Cakery
Hand-piping and appliqués
Three-dimensional details look extremely chic when you use a monochromatic color palette, as this all-white cake proves. The lace-inspired pattern perfectly complements the fresh flowers on the middle and top tiers.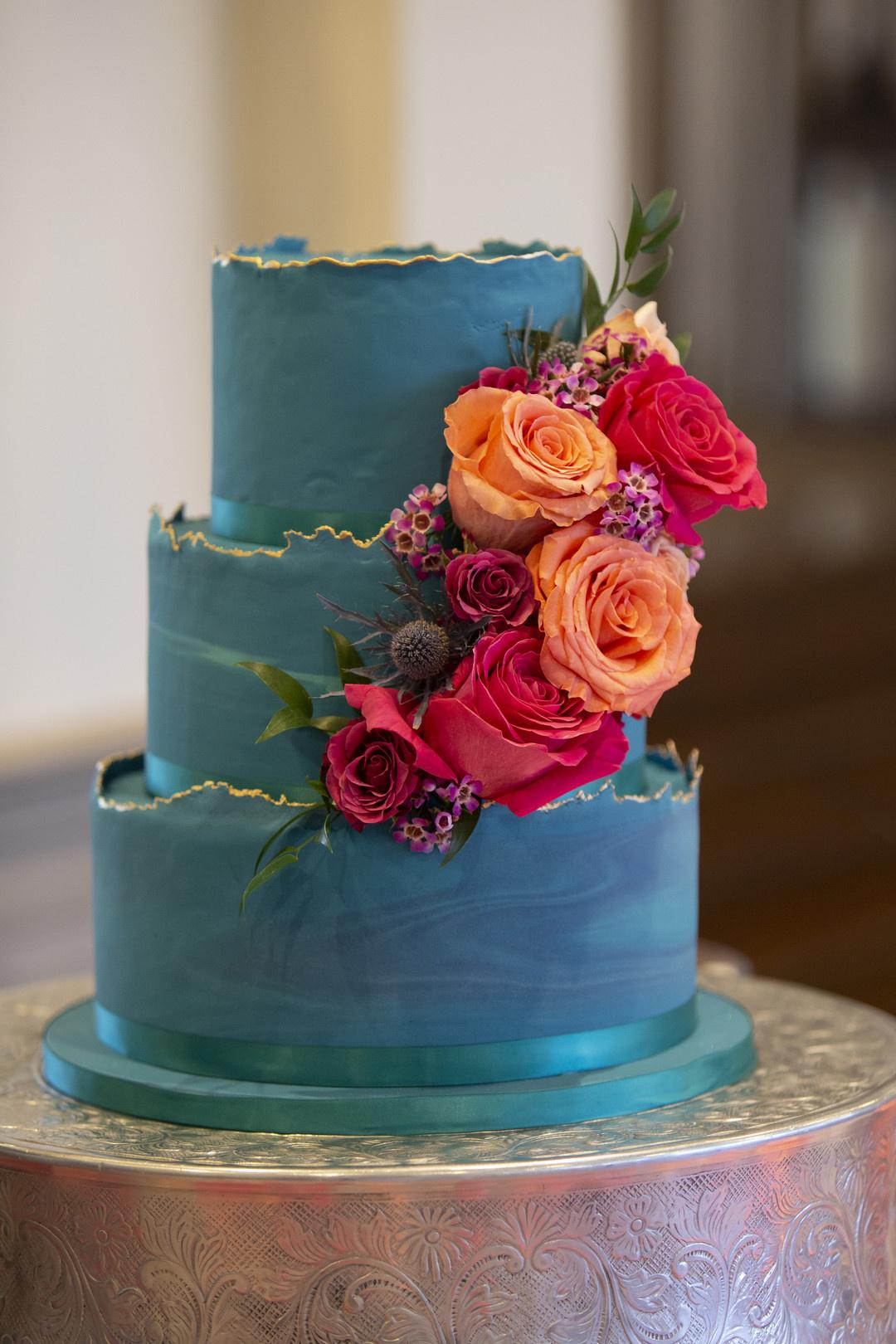 Cake by Jacqueline Rose Cakery
Jewel tones
If basic cakes aren't your thing, there are plenty of ways to step up your three-tier wedding cake game. Try going with a bold color scheme, like this jewel tone palette of teal, fuchsia, and orange. A little hint of metallic gold makes it feel especially regal.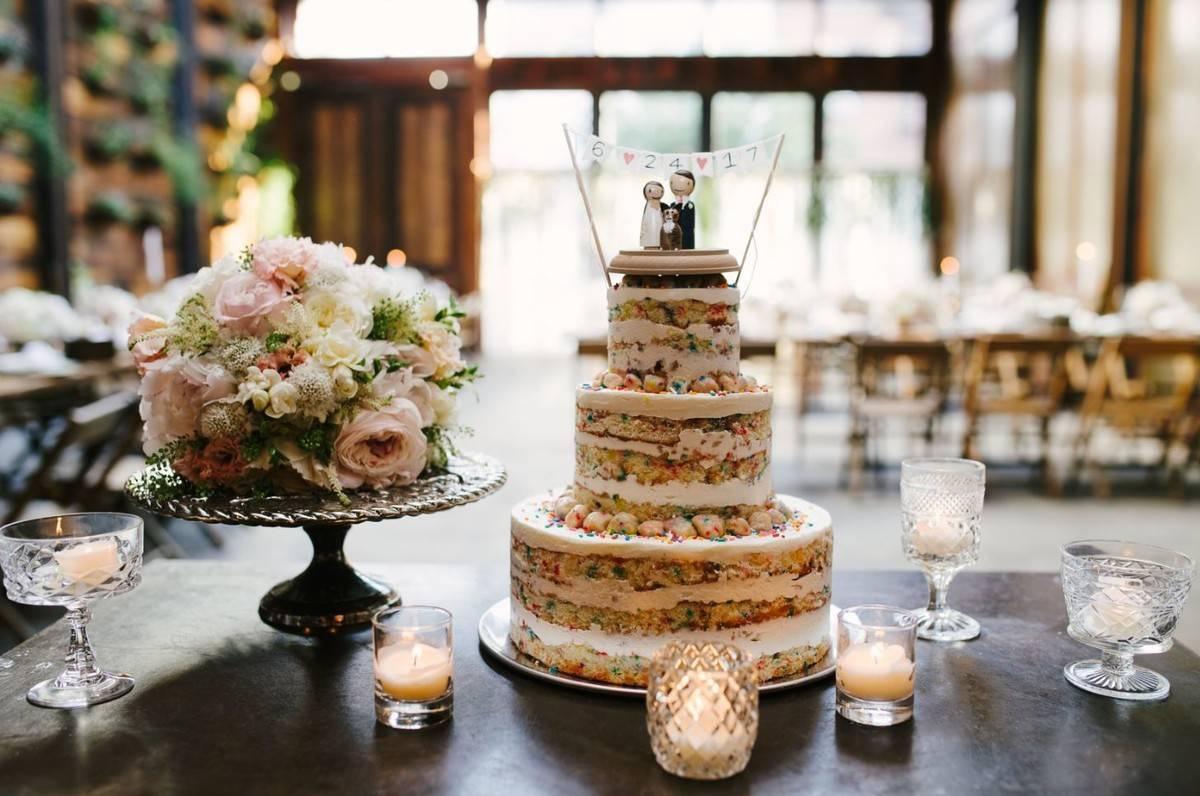 Cake by Milk Bar
Naked cake
Not a fan of frosting? You can still have a wedding cake— but make sure it looks just as good on the inside! Our recommendation: a Milk Bar-inspired cake, which features colorful sprinkles and layers of creamy filling. Ask your cake baker if they can offer a similar recipe.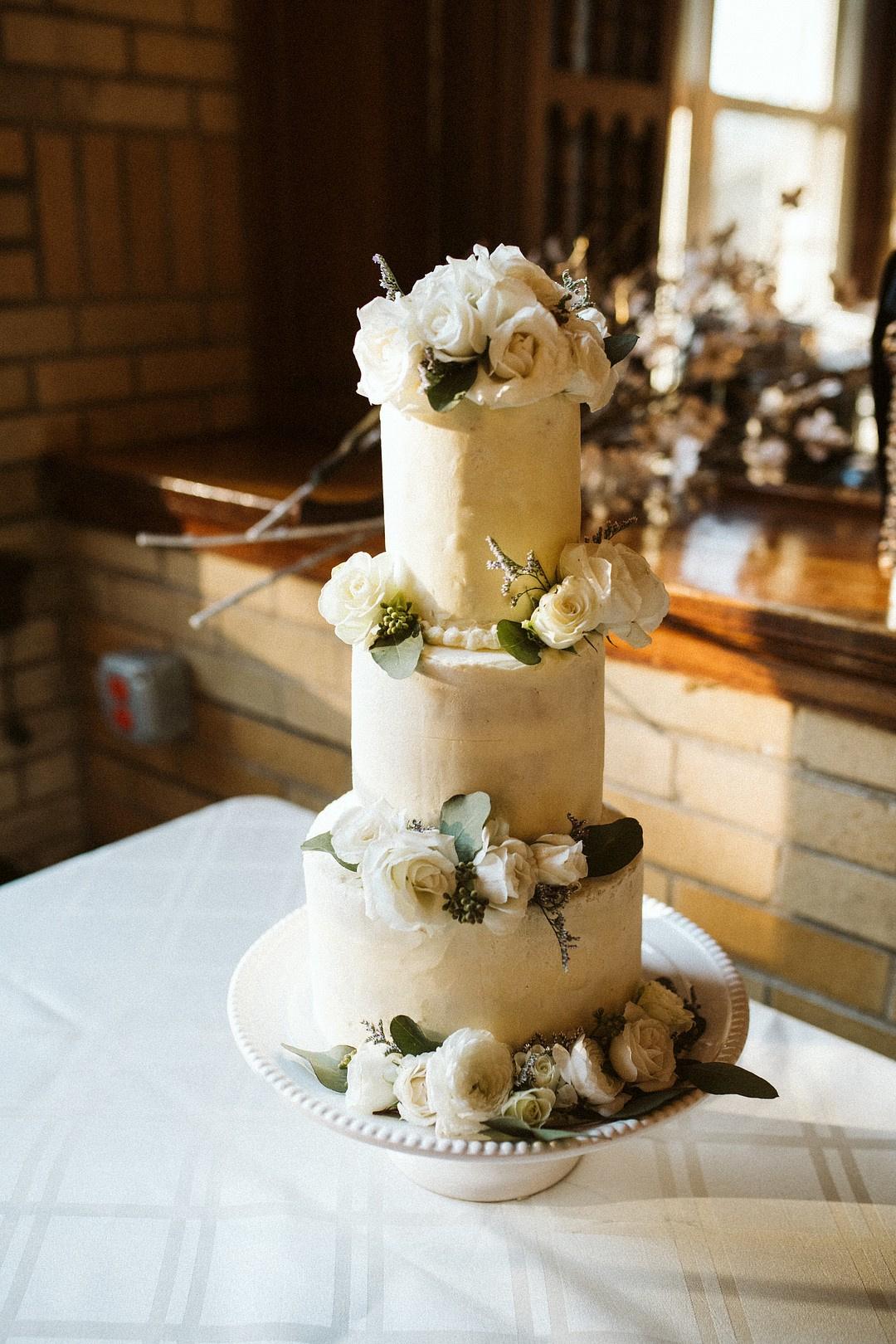 Cake by 1010 Bakery
Elongated tiers
You can instantly give your cake a contemporary look by making each tier taller than it is wide. This elongated design is sleek and trendy, especially when you keep the overall decorations to a minimum.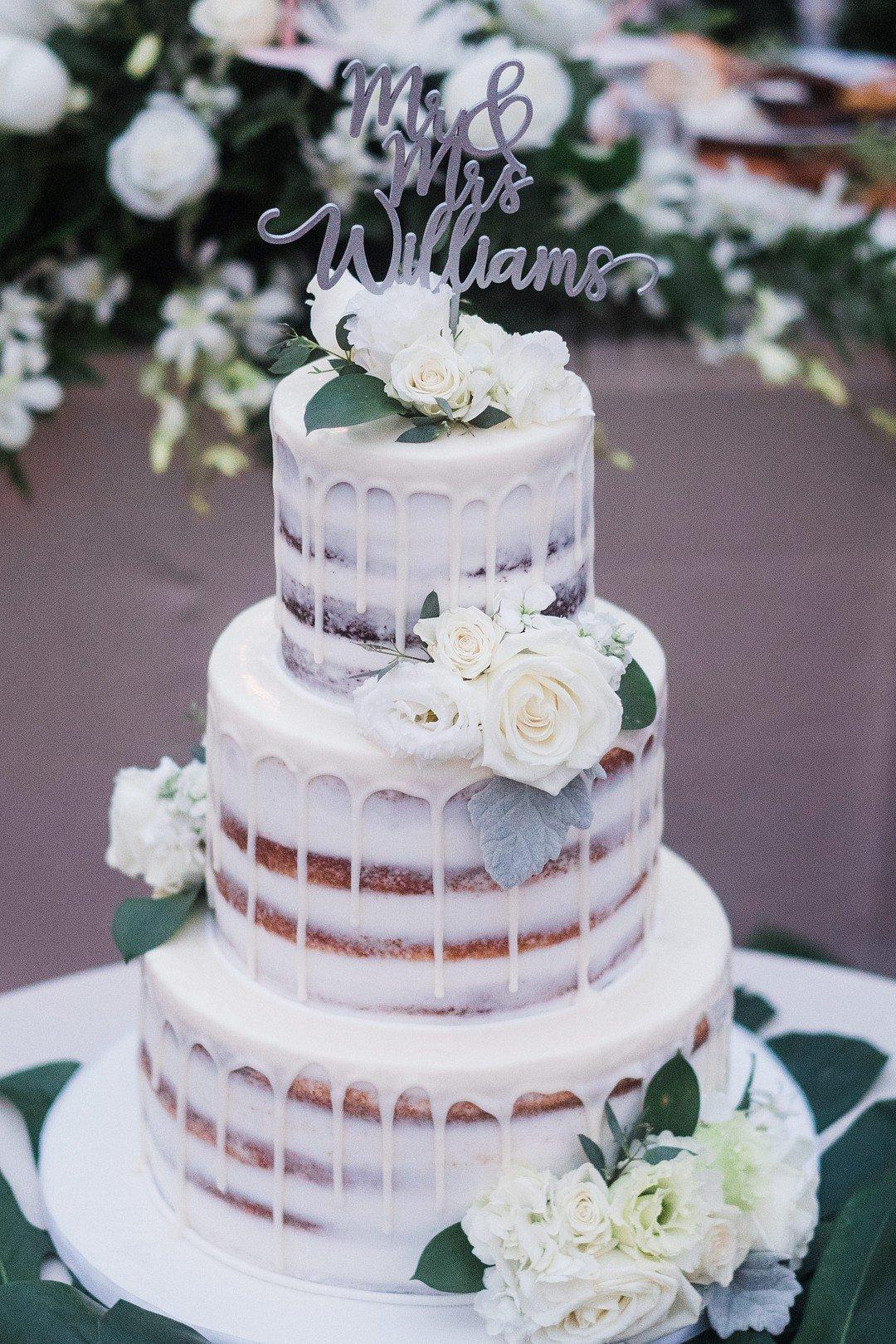 Winter white
Add silver and pale green accents, like a custom cake topper and dusty miller leaves, to a white drip cake to transform it for a winter wedding. The semi-naked frosting gives the cake an understated rustic vibe.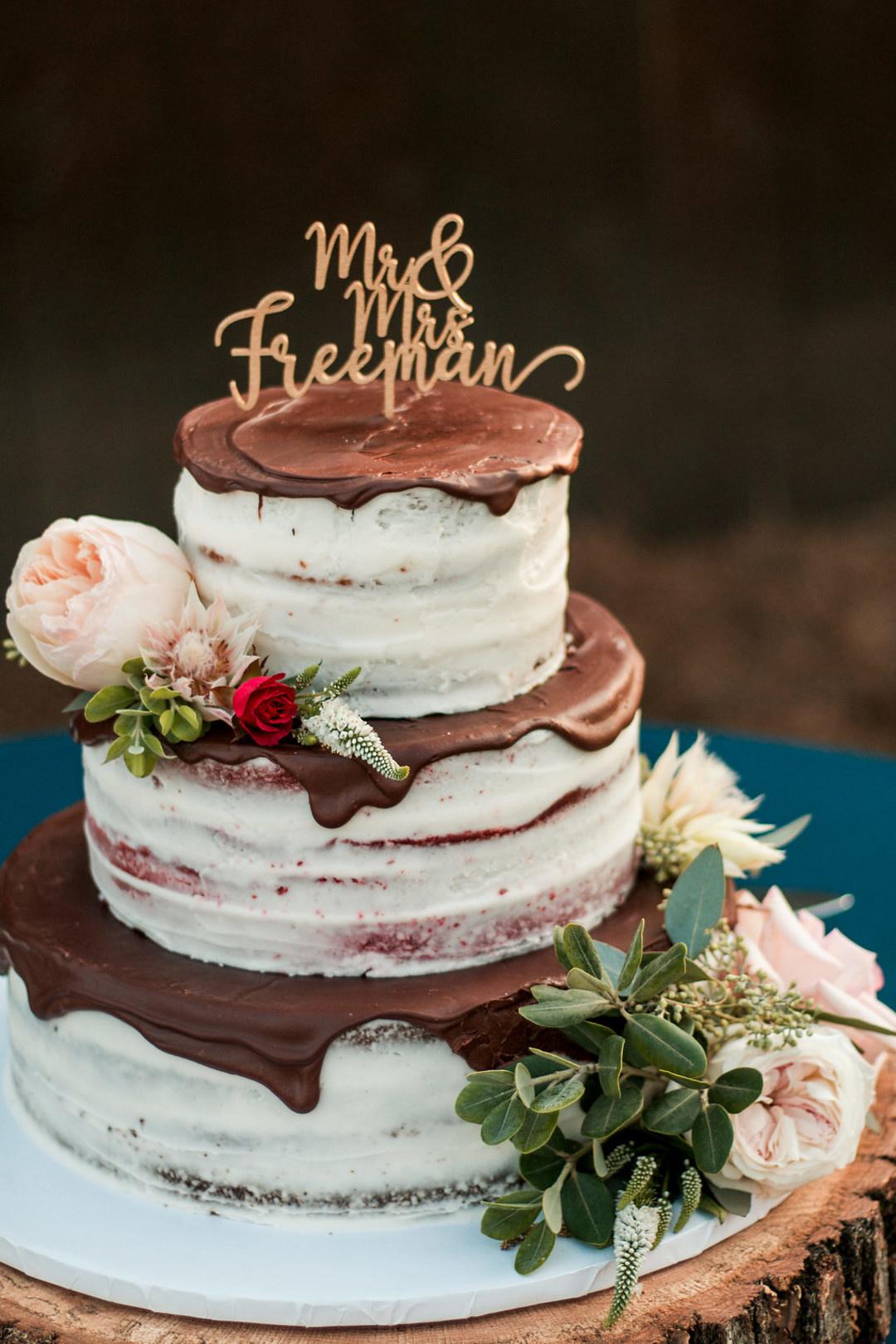 Dark chocolate
Go heavy on the contrast by adding dark chocolate to an otherwise white frosted cake. Complete the decadent look with pink flowers and a gold cake topper.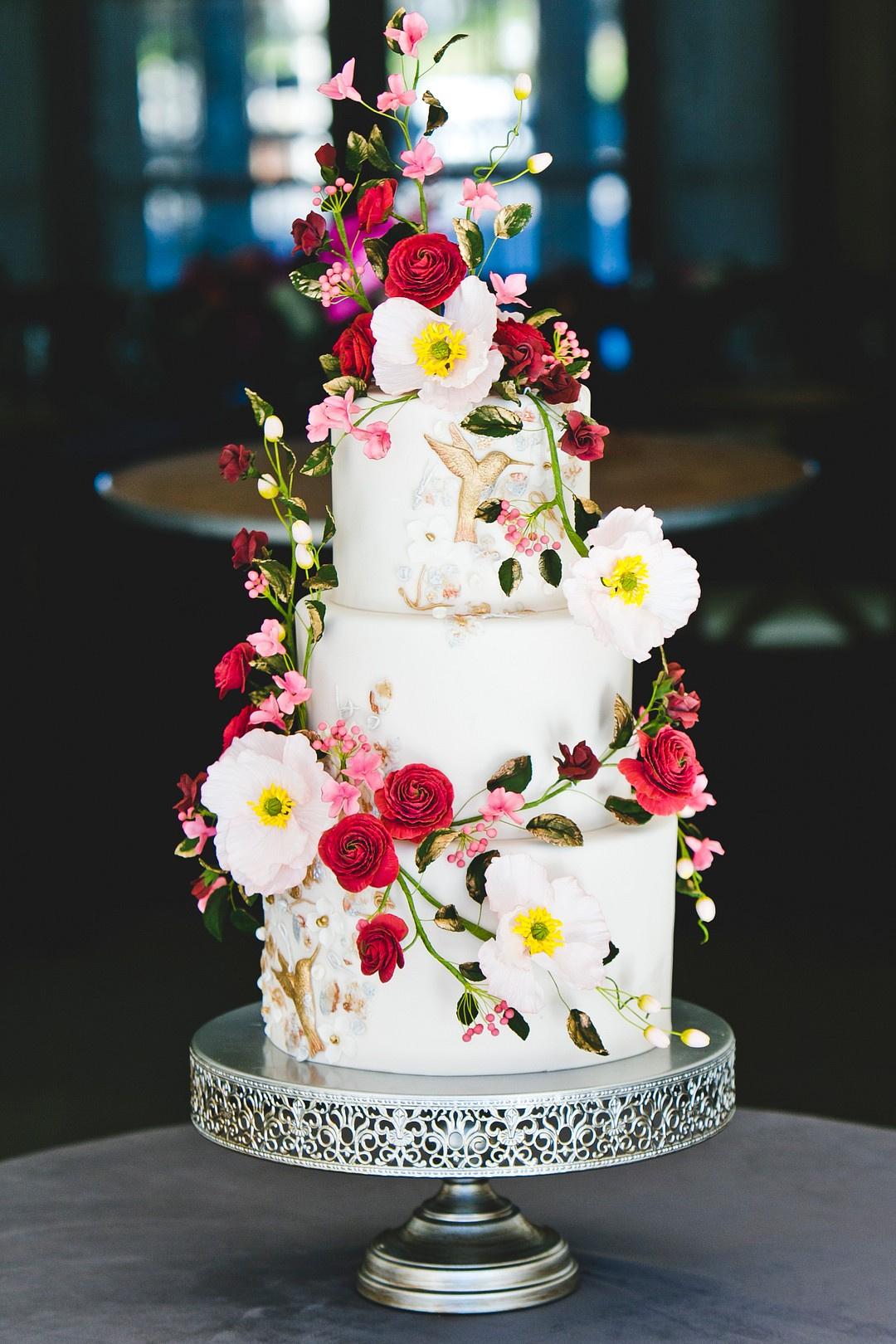 Floral vines
Wrap your three-tier wedding cake in flower-covered vines (real or faux) for a total fairytale aesthetic. The gilded hummingbirds on this masterpiece only add to the magic—perfect for a springtime celebration.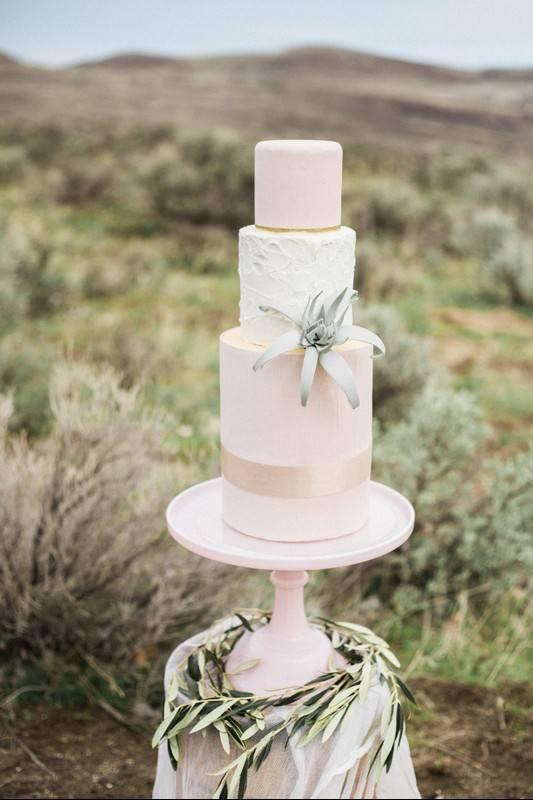 Air plant accent
Air plants and succulents are perfect for adding a bohemian element to your wedding cake. Even better, they're versatile enough to use any time of the year, and they look great with buttercream and fondant icing.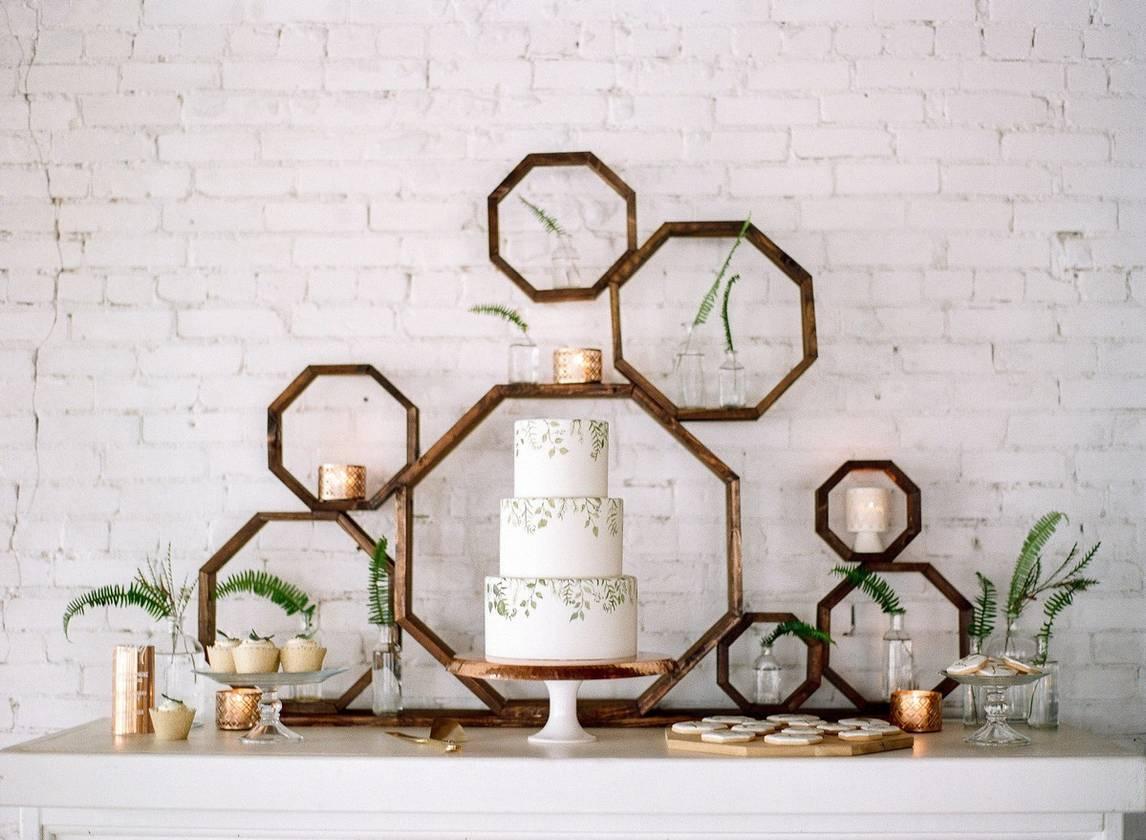 Cake by Hands on Sweets
Hand-painted greenery
Painted flowers and greenery motifs are just as beautiful as fresh options, but they work best on fondant wedding cakes. We're obsessed with this geometric backdrop and dessert table setup.