Our Favorite Two-Tier Wedding Cakes
There are so many ways to decorate a two-tier wedding cake—check out some of our picks for every style and season.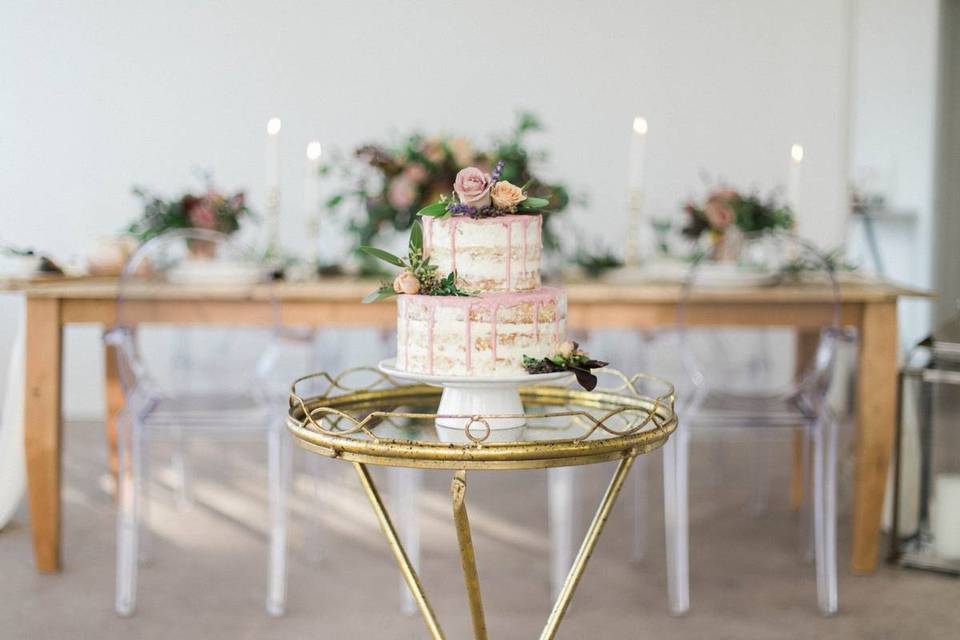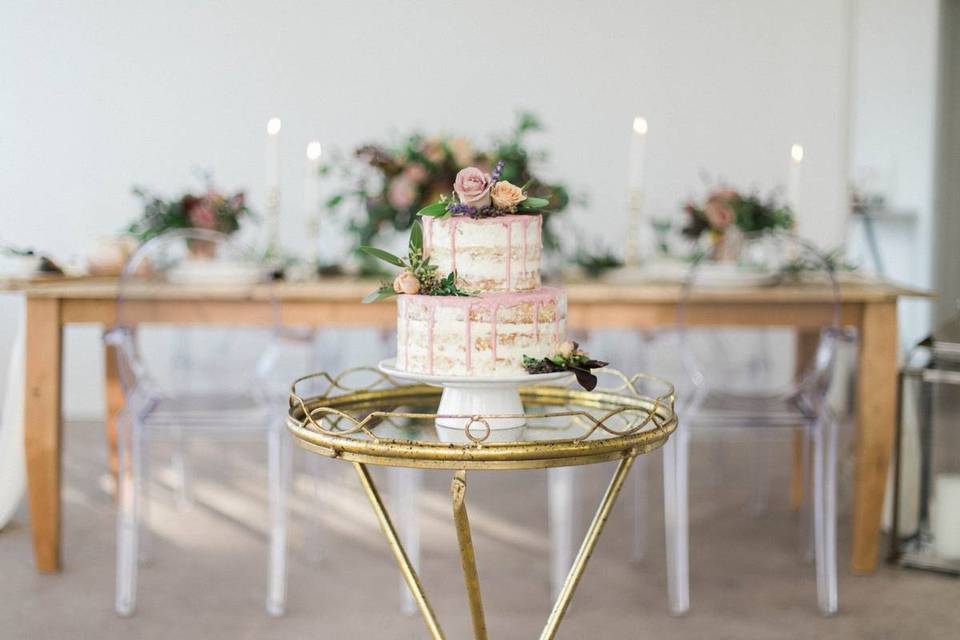 Two-tier cakes are like the goldilocks of the wedding dessert world: they're not too big, not too small, but just right. Depending on the width of the tiers and the portion size, a two-tier wedding cake can serve several dozen people, which makes it a good option if you're having a medium-sized wedding. Choosing a two-tier cake might also mean you'll spend less than you would on a larger cake—according to a recent WeddingWire study, the average cost of a wedding cake is $500. Your cake baker will ultimately be the judge when it comes to deciding exactly how much cake you need based on your budget and guest count, but it always helps to prep yourself with the basics.
Use these two-tier cakes to start brainstorming ideas for your own wedding dessert table.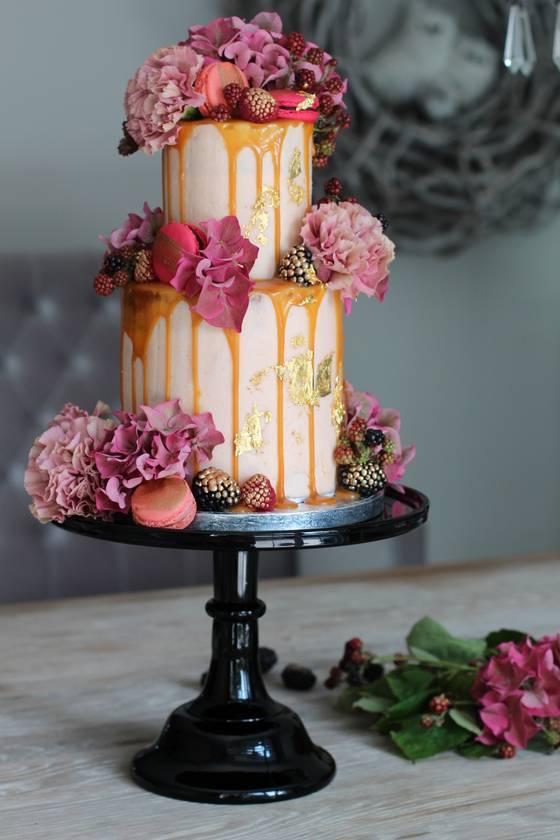 Drip icing
This yummy cake trend isn't going away anytime soon. Drip icing instantly turns your cake into a photo-worthy confection, especially when you add other unexpected accents, such as macarons and gold-dipped berries. From raspberry to dark chocolate and caramel, you can use almost any type of icing or glaze to create the drizzle effect on your two-tier cake.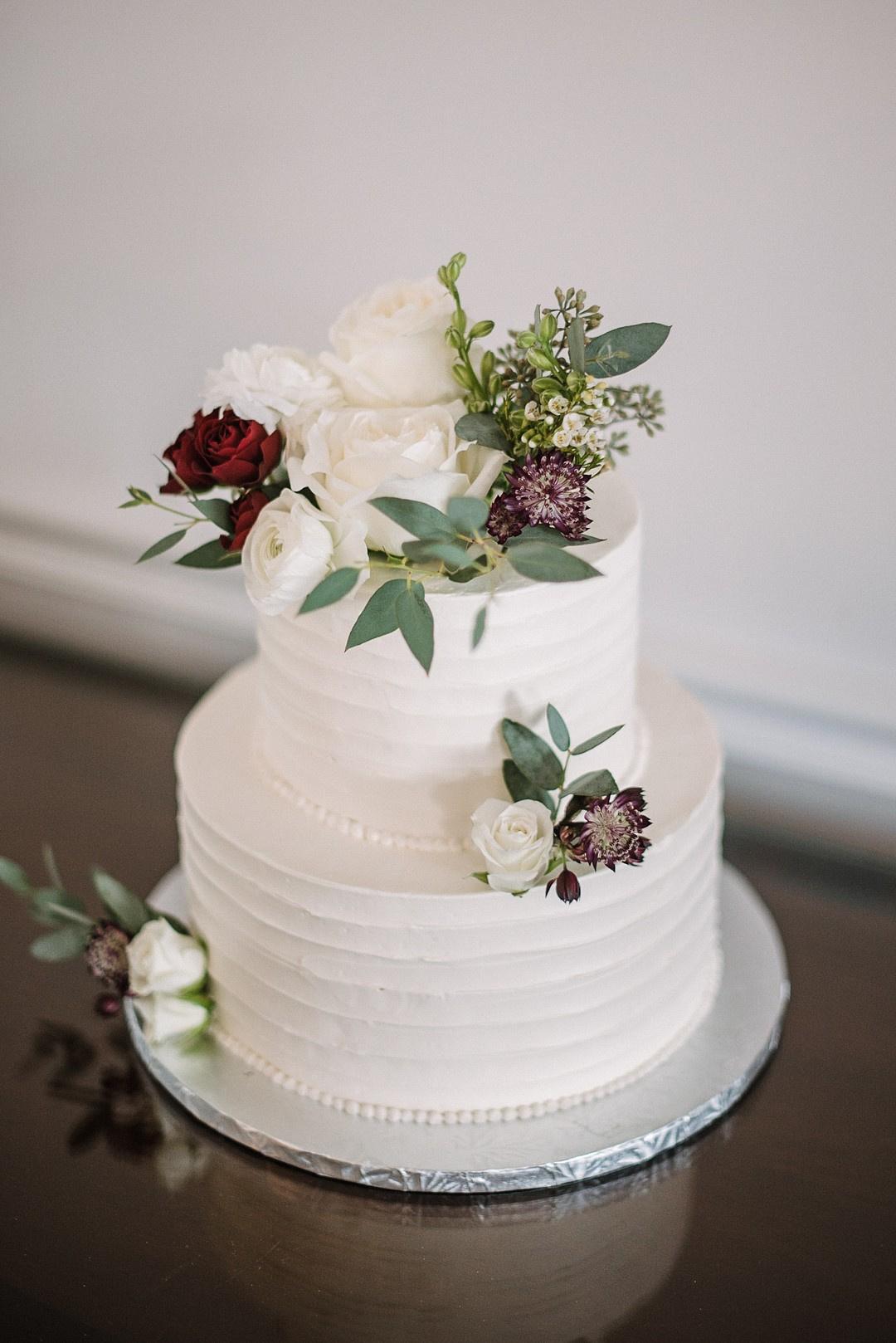 Cake by South Street Under
Flower clusters
We love wedding cakes with flowers, simply because they're so pretty to look at. Work with your florist and baker to design a cake that incorporates the same types of flowers you're using in your wedding bouquets or centerpieces.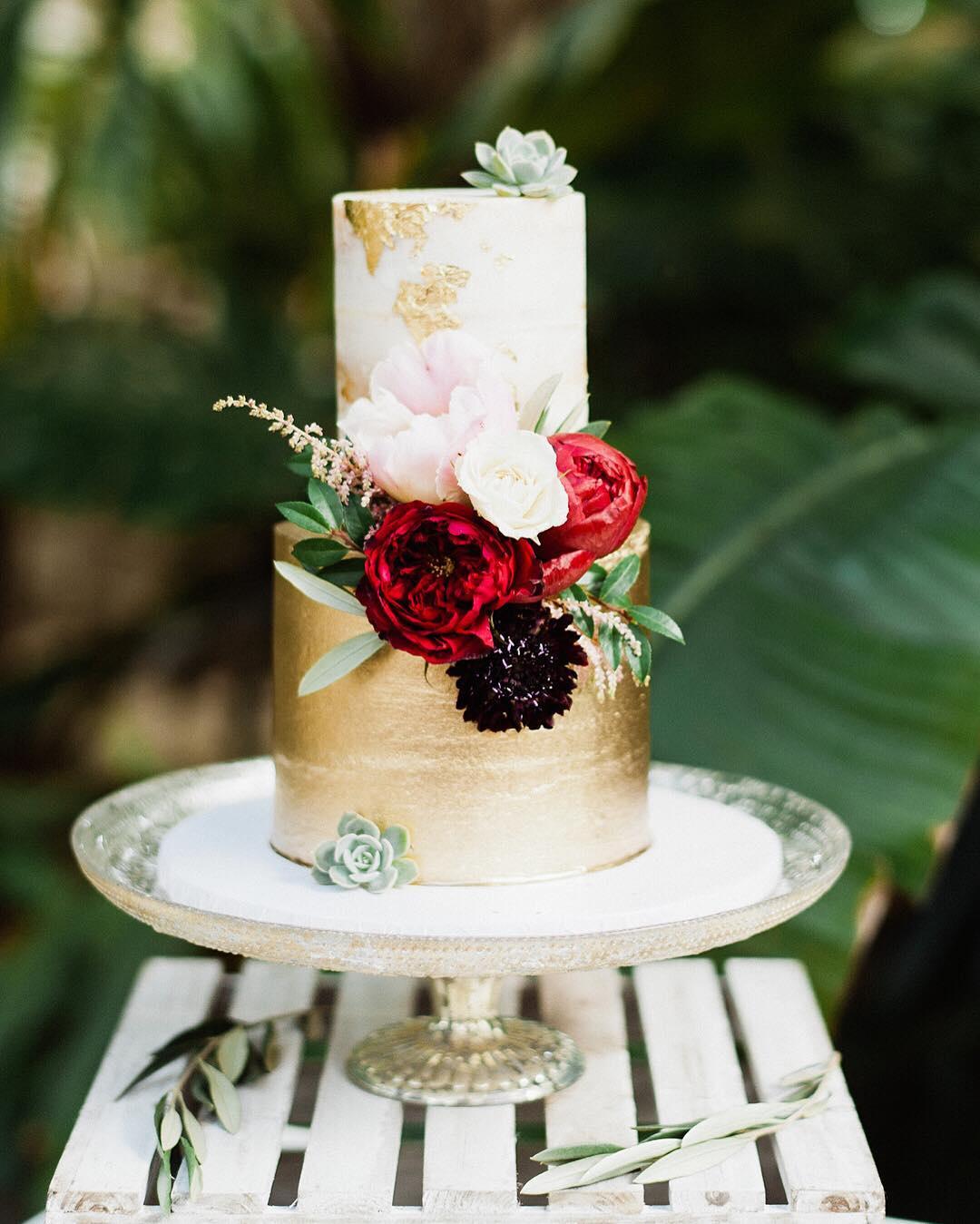 Gold leaf
You can create contrast between the two tiers by covering the base tier entirely with edible gold (or silver) leaf. Add a few abstract pieces of gold leaf to the top tier, along with fresh flowers to make the design really stand out.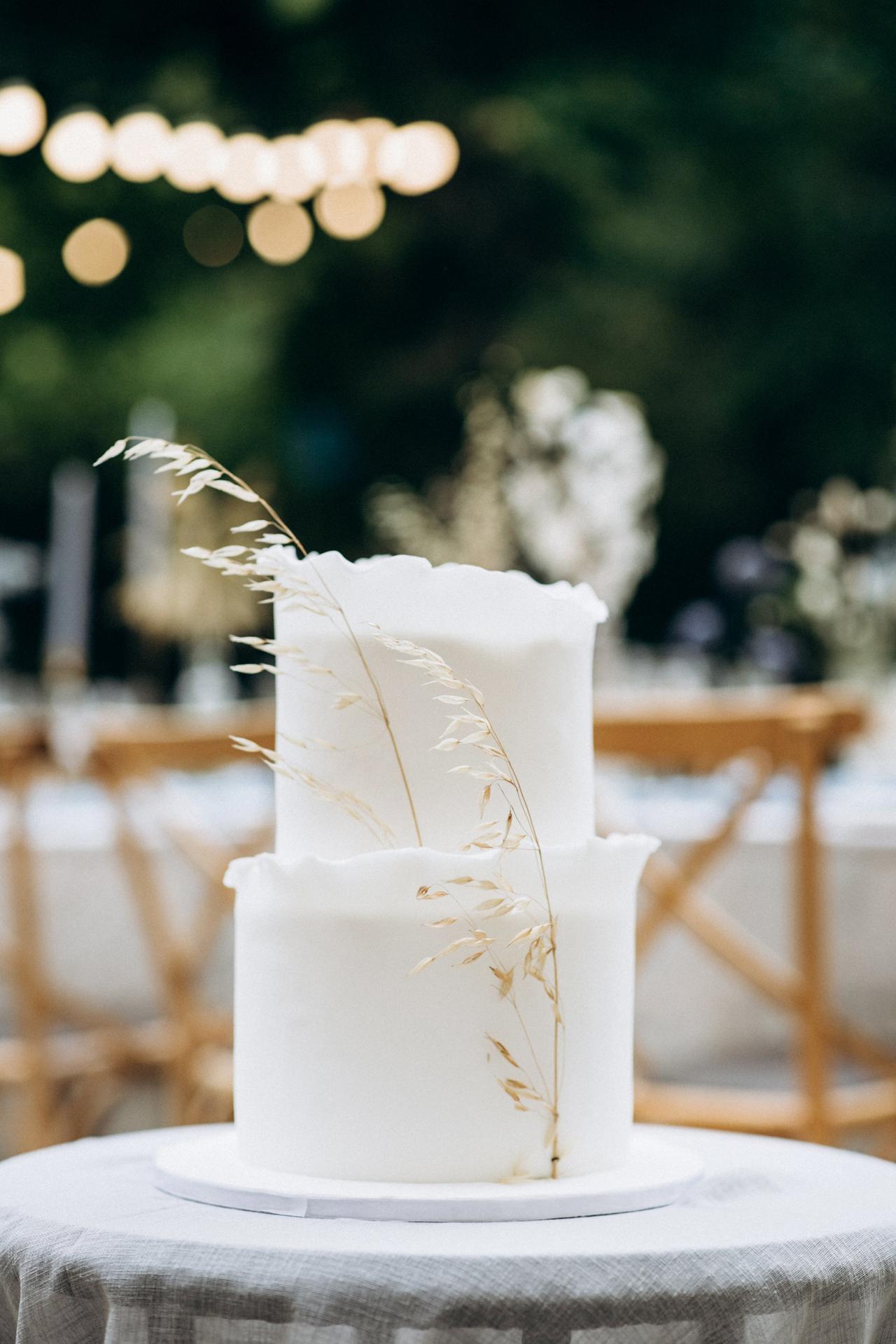 Contemporary minimalist
If you prefer a less-is-more aesthetic, you'll love this chic two-tier cake. Thanks to the smooth white fondant and barely-there dried grass accents, this cake is perfect for a minimalistic wedding theme.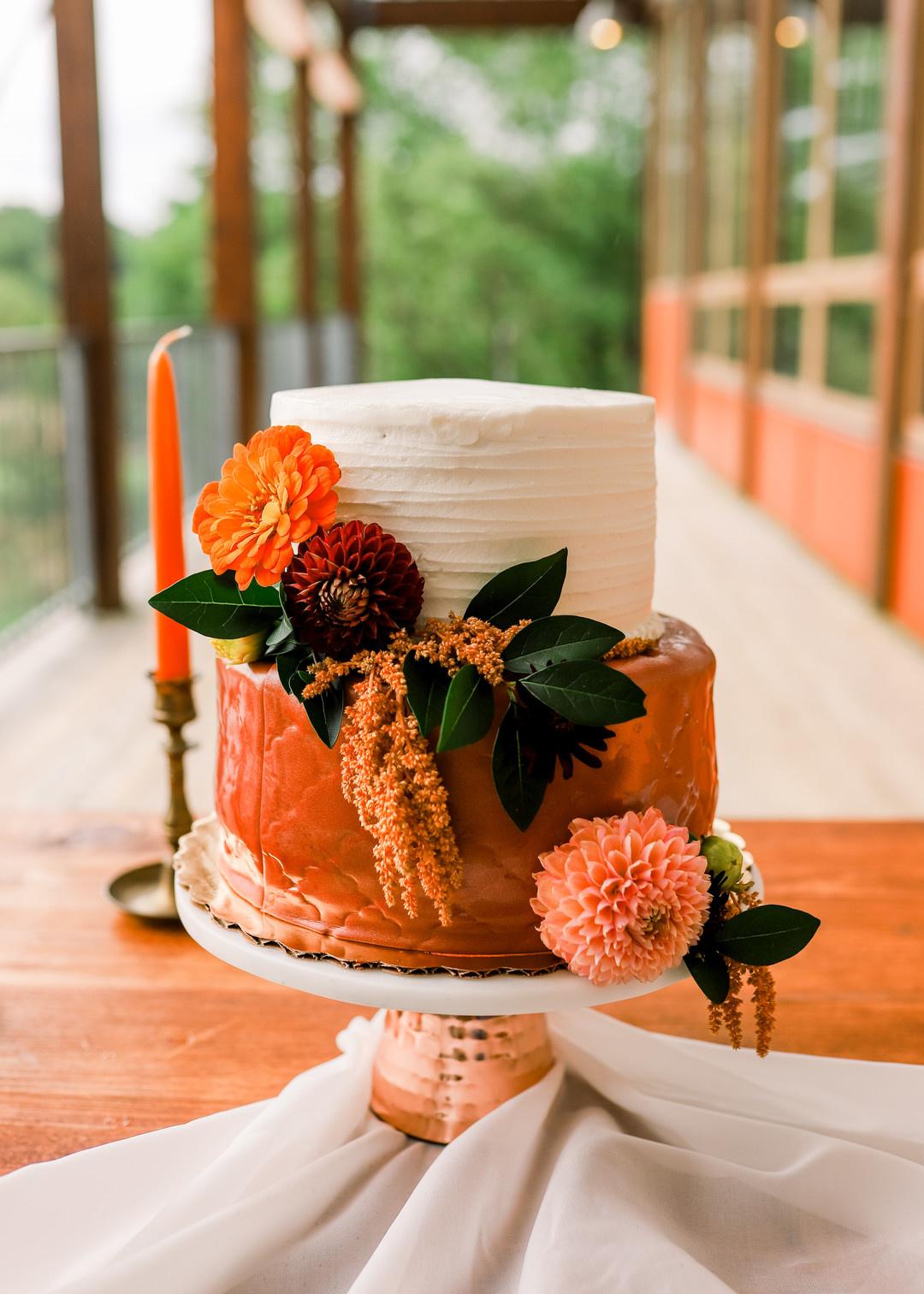 Cake by Whipped Cakes and Confections
Orange accents
This bold color is everywhere right now, and your wedding cake is a great way to get on board with the orange wedding trend. The copper details, fresh dahlias, and hints of burgundy make this cake ideal for late summer or fall.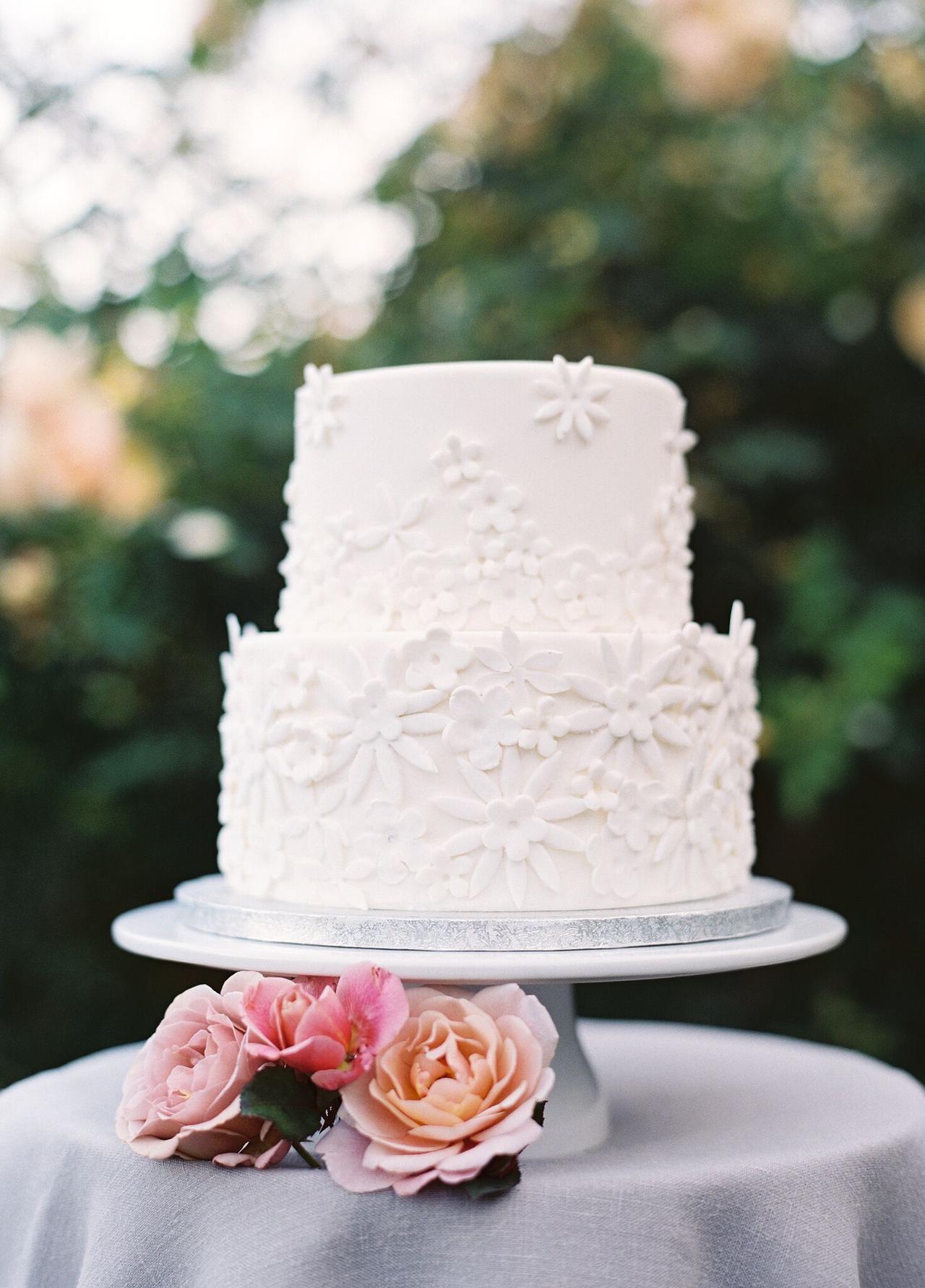 3D flowers
A white-on-white color palette creates an elegant, timeless look. Use sugar flowers to add a playful springtime vibe to a two-tier wedding cake.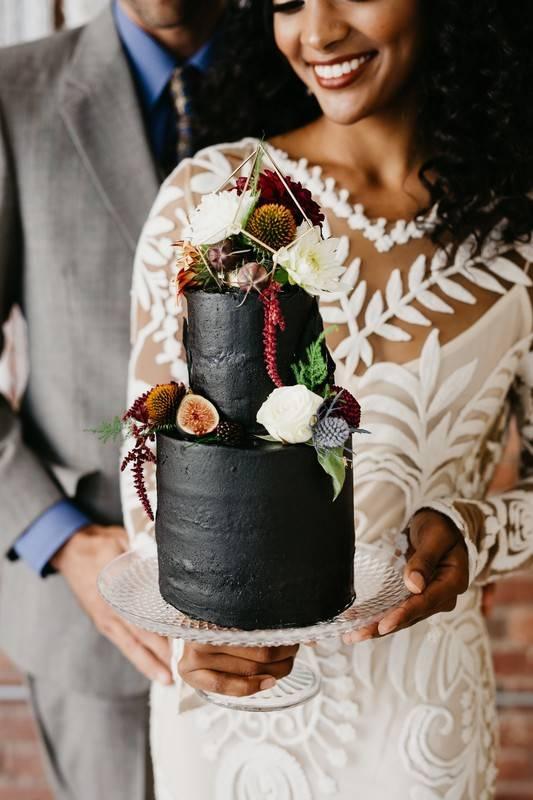 Moody colors
Feeling bold? Decorate your wedding cake with black fondant or buttercream, then add flowers, figs, and a gold geometric topper to create an edgy, moody aesthetic.

Cascading appliqués
Here's another example of a monochrome wedding cake. A sky blue, two-tier cake is classic-with-a-twist when you add orange ranunculus and a band of sugar flowers.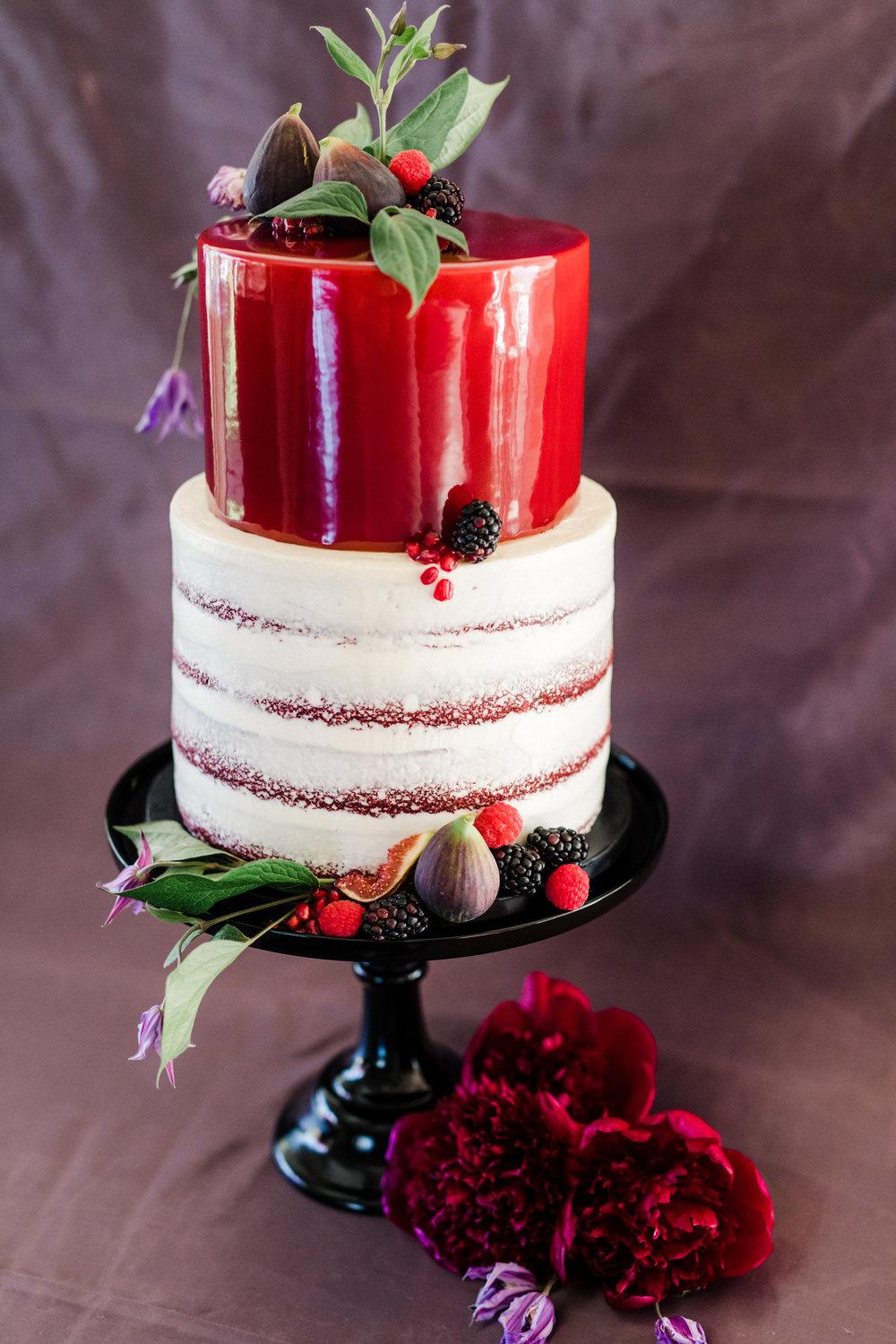 Mirror glaze
The glossy effect on this two-tier cake is called a mirror glaze, and it can be done in almost any color (even marbled patterns that resemble tie-dye!). Ask your baker how you can incorporate it into your own cake—we're obsessed with how this red mirror glaze matches the red velvet cake peeking through the buttercream icing.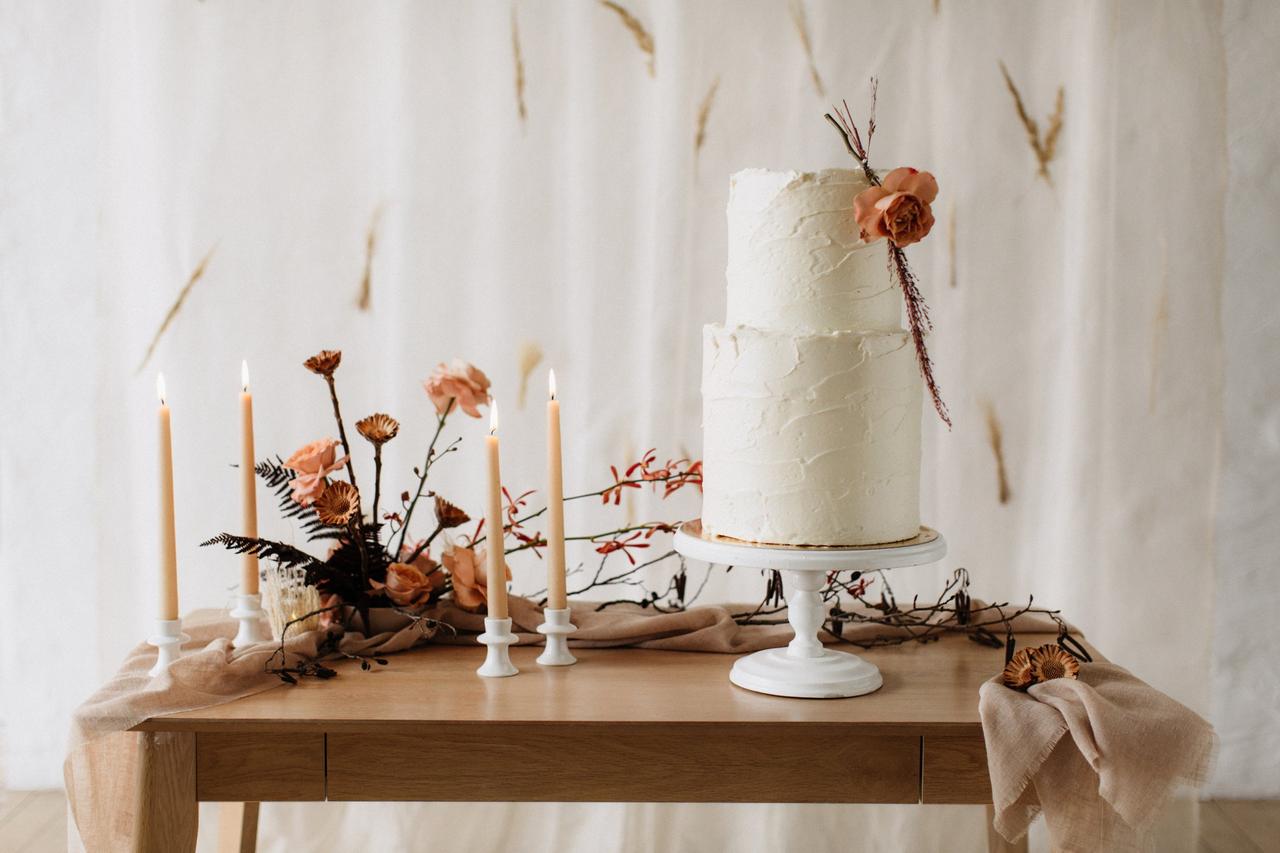 Bohemian neutrals
A cinnamon-colored rose and a dried grass stem is all it took to transform this two-tier buttercream cake into a bohemian-themed dessert. Display your cake on a table with ivory taper candles, a beige gauze runner, and a simple flower arrangement to complete the look.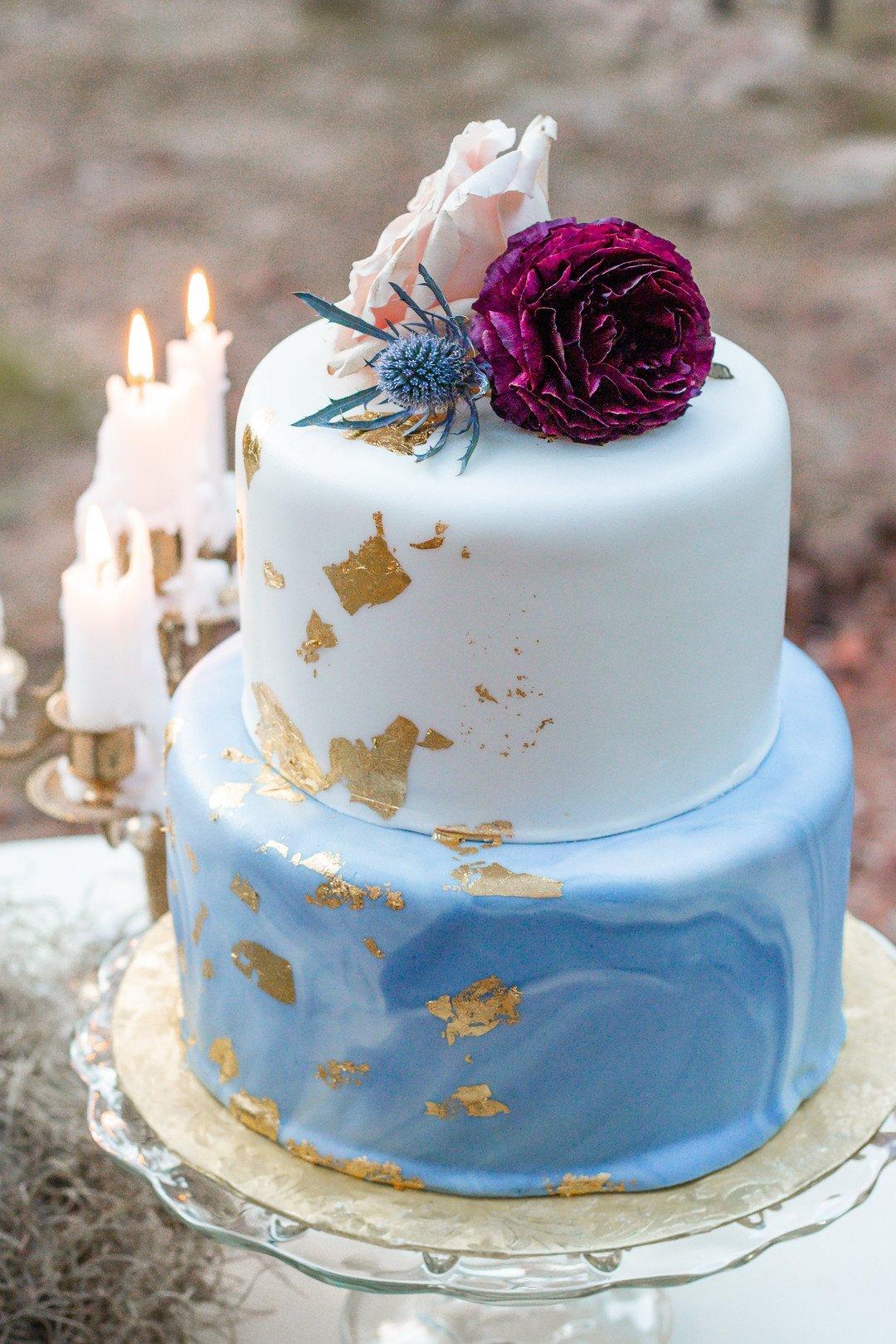 Cake by Lowcountry Flour Girls
Marbled pattern
Give your wedding cake a modern design by adding a marbled fondant tier to the bottom. Finish with edible gold leaf pieces and flowers that match your wedding colors.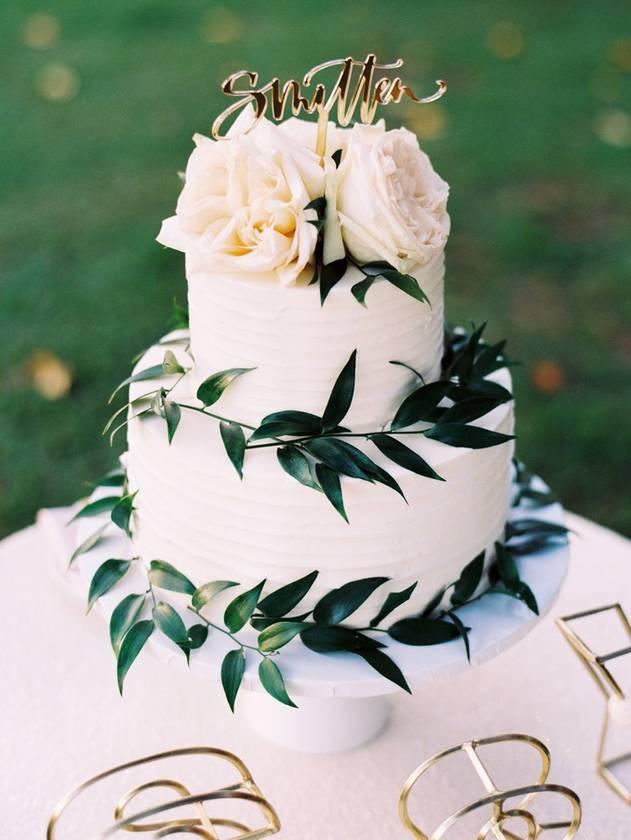 Greenery vines
Lush garden roses and greenery vines will instantly make a buttercream cake look beautiful, no matter your wedding season. Gold cake topper optional but encouraged!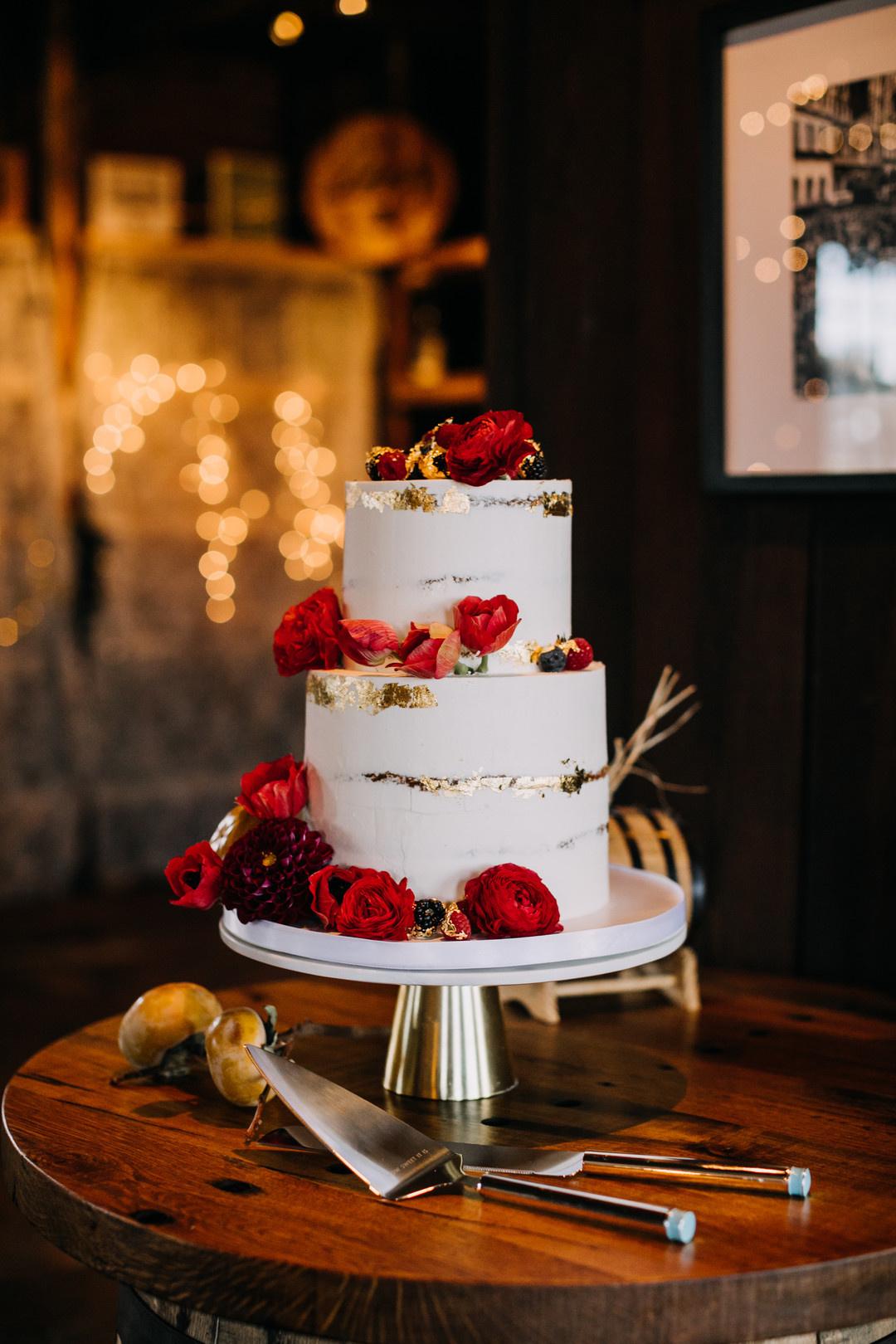 Dramatic pops of red
If you're having a winter wedding, this romantic red, gold, and white cake is a gorgeous option, especially around the holidays. Combine different types of red flowers, such as ranunculus, tulips, and dahlias on each tier of the cake.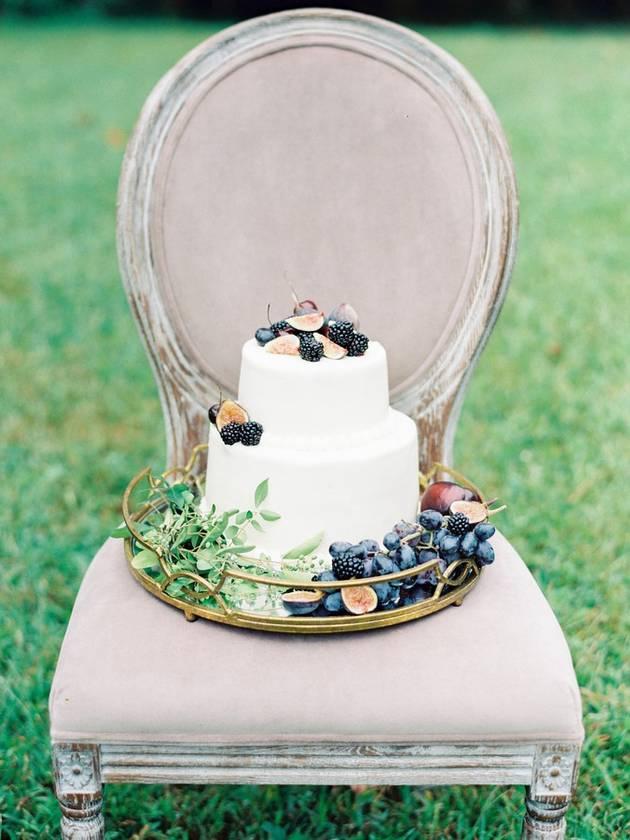 Fresh fruits
You can use almost any type of fruit to decorate your two-tier wedding cake, it just depends on the look you want. Citrus fruits, like lemon and orange slices, are perfect for summer weddings and tropical themes. Berries, grapes, and figs are most often used to decorate fall and winter wedding cakes because of their darker, richer colors.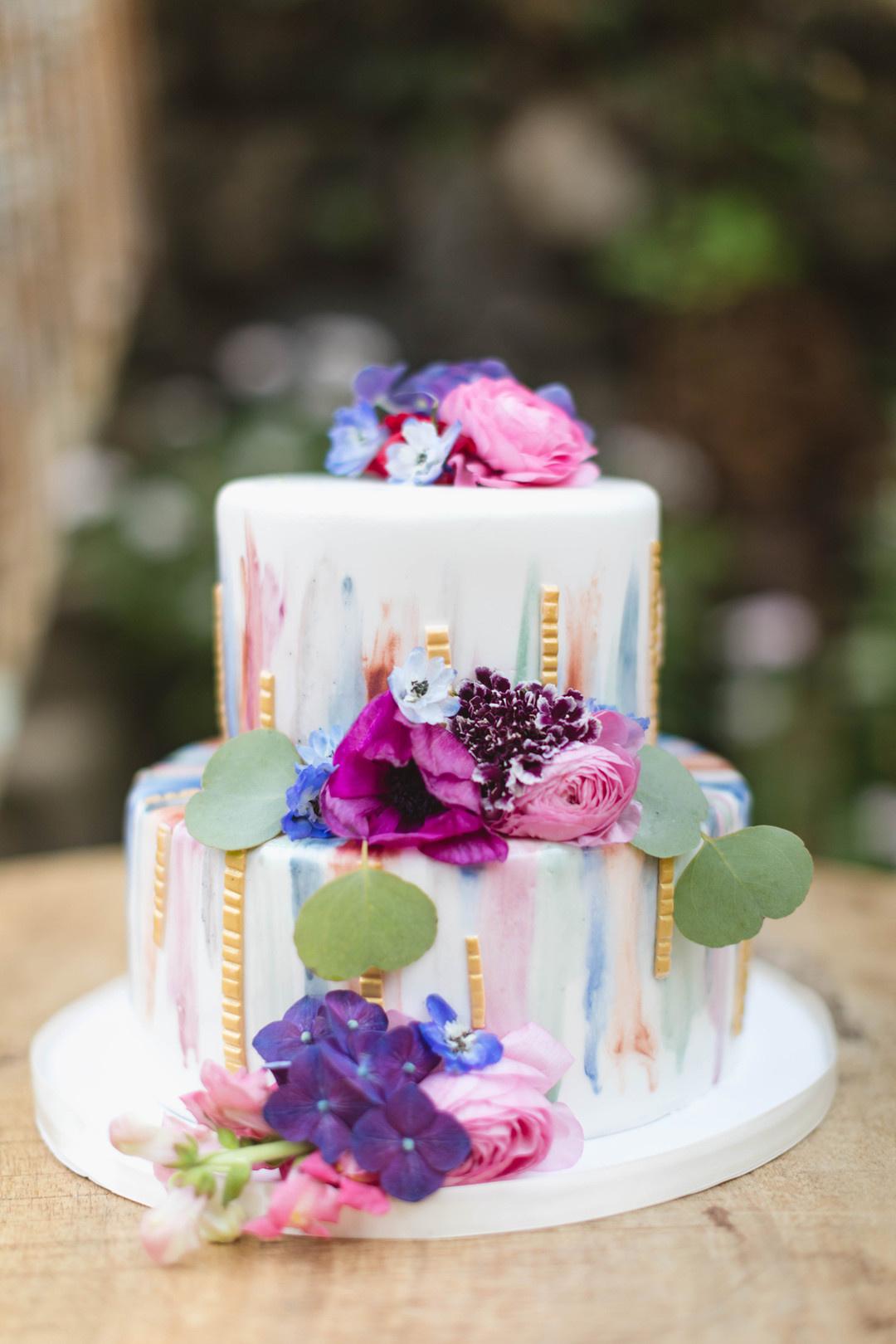 Cake by Cake Fanatics Maui
Whimsical brushstrokes
For a casual wedding theme, your baker can decorate your cake with artistic brushstrokes using edible paint. This is an easy way to add color to white fondant, and it's especially whimsical when you add bright flowers.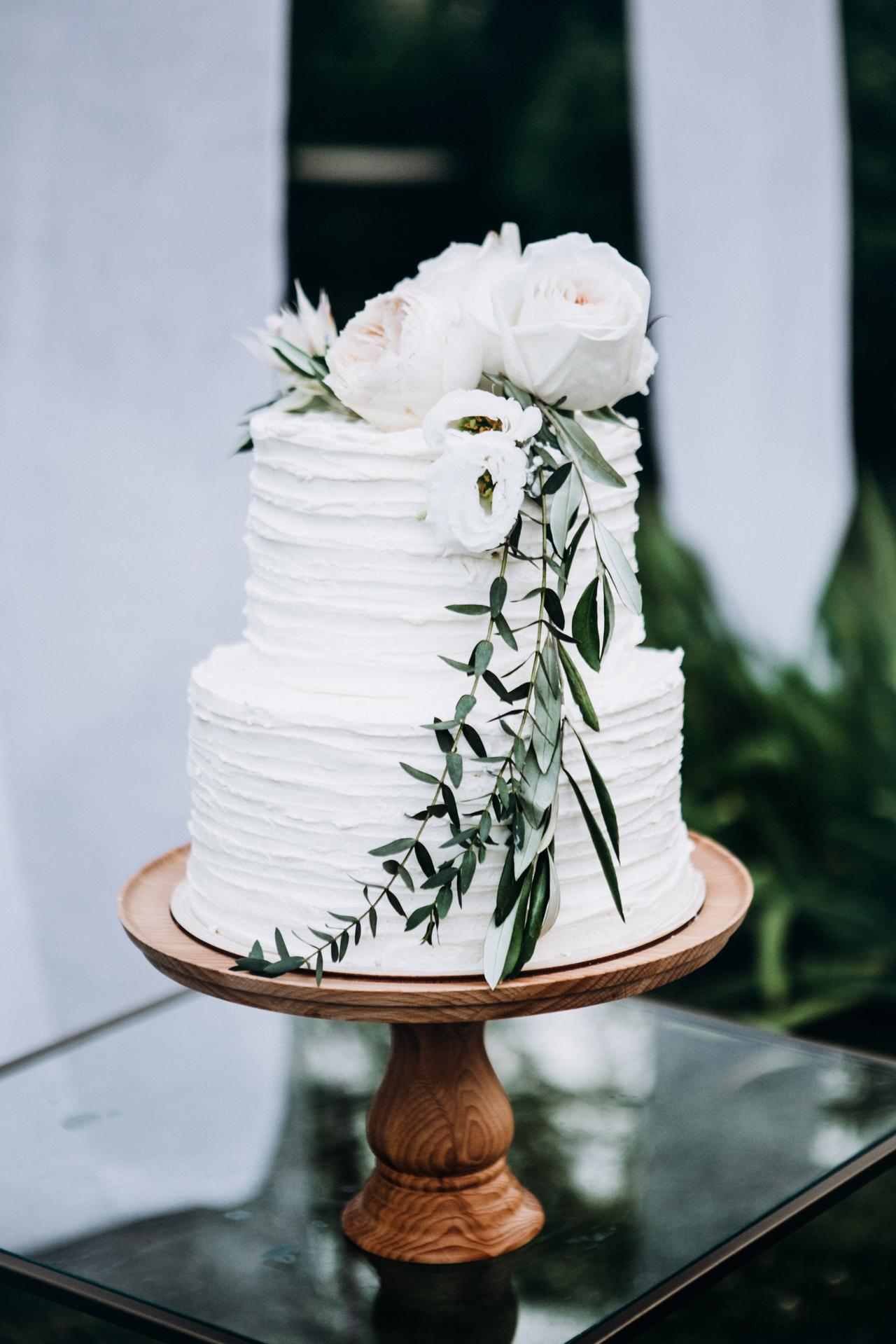 Textured buttercream
Buttercream icing isn't meant to be perfectly smooth (that's what fondant is for), so if you're opting for a buttercream wedding cake, why not embrace the texture? A 'grooved' effect gives your cake a unique look and creates the perfect base for adding flowers, greenery, or a custom topper.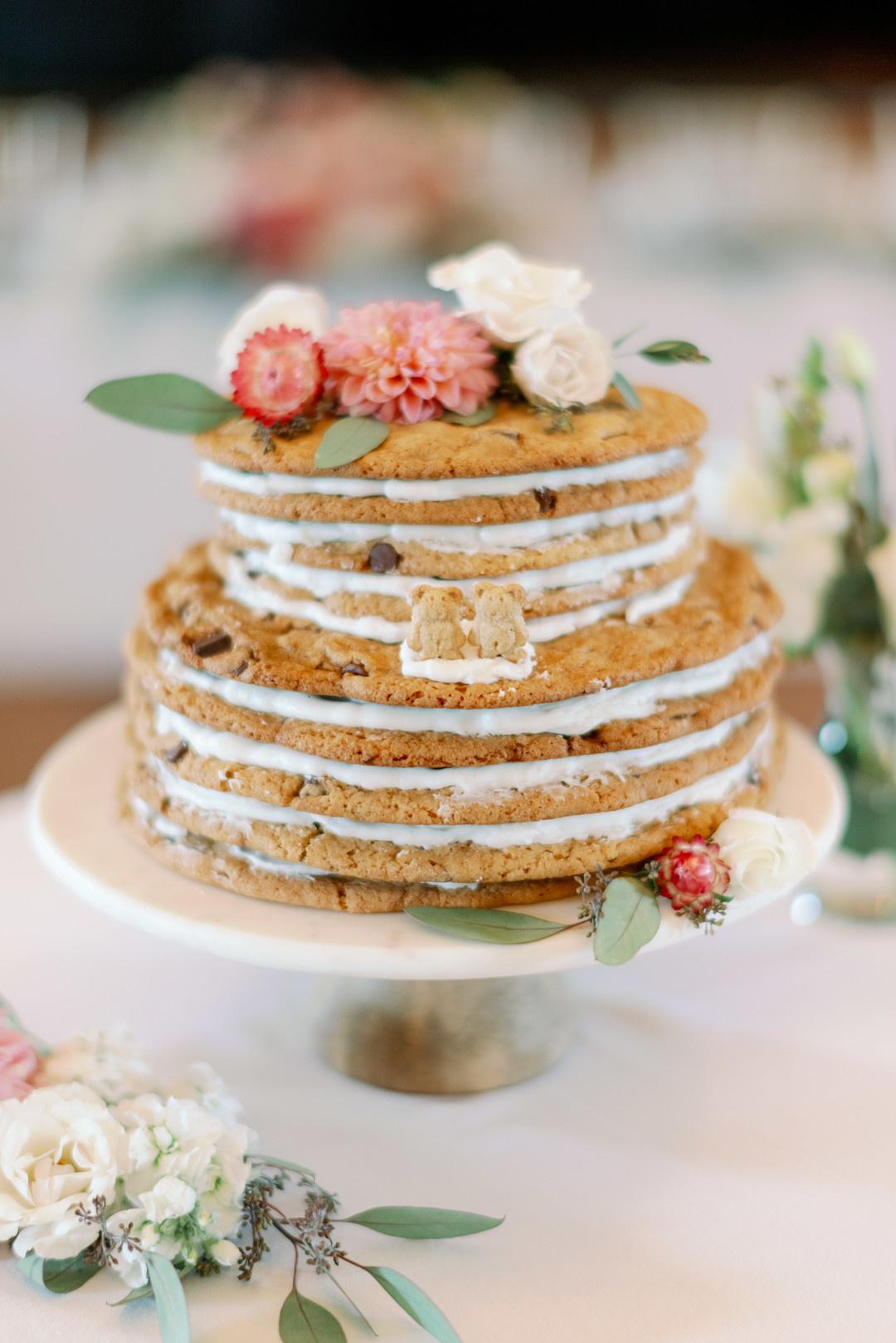 Stacked cookie cake
Looking for alternative two-tier wedding cake ideas? Try a cookie cake! This option works with practically any type of cookie, so choose your favorite (we vote for chocolate chip) and get excited.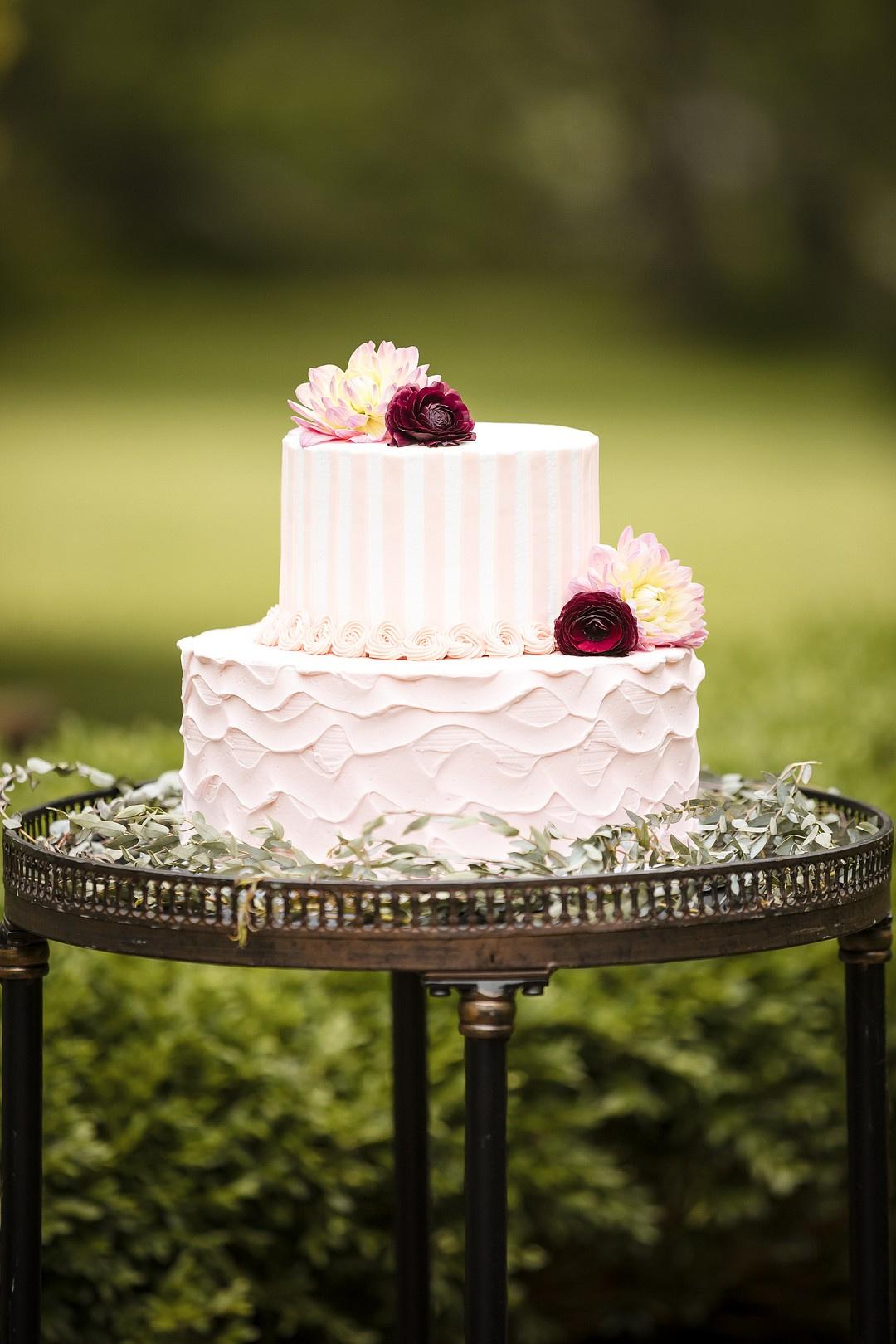 Cake by Kim's Cottage Confections
Pink stripes
It's not every day that we see a striped wedding cake, but this cute pink confection is selling us on the concept. A striped cake decorated with piped rosettes would be a sweet addition to a vintage or shabby chic theme.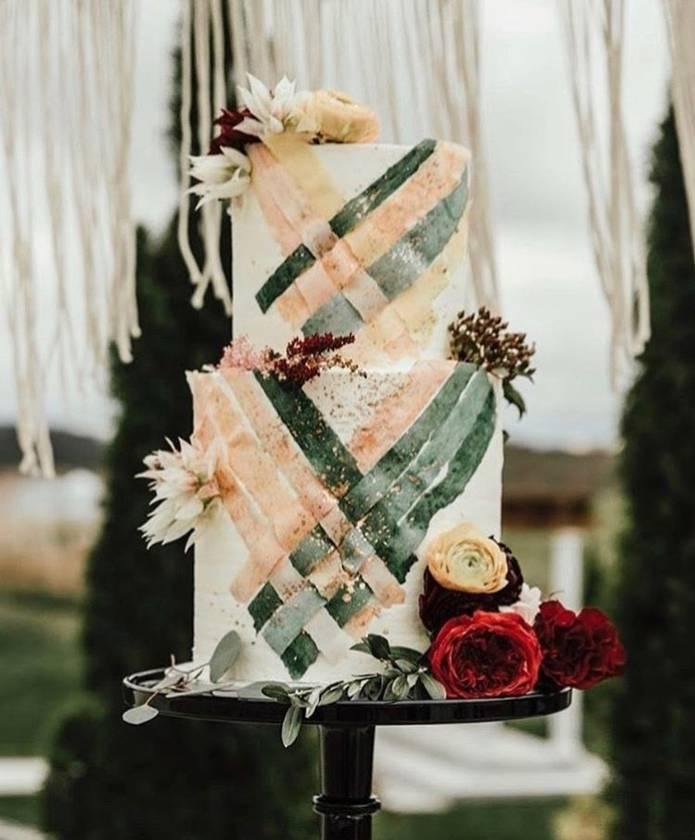 Woven details
Turn your wedding cake into a true statement piece by decorating it with a unique woven accent. There are a couple of ways your cake baker can do this: either by using real ribbon strands, or by rolling out long fondant pieces to resemble ribbons (ones that you can ultimately eat when the time comes!).