How to Have the Ultimate New Year's Eve Wedding
Planning to get married right before the ball drops? Check out these tips and ideas to help you throw a spectacular New Year's Eve wedding.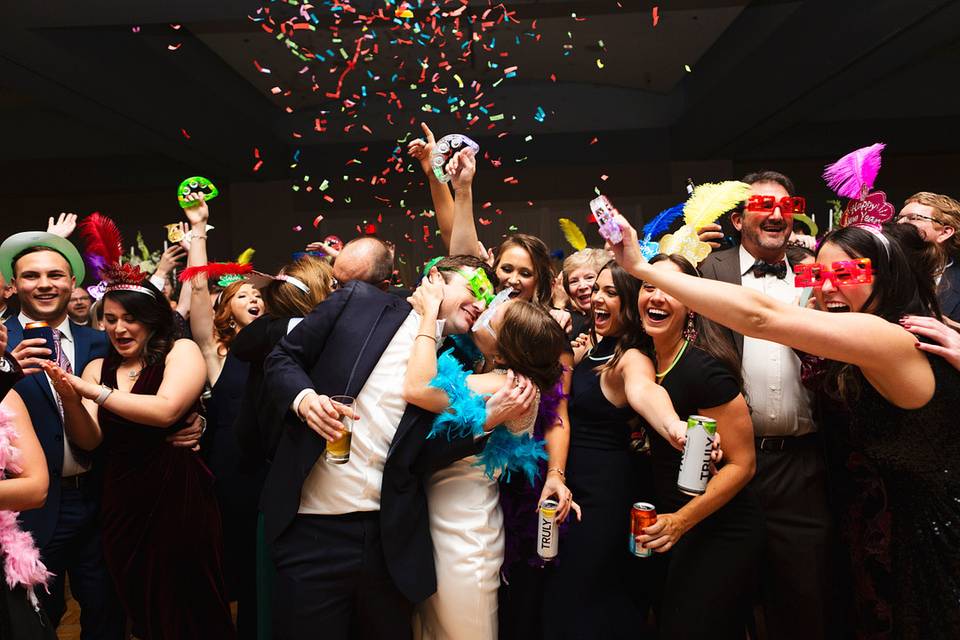 A New Year's Eve wedding is made for the couple who loves champagne, fireworks, and any excuse to celebrate. New Year's Eve is known for being one of the most festive holidays of the year—making it a great date for couples to host a glamorous wedding. So, if you're browsing inspiration for your upcoming December 31st bash, we've got you covered. From what to wear to decor ideas, this is how to make your wedding the best New Year's Eve party your guests have ever attended.
Should you have a New Year's Eve wedding?
There are so many good reasons to have a New Year's Eve wedding. For starters, it means that your wedding will automatically have a festive, party-ready vibe—a perfect choice if you and your spouse want to totally let loose and throw the most memorable bash ever. Hosting a New Year's Eve wedding is also a great excuse to go all out with your attire and your decor, since there's no such thing as too much sparkle and pizzazz when you're ringing in a new year! Lastly, many guests will already have the following day off from work, so they may be more likely to stay at the wedding longer instead of ducking out early.
If you ultimately decide to have your wedding on New Year's Eve, we recommend booking your venue and vendors as soon as possible, since the date is in high demand year after year. If possible, you'll also want to send your save-the-dates early to give your guests additional notice—anyone who already has NYE plans will need to rearrange them, and parents will need to find childcare if their kids aren't invited to the wedding. Finally, keep in mind that some guests will expect an over-the-top celebration (with a lot of booze) in return for giving up their own plans, and unmarried guests could be more likely to decline an invite to a New Year's Eve wedding if they don't receive a plus-one.
Is it expensive to get married on New Year's Eve?
While winter weddings tend to be less costly in general, getting married on New Year's Eve does come with its own set of expenses. You may or may not see a huge increase in vendor pricing, but you're bound to run into higher prices with hotels and other travel costs, such as Ubers/Lyfts, flights, or private transportation rentals (limousines, party buses, etc.). Depending on your venue, the cost of beverage and food packages may be higher to account for the New Year's Eve party they would normally host. And because it's a holiday, you should expect to pay more for event staff, like servers and bartenders, plus their gratuity. Lastly, you'll need to plan for the party to go until at least midnight, and many guests may expect you to extend the celebration for several hours afterward. Depending on your wedding venue, this could mean paying for additional rental time or hosting an afterparty at another location.
What are the best New Year's Eve wedding colors?
Sparkles, sparkles, and more sparkles. Metallic colors, like gold, silver, and rose gold, are unsurprisingly the most popular colors for a NYE wedding. They pair nicely with black or navy blue as an accent color to create a glamorous, glitzy aesthetic, especially if you're having a formal dress code or Gatsby-inspired theme. Other winter wedding colors, like burgundy, emerald, and dark purple, are equally stylish for a New Year's Eve wedding.
New Year's Eve Wedding Ideas
If you want even more inspiration, check out these popular New Year's Eve wedding ideas that will help you celebrate the new year (and your marriage) with a fabulous, unforgettable party.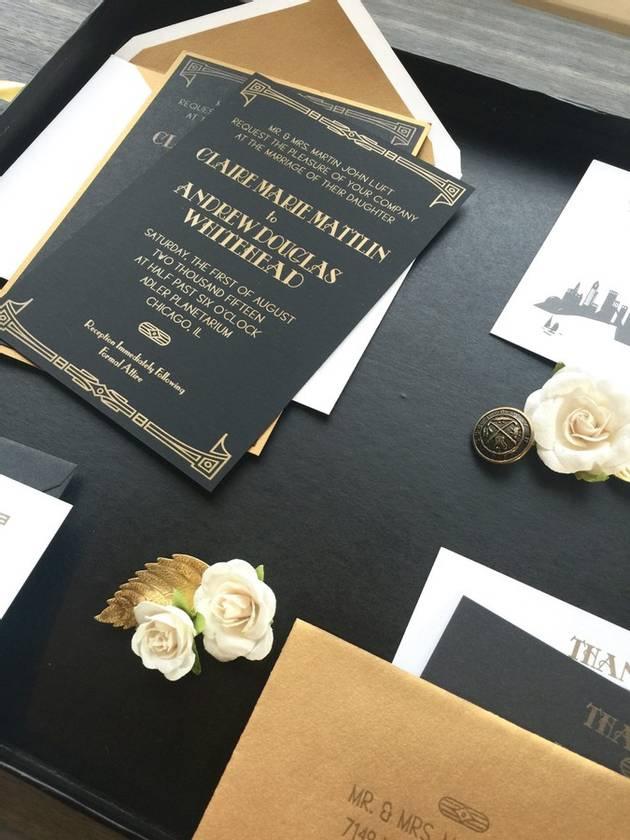 Black & gold invitation suite
The wedding invitation gives your guests a sneak peak of what's in store for your big day, so you'll definitely want to send out some kind of luxe save-the-date or invitation ahead of your New Year's Eve wedding. Invitations accented with metallic details, like calligraphy or foil, will help stir up excitement for your NYE bash. Finish the invitations with a smattering of confetti or tinsel in vellum envelopes as a cute and whimsical detail.
Sparkly shoes
We're all for wearing sparkly shoes any time of the year, but if you're having a New Year's Eve wedding, they're practically a must-have. Whether you're rocking fabulous stilettos or comfortable sneakers, make sure to add a touch of sparkle to your footwear with rhinestones or glitter.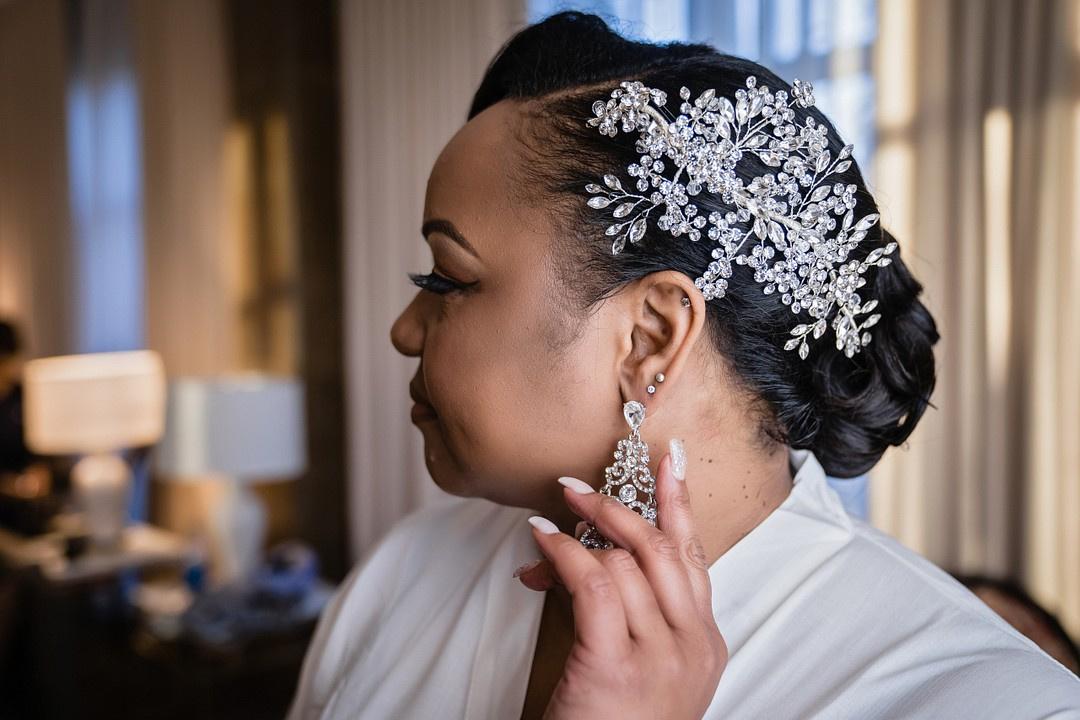 Beaded bridal hair accessories
A New Year's Eve wedding calls for a gorgeous bridal updo and a glam hair accessory to match. Crystal or beaded barrettes, combs and clips can all add some sparkle to your bridal look, even if you're planning to wear a veil or leave your hair down. Use the occasion as an excuse to go all out and wear something extra-fancy!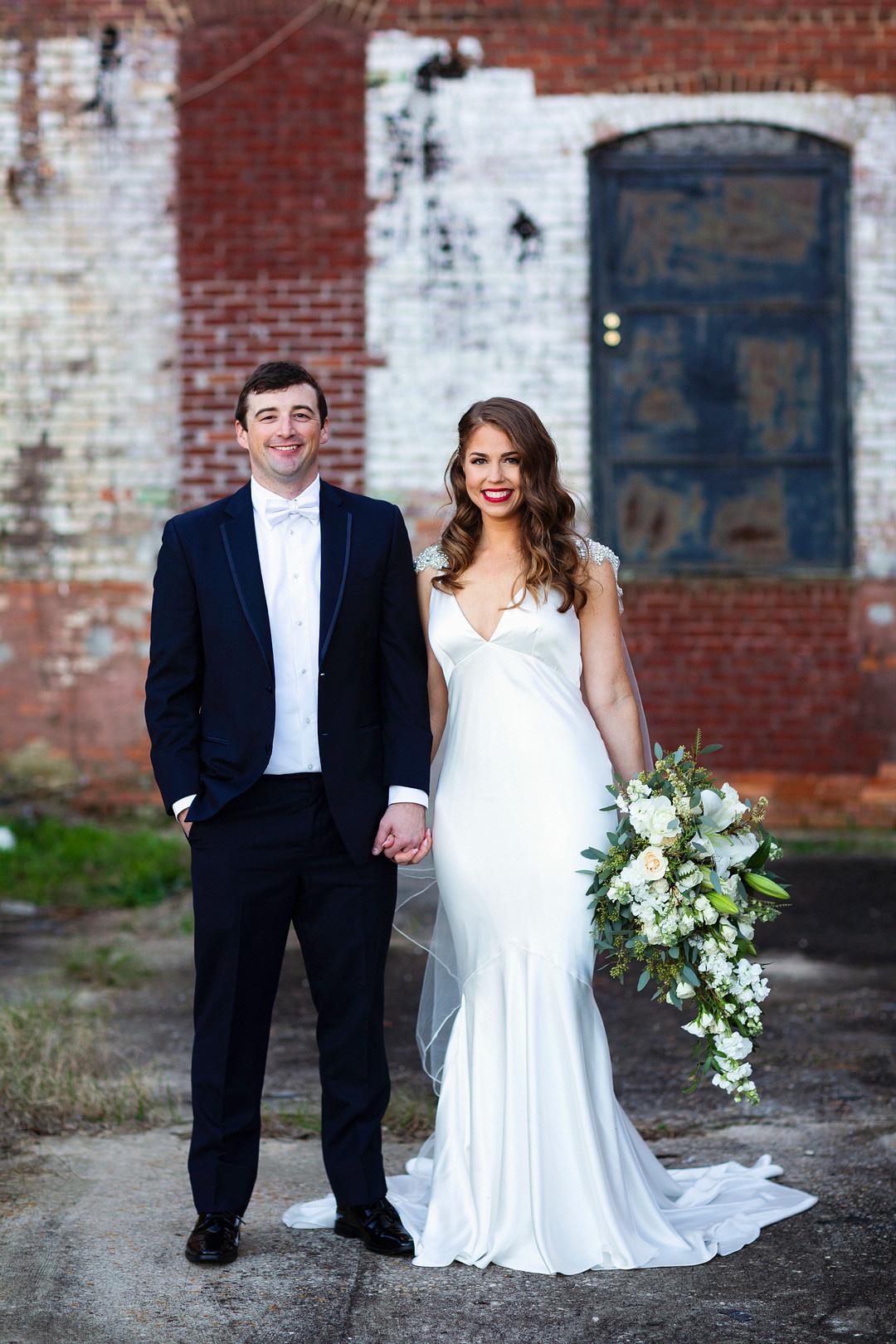 Satin wedding dress
Couples who are hosting a NYE wedding should totally look the part when it comes to their attire. For brides, we love a super-chic satin wedding gown that will make you look as though you've just stepped off a Hollywood red carpet. If satin isn't your thing, try beading, tulle, or other details that will give your look an over-the-top wow factor.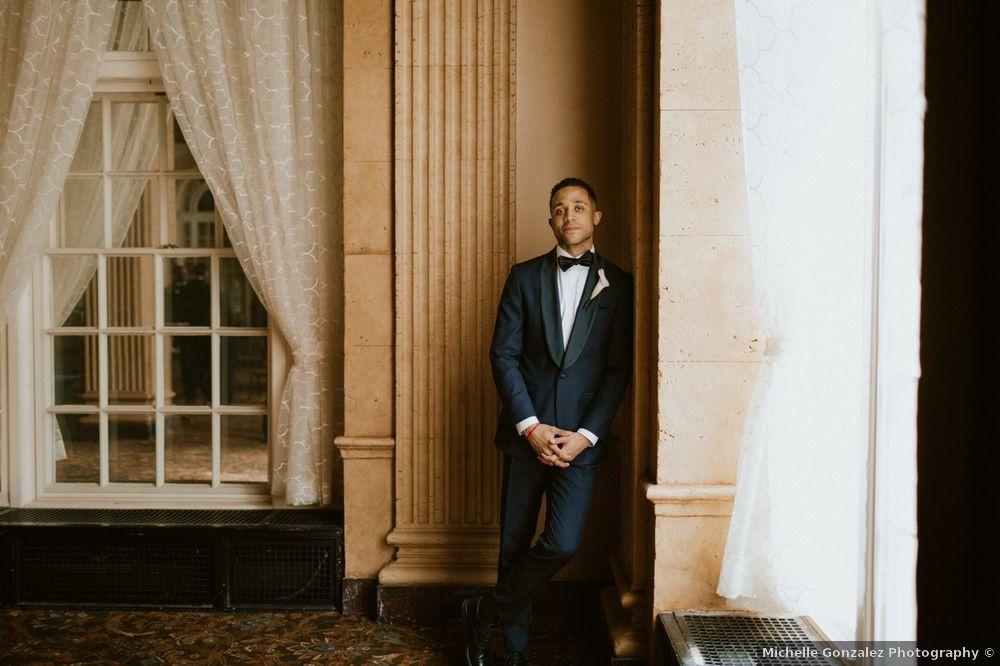 Black tuxedo
The men can get dressed to the nines, too! A classic black tuxedo is very debonair and spot-on for anyone hosting or attending a wedding on New Year's Eve. If you want to personalize your look slightly, consider adding a colorful bow tie or pocket square.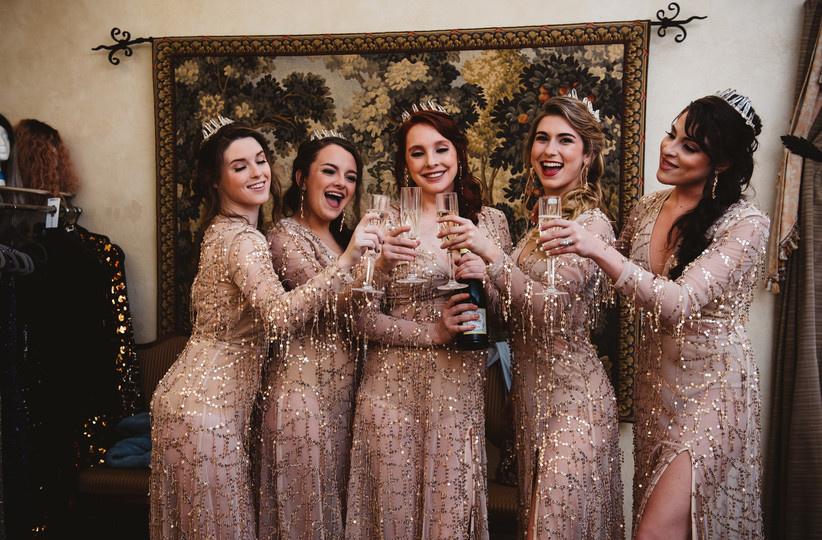 Sequin bridesmaid dresses
Sequined and beaded bridesmaid dresses are no strangers to winter weddings, but they really make a statement for New Year's Eve. And they're so easy to incorporate into your wedding party—whether you want long sleeves, spaghetti straps, short length, floor length, you can find them in practically any color and style.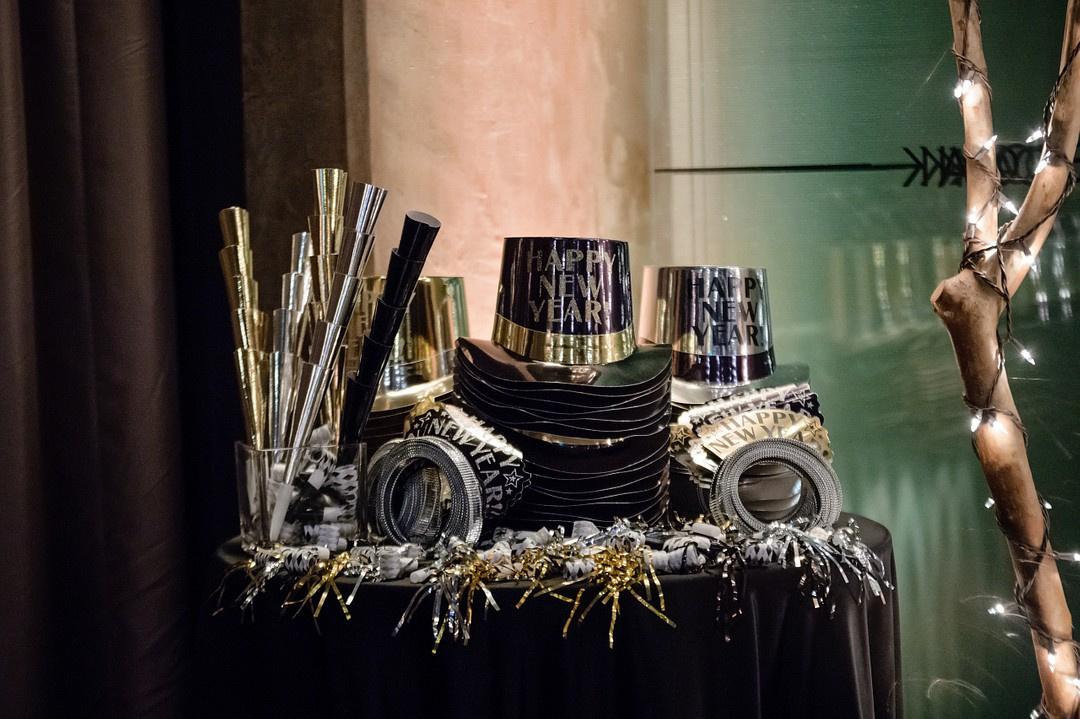 Party hats and noisemakers
Noisemakers, NYE hats, tiaras, novelty glasses, or any other fun props are absolute must-haves for a New Year's Eve wedding. Display them as party favors throughout the reception or bring them out just before midnight as a surprise for your guests.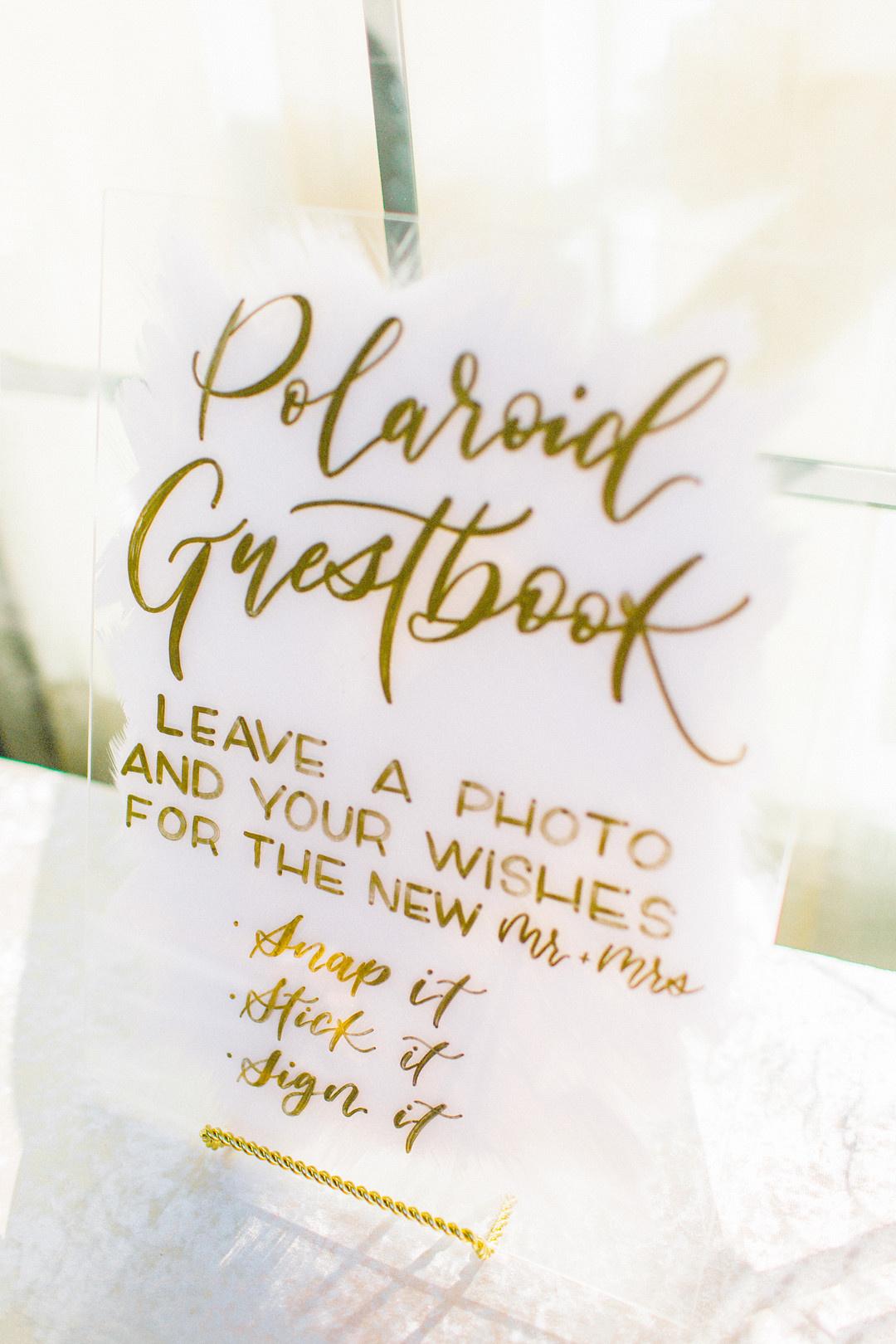 Polaroid guest book
Skip the basic handwritten guest book and go for something more fun and personalized instead, like a Polaroid booth where guests snap a photo and sign the picture before adding it to a selfie wall for everyone to enjoy. The goofier the photo, the better!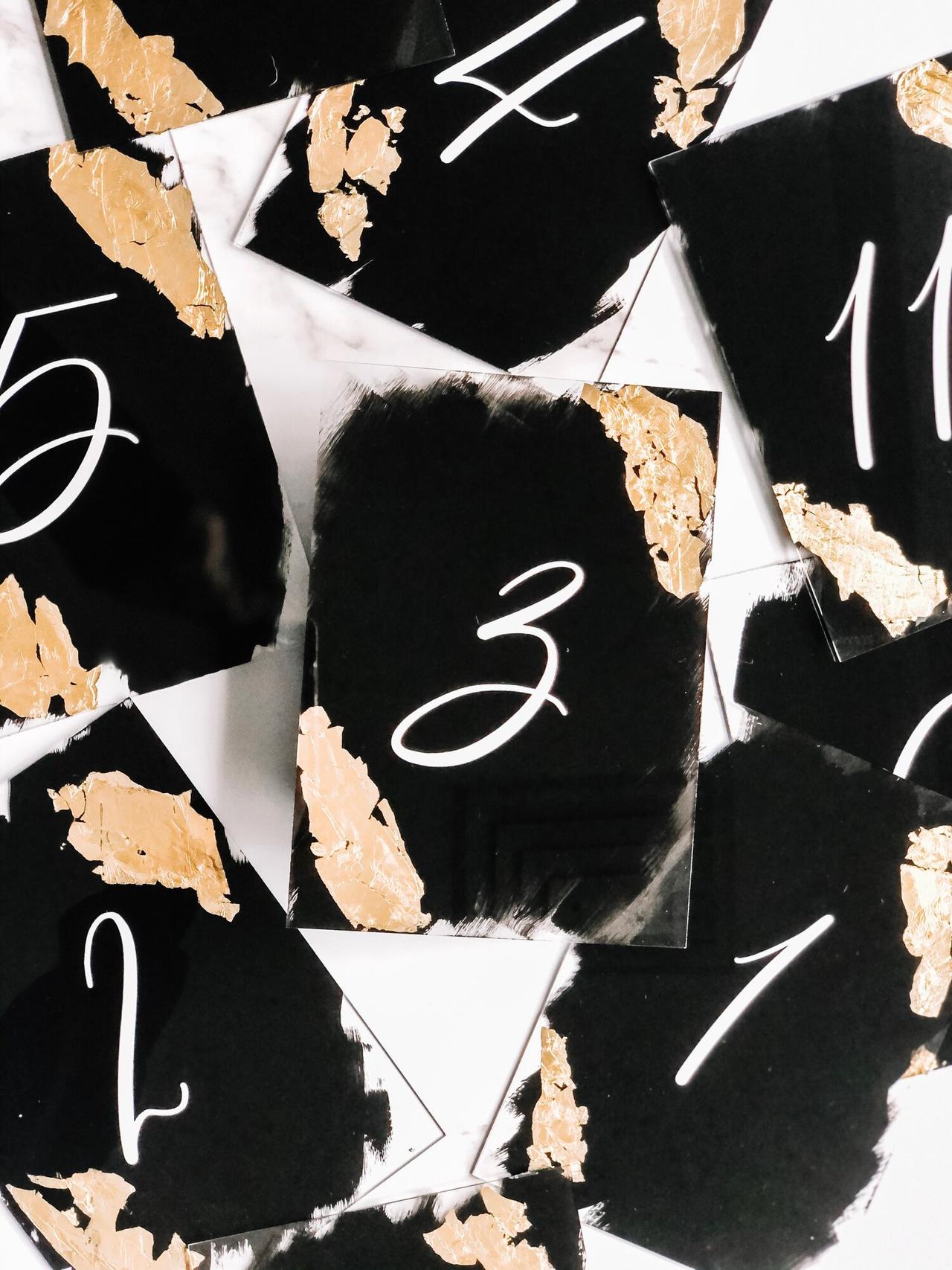 Gold leaf table numbers
Even though the night is all about partying and ringing in the new year, the small details are what will make it truly feel like a wedding. Decorative table numbers, like these acrylic designs with metallic gold leaf, will elevate your New Year's Eve wedding centerpieces—just add flowers, candles, feathers, or all of the above!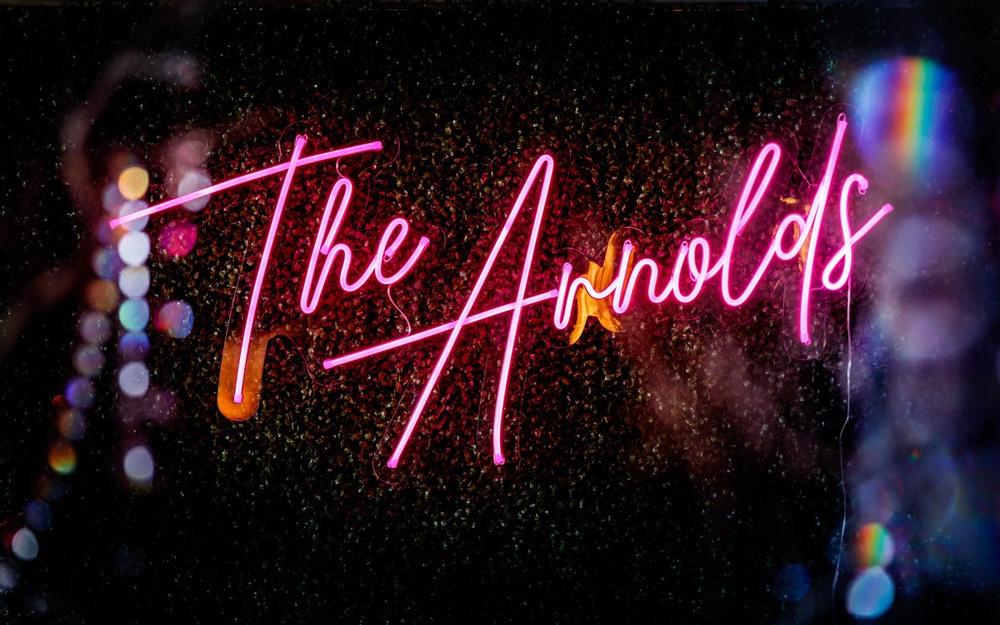 Neon sign
We'd bet that your guests will be spending a lot of time on the dance floor, so why not make it look good? The great thing about having a New Year's Eve wedding is that you can branch out from traditional wedding decor without wondering whether or not it will be too extravagant. Add a fun decorative element like a neon sign or disco ball to boost the party vibe.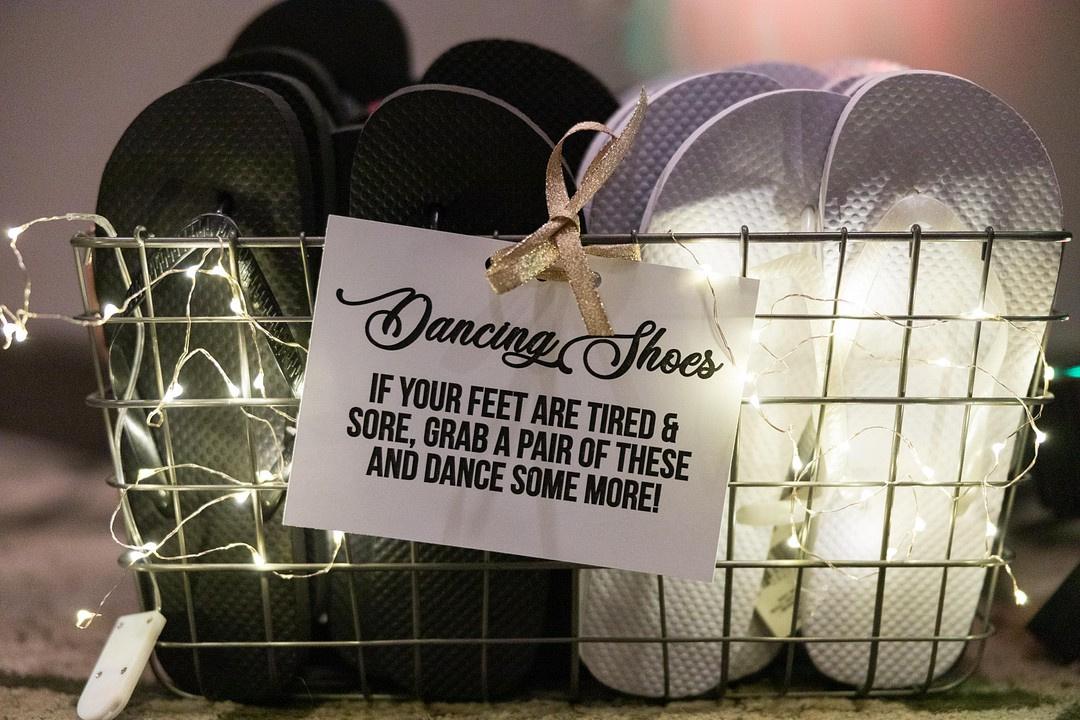 Dancing shoes
Keep blisters at bay (and guests on the dance floor) by providing flip flops or other comfortable shoes, like fold-up flats. Choose styles that match your wedding colors and display them with a cute sign so that the setup feels like an intentional part of your decor.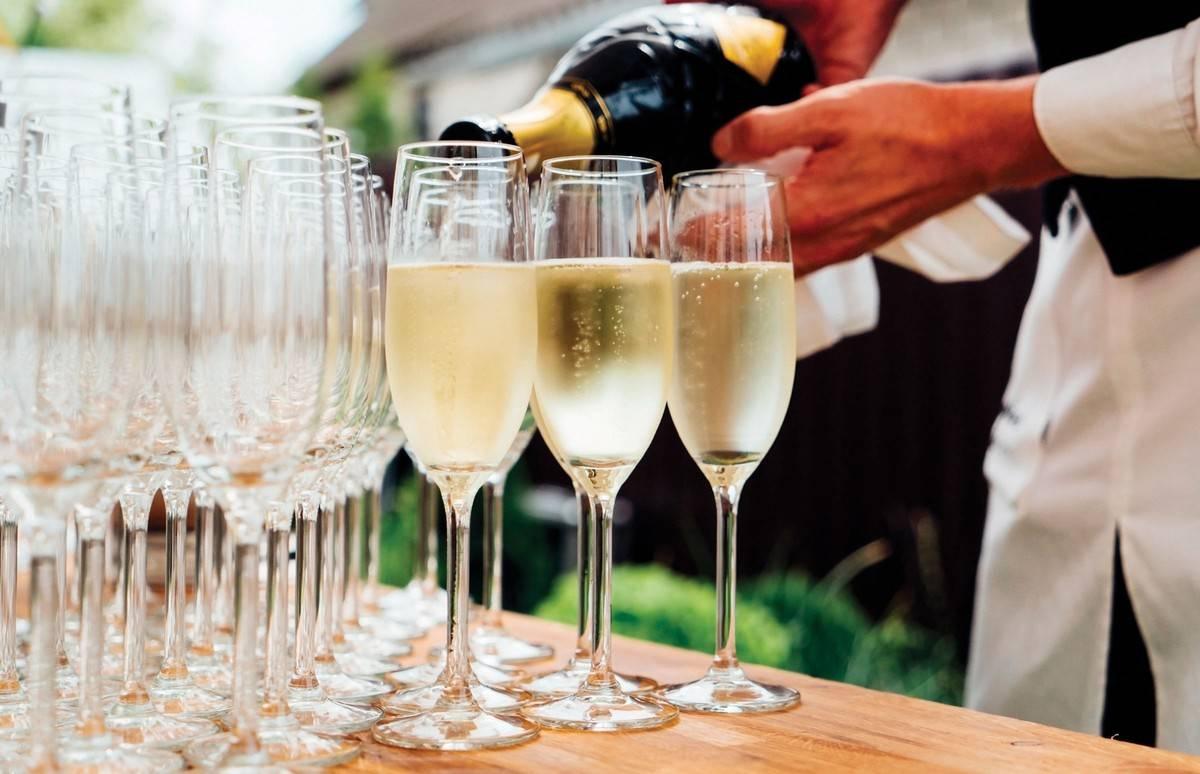 Champagne (obviously)
This one goes without saying: No New Year's Eve wedding is complete without champagne. It's up to you whether you want to serve it freely throughout the wedding or gather everyone for a toast right before the clock strikes midnight—either way, be sure to offer a glass to your hardworking event staff and wedding vendors, too!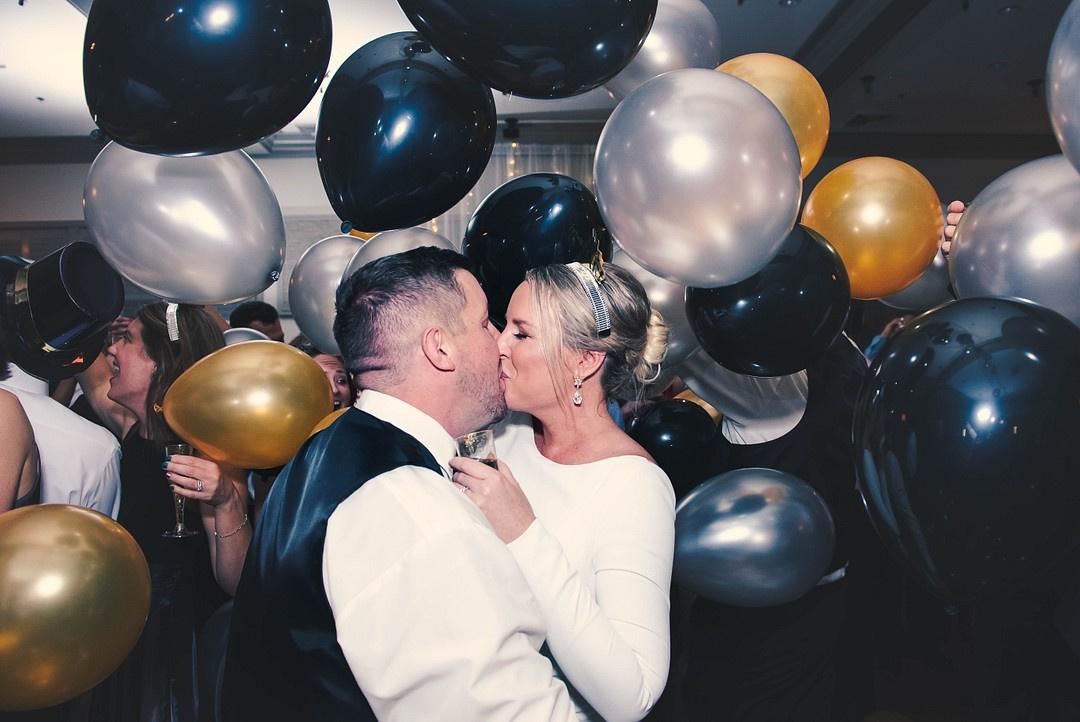 Midnight balloon drop
Surprise everyone with balloons or confetti as you count down and ring in the new year. Either option will make for an amazing photo op, and if you can't choose just one, do both! For example, release balloons for your grand entrance or during your first dance, then top it off with confetti, silly string, bubble guns, or streamers at midnight. Double-check with your venue in advance to confirm what they allow.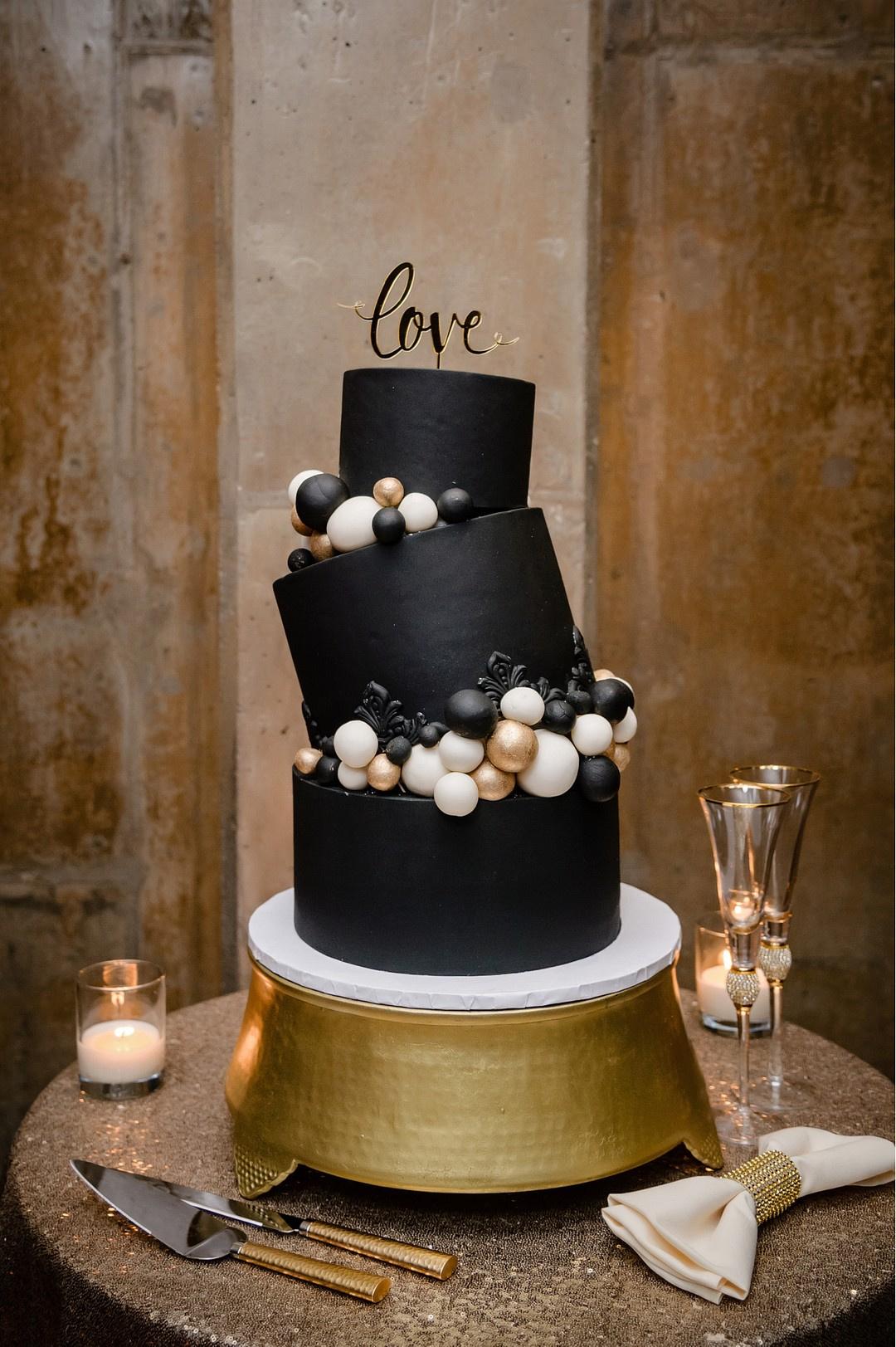 Black wedding cake
If there were ever a day to have a dramatic black wedding cake, it's December 31. We're obsessed with this topsy-turvy New Year's Eve wedding cake, which looks like it has miniature balloons in between each tier.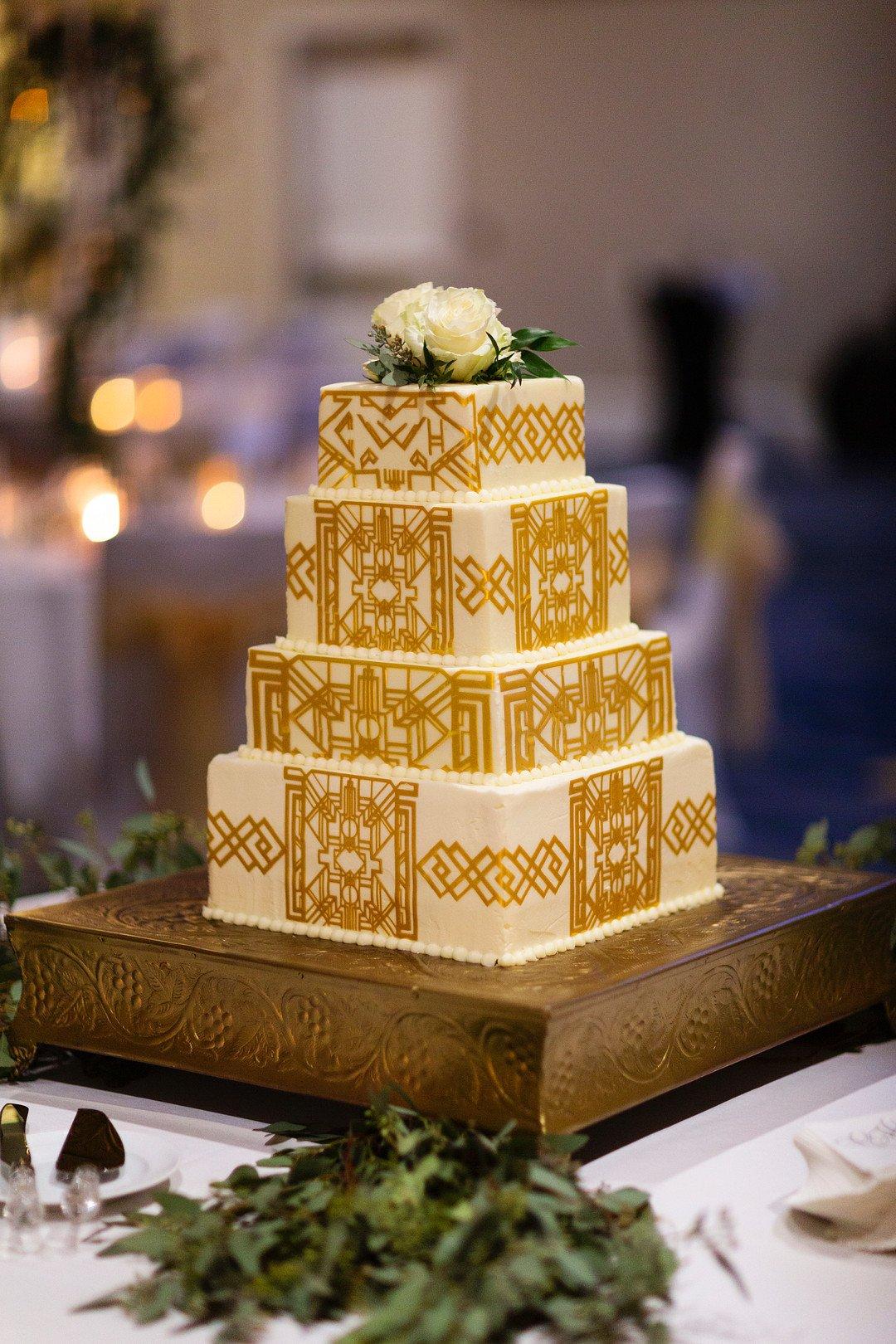 Art Deco wedding cake
Not into black cakes? Try a more tame gold and white design with Art Deco details to match your glamorous theme.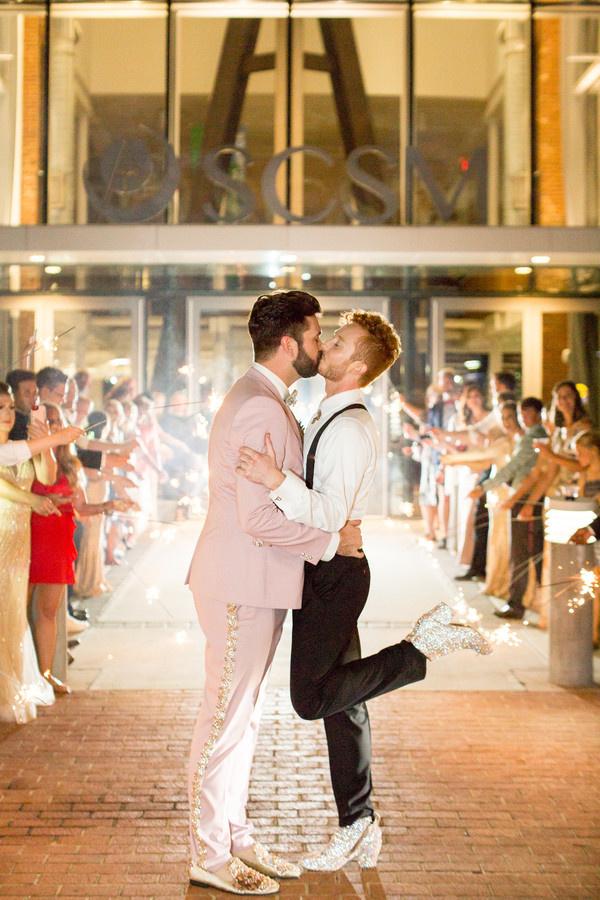 Wedding sparkler send-off
After the ball drops, you and your brand-new spouse can make an unforgettable exit by having a firework or sparkler send-off. (Depending on your venue's location, you may be able to view fireworks already going off nearby.) If the venue doesn't allow professional fireworks, you can rent cold sparkler fountains (they're non-flammable) or gather your guests outside and walk through a tunnel of handheld sparklers to recreate this magical photo op.