Photo: Angela Zion Photography
We were eagerly awaiting the Pantone color of the year announcement for 2018— and we're anything but disappointed with the chosen hue: Ultra Violet. Cosmic and creative, inventive and inspiring, this purple-blue shade is the perfect way to make a bold, colorful statement at your wedding. We're ready to push classic neutral palettes to the side in favor of something much more imaginative — Ultra Violet, we're ready for you! Besides, there's something so inherently majestic and regal about purple, don't you think? It'll lend your wedding a royal touch (perfectly fitting with the upcoming royal nuptials!). As sophisticated as the color can be, it can also have a whimsical feel; it's all in how you style it. Go all out with the shade by combining it with other purple hues, such as orchid and lilac, for full on effect, or pair it as a contrast against other colors, such as marigold or pink, to really pop.
Here, a few ideas on how to incorporate the Pantone color of the year for 2018, Ultra Violet, in your wedding.
Photo: Juli Etta Photography
Invitations
Kick off your Ultra Violet affair with some colorful invitations. A watercolor style effortlessly blends Pantone's color of the year with other purples shades, such as grape and lavender, for a bit of magic.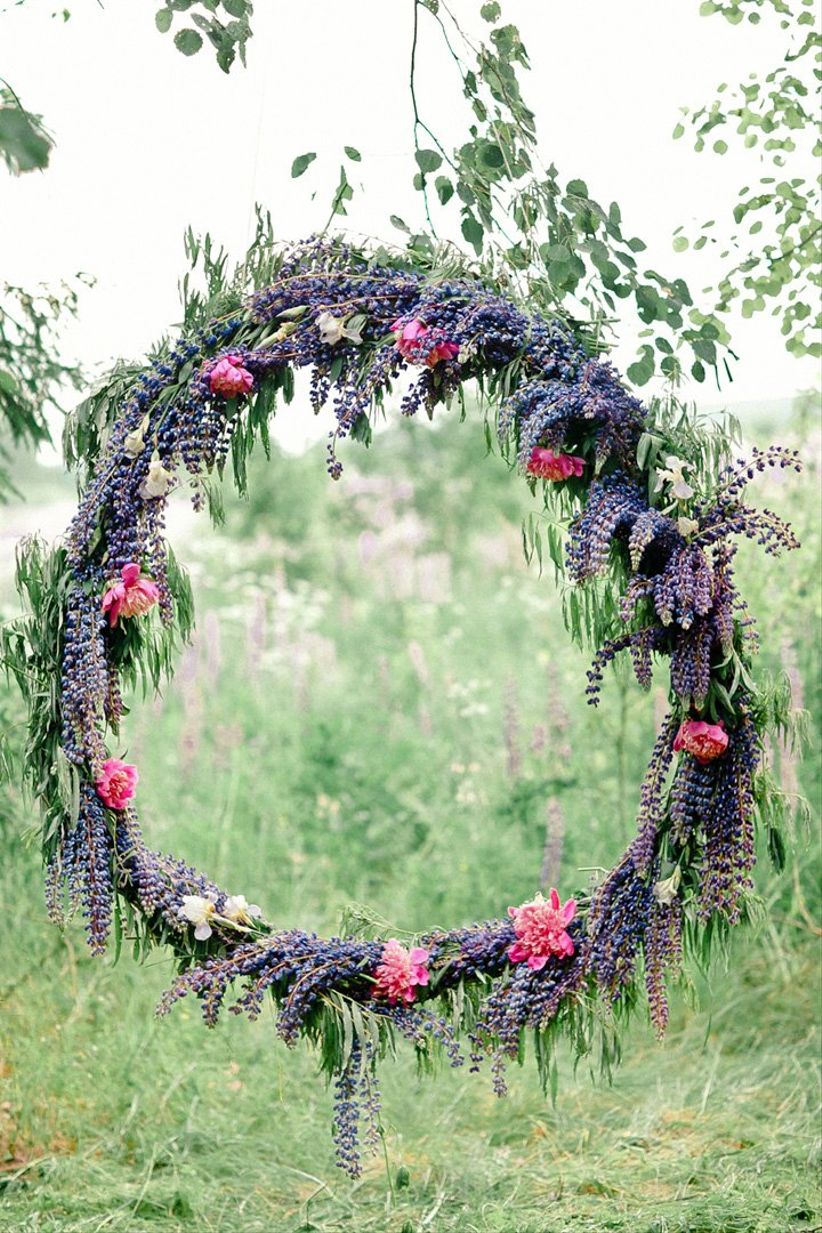 Photo: Elena Zhun
Ceremony Backdrop
An oversized wreath adorned with cascading violet florals, magenta blooms, and greenery carries an air of garden whimsy, making for a dreamy ceremony backdrop.

Photo: Hunter Ryan Photo
Cocktails
Ask your caterer to give your cocktails a trendy touch by using the Pantone color of the year for 2018. Rim the glasses with gold sugar and serve on an ornate gilded tray for an overall majestic feel.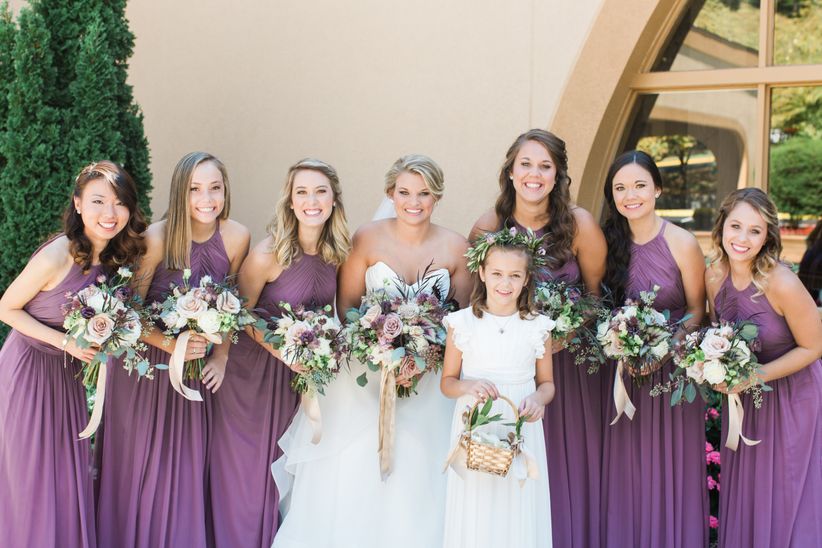 Photo: Casto Photography & Cinema
Bridesmaids
Dress your 'maids in Ultra Violet for a splash of color. Afraid of the color being too powerful? Mix and match the dresses in alternating hues, or if you opt for matching dresses, pick a lighter tone of Ultra Violet.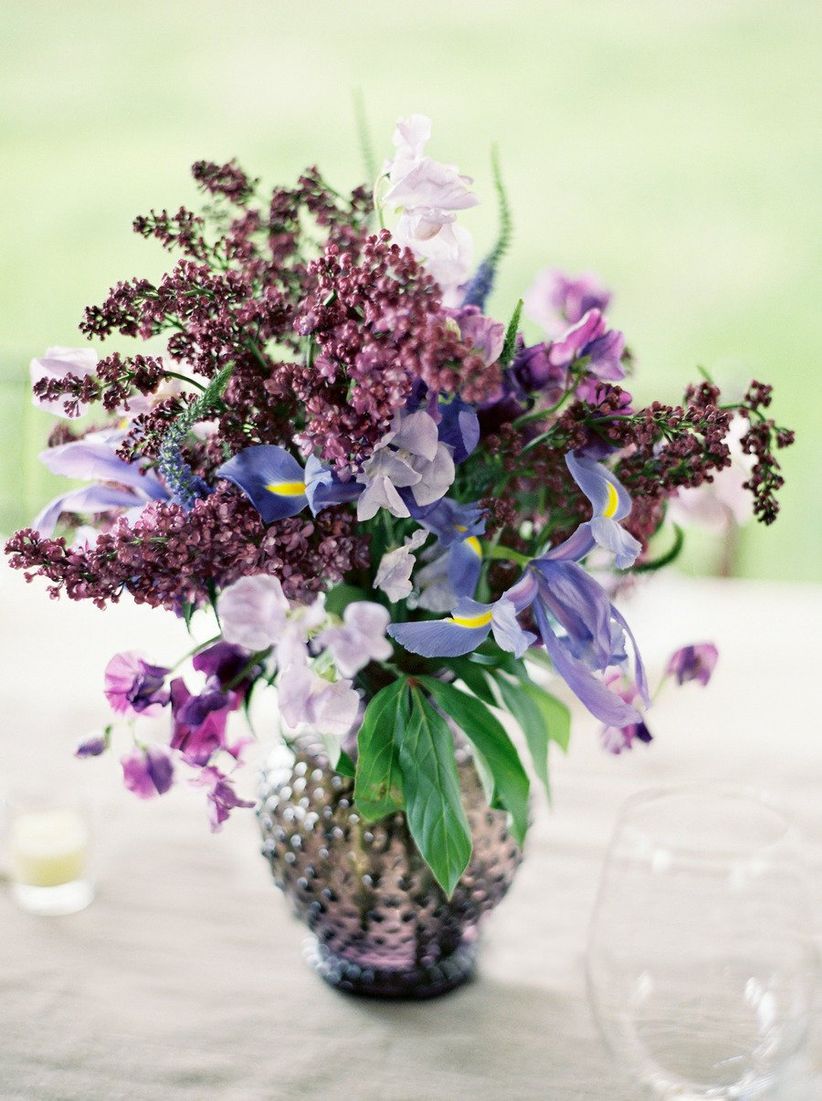 Photo: Jose Villa Photography
Centerpiece
Mix wisteria, lilac, and other Ultra Violet blooms for a floral centerpiece that's just decadent in the Pantone color of the year for 2018.
Photo: Angela Zion Photography
China
These ultra violet plates are absolutely ravishing, complete with a tie-dye effect that lends dimension. Use them on a wooden table to add a pop of color.
Photo: You Are My True
Linens
Whether in the form of table runners, tablecloths, or napkins, linens are a great way to incorporate Ultra Violet into your tablescape. The ones above add a sophisticated touch to a rustic setting.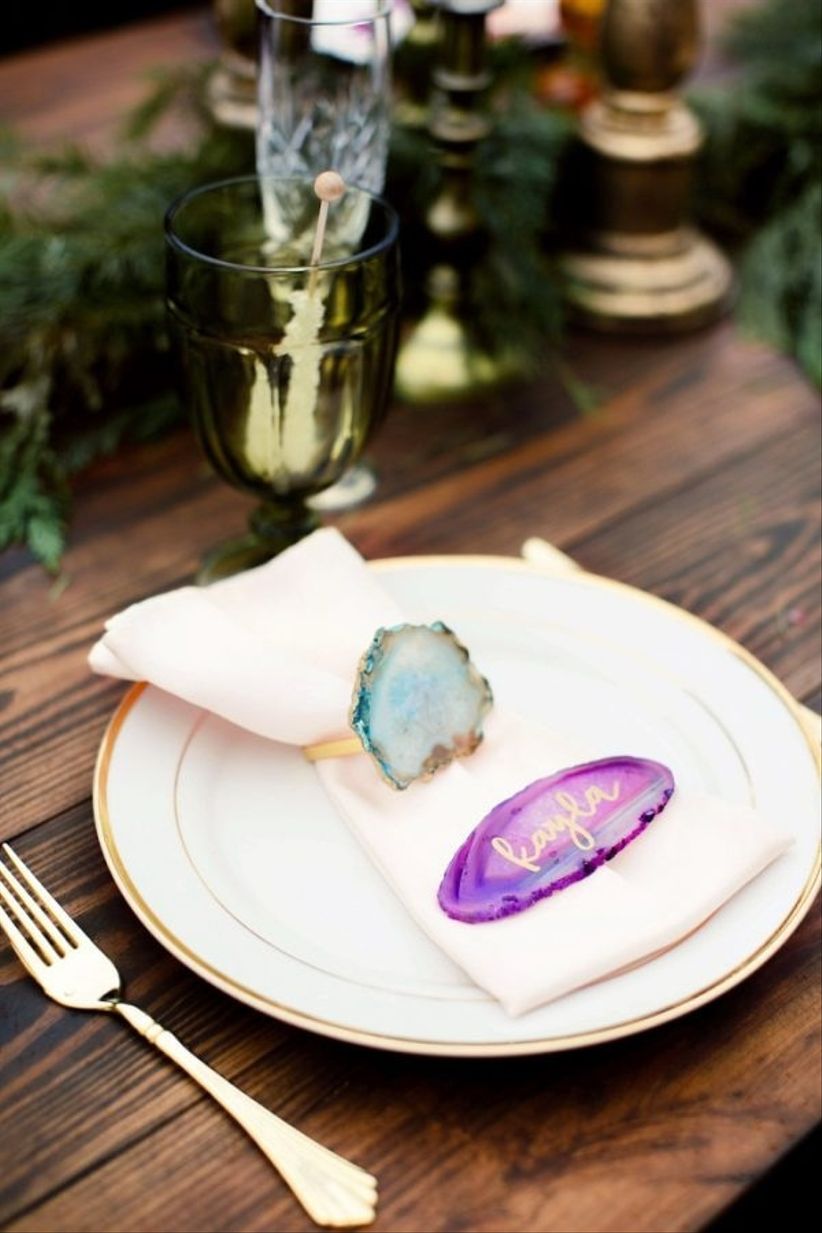 Photo: Leighanne Herr Photography
Place Settings
A slice of agate is a beautiful and bohemian way to bring Ultra Violet into your wedding. Give it a purpose by using it as a place setting or name card.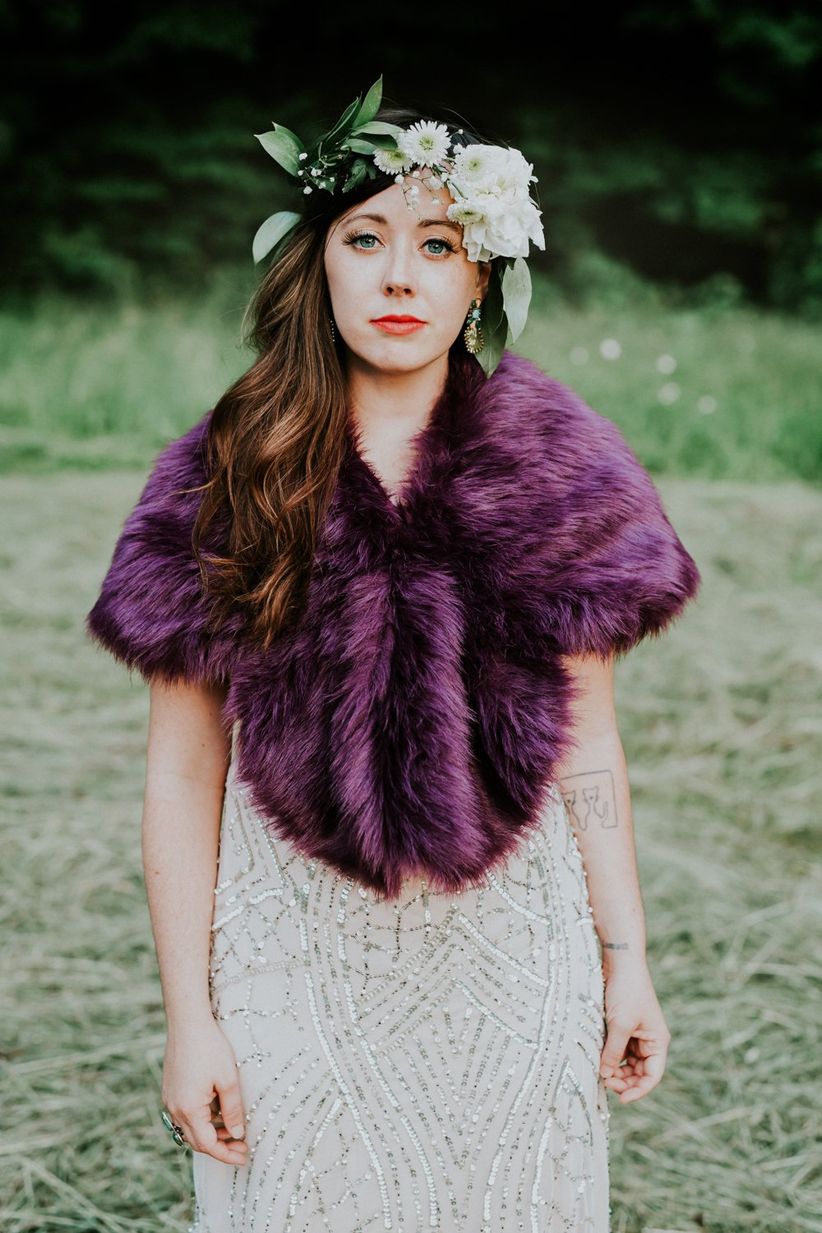 Photo: Coley & Co. Photography
Accessories
Don't forget to include Ultra Violet in your bridal look, too! Jewelry is always a good option, but we're loving the bold, majestic statement a faux fur purple shawl makes.
Photo: Ryan Ray Photography
Flower Crowns
Instead of a veil, why not opt for an Ultra Violet floral headpiece? Coupled with fuchsia blooms and light pink buds, this one is utterly romantic.
Photo: Taylor Parker Photography
Cake
The wedding cake is one piece you can really go wild with the Pantone color of the year for 2018. Cover its tiers in Ultra Violet frosting or employ the color with accents, like fondant geometric triangles, for a modern spin.
Photo: Michael Radford Photography
Bouquets
Your bouquet is an easy way to tie in some Ultra Violet beauty. Pair it with dark greenery and deep burgundy for a rich jewel-tone mix that's delightfully moody.