There's arguably nothing quite as dreamy as a wedding in a far off locale, or even a magical place right in America's backyard. But besides the gorgeous scenery that makes us love destination weddings so much, we also love them because they're a great source of inspiration for wedding décor. Destination wedding themes are almost easier to create, because all you have to do is let your surroundings guide you.
From Charleston to Tuscany, we've rounded up six destination wedding themes from around the world to inspire you.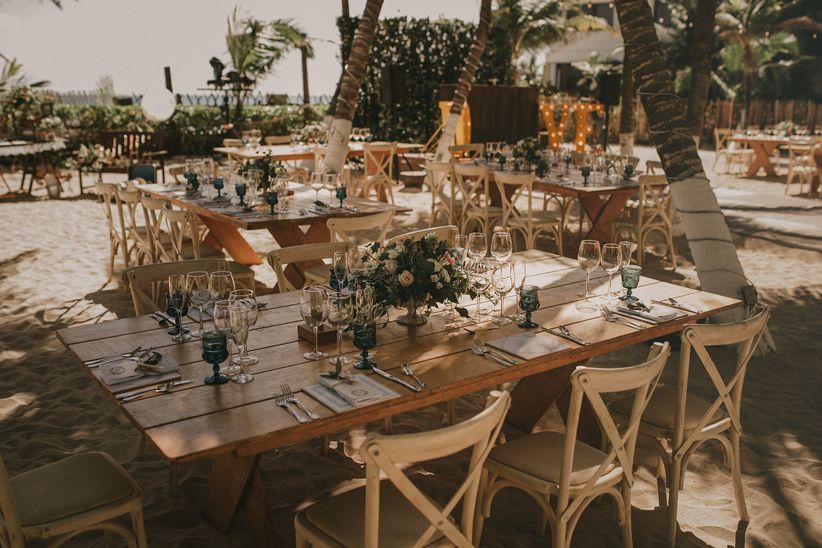 Bohemian Paradise
Aside from stunning ocean views, one of the major appeals of the Caribbean is its laid-back way of life — it's as if time stands still. If your destination wedding is in paradise, instead of opting for the standard tropical theme, infuse the simplicity of your surroundings and its carefree charm into your wedding décor. Subtle bohemian elements mixed with a minimalist touch, such as naked wooden reception tables, wooden chairs, macramé accents, and colored drinkware allude to an island's casual vibe and allow its natural beauty to serve as the focal point of your décor.

Italian Countryside
There are is one way to do the Tuscany destination wedding theme: minimalism and organics. The more greens the merrier, but leave everything else simple with a neutral palette. Olive leaves are a favorite for obvious reasons, but any botanic will do. To keep with the countryside feel, round out your décor with romantic, rustic accents to capture the dreamy bucolic essence of Tuscany. And, of course, the reception has to be al fresco. Just don't forget the bistro lights.
Palm Springs Retro
Palm Springs is known for its bright, colorful vibe and midcentury style, so what's to stop you from incorporating that into your Palm Springs wedding? Put a modern spin on the '60s to complement this desert beauty. This Palm Springs wedding lounge area does it particularly well, with its midcentury-mod furniture, vibrant geometric patterned rug, and copper touches. We particularly love the cactus and succulent accents in a simple nod to the locale.
Southern Elegance
Charleston is a hot destination wedding spot in the U.S. Exemplify its Southern charm by creating a look of classic elegance — they key is to keep the feel on the sweeter side, as opposed to a more modernly sophisticated style. This reception nails it, pairing traditional linen tablecloths in a charming baby blue with conventional peony centerpieces and rustic chairs, all within an elegant tent topped by sparkling chandeliers. It's the perfect mix of Southern elements and classic touches.
French Secret Garden
There's no destination wedding theme quite as befitting for a France wedding than a secret garden. A perfect tribute to the manicured lawns of a French chateau and France's lavender fields, it's romantic and whimsical like the country itself. Of course, you'll want to hold the reception outside to fully strengthen the theme. Bring the garden to your reception tables, lining them with diverse arrangements of freshly picked florals, wildflowers, and pots of lavender. Gauzy linens and tapered candles complete the romantic touch of a garden feel.
Hacienda Flair
A wedding in Mexico warrants the warm, lively feel of a hacienda for a destination wedding theme — think welcoming rustic tones, such as oranges, yellows, reds, and browns with a dash of local foliage. This ceremony does it right. We especially love the traditional Equipales chairs and a charcoal drawing of a traditional arch as a statement altarpiece for a colonial vibe. Sunny candlesticks and tropical greenery round out that Mexican feel while bringing in a bit of romance.