Here's How Much You'll Pay for Wedding Hair and Makeup in 2020
Before you assemble your bridal glam squad, get the scoop on this year's average wedding hair and makeup cost so that you know exactly what to expect.
Hair stylists and makeup artists are some of the most popular wedding vendors—76% of couples hire them, according to a recent WeddingWire study—but these professionals also come with a price tag. If you're wondering how to budget for beauty services, the new study is shedding light on this year's average wedding hair and makeup cost, and we're sharing all the important details to help you (and your wallet) plan accordingly. Once you have an idea of how much you'll need to allocate for your glam squad, you can start researching local beauty pros, browsing wedding hairstyles, and trying out different bridal makeup looks!
Ready to know the average wedding hair and makeup cost? Keep reading to find out.
Wedding hair cost
So, as a bride, what does it actually cost to have your hair professionally done on the wedding day? According to WeddingWire's 2020 Newlywed Study, the average price for a bridal hairstyle is $110. Keep in mind that this price is relative to your location (you'll likely pay more in larger cities) and the hairstyle you choose. For example, if you're asking your wedding hair stylist to do a simple blowout, you can expect to pay much less than you would for an elaborate updo or braided style that would require more time and tools.
If you want your bridesmaids or other wedding party members to have their hair professionally styled, you'll also need to account for those expenses—unless you make them optional (you can find more info about what your 'maids do and don't pay for right here). The average price for a bridesmaid hairstyle is $70 per person, but the total cost could add up for larger wedding parties that require more than one hair stylist.
Depending on your current routine, you can also expect to spend money on prepping your hair for the big day. Things like regular haircuts, coloring sessions, hair supplements, texturizing treatments, and hair extensions can all increase your wedding hair and makeup cost. Lastly, don't forget about the cost of any wedding hair accessories you're planning to wear, such as a veil, decorative comb, or fresh floral accent.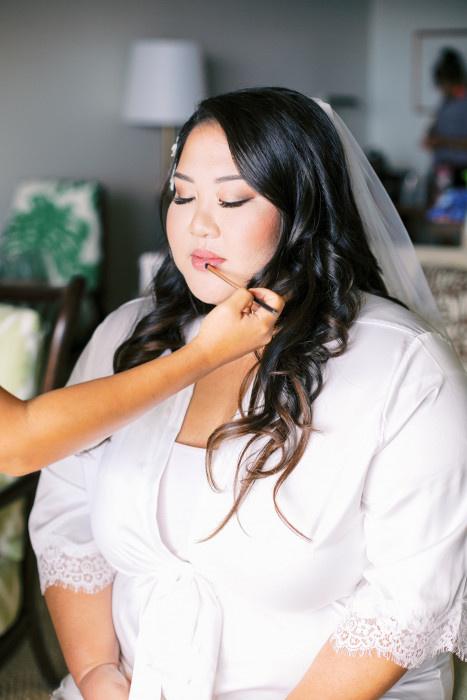 Wedding makeup cost
The prices are similar if you're planning to hire a professional makeup artist. According to WeddingWire's data, the average cost for bridal makeup is $100, while for bridesmaids, the price rings in around $70 per person. (And yes, you should pay for your bridesmaids' makeup if you're requiring them to have it professionally done.)
Again, remember that these prices will vary depending on your location and the types of products that are used—for example, airbrush foundation is slightly more expensive than regular foundation. Some wedding makeup artists also offer add-on services, like false lashes and spray tans, that will bump up your final bill.
Want to boost your bridal glow ahead of the wedding? Creating and sticking to a pre-wedding skincare routine is the best way to ensure that your skin is healthy and smooth for the big day. Investing in facials, anti-aging products, and other beauty treatments will add to your overall beauty costs, but they can pay off in the long run.
Wedding hair and makeup ideas
When you're researching professional wedding hair and makeup artists, you should also start brushing up on bridal hair and makeup inspiration. Even if you can't choose an exact look just yet, it's important to come to your trial appointments with a general idea of what you want. And when in doubt, leave it to the pros! Your hair stylist and makeup artist will be able to recommend what will work best for you.
For 2020, some of our favorite wedding hair trends include headbands, bows, and straight-as-a-pin strands (a major transition from the loose, beachy waves that have been trending for years). When it comes to wedding makeup trends, we're loving the dewy bare-faced look, along with bold lipstick colors and metallic eyeliner.