Here's Why You Should Consider Hair Extensions for Your Wedding
Whether you're looking for mermaid length, luscious volume, or style-holding powers that your natural hair might not have, there are wedding hair extensions that are perfect for every bride.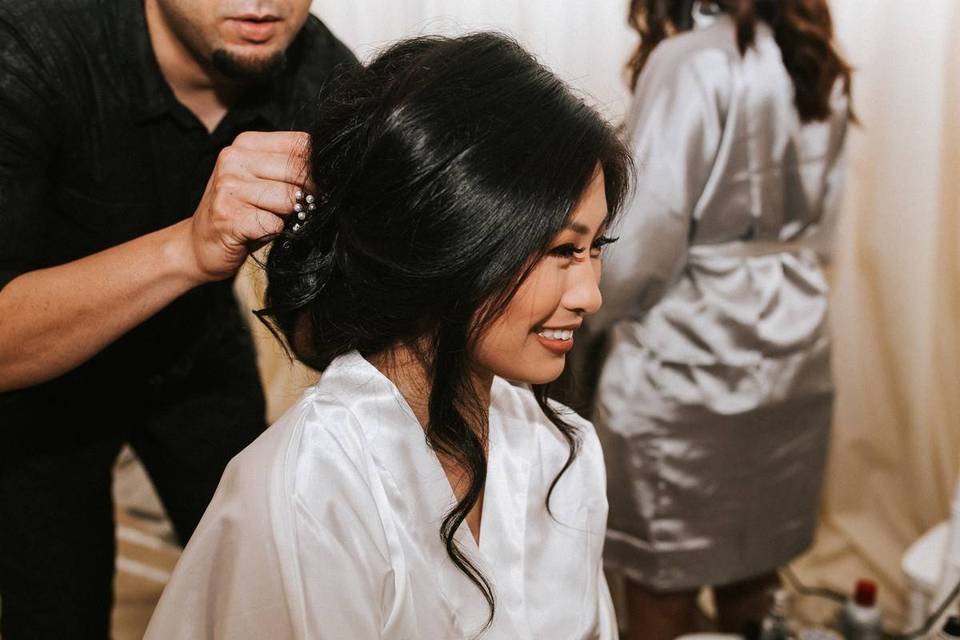 Have you ever looked at a Pinterest board full of wedding hairstyles and wondered "How on earth do those women have such amazing hair?" Well, the answer is probably pretty simple: Wedding hair extensions! In addition to curling irons, hairspray, and the hands of an experienced pro, a few perfectly-placed hair extensions just might be the secret to the wedding hair of your dreams.
Long or short, textured or straight, highlighted or totally natural, we asked bridal beauty pros to fill us in on why you should really consider wedding hair extensions.
What are the most common hair extension options?
There's no shortage of options, from temporary to semi-permanent, and with nearly endless choices within each category. Alison Harper of Alison Harper & Company in Laurel, Maryland breaks down the options with some insight into which wedding hair extensions might be best for your hair type:
"Sew-In Extensions: With this technique, we braid down your natural hair and sew two or three bundles of hair extensions to the braids. This service can take three to four hours, but the look lasts one or two months for women with textured hair and 2 weeks for women with smoother textured hair.
Glue-In Extensions: This is a more temporary application. Small swatches of extensions are glued to the root area near the scalp. This service can take one to two hours to apply, and the look lasts one to two weeks with proper care.
Tape-In Extensions: With this technique, small swatches of extensions come with pre-glued tabs that are carefully pressed together near the scalp. This service can take one to two hours, and the look lasts one to two months with proper care.
Fusion or Pre-Bonded Extensions: This technique is the most long lasting of the extensions for Caucasian hair or hair with little texture. Individual beads pre-laced with a small amount of hair are attached at the root to create the most natural and seamless look. This technique can take four to six hours to apply but the results can last two to four months with proper care.
Clip-In Extensions: This is the only technique I would suggest for adding extensions just for your wedding day. Small bundles of hair are attached to small clips that can be temporarily attached near the scalp."
"Ask your stylist to help you color-match any extensions you order," advises Lulu Matthews of Lulu Lush in Kapaa, Hawaii. "Order samples from the brand you're considering so you can see the colors in person. They can often look different in online photos, so samples will help make sure it's a perfect match!" Being even a shade off can be a dead giveaway, so ask your stylist to match the color at the end of your locks (not the roots!), since that's what will show in your style. "It costs a little more, but multicolored extensions will blend in much more naturally," says Megan Payne of Makeup in the 702 in Las Vegas. "Or you can buy wedding hair extensions in a few shades to add highlights and/or lowlights."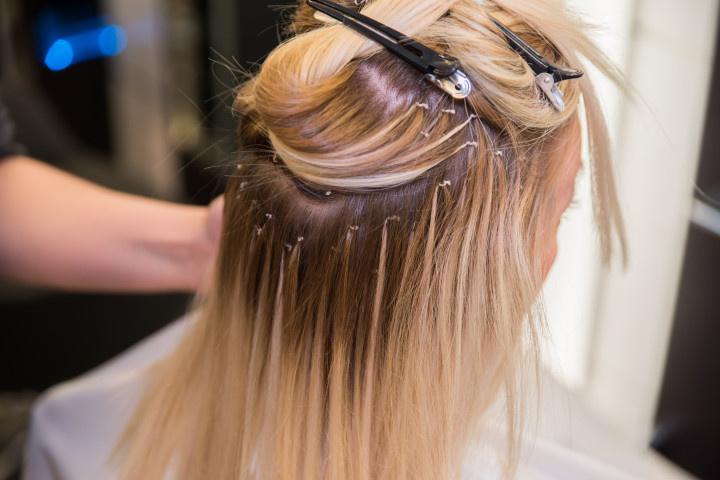 Why should brides-to-be consider getting wedding hair extensions?
Chances are, you've seen lots of wedding hair extensions before! "Most of the styles you'll see on Pinterest or Instagram feature extensions, for either added length or volume. Teasing can only do so much!" Matthews says. And of course, extensions are way faster than having a long engagement for the sake of growing out your hair. "Adding extensions is a shortcut to red carpet-ready hair, without the wait," says Payne. "And they're commitment-free! You can add your clip-ins for length when you want it, then remove them and return to your lob when you're done."
Harper continues, "For a woman with textured hair, extensions can make your wedding-day styling faster and easier. It is also convenient, because extensions mean your hair will be styled for all of the pre and post wedding celebrations as well." Adds Hannah Elisabeth of Hannah Elisabeth Beauty in Beverly Hills, "Hair is a huge source of confidence for many women, including myself, so wearing extensions for a day when you want to look and feel your absolute best is a must!"
What should brides-to-be look for when shopping for wedding hair extensions?
"No matter what type of extensions you're purchasing, it's worthwhile to invest in real hair, as well as remy extensions (which means the cuticle of the hair is facing all the same way," says Matthews. "I recommend choosing hair extensions with the guidance of a professional to ensure the desired result is achieved in terms of length, style, color, etc.," says Elisabeth. "All extensions should be human hair when using heat styling, as synthetic hair extensions will melt with the heat of a curling iron or straightener!"
How might hair extensions affect your wedding day hair options?
It's not all about length and volume. "Extensions are known for holding a curl really well, meaning your hairstyle will last a lot longer," Matthews explains. "Especially for my brides here in Hawaii, heat and humidity can be tough on hairstyles. Extensions really make all the difference!"
Extensions can also impact which stylist you choose for your wedding day. "Let your stylist know you'll be wearing extensions, and make sure she or he is comfortable working with them," says Jenna Marie Streitenfeld of Kiss This Makeup in Chicago, Charleston and South Florida. Once you've hired a stylist, ask them (or your go-to hairstylist) how to place them to best fit your desired wedding hairstyle.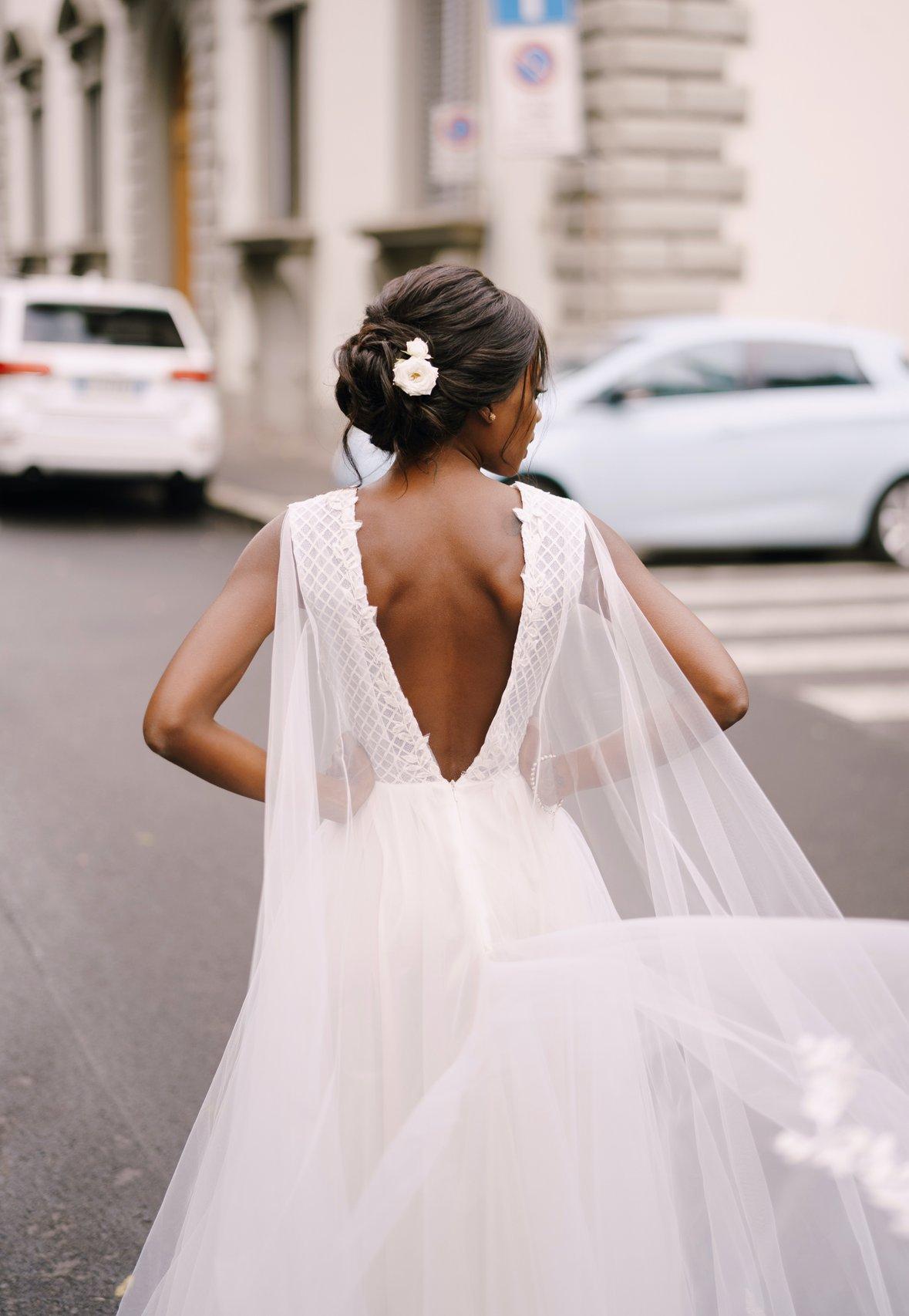 Who is a good candidate for wedding hair extensions?
The great news is, there is an extension option for everyone, no matter the length, texture, or condition of your hair. "Anyone with hair that is one to three inches long or longer, who wishes to add length or fullness to their hair, is a great candidate," says Harper. Matthew adds, "If you've got thin or fragile hair, chat with your stylist about finding an option that will fit best with your hair type." If you've got shorter hair and are using clip-in anything other than sew-in extensions (which are sewn to braids that will be hidden by the extension application), ask your stylist to add layers once your extensions are applied so they blend in with your existing cut.
How can you get your hair extensions wedding-ready?
"Remember to shampoo and condition your extensions before your wedding day, just like your natural hair, and consider an oil or deep conditioning treatment" says Streitenfeld. "This will ensure the best shine and finish for your style, and help your extensions last a long time." Don't forget to gently comb any tangles out of your extensions before washing them. To blend your extensions in so you're ready for your beachy bridal waves or sculpted updo, curl your hair with your extensions. "Curling them together helps to blend everything for a seamless look so the extensions look all your own," Payne explains.
If you have semi-permanent extensions, take extra steps to care for them on a daily basis to keep them looking amazing on your wedding day. "Sleep in a sleeping cap or on a silk or satin pillowcase," says Harper. "And be sure to follow the manufacturer's directions for cleaning and maintenance, no matter the style of extensions you have."
How much do wedding hair extensions cost?
While synthetic extensions might be tempting for their low price tag, sacrificing on quality can mean shiny extensions that don't hold up to styling. Instead invest in real remy human hair (remember, that means the cuticles are facing the same direction for smoother extensions). "Expect to pay between $150 and $350, depending on how long each track is, the quality (especially if you spring for cuticle-intact and/or virgin hair extensions), and how many tracks you'll need," says Payne.
"Remember that temporary options will always be less expensive than permanent options," says Elisabeth. "You may have sticker shock when getting a quote from a stylist/extension specialist, but remember that high quality hair is expensive! A highly trained and skilled professional will make sure that you're living your best hair life, but also make sure that your natural hair is not compromised or damaged in any way. It will be worth every penny!"