15 Rustic Wedding Cakes Perfect for a Countryside Celebration
If you're getting married at a barn, farm, or other rustic venue, don't plan your dessert table without seeing these country wedding cakes first.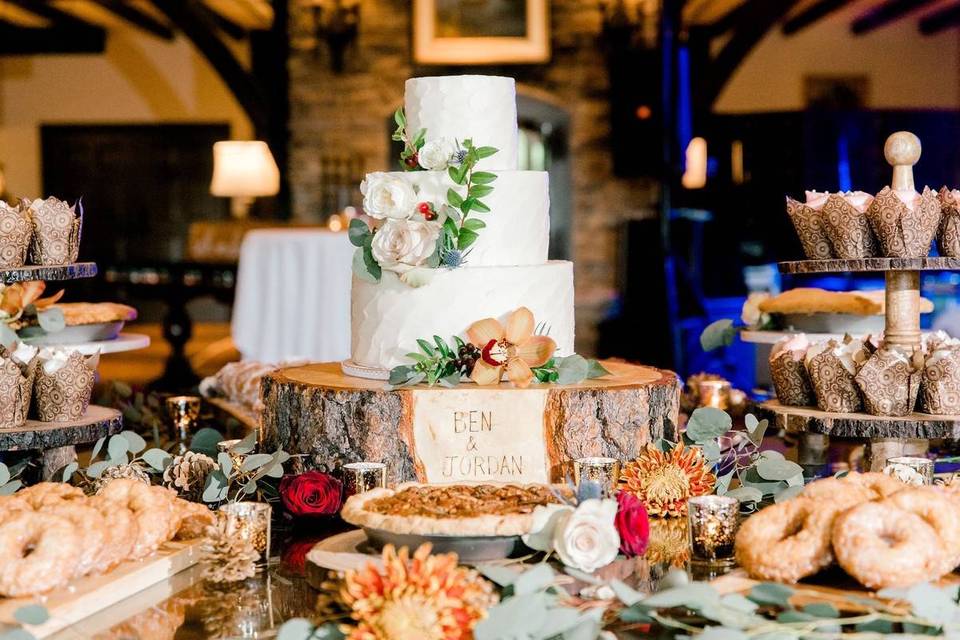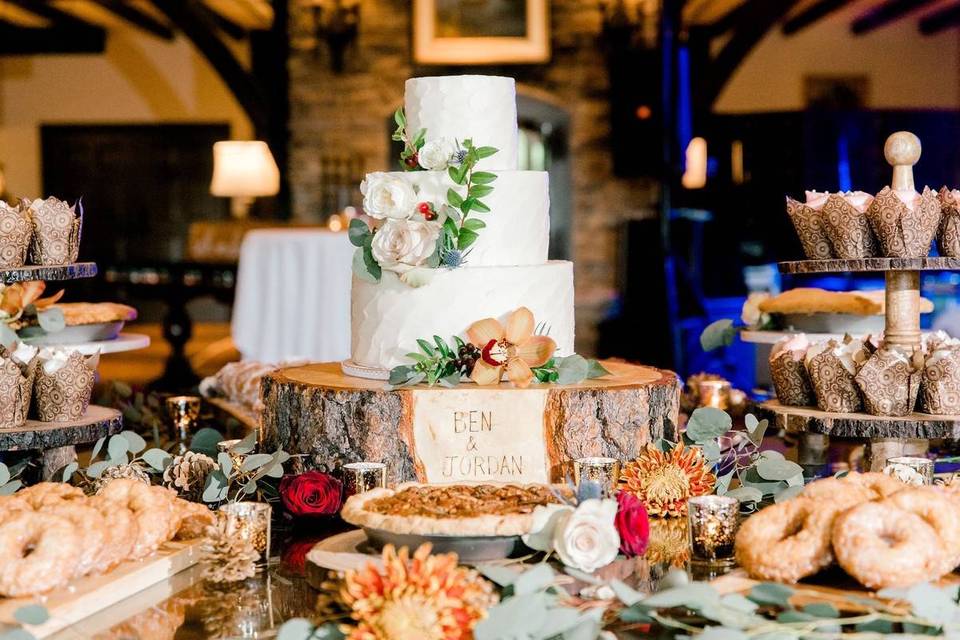 Country wedding cakes and rustic wedding cakes run the gamut from simple buttercream-and-berry designs to elaborate faux bois and woodland-inspired creations. Whatever your exact theme or aesthetic, these rustic country wedding cakes all have one thing in common: a pleasing, perfectly imperfect look that conveys a laid-back vibe and doesn't seem too overdone. You should start working with your wedding cake baker at least six or seven months before your wedding, so if you're planning a countryside bash, it's time to start looking for inspiration!
Complete your rustic-themed celebration with one of these country wedding cakes.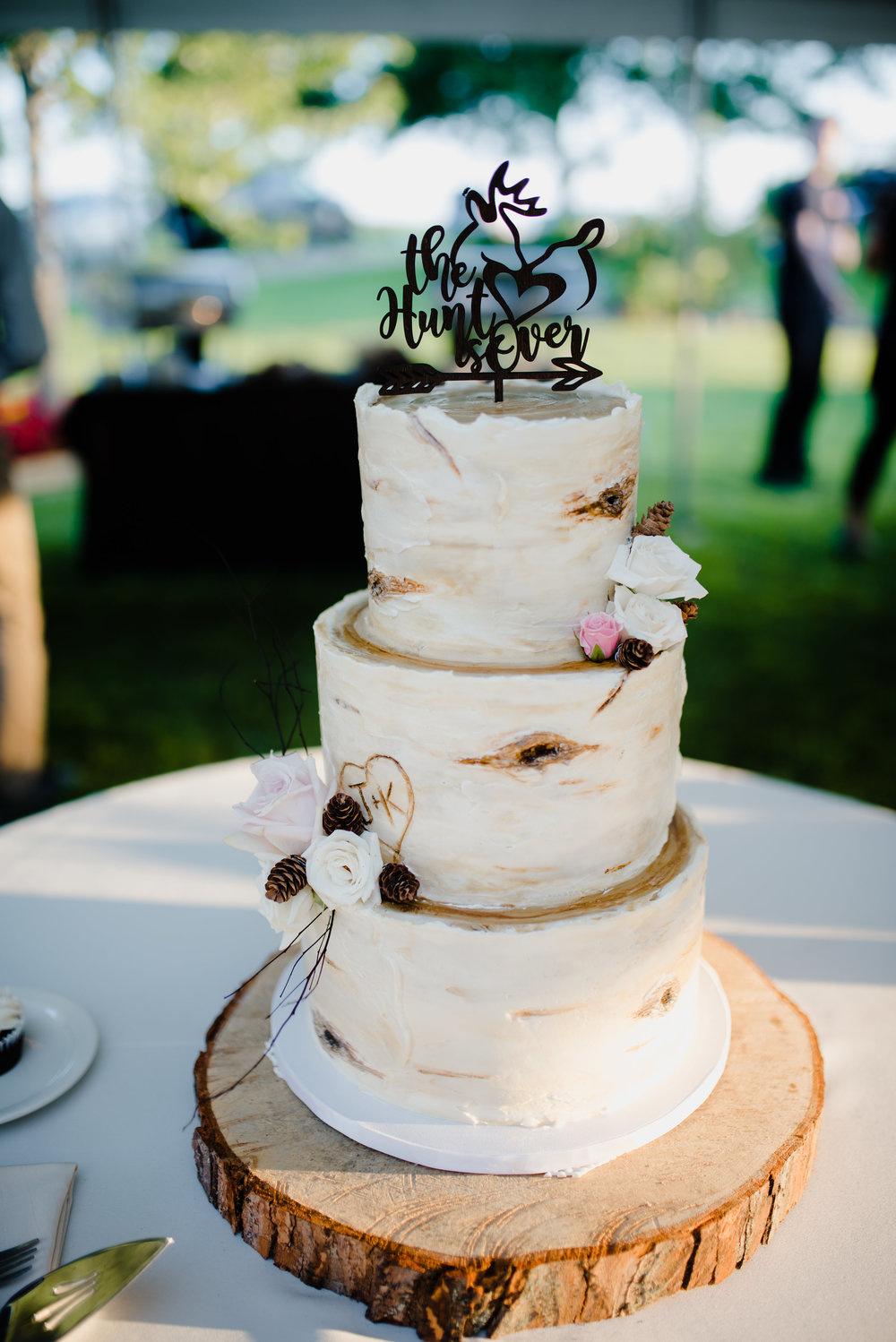 Faux bois pattern
Faux bois (a fancier way to say "fake wood") is one of the most popular motifs for rustic wedding decor in general. Your wedding cake baker can use special molds and tools to re-create this nature-inspired pattern on your cake—you can even add a cute carved heart with your initials. Display the cake atop a wooden cake stand to bring it full circle.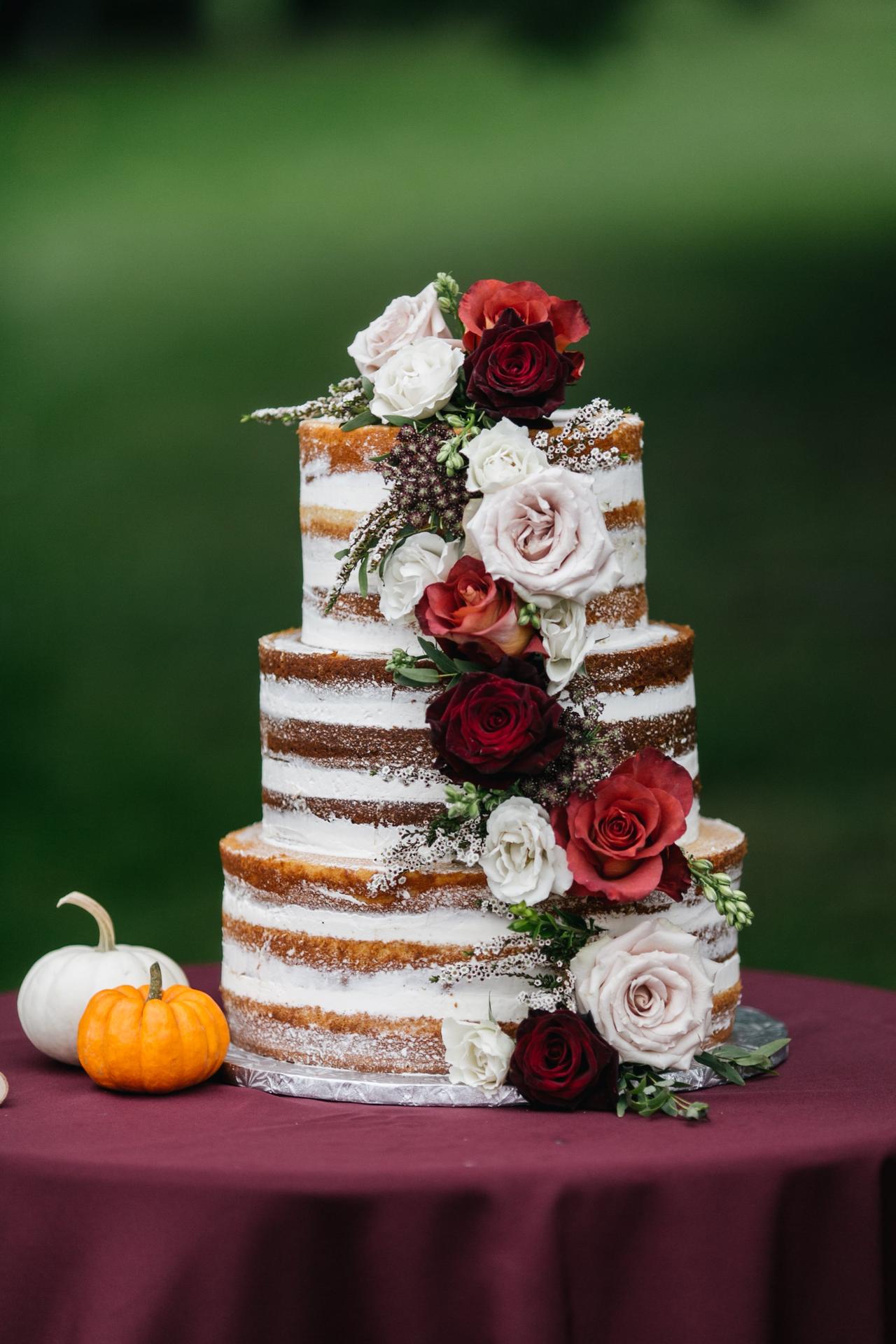 Floral cascade
Flowers are an excellent way to decorate a country wedding cake, no matter what time of year you're getting married. This naked cake decorated with red and ivory roses would fit right in at a fall wedding, especially if you place a few mini gourds or pumpkins nearby.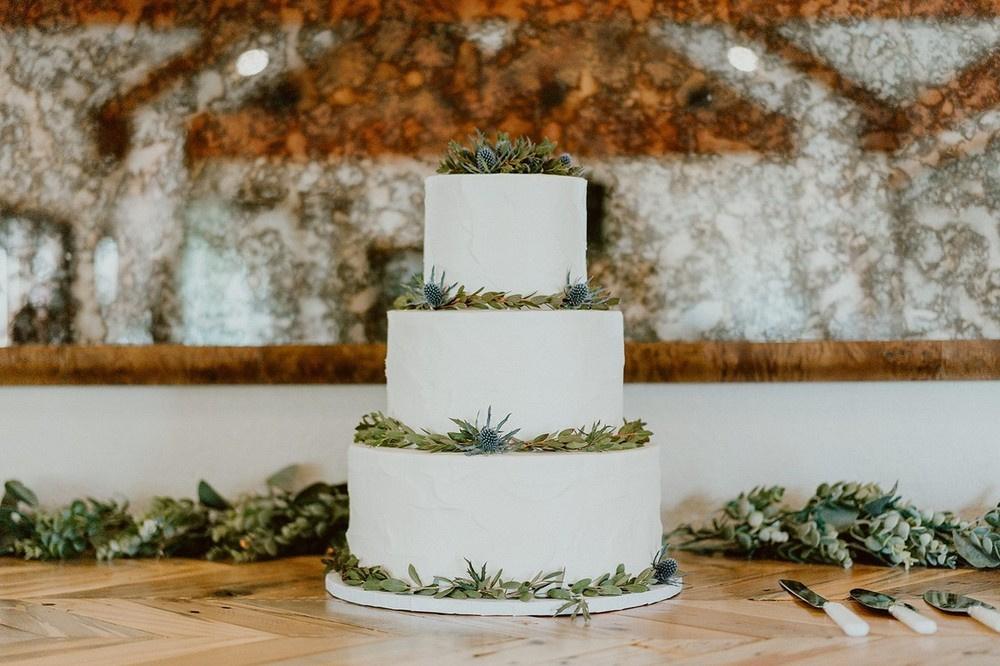 Simple greenery
For a more modern look, opt for a basic white buttercream cake that's decorated with leafy greenery, like olive branches or eucalyptus. You can add a few flowers, such as blue thistle or roses, to give the cake a hint of color.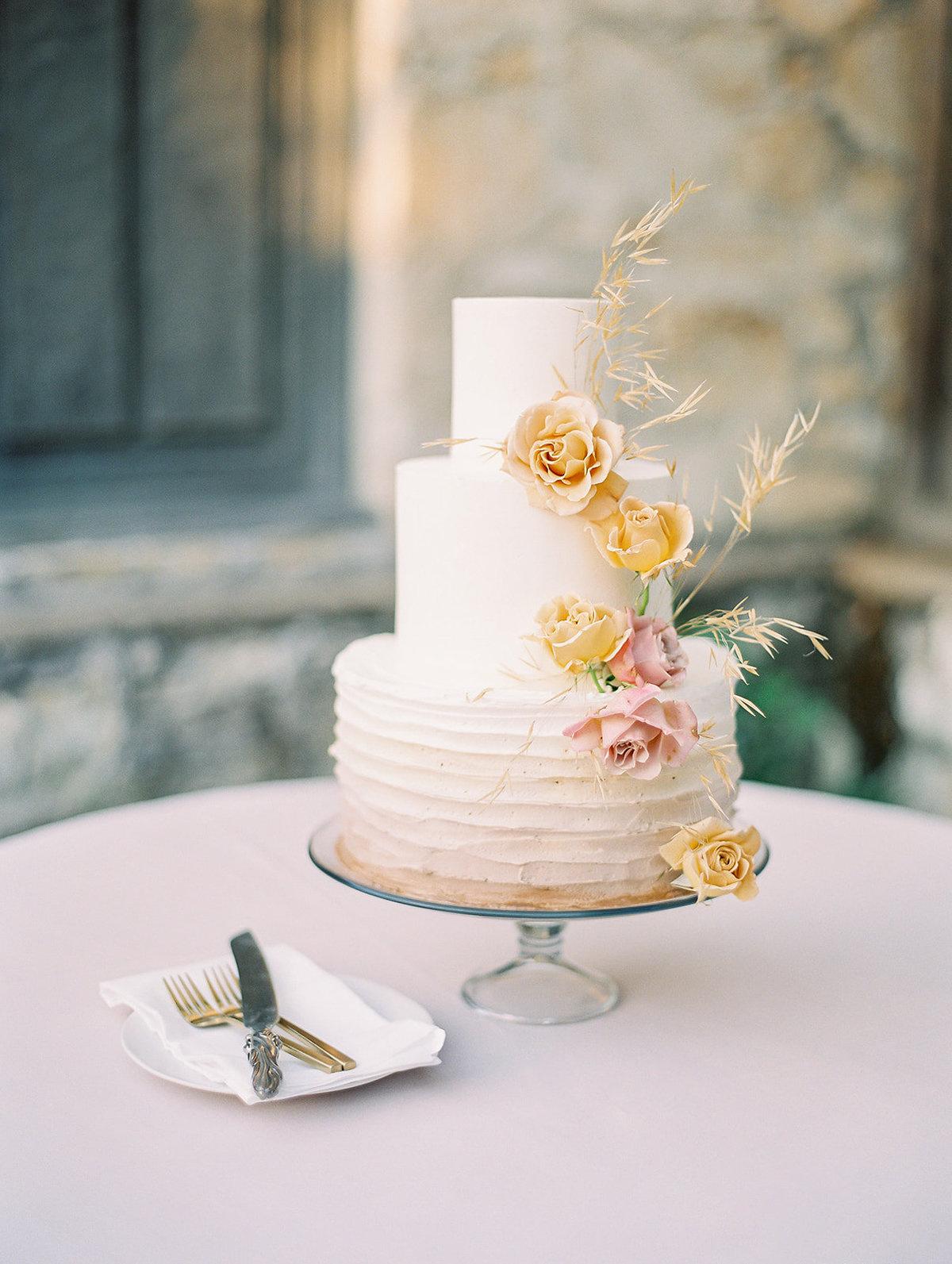 Wispy grass
If your wedding aesthetic is along the lines of a romantic, ethereal countryside fête, you'll love this sweet cake. It's a great example of elegant rustic style, thanks to the combination of smooth and textured buttercream, pastel roses, and wispy pampas grass.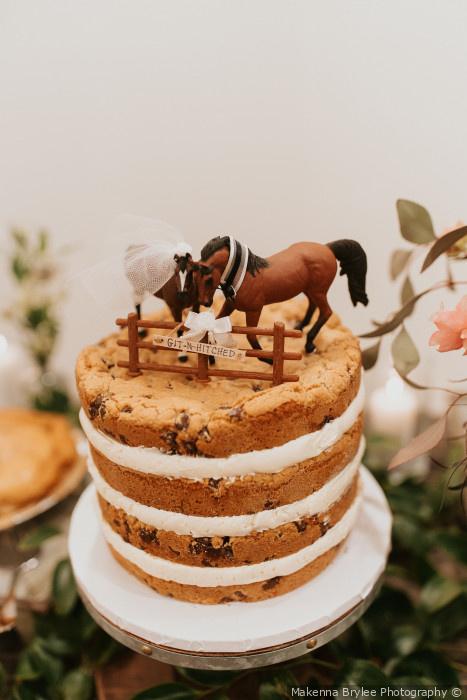 Kitschy cake topper
Since country weddings tend to be more laid-back, it's the perfect opportunity to let loose and have a bit of fun with your cake. A pair of horse figurines as your rustic wedding cake topper would be so cute if you and your S.O. love to go out riding together.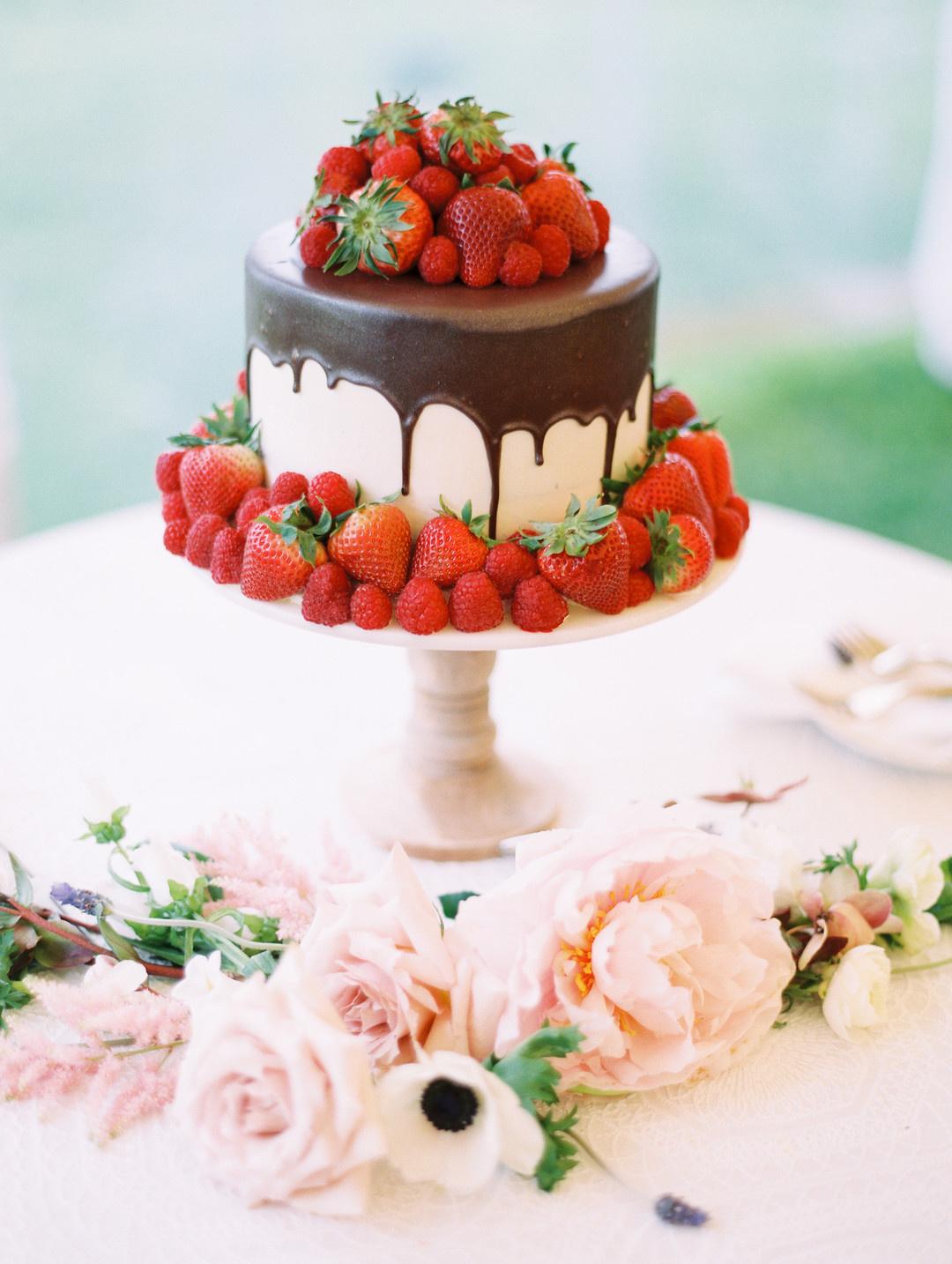 Cake by Zest Fresh Pastry, LLC
Chocolate and berries
Here's a combination you can never go wrong with. Finish a white fondant cake with dark chocolate drip icing, then top it off with freshly picked strawberries, raspberries, or any type of fruit that you love. Even better if they come from your garden or your wedding venue!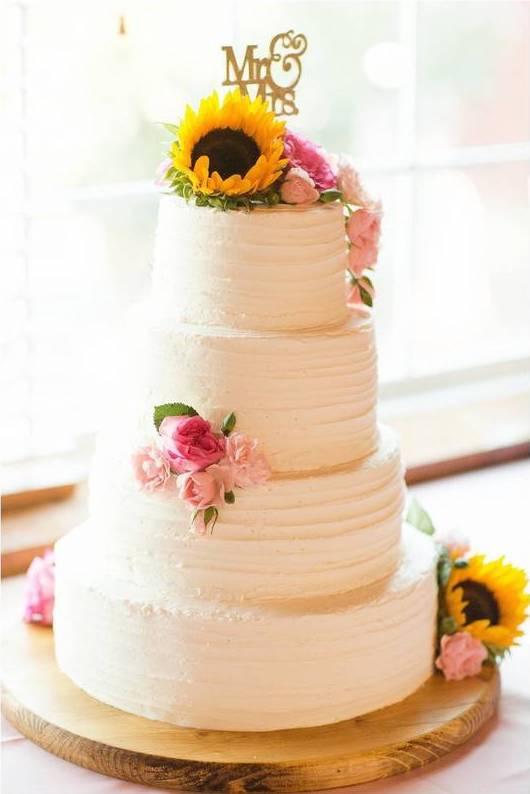 Bright sunflowers
Sunflowers are a rustic wedding staple, and they're a super cheerful way to decorate any country wedding cake. Add pink roses for a summery look.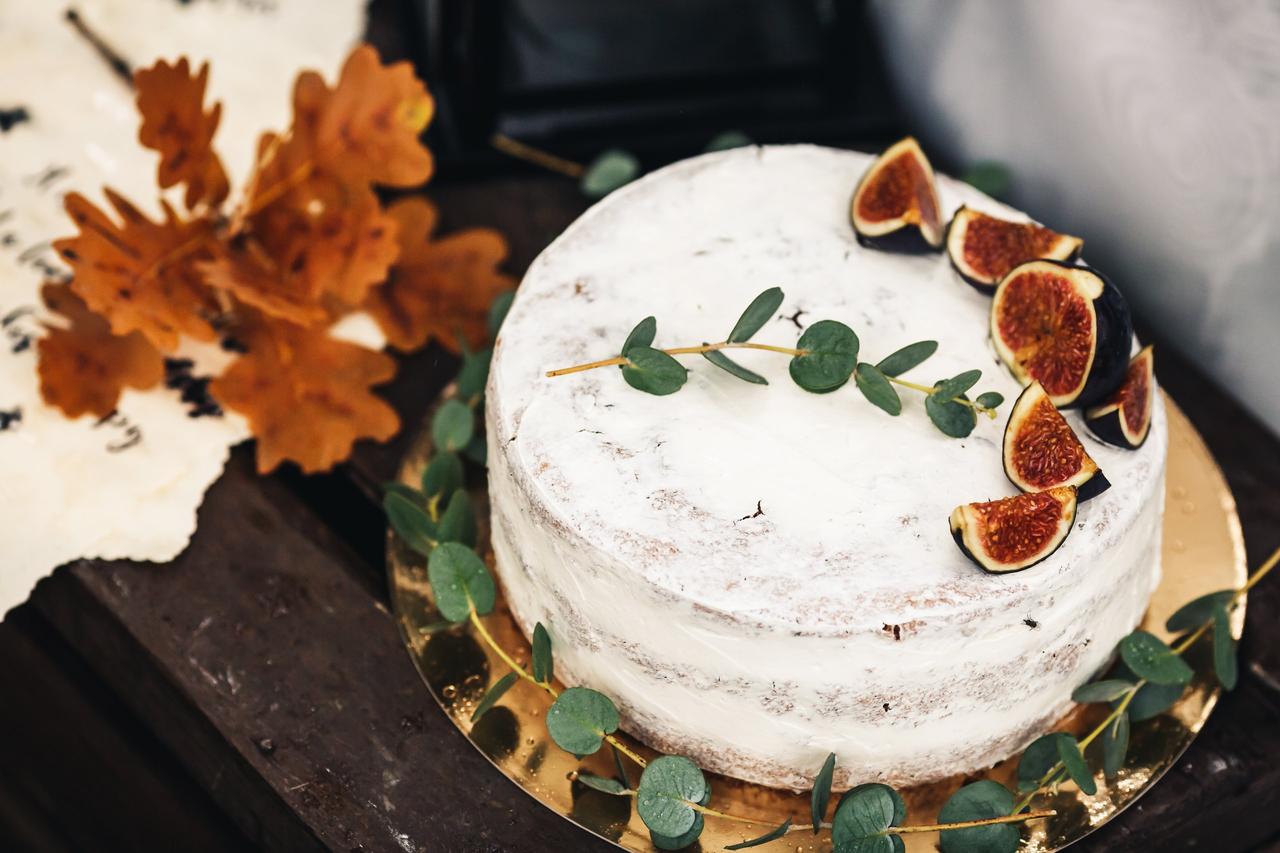 Sliced figs
Decorate your cake with fresh figs if you're having a fall or winter wedding. You can even add seasonal greenery, like autumn foliage or evergreens, to give the cake more of a rustic country vibe.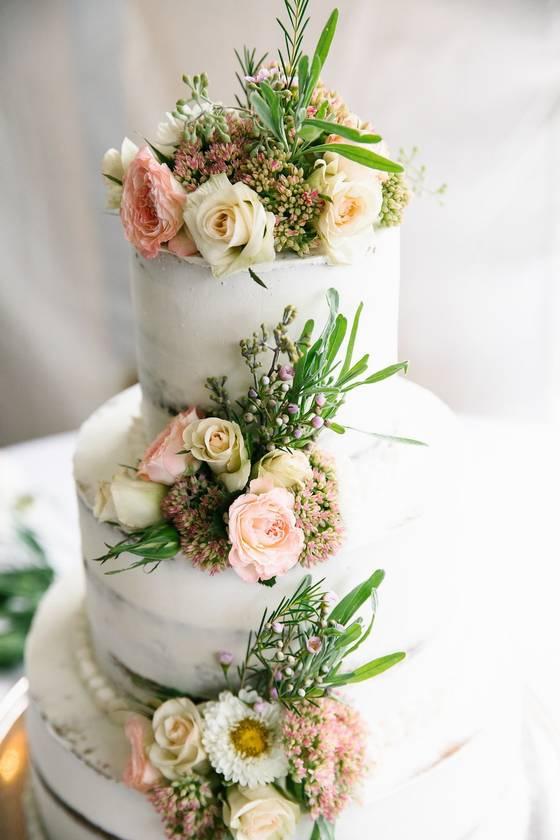 Wildflower bunches
Adding wildflowers will give your country wedding cake a shabby chic look that fits right in at a barn or farmhouse venue.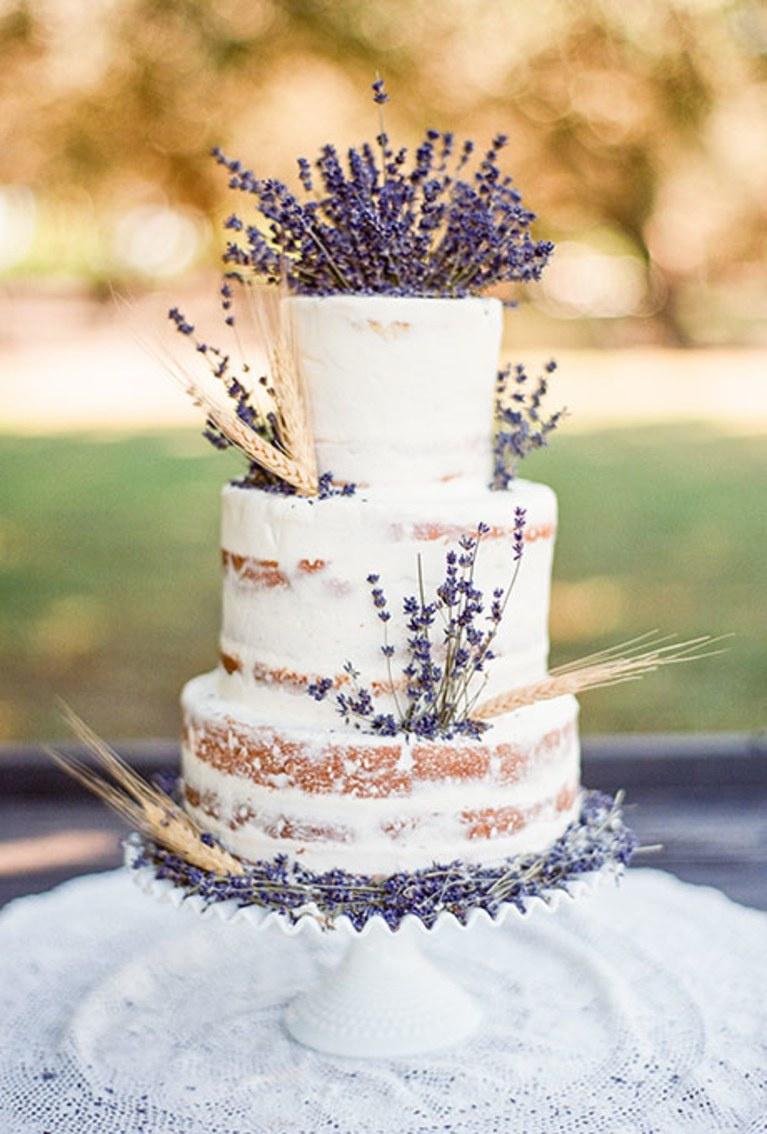 Fresh lavender
Not only does fresh lavender smell amazing, but it's actually edible! Work with your cake baker to discuss a lavender-infused recipe, or simply use it on the outside of your cake as decoration. You can add a few wheat stalks for extra rustic flair.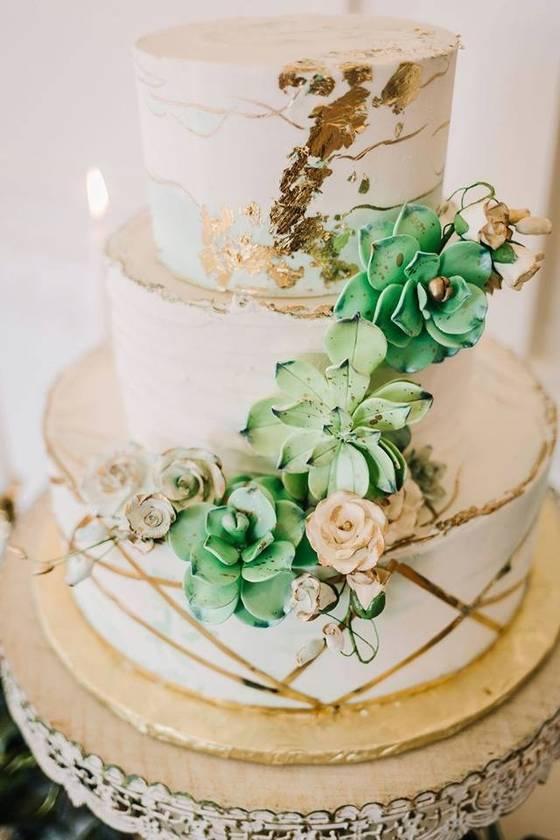 Succulents
Succulents are popular for creating an earthy, outdoor-inspired look when it comes to rustic wedding cakes and decor. Pair them with metallic gold accents, such as edible gold leaf, a cake topper, or a cake stand.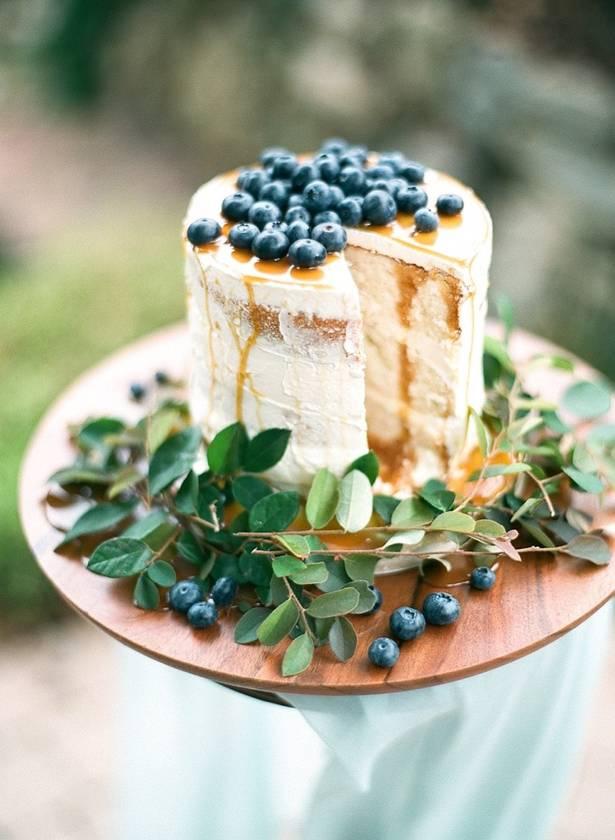 Caramel glaze
A basic one-tier cake becomes a mouthwatering reception dessert once you add caramel glaze and fresh blueberries. This country wedding cake idea would be easy to do with multiple tiers if you are serving a lot of guests, but it's also fast and easy for an intimate celebration.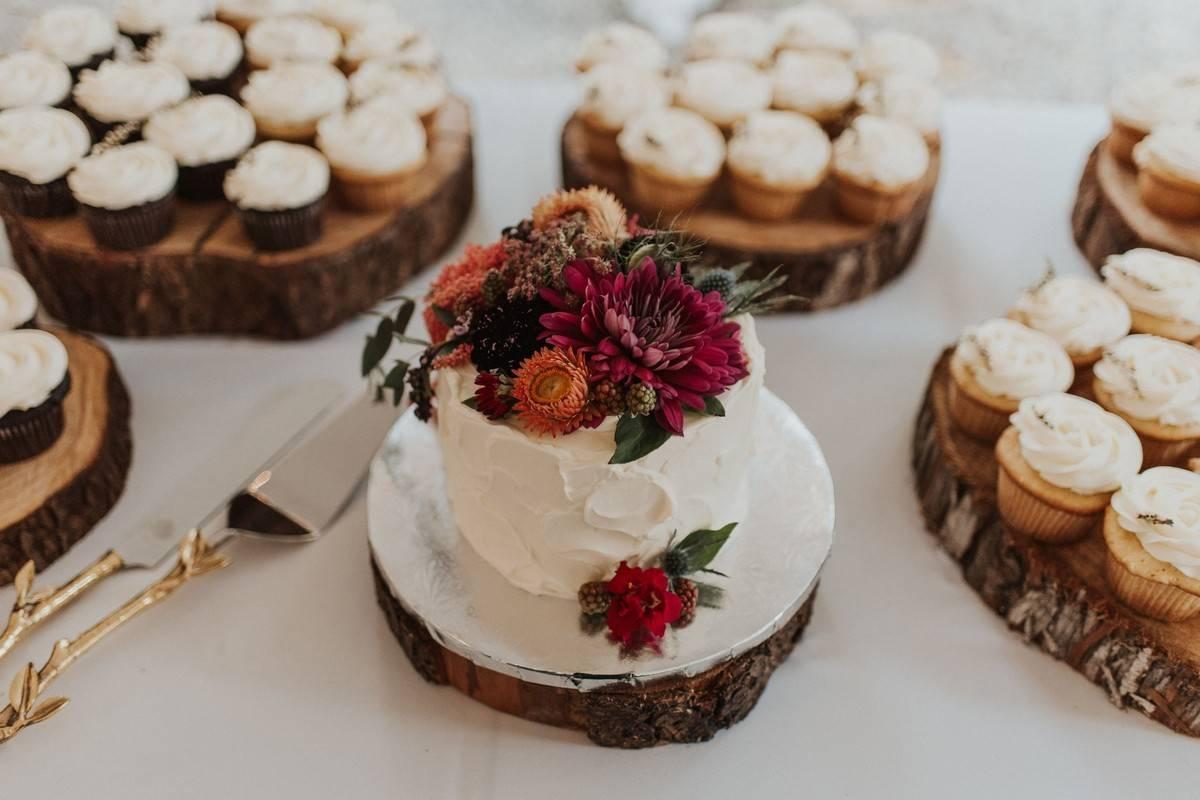 Cake with cupcakes
If you're thinking of serving cupcakes or other bite-sized treats in lieu of cake slices, you can still have a mini cake for the traditional cutting ceremony or photo op. No need to go overboard with the design—a few flowers in colors that match the rest of your decor will do the trick.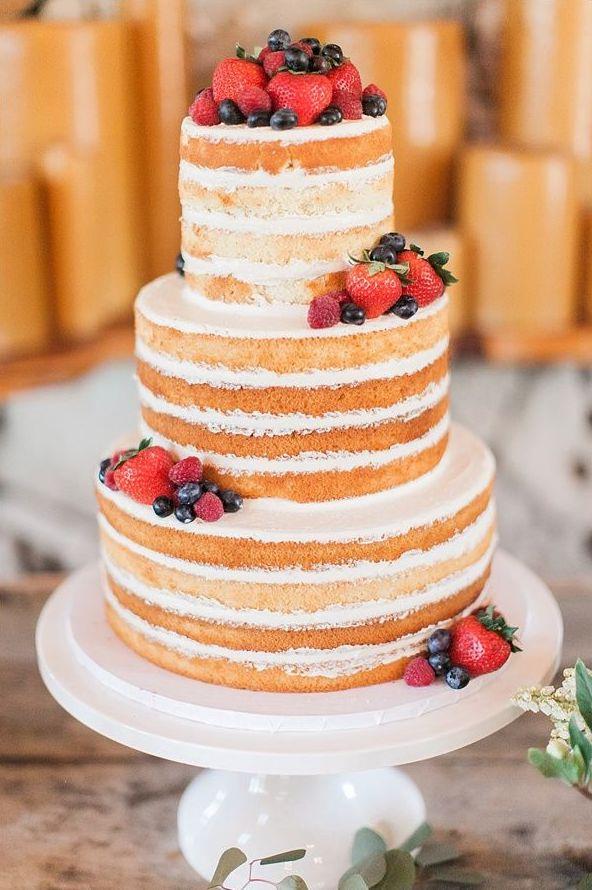 Colorful berries
How cute would this rustic country wedding cake be for a Memorial Day Weekend or Fourth of July wedding? The red and blue berries are so refreshing for a summertime celebration in the countryside, and without extra frosting, you won't have to worry about anything melting in the heat.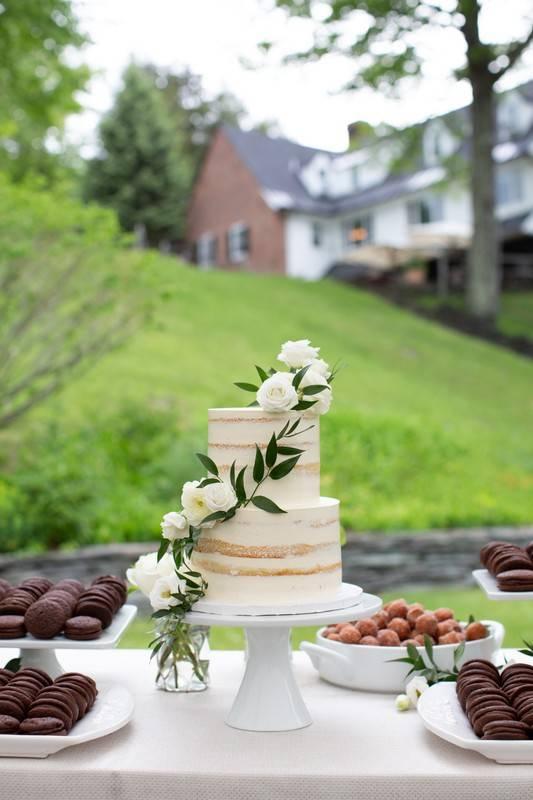 Semi-naked frosting
Finish a semi-naked cake with white flowers and greenery for a simple rustic chic design.