6 Things 'My Big Fat Greek Wedding' Got So Right
Many traditional Greek Orthodox wedding customs made their way into the hilarious rom-com 'My Big Fat Greek Wedding.'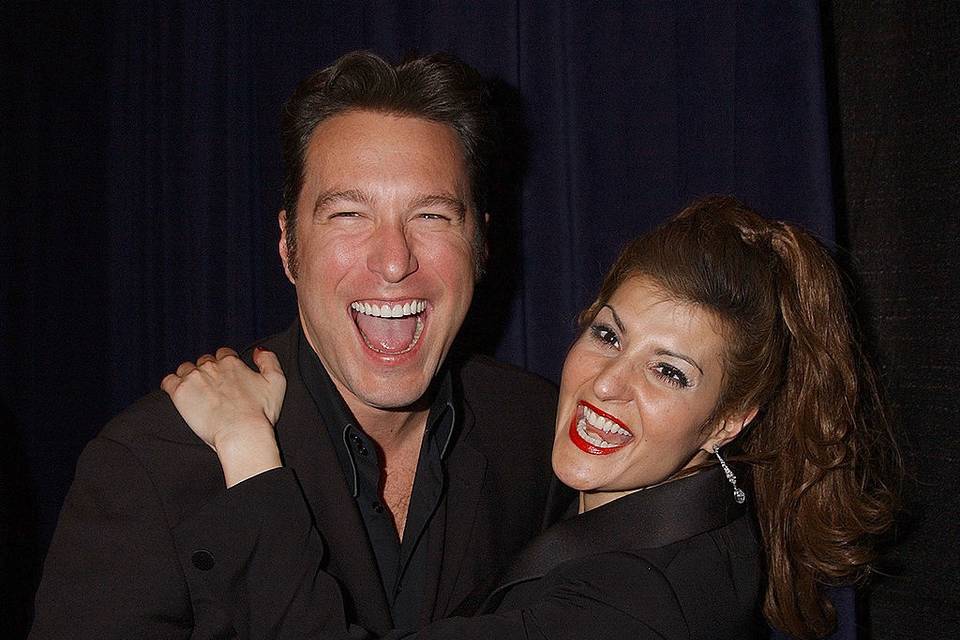 If you've been fervently reviewing My Big Fat Greek Wedding in preparation for your first Greek wedding, then we've got some good news and some bad news. The bad news is Gus, Maria and Aunt Voula won't be making an appearance. While we can't promise it, we're fairly certain a good number of Nicks and Nikkis will, though. The good news is the movie is a great primer for non-Greeks who've never experienced the rituals and spectacle of a Greek wedding.
See what My Big Fat Greek Wedding got right about Greek wedding traditions.
Sorry Xenos, you really do have to be Greek Orthodox to marry a Greek Orthodox person.
Remember when Toula asks Ian if he wants to jet to Vegas or a distant island for their wedding? At that point, eloping was their best option because Ian — a non-Greek person, or Xenos — wouldn't be allowed to marry Toula in the Greek Orthodox tradition. Lucky for our fictional friend, Toula, Ian was willing to get oiled down, dunked in water and baptized so that they could have a traditional Greek wedding that would make her 'rents proud.
The bombonieria stuffing is real, friends.
In one of the many memorable wedding planning scenes from My Big Fat Greek Wedding, Toula, her mother, aunts and cousins are all gathered around the table stuffing candy-coated almonds into frilly bags. A minor detail in the movie, but a pretty important part of Greek wedding traditions IRL. Jordan almonds, or bombonieria, are handed out as wedding favors at a Greek wedding to symbolize the salty-sweet aspects of married life. (But, the hope is that the sweet will always overpower the not-so-sweet.) Far from random, the number of almonds in each favor is pretty important, too. Most couples choose five to symbolize health, happiness, fertility, wealth and a long life.
Does spit keep evil away? Probably.
Toula, Ian and the whole big, Greek family were the targets for a fair amount of spit from the elders. Most memorably, as the bride walked down the aisle, a chorus of "ppppuu" sounds followed her from well-wishing aunts. Spitting, or really just making more of a spitting sound, is part of a group of talisman some Greeks retained from the old country, collectively known as apotropaic. They're essentially protectors from evil, the evil eye and negativity. While apotropaic like spitting aren't a formal part of a Greek wedding, it's fair to say that a traditional family would do a bit of spitting at some point during the ceremony or reception.
Grab your closest Greek friend to serve as your best man.
Poor, Ian! After converting to Greek Orthodox to marry Toula, he had to inform his real best friend that he wasn't exactly fit to serve as his best man because he wasn't Greek. At most Eastern Orthodox weddings, the best man doubles as the wedding sponsor, or Koumbaros. The sponsor is the fourth most important person at a Greek wedding, next to the partners and the priest, and has an integral role in performing many of the traditional wedding ceremony rituals. We're sure many a Greek Orthodox convert knows this dilemma, so we're glad My Big Fat Greek Wedding got this right.
Greek Orthodox ceremonies are pretty unique and entirely in Greek.
It's a good thing Toula's parents made her go to Greek school because in the movie (and in real life) she wouldn't have known a word of what was being said at her Greek wedding ceremony. Hearing the priest going through the wedding sacrament in the Greek language was totally accurate for a traditional ceremony, as was the ritual of the Stefana crowns. My Big Fat Greek Wedding really nailed the centuries-old traditions that are still present at modern Greek weddings. At one point Toula turns to Ian and informs him that it's time to take a walk around the wedding altar, which is another important ritual in a Greek wedding as it's the first official steps as a married couple.
Snaps, claps and a lot of choreography.
We're not exactly sure why Toula was hesitant to join her wedding reception at Aphrodite's Palace — it looked like boatloads of fun! My Big Fat Greek Wedding really showed off the exuberance and personality of Greek culture, including a few of the Greek folk dances you're bound to see at any present-day wedding. The movie wedding reception ends with the entire family forming a circle to celebrate the wedding, a popular dance called Tsamiko. One of several circle dances you're bound to see at a Greek wedding reception, Tsamiko is a fan-favorite because of its emphasis on enthusiasm over rigid, choreographed moves.