21 Modern Ketubahs You Can Buy on Etsy Right Now
A ketubah is an important part of a Jewish wedding ceremony. These modern ketubahs are both gorgeous and super-easy to purchase.
We have included third party products to help you navigate and enjoy life's biggest moments. Purchases made through links on this page may earn us a commission.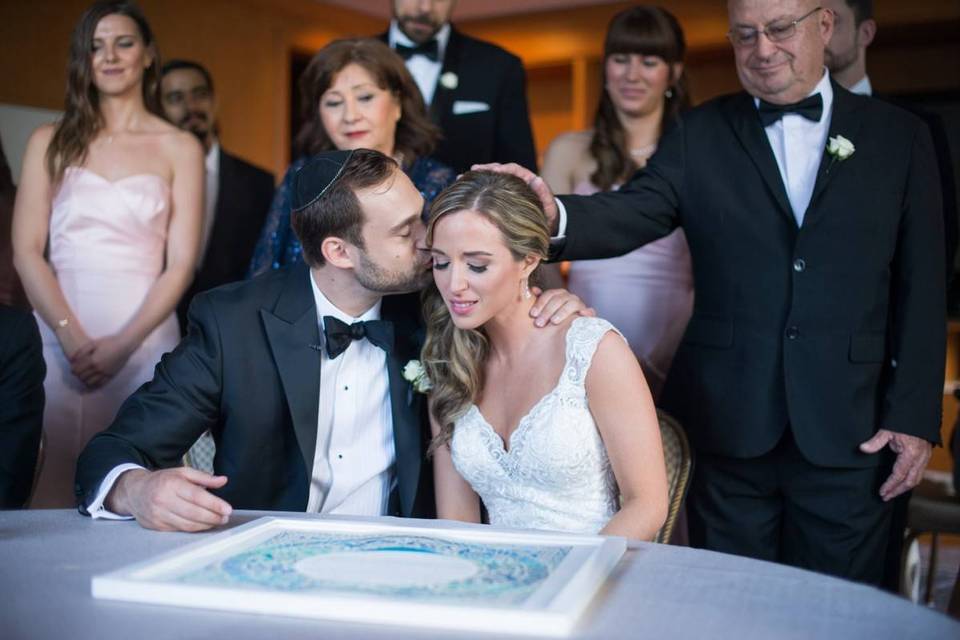 A ketubah, or marriage contract, is a mainstay at most Jewish weddings. This document is not only religiously significant, but also often beautifully decorative, serving as a work of art to hang in the married couple's home for a lifetime. In fact, some non-Jewish couples are connecting with the tradition and finding ways to incorporate modern ketubahs in their weddings as well. Not too long ago ketubahs weren't the easiest to find, especially ones that aren't super-traditional, but nowadays there are plenty of online sellers creating these gorgeous contracts—including on Etsy! We love the wide variety of modern ketubahs available on Etsy, ideal for the couple going for a contemporary vibe on their wedding day. These ketubahs usually have customizable text and the words may differ depending on your religious denomination, so be sure to run it by your officiant before purchasing.
These modern ketubah designs will be a powerful and beautiful part of your wedding day—and beyond. Bonus: You can buy them right now on Etsy!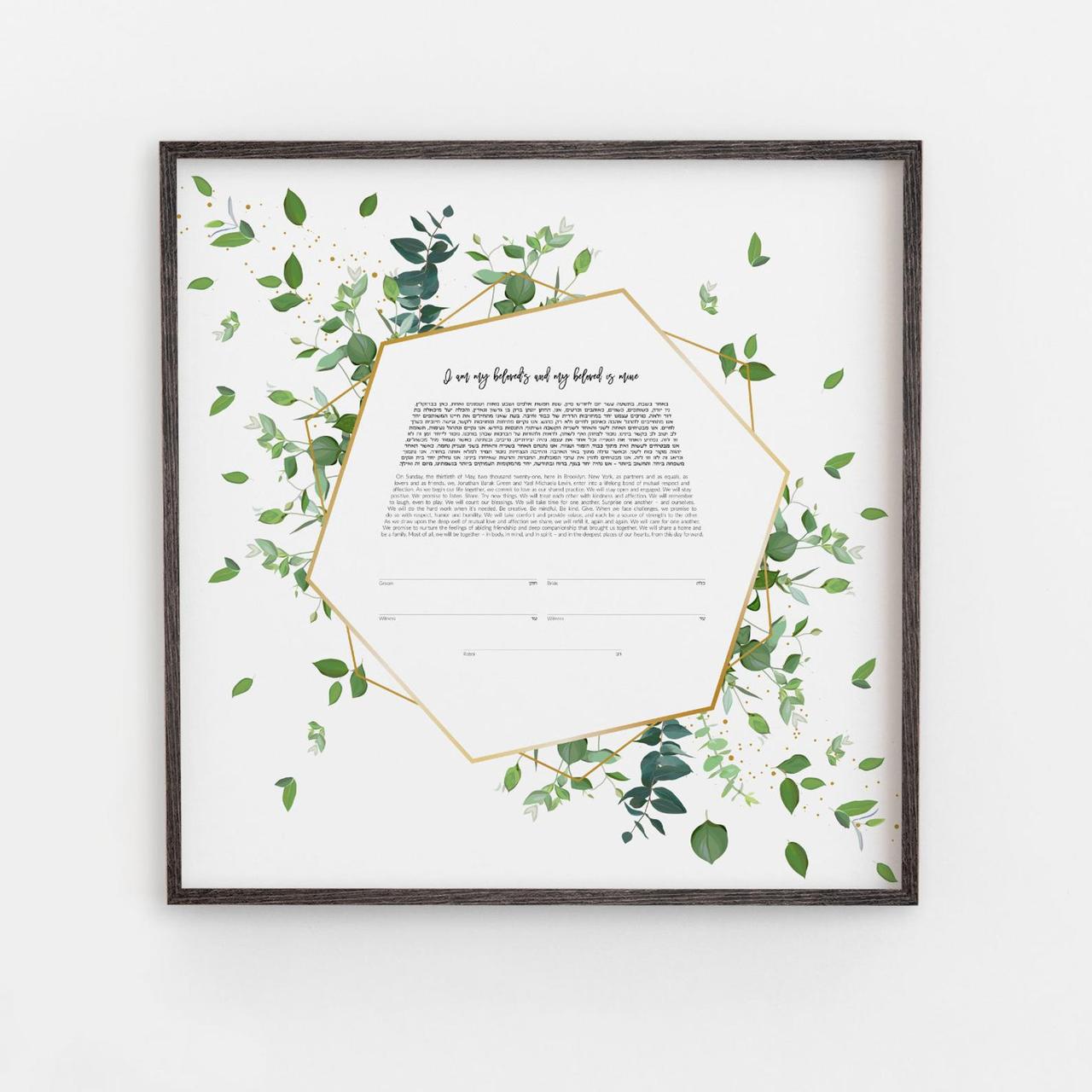 We love how this modern ketubah combines two of the most popular hallmarks of contemporary weddings—greenery and geometric designs.
Sweet Ketubah minimalist herbal geometric ketubah, from $150, Etsy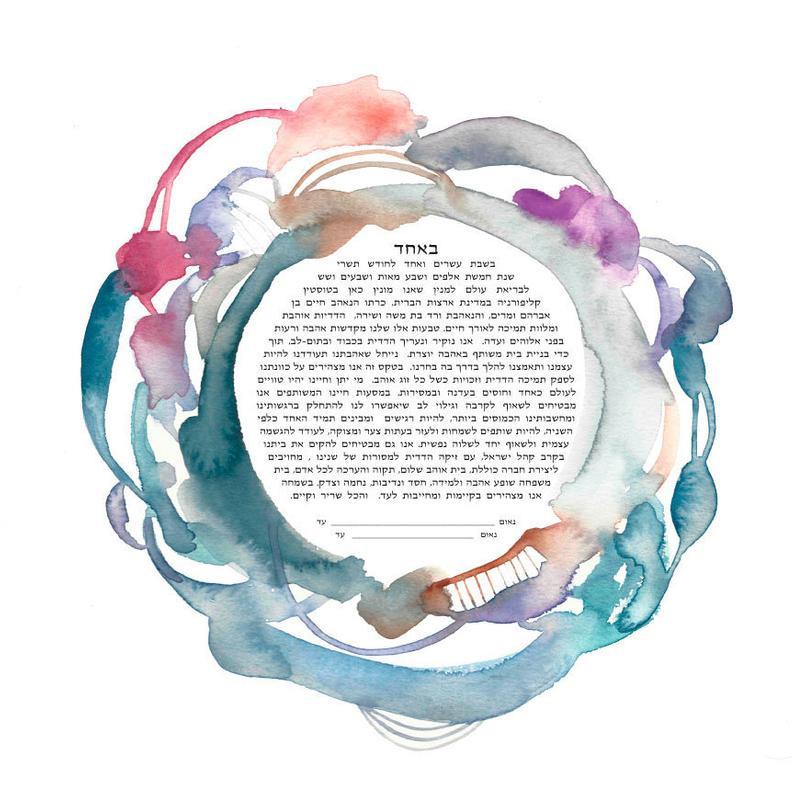 Watercolor wedding details are totally on-trend right now, so if you're incorporating this modern-romantic vibe into your big day, this ketubah is definitely worth considering.
Susie Lubell Rhapsody ketubah, from $242, Etsy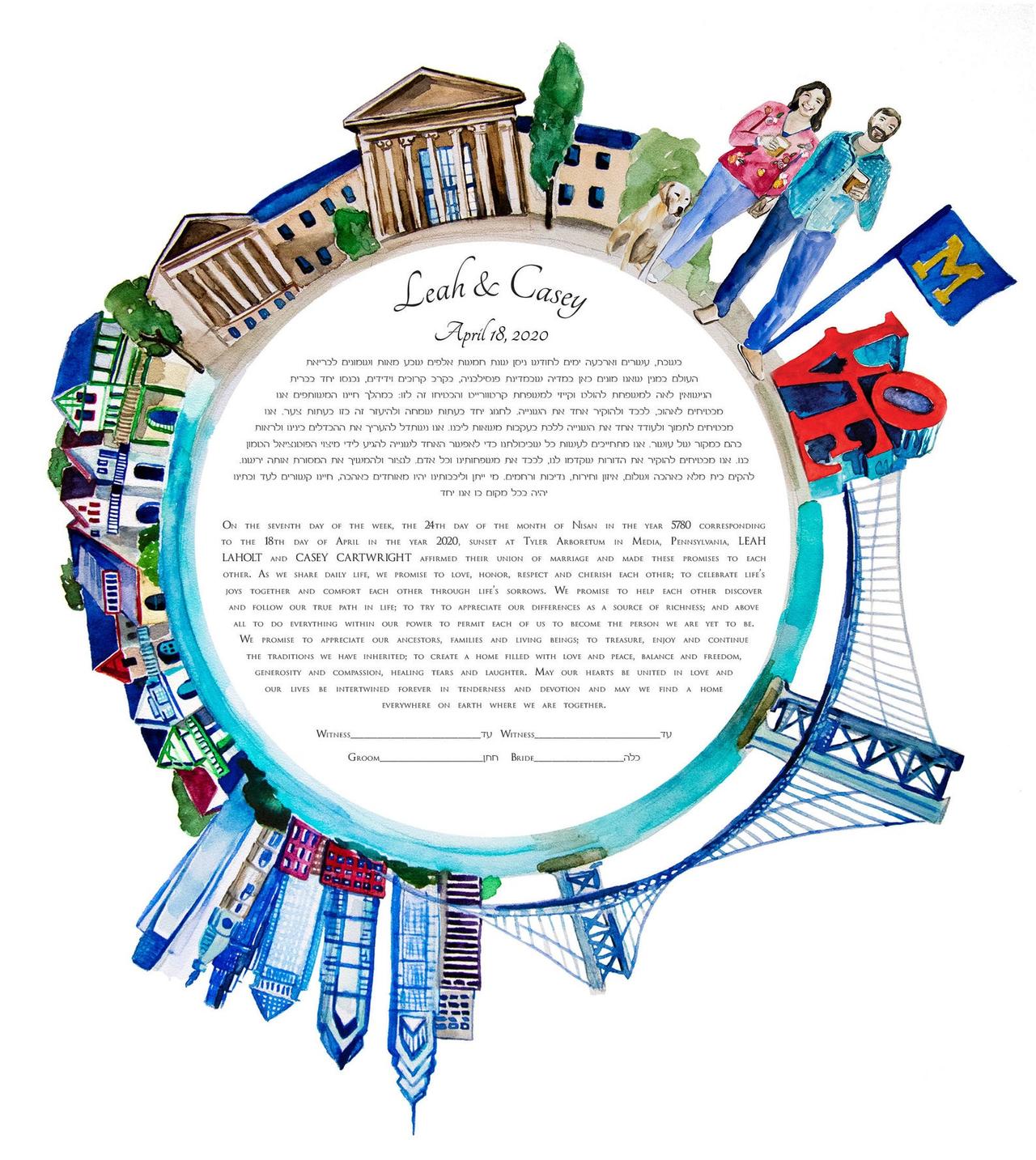 You and your partner's love story is totally unique. Why not celebrate your relationship with a custom hand-painted ketubah that features special locations, from your college campus to your favorite vacation spot?
Ketuba Home custom hand painted ketubah, from $550, Etsy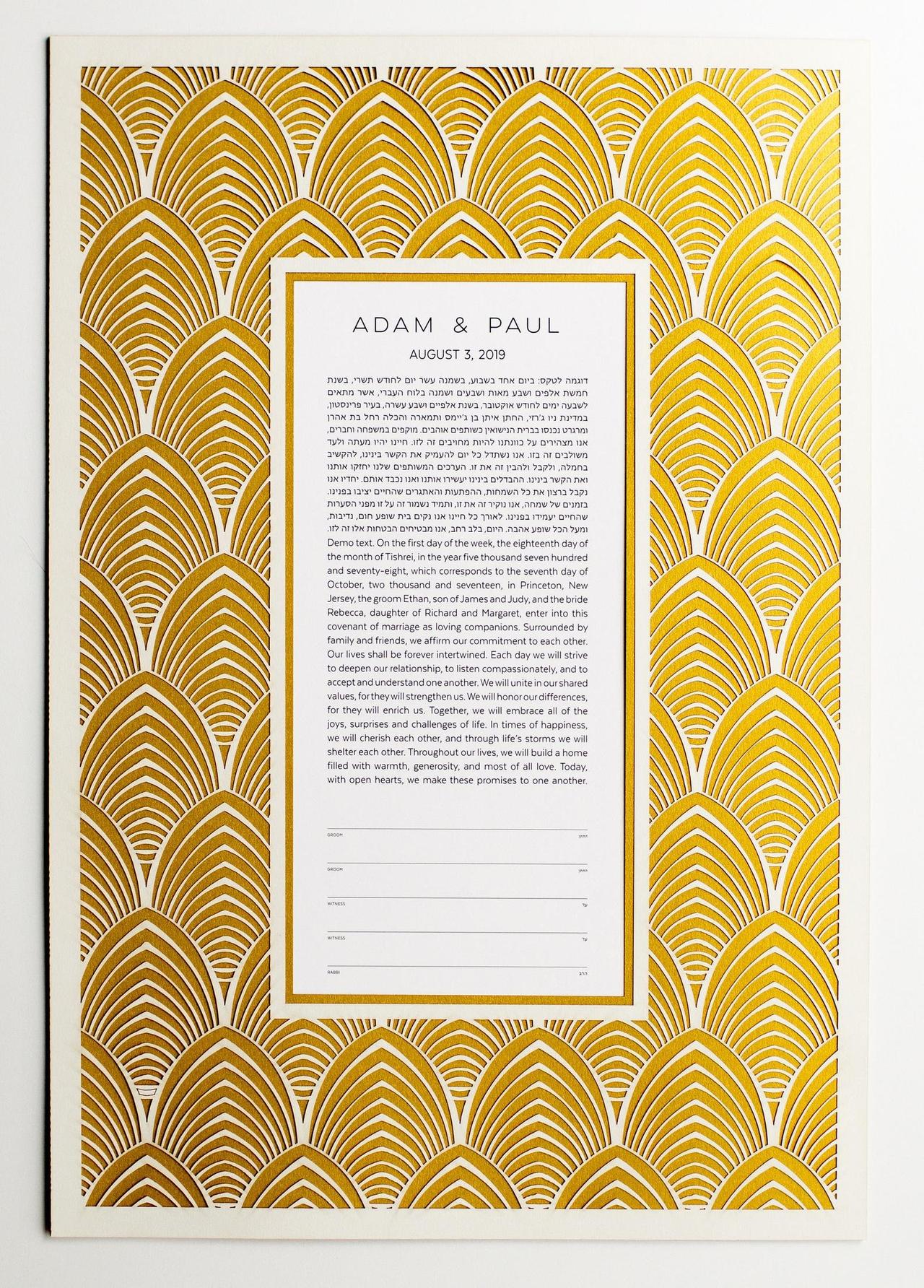 Today's artists are incorporating modern designs into the very traditional paper cut ketubah. This Art Deco-inspired paper cut ketubah is among the most unique we've seen and you don't have to be throwing a vintage-inspired wedding to want this design.
Ink With Intent Art Deco paper cut ketubah, from $413, Etsy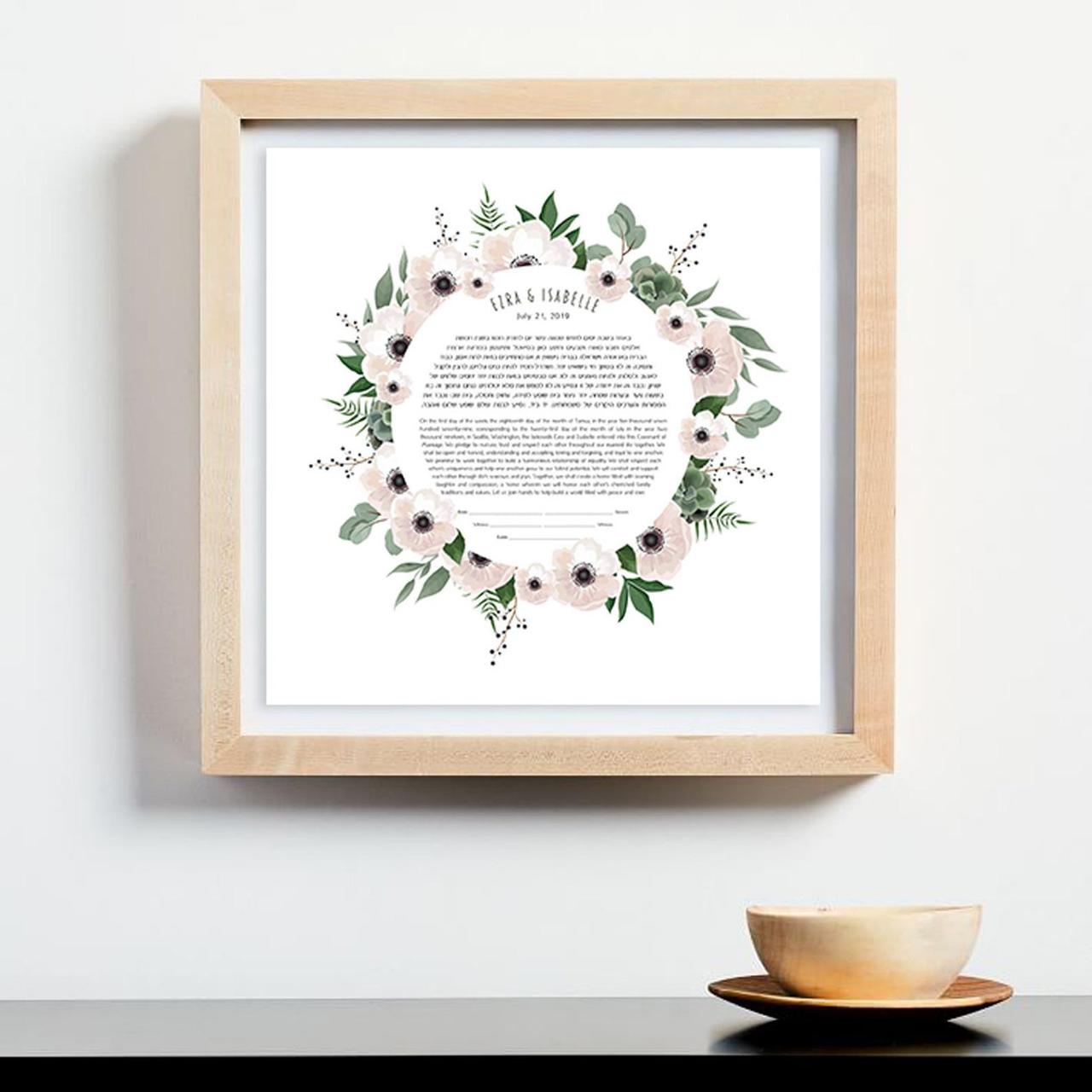 Circles play a major role in Jewish weddings—the rings, the circling ceremony, even the circle dances during the hora. And turns out that many ketubahs are also circular. This modern ketubah features a sweet pink floral design, while maintaining that ever-important circle.
Illuminated Ketubah Wild Anemones ketubah, from $140, Etsy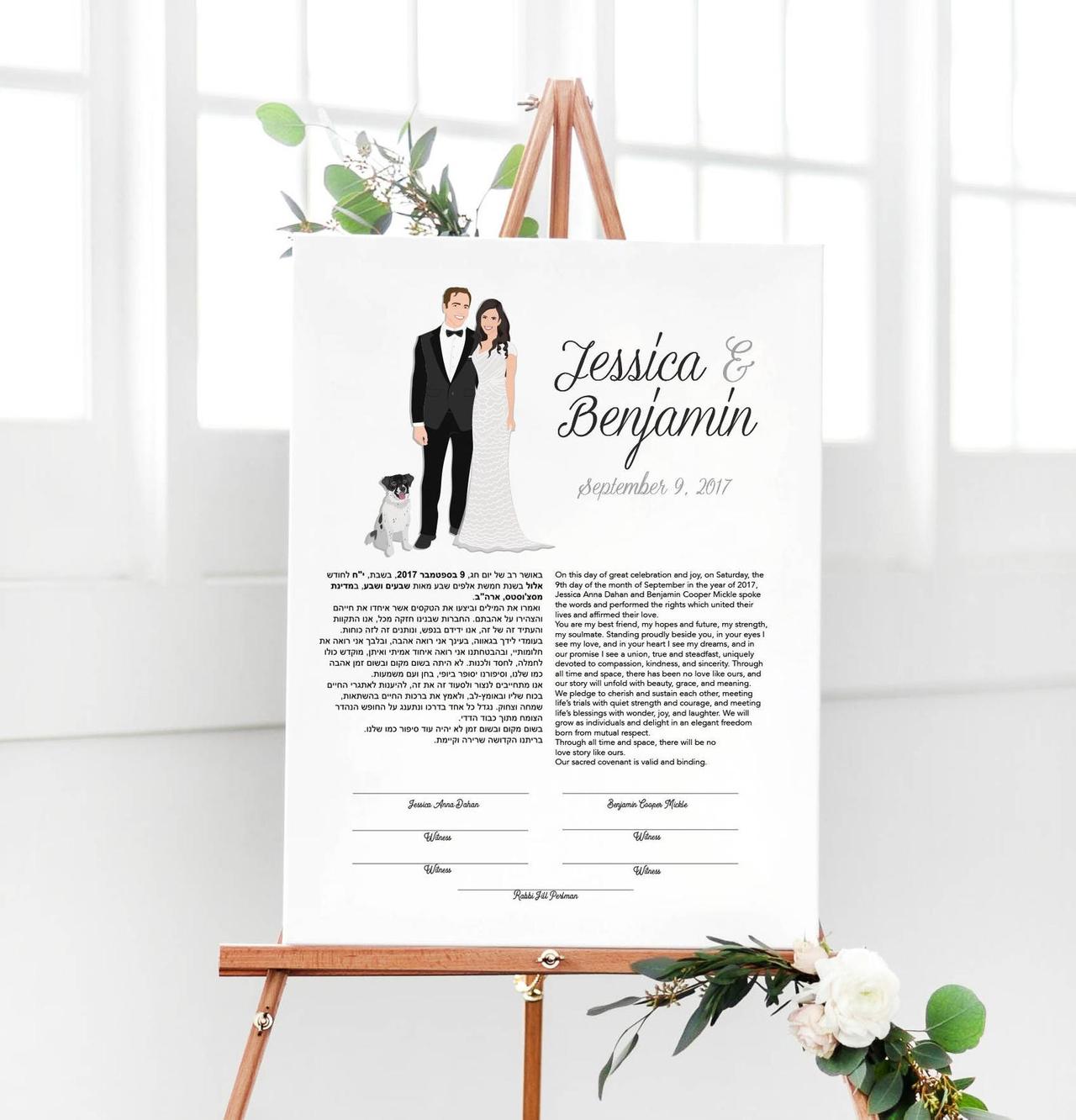 Add a fun touch to your modern ketubah with custom caricatures of you and your partner (plus your fur baby!). Your guests will get a kick out of seeing your likenesses on your ketubah—and what a special piece to hang in your home!
Miss Design Berry Inc. wedding ketubah with couple portrait, from $312, Etsy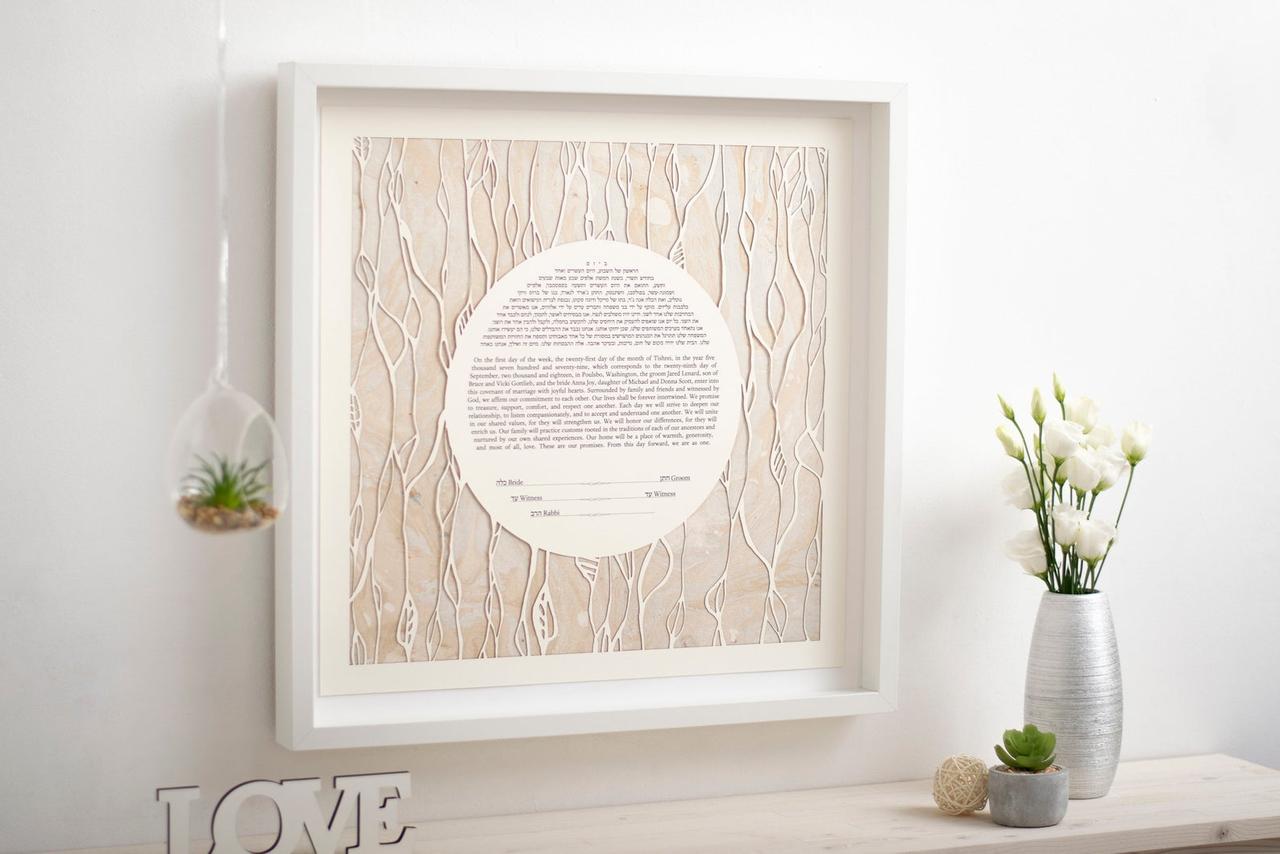 Here's a unique twist on the traditional botanical ketubah. This paper cut style features hand-cut branches and leaves in a more minimalist motif. This neutral ketubah will look great with a variety of home decor styles.
Happy Project Shop paper cut ketubah, from $255, Etsy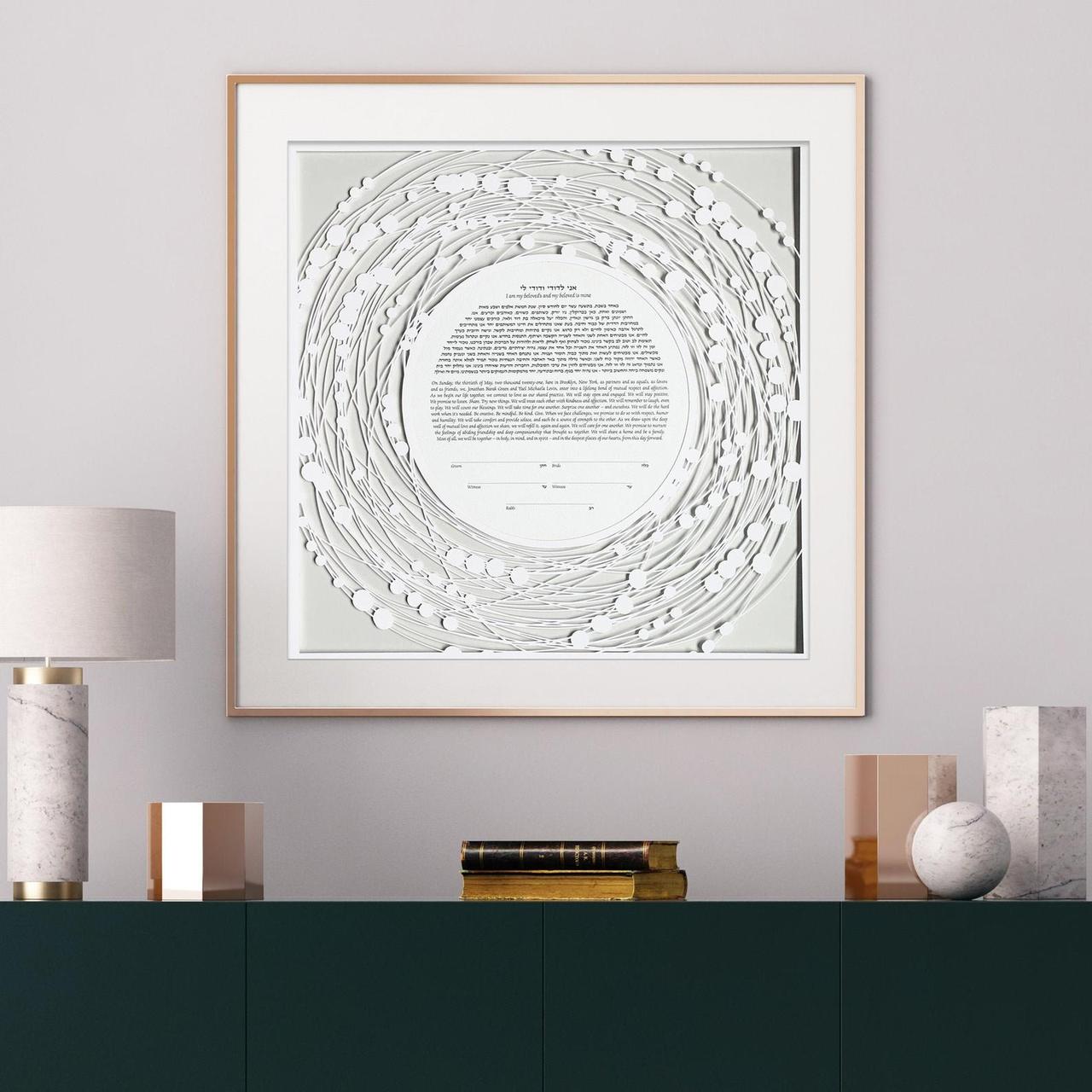 Another cool spin on the round ketubah—a paper cut nest-like design. A variety of colored backgrounds are available, from neutral gray to bright watercolors, to match your home decor.
Ruth Becker Art beaded round paper cut ketubah, from $616, Etsy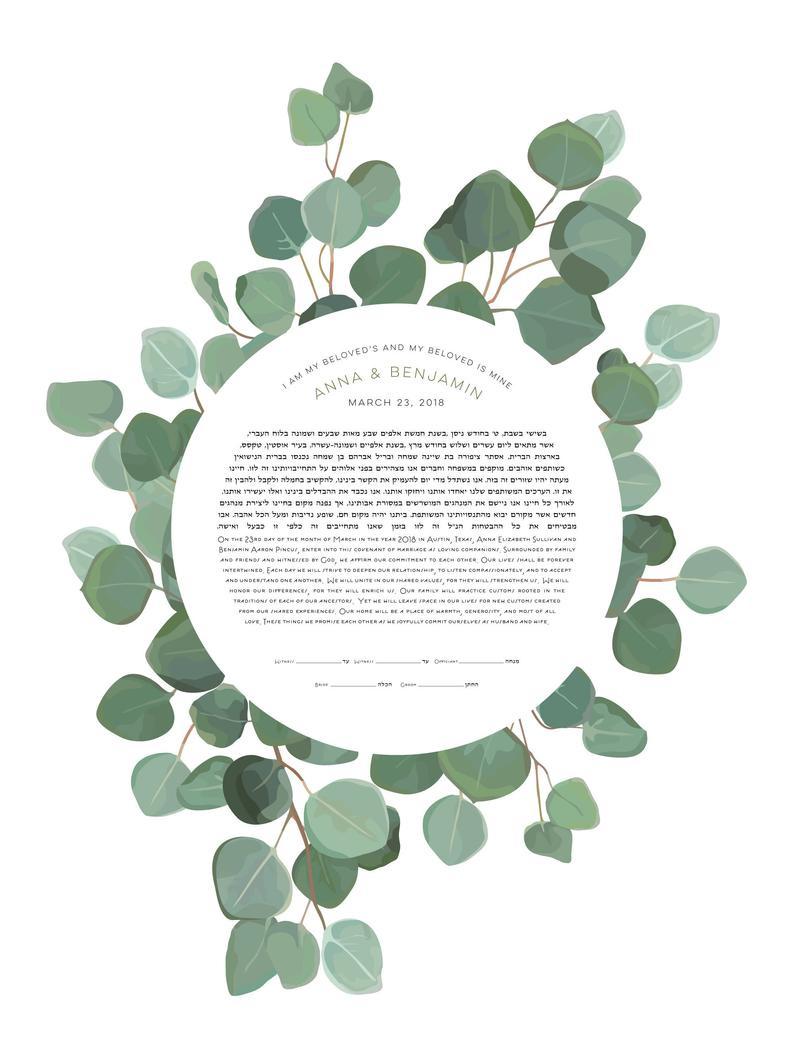 If you'll be incorporating greenery into your wedding decor, this modern ketubah is a natural fit. The simple eucalyptus design is quite stunning, and will also look beautiful in your home post-wedding.
Ketubata eucalyptus branches ketubah, from $150, Etsy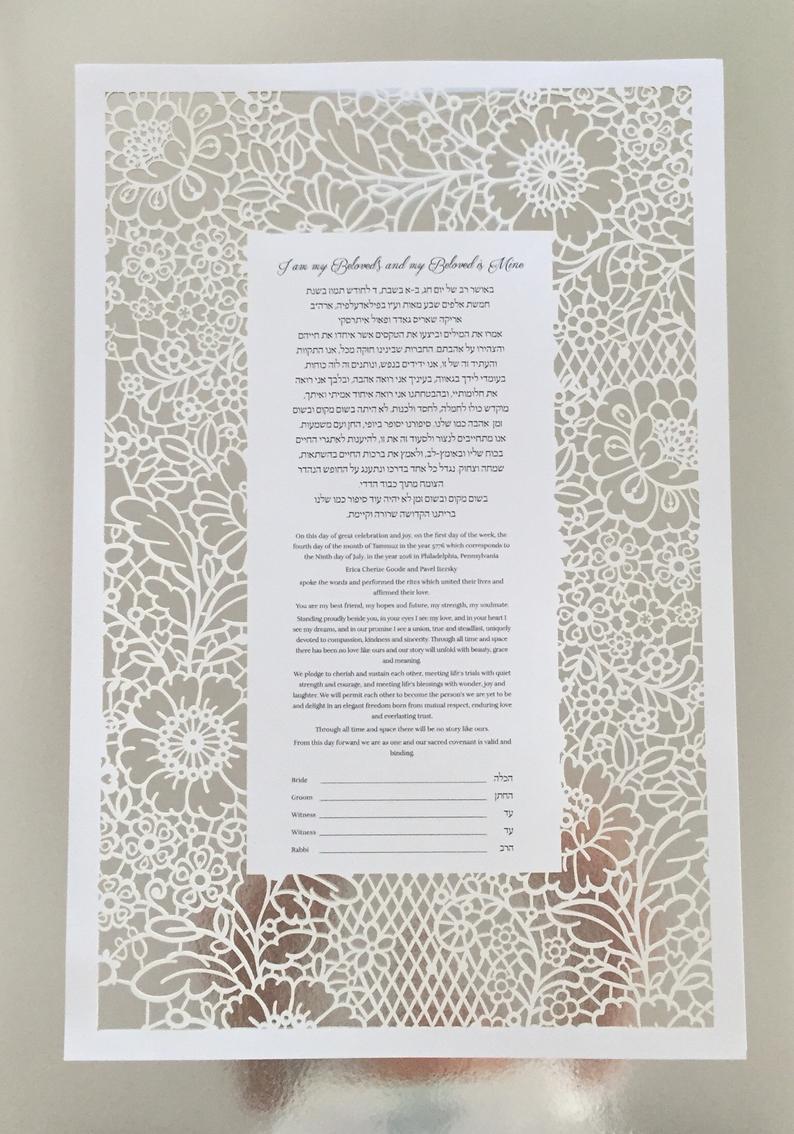 Lace-themed ketubahs are another traditional style, but we are huge fans of this more modern take. The paper cut floral lace is so intricate and definitely wow-worthy.
Ketubata Lace in Bloom ketubah, $350, Etsy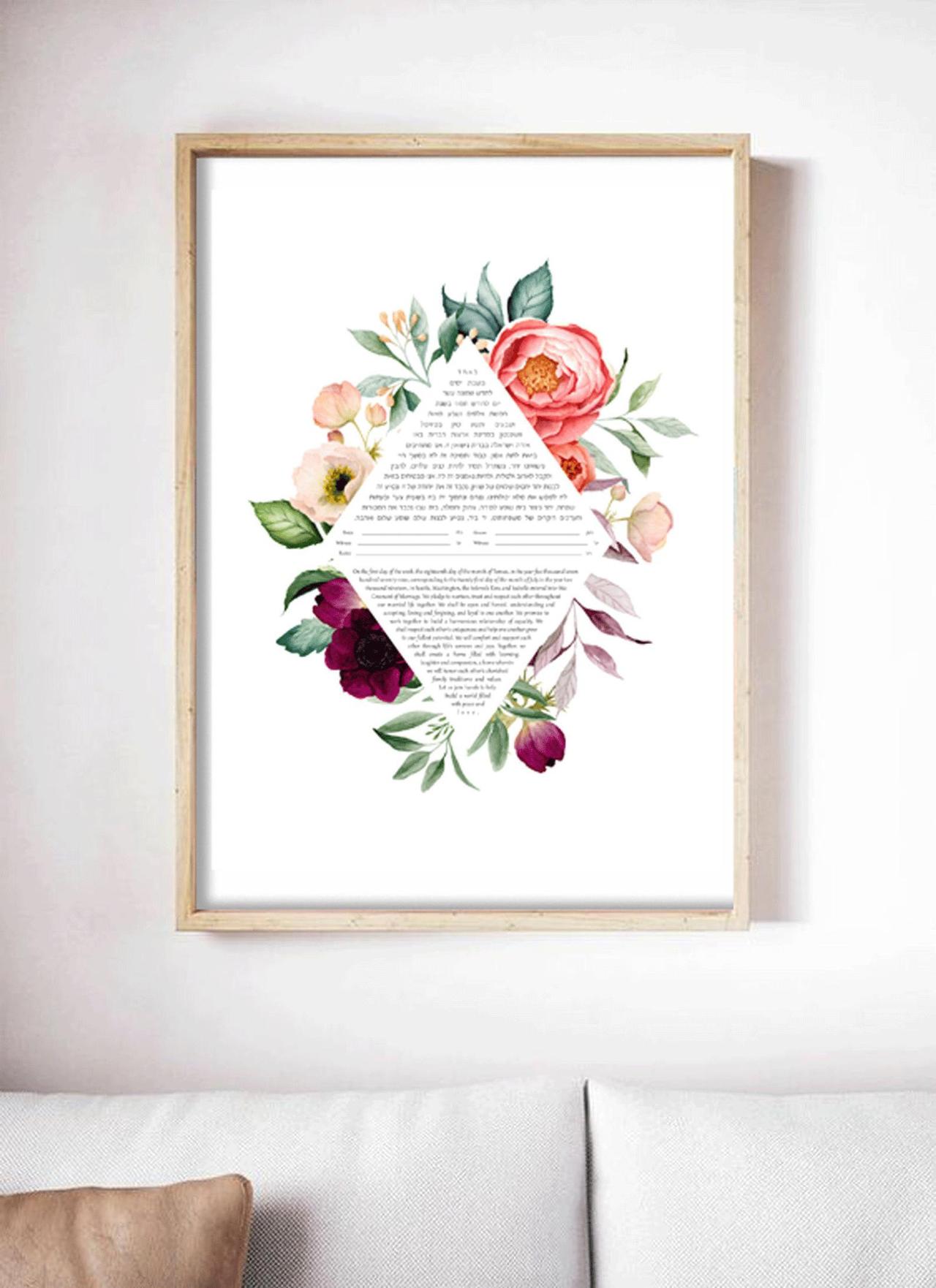 Yes, another botanical ketubah—but we just couldn't resist the variety of florals and rich, boho-inspired colors. Plus the diamond-shaped text is certainly a more contemporary format.
Illuminated Ketubah Boho Romance ketubah, from $140, Etsy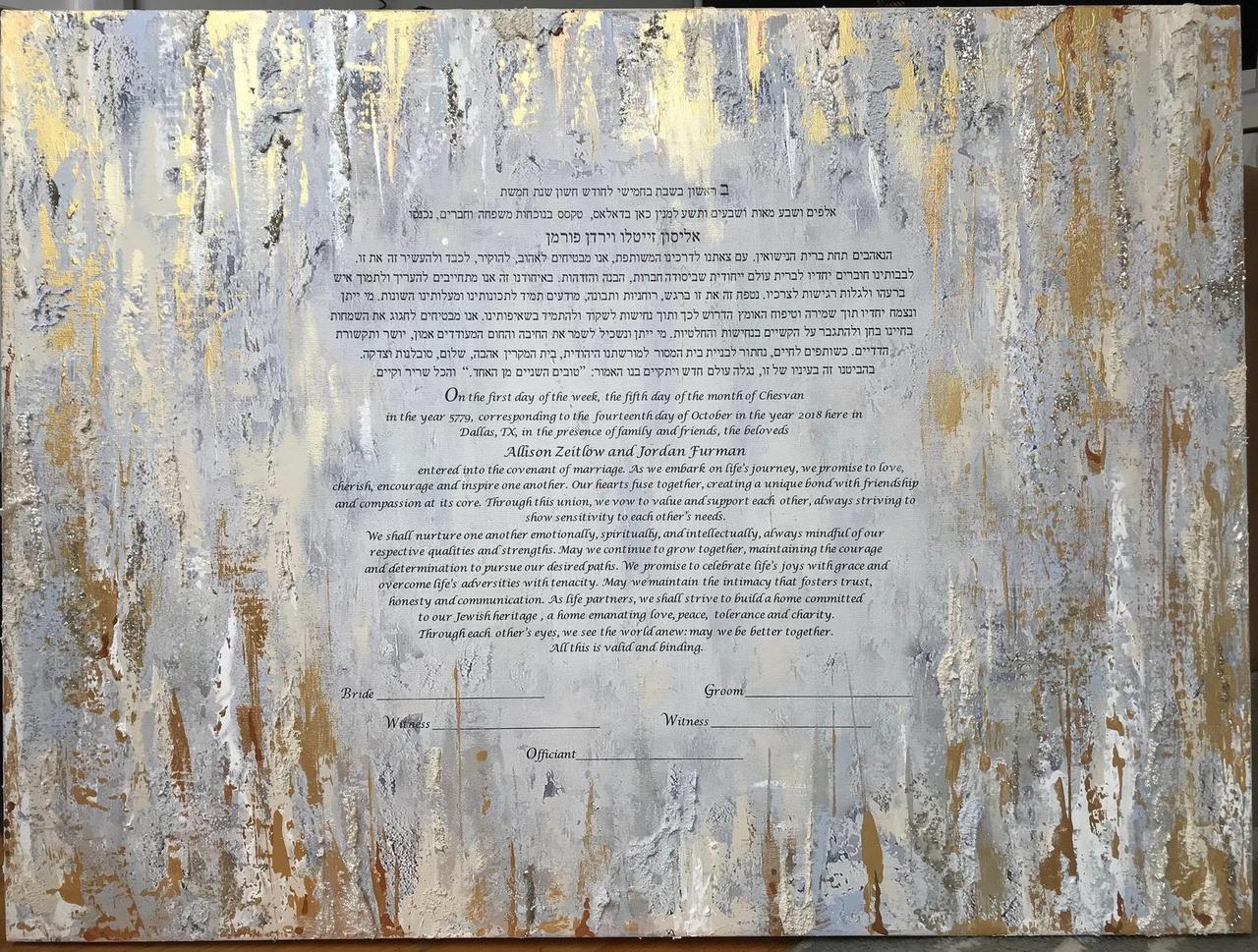 Is this a piece of abstract art or a ketubah? Turns out it's both! This spectacular piece will definitely make an impressive (and glamorous!) statement in your home.
Lindi Designs abstract gold ketubah, $650, Etsy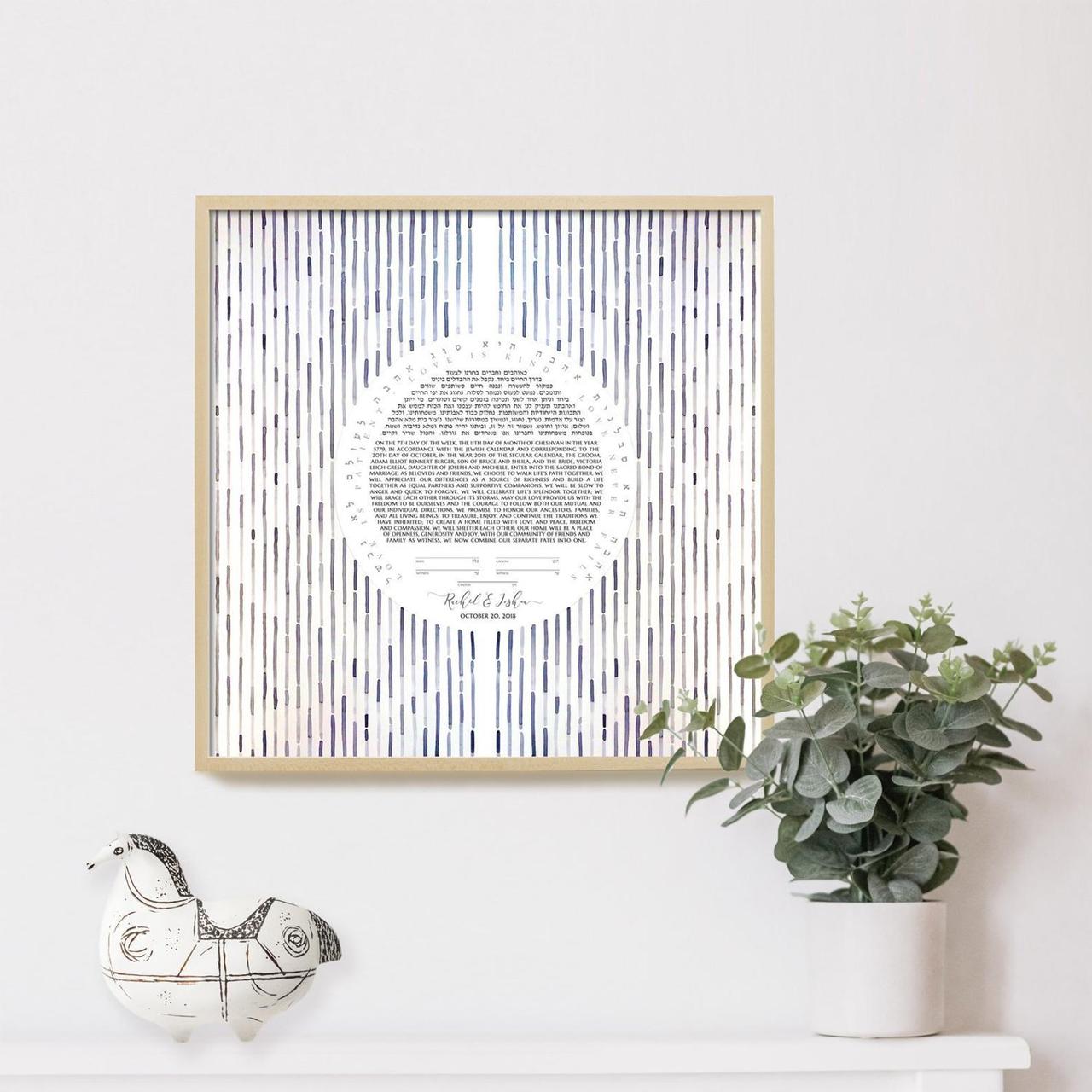 If your home decor style leans more toward mid century modern, you'll adore this waterfall-inspired design. Simple, understated, yet totally chic.
Once Upon a Paper mid century modern waterfall ketubah, $600, Etsy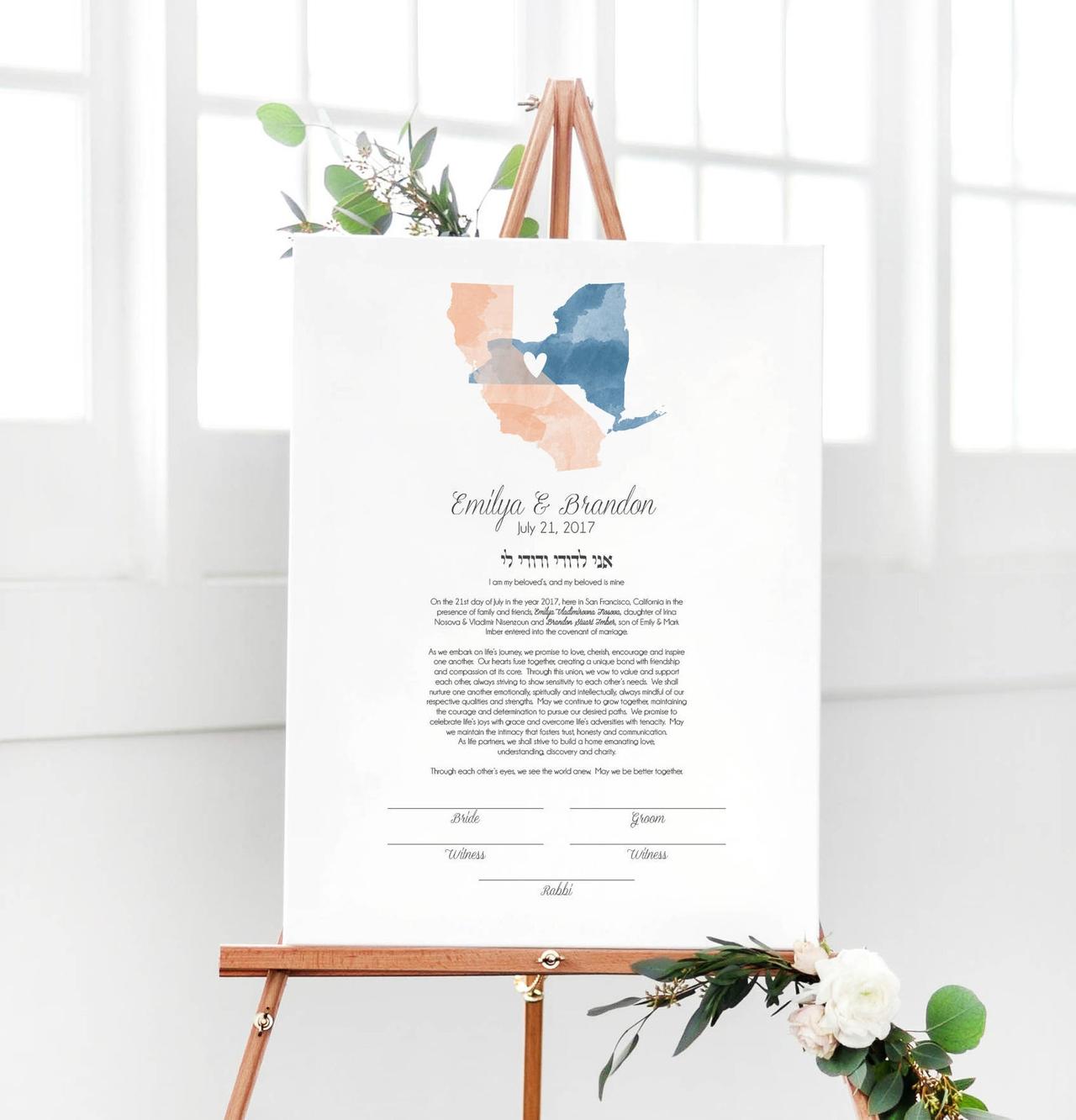 If you and your partner come from different parts of the country, celebrate your home states with this modern ketubah. The design features hand-painted renderings of your and your partner's home state—a sweet reminder of your history.
Miss Design Berry Inc State Love ketubah, from $256, Etsy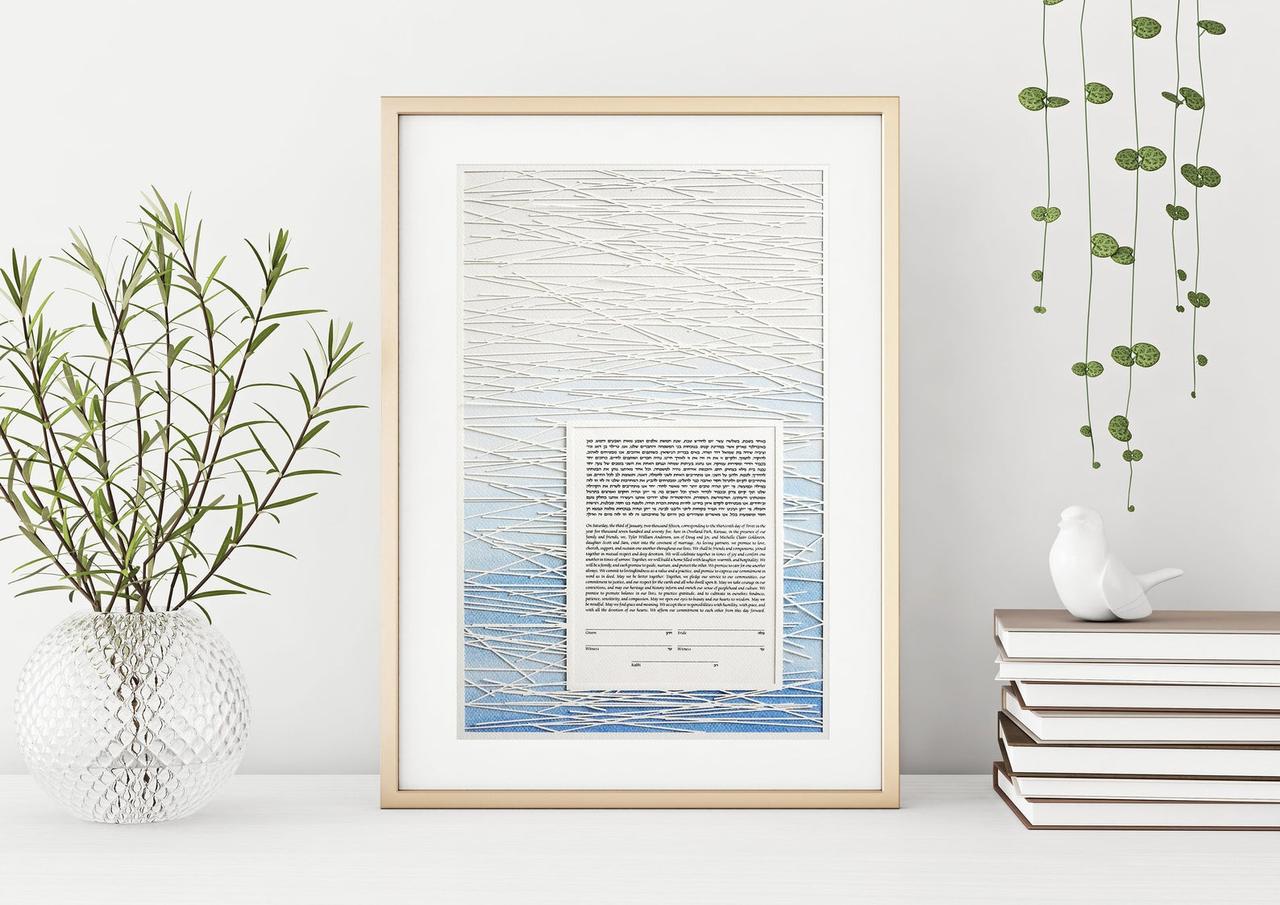 This paper cut design provides that sometimes the simplest ketubah design can have the most impact.
Ruth Becker Art Lines paper cut ketubah, from $456, Etsy
Looking for a bold geometric design with a touch of glam? Check out this modern ketubah, which combines a hexagon pattern with a smattering of crystal stones.
Noa Attias Judaica modern ketubah, $620, Etsy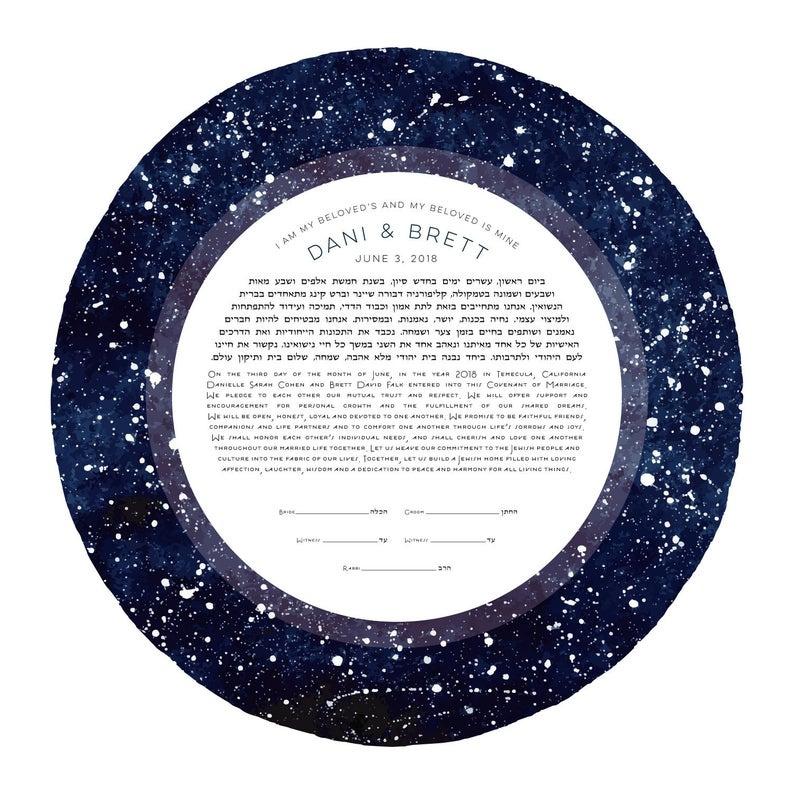 Celestial motifs are definitely on the rise, both on the fashion runways and in wedding decor. We totally fell for this galaxy-inspired modern ketubah print, perfect for couples with a love that was written in the stars.
Ketubata Galaxy ketubah print, from $150, Etsy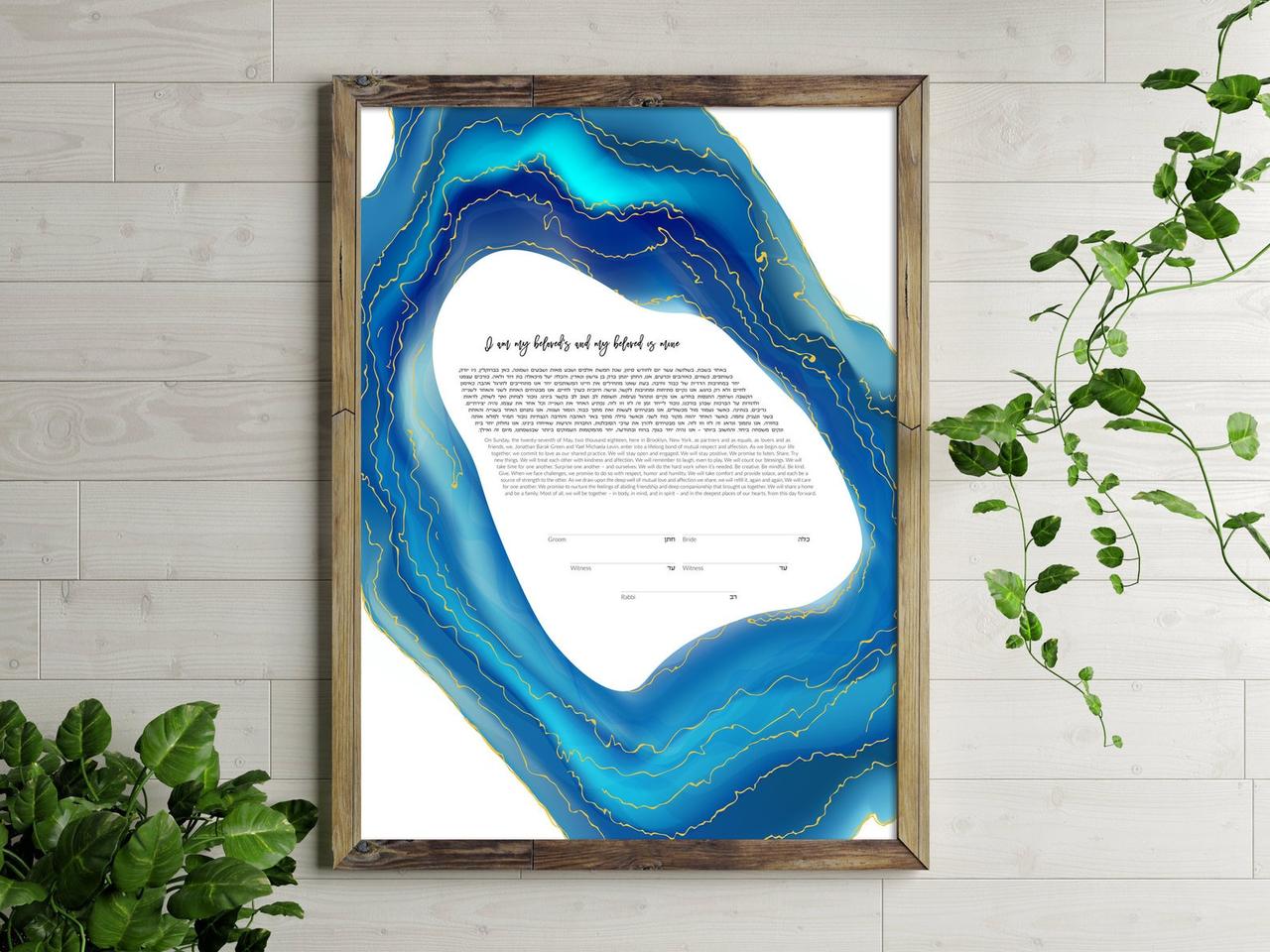 Geodes are another popular hallmark of modern wedding style, and this gorgeous print features a geode-inspired pattern, complete with gold details.
Sweet Ketubah blue marble geode ketubah, from $150, Etsy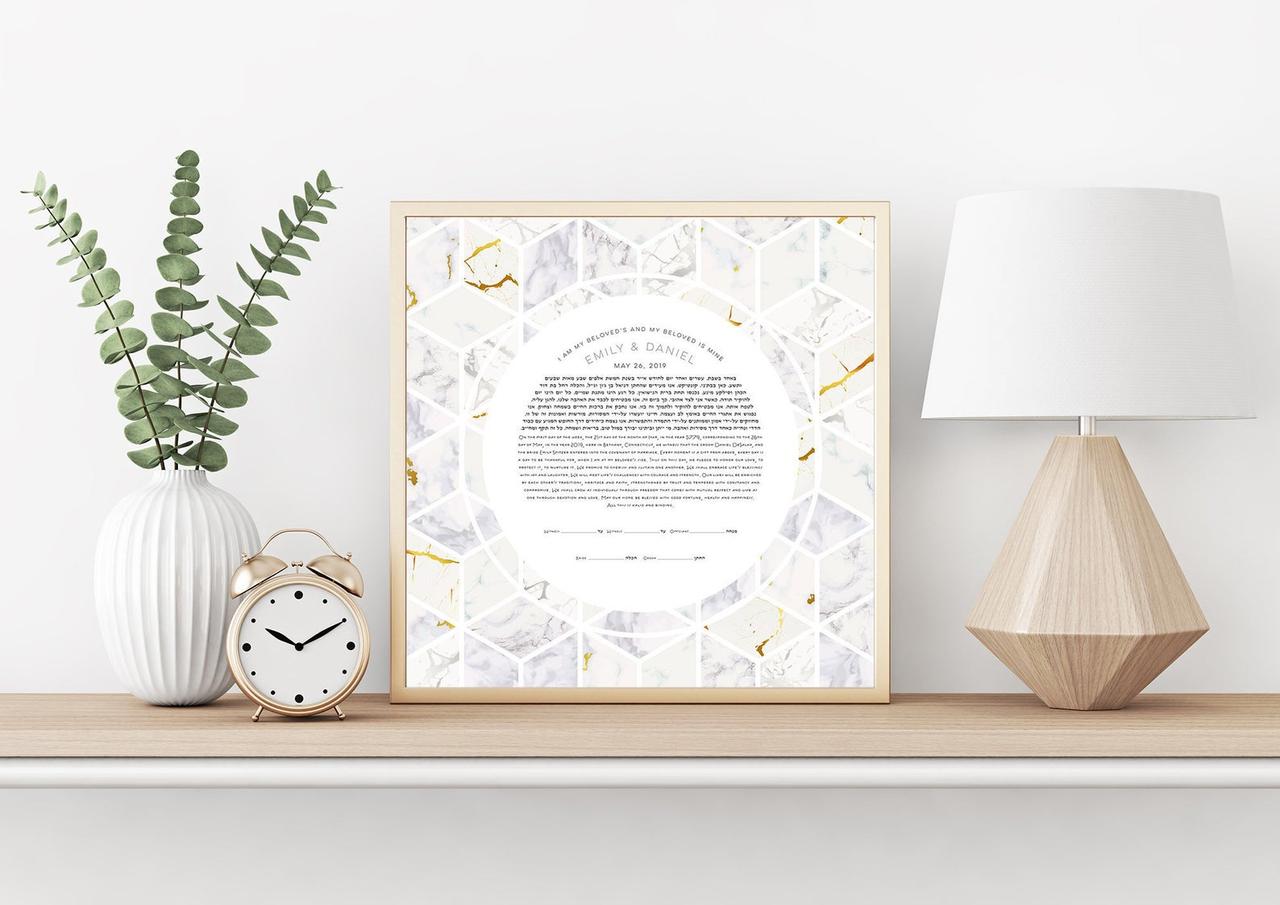 Another modern wedding trend—marble! We adore how this ketubah design incorporates a marble motif with the traditional round text format.
Ketubata geometric marble ketubah, from $150, Etsy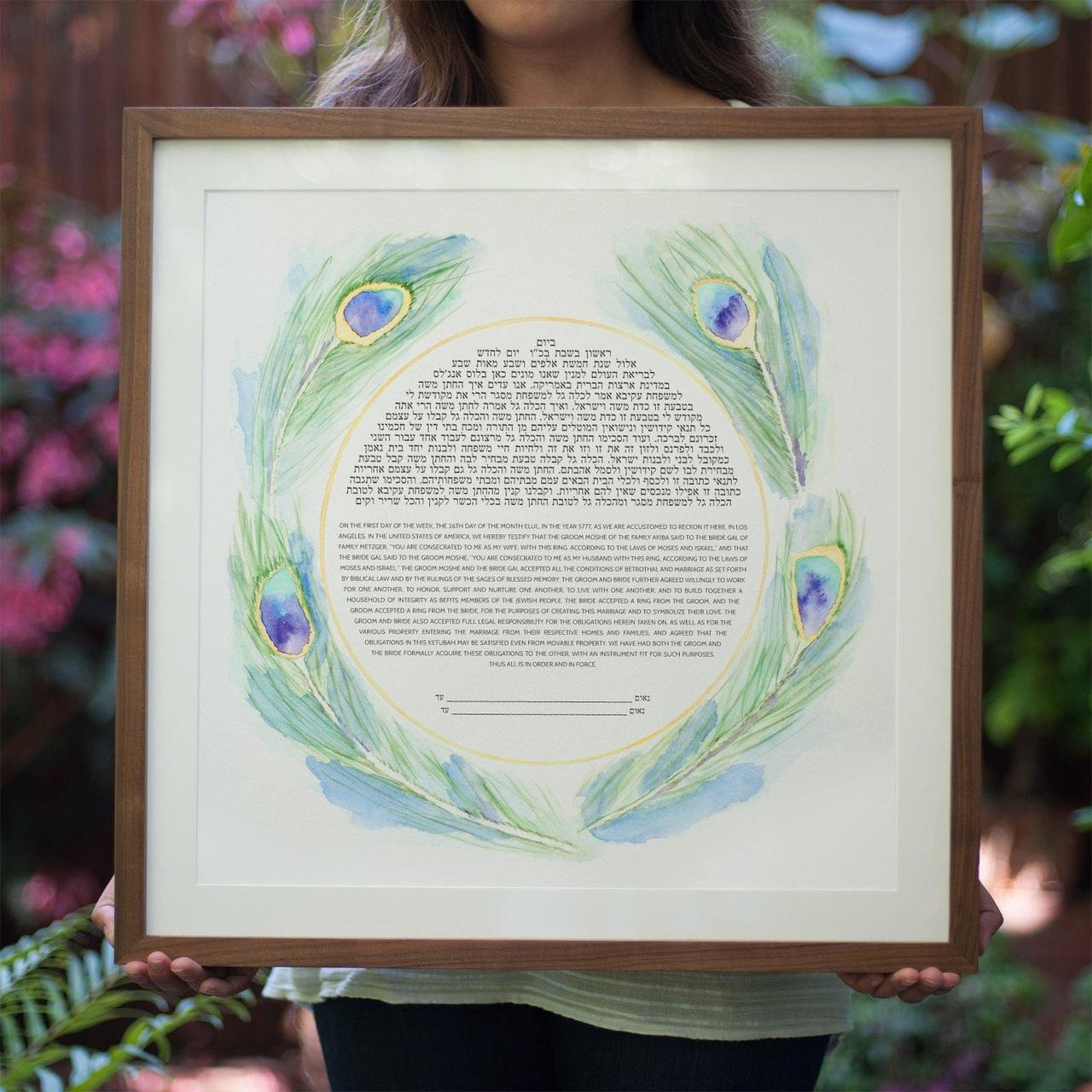 Many couples choose a peacock-inspired theme for their wedding decor, and this watercolor ketubah totally complements that vibe.
Cali Ketubah Peacock Feather Wreath ketubah, $450, Etsy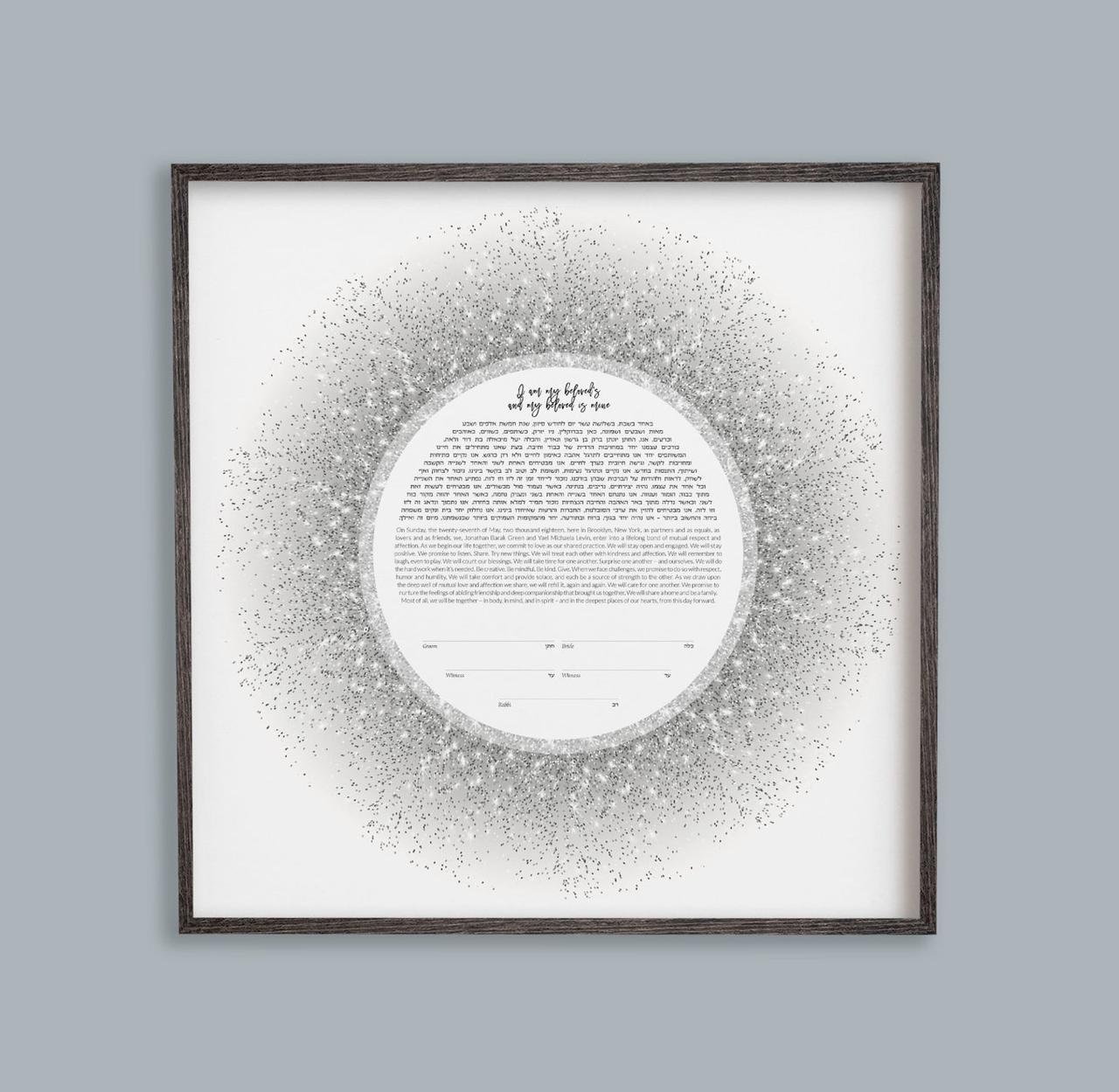 Looking for a modern ketubah with a little (or a lot of) sparkle? This unique ketubah features a spray of silver that's totally eye-catching and glam.
Sweet Ketubah Silver Sparkle Star ketubah, from $150, Etsy
Disclosure: This post contains affiliate links, some of which may be sponsored by paying vendors.