Modern Greek Weddings With Totally Steal-Worthy Details
Modern couples are mixing classic Greek wedding traditions with the latest trends to beautiful results!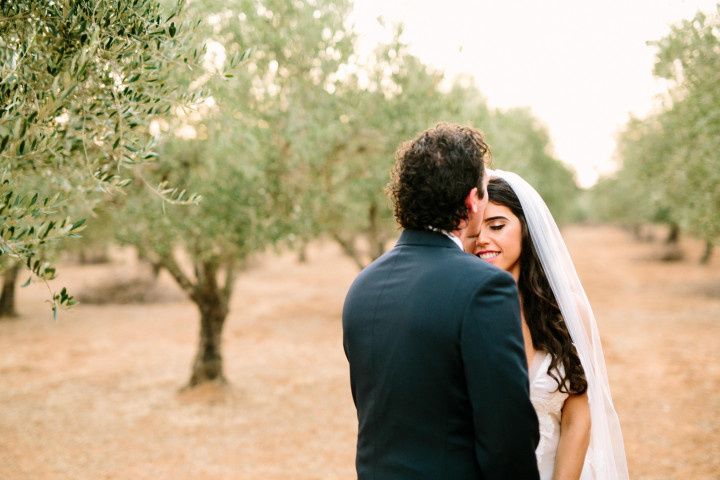 Whether you're looking to reconnect with your Greek heritage or simply channel your inner Aphrodite, modern Greek weddings are veritable wellsprings of gorgeous inspiration for your wedding day. From couples who traveled to Greece for seaside destination wedding nuptials to celebrations in Greek Orthodox churches, there are lots of creative ways modern Greek weddings are fusing traditions and trends.
Check out the gorgeous details in these real-life modern Greek weddings.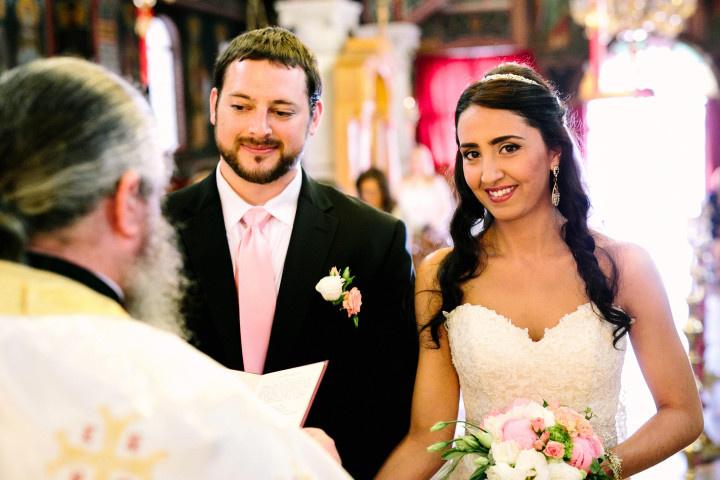 Don't skip the Stefana crown — just adapt it!
Stefana crowns at Greek weddings are as old as the Orthodox religion itself, symbolizing the couple's taking of the sacrament of marriage before God. For Daniella and Erick's Napflio, Greece wedding, the bride chose a modern take on the ornate crowns, wearing one along with her bridal veil. If you're not planning to wear a veil, adapt the beauty of the Stefana crown via wedding hair accessories that'll give you a regal look.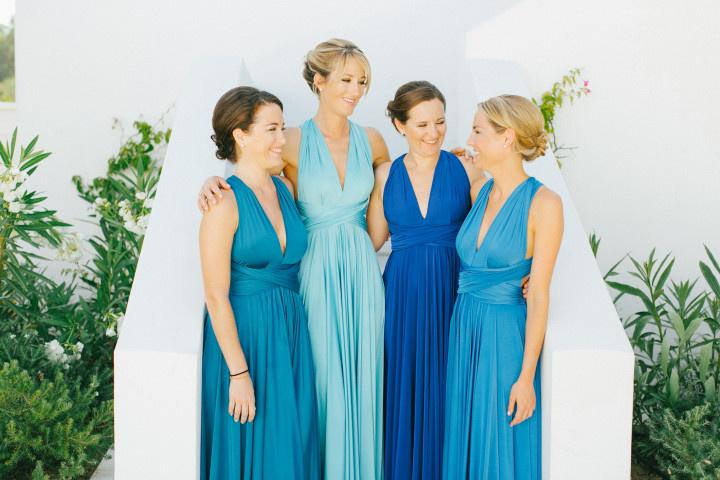 Embrace the blue and white.
For brides and grooms who grew up surrounded by all things Greek, covering things in blue and white — the colors of the flag of Greece — may have been a bit ubiquitous. Greek weddings these days can show some subtle national pride by deploying shades of blue in their wedding color palette, like Annette and Jamie's countryside wedding in Crete. Each of Annette's four bridesmaids wore flowy, matching bridesmaid dresses in varying shades of blue. If blue won't do for your bridesmaids or groomsmen, add a bit of blue ribbon to your bouquets or table flowers.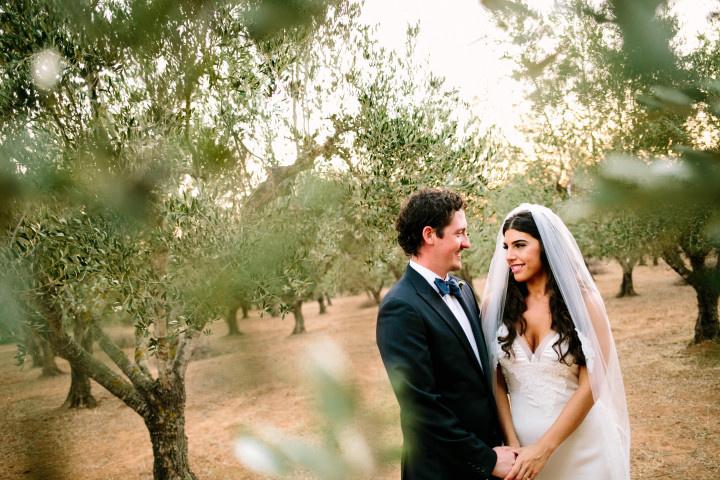 Find an olive grove for a taste of Greece.
Even if you don't choose many (or any) traditional aspects of Greek weddings, you can please the elders in your family by choosing a setting that's oh-so-Greek, like an olive grove, or some other grove that can stand in. Sophia and Arden chose an authentic Greek olive grove in Marathopolis, Greece for their summer wedding. If the nearest olive grove happens to be a few thousand miles away, vineyard wedding venues and garden venues are nice substitutes. You can even do a little research on your family's native region to incorporate wines, flowers or vegetation that honor Greece, no matter which venue you choose.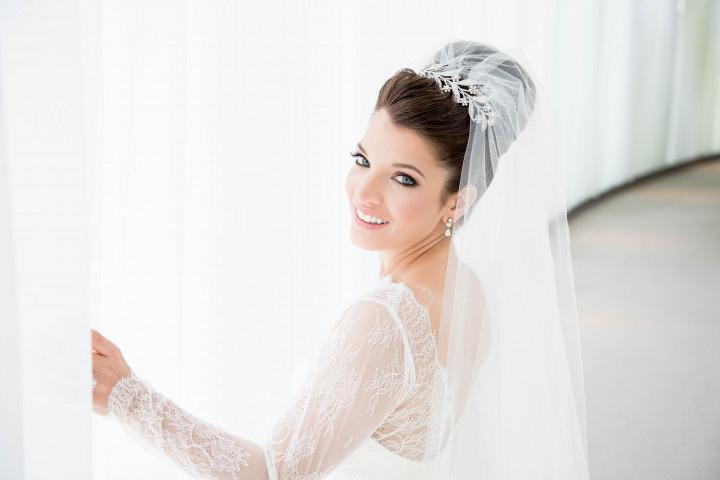 Channel a Greek goddess with a romantic updo.
Ancient Greek women were depicted with variety of hairstyles, but the most enduring of them were the elegant updos. From sleek buns to braided crowns, Greek weddings provide lots of wedding hair inspo for brides. Just take Heather and Phil's elegant Greek Orthodox wedding. Heather chose a chic chignon updo with a leaf tiara to accessorize, a style the Pantheon would definitely approve!
Try a wedding money dance.
If you weren't raised in the Greek Orthodox church, it might seem challenging to connect with many of the traditions of Greek weddings. Trust us, dance is the great bringer-together-er. Even if you haven't found ways to embrace the old country at your wedding ceremony, have your wedding DJ play a few classic Greek tracks to get your entire family moving, forming a circle and being sups Greek. Just ask Chrissy and Anthony, whose New York wedding reception featured a "money dance" or "dollar dance," which is exactly what it sounds like — guests circling around the couple and rewarding their dancing with dollar bills.