7 Nigerian Wedding Ideas for Every Naija Couple's Style
Grab some seriously stylish inspiration for your upcoming Nigerian wedding with these creative ideas.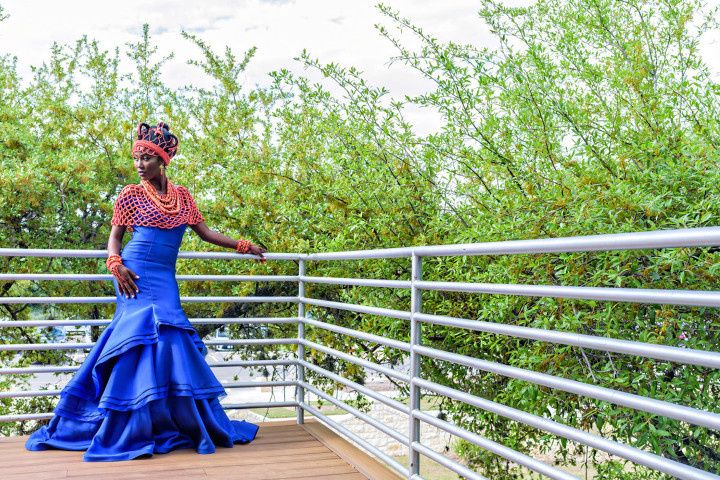 If you're planning a Nigerian wedding you probably already know you have pretty big shoes to fill. Nigerian American couples and their families fully expect to host an all-night, luxurious bash with hundreds of guests and mountains of food. While you likely have an idea of your wedding theme and color palette, you might need some inspiration before you start getting into the details of your big day.
See how these seriously creative Naija couples styled their Nigerian wedding.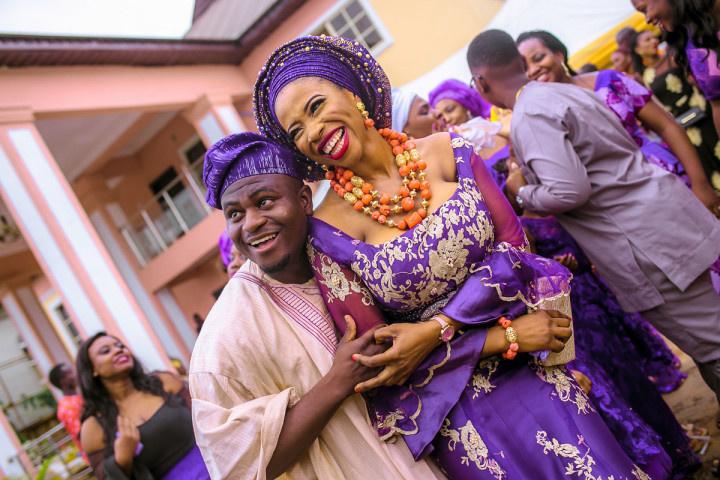 Coordinate Fabrics for a Hint of Unity
Wedded partners don't normally match too much in either American or Nigerian wedding customs. You can break the mold a bit by choosing a unifying fabric for both you and your love to don at the wedding. Try using the fabric for one partner's gown and then again for another partner's headpiece, like this couple's rich purple wedding attire. Or, if you're both going Western, add a bit of traditional Nigerian with a pocket square, belt or other wedding accessory made of Nigerian fabric.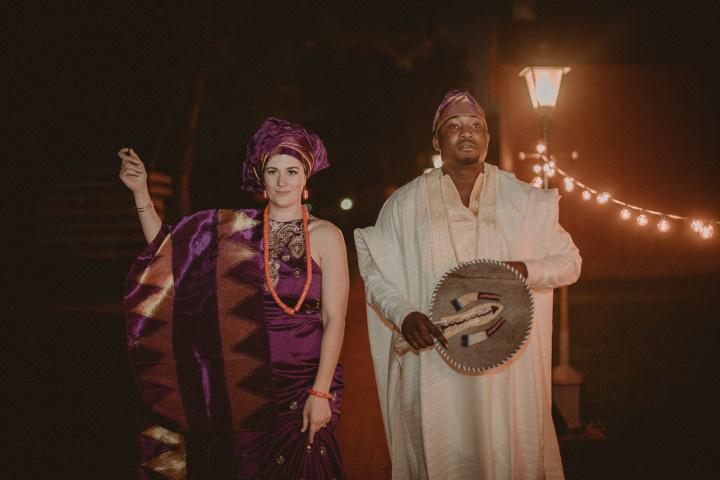 Blending Traditional Nigerian culture with American Customs
Planning a Nigerian wedding in the States can be challenging if you've always dreamed of both a Western wedding and a Nigerian wedding. Luckily, other couples beautifully blended their shared cultures with hints of each. Wedding attire is a great way to show your pride in both cultures by swapping dress at your reception. This way, you're in Western wear for the ceremony and Nigerian attire for the reception (or vice-versa). Beyond dress, don't feel pressure to go full Naija with your wedding food. Add your favorite foods from other cultures to the menu along with all the jollof and fufu your heart desires.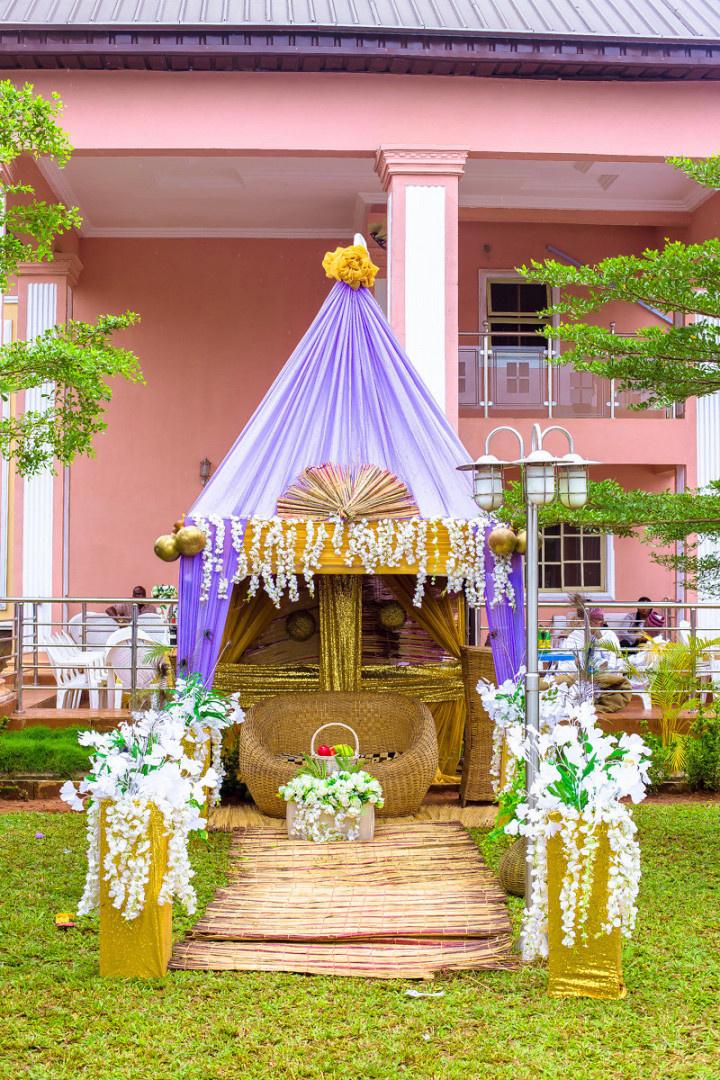 Take Your Sweetheart Table Outdoors
Creative wedding furniture ideas are plentiful, but an outdoor sweetheart table hut is definitely unique. If you're planning an outdoor Nigerian wedding, this sweetheart table alternative is a great blend of traditional colors and fabrics with Western wedding trends. Make it your own with florals you love, your wedding color palette and interesting textures.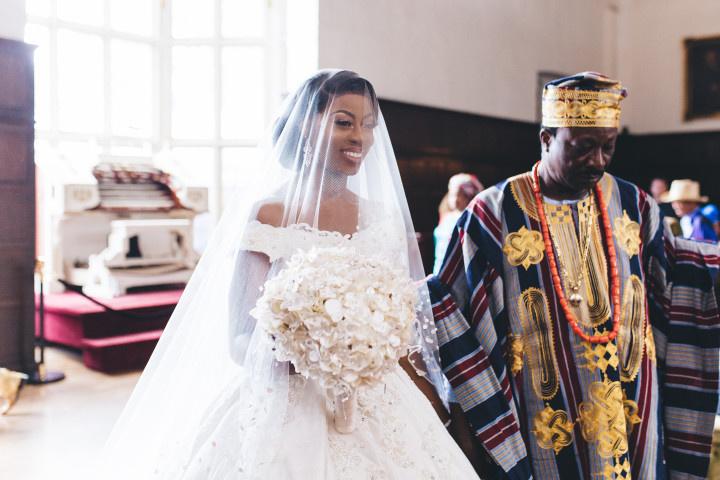 Combining Cultures
Even if you choose Western wedding attire, asking your parents to select traditional fabrics will lend a beautiful balance to your Nigerian wedding. This gorgeous bride's wedding ball gownand all-white wedding decor were the perfect contrast to her father's rich gold, navy and burgundy tunic. This Nigerian wedding idea would also work for anyone else who might process into your ceremony with you or your partner.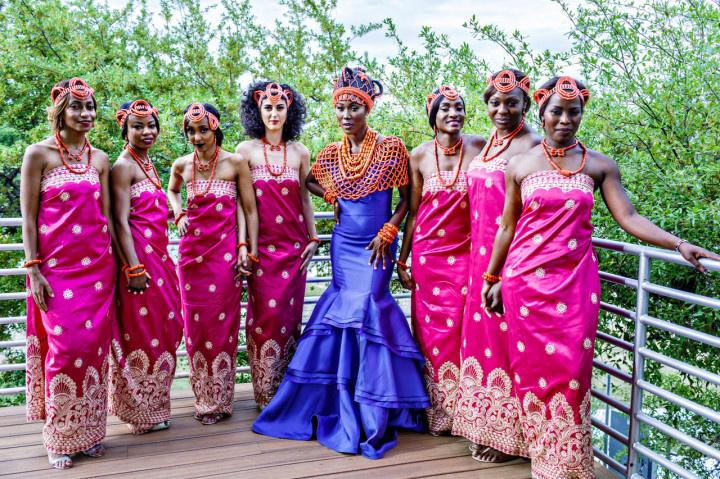 Beaded Headwear for You and Your Crew
Weave a common thread between you and your aso ebi with stunning beaded headdress, like this bride and her coordinated bridal party. Brides from the Nigerian Igbo tribe traditionally wear coral crowns, while the women in her family and close friends, known as her aso ebi, wear less intricate, but no less beautiful, headpieces. Further accessorize with coordinating coral necklaces, bracelets and bibs.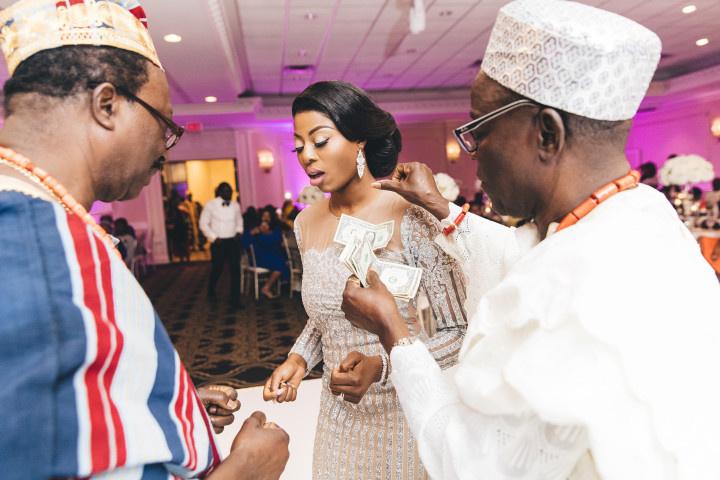 Swap Outfits Before Your Money Dance
Money dance, money spray, dollar dance — this festive tradition has many names, but the goal is the same. If you want a bit more time in your ceremony dress, try waiting until your money dance to switch attire, like this bride. You'll definitely want something you can move in as this Nigerian wedding staple will bring all your faves to the dance floor.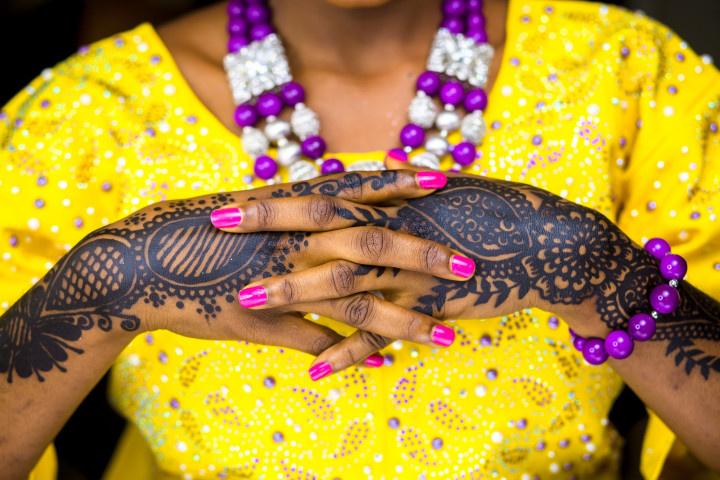 Celebrate with Traditional Henna
West Africans have harvested henna for more than a thousand years and the dark paste is a celebrated part of Nigerian wedding rituals for Hausa brides. If you're interested in adopting this tradition for your Nigerian wedding, know talented henna artists can recreate just about any design you can dream up. Nigerian wedding henna is sometimes distinct from other cultures who henna before weddings, like Indian brides. While lattice and floral designs are popular, so is the tradition of covering parts of your feet or toes with the dark paste and allowing the uncovered skin to serve as the design element.