How to Serve Weed at Your Wedding
If your state has given marijuana the green light, here are some expert-approved ways to make weed a part of your wedding.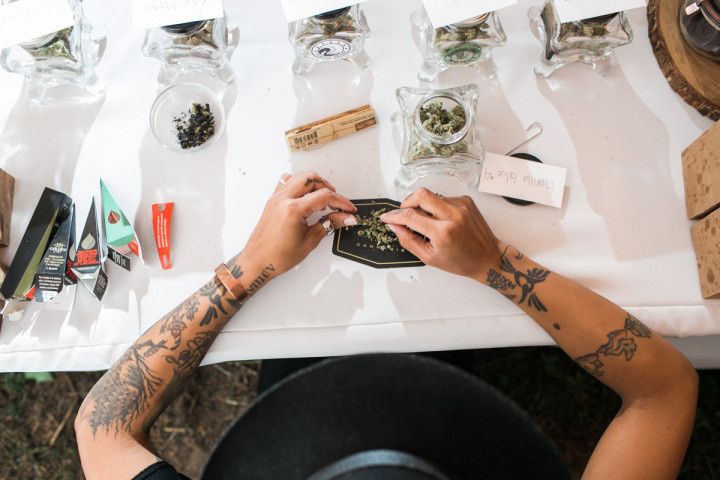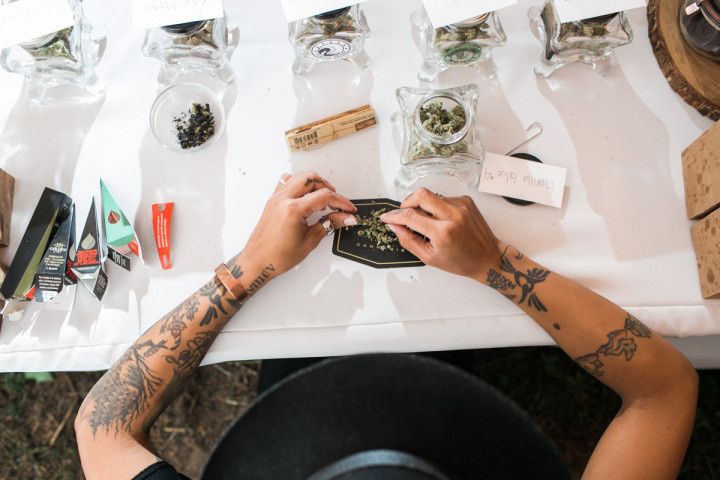 As marijuana has been legalized in a number of states over the past few years, more and more people are using cannabis in a safe and regulated way - so it's about time weed has made its way into weddings! The culture that is growing around marijuana is a far cry from the pot brownies of yore. From highly specialized strains and knowledgeable budtenders to gourmet edibles, skincare, and even pet products, you don't have to look very far to find the perfect marijuana product for you. Wedding planners and pot pros in states where marijuana is legal are giving it the "craft cocktail" treatment, transforming weed into a part of your wedding entertainment.
These experts are here to fill us in on the very best ways to serve weed at your wedding*.
*Remember, the federal government still considers marijuana a Schedule 1 Controlled Substance. Please check your local regulations before planning to serve marijuana at your wedding.
Hire a Budtender.
There is so much more to serving marijuana at your wedding than just laying out a few joints and calling it a day. "Budtenders provide a luxurious experience for guests, but also do double duty (just like a good bartender!) by moderating servings and answering guests' questions," says Madlyne Kelly of Irie Weddings & Events in Denver, Colorado. "Especially for out-of-town guests who may not be regular users, it keeps everyone informed and reduces the risk of overconsumption. Professional budtenders understand how cannabis can affect guests, will talk to guests about past experience to help them select the best strain, and their presence will both elevate the experience and take the stress out of the evening for you and your venue." If you'll have guests under 21 at your wedding, let your budtenders know so they can check IDs as needed to ensure everyone is of-age.
Offer options.
Kelly works with her clients and budtenders to select strains (types of cannabis flowers) that will be well-balanced and palatable. Adds Nora Sheils, owner of Bridal Bliss in Oregon, "Choose a few different strands, which will typically have different side effects or results. We print little menu cards detailing the specifics of each strand for guests to read through before making a selection. The budtender can also advise guests and explain the options." And remember, there's more than one way to consume cannabis. "We have had budtenders bring in pre-rolled joints, loose cannabis (should a guest want to roll their own), and pipes," says Sheils.
Consider CannaCocktails.
Canna-what? "These alcohol-free beverages instead include single servings of THC and/or CBD, which is then mixed with juices and garnishes to create delicious signature drinks," says Kelly. "We recommend a colorless, odorless, and tasteless product like Stillwater's RIPPLE." Kelly prefers cannacocktails over edibles because they take effect in only 30 minutes, and the effects last from 30 minutes to an hour (whereas edibles can take two hours to kick in and can last for up to six). Catherine Goldberg of WeedBarLA also loves cannacocktails. "These low-THC/CBD mocktails are really fun. They pair the familiarity of socializing with a drink in hand with the novelty of cannabis. And the best part is, they're hangover-free!"
Create pairings.
Different strains have distinct flavor profiles and aromas, which makes them a great addition to a pairing station. "Choose beverages and light bites to serve with each strain during cocktail hour to really highlight what makes different flowers unique," Kelly explains. "Similar to wine, we encourage guests to smell each strain to pick up on the terpenes (the organic compounds that give plants their smell)."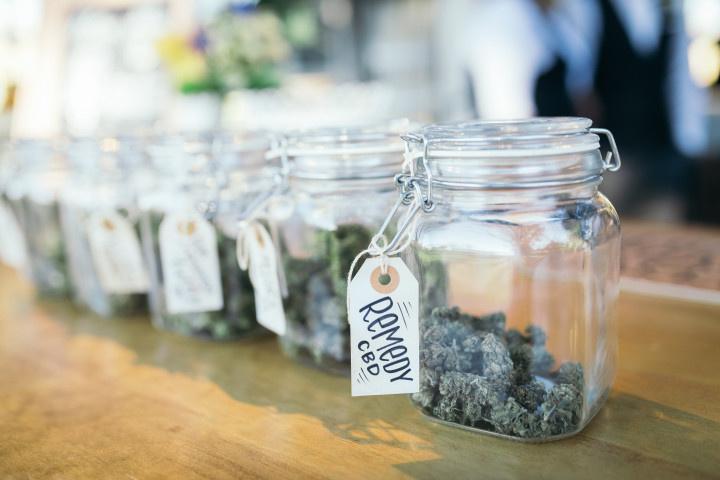 Don't forget the decor!
Having weed at your wedding doesn't have to only be for consumption. "The best way I've seen cannabis included in a wedding was as a part of the bridal bouquets and table arrangements," says Caroline Phillips, founder and executive producer of the National Cannabis Festival and the National Cannabis Festival Policy Summit. "The florist did a terrific job of accenting the bride's bouquet with gorgeous cannabis cuttings fully in flower. Cannabis flowers are really beautiful and complex and they looked so elegant among the more traditional floral selections. I haven't seen this yet, but I imagine that a cannabis flower wedding arch would be a really beautiful centerpiece for any ceremony." Cannabis flowers and leaves can dry out quickly, though, so make sure your florist is experienced in working with the plant before adding it to your event design.
Exercise caution with edibles.
"Edibles are a popular choice because there is no smoke, but they are not all created equal," says Kelly. "We guide our clients toward edibles that are fast-acting and a lower serving size (between 2.5 and 5 milligrams)." Because edibles have to be digested before the effects kick in, careful portioning is key to avoid guests over-indulging. Phillips agrees, and encourages couples to provide their guests with important edible info, as well. "For edibles it's critical to provide dosing suggestions and a reminder to guests (especially those that are newbies or only occasionally use cannabis) to start with a small dose and wait for 45 minutes to an hour before taking more." Korinna Peterson, owner of Le Festin Events in San Luis Obispo, California usually tells her clients to skip the edibles altogether, especially if there will be children present. "Edibles look like treats, and even with budtenders in place to keep everyone safe, it's not worth the risk of a child picking up an edible from a guest's seat thinking it's a bite-sized dessert," she says. "But if you do want to serve edibles, only offer them during a certain time period so of-age guests aren't tempted to go back for more while they're waiting for the effects to kick in."
Keep bartenders informed.
"If you are going to offer cannabis at your wedding, let your bartenders know there will be dual consumption (cannabis and alcohol)," says Kelly. "And nix the shots! Opt for one or two cocktails, wine, and beer at the bar if there will be cannabis served, as well." Make sure your bartenders and budtenders are prepared to work together. "I am a strong believer in a sort of cooperation between BUDtenders and BARtenders," says Peterson. "With crossfading (the consumption of both marijuana and alcohol products) being something that may be easily done at weddings and private events, it is important that these vendors work hand-in-hand to ensure a good time for those who want to crossfade, or deter those who are new to marijuana consumption."
Set up a designated smoking area.
Having cannabis at your wedding doesn't mean all your guests will indulge, so set up a separate area for those who do wish to partake that will keep everyone comfortable. "This is especially important if you have guests who are sensitive to smoke or if there will be children in attendance," Phillips emphasizes. Make it more than just a "smoking area" by creating an entire lounge complete with comfy seating, water and non-alcoholic beverages, and (non-infused) snacks for guests to enjoy. "I love creating a designated Canna Lounge, where guests can chat with knowledgeable budtenders and dabaristas," says Peterson. Sheils likes to make this area discrete but welcoming, so guests who wish to partake know where to go, but it isn't a jarring focal point that takes away from the rest of your celebration.
Or skip the smoke.
Some venues don't allow smoking, and some couples may not want the scent of marijuana smoke infiltrating their celebration. The good news is, smoking isn't the only choice. "I try and stay away from smoking, just because secondhand smoke can upset some guests, and my goal is always to make everyone feel welcome and included," says Goldberg. "Instead, we use vaporizers to create a smoke- and odor-free experience."
Take care of your guests.
Make sure you've got everything your guests will need for an enjoyable evening. "Set out a number of stations with fruit-infused waters to keep everyone hydrated, and don't forget the late-night snacks that will keep everyone feeling full long after dinner!" Kelly advises. Adds Phillips, "Have plenty of options that don't include cannabis, particularly food and non-alcoholic beverages, for your guests to choose from. If the munchies kick in and everything is actually an infused edible, your guests will all be asleep on the dance floor!" Kelly and her team also travel with their survival kit, full of natural remedies that will put a guest at ease if they have over-consumed. Here's an insider tip: "Always have a bottle of CBD available. If anyone gets uncomfortably high, they can take the CBD, which will help reverse the effect of THC," Goldberg explains. At the end of the night, Peterson strongly recommends providing shuttle services and/or taxi and ride share information to make sure everyone gets home safely.
Serve with restraint.
Avoid what Kelly calls a "load and go" situation. "If your guests are unfamiliar with marijuana, a self-service setting with a buffet-style bud bar that doesn't include knowledgeable staff isn't a good idea," she explains. "In fact, most guests love having their questions answered honestly and without judgement. That feeling that they're in good hands with the help of a budtender will help them feel relaxed enough to try a little." Kelly recommends sticking with cannabis flower that averages 15-25 percent THC. "Dabs are popular with cannabis enthusiasts, but the THC content is around 75-95%, which is typically too high for most guests' tolerance levels." Adds Phillips, "Clearly label any products you are serving with information about the type of strain, as well as the THC content." Peterson prioritizes safety by limiting consumption. "You could use tickets or tokens to limit each guest to a certain amount, or set a time block during which cannabis is available - both of which will help prevent over-consumption," she explains. Goldberg prefers microdoses, which will enable guests to control their dosage more closely. "They can get their feet wet, and come back for more if they want something slightly stronger," she says.
Tell guests ahead of time.
Serving marijuana at your wedding shouldn't be a surprise. "Put information on your wedding website to let guests know what you're planning," says Kelly. Adds Phillips, "A card or pamphlet about what you plan to offer, as well as tips for consumption, is a great way to introduce guests to the idea. Remind them to smart with small doses and to be careful about mixing cannabis and alcohol." And don't forget to include details about how cannabis is regulated in your state, including federal regulations that apply at airports.
Consider pre-wedding parties instead...
Not sure if your crowd will love having weed at your wedding reception? You can still have a curated, immersive, and educational cannabis celebration with a smaller group. "Your bridal shower, bachelor or bachelorette party, or even the welcome party could include these ideas, as well," says Phillips.
...or keep the celebrations going.
"Many of our couples like to give edibles or other cannabis items as favors or include them in gifts for bridesmaids and groomsmen," says Peterson. Just remember to choose items that have clearly-marked dosage, lower concentration, and easy-to-follow serving suggestions to make sure your guests all enjoy the post-wedding high (literally!). Always include a note about traveling with cannabis products - it's still a federally controlled substance, so these treats can't leave the state.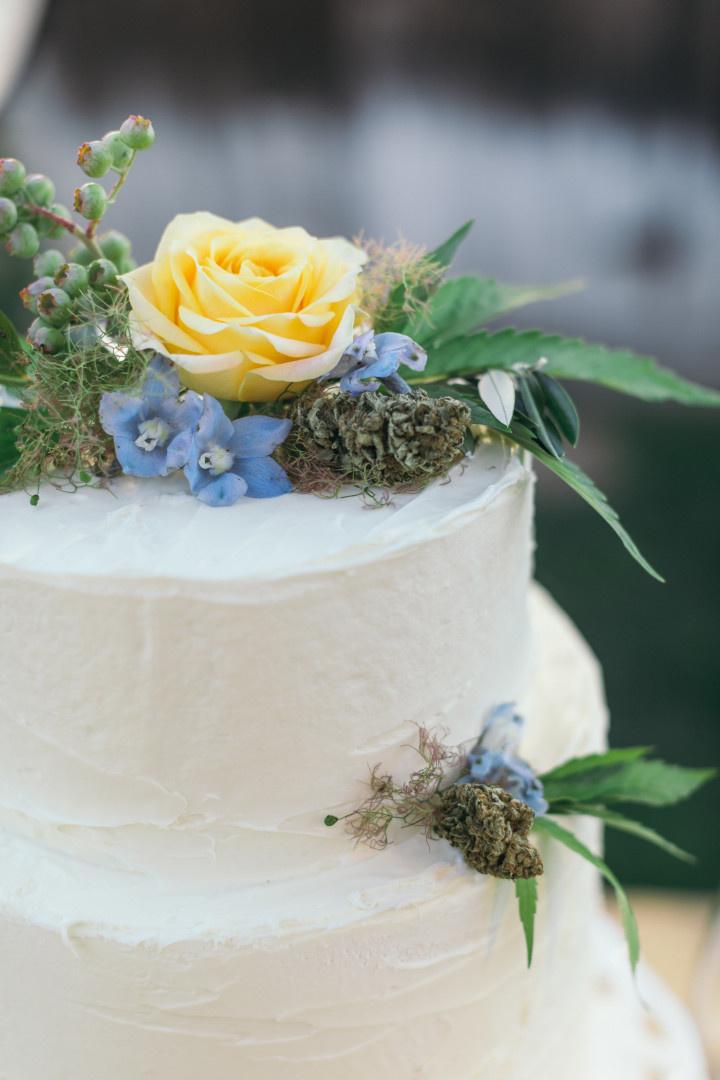 Be open with your vendors.
Not all vendors will be open to couples serving marijuana during the event, so be honest about this up-front to find a team that will make sure it is a safe, regulated, and fun experience for you and your loved ones. "If you're nervous about approaching your vendors, hire a cannabis wedding planner to work on your behalf," Kelly says.
Confer with your venue.
When you're talking to your venue about serving marijuana, provide them with information about how you plan to ensure safe and responsible consumption," says Phillips. "Outline exactly how and where cannabis will be served and consumed. Your venue may have specific requests about the kinds of consumption that happens on their property, and may require you to get additional liability insurance." Adds Peterson, "Review your state's rules about sharing marijuana products, too, as those can vary. There may also be limitations to the quantity you have available, or even how much you can purchase yourself.
Make it your wedding.
You don't have to choose between the wedding style of your dreams and serving cannabis. "A cannabis-infused wedding doesn't have to be a 'stoner' wedding. The plant is beautiful, and it can be incorporated in a fun and classy way," Peterson says.
Budget wisely.
While it's more readily available, weed is still expensive, so you'll want to budget for this from the get-go. "Our packages, which include budtenders and everything from gourmet pairings to THC/CBD mocktails, begin at $1,000, so be sure to plan accordingly to have high-quality product and expert staff," says Goldberg.