20 Elegant Wedding Cakes That Will Always Be In Style
Refined details, timeless color palettes, and fresh flowers are just some of our favorite ideas when it comes to decorating elegant wedding cakes.
The cake is one of the most popular wedding traditions (83% of couples have a cake-cutting ceremony, according to a recent WeddingWire survey), but cake decorating trends come and go. While it can be fun to use your wedding cake to showcase the latest trends, we know that many couples also want a cake that is classic enough to stand the test of time. That's why we've hand-picked some of our favorite elegant wedding cakes you can use as inspiration for your own dessert table. Take a few minutes (or hours!) to research ideas before meeting with your wedding cake baker—they'll likely share their own thoughts for the final design, but it's always helpful to be prepared with an overall vision.
Here are 20 elegant wedding cakes that embody timeless, classic style.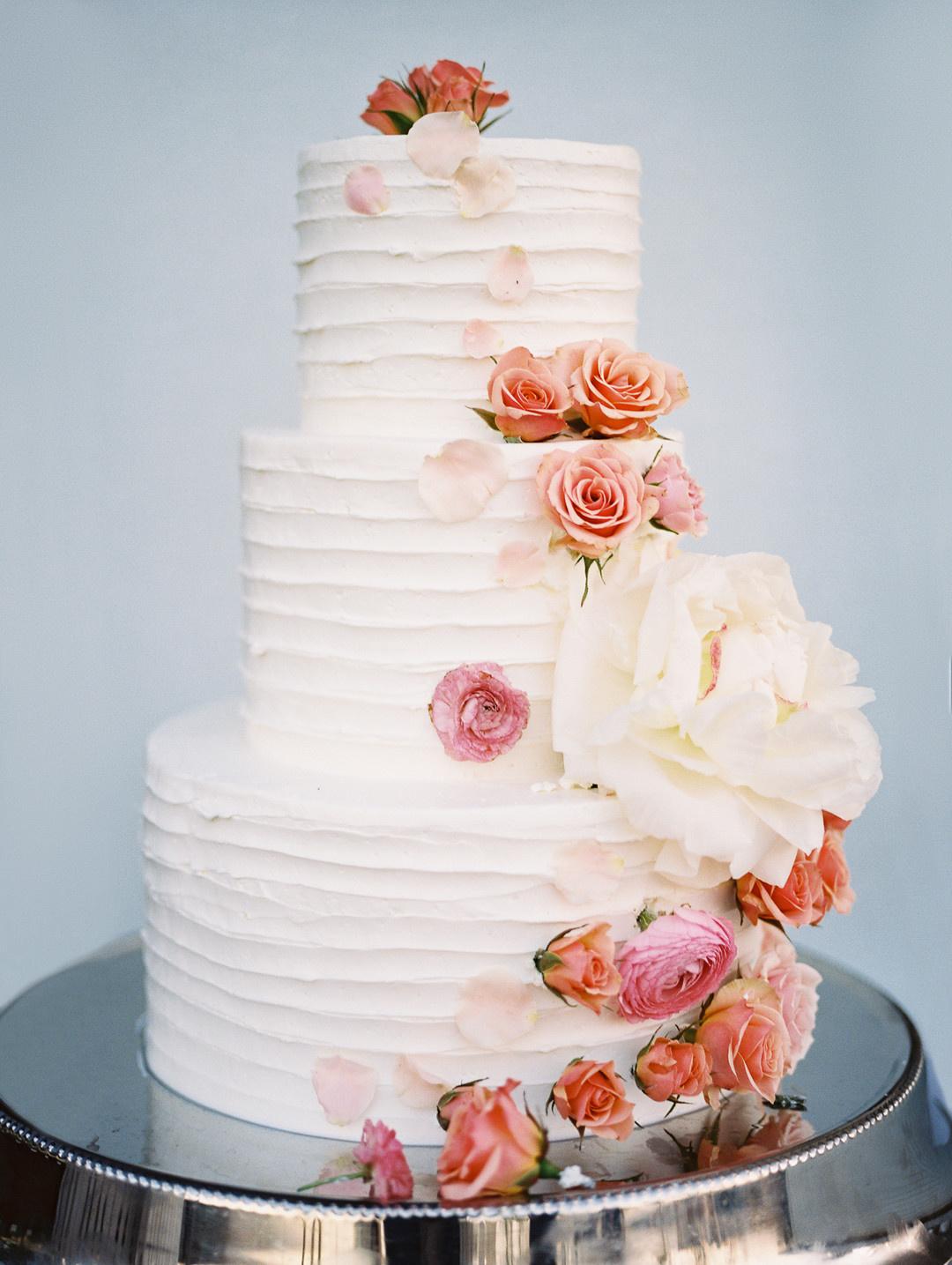 Pink petals
Assorted pink flowers and petals are always a lovely addition to a textured buttercream cake. Arrange them in a cascading pattern to one side of the cake for a romantic, garden-inspired effect.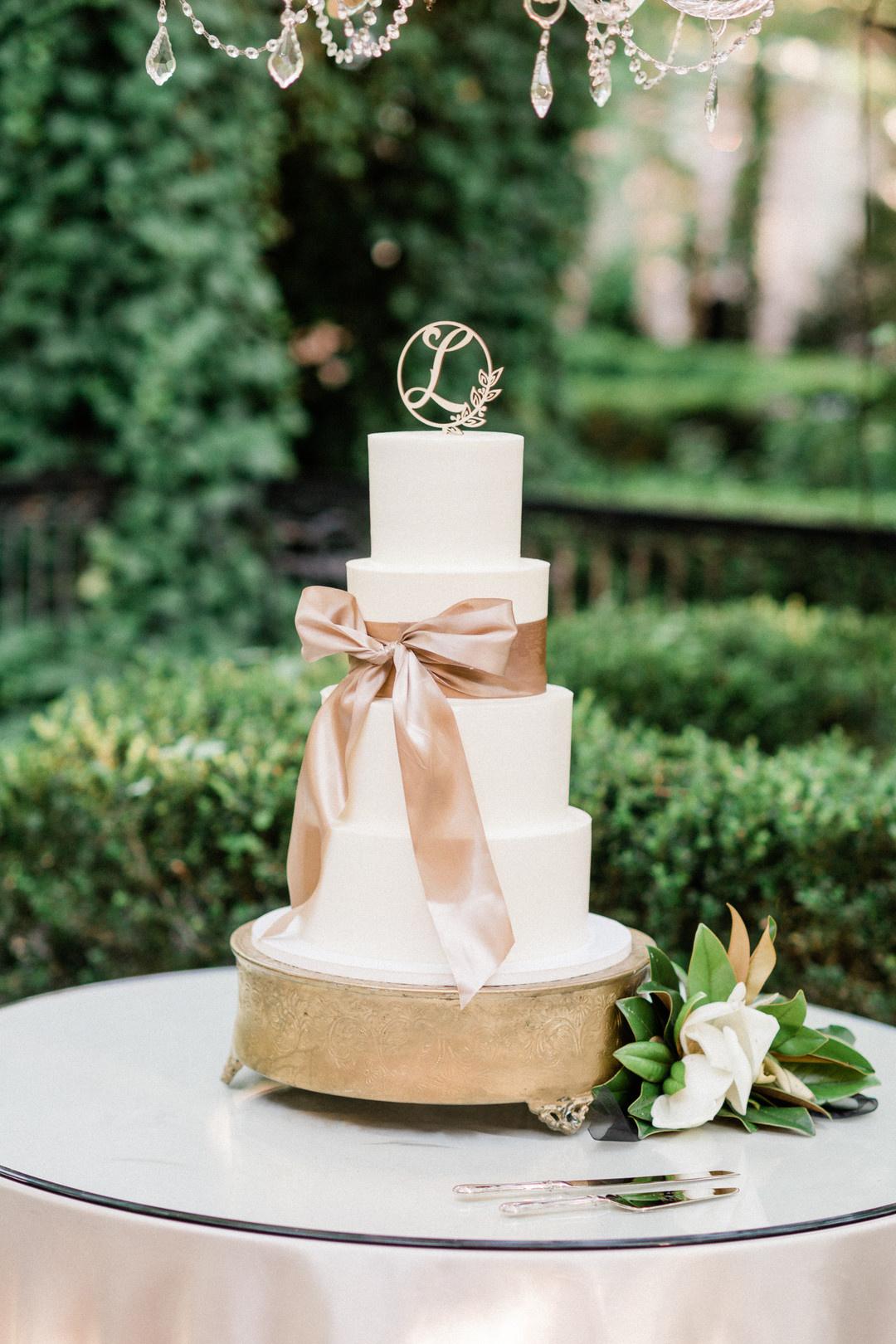 Oversized bow
A statement bow is really sometimes all you need to turn your wedding cake into a chic masterpiece. Start with a white fondant cake, then add a wide satin ribbon in a solid color that matches your wedding palette.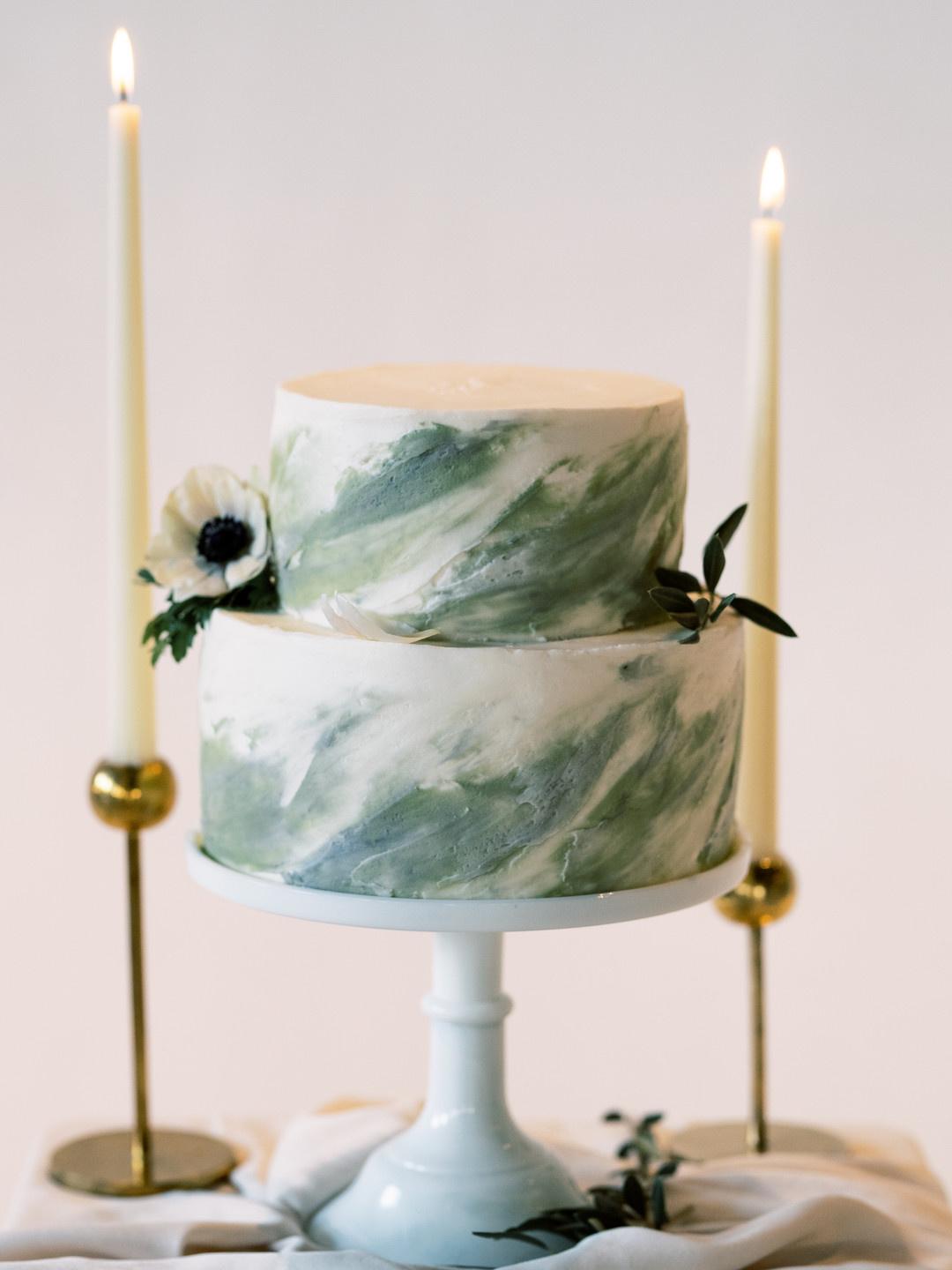 Cake by Peche Petite Boutique Bakery
Abstract watercolors
Don't be shy about getting a little creative when it comes to your elegant wedding cake. The key is to use color and other embellishments sparingly so that the cake doesn't feel too busy or trendy. This watercolor brushstroke cake is a beautiful example of how to pull it off—the soft blue, green, and white tones are perfectly color-coordinated with the anemones, taper candles, and cake stand.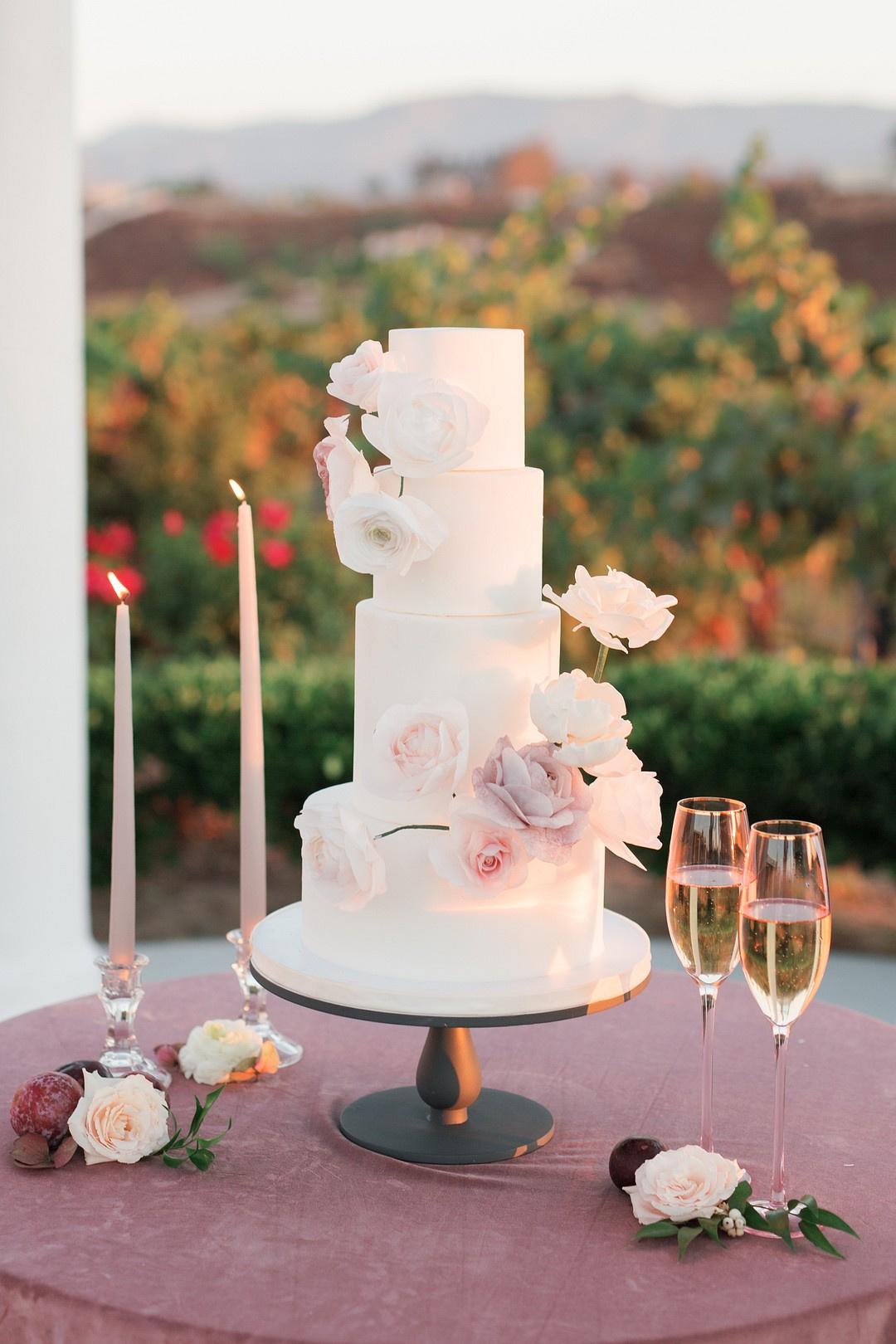 Cake by Peggy Liao Cake
Soft roses
Create a modern-meets-elegant wedding cake by using elongated tiers to give the dessert a contemporary edge. By sticking with a muted color palette, such as white, blush, and mauve, you'll ensure that the cake looks timeless with a twist.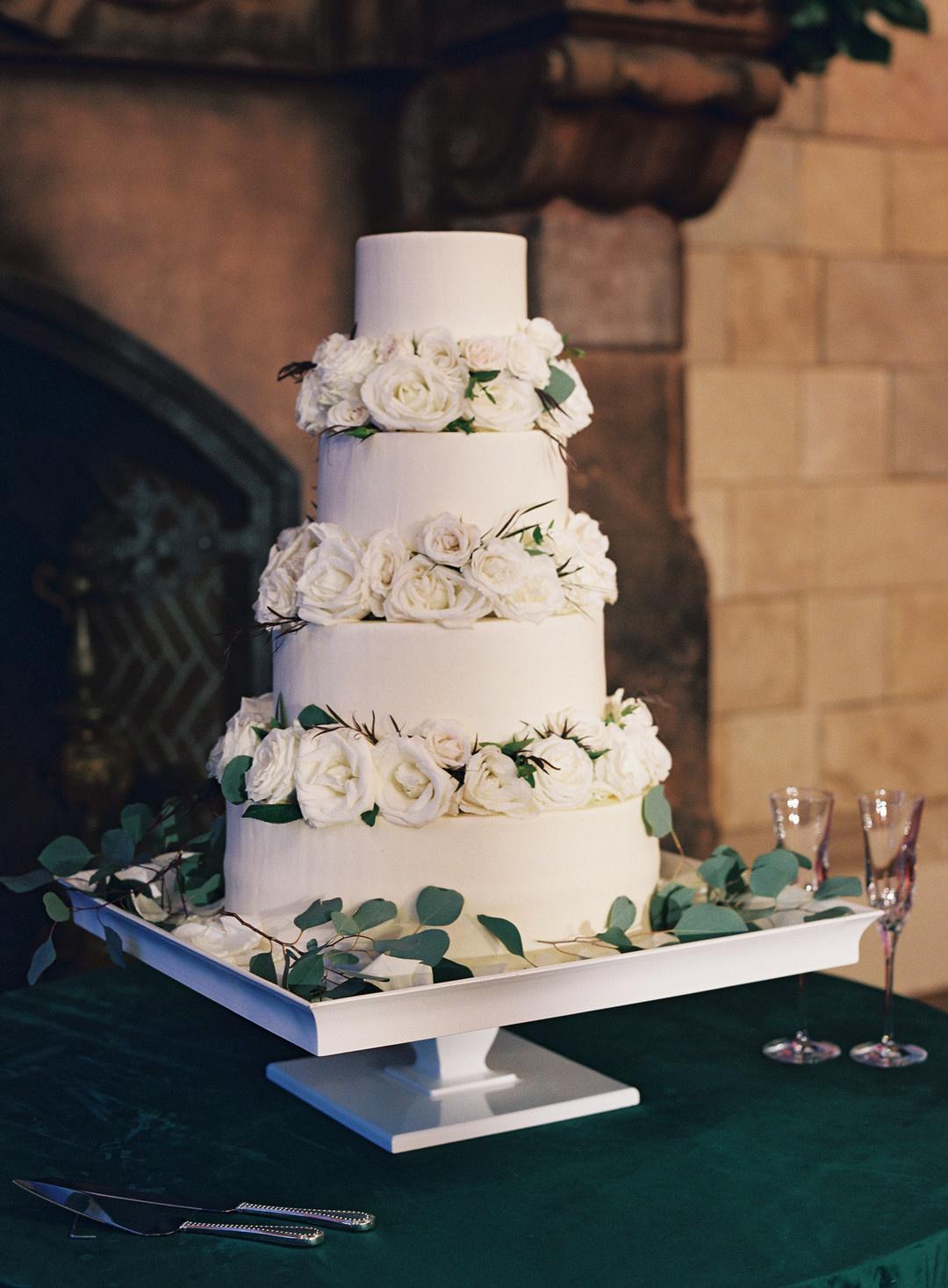 Cake by Pearl's
Flower-filled tiers
Separating the tiers of your cake with fresh flowers is a tried-and-true design that always looks gorgeous. How pretty is this white-on-white cake featuring roses and eucalyptus?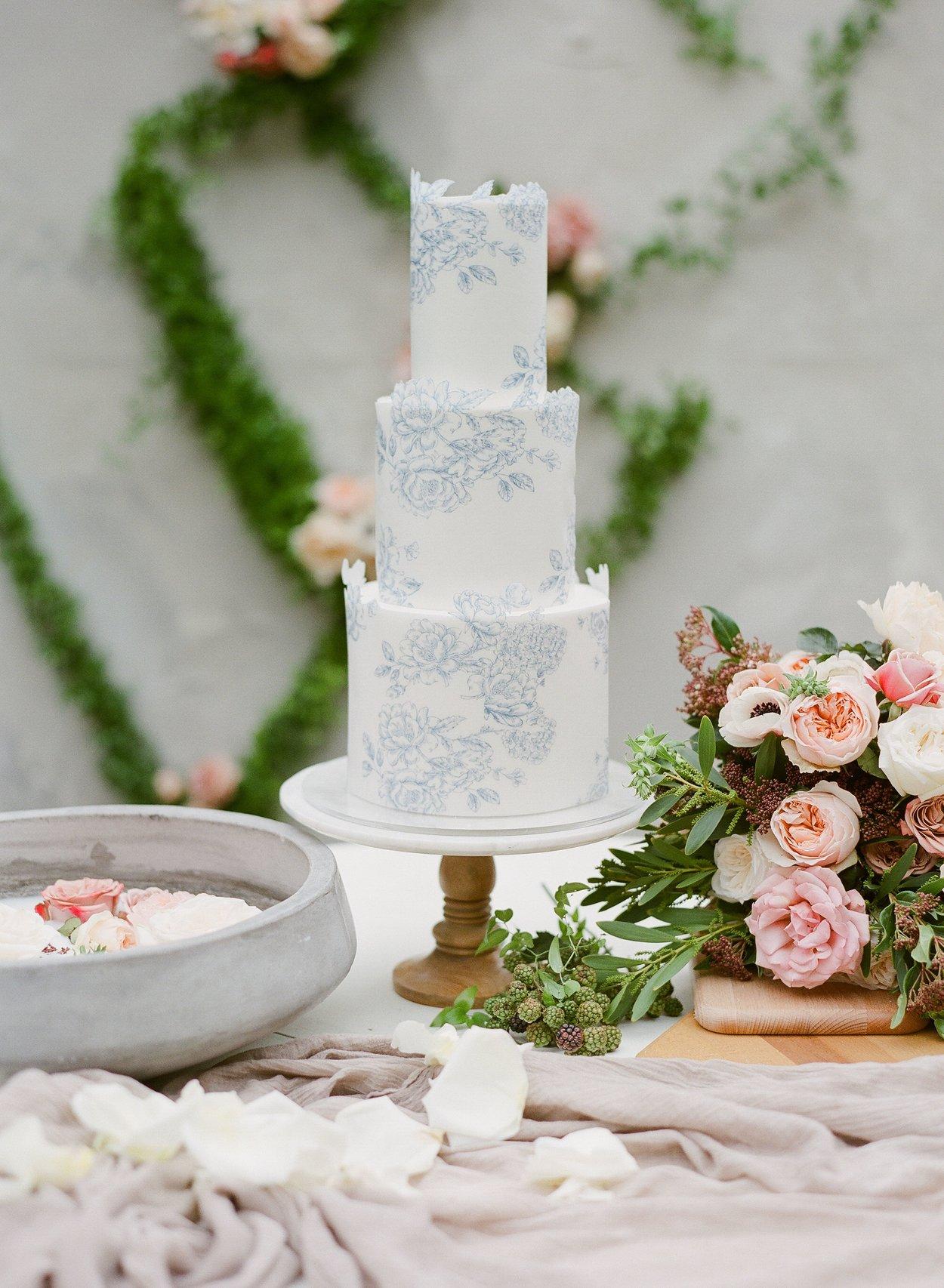 Printed wafer paper
Printed cakes are one of our favorite up-and-coming dessert trends, and they work especially well for an elegant aesthetic. This three-tier cake is wrapped with printed wafer paper featuring a toile-inspired rose motif that has us swooning.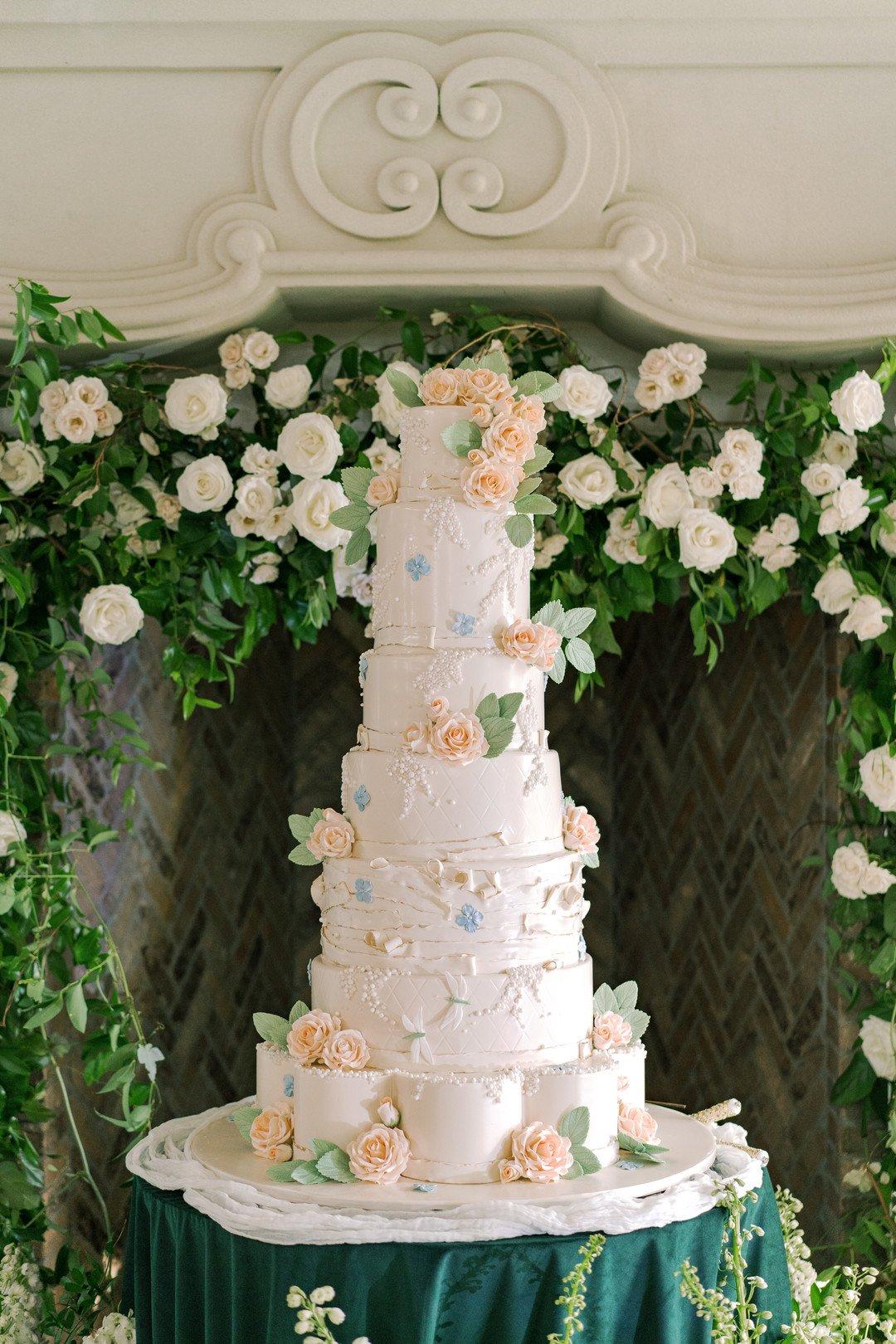 Cake by Carlo's Bakery
Royal-inspired design
For a truly elegant wedding cake, look no further than royal dessert tables for your inspiration. Most royal wedding cakes are multi-tier masterpieces—William and Kate's wedding cake was eight tiers—and feature elaborate but classic elements. Sugar flowers, monograms, hand-piping, and dragées (tiny edible pearls) are a few common decorations you can use to recreate a royal vibe.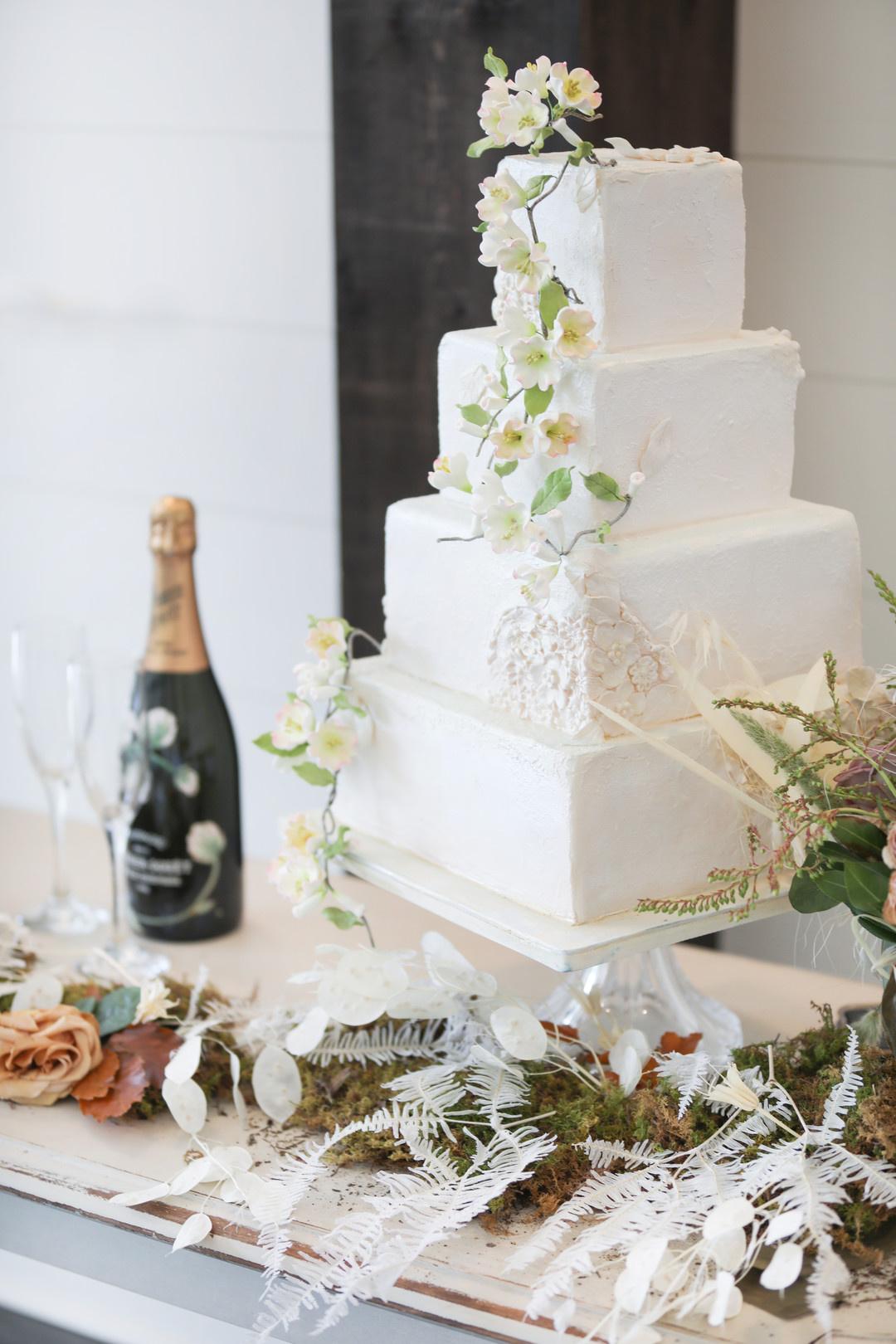 Cake by Carlton's Cakes, LLC
Sleek squares
Square tiers can be just as sophisticated as rounded ones, especially when you opt for a neutral color palette. The sugar flower vines climbing up the side of this white square cake would be so pretty for a spring wedding.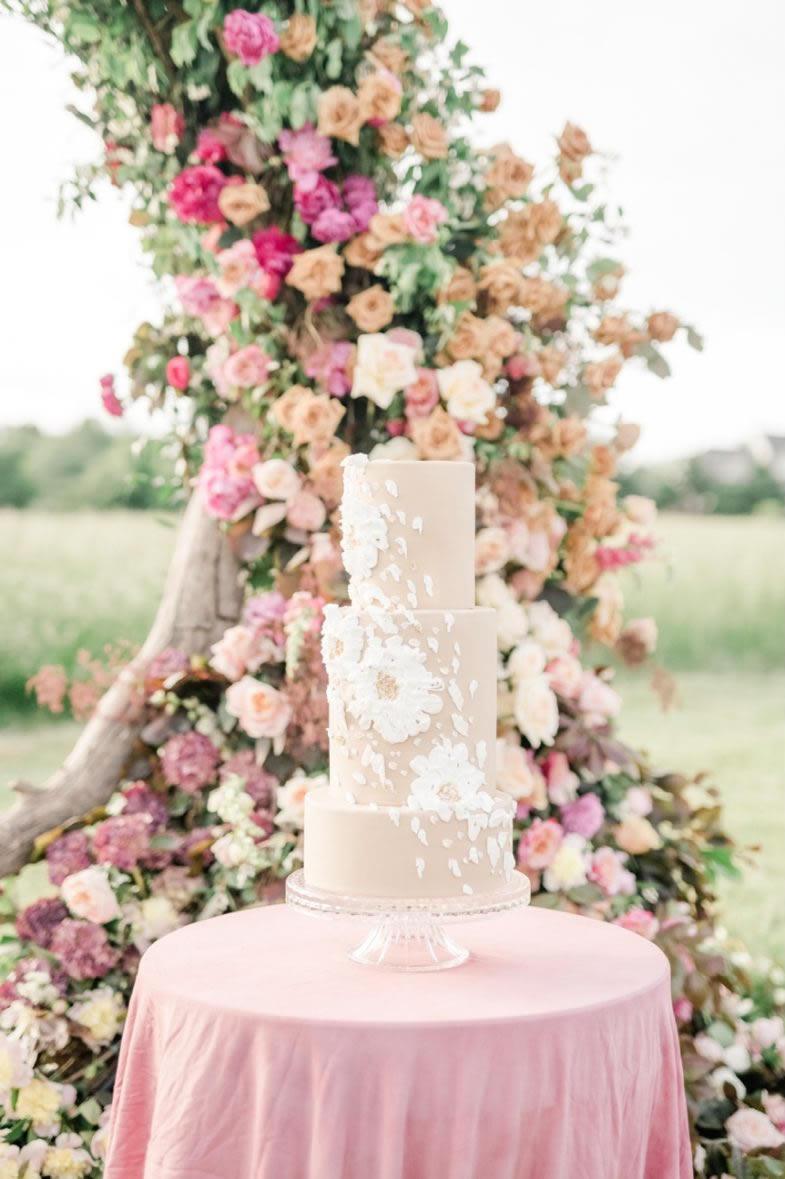 Impressionist florals
Decorate an ivory or eggshell-colored wedding cake with frosted flowers in a bright white hue. This will create a contrasting effect that's unique but elegant and completely versatile for any time of the year.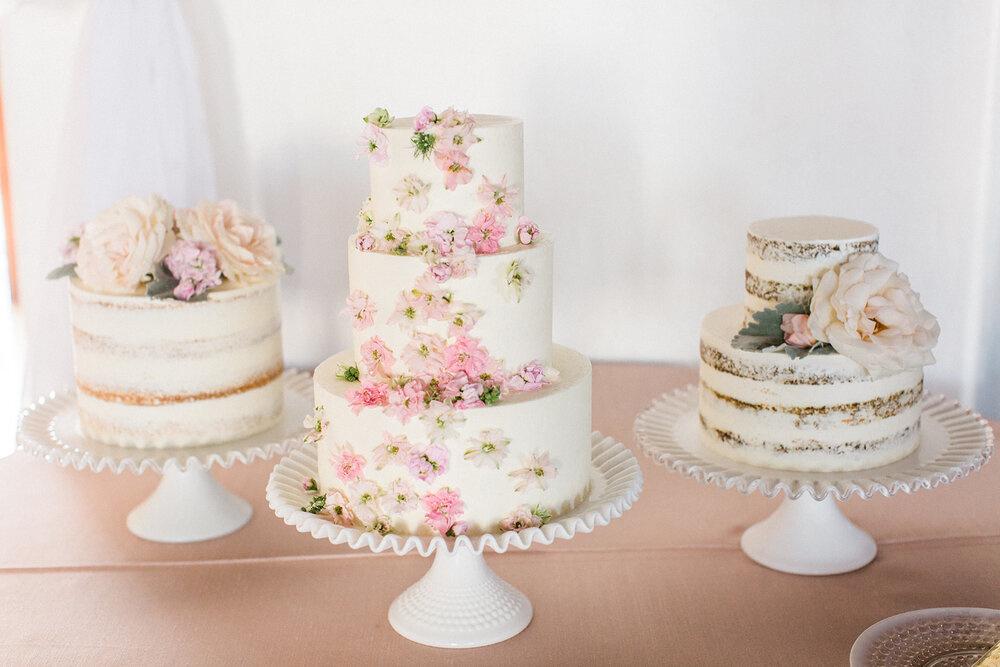 Scattered blooms
If you don't want clusters of neatly arranged flowers decorating your wedding cake, you can go for a slightly more abstract approach while still keeping the look elegant. Limit the flowers to one color and one type of bloom, which will make them feel cohesive even if they're not perfectly placed.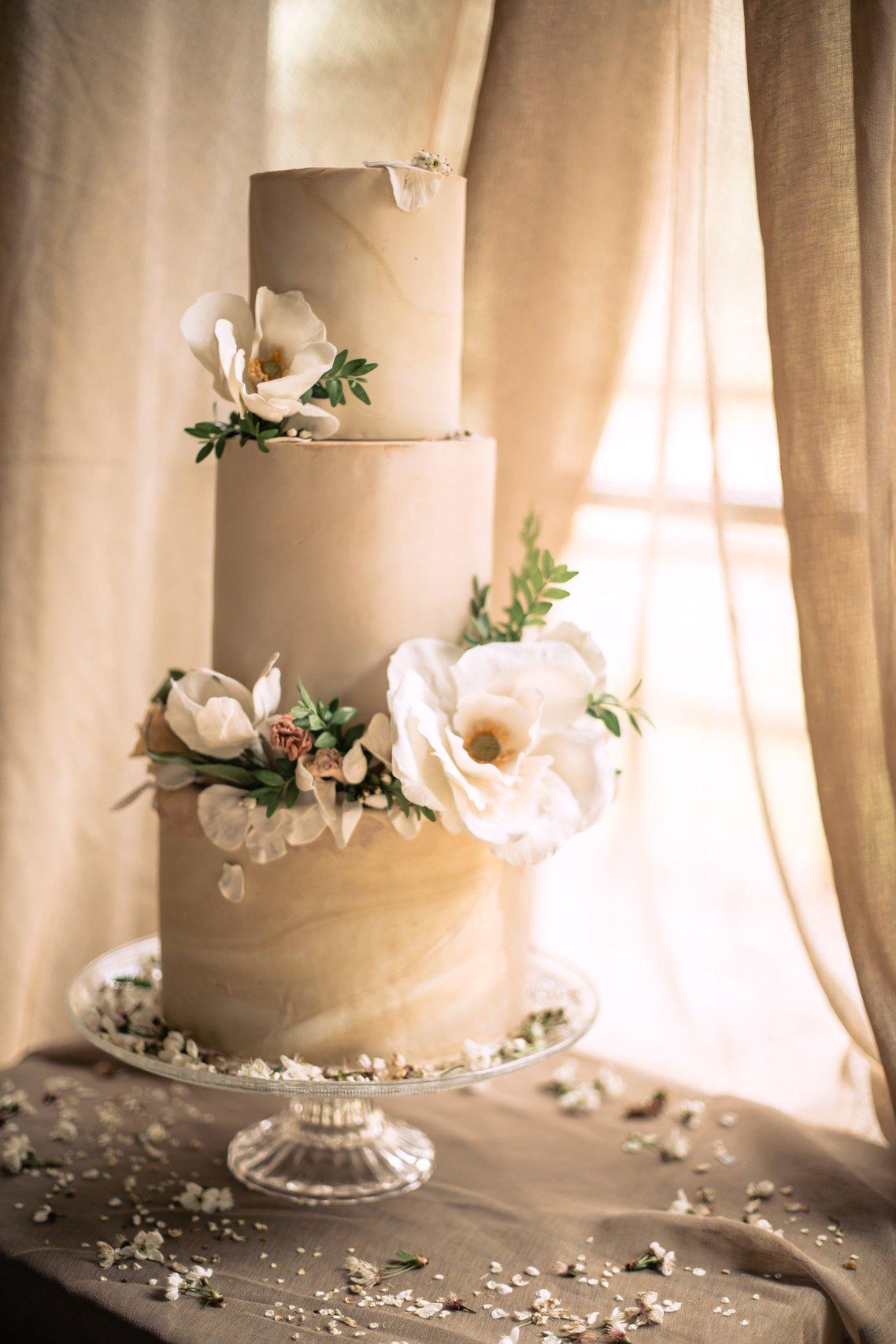 Marbled effect
Marbled fondant is something that's typically reserved for trendier cakes, but with a few tweaks, you can make this trend work for elegant wedding cakes, too. Avoid using colors that are too bright or vibrant—instead, stick to neutrals and pastels. For multi-tier cakes, you can accent one tier with marbled fondant and leave the rest of them plain.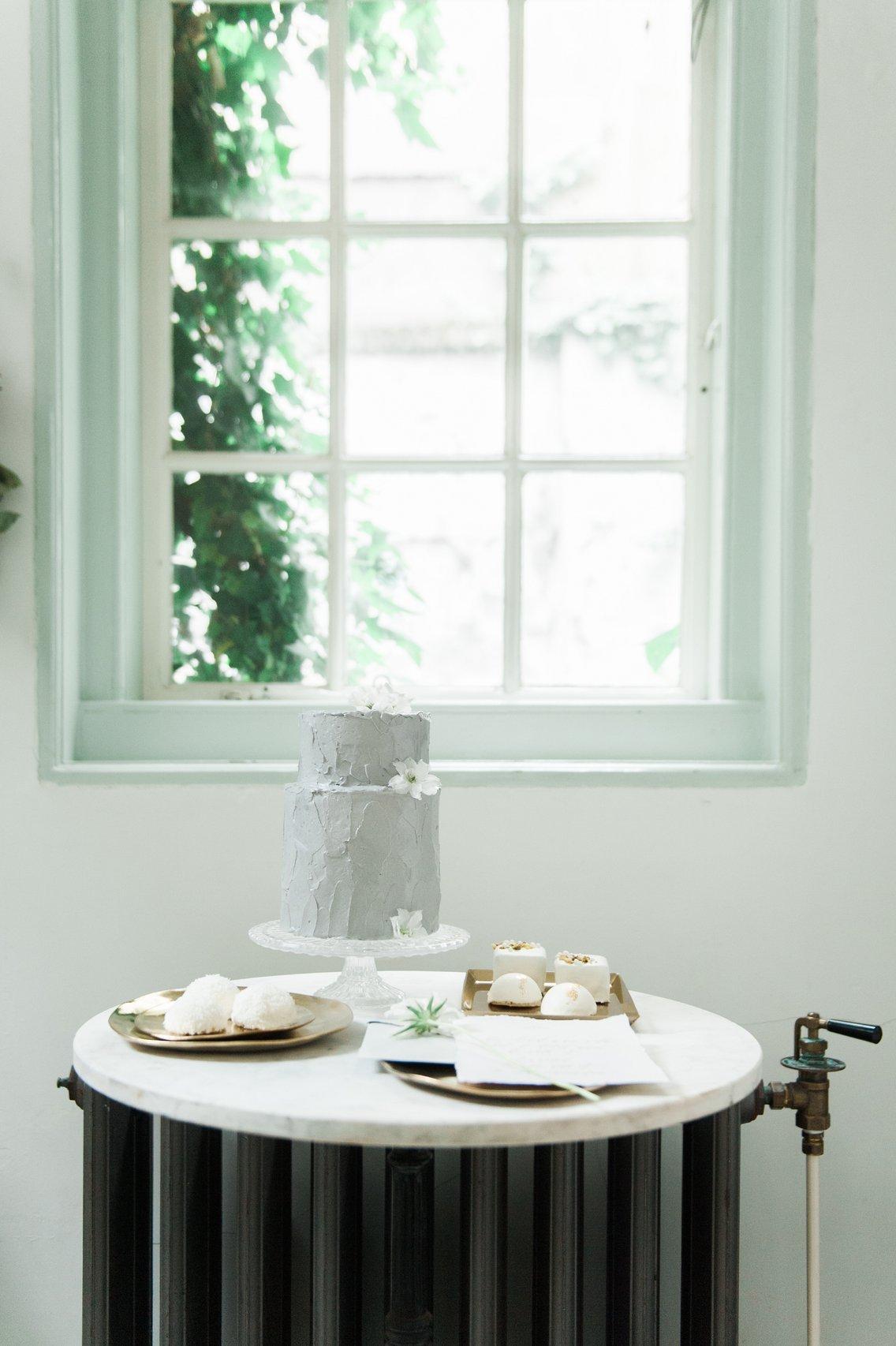 Cake by Sprinkles Bakery
Barely-there flowers
For a minimalistic effect, use flowers very sparingly when decorating your wedding cake. Placing a single flower on each tier will give you a tasteful, understated finish.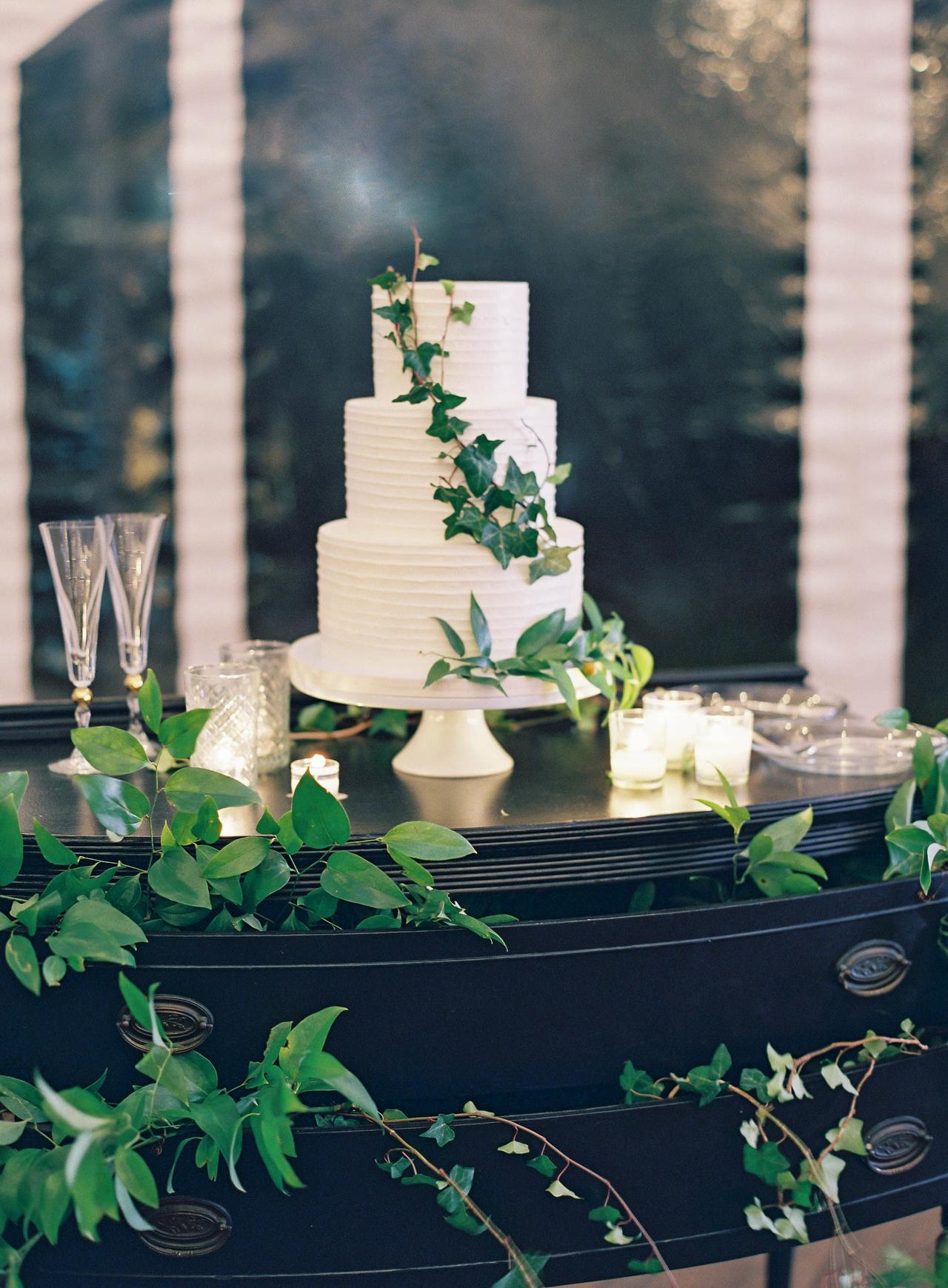 Cake by Sweet Fix
Ivy vine
A green ivy vine creates beautiful contrast when you drape it across the front of a white buttercream cake. Ask your cake baker to add textural stripes to the buttercream icing—it's the little details that sometimes count the most!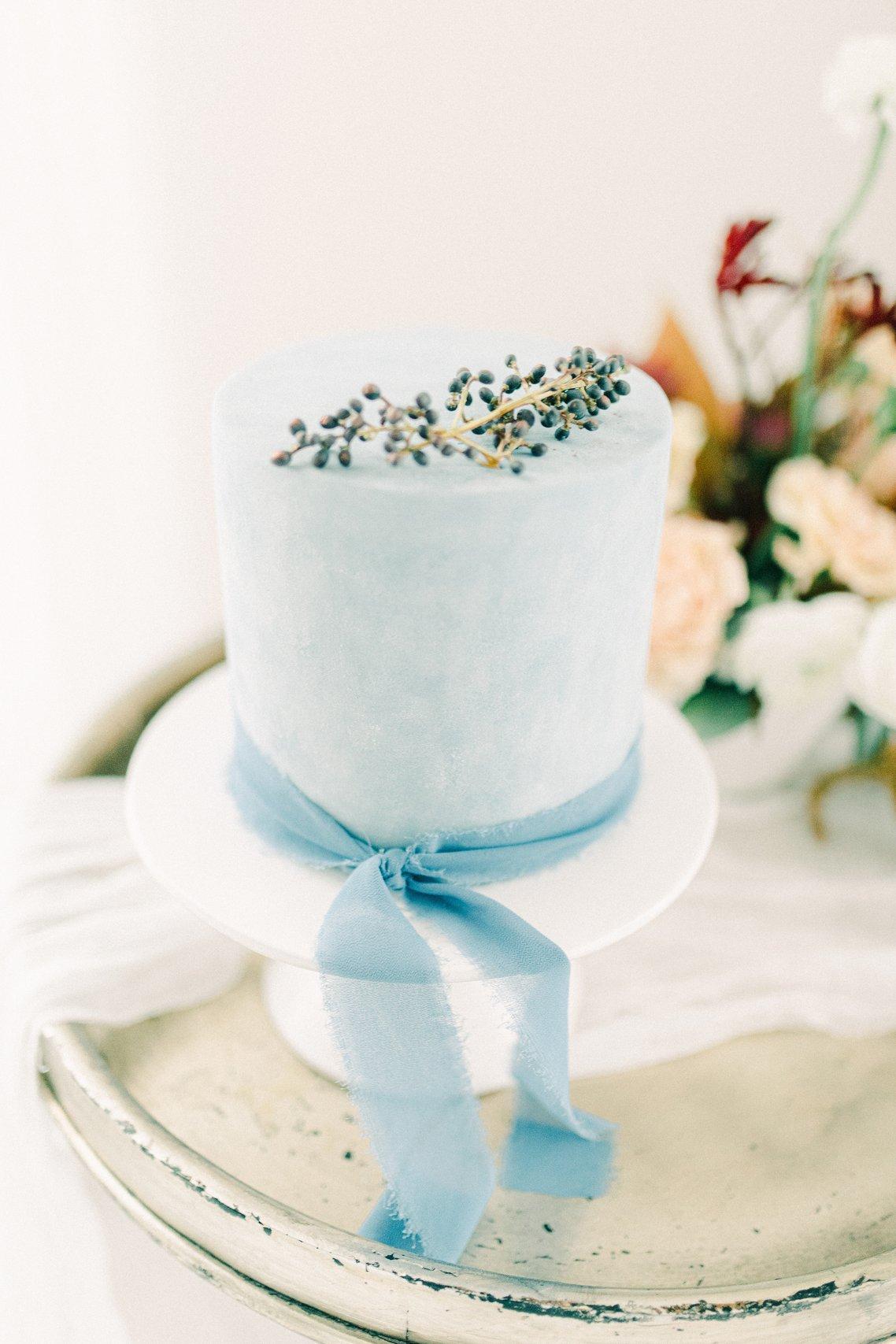 Cake by Heather Oliver Cake Design
Fresh berries
Decorating your elegant wedding cake can be as simple as using fresh berries and a piece of ribbon. We're loving this monochromatic blue cake, which is topped with a branch of viburnum berries and finished with a long silk ribbon tied at the base.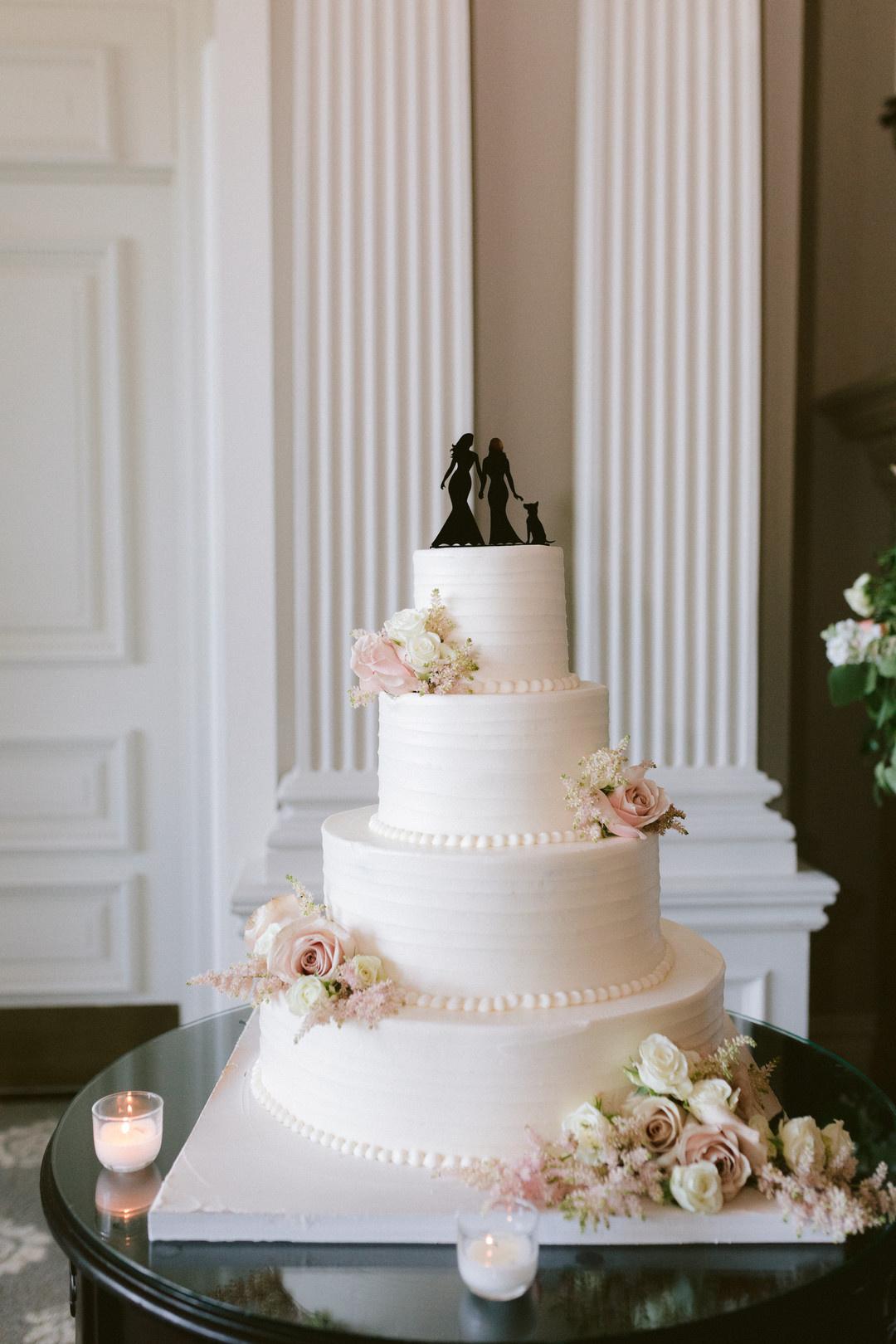 Cake by Palermo's Custom Cakes & Bakery
Classic blush details
Adorn a buttercream cake with blush and white roses for an undeniably classic look—you practically can't go wrong with this one. We like the addition of astilbe on this cake for even more texture and detail.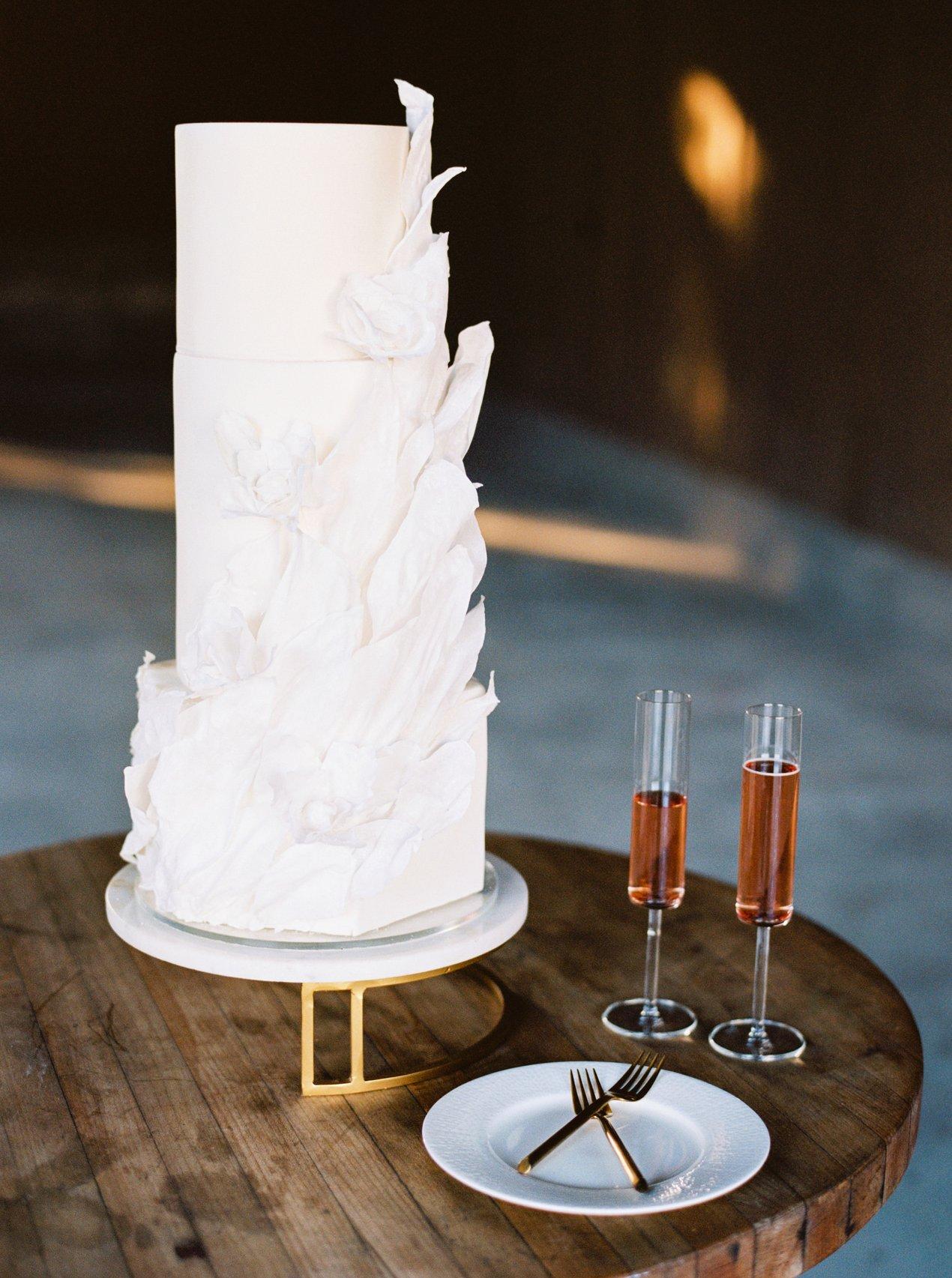 Brushstroke cake
This eye-catching design might not be what you first think of when you envision elegant wedding cakes, but it surprisingly works. You might have seen colorful versions of brushstroke cakes on Instagram or Pinterest, but when you use an all-white color palette, these trendy cakes feel extremely sophisticated. Fun fact: the three-dimensional 'brushstrokes' are often hardened pieces of chocolate or sugar.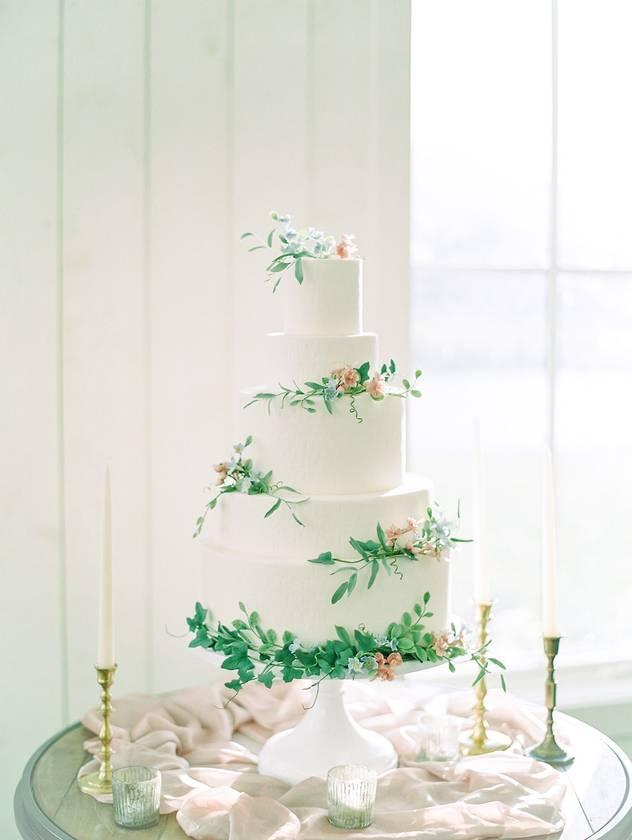 Sugar flowers
Handmade flowers can be just as beautiful as real ones—and even better, you can eat them! This fondant wedding cake is decorated with sugar flowers and vines that make it look like a sculptural work of art.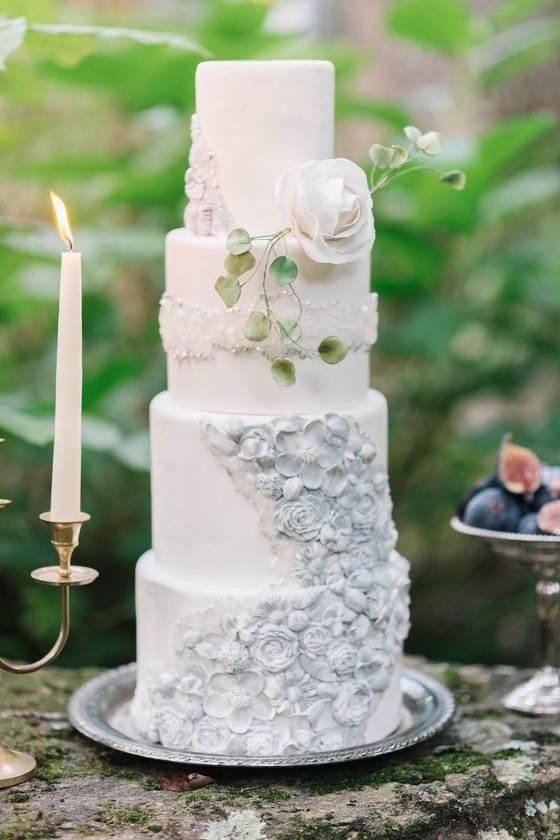 Bas relief
Bas relief is a traditional sculptor's technique that can also be applied to your wedding dessert. The process involves creating a three-dimensional pattern, typically flowers, from a mold and using it to decorate your wedding cake with a 'carved' effect.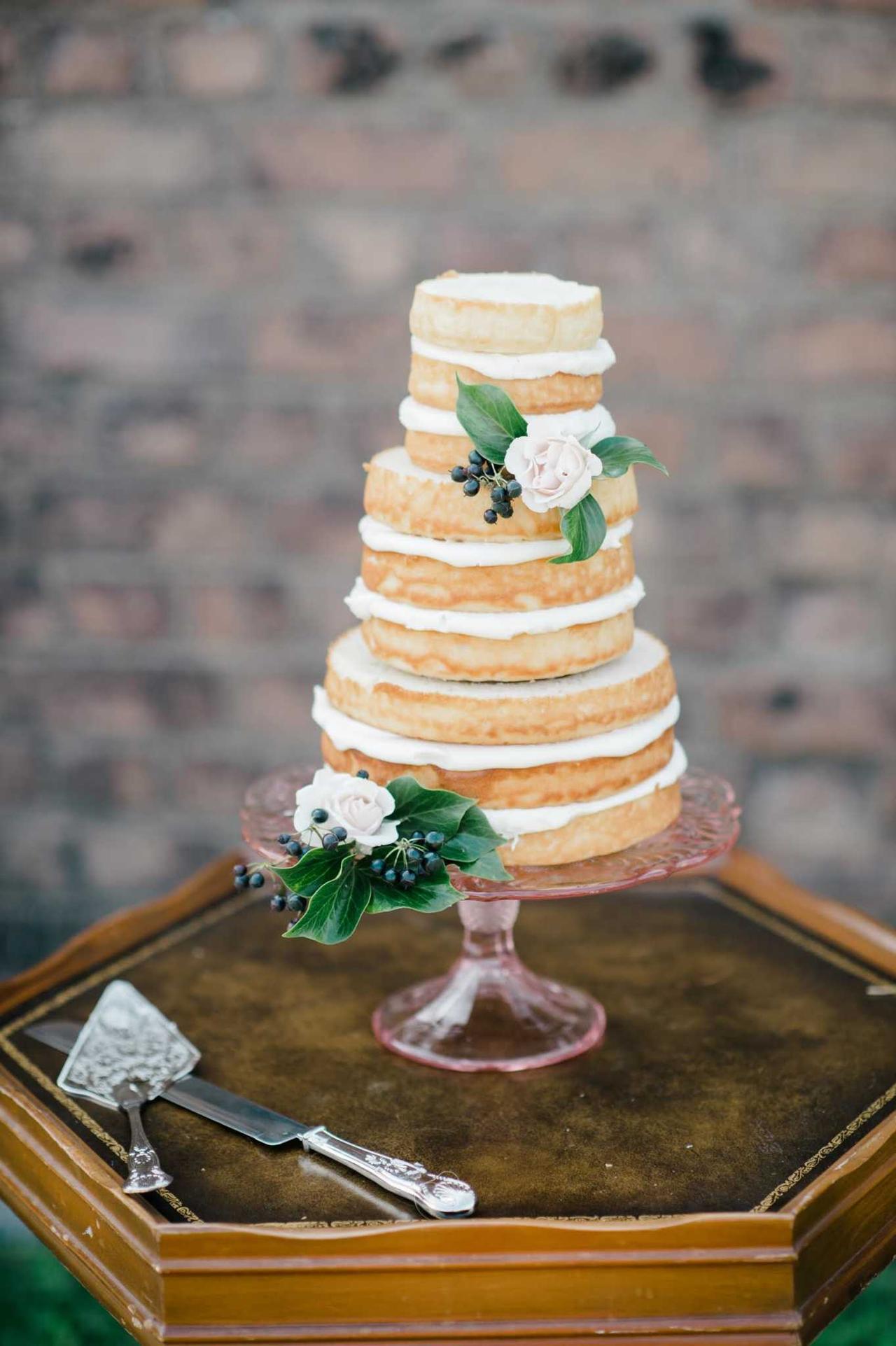 Naked cake
For those of you who don't like frosting or icing, there are ways to make an otherwise trendy naked cake look elegant and classic. Symmetrical layers and tiers will make all the difference, as will filling that has been neatly spread and evenly proportioned throughout the cake. Finally, don't go overboard with the embellishments—a couple of fresh flowers are all you need.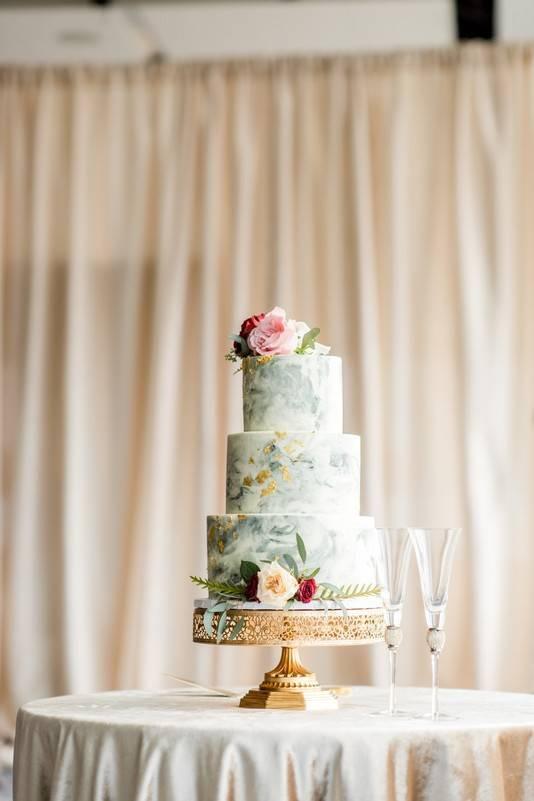 Edible gold leaf
Gold leaf flakes will give your wedding cake an opulent finish, especially when you use them against smooth fondant icing. And yes, you can actually eat gold leaf—your cake baker should be using high- quality, pure gold flakes (22 to 24 carats) that are calorie-less and tasteless.