33 Creative Holiday Gifts for Newlyweds in 2022
The first holiday after a couple's wedding is extra special. Shop the best gifts for newlyweds celebrating their first married Christmas, Hanukkah, or Kwanzaa.
We have included third party products to help you navigate and enjoy life's biggest moments. Purchases made through links on this page may earn us a commission.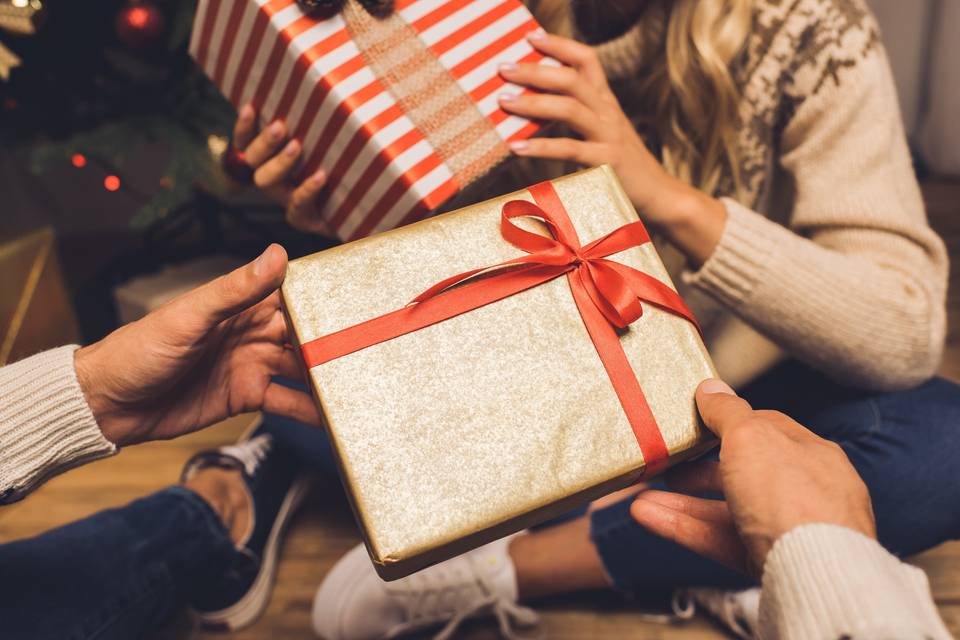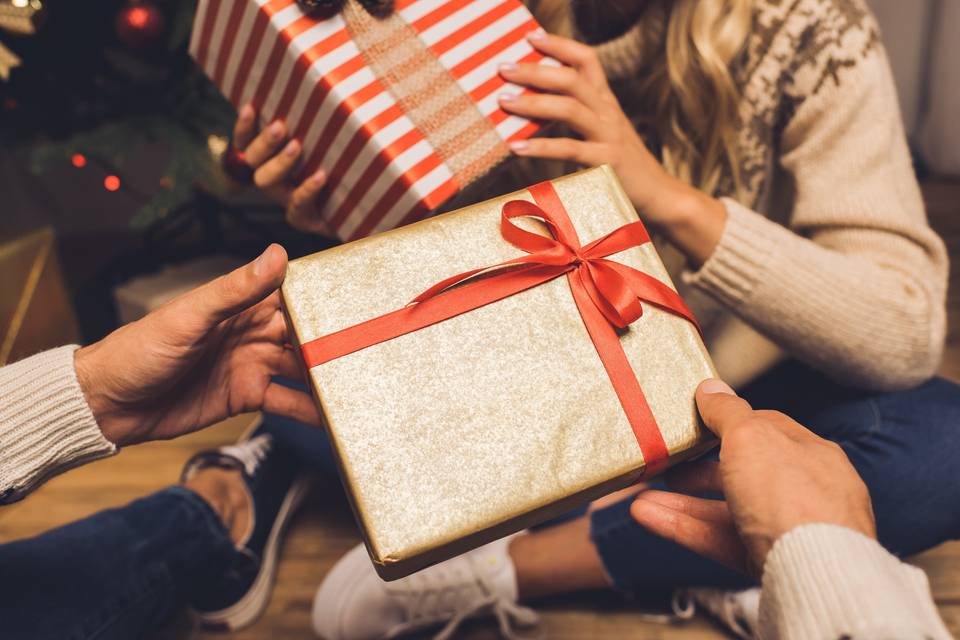 If buying a holiday gift for a newly married couple has you feeling more than a little stuck, don't worry. We know exactly what the lovebirds will appreciate (yep, even after they already got everything they wanted on their wedding registry.) Shop Christmas gifts for the newlyweds, cute tokens for their first Hanukkah after the wedding, delicious Kwanzaa treats, and more from our thoughtful gift guide. We've put together a list of the top gifts for their first Christmas married, like stunning personalized serveware, the perfect picture frame for wedding photos, and romantic date night experiences. (And because we know it's been a long year, we've found plenty of thoughtful budget-friendly options they'll love too.)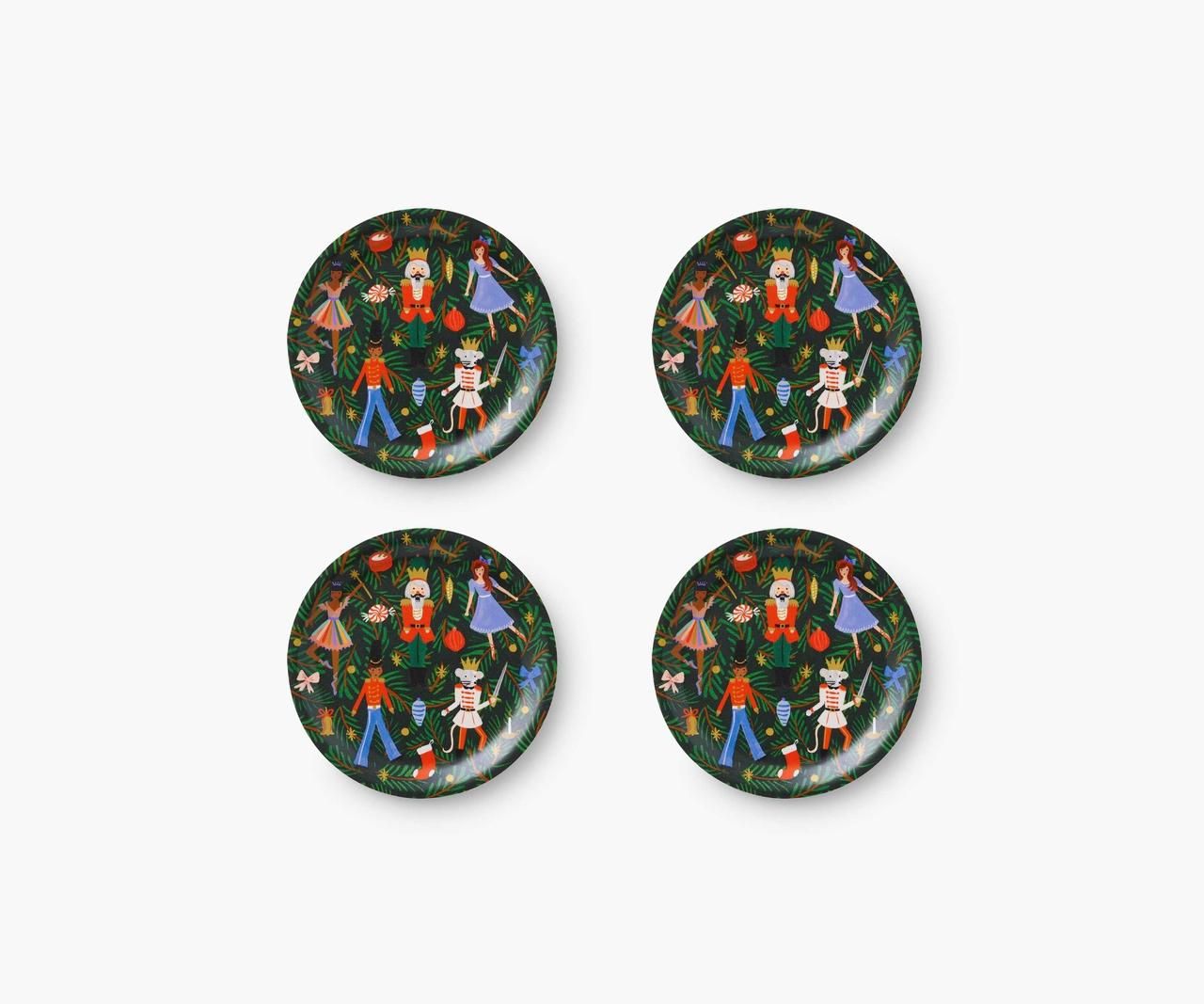 Festive Coasters
Sure, they might already have a set of coasters protecting their precious furniture. But do they have a set just for the holidays? Seasonal housewares and decor are excellent newlywed Christmas gifts, since they're likely still in the process of curating their festive collection. These adorable nutcracker-themed coasters are made from lightweight birch and come in a gift-ready pack of four.
Rifle Paper Co. Nutcracker holiday round coaster set, $35, Rifle Paper Co.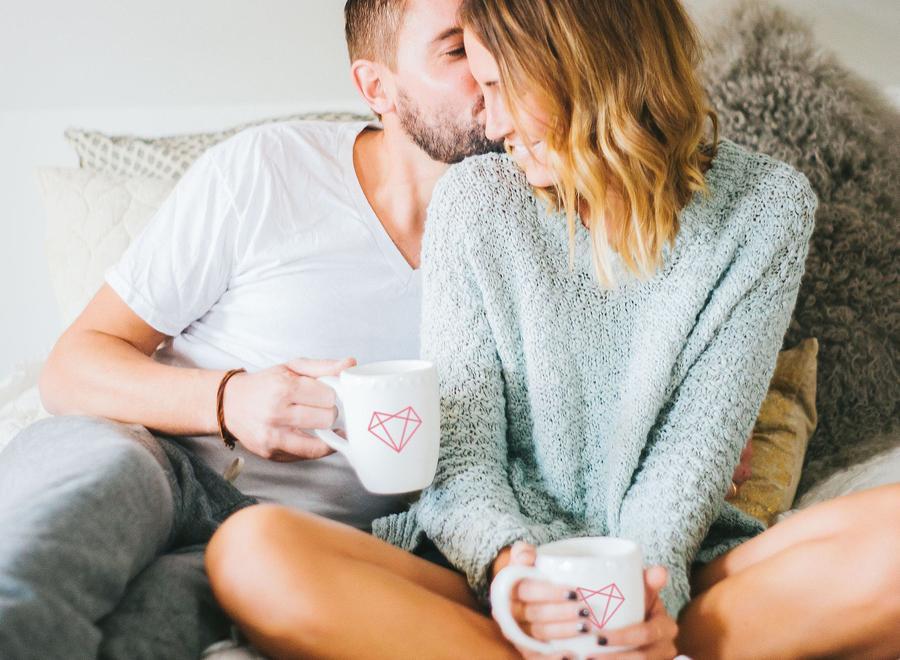 A Date Night Subscription Box
Give the newlyweds another reason to enjoy the honeymoon phase by sending them a monthly date night box. Choose from one, three, six, or 12 months of date nights—each month, they'll receive a curated box with instructions and supplies for an at-home date. Activities range from DIY projects and games to cooking, baking, and more. The contents of every subscription box are a secret, so they'll always be surprised.
DateBox Club monthly subscription, from $42 per month, DateBox Club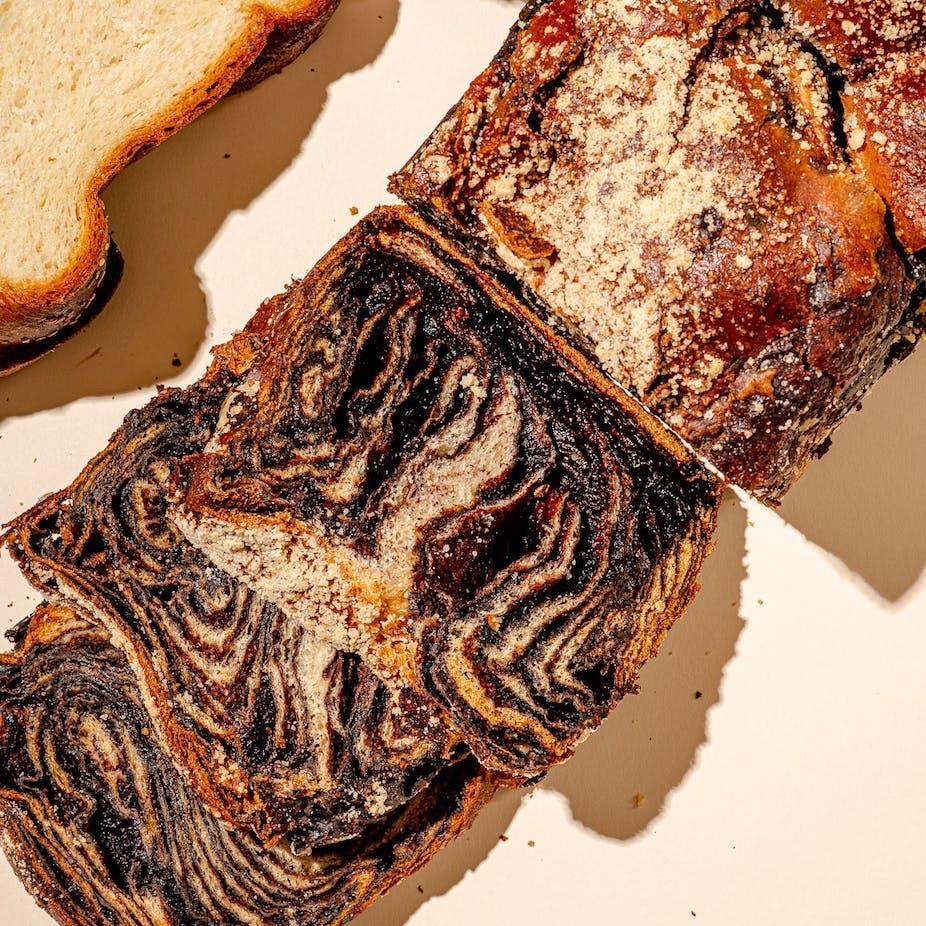 The Best Chocolate Babka
As far as Hanukkah gifts for newlyweds go, this one takes the cake (or should we say: takes the babka?). Oneg Bakery's famous double chocolate babka now ships nationwide thanks to Goldbelly, and it's the perfect holiday treat for friends and family alike. The pillowy soft dough is layered with a homemade mix of Dutch cocoa powder and sugar, resulting in a delicious dessert that won't last long in any household.
Oneg Bakery double chocolate babka, from $70, Goldbelly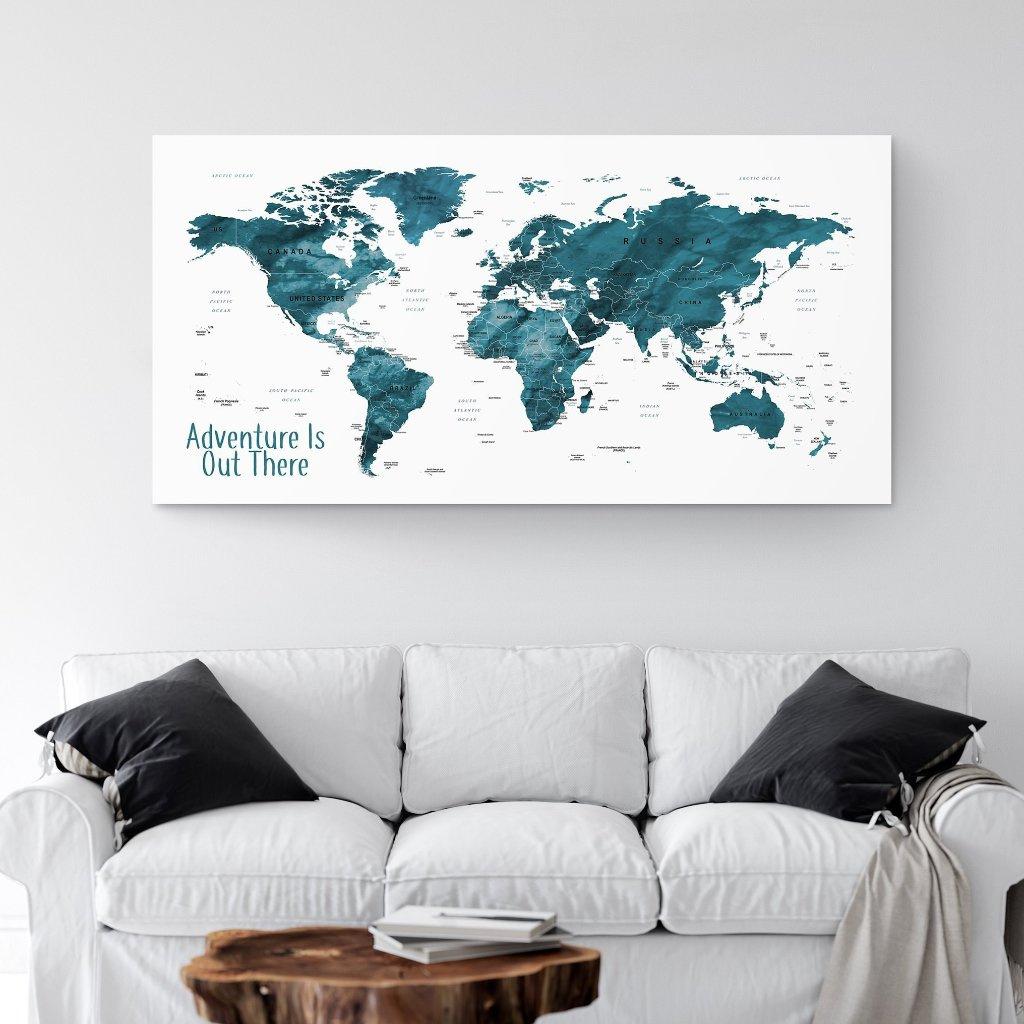 Decor to Inspire Adventures
Shopping for an adventurous duo? Help the newlyweds keep track of their travels with this cool canvas map of the world that comes with push pins for marking the countries they've visited or plan to visit. It's a pretty unique piece of decor, making it a lovely housewarming gift for a couple too.
Canvas Vows push-pin world travel map, from $159, Canvas Vows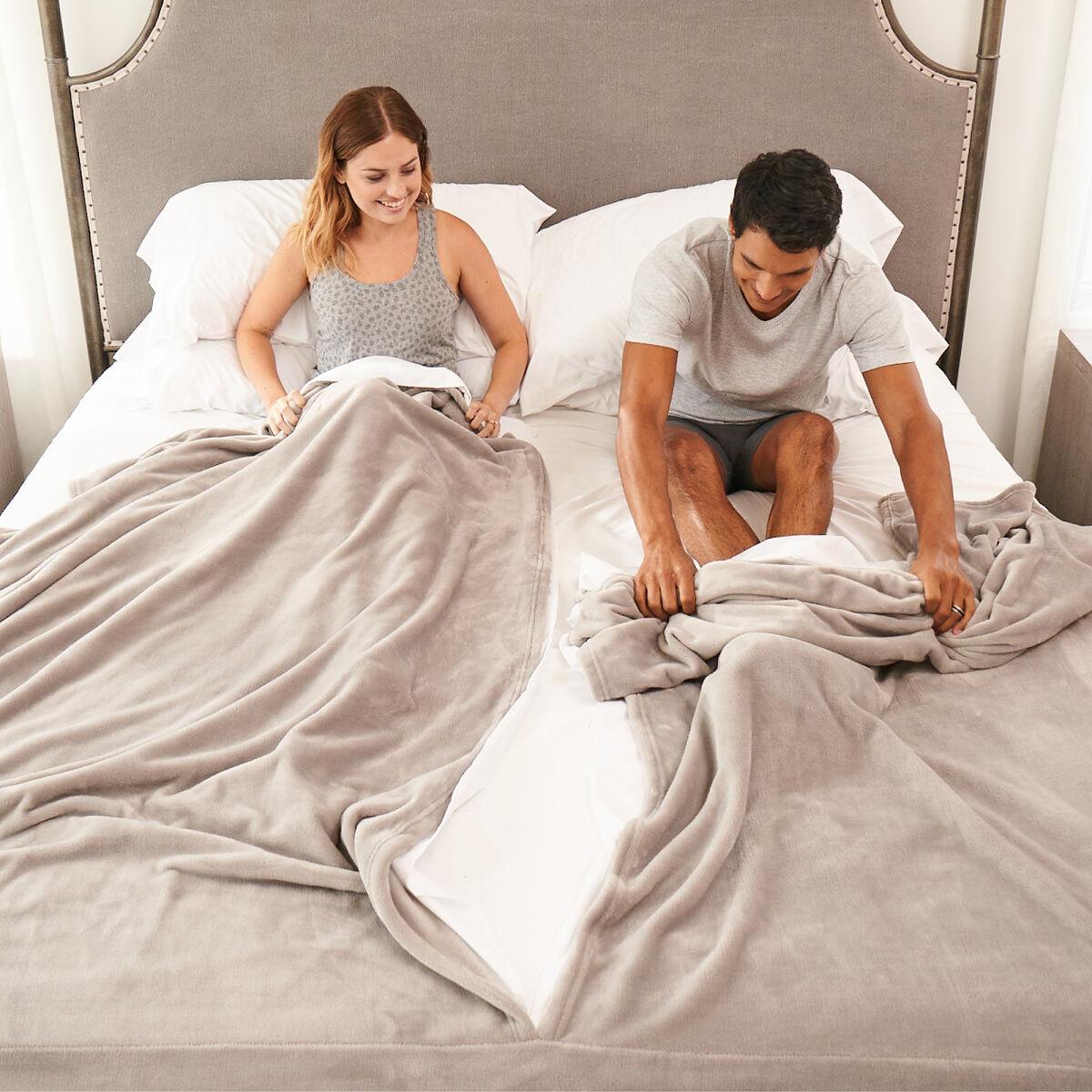 The Most Practical Blanket Ever
When it comes to Christmas gift ideas for newlyweds, don't shy away from practical presents. A useful item can be just as thoughtful as something sentimental. It shows you know them well enough to understand their needs. Even the honeymoon phase can't stop couples from playing tug-of-war with the duvet on chilly winter nights—but this genius blanket can. It's split down the middle and joins together again at the bottom, allowing each person to wrap up in their own side of the blanket without disturbing the other.
Merideth and John Jaskowski couple's split blanket, $85, Uncommon Goods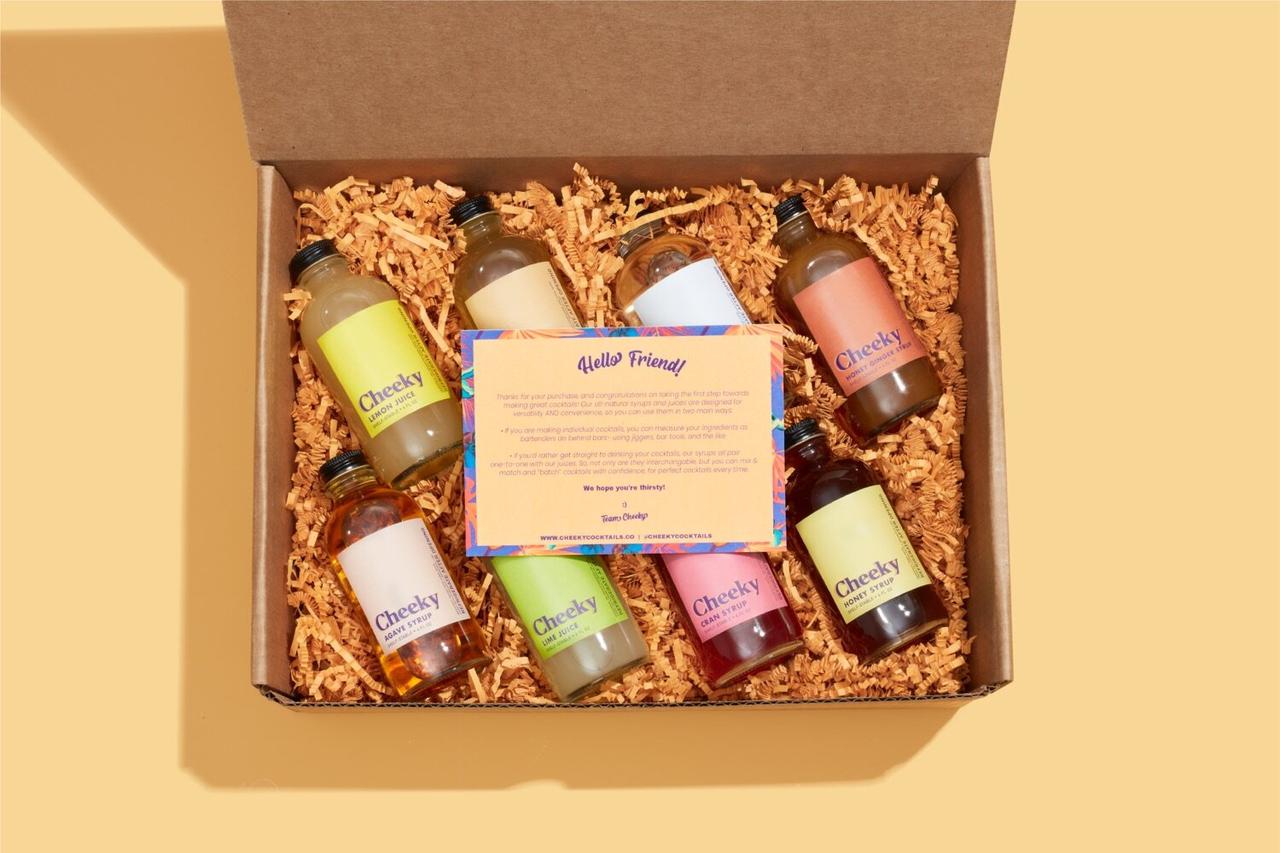 The Key to Delicious Cocktails
Know a couple who loves to make fancy cocktails at home? This deluxe bartending kit will give them the ingredients they need to create their own recipes and refine their mixology skills. The gift box includes enough flavored syrups and fruit juices for over 50 different kinds of cocktails.
Cheeky Cocktails 8 bottle kit, $60, Cheeky Cocktails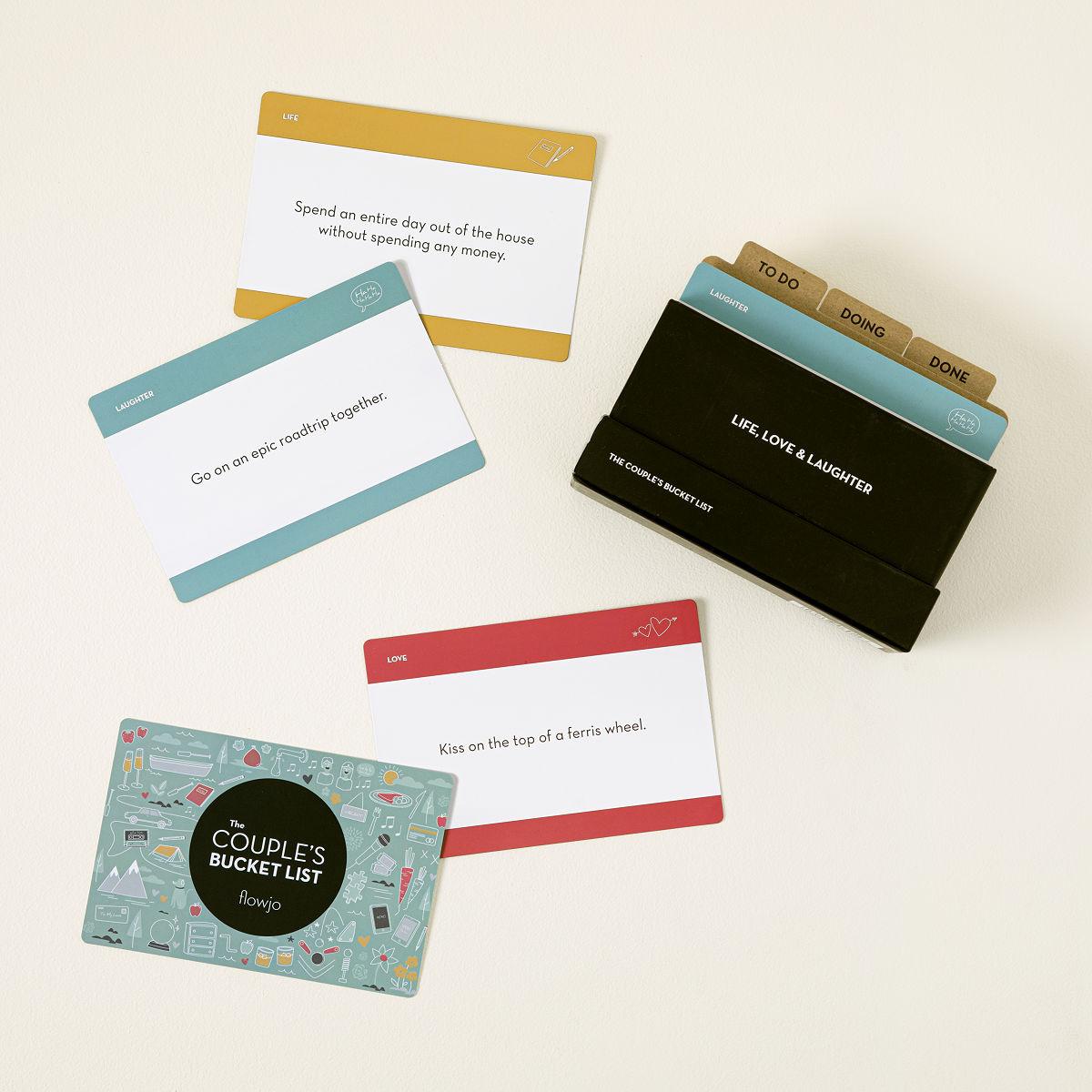 A Curated Bucket List for Couples
No matter how long the couple has been together, fresh date ideas can run out fast. This deck of cards provides prompts and ideas for fun activities the newlyweds can do together during the holidays and beyond.
Uncommon Goods The Couple's Bucket List, $50, Uncommon Goods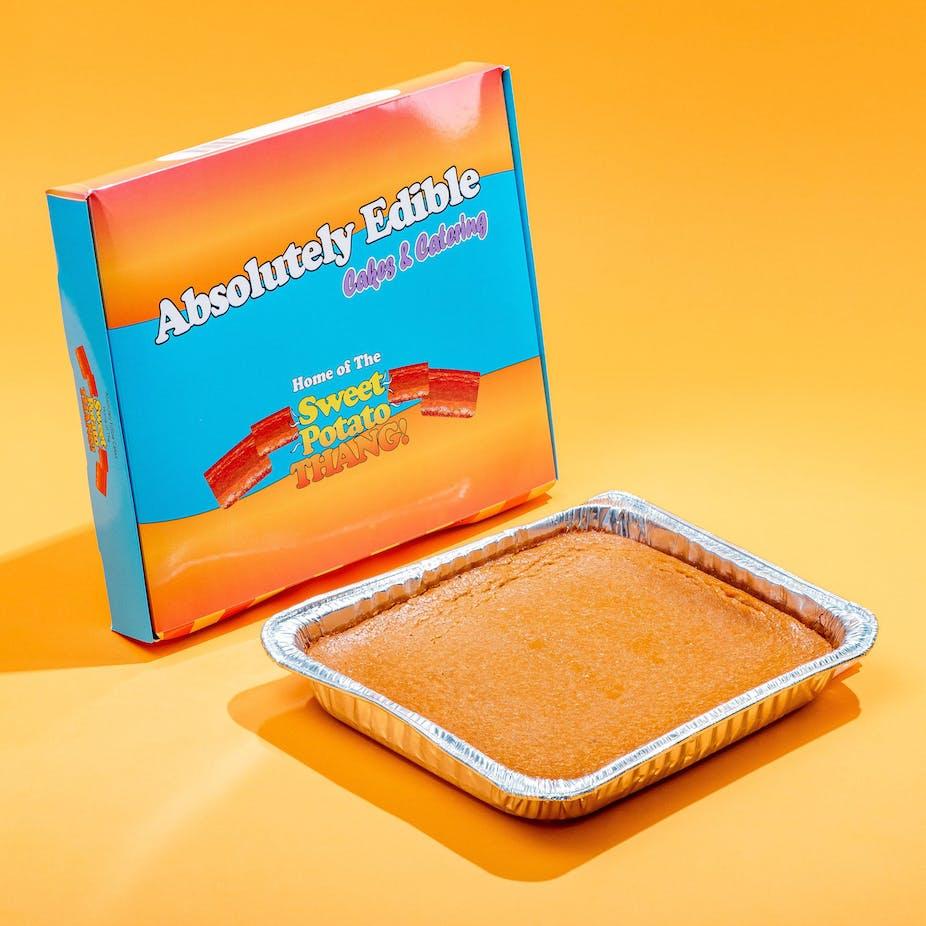 The Finishing Touch to Their Kwanzaa Feast
Need a holiday gift for a pair celebrating their first Kwanzaa as a married couple? This unique spin on classic sweet potato pie will be the talk of the table at their annual Kwanzaa feast. The dessert might seem simple, but it goes big on flavor. The silky sweet potato filling and crunchy graham cracker crust are just too good to resist (and luckily, it serves 12–14 people, so you might just get a slice).
Nikki J's Cakes Sweet Potato Thang, $75, Goldbelly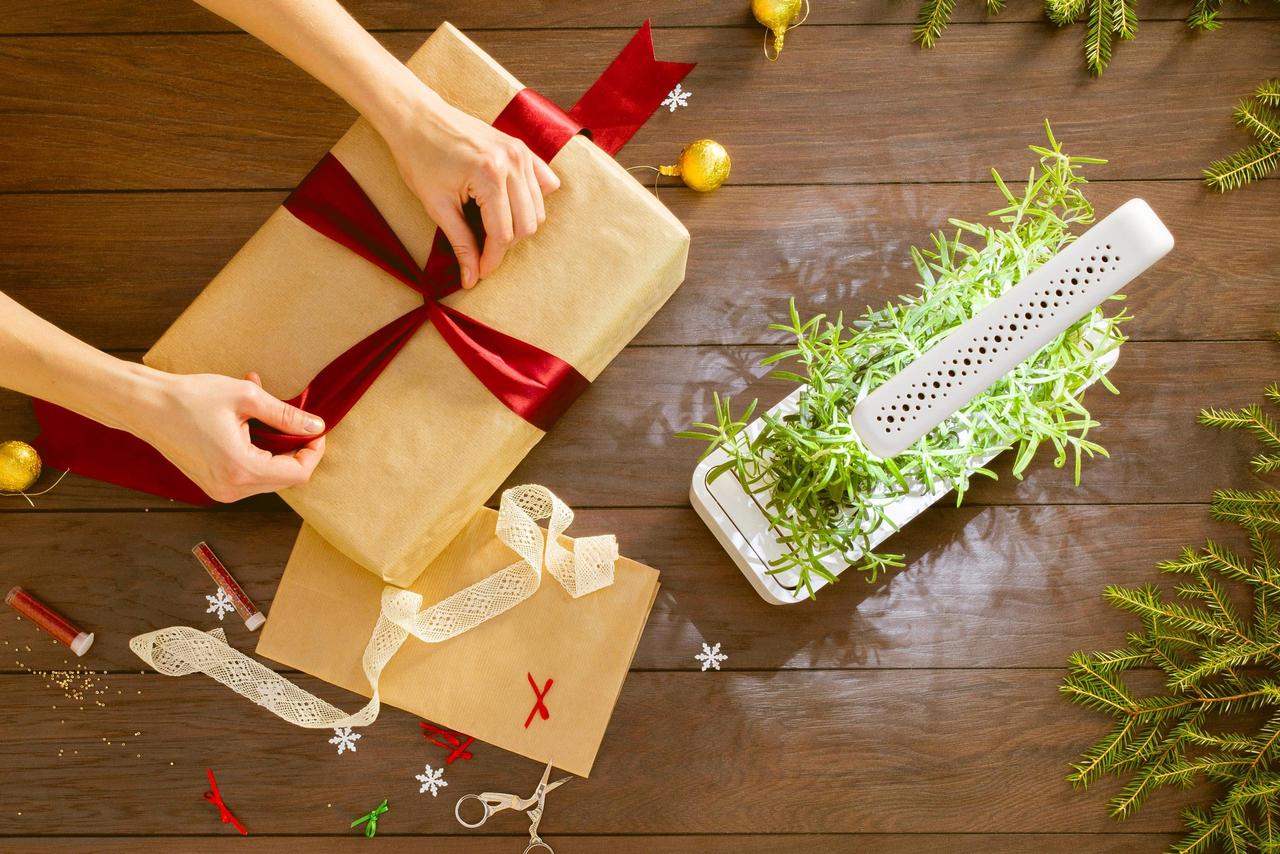 A Tiny Indoor Garden
Some of the best Christmas gifts for newlyweds are inspired by the things that weren't on their wedding wish list. While it's pretty common to request appliances like espresso machines and stand mixers, they might not have thought to ask for a smart, indoor garden. This clever little device automates plant care so they can grow herbs, veggies, flowers, and more without the need for outdoor space (or much space at all, for that matter).
Click & Grow The Smart Garden 3, $100, Click & Grow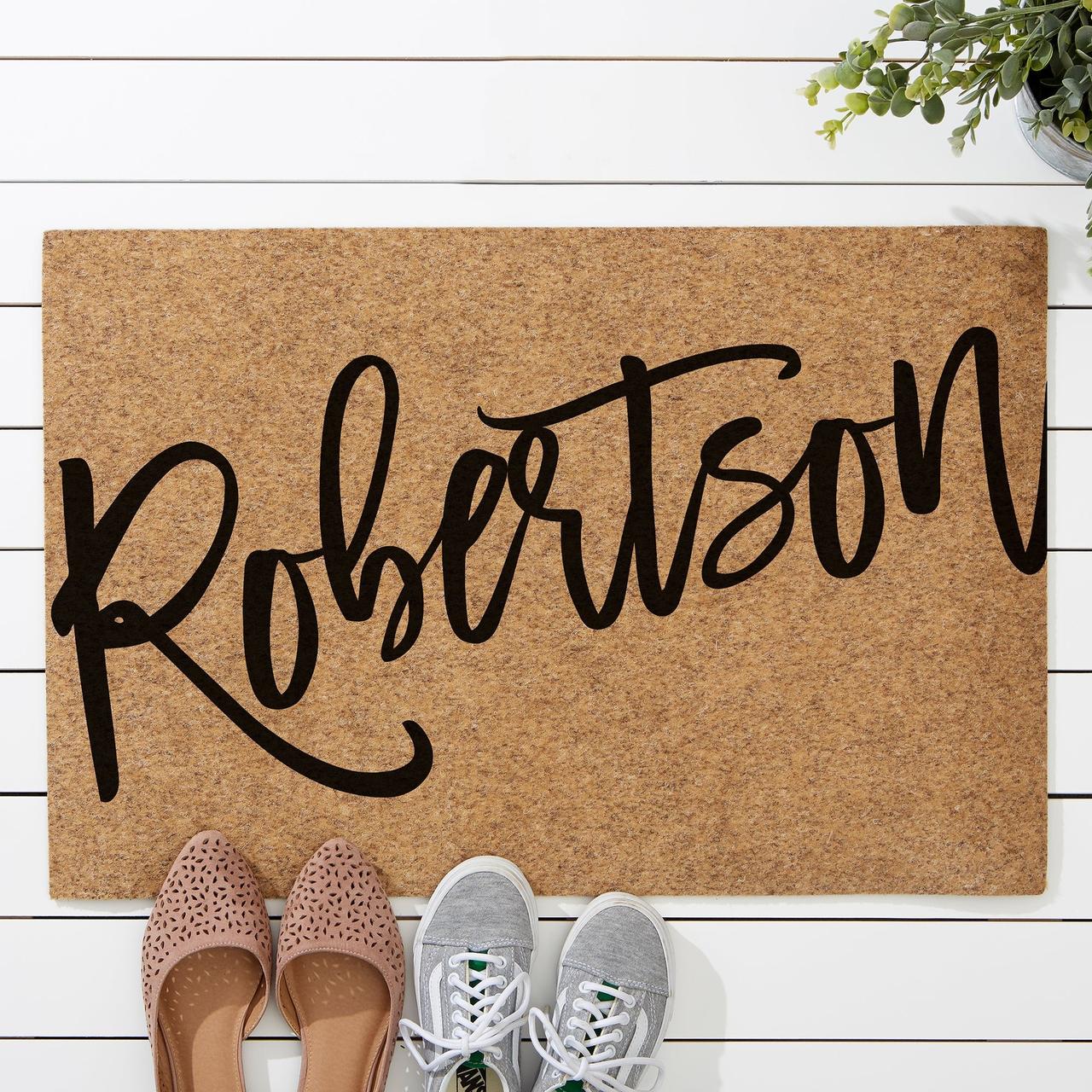 Their Own Family Doormat
Whether they've recently moved into a new place or are fully settled in, any couple would love a personalized doormat to make a house feel like home. This one is particularly fitting for newlyweds because you can personalize it with their family name.
Personalization Mall bold family name personalized 18x27 synthetic coir doormat, $40, Personalization Mall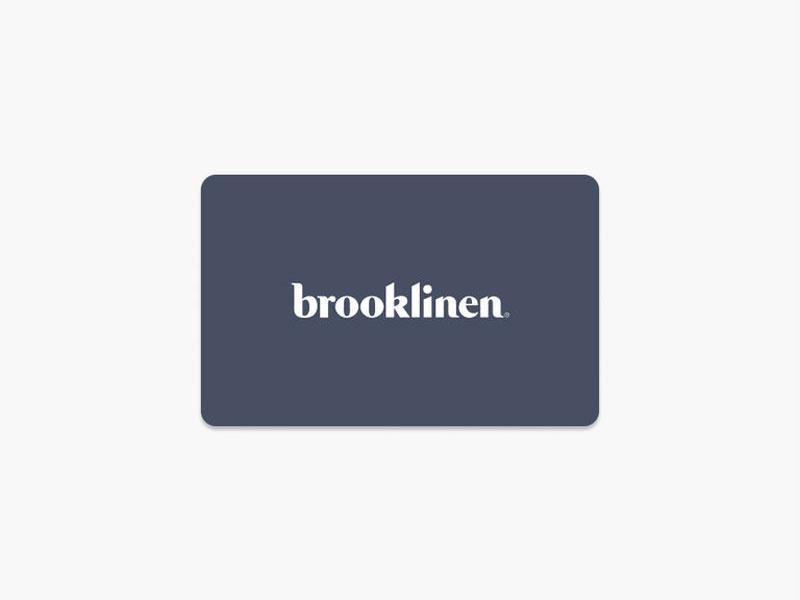 A Gift Card They'll Definitely Use
When in doubt, go with a gift card. Any co-habiting couple will appreciate one from Brooklinen—AKA the home of plush towels, silky-soft bed sheets, and luxurious bath robes. They can pick up any essentials that went unfulfilled on their wedding wish list or splurge on something they'd never usually buy for themselves. Finally, because it's an e-gift card, it's an excellent last-minute holiday gift for the newlyweds.
Brooklinen e-gift card, from $50, Brooklinen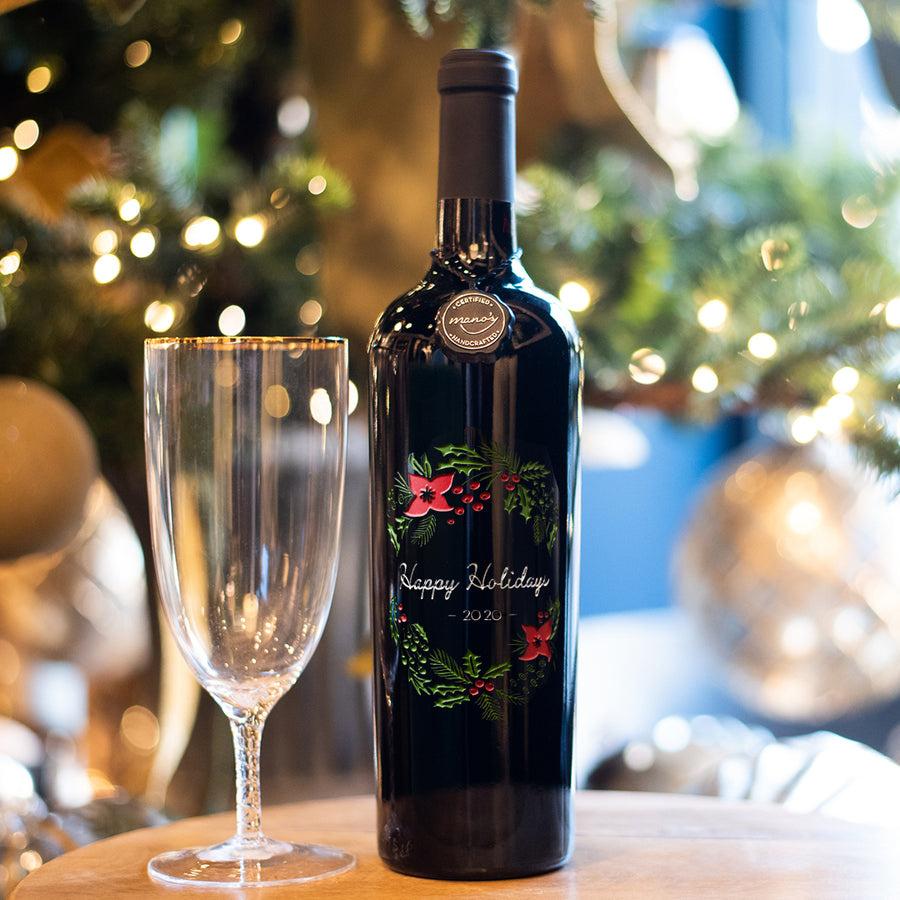 Wine for the Holidays
They're still celebrating their newlywed status, so help them raise another toast with this fancy bottle of wine. It's etched with a colorful garland around the words "Happy Holidays," making it especially fitting for this time of year. Inside is a full-boded California cabernet sauvignon.
Mano's Wine Happy Holidays garland etched wine bottle, $40, Mano's Wine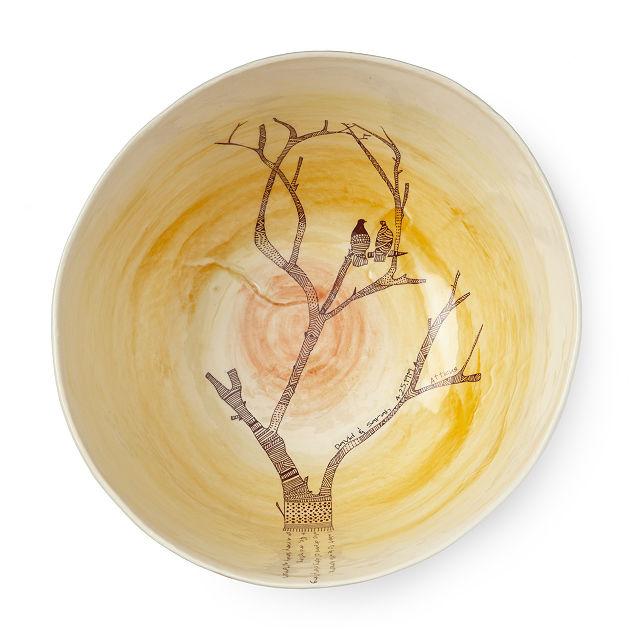 A Bowl for the Lovebirds
This handmade serving bowl features a sweet pair of lovebirds amid sunset-inspired colors. It can be personalized with the newlyweds' names and wedding date for a unique and thoughtful gift this holiday season.
Ruchi Gupta personalized lovebirds serving bowl, $175, Uncommon Goods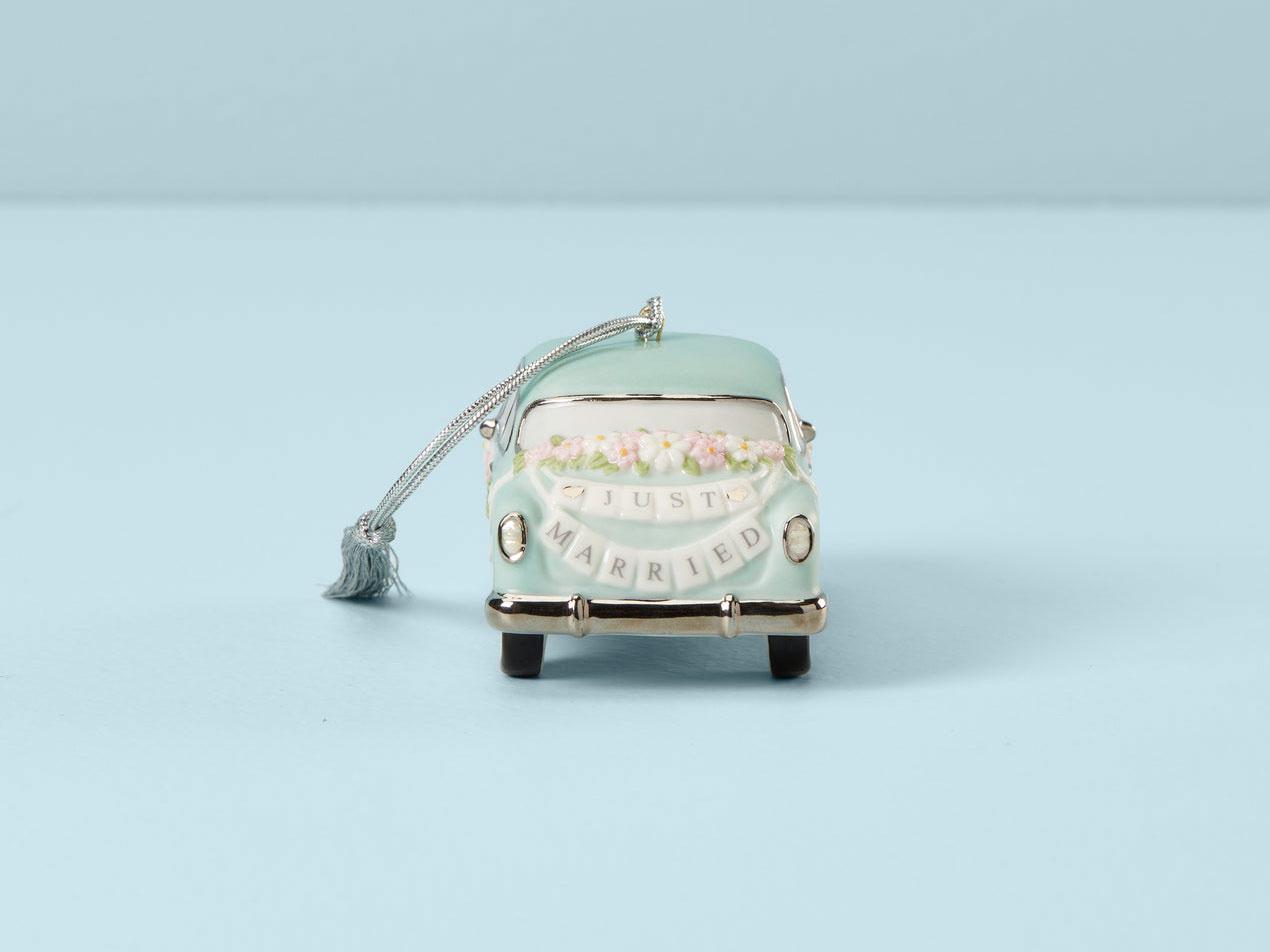 A Commemorative Christmas Ornament
Give the newlyweds this adorable ornament for their first Christmas married. The gift can be personalized on the side with their names and wedding date, or you can stick with the "Just Married" bumper on its own. Either way, this sweet keepsake is something they'll cherish for many years to come.
Lenox Just Married vintage car ornament, $80, Lenox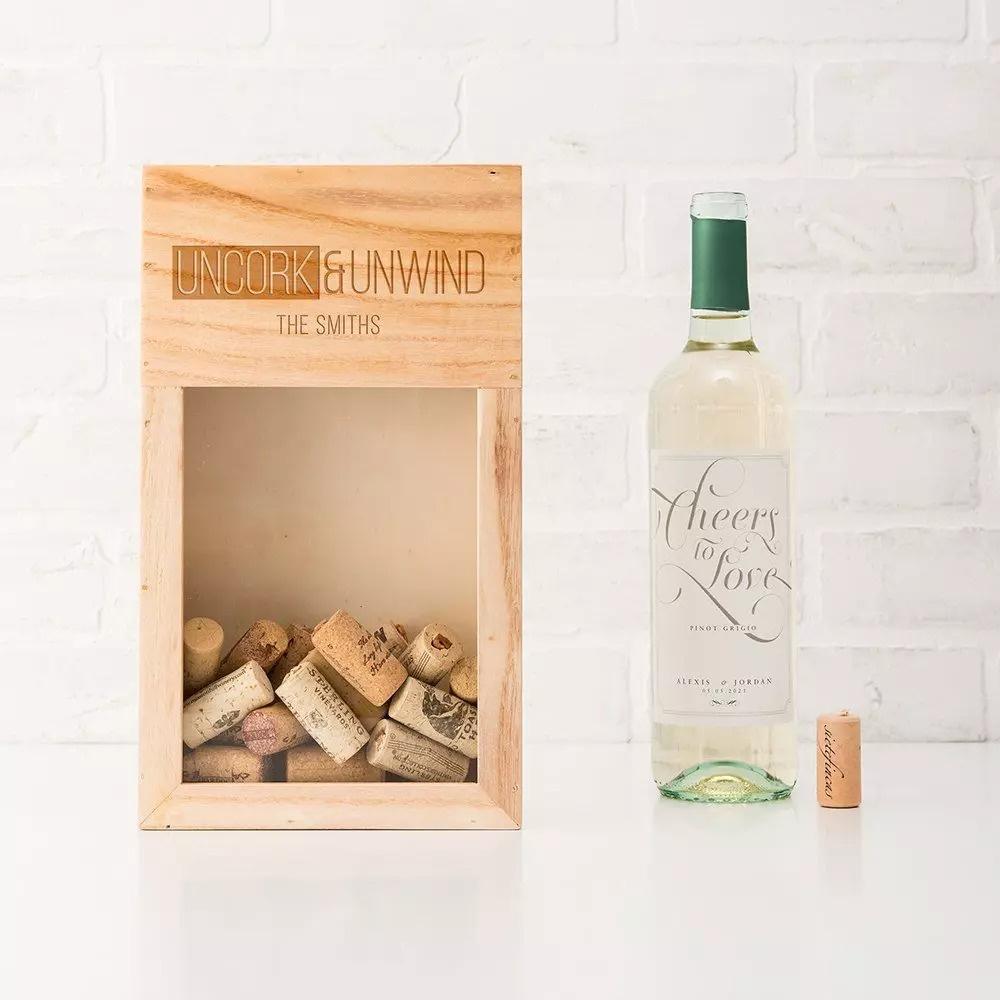 A Way to Keep Track of Celebratory Toasts
A wine-cork shadow box is one of the best newlywed Christmas gift ideas if they always celebrate special occasions with a chilled glass of vino. This unique keepsake lets the couple keep track of every special milestone to come (think: anniversaries, birthdays, and new additions to their family). Customize it with their family name for a personal touch (if they're sharing one, that is).
WeddingWire Shop personalized wooden wine cork holder shadow box, $28, WeddingWire Shop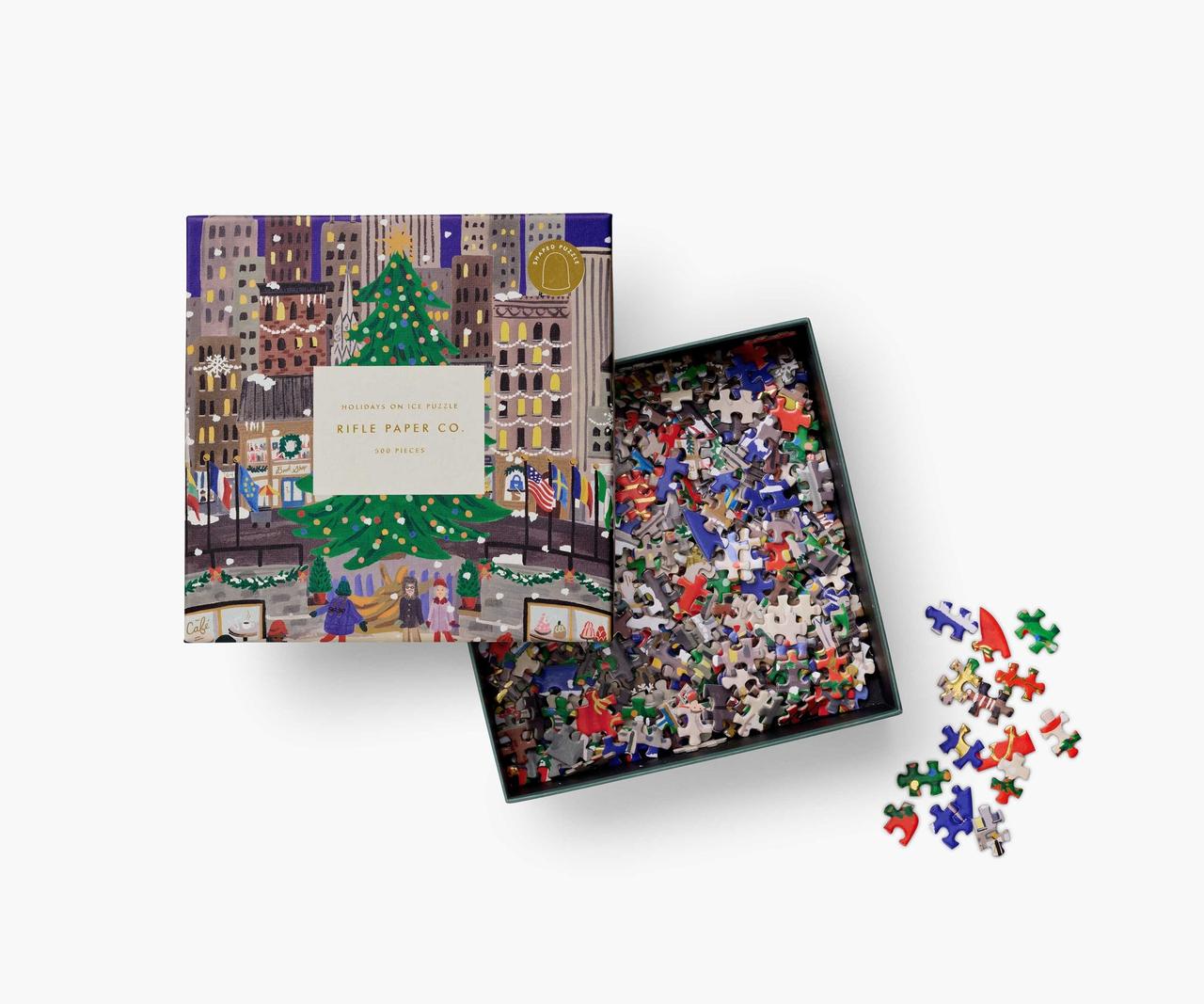 A Christmas-Themed Puzzle
This festive 500-piece puzzle is a fun gift for couples to break out over the holidays or anytime their screen time is pushing its breaking point. The finished product showcases a charming NYC holiday scene in vibrant colors and luxe gold foil. Oh, and it's shaped like a snow globe—cute, right?
Rifle Paper Co. Holidays on Ice jigsaw puzzle, $34, Rifle Paper Co.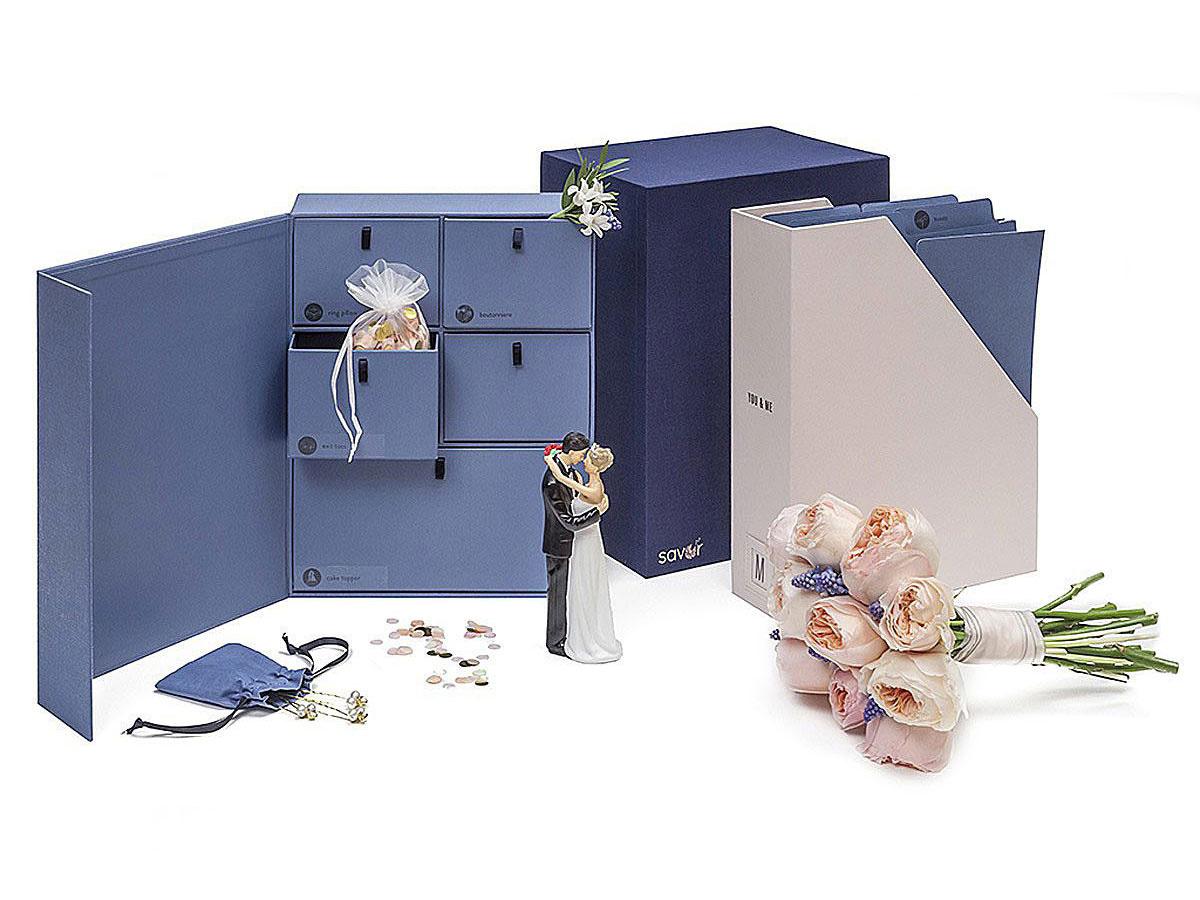 A Library for Wedding Souvenirs
How about a keepsake box to help the newlyweds organize all of their wedding day mementos, like vow books, invitations, dried flower petals, and photos? The library-style system has illustrated labels, acid-free drawers, vertical files, and fabric bags for carefully storing their most cherished possessions.
Uncommon Goods wedding keepsake library, $107, Uncommon Goods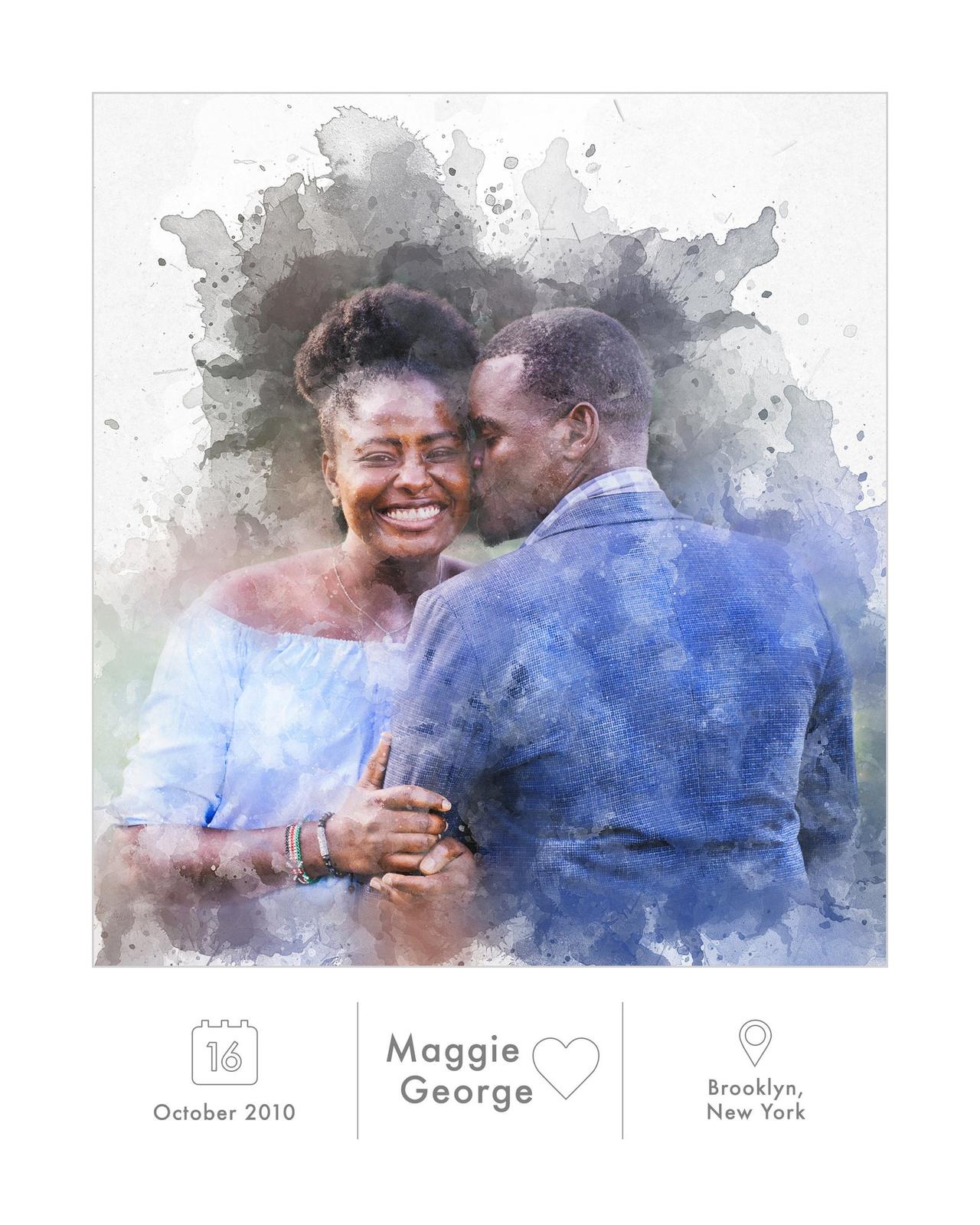 Artwork Inspired by Their Wedding
As one of the most thoughtful Christmas gifts for newlyweds, it's no wonder this custom couple portrait is a bestseller on Etsy. Simply send the seller a photo of the happy couple from their big day and it'll be transformed into a stunning watercolor-style work of art. DIY enthusiasts can purchase a digital file of the finished piece to print at home. Otherwise, we recommend choosing the display-ready canvas or framed print edition.
Furrlio custom watercolor couple portrait from photo, from $28, Etsy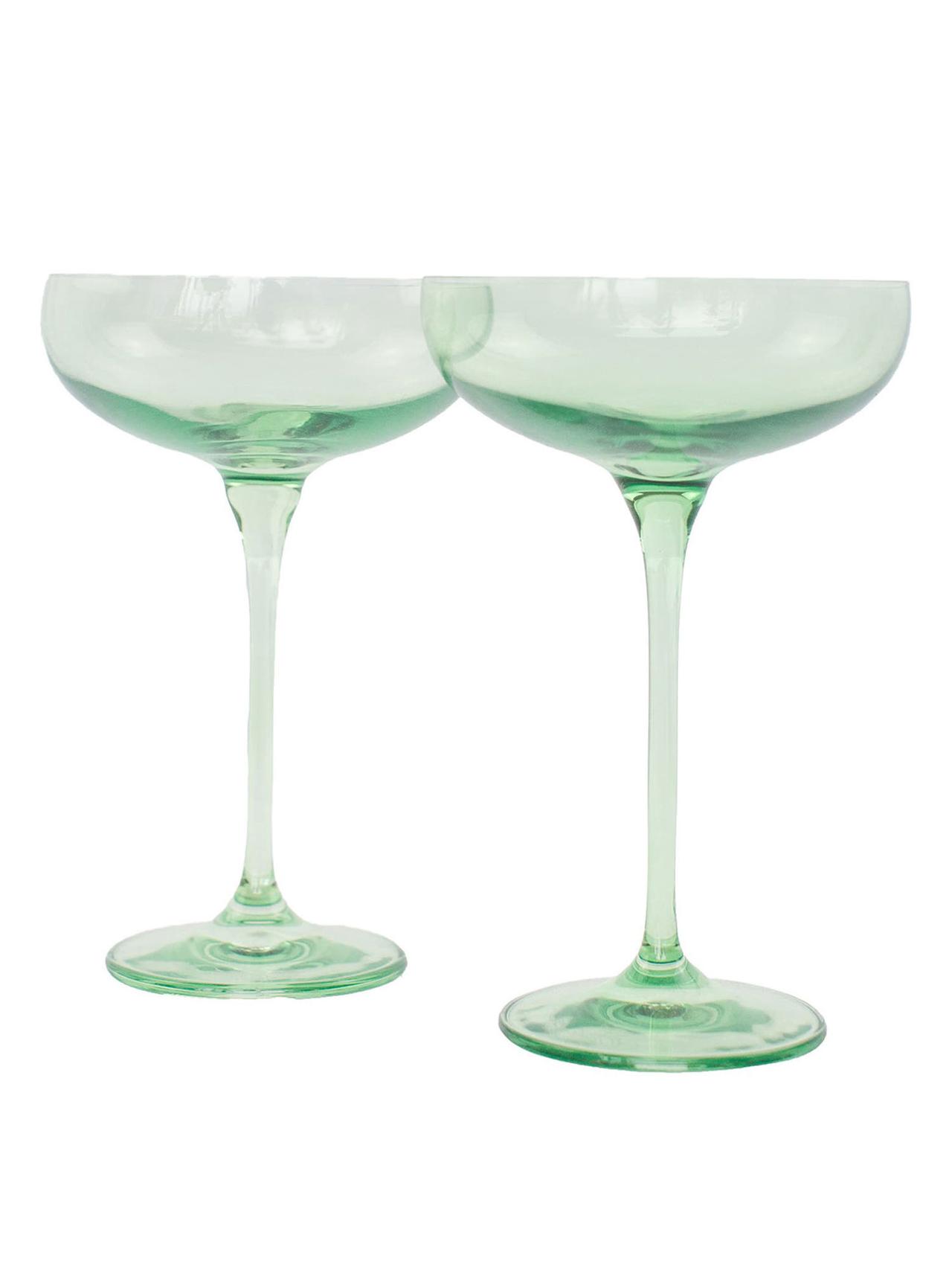 Colorful Coupe Glasses
This unusual glassware would make an excellent holiday gift for a new couple. They might think they've fully stocked their cabinets with all the glassware they need, but we bet beautiful colored coupe glasses weren't on their wedding registry. Choose from nine eye-catching hues to suit the couple's style and home. Martini, anyone?
Estelle Colored Glass set of 2 stem coupes, $95, Nordstrom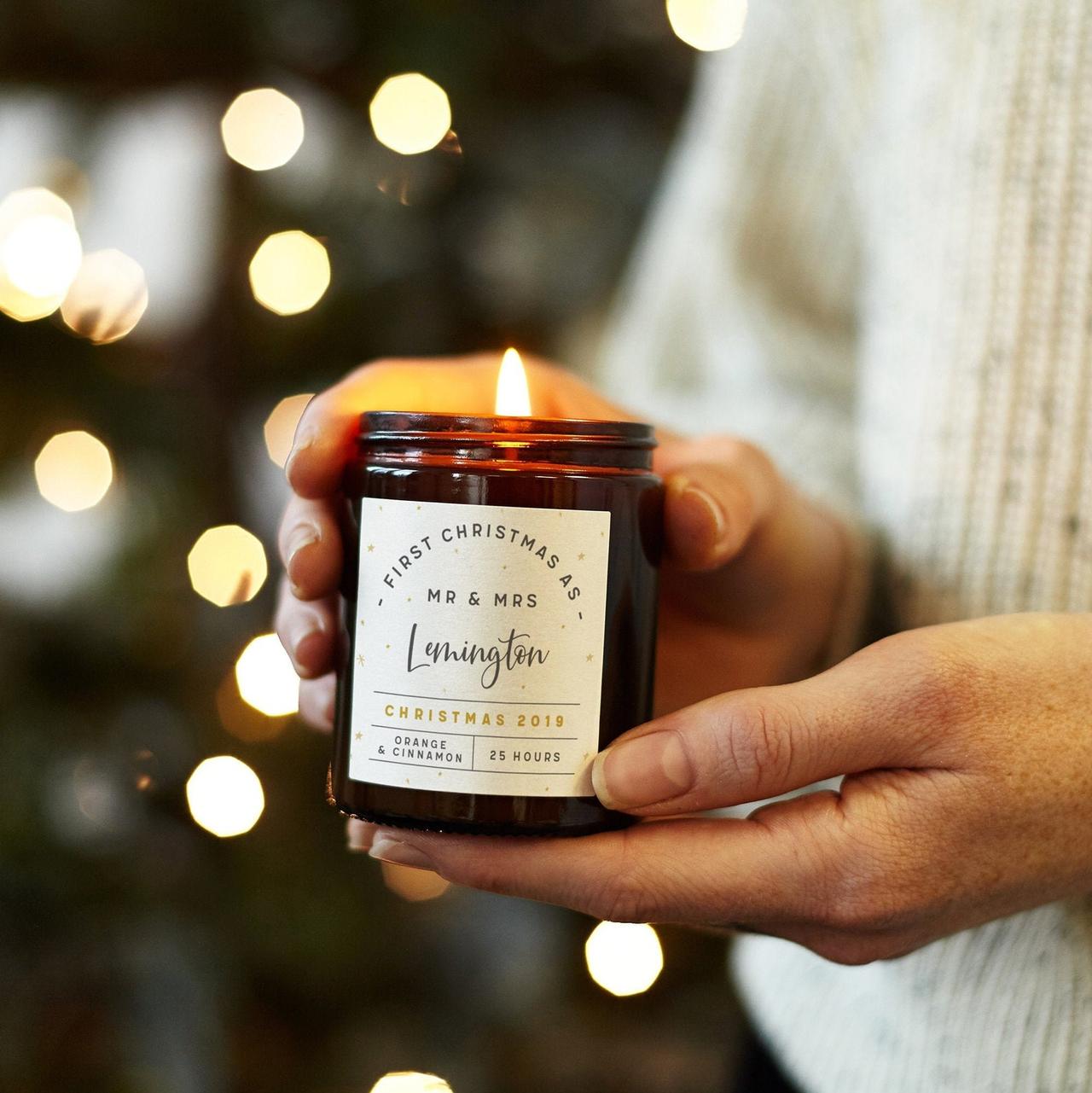 A Candle for Their First Christmas Together
Looking specifically for a Christmas gift that celebrates their first year married? This simple scented candle is just the ticket. It's complete with a personalized label that marks their first holiday as Mr. and Mrs. (or Mr. and Mr. or Mrs. and Mrs.). With 10 wonderful fragrances to choose from, what's not to love?
Kindred Fires first married Christmas candle, from $19, Etsy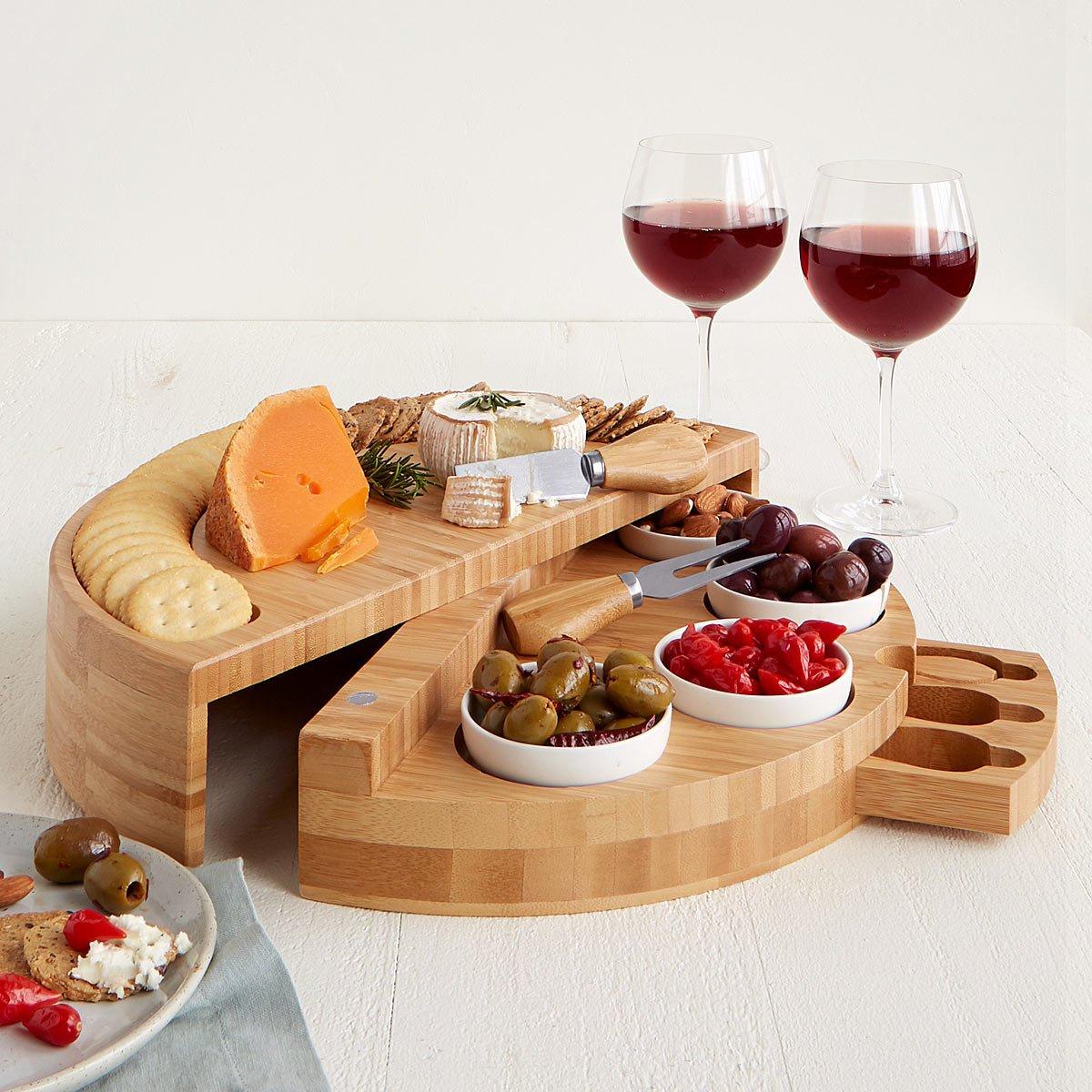 The Ultimate Cheese Board
This high-quality cheese board has it all—a groove for crackers, ceramic serving bowls for olives, nuts, or dips, and a secret drawer with its own set of cheese knives. Plus, it folds down for easy storage, ideal for newlyweds with minimal kitchen space.
Uncommon Goods compact swivel cheese and tapas board, from $88, Uncommon Goods
Love Story Wall Art
If you're looking for a budget-friendly Christmas gift for the newly married couple in your life, this custom template is an invaluable option. It's a meaningful timeline highlighting all of their major milestones, from the moment they met through their engagement, wedding, and everything in between. Since this is a printable template, you can customize the piece, frame it yourself, and give it to the couple to display in their home.
Cartolina Design Our Story So Far timeline digital download, $10, Etsy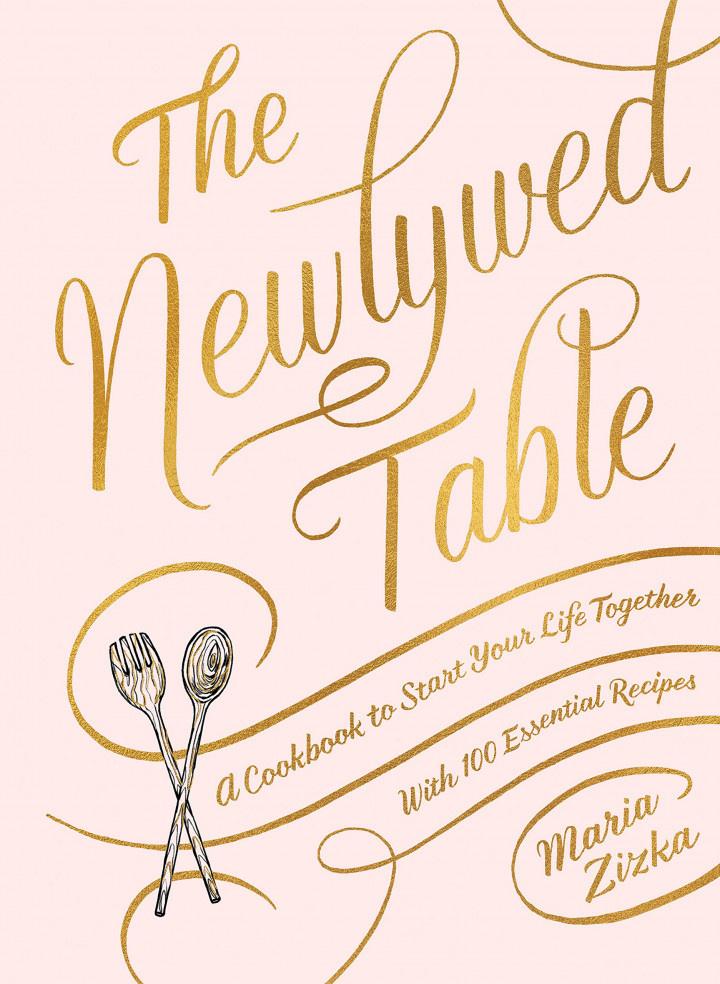 A Cookbook Just for Newlyweds
Still wondering what to get the newlyweds for the holidays? Help spice up their dinner routine with a cookbook tailored specifically to newly married couples. Maria Zizka's The Newlywed Table is chock-full of recipes for them to tackle as a team, from dinnertime favorites like ravioli to romantic desserts (hello, strawberry-rose shortcake). There are also plenty of helpful tips for setting the table, stocking their home bar, and more. Here's hoping they invite you over to show off those new cooking and hosting skills!
Artisan The Newlywed Table by Maria Zizka, $25, Amazon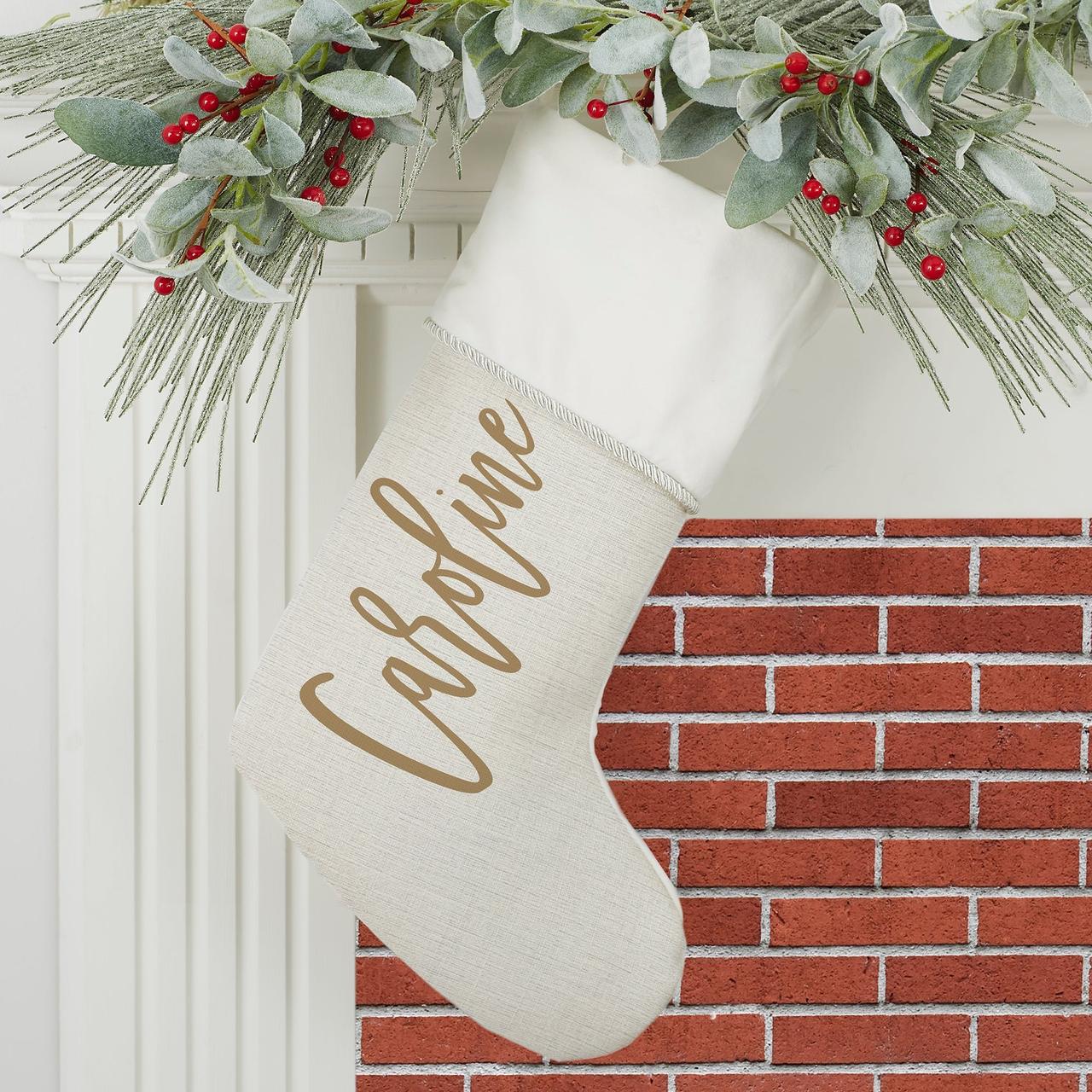 Personalized Christmas Stockings
When buying gifts for a pair of newlyweds for Christmas, think about what they might be missing if this is their first time spending the holidays together. Cute, personalized stockings are a fun and festive piece of decor that'll (hopefully) encourage them to go all out on the stocking stuffers this year.
Personalization Mall scripty name personalized Christmas stocking, from $33 each, Personalization Mall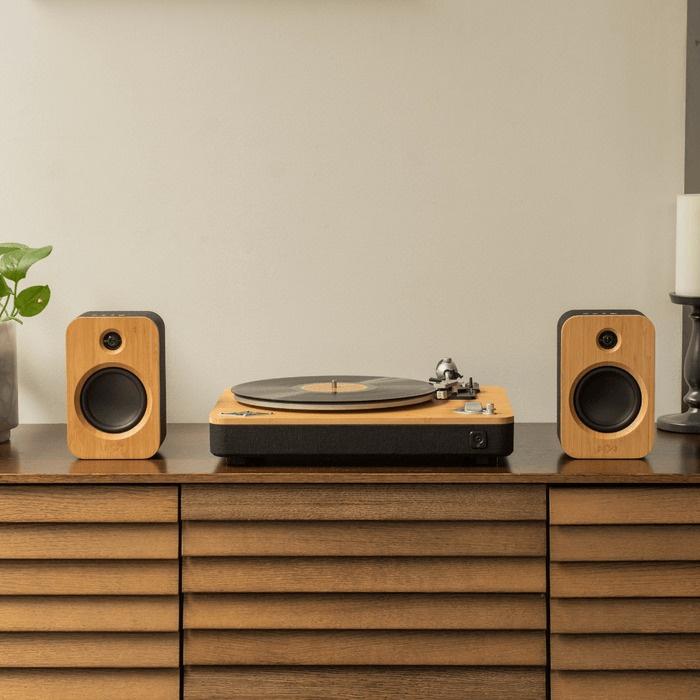 A Stylish Record Player
Is there something the lovebirds left off their wedding registry that they could definitely use? Music lovers will jump for joy upon receiving this streamlined turntable from The House of Marley. It wirelessly connects to any Bluetooth speaker so that they can enjoy their favorite vinyl records in high-quality audio. This turntable's simple design will look great in any modern home.
The House of Marley Stir It Up wireless turntable, $250, The House of Marley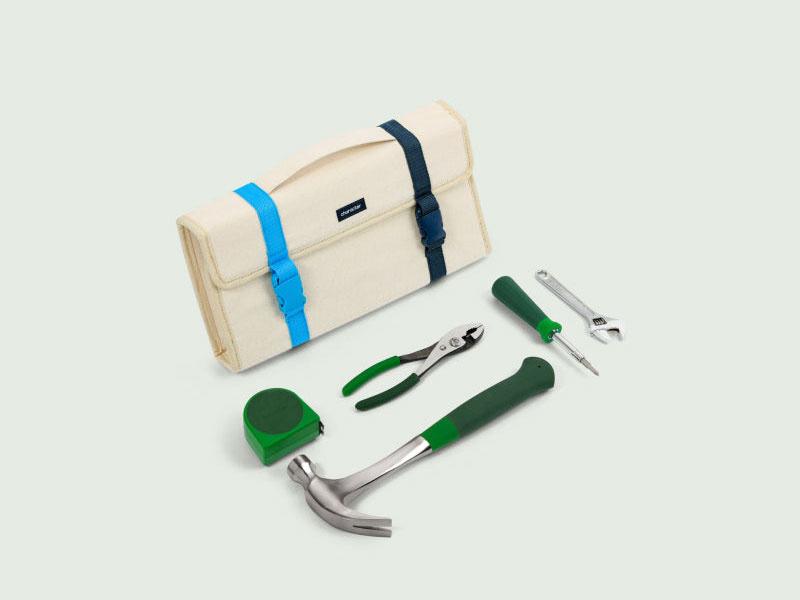 A Mini Tool Kit
The perfect Christmas gift idea for newly married couples who just moved into their first home: a tool kit that'll help them keep on top of household chores. Inside the compact fold-out case, they'll find five of Character's trendy (and totally essential) tools. There's a hammer, screwdriver, pliers, wrench, and tape measure. Trust us, the couple will be thankful for this present every time they need to hang a picture frame, build flatpack furniture, or do any kind of handiwork around the house.
Character The Mini Set, $95, Character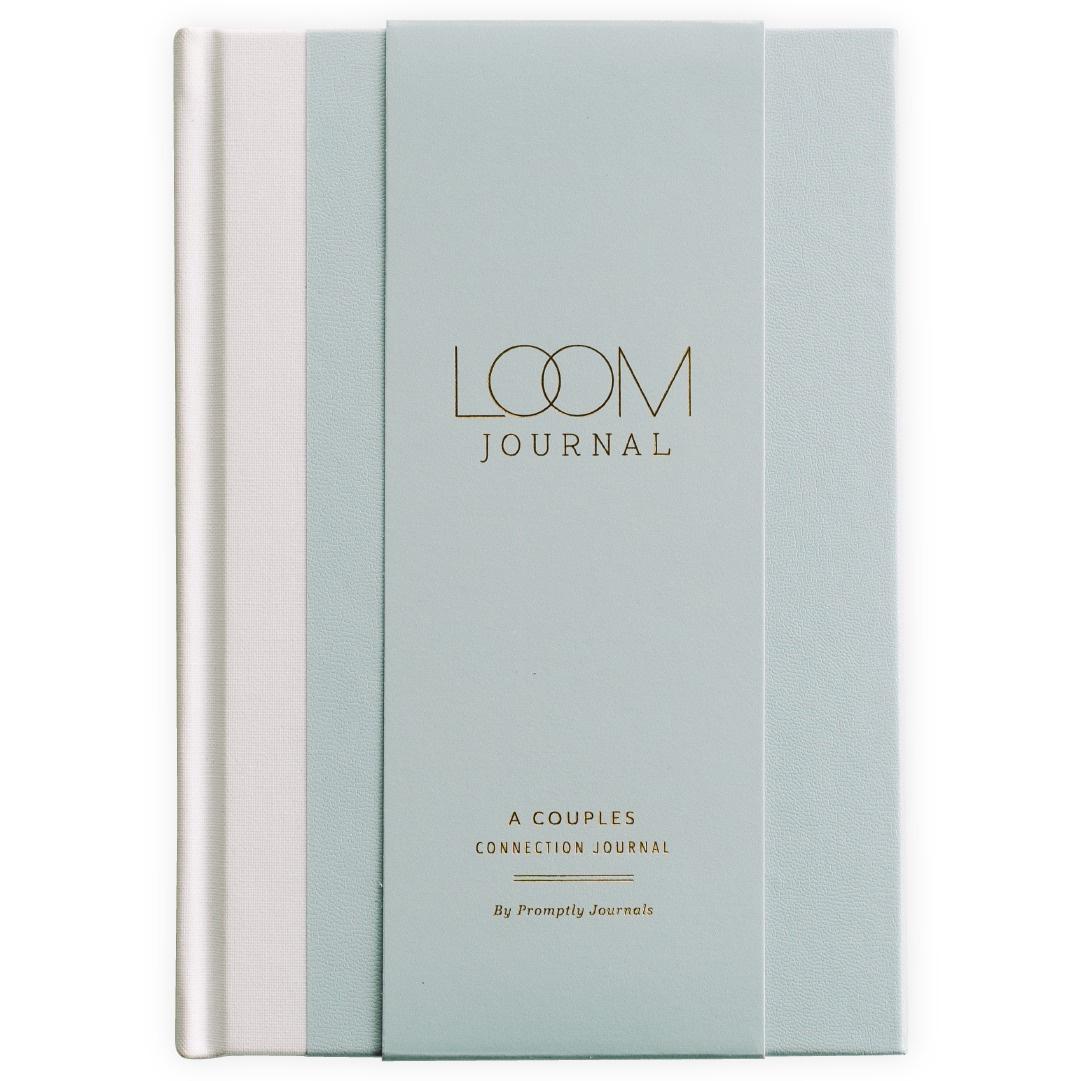 A Journal to Encourage Connection
Help the happy couple keep strengthening their relationship after the "I do's" with this clever Christmas present for newlyweds. Promptly's couples journal is filled with prompts to get the lovebirds talking and connecting. It inspires fun and meaningful conversations, like each person's favorite gift from the other and their most memorable date.
Promptly Loom couples journal, $34, Promptly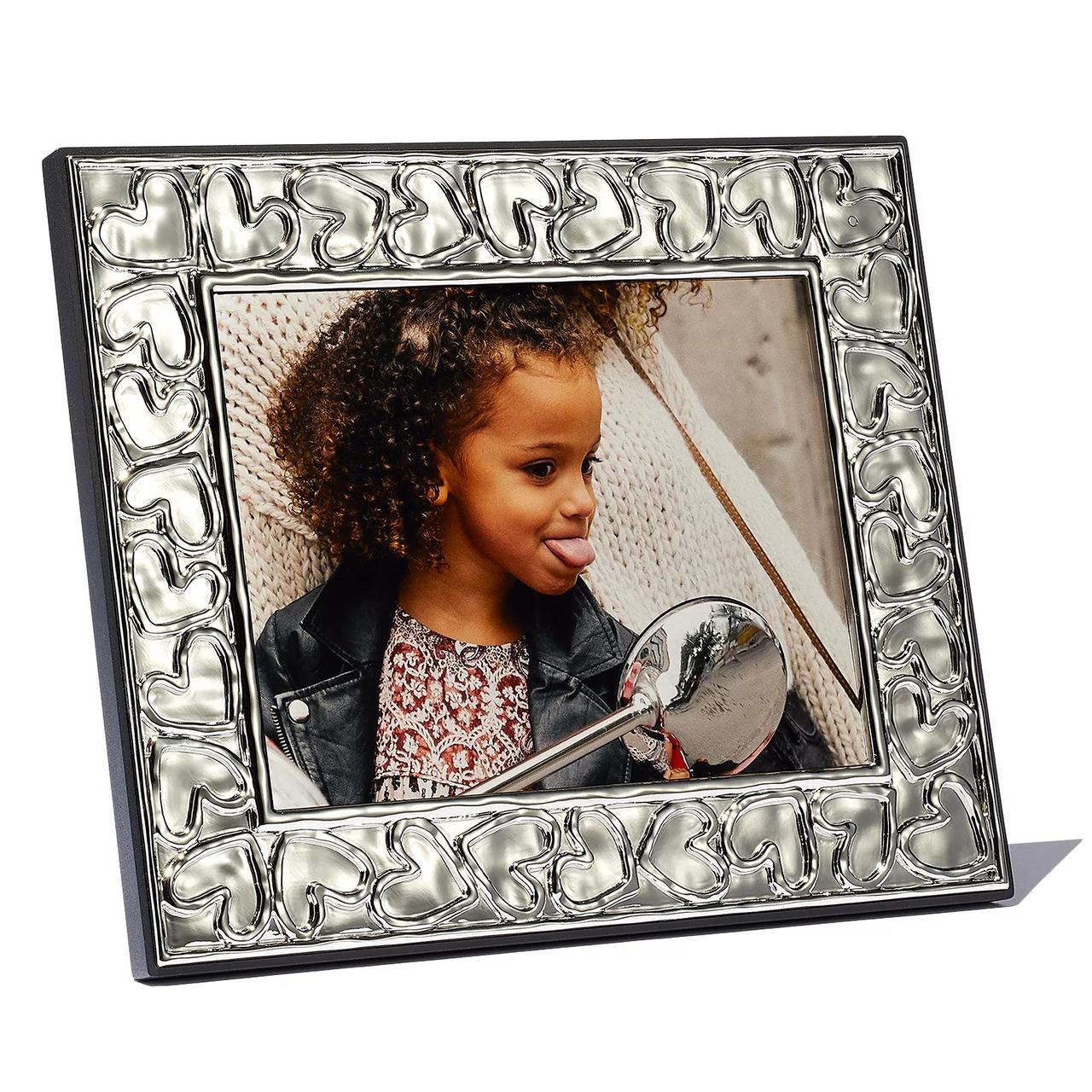 A Digital Picture Frame
As if Aura's digital picture frames weren't already an awesome gift idea, they've seriously upped the ante with this special-edition Michael Aram collab. It combines the best of both worlds, featuring Aura's top-class technology and Michael Aram's signature heart frame design. And since it's digital, the newlyweds can show off all their favorite wedding photos (because how is anyone supposed to pick just one?!).
Aura x Michael Aram heart digital photo frame, $399, Bloomingdale's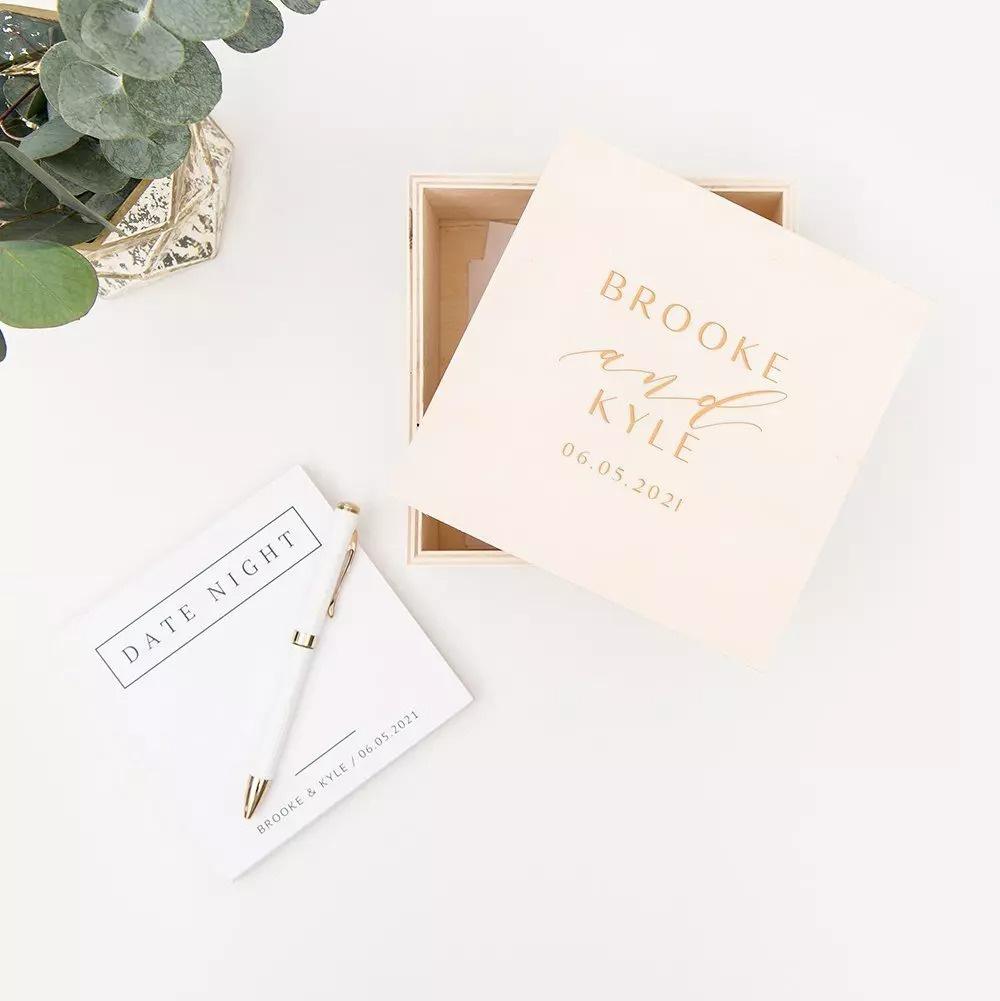 A Keepsake Wooden Box
We love this engraved wooden box because the options for filling it are endless. For a budget-friendly present, consider stocking it with ideas for the couple's next date night or photo prints of your favorite memories together. On the flipside, if you feel like splurging a little, you could fill it with gourmet treats inspired by their favorite snacks. Afterward, the newlyweds can use it to keep wedding mementos safe, organize small items, or simply decorate a shelf.
WeddingWire Shop personalized wooden keepsake gift box, $23, WeddingWire Shop
A Romantic Monthly Delivery
There's a reason we've included two date subscriptions on our list—they just make such good Christmas gifts for newlyweds! Uncommon Goods' cleverly curated set includes date-night favorites like The Adventure Challenge: Dinner Dates and a paint-by-shadow kit for two. Treat the couple to a three- or six-month subscription depending on your budget.
Uncommon Goods Any Night Is Date Night subscription, from $159, Uncommon Goods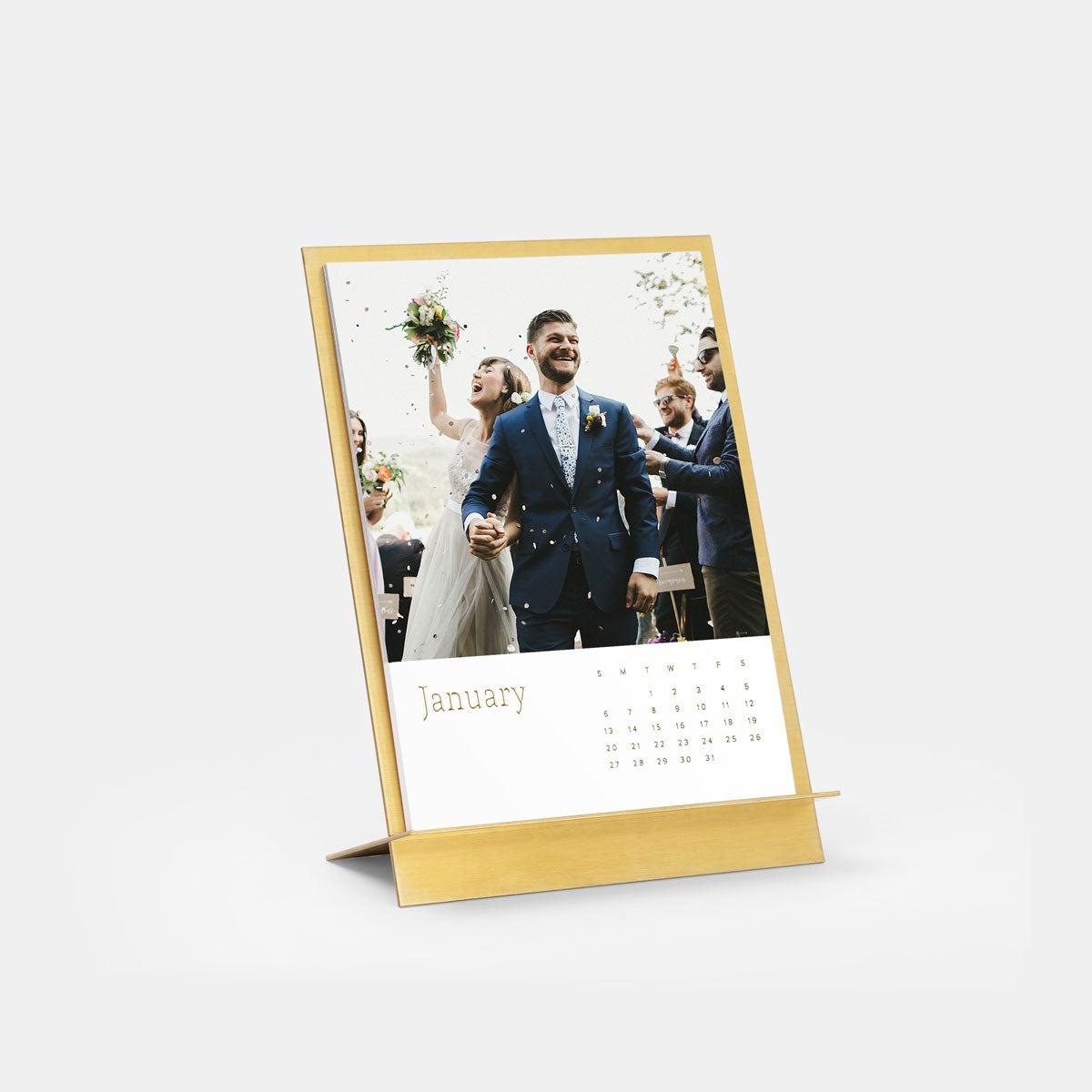 A Custom Desk Calendar
There's no better time of year to gift a calendar, and this one is a real beauty. Showcase 12 photos of the newlywed couple with this desk tabletop calendar featuring a solid brass easel and your choice of font design. Here's to another year of love and happiness!
Artifact Uprising brass easel and calendar, from $59, Artifact Uprising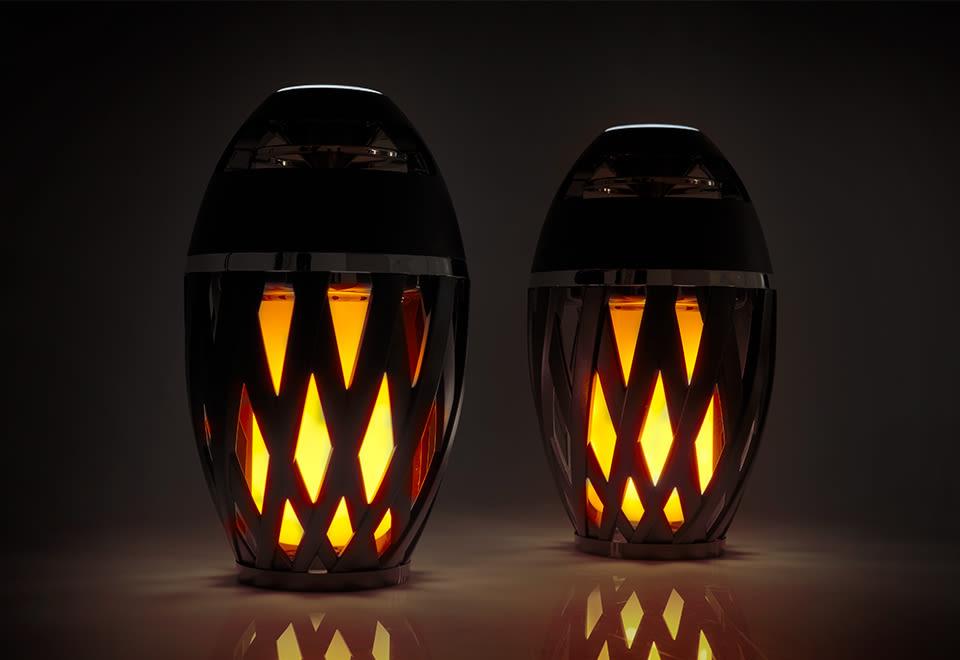 The Coolest Lamps Ever
They'll be glad of this unique gift come summertime. If the newlyweds love to host backyard barbecues, tailgates, or any other kind of outdoor get-togethers at their home, these lamps are a need not a want. The flickering LED lamps mimic real torch flames, and the built-in Bluetooth speakers play music for up to six hours at a time.
Sharper Image Tiki Torch outdoor Bluetooth speakers, $100 for a set of 2, Sharper Image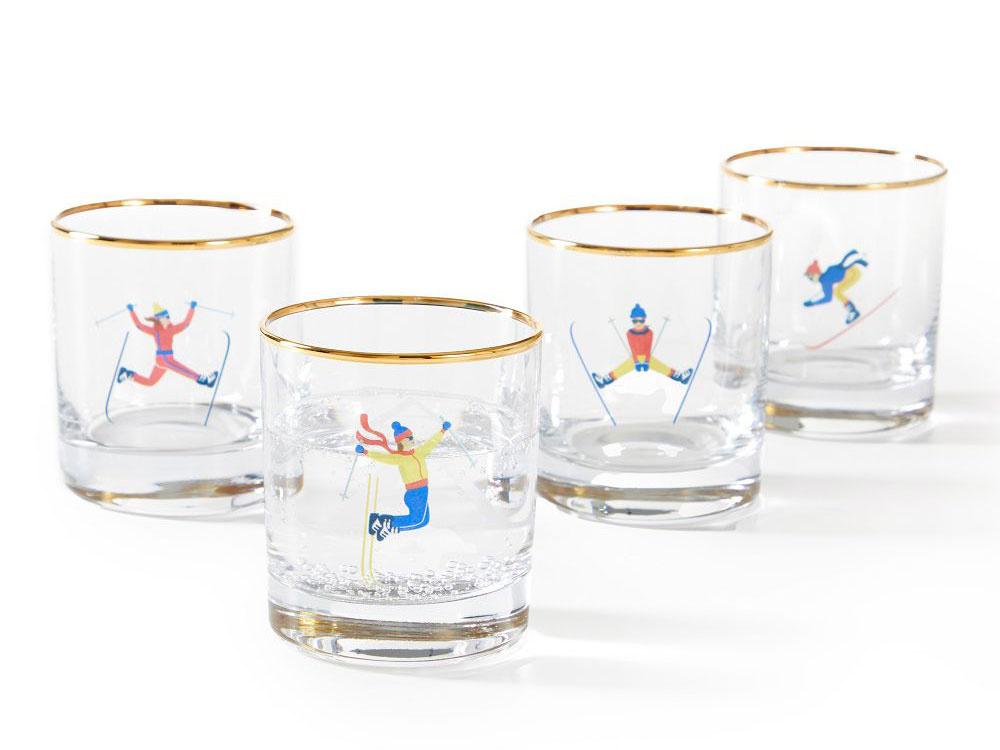 Seasonal Rocks Glasses
Last but not least on our list of Christmas presents for newly married couples: a set of seasonal rocks glasses that are sure to delight anyone who visits their home. It's an excellent gift for newlyweds who always keep a perfectly-stocked bar. A gold rim gives each colorfully illustrated glass a sophisticated edge. Want to really go the extra mile? Have them monogrammed with the couple's last initial.
Mark & Graham Skier rocks glasses, $49 for a set of 4, Mark & Graham