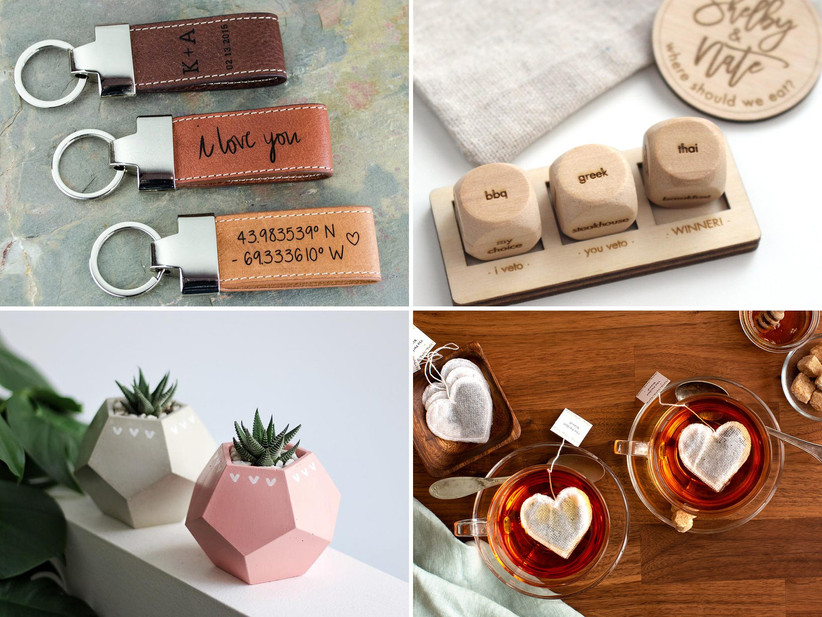 There are lots of reasons why you might be looking for small Valentine's gifts this year. Maybe you've just started dating or you've both agreed to keep things low-key and spend Valentine's Day at home. The good news is that there are lots of simple and affordable options out there that are just as meaningful as more extravagant presents—you just have to know where to look. Lucky for you, we've done the work for you and rounded up our favorite downsized ideas that'd make anyone smile. From personalized presents to heart-shaped everything, one of these picks is sure to be a hit.
1. Candy Delivery
Looking for something sweet for your sweetheart? A candy-gram from Sugarwish will let them know you're thinking of them whether you're spending Valentine's Day together or apart. The icing on the cake? They pick the sweets themselves, so you really can't go wrong.
Sugarwish The Duet, $20, Sugarwish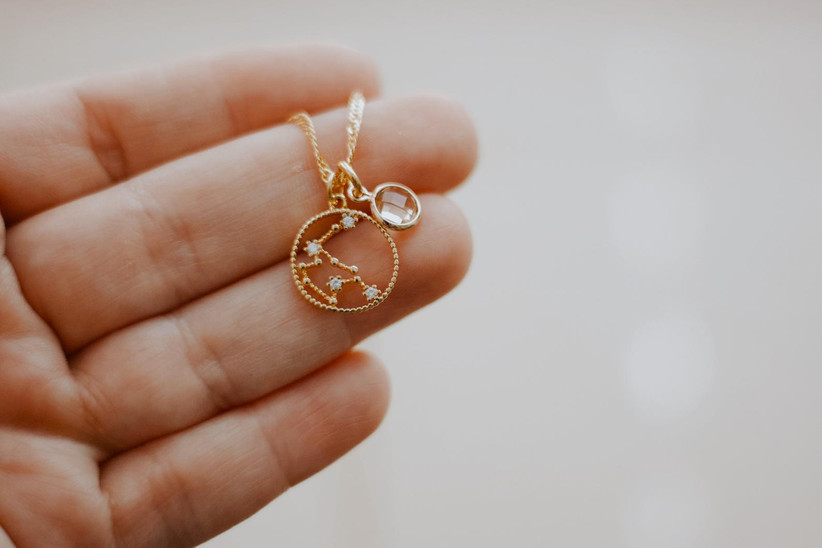 2. Zodiac Necklace
PSA: You don't have to skip jewelry when shopping for small Valentine's Day gifts. There are tons of affordable options out there, like this pretty gold-filled chain personalized with their star sign and birthstone. We especially love the extra layer of meaning that comes with a zodiac necklace.
BABEINA birthstone zodiac necklace, from $19, Etsy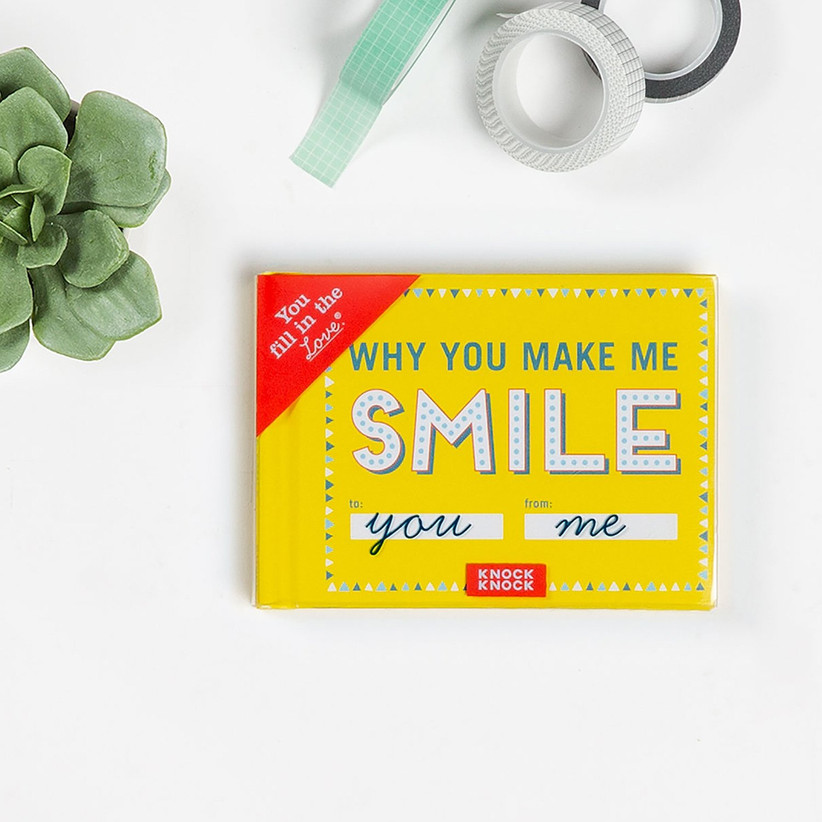 3. Sentimental Keepsake
Just because a gift is small doesn't mean it can't be super meaningful. This thoughtful book of reasons why they make you smile is a treat for both of you—you'll have fun filling in the blanks and your S.O. will feel butterflies reading it.
Knock Knock Why You Make Me Smile Fill in the Love book, $10, Knock Knock
4. Polka-Heart Planter
Anything that's both pretty and practical is a winner in our book. One of these modern and minimalist planters will look right at home on your S.O.'s desk, dresser, or bedside locker. It's an excellent small Valentine's gift for the person you love.
Mind the Minimal polka heart concrete planter, $25, Etsy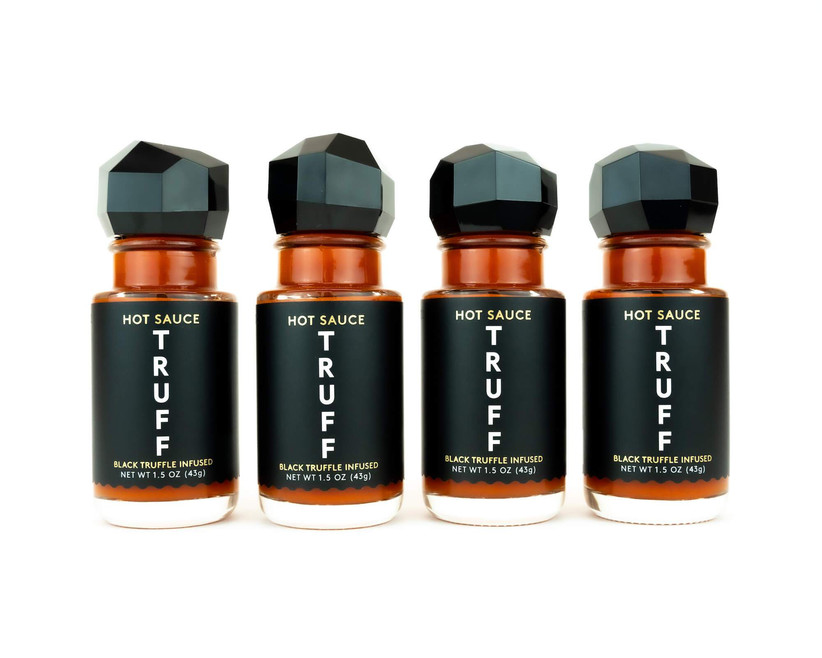 5. Mini Hot Sauce
Here's a fitting gift for a hot Valentine: mini bottles of truffle-infused hot sauce. If your boo loves to spice things up at the dinner table, this small Valentine's gift idea is for them.
TRUFF mini hot sauce, $26 for a pack of 4, TRUFF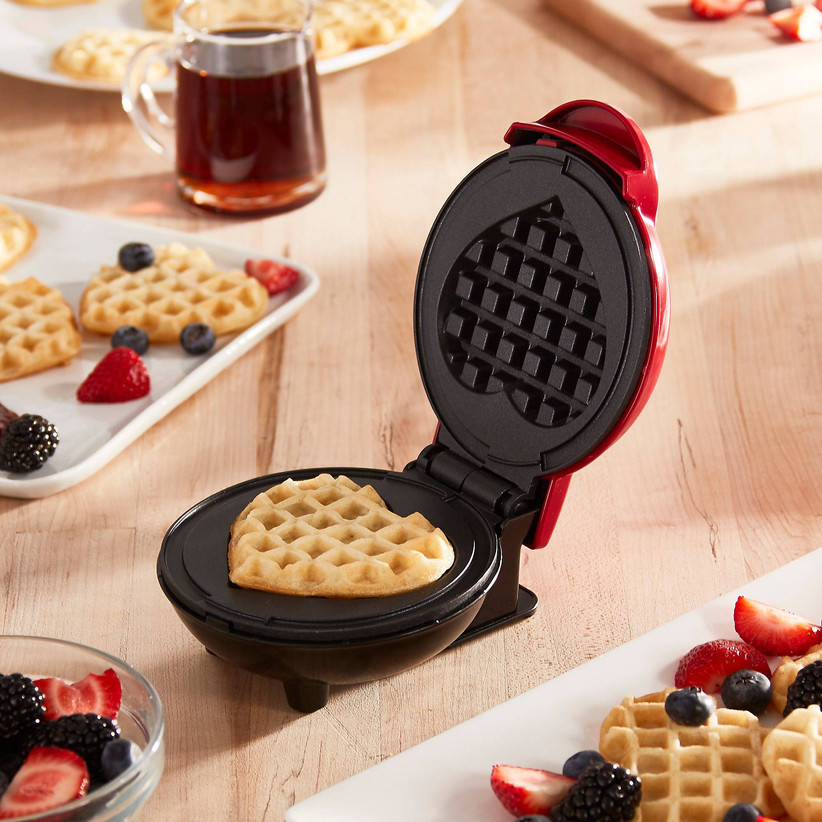 6. Heart Waffle Iron
Start the day on the right foot by serving some adorable heart-shaped waffles for breakfast. It's a small Valentine's gift that'll work for him or her. Don't forget the maple syrup!
Dash heart mini waffle maker in Red, $10, Bed Bath & Beyond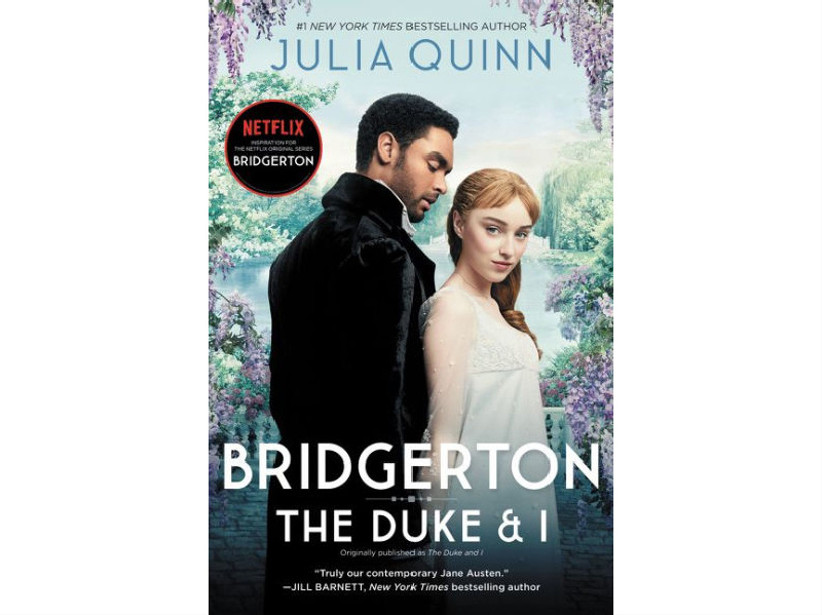 7. Bridgerton Book
If your other half has been binge-watching Bridgerton lately like the rest of us, they'll definitely appreciate a copy of the book that started it all.
HarperCollins Publishers Bridgerton: The Duke and I by Julia Quinn, $11, Book Depository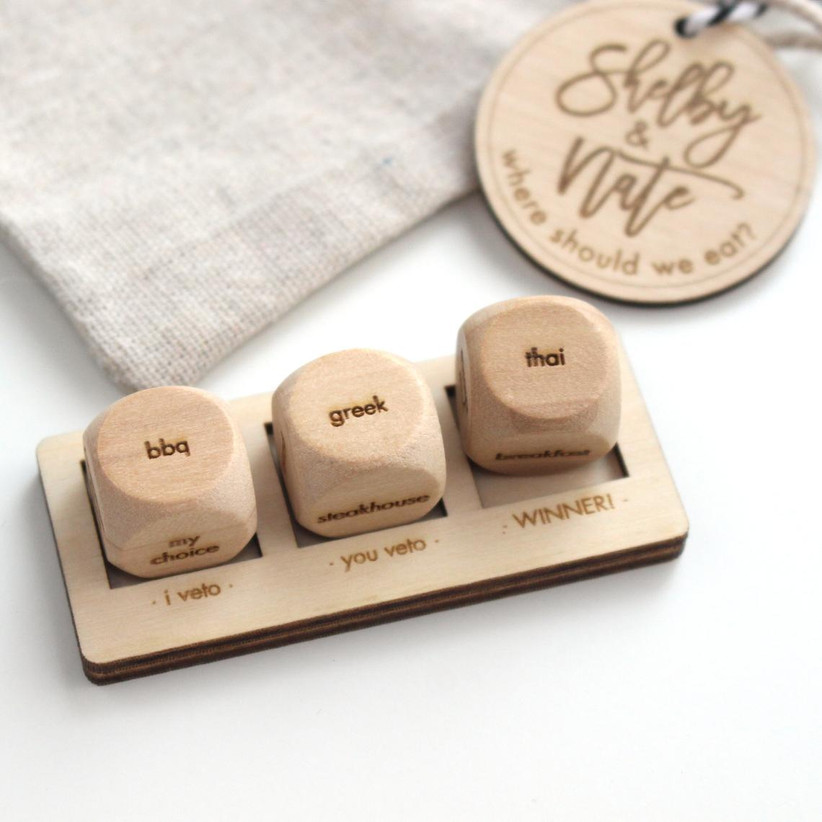 8. Dinner Dice
The next time you and your S.O. can't agree on dinner, why not leave it up to fate? These handy wooden dice are stamped with a variety of options, from pizza to seafood. Who knew small Valentine's gifts could be so clever?
Sugar Blush Studio dinner dice, from $25, Etsy
9. Cashmere Beanie
Your partner deserves a little luxury for everything they do for you. This cozy cashmere beanie is a small token of appreciation that'll become a big part of their everyday attire.
Quince Mongolian cashmere ribbed beanie, $25, Quince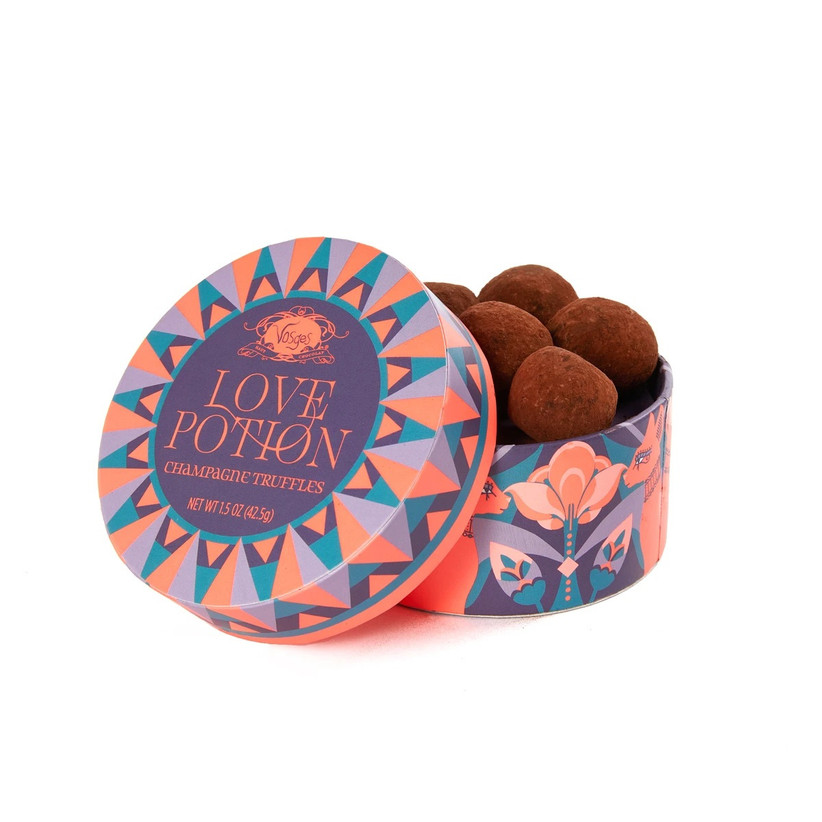 10. Champagne Truffles
Chocolates will always be a good small Valentine's Day gift, but these truffles go the extra mile. Made with decadent dark chocolate and champagne, they might just live up to their name: Love Potion.
Vosges Love Potion champagne truffles, $18, Vosges
11. Handmade Coasters
This one's for the sports fanatic. Choose the stadium of their favorite college football, NFL, NHL, or MLB team and it'll be recreated on a set of two truly unique coasters. This one tops the list of small but meaningful Valentine's gifts.
StadiumViews 3D stadium coaster set, $20 for a set of 2, The Grommet
12. Funny Coffee Mug
If your S.O. is more silly than serious, they'll appreciate this hilarious coffee mug that reads "the one where we were quarantined" in the style of Friends. Every time they see it, they'll be reminded of this exact Valentine's Day with you.
Happy Family Gift The One Where We Were Quarantined Valentine's Day 2021 mug, from $13, Etsy
13. Heart-Shaped Tea
And what's a mug without some delicious tea or coffee to go with it? These romantic heart-shaped tea bags are a brew-tiful small Valentine's gift featuring English breakfast, Earl Grey, and white berry.
Jacqueline Aliotti heart-shaped tea bags, $30, Uncommon Goods
14. Custom Game
Couples who play together stay together! This mini tic-tac-toe set is personalized with your names connected by a heart, and if that's not romantic enough, your initials are the playing pieces. Talk about a thoughtful small Valentine's gift!
Personalization Mall personalized romantic tic-tac-toe, $25, Personalization Mall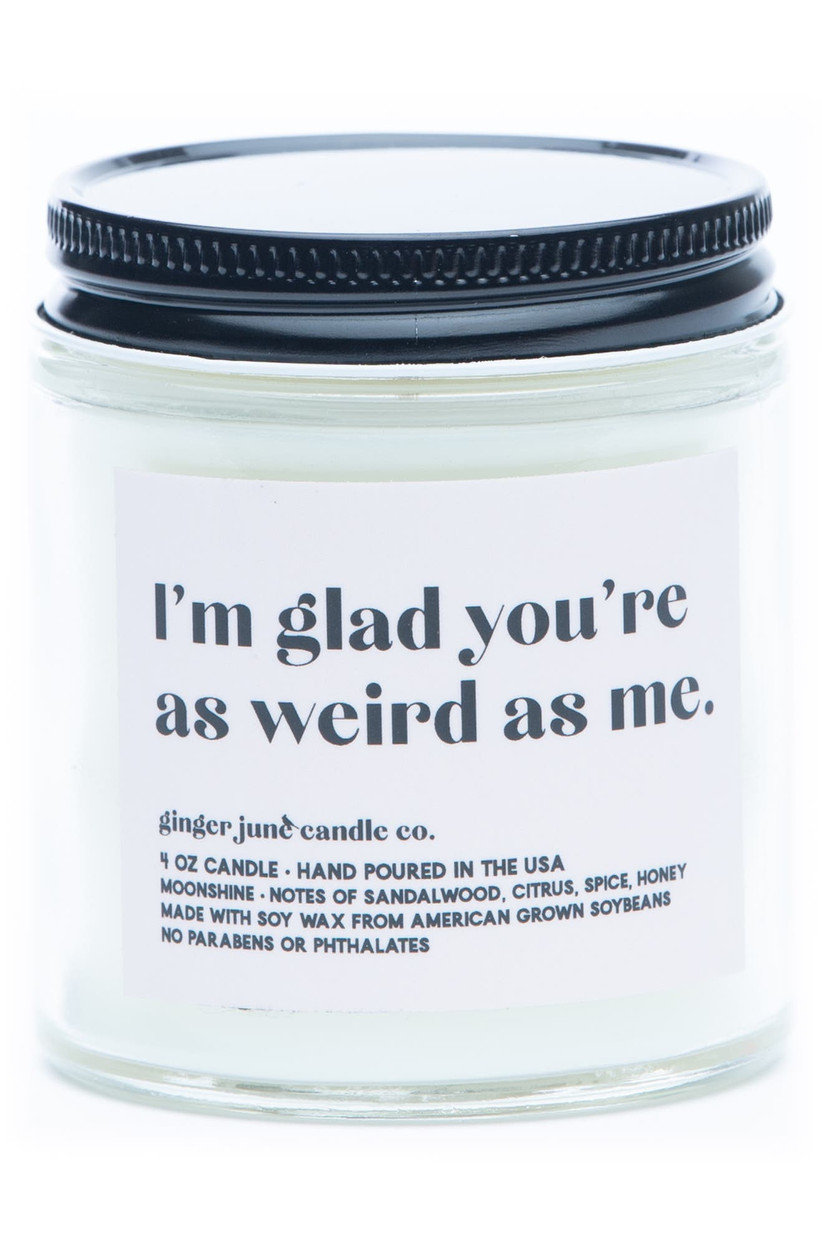 15. Scented Candle
Cards are nice, but why not let your love know how you feel with a cheeky scented candle? This one reads: "I'm glad you're as weird as me." Notes of citrus and vanilla make up the unique "Moonshine" scent.
Ginger June Candle Co. I'm Glad You're as Weird as Me standard jar candle, $14, Nordstrom

16. Heartfelt Keychain
Give your S.O. a piece of you to take everywhere they go by gifting them a personalized leather keychain with a sweet message, your initials, or the coordinates of somewhere meaningful to you both.
Danique Trends personalized leather keychain, from $22, Etsy
17. Relaxing Shower Steamers
If you haven't heard of shower steamers, they're basically bath bombs' even more relaxing cousin. Sprinkle them with water and set them in the corner of the shower for a soothing aromatherapy experience. Or, hold them under running water to use as a revitalizing body scrub.
Lizzy Siman-Tov calming shower steamers gift set, from $28, Uncommon Goods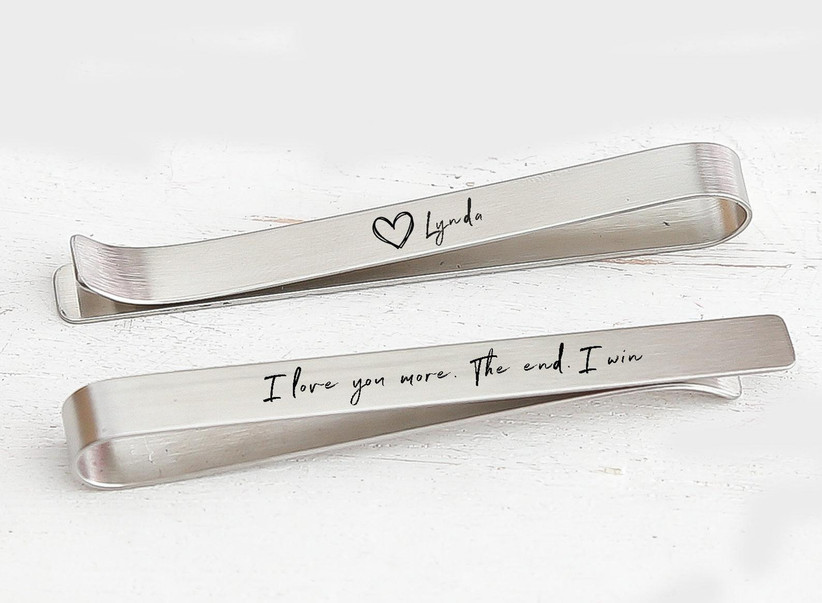 18. Meaningful Tie Clip
Small Valentine's gifts can be just as romantic as any grand gesture. We love the sentiment behind this custom tie clip that states: "I love you more. The end. I win."
Dainty Layers Shop I Love You More personalized Valentine's Day tie clip, $18, Etsy
19. Botanical Candle
This sweet Valentine's gift idea is two presents in one. The candle will let your S.O. fill their home with a fresh floral scent, while the plantable packaging will allow them to grow beautiful poppies and wildflowers.
Uncommon Goods plant the packaging floral candle, $28, Uncommon Goods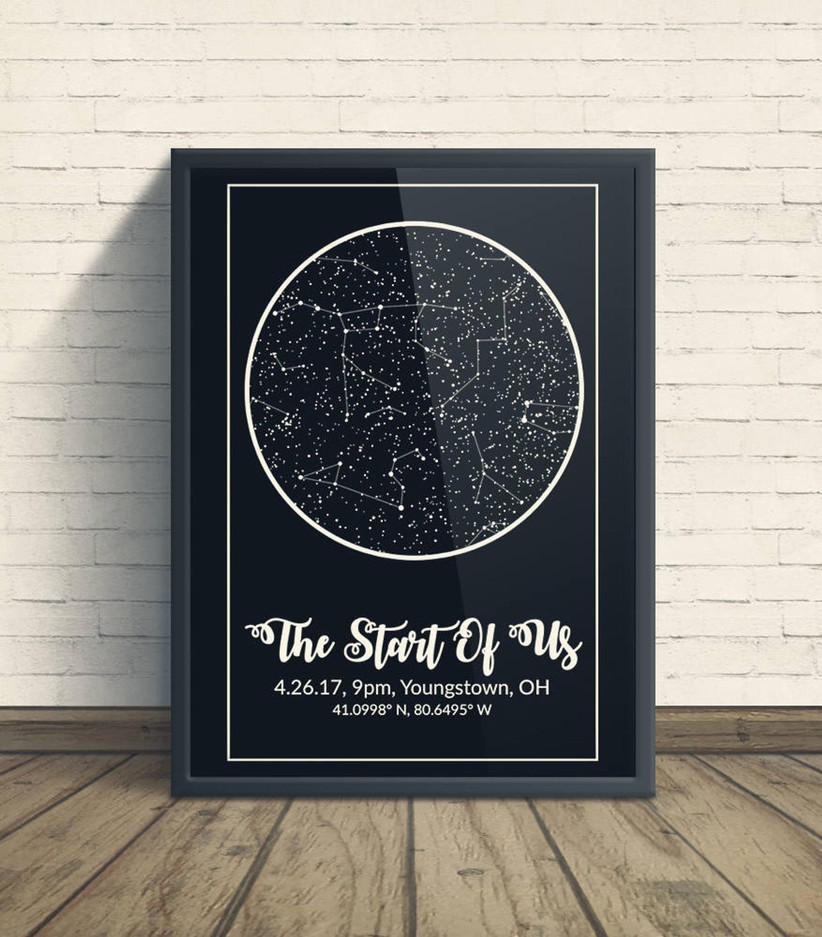 20. Commemorative Star Map
Why not use this February 14 as an opportunity to mark a special milestone in your relationship? Give your S.O. a printed map of the stars from the day you met, got engaged, or tied the knot.
Modern Map Art custom celestial map, from $24, Etsy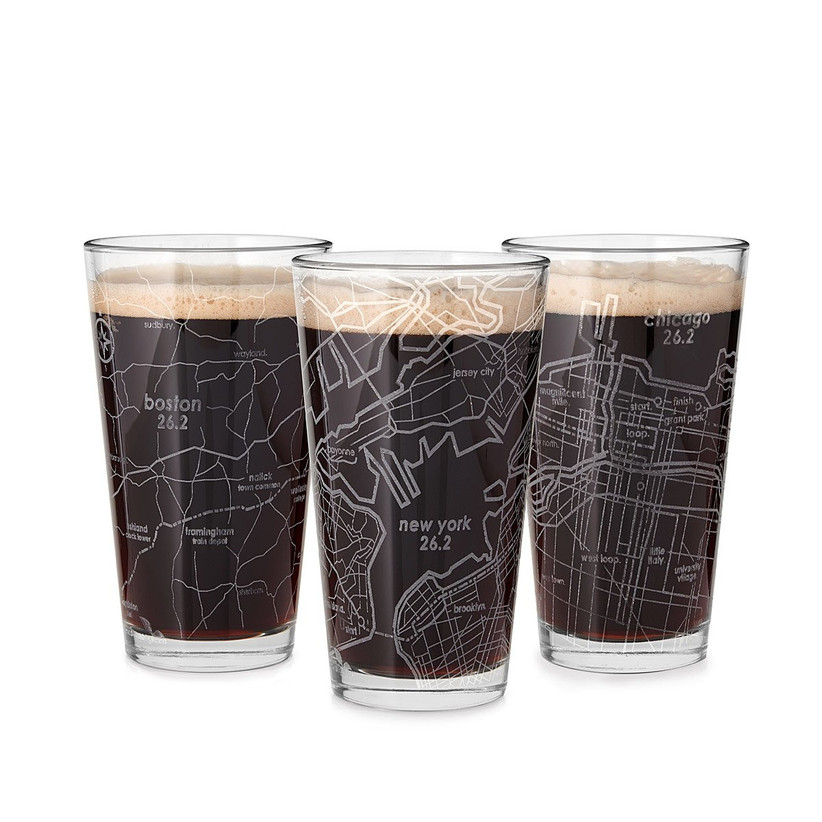 21. Unique Pint Glass
Running a marathon is an amazing achievement. If your partner has those bragging rights, remind them just how badass they are with a custom pint glass etched with a map of their marathon route. It's a small Valentine's gift that'll mean a whole lot.
Brian, Dave, Neil and Colin etched marathon pint glass, $18, Uncommon Goods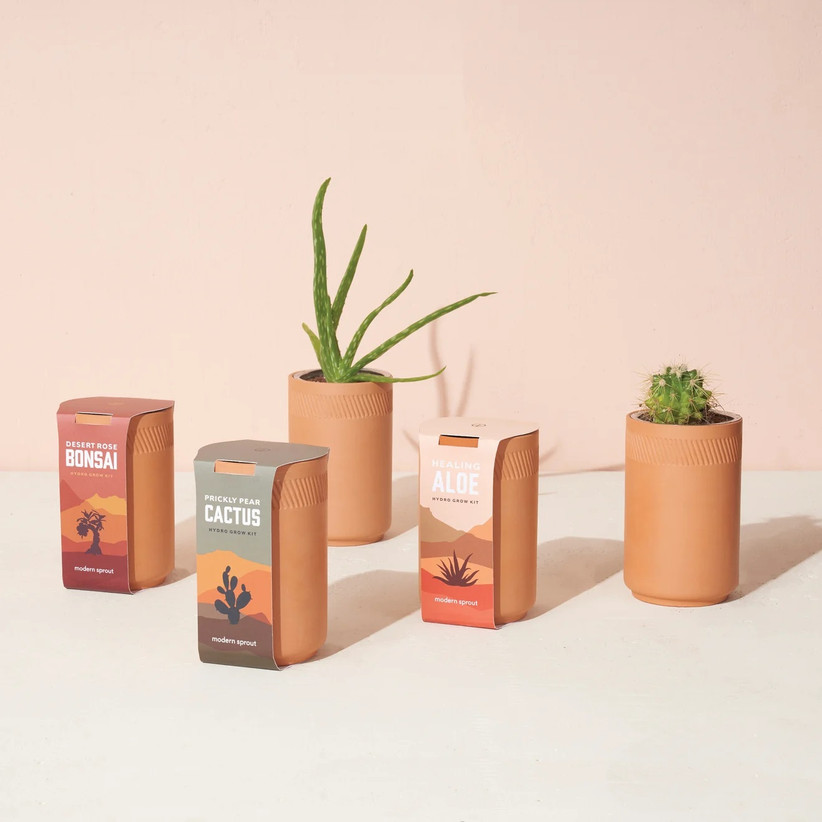 22. Effortless Grow Kit
A hydroponic grow kit is a super-cool present for your other half, especially if they weren't blessed with a green thumb. All they have to do is follow the setup instructions, and the plant will do the rest. Who doesn't want a cute bonsai tree as their newest desk accessory?
Modern Sprout desert rose bonsai terracotta hydroponic grow kit, $19, Bespoke Post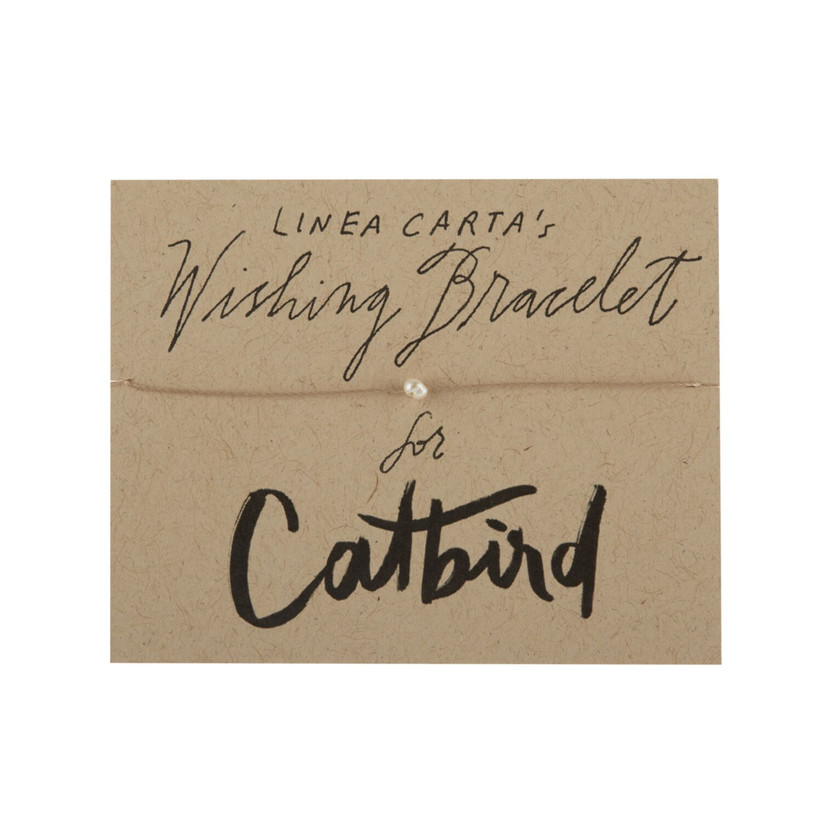 23. Pearl Bracelet
This pearl wishing bracelet is a sweet, small Valentine's gift idea for her that she won't have to worry about losing—when it falls off, her wish comes true.
Linea Carta pearl wishing bracelet, $16, Catbird NYC
24. Massage Oil Candle
There's a reason we've got more than one candle on our list—they really do make some of the best small Valentine's Day gifts. This relaxing blend of lemongrass, medjool date, and cedar leaf sets just the right mood for a romantic and relaxing massage.
Maude Burn massage candle, $25, Urban Outfitters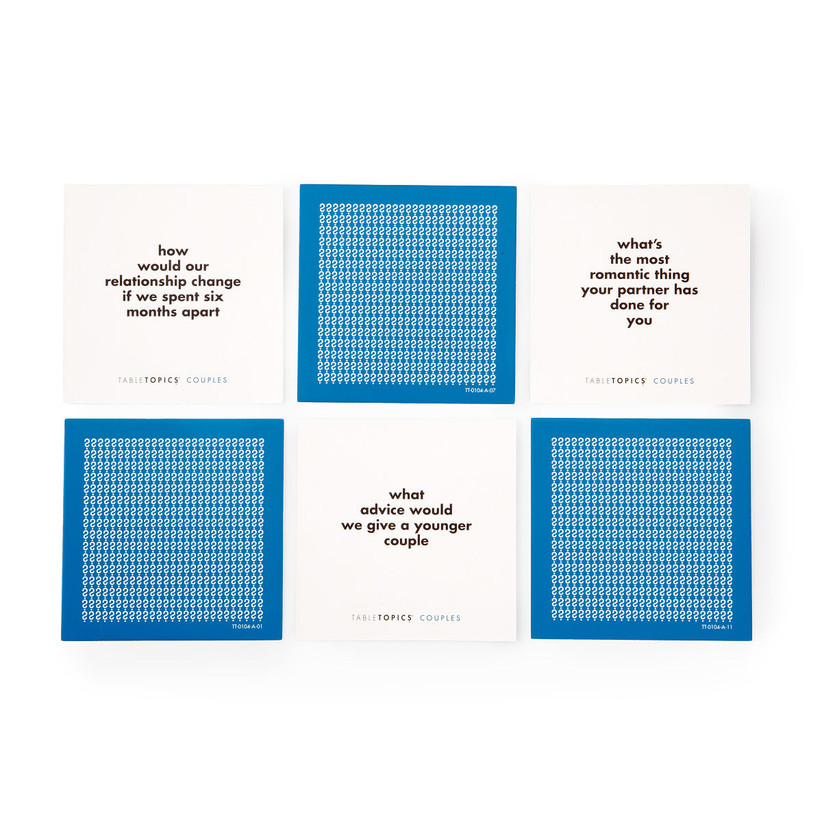 25. Clever Conversation Starters
After spending a whole lot of time inside together over the past year, we totally get it if you and your partner are running out of things to say. That's where this clever little Valentine's gift idea comes in: prompts to spark some interesting new dialogue. They're an excellent accompaniment to a romantic V-Day dinner.
Table Topics conversation cards, $25, Uncommon Goods
26. Sleek Can Cooler
Practical presents are often just as thoughtful as other, more sentimental gifts. Giving your S.O. something you know they'll actually use is a sweet sign of just how well you know them. So, if your partner in crime loves kicking back with a cold one, we think this sleek can cooler set is an excellent idea.
BrüMate Hopsulator TRíO 3-in-1 can cooler set, $25, BrüMate
27. Cozy Robe
When it comes to small Valentine's Day gift ideas for her, think all things cozy. This soft robe can be personalized with her name for an extra-special touch.
WeddingWire Shop personalized embroidered waffle spa robe, $28, WeddingWire Shop
28. Keepsake Memory Book
You've both made so many memories together. Spend Valentine's Day reliving your favorite moments with a thoughtful photo book straight out of your Insta feed.
Artifact Uprising Instagram friendly book, from $15, Artifact Uprising
29. Personalized Toiletry Bag
A personalized bag for their grooming tools is a small and useful Valentine's gift anyone would appreciate.
WeddingWire Shop personalized dual compartment travel toiletry bag, $16, WeddingWire Shop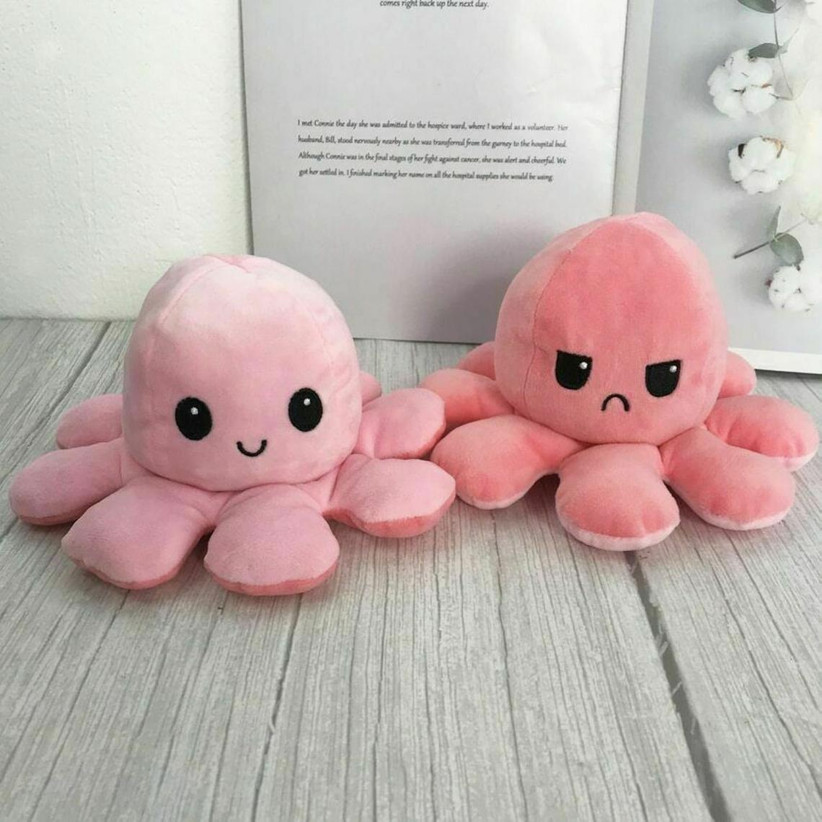 30. Adorable Mood Plush
This sweet stuffed octopus has gone viral for all the right reasons: helping couples communicate their feelings to each other. Trust us, this unique present will serve you both.
Crafting Valley reversible flip octopus Valentine's Day gift for her, from $13, Etsy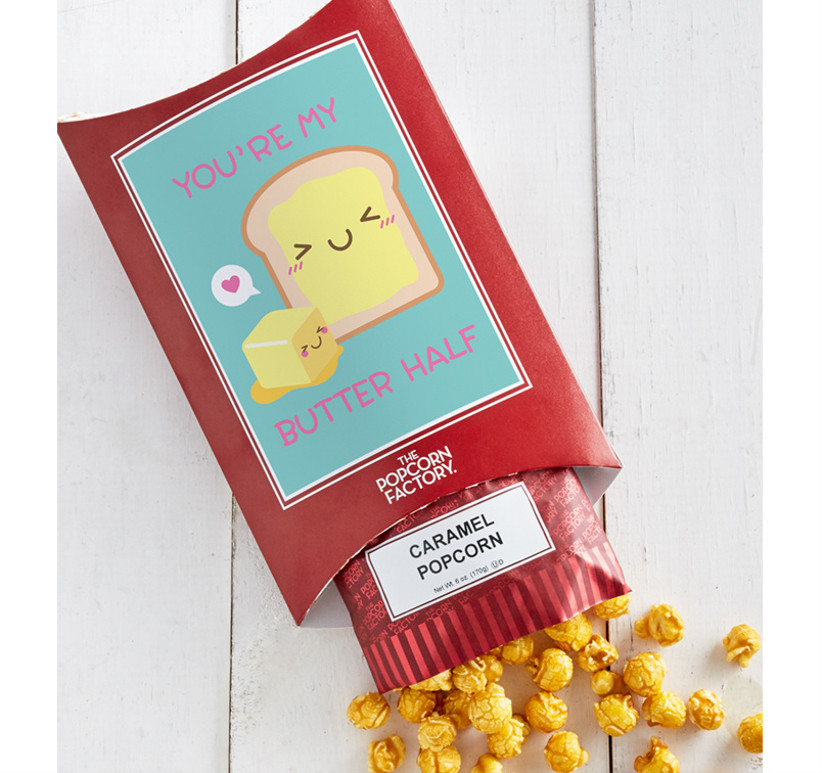 31. Punny Popcorn Card
A funny Valentine's card filled with delicious caramel popcorn? Count us in!
The Popcorn Factory You're My Butter Half card with caramel corn, $10, The Popcorn Factory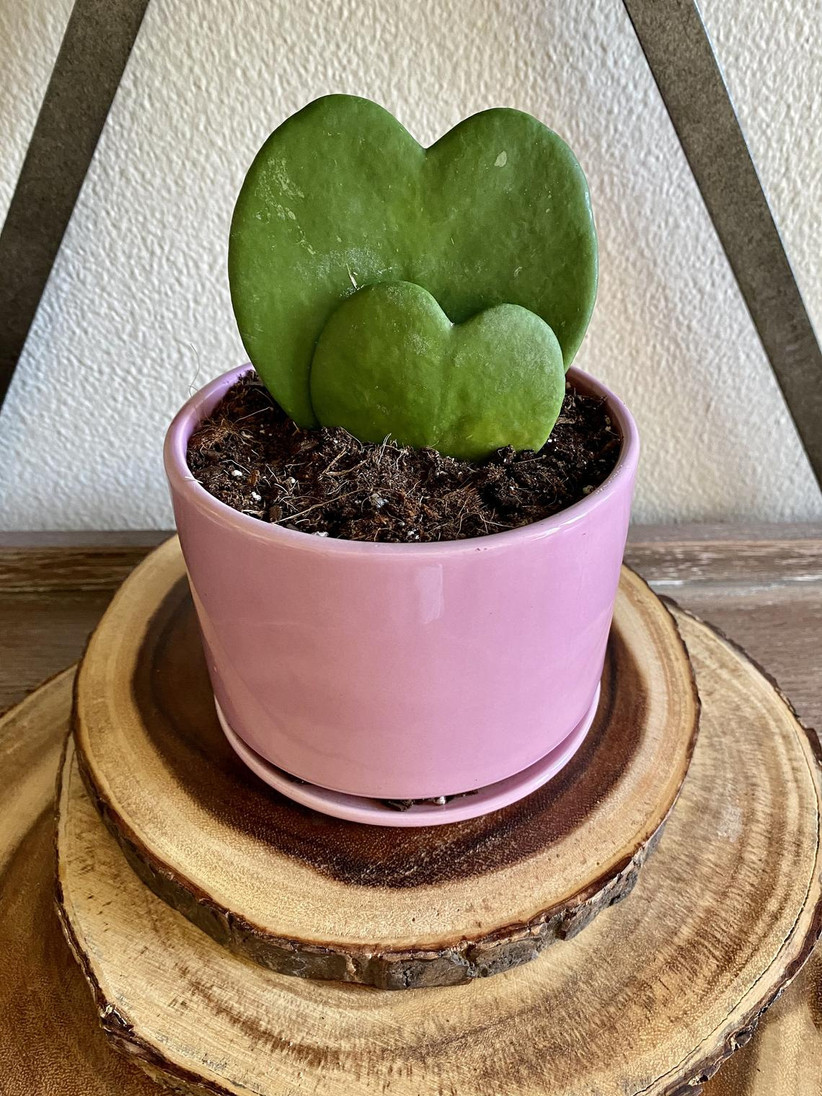 32. Heart-Shaped Succulent
Preserved roses and extravagant bouquets might feel a little over the top if you and your partner agreed on gifting small this year. But that's not to say you can't still get them a romantic plant. This cute, heart-shaped Hoya will look super chic in their home or office.
Per Sempre Sepe Hoya Sweetheart, from $16, Etsy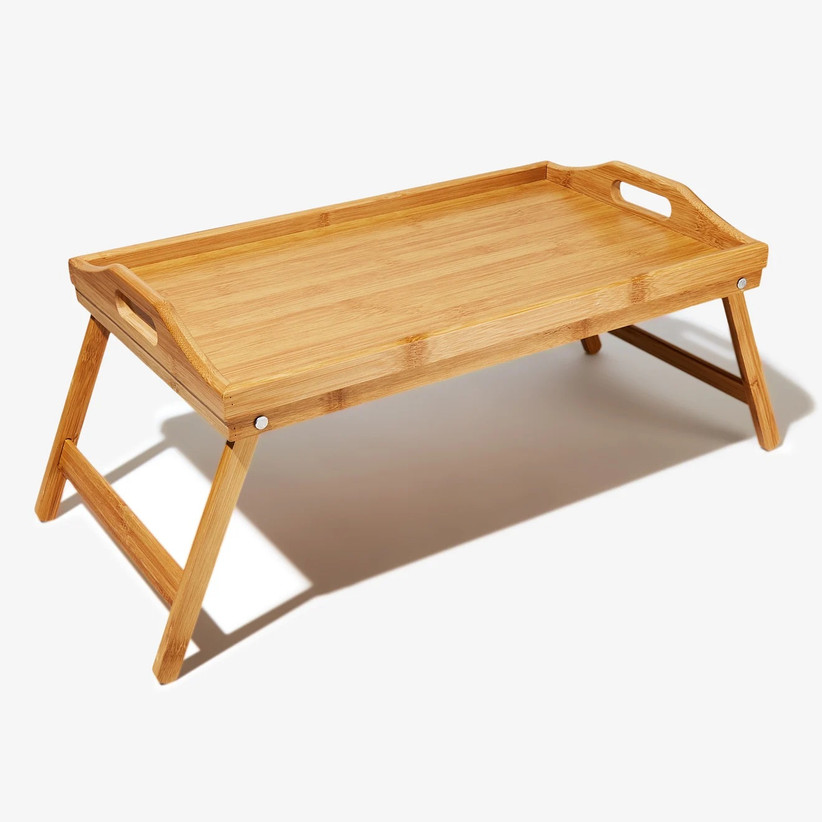 33. Classic Breakfast Tray
Last but not least, this chic bamboo tray is perfect for serving up a traditional Valentine's breakfast in bed. Your sweetheart can enjoy their eggs, waffles, or whatever without risking jam stains or runaway crumbs.
Bespoke Post bamboo breakfast tray, $28, Bespoke Post