How Social Distancing Can Boost Your Relationship
While social distancing isn't easy, there are many benefits when it comes to you relationship. Here, experts share how you can strengthen your romance while staying at home.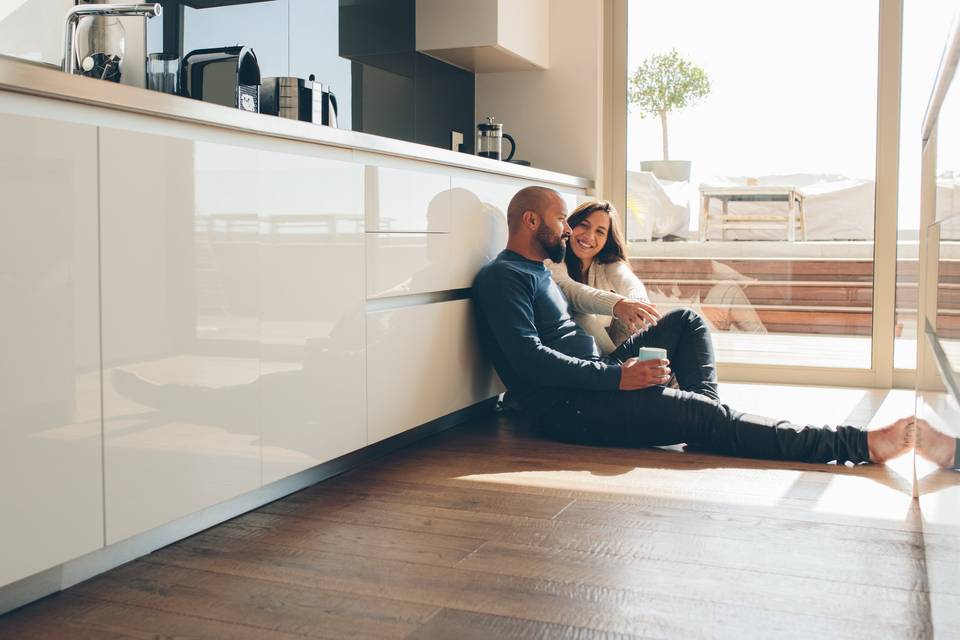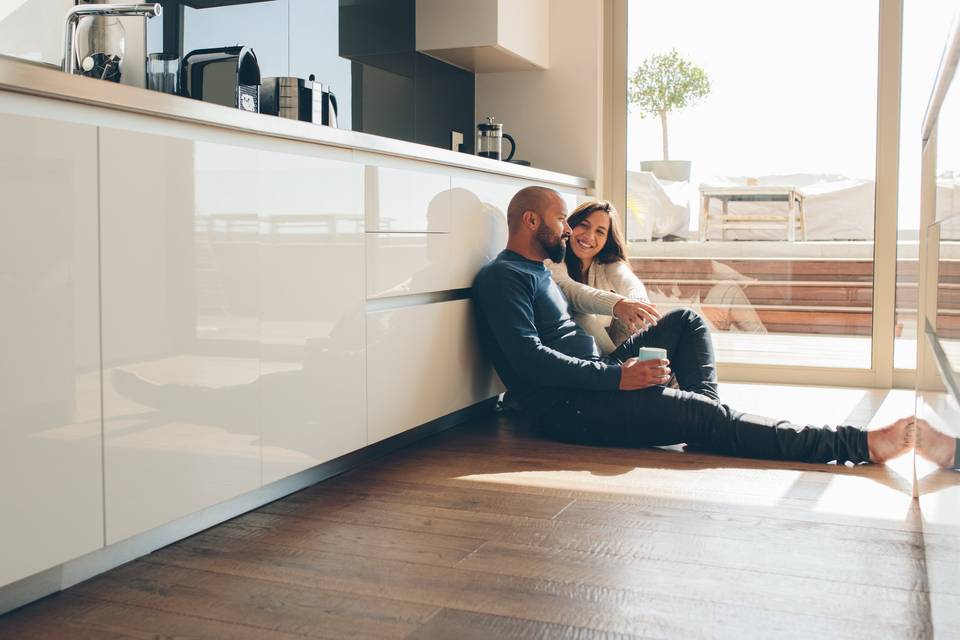 Social distancing has become the norm with the rise of COVID-19 around the world. The only exception to this rule is if you live with someone, such as close family, a friend, or a partner who has also maintained social distance from others. It's certainly a confusing and anxiety-ridden time for many, but there's quite a lot we can take away from this social experiment, if you will, while we're maintaining our distance. This is especially true for romantic couples, who seem to be bonding over this shared experience, leaning on each other for support and appreciating the fact that they don't have to do this whole isolation thing on their own.
"Being in a small space for an extended period of time can escalate already existing problems, but it can also allow couples to connect and strengthen their relationship," explains Rachel Needle, Psy.D., licensed psychologist in West Palm Beach, Florida and the co-director of Modern Sex Therapy Institutes. "How we handle stressful situations both individually and as a couple can be very telling."
Even if you're social distancing without your partner, but making a conscious effort to connect both physically and emotionally during this time, it can lead to a stronger and more connected relationship. "When engaging in physical distancing, couples have the opportunity to focus more of their attention on each other," says Dr. Needle. Couples often argue about distractions and not having enough time together, but she notes that these circumstances remove the background noise so that couples can feel closer and more satisfied with each other. Here are some ways you can expect your relationship to benefit from social distancing.
You may become more aware of your need for boundaries and personal space.
Learning how to define space and communicate what you are (or are not) comfortable is a major milestone for couples, especially those living with each other, notes Lisa Bahar, a marriage and family therapist in Newport Beach, California. Having to do everything under one roof, such as working, exercising or doing certain hobbies, is certainly challenging, but it can teach you how to give each other the space you crave. "After the pandemic is resolved the hope is you can carry these learnings into day-to-day living," she says.
You might adopt better hygiene.
Before this pandemic, you or your partner might have thought that taking these measures was a bit extreme, or even taken offense to a spouse who leans or steps away when they sneeze or cough, notes Bahar. But with such a global emphasis on being more clean, washing hands, covering mouths, sanitizing surfaces, and whatnot, may now become habits that both of you adopt into your daily life.
You can work on optimism, humor, hope and spirituality.
Not only do you need some healthy ways to cope with the pandemic, but you are probably looking for your partner to comfort you and be there for you, explains Susan Edelman, M.D., psychiatrist in Palo Alto, California. "Trying to imagine your life returning to some semblance of normal and trying to believe it will happen can help you feel hopeful," she says. "If you can find humor in anything, it will make the process much easier for you both.Know that these trying times can help to make your relationship stronger."
You may get creative with how you spend time together.
With such limited options for entertainment, you and your partner might be forced to find new games to play, ways to fix up the house, repaint the garage, make new meals, etc. notes Bahar. You can even spend some time strengthening your relationship using a counseling app like Lasting. This may lend itself to thinking more out-of-the-box moving forward when it comes to date nights or even how best to spend a random Sunday afternoon.
You may gain a greater appreciation for your partner.
It's easy to take someone you see and talk to every day for granted, but with the knowledge that this person is one of your only connections to the outside world, he or she may become more valuable to you. On the flip side, if you have to practice social distancing away from your partner, doing so can remind you of how much you love and miss your them, notes Jonathan Bennett, Columbus, Ohio-based certified counselor and relationship coach. "This can make you more thankful for your partner's health and physical presence," he adds.
Disclosure: This post contains affiliate links, some of which may be sponsored by paying vendors.