25 Thoughtful and Unique 11th Anniversary Gifts They'll Love
Steel, diamonds, and tulips are all great choices for the 11th year. Here, we've rounded up a mix of traditional and modern 11th anniversary gift ideas.
We have included third party products to help you navigate and enjoy life's biggest moments. Purchases made through links on this page may earn us a commission.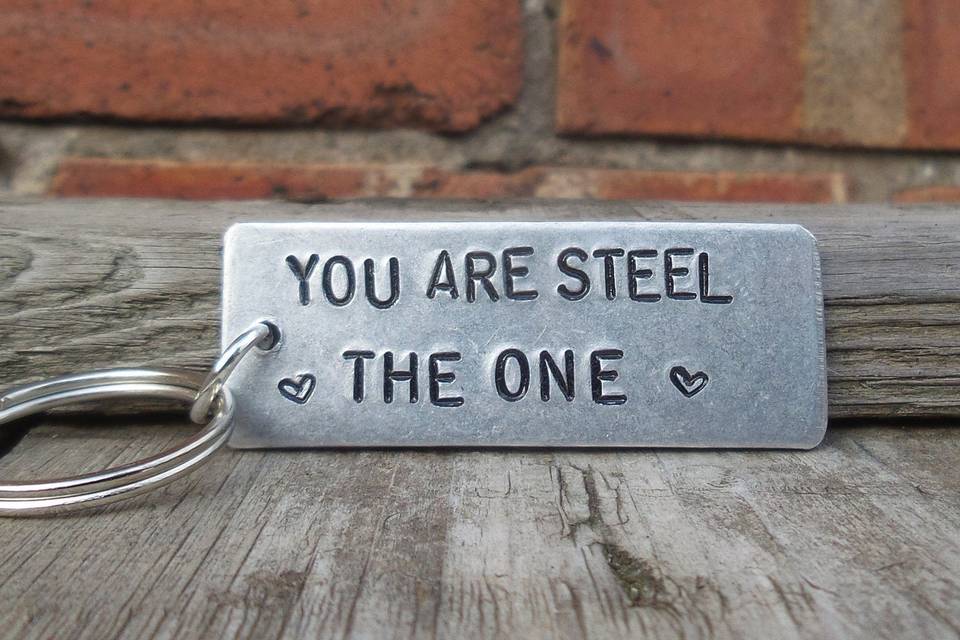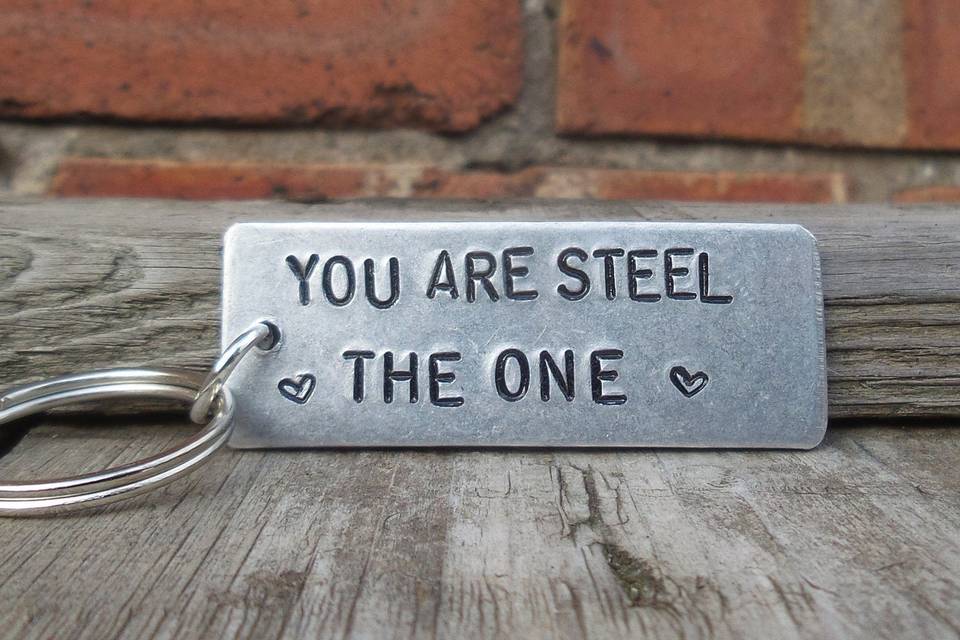 One decade plus one year—a couple's 11th anniversary is worth celebrating. Okay, all anniversaries are worth celebrating, but there's something about 11 years of marriage that seems so solid and strong in the shadow of the shiny, showy 10th anniversary. That's perhaps why the traditional 11-year anniversary gift is steel.
Be it matte carbon steel or bright and shiny stainless steel, this metal is known for its durability as well as its versatility. It's found in an array of products that make perfect gifts to celebrate the 11th year of marriage. If you're looking for steel anniversary gifts for your partner or the happy couple in your life, you're in luck. We've rounded up a ton of great anniversary gift ideas that incorporate steel, as well as other ideas to celebrate this major marital milestone.
What is the traditional 11-year anniversary gift?
Want to go with a traditional 11th-year anniversary gift? Then steel is the way to go. While there are great practical choices for steel gifts, like knives and appliances, there are sexier choices that incorporate the mighty metal too, like keepsake steel jewelry and personalized art.
Not feeling steel? No problem. You can always dazzle the recipient with the modern anniversary gift that marks the 11th-year: diamonds. Or, you can gift something that incorporates the official 11th-anniversary gemstone—turquoise—which is also the anniversary's official color. For a bit of flower power, think tulips, which mark this milestone with all their gorgeous glory.
If none of those are inspiring you, don't worry. We've got some alternative suggestions that make great 11th-wedding anniversary gifts as well.
The Best 11-Year Anniversary Gifts
The inspiration sources for anniversary presents are plentiful, as you can see. To help you narrow things down a bit, we've rounded up some great 11th-anniversary gift ideas, including traditional gifts, modern choices, and some alternatives. From sweet and sentimental to practical, personalized, and purposeful, these gifts are a great way to celebrate 11 years of marriage.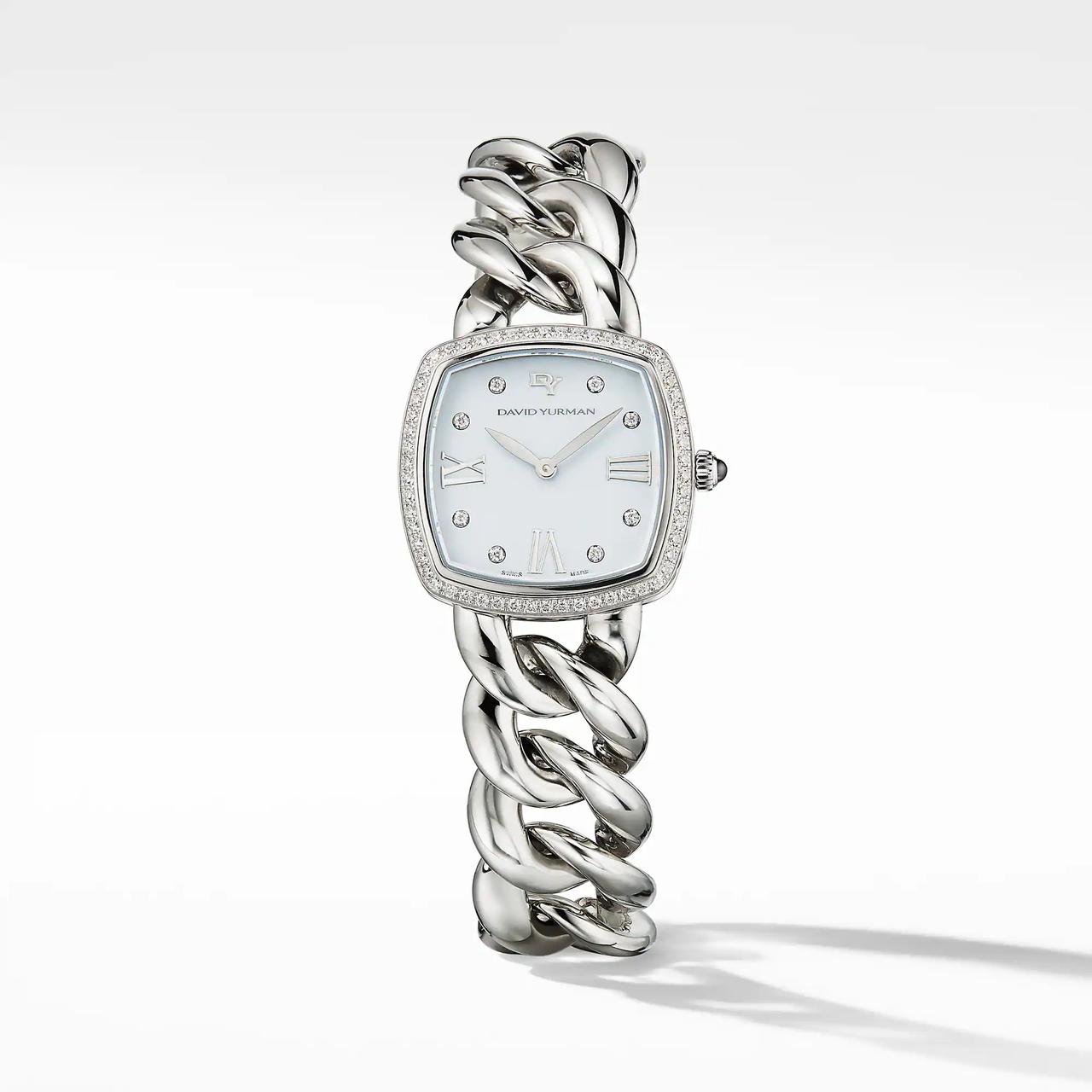 1. Stunning steel and diamond watch
Incorporate both the modern and traditional materials with this diamond and stainless-steel watch from David Yurman. The bracelet style is sleek, sophisticated, and a great reminder of all time you've spent together as a couple.
David Yurman Albion 27mm stainless steel quartz watch with diamonds, $3,600, David Yurman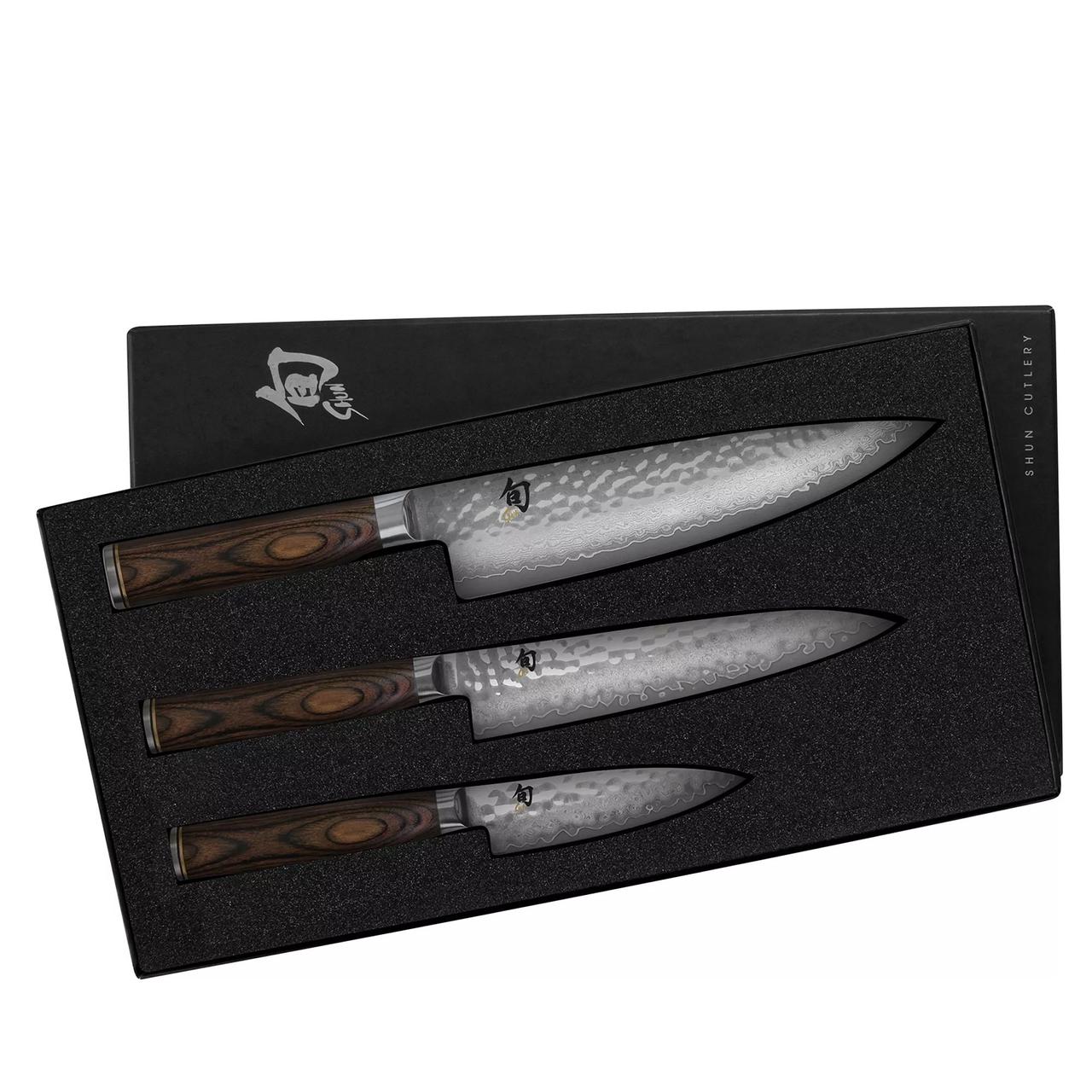 2. Top-notch knife set
They'll slice and dice with ease with this three-piece steel knife set from Shun. It includes the essentials every kitchen needs—a paring knife, utility knife, and chef's knife. If they choose to use them to cook for you, then that's a great gift for you too.
Shun Premier 3-piece starter knife set, $400, Bloomingdale's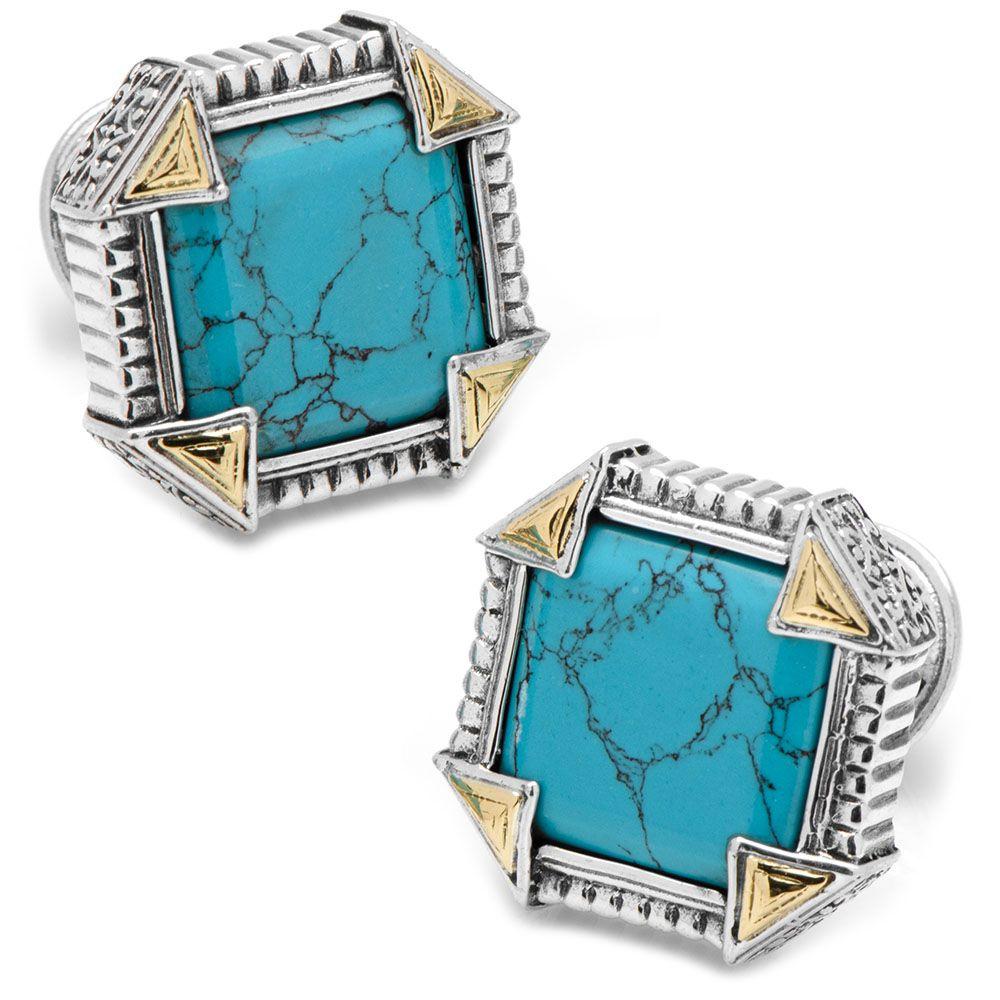 3. Dapper turquoise cuff links
These luxurious turquoise cuff links add a pop of pizazz to any outfit, be it for date night or a day at the office. Set in sterling silver and gold, they're a fancy way for your spouse to literally wear a symbol of their love on their sleeve.
Konstantino sterling silver & 18k gold cufflinks with turquoise, $695, Cufflinks.com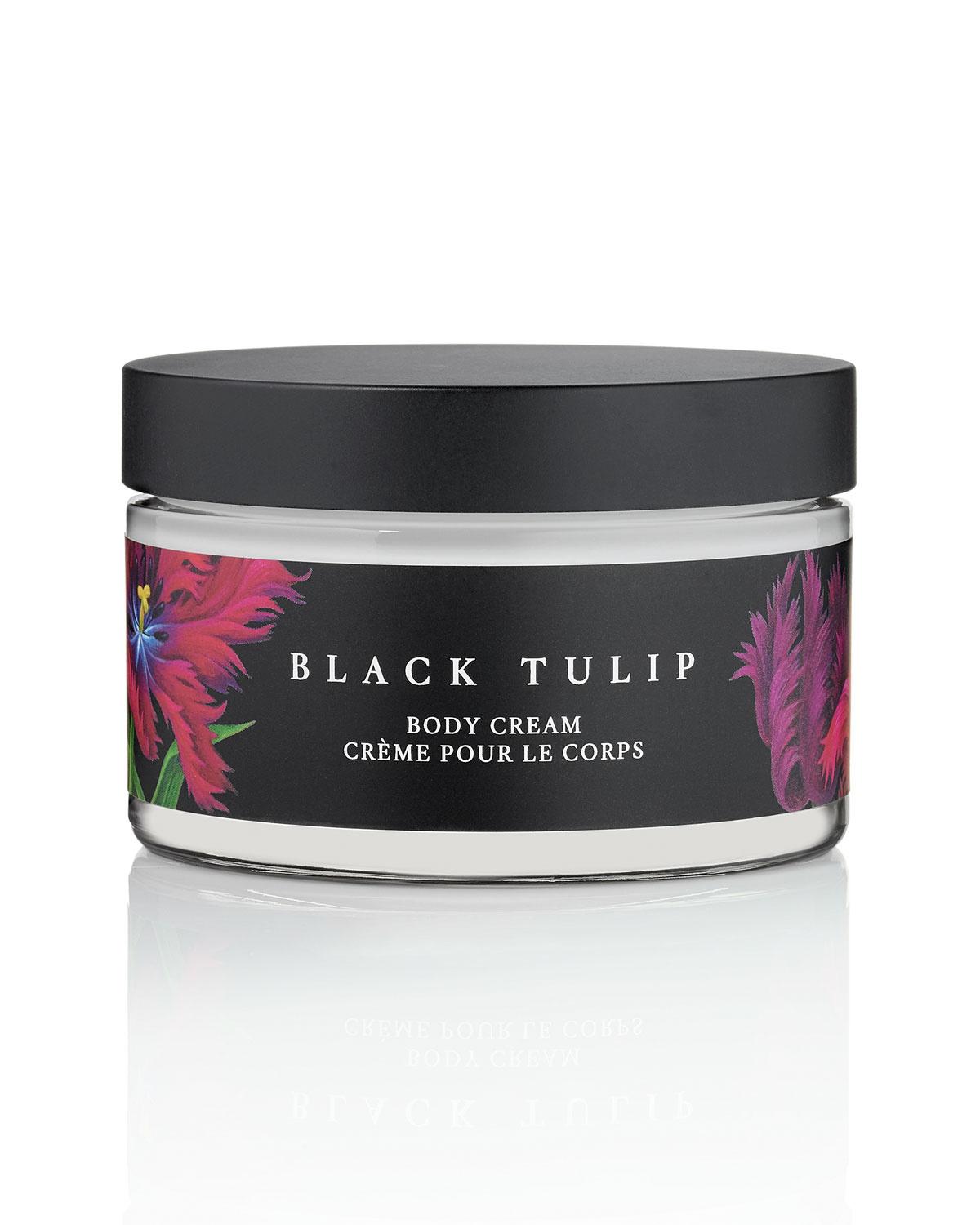 4. Seductive tulip-themed body cream
Sensual and soothing, this Black Tulip body cream from NEST is an 11th anniversary gift of indulgence. With notes of black amber plum, pink pepper, and Japanese violet, it's simply seductive.
NEST New York 6.7 oz. Black Tulip body cream, $55, Neiman Marcus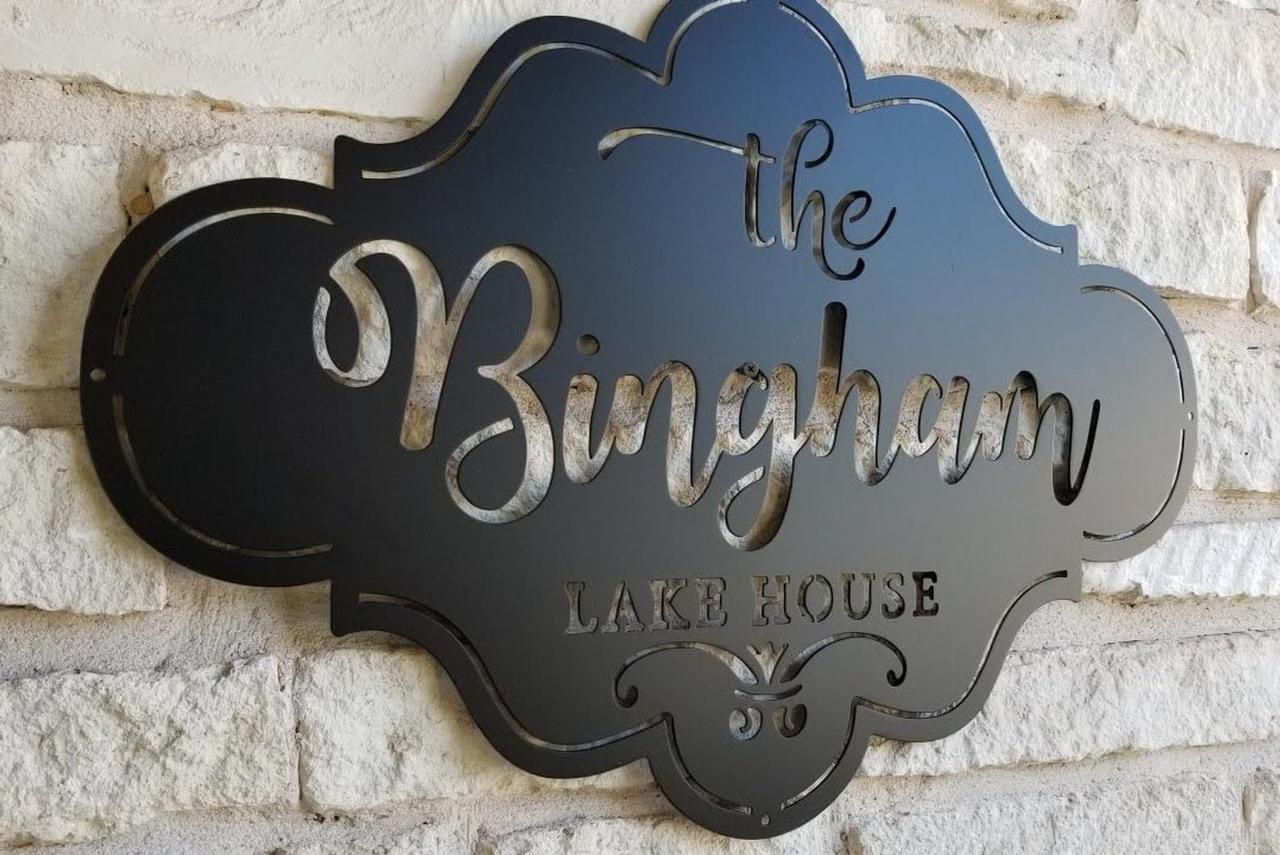 5. Personalized family sign
If they don't have a family sign after 11 years of wedded bliss, then it may be time. This traditional gift is handmade from mild steel and can be personalized to mark their space in a variety of ways.
Flash Point Steel custom metal family sign, from $89, Etsy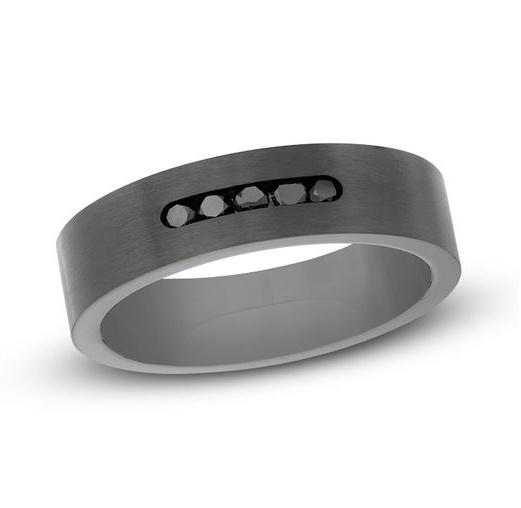 6. Handsome steel ring
Refresh that wedding band in style with this hip ring that's rockstar-rad. Made of black ion-plated stainless steel, it features a row of black diamonds, marrying both traditional and modern 11th anniversary gift themes.
Zales men's enhanced black diamond five stone wedding band in black IP stainless steel, $199, Zales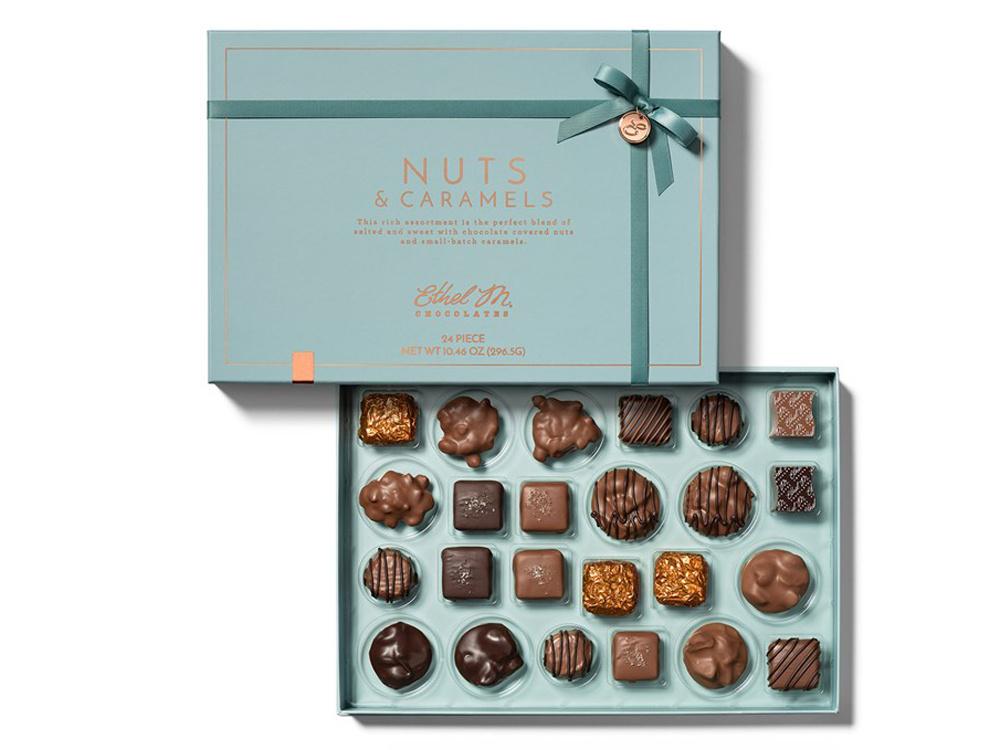 7. Decadent chocolates
You can't go wrong with a box of chocolates, especially when it's filled with these dreamy delights from Ethel M. You can choose from a wide variety of candies, like this nuts and caramel assortment box, that just so happens to be packed in a pretty turquoise box.
Ethel M The Nuts & Caramels Collection premium chocolate assortment box, from $30, Ethel M Chocolates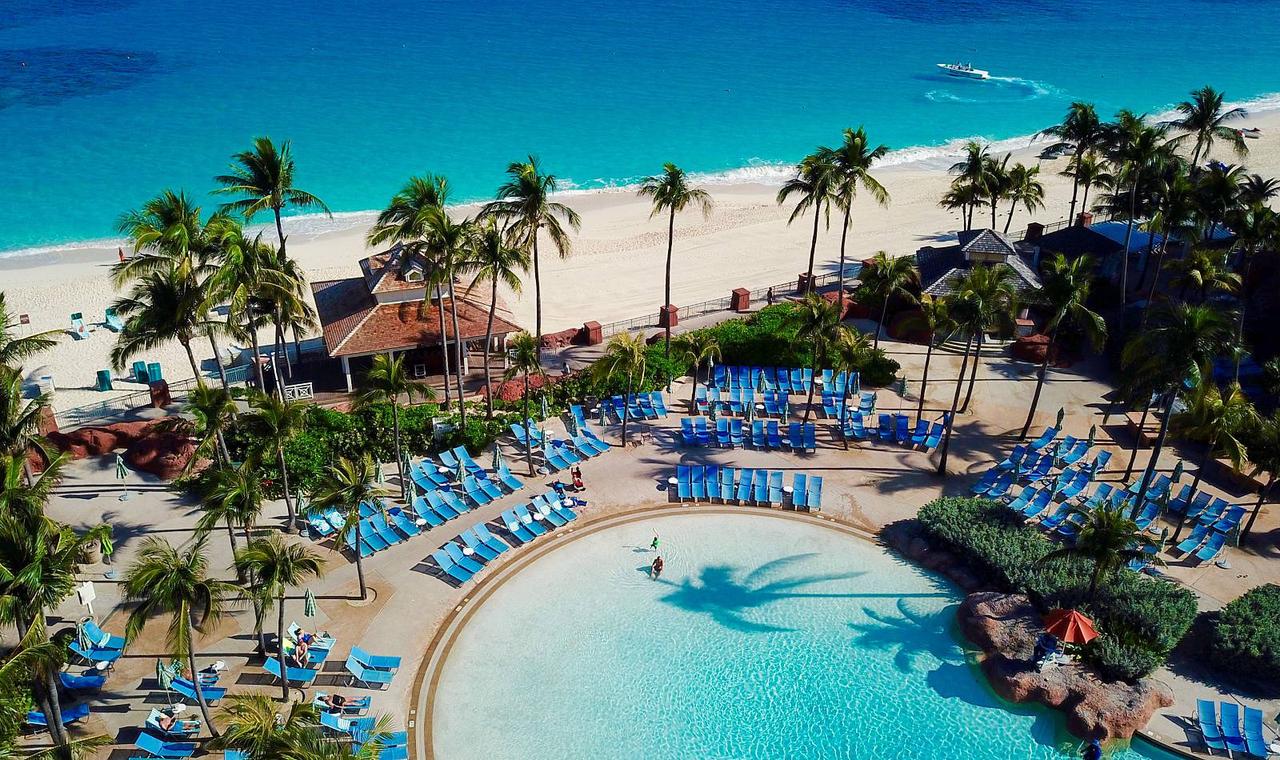 8. A relaxing trip to the Bahamas
Those turquoise waters down in the Bahamas totally count as a turquoise-themed gift and may just be the best anniversary gift ever! Book a stay at the luxurious Atlantis resort for the ultimate in rest and recreation—bonus if it's for 11 days?
Atlantis Paradise Island Bahamas vacation, price per night varies, Atlantis Bahamas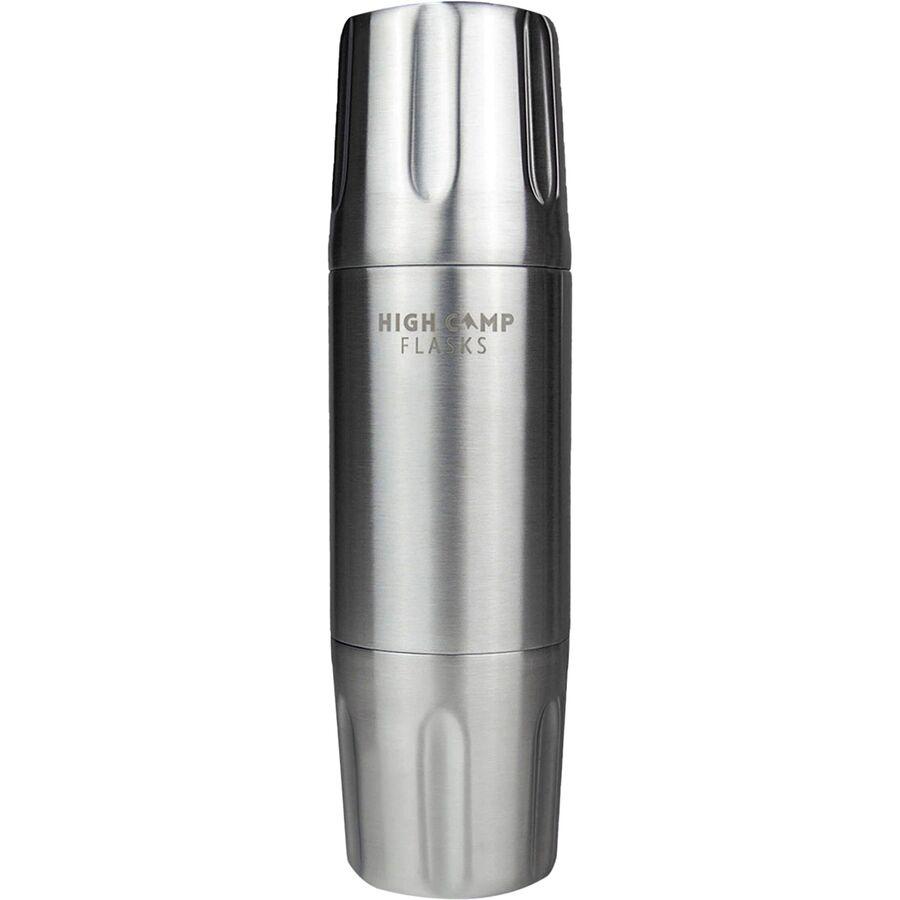 9. Sturdy stainless-steel flask
Say cheers to 11 years and "I steel love you" with this stainless-steel flask. It's functional, durable, and perfect for evening nightcaps around a campfire.
High Camp Flasks Firelight flask, from $85, Backcountry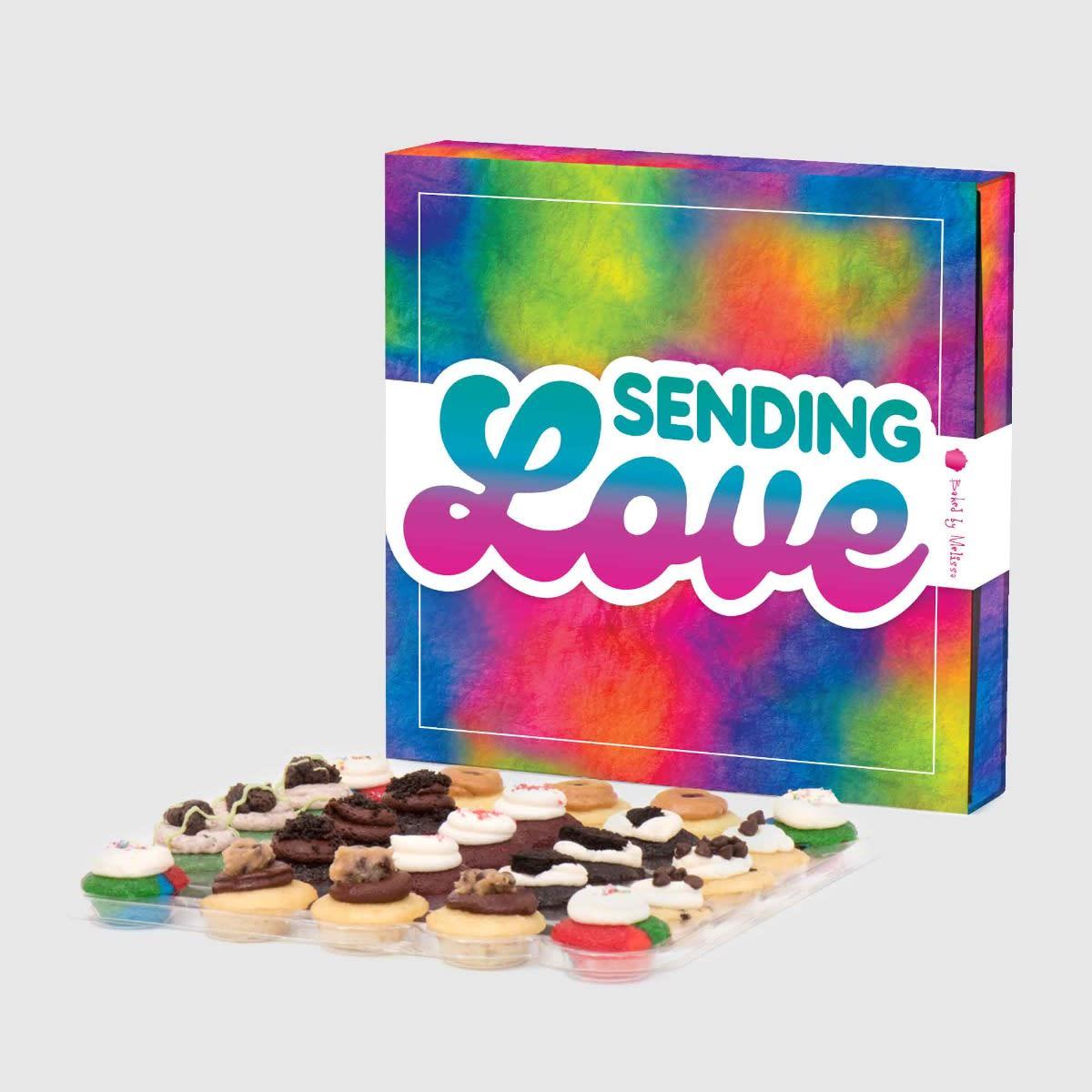 10. Delicious cupcakes
Don't want to go with a traditional or modern theme? You can't go wrong with delicious cupcakes from Baked by Melissa. This "Sending Love" gift box packs a delicious punch.
Baked by Melissa Sending Love gift box 25-pack, from $39, Baked by Melissa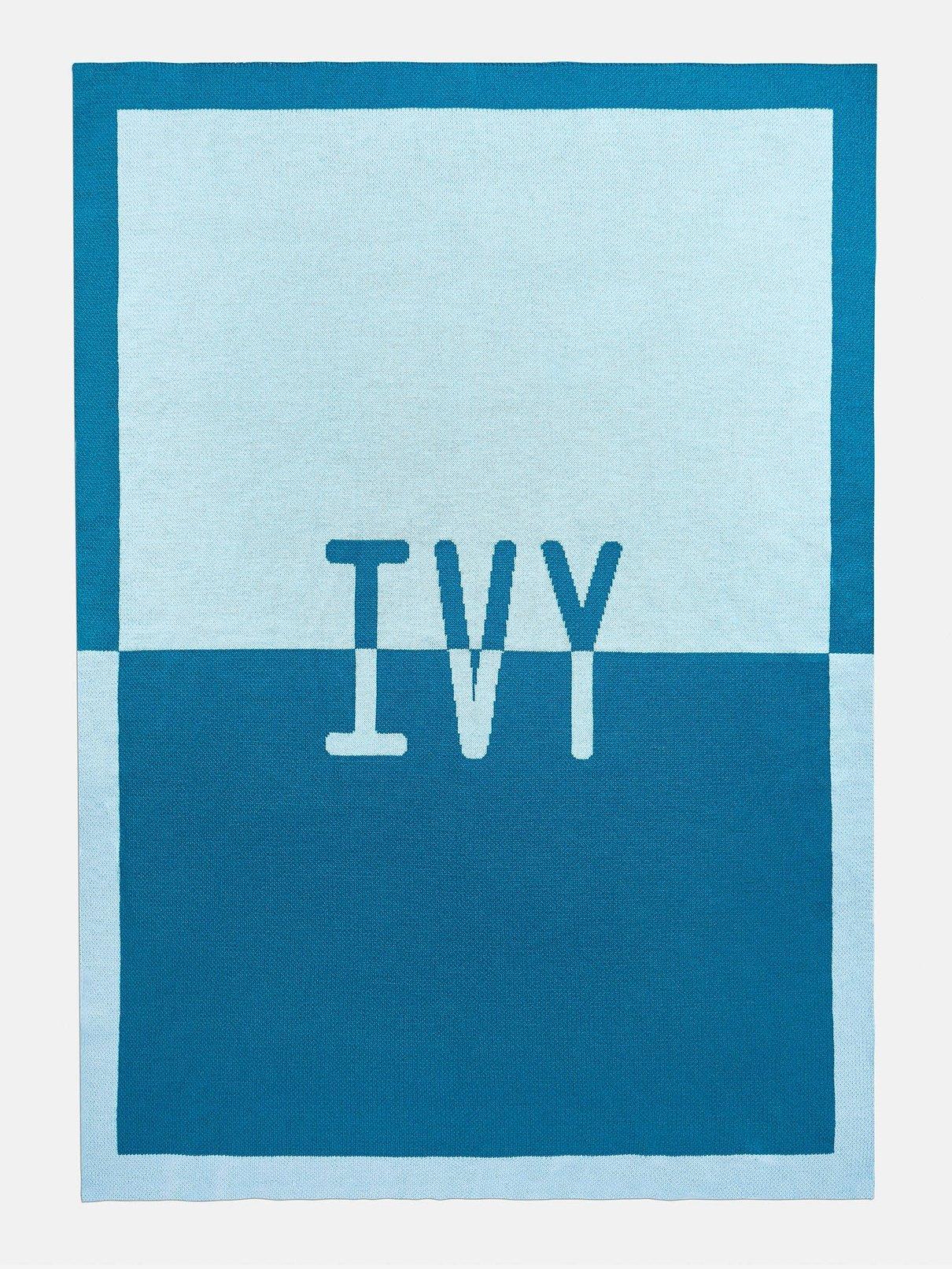 11. Lovely throw blanket
Wrap them in warmth and style with this elegant, two-tone turquoise throw blanket. It can be personalized with their first name or family name for a truly unique gift.
BaubleBar The Alpa Throw: Spell It Out in Turquoise/Blue, $78, BaubleBar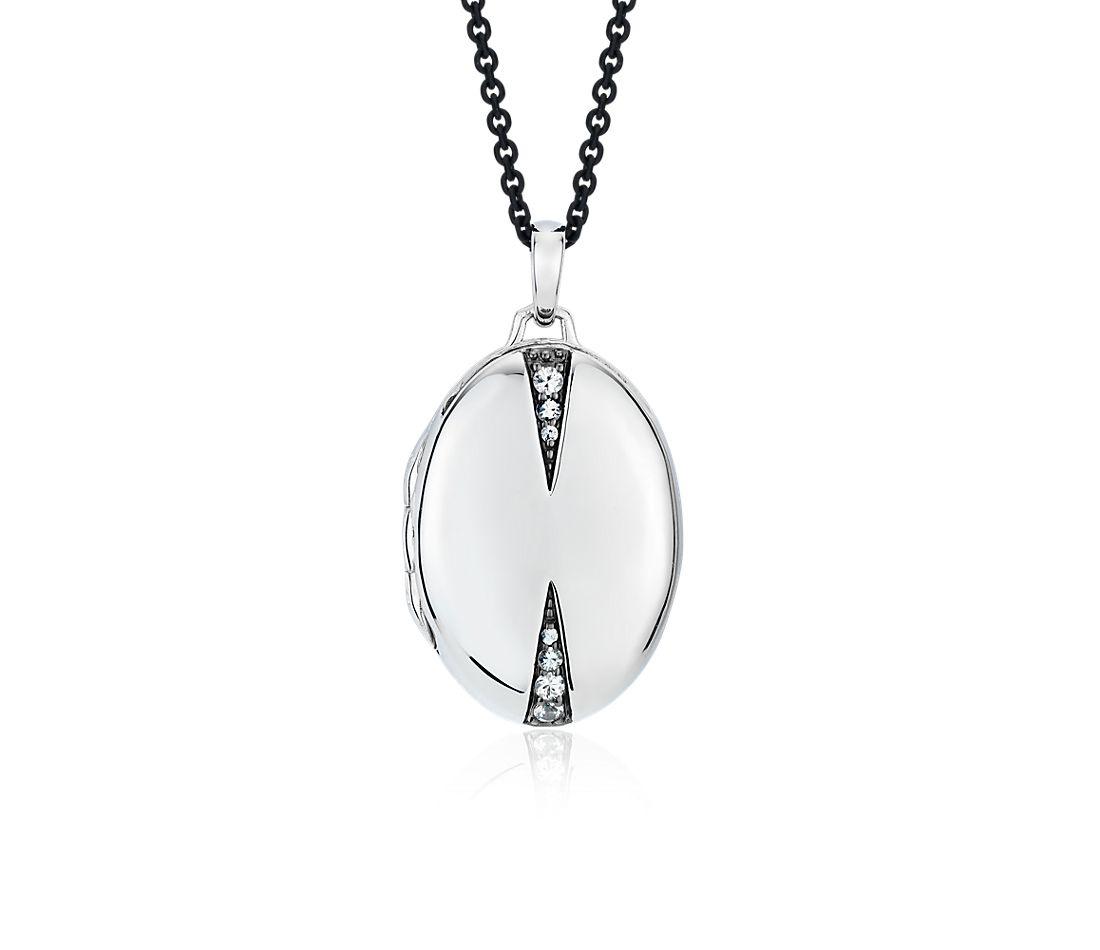 12. Sentimental silver and steel necklace
Talk about a statement piece. This gorgeous sterling silver locket is peppered with sparkling sapphires and hangs from a black steel chain. Inside, there's room for two special photos.
Monica Rich Kosann locket, $535, Blue Nile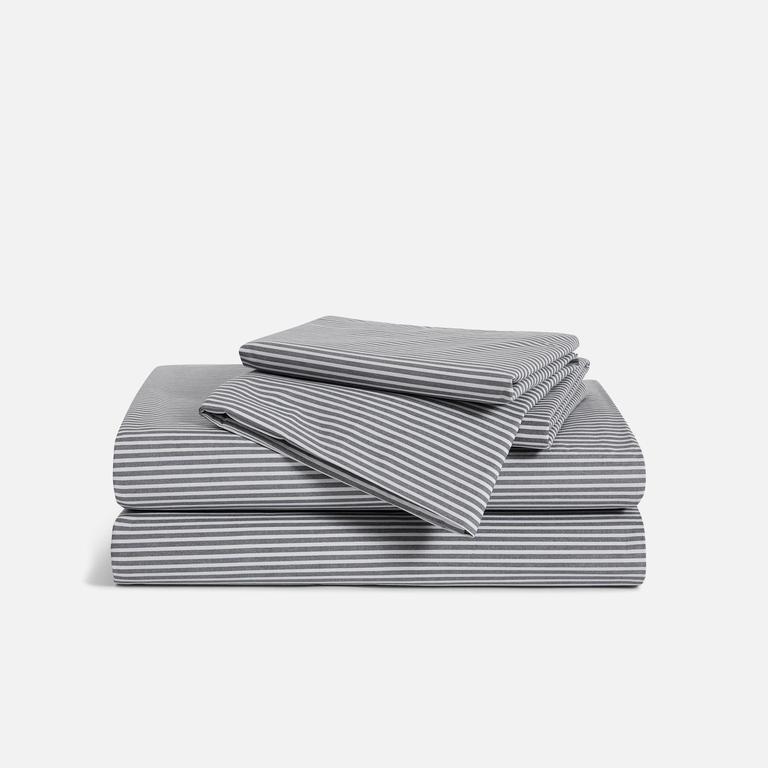 13. Luxurious linen sheets
Sweet dreams are made of these. In Graphite and Steel Oxford Stripe, this sheet set from Brooklinen is a fun twist on the steel theme. Ultra-crisp and made for cool sleeping, the set comes with a flat sheet, fitted sheet, and two pillow cases.
Brooklinen Classic Core sheet set in Graphite and Steel Oxford Stripe, $99, Brooklinen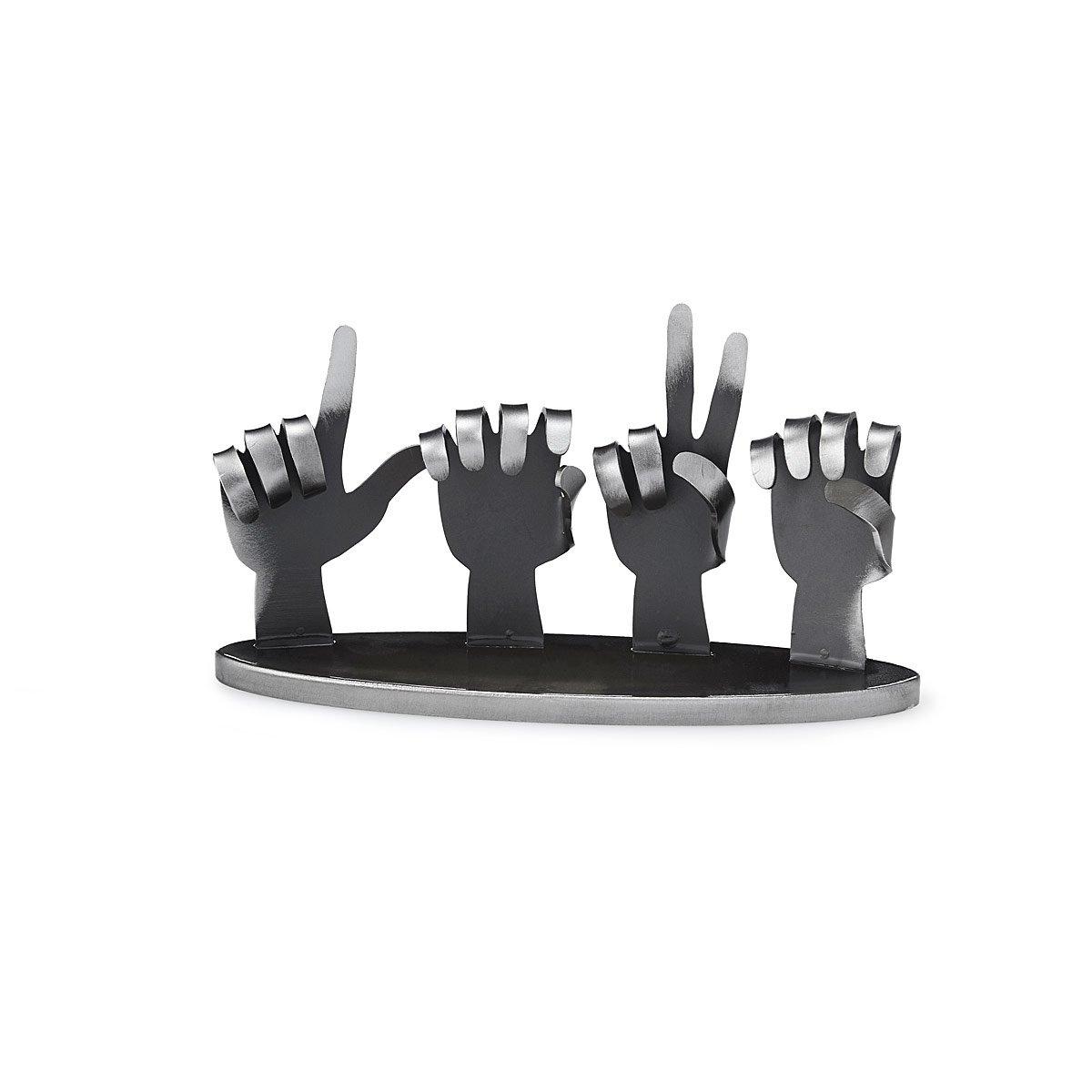 14. Love-ly stainless-steel sculpture
What's not to love about this great sculpture? Made of stainless steel, the hands spell out the four-letter word—L-O-V-E—using American Sign Language.
Stephen Zawistowski Love Language desktop sculpture, $65, Uncommon Goods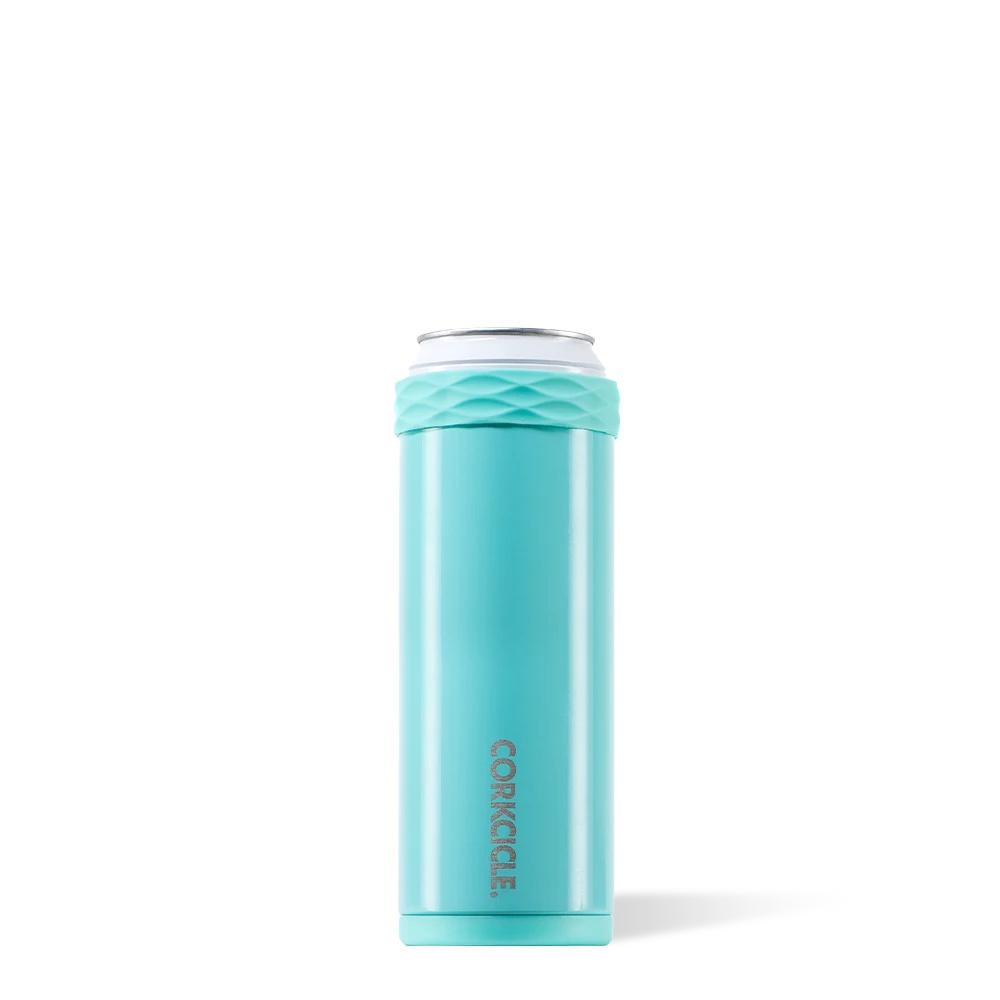 15. Stylish seltzer can cooler
Lovers of White Claw and other hard seltzers will cheer for this slim can cooler from CORKCICLE. It comes in an array of fun colors and patterns, and since it's made of double-walled stainless steel, it will keep slim-can sips super cold.
CORKCICLE Slim Arctican 12 oz. slim can cooler, from $25, CORKCICLE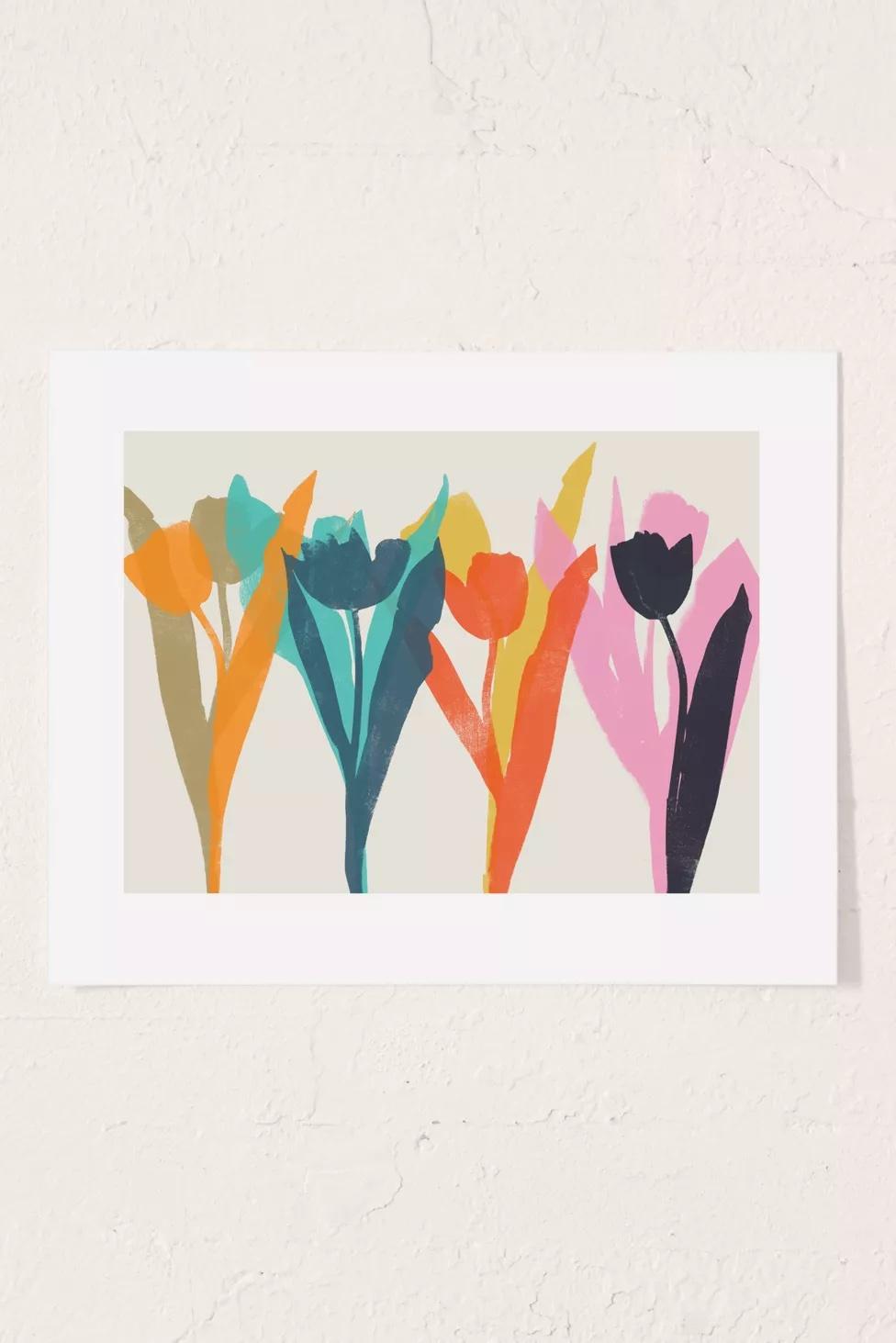 16. Terrific tulip art print
This colorful tulip home decor will brighten up any space. It's available with or without a picture frame and comes in a variety of sizes.
Garima Dhawan tulips 2g art print, from $19, Urban Outfitters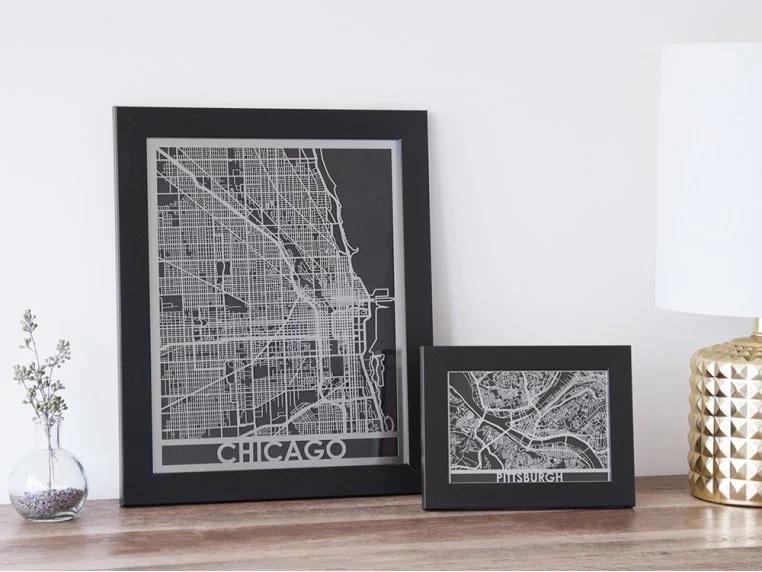 17. Meaningful city map
Be it the city where they met, their honeymoon destination, or any other city they love, having it captured in a steel map makes for a meaningful gift. Made of laser-cut stainless steel, these maps come in a variety of sizes and are framed and ready to show off.
Cut Maps stainless steel city map, from $30, The Grommet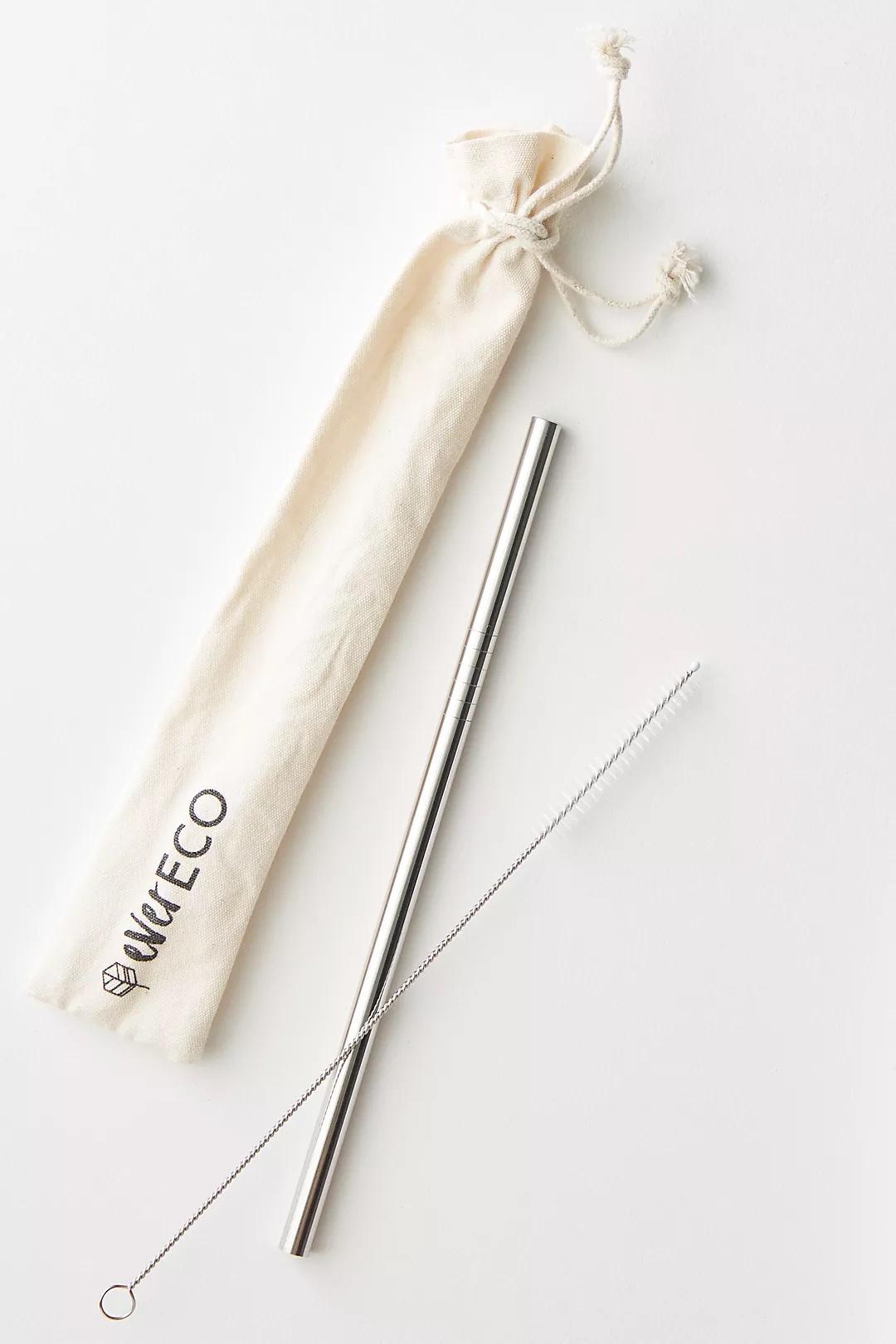 18. Handy stainless-steel straw
This stainless-steel straw is environmentally friendly and fashionable to boot. They'll think of you every time they go to take a sip. It comes with an organic cotton pouch and cleaning brush too, so it's perfect to take on the go and makes an excellent small gift.
Ever Eco on-the-go stainless steel straw, $9, Anthropologie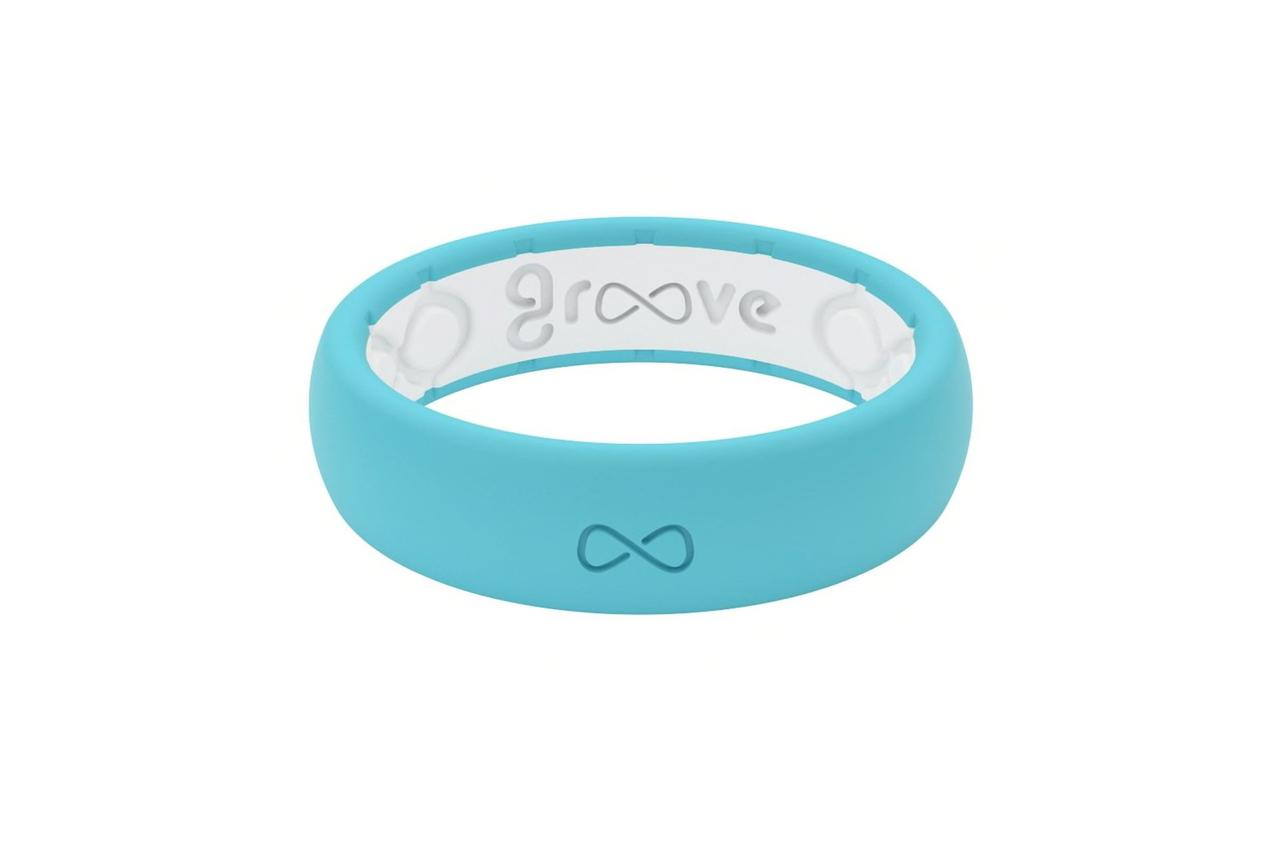 19. Unique anniversary ring
Put a ring on it. Metal rings can irritate some fingers, but this silicone ring is designed to be breathable and comfortable. The cool factor is high too, and while it comes in a variety of colors, turquoise is a fun twist on the 11th anniversary gift color theme.
Groove Life Solid Thin ring in Turquoise, $30, Groove Life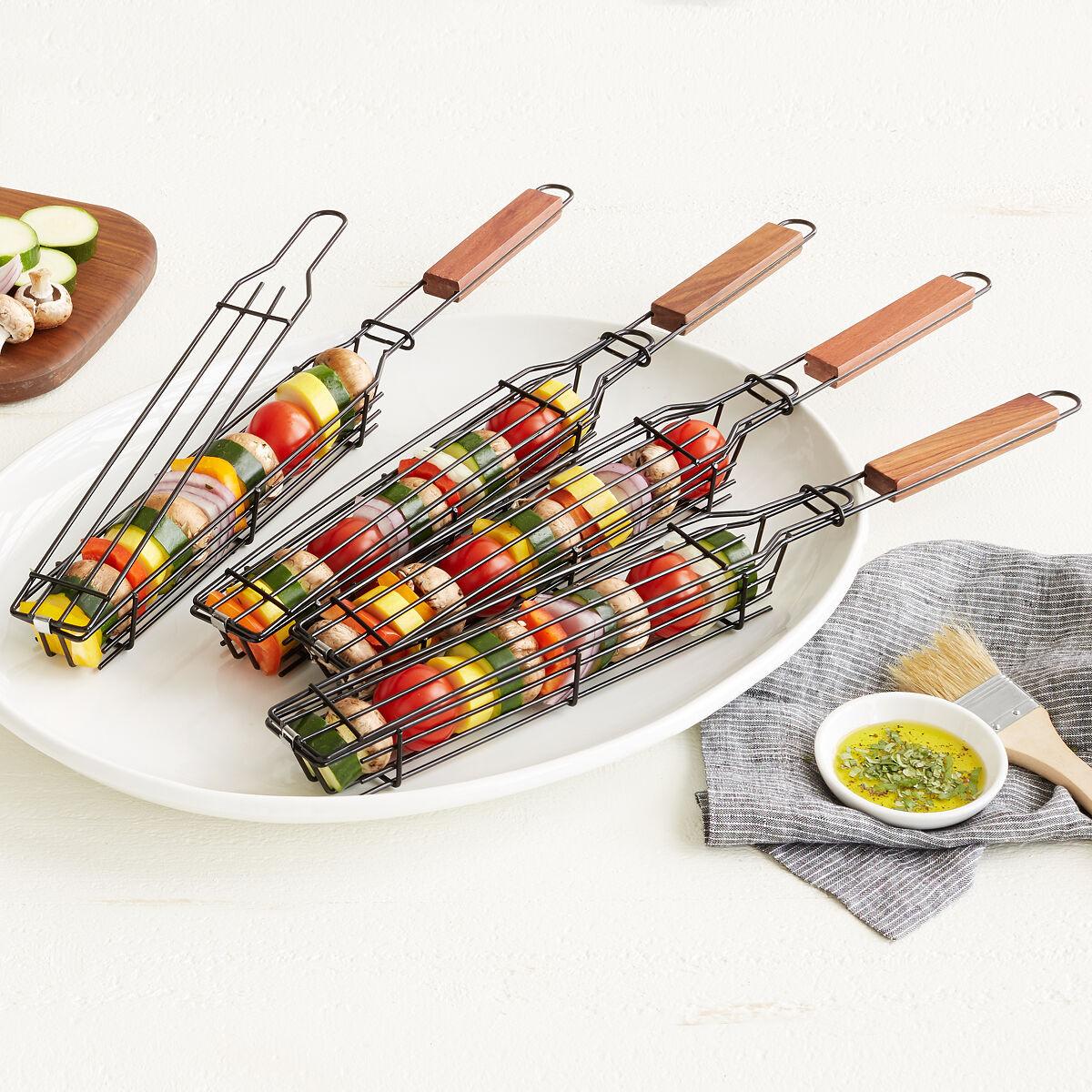 20. Ingenious kabob baskets
How smart are these kabob baskets? No need to use skewers, just layer your veggies and/or protein into the stainless-steel wire baskets, then put them on the grill. Turning is a snap, and when they're ready, just open the baskets and pour the goodness onto a plate They definitely speak the love language of a grill master.
Uncommon Goods kabob grilling baskets, $17, Uncommon Goods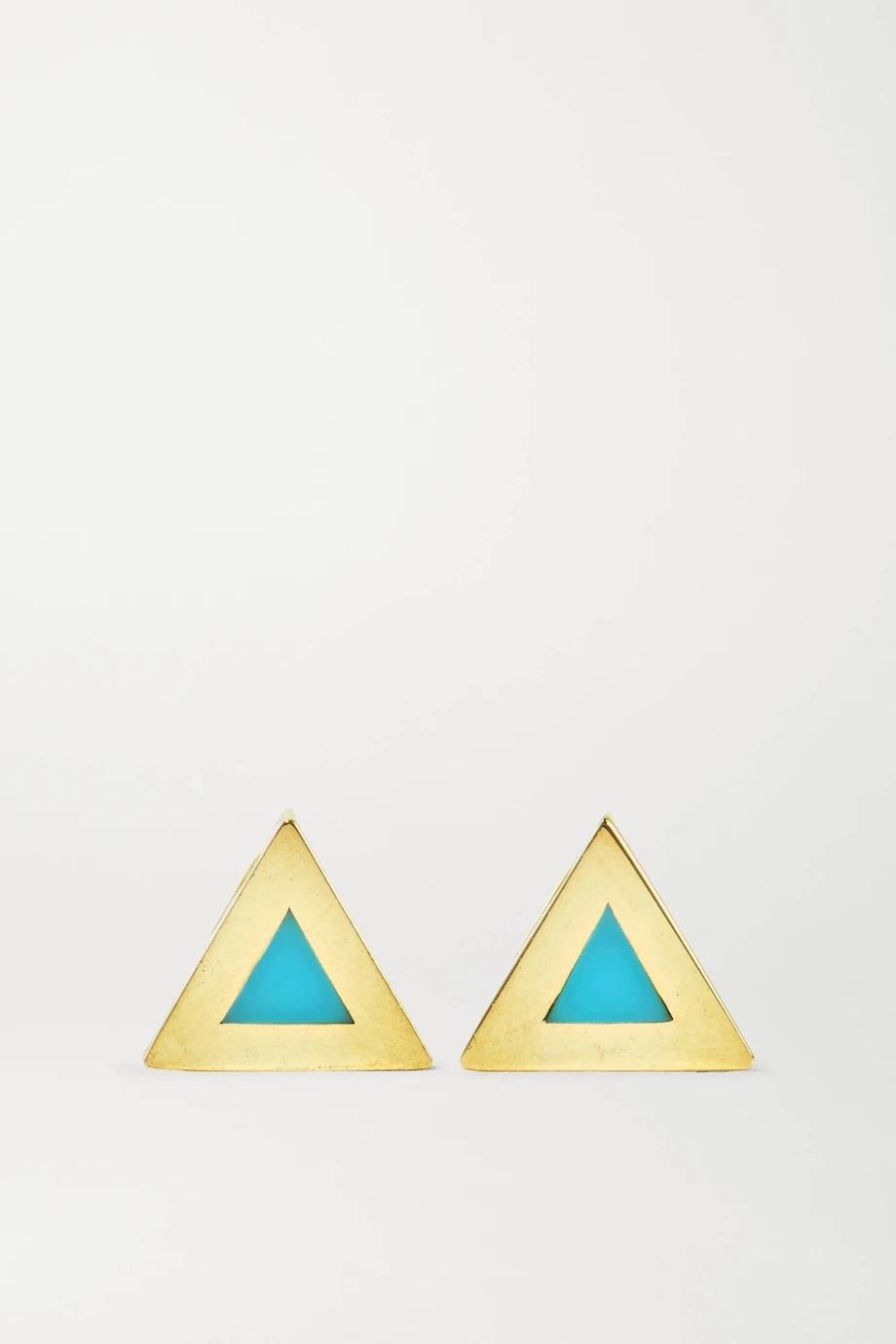 21. Sweet and stylish earrings
Your partner will adore these unique earrings. Set in 18-karat gold, the triangle studs have a turquoise inlay for a stunning pop of color.
Jennifer Meyer Mini Triangle 18-karat gold turquoise earrings, $395, NET-A-PORTER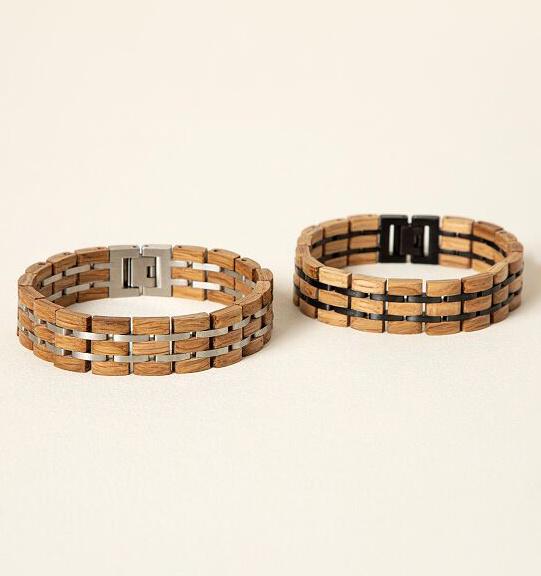 22. Boozy bracelet
Whether it's whiskey or wine, those who imbibe will wear one of these barrel bracelets with pride. Made of stainless steel and either reclaimed white oak whiskey barrels or retired wine barrel heads, they make for a cool, conversational accessory.
Uncommon Goods whiskey and wine barrel bracelets, $89 each, Uncommon Goods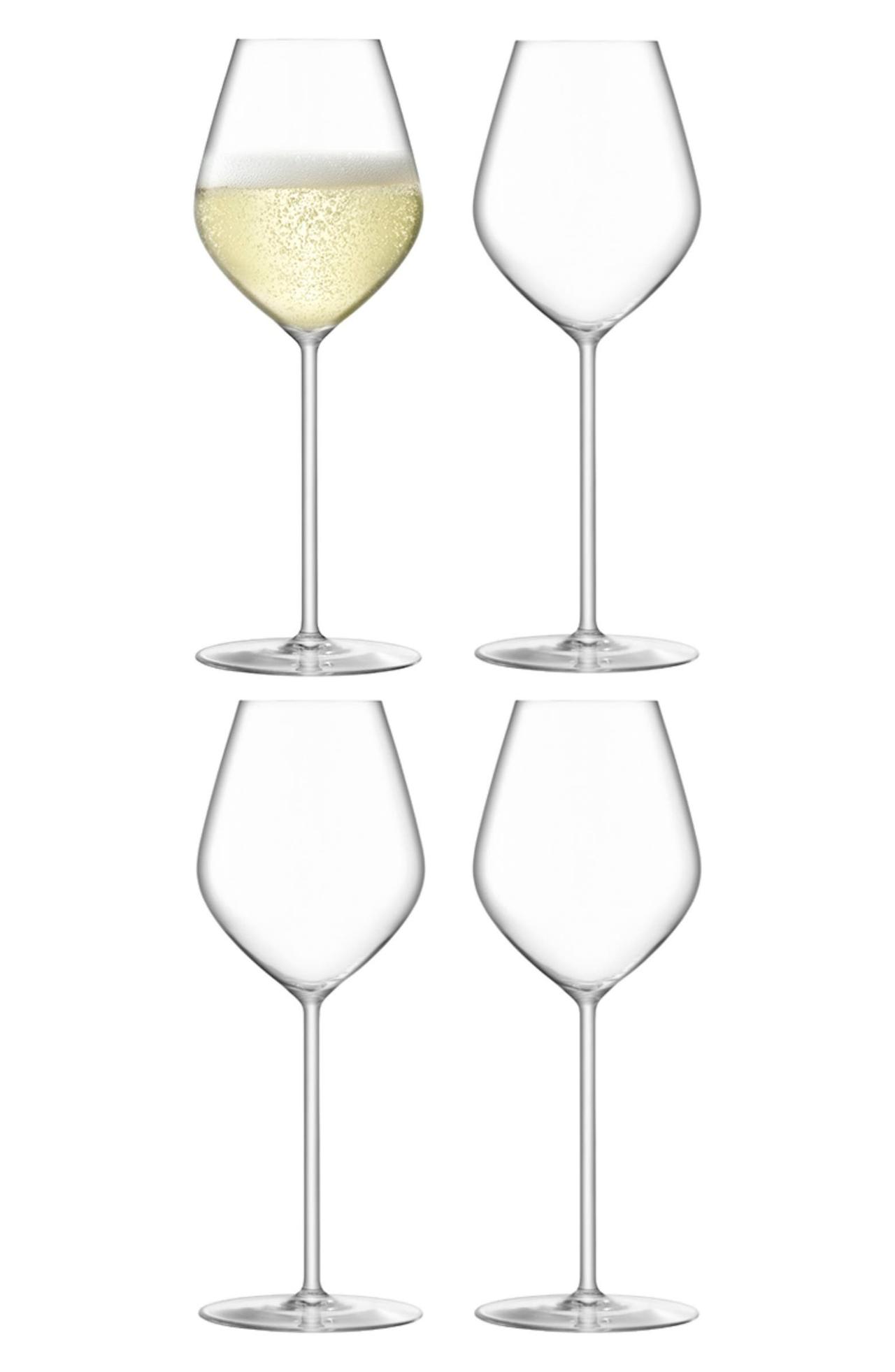 23. Tulip champagne glasses
Raise a glass to 11 years with these tulip-shaped champagne glasses. They come in a set of four and are dishwasher-safe, so there's no need to save them for special occasions. Bring on the bubbles!
LSA Borough set of 4 tulip champagne glasses, $50, Nordstrom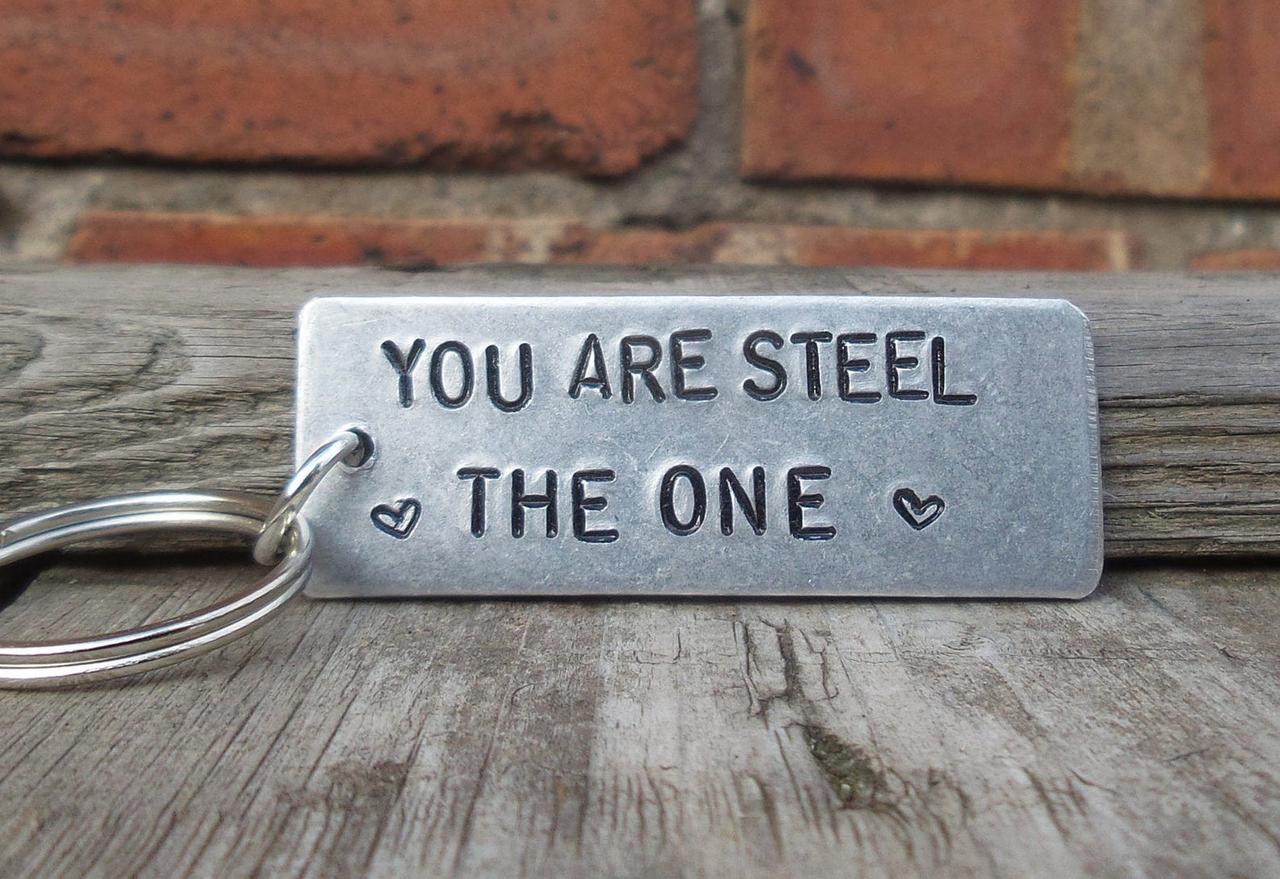 24. Clever key chain
Practical and on point for the traditional steel anniversary gift theme, this key chain reads: "You are steel the one." Pun totally intended.
Cool Keyrings You Are Steel the One personalized keychain, from $19, Etsy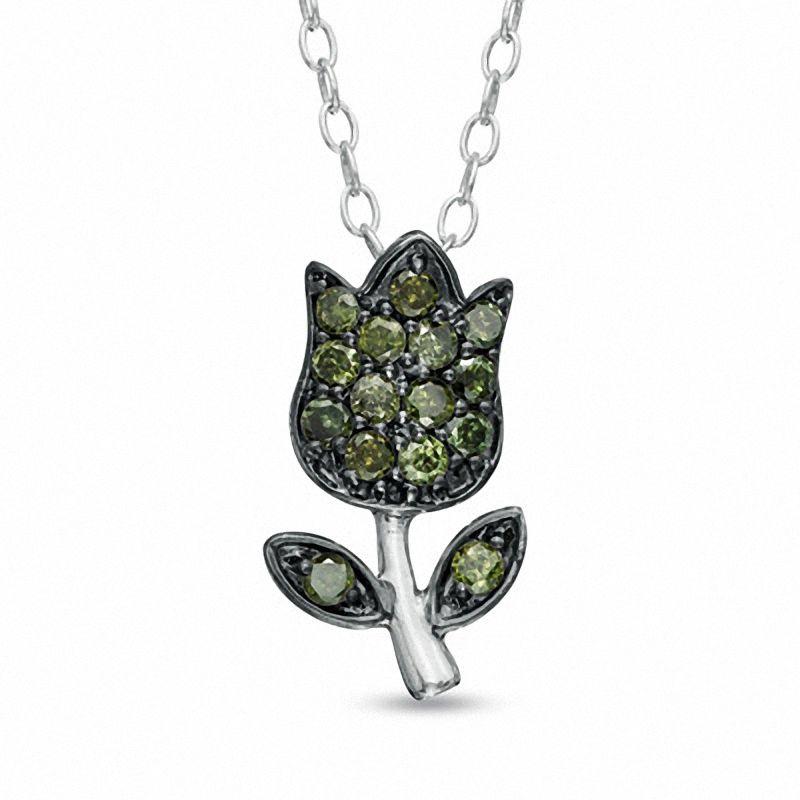 25. Fun floral necklace
Embrace the official flower for the 11th anniversary gift with this terrific tulip necklace. Green diamonds adorn the sterling silver pendant that dangles on a pretty chain.
Zales enhanced green diamond tulip pendant in sterling silver, $249, Zales