14 Affordable Wedding Anniversary Ideas That Are Actually Fun
You don't have to spend a fortune to celebrate a special milestone. These wedding anniversary ideas on a budget are inventive, celebratory, and enjoyable.
We have included third party products to help you navigate and enjoy life's biggest moments. Purchases made through links on this page may earn us a commission.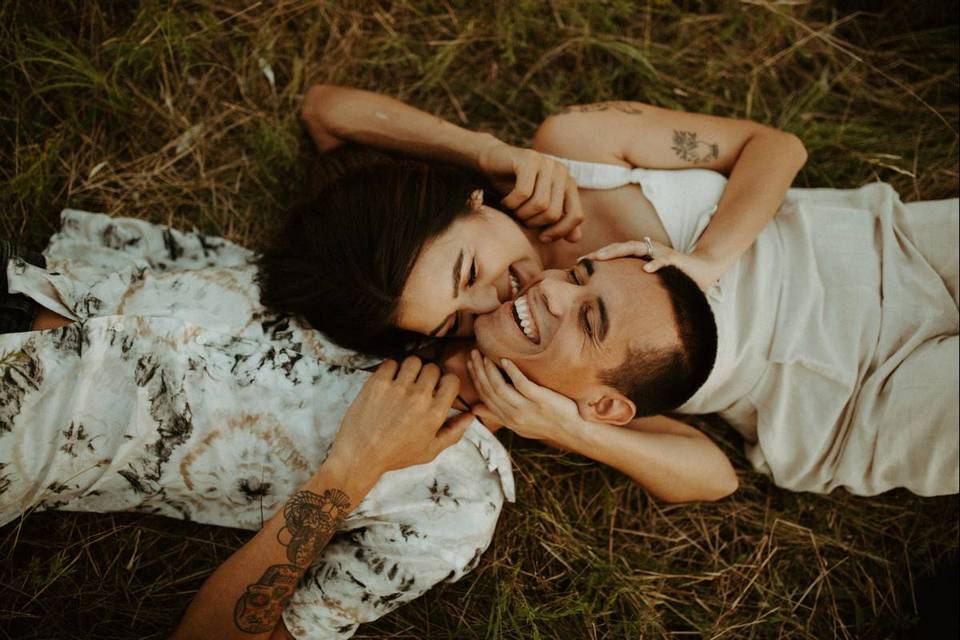 Whether you're marking your first anniversary, your tenth, or your fiftieth, it's certainly a special occasion worth celebrating. While there are certainly creative ways to splurge on the milestone (hello, trip to Greece!), finding wedding anniversary ideas on a budget can be a little trickier. Fortunately, there are actually lots of romantic, fun, and unique options when it comes to celebrating your love without spending a ton. We're here to share some of the best anniversary ideas on a budget to help you and your spouse plan something truly memorable.
Write love letters.
With email, texting, and DMing becoming the main form of communication these days, the art of letter-writing is quickly disappearing. Live out your Bridgerton fantasies by writing and exchanging love letters with your partner. And these don't have to be Shakespearean words of poetry or prose—a letter that describes what you love about your spouse and sharing some of your favorite memories over the years is just fine. As long as your words come from the heart, it will surely be appreciated.
Renew your vows.
Yes, a vow renewal can basically be planned as a second wedding, complete with ceremony and celebration surrounded by friends and family, but it can also be a more private and relaxed event. If you're okay with spending some money, you can hire an officiant to perform a more formal vow renewal. Or, you can simply read the vows you exchanged on your wedding day (or write new ones!) in your living room or backyard.
Recreate your first date.
Take a nostalgic twist on the traditional anniversary date by recreating the first time you and your significant other went out together—and to save money, you can recreate this special milestone in the comfort of your own home. Whether it's rewatching the first move you saw together or trying to cook the fancy Italian dinner you enjoyed, it's fun to reminisce about the early days of your relationship.
Design a scrapbook.
In all the years you've spent together, you've likely accumulated many photos and mementos. Why not compile them into a keepsake that you'll treasure forever? You could DIY a scrapbook using supplies from your local art store (a fun activity to do together!), or use a service like Artifact Uprising or Shutterfly to design a professional-looking album.
Plan a virtual anniversary party.
Yes, you could plan an all-out anniversary celebration surrounded by all your loved ones—but that would cost a ton! To save money, why not throw a virtual anniversary party where your friends and family members can toast your years of marriage from the comfort of their homes. Loved ones can give toasts and speeches, you can watch an edited cut of your wedding video, play some games (the shoe game is a fun option), dance to songs you played during your reception, and just reminisce about your special day.
Create an anniversary playlist.
Throughout the years, there have likely been some songs that hold special meaning to you and your spouse. These could be the song that was playing during your first kiss, your first dance song, a song from your favorite movie, etc. Create a playlist of these meaningful tunes to play while you cuddle on the couch or during any special anniversary dates.
Hit the great outdoors.
If you're looking for wedding anniversary ideas on a budget, outdoor activities are always a good idea. Whether it's taking a scenic hike together, visiting your local park for a picnic, or taking a camping trip and making s'mores around the fire, there are so many creative anniversary date ideas that center around the great outdoors.
Try an at-home wine tasting.
Just like your marriage, fine wines get better with age. If you incorporated a wine box ceremony into your wedding, you may already have bottles of wine to enjoy on milestone anniversaries. If not, joining a wine club like Winc or Wine Awesomeness can be a fun and affordable anniversary gift to yourselves, or you can just purchase a few bottles from your favorite vineyards to enjoy an at-house tasting. Don't forget to include some food pairings, including cheese, chocolate, and more.
Cook a special meal.
Food brings people together, and there are several wedding anniversary ideas on a budget with a culinary focus. Of course, you can simply cook a special meal together at home for a nice bonding experience (meal services like Blue Apron and Hello Fresh makes the process super easy if you're newbies in the kitchen). There are also online cooking classes from Sur La Table and Goldbelly, which can spice up your usual kitchen routine and date night.
Plan an anniversary photo shoot.
You have lots of photos from your wedding day, but these days, you're lucky if you're able to take a quick selfie. Why not spend an afternoon taking some special photos together that show how your relationship has developed over the years? Yes, you could have a friend take some snapshots to mark the occasion, but a better bet would be to book an affordable professional photographer from a site like Flytographer. Once the photos are ready, you find creative ways to display them in your home using a cost-effective framing site like Framebridge.
Enjoy a staycation.
Take a break from your everyday life by treating yourselves to an anniversary staycation. The only rule of a staycation is that you stay in your location of residence, but the rest is up to you. Yes, you could stay in a hotel if you're willing to splurge a bit, or you could just take the day off of work and enjoy some fun activities in your city—and at home. Stroll into an art gallery or visit a museum, check out a local park or enjoy lunch at a new restaurant. Simply breaking from routine can be a great way to celebrate your anniversary.
Experience a dream travel destination at home.
Even if you're not able to take an anniversary trip, you can still recreate your dream destination (or your honeymoon locale!) at home. Take virtual tours of famous museums and landmarks, cook (or take out!) some of the locations's signature dishes, even try to learn the language. If you're feeling particularly ambitious (or have a serious case of wanderlust), plan a "trip" around the world—a week's worth of themed activities related to different dream travel destinations.
Get artsy.
Get in touch with your creative side by trying your hand at painting or another artistic pursuit. If you're a novice, a paint by numbers set can be a fun activity—or you can try an online painting class to sharpen your skills. And for an erotic twist to celebrate your anniversary, this Love is Art kit allows you to create a work of art in the bedroom.
Exchange affordable anniversary gifts.
While yes, you could spend a fortune on a fancy present, but there are plenty of anniversary gift ideas that are on the more affordable side. Following the yearly wedding anniversary themes can help selecting the right gift, and you can let your creativity run wild. It might even be useful to set a budget with your spouse well before your anniversary so no one feels pressure to overspend.