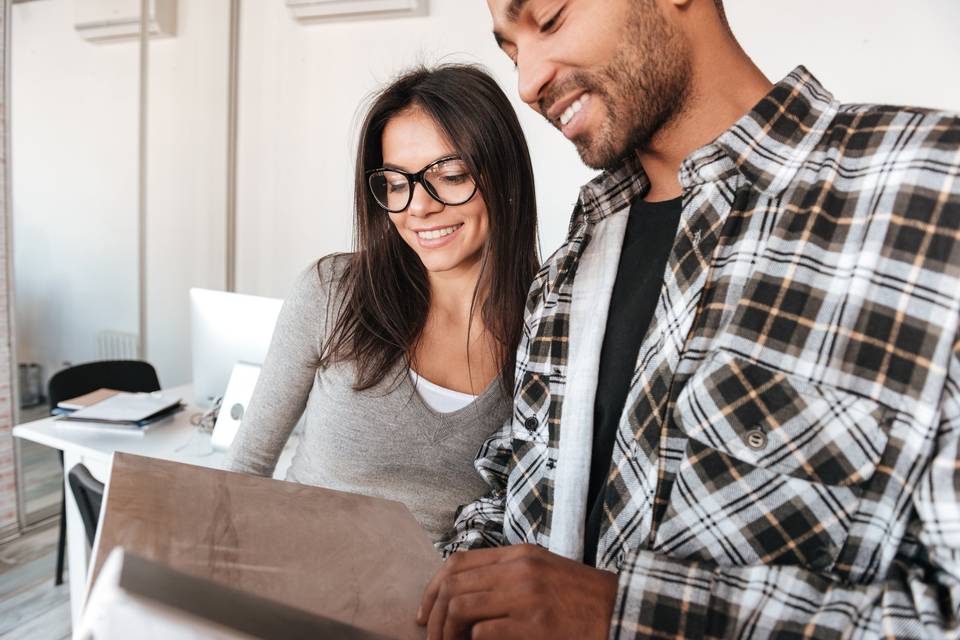 When it comes to finding a photographer for your big day, their wedding photography samples will play a big role in your decision. A big part of reviewing wedding photography samples is subjective—do you like the photos or not? While, yes, liking a photographer's work is pretty important, there are certain aspects to a photographer's samples that you should look for. First off, make sure you're requesting the right samples from any photographer you're considering. Many photographers will initially show off their highlights—a collection of their favorite photos from all of the weddings they've covered. These can be helpful, but you'll really want to see two or three full albums, which is what a couple would receive. Not only do you want to review the best of the best, you'll also want to see how a photographer covers the more basic moments of a wedding, from family portraits to photos of guests dancing.
What else should you look for in wedding photography samples? Here's a list of how to review these oh-so important images.
Style
Before starting your wedding photographer hunt, take some time to review different wedding photography styles—the main ones include traditional, photojournalism, fine art, and fashion. Once you've chosen your favorite, you can use a site like WeddingWire to narrow down the photographers in your area by style and choose a few you like best. Make sure that the photographers' samples consistently reflect the style you prefer.
Image Variety
If you're seeing the same poses repeated over and over again in wedding photography samples, it may be a red flag. A couple's wedding photos should reflect their personalities and not feel cookie-cutter. That's why it's so important to review multiple wedding albums—so you can see how a wedding photographer uses his or her creativity to make each couple's wedding photos unique.
Setting
When requesting wedding photography samples from a photographer, see if he or she can share albums from weddings at a venue that's similar to yours. If you're getting married in a house of worship, your photos will likely look quite different from those from a beach wedding. If a photographer you're considering hasn't shot at your venue yet, that's okay—but see if he or she can provide images from a wedding at a similar space.
Lighting
One of the most challenging parts of a wedding photographer's job is finding and creating the best lighting. This will especially come into play if you're marrying in a darker setting with little natural light. Note if a photographer's samples look too dark or too bright. Even if the photographer is working in a setting with a difficult lighting situation (such as a church that doesn't allow flash photography), he or she should be able come up with creative solutions.
Poses
You'll likely see some posed images among the wedding photography samples. Do the couples and their families look natural in the posed shots, or do they seem awkward and uncomfortable? Even if a couple or their families are uncomfortable in front of the camera, a photographer should find ways to help them relax to create flattering images. Pay special attention to how a photographer captures images of parents and grandparents, who may have a harder time posing.
Expression
This is an easy one—do the couples pictured actually look happy? One of the most important criteria for a wedding photographer is personality. If you feel comfortable and actually enjoy being around your photographer, you'll look that way in your photos. Your wedding photographer should also understand you and your partner's personalities. If you're not super into PDA, your photographer shouldn't try to convince you to stage a make out session for a photo. If the couple in a photographer's samples looks uncomfortable or awkward, it might not be a good sign.
Post-Production
A big part of a photographer's role happens after the wedding day. Photographers use post-production to make subtle touchups to the photos to bring out the best in each shot and minimize flaws (for example, edit out a small stain on a wedding dress or a bug on the groom's shoulder). Some photographers edit photos to appear dark and moody or light and airy, which can be appealing if you like that style. For the most part, however, you shouldn't be able to tell that wedding photos have been edited—everyone pictured should just look good.
Personality
Bottom line: You should be able to picture yourself in a wedding photographer's samples. If a photographer shares pictures of couples in sexy and dramatic poses and you and your partner are pretty laid-back and kind of silly, be realistic: Would you really feel comfortable draped dramatically over a chaise lounge giving a smoldering stare? If you love the idea of high fashion photography, go for it. If not, this might not be the photographer for you. Fortunately, there are plenty of photographers out there, so you're bound to find one that shares your vision.