What Does RSVP Stand For?
Something in French, right? We've got the full scoop on exactly what the letters RSVP stand for, plus everything you need to know about those pesky little cards.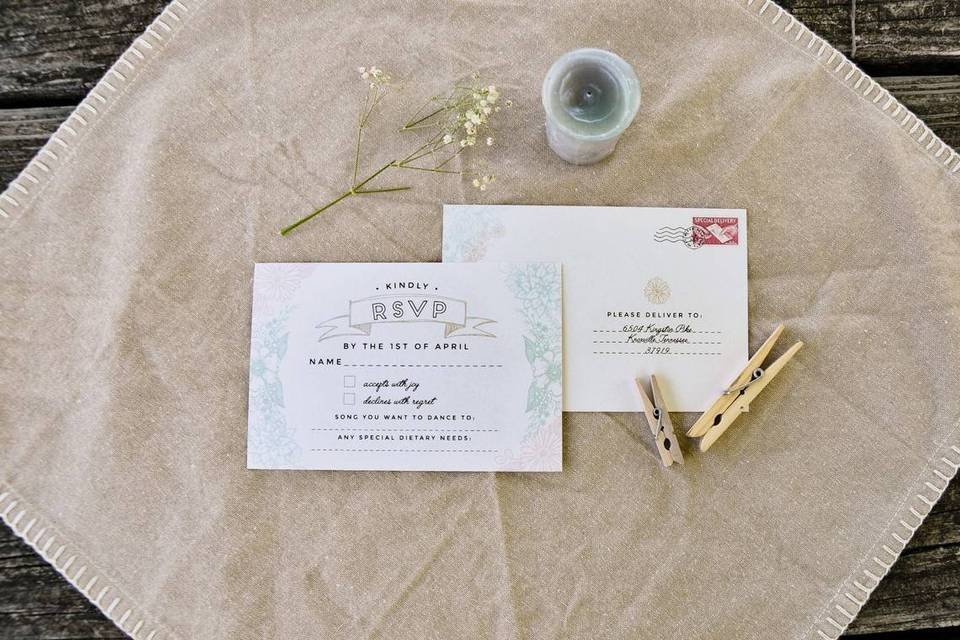 If you're in the midst of wedding planning, you might feel like you're learning an entirely new language. Previously unknown words like boutonniere, fondant, and appliqué may become part of your everyday lexicon. But there are four oft-used letters that may have you stumped: What does RSVP stand for? You've likely seen the letters RSVP on wedding and other more formal invitations before and perhaps never gave them a second thought—probably something to do with responding, right? Well, now that you're working on your own wedding invitations, you're ready to learn more about this abbreviation and what the whole RSVP concept means. Well, we've got the definition and history of RSVPs as you gear up to create and send your own wedding invitations.
So, what exactly does RSVP stand for?
As you may have guessed, RSVP is an acronym of a French phrase: "Répondez s'il vous plaît", translated into English as "please respond". Basically, it's a pretty and more formal, if old-fashioned, way of saying "get back to us as soon as possible". It is technically a verb ("I will RSVP to your wedding when I get a chance." or "He RSVPed on time."), but is also used as a noun ("She sent back her RSVP.") and an adjective ("Please send back your RSVP card."). Even though the RSVP abbreviation is frequently used on American wedding invitations, as well as invites for more formal events, like birthday parties, galas, and more, it's actually not used much in France anymore—it's considered a bit dated.
What is the history of the RSVP?
Ever since the 11th century, French was considered the language of the upper class in England, so phrases like "répondez s'il vous plaît" were commonly used. So when the British colonized America, such French expressions were brought over and used among the wealthier elite, eventually becoming part of the lexicon, similar to avant-garde, déjà vu, faux pas, and more. Bottom line: People like using the acronym RSVP because it just sounds fancy.
What are RSVP cards?
Otherwise known as reply cards or response cards, RSVP cards are separate inserts that are included as part of a wedding invitation suite. They usually match or complement the design of the invitation and often come with their own pre-addressed and stamped envelope so that they can be easily returned to the event hosts. Nowadays, postcard-style RSVP cards, a less-expensive alternative, are trending.
For more informal events, like birthday parties, bridal showers, engagement parties, and more, RSVP cards aren't necessary. A host's email address or phone number may be printed on the invitation itself, so that guests can RSVP directly. There are also some invitations that read "RSVP, regrets only," which means that if the guest is assumed to be attending the event unless they reply otherwise.
What's included on an RSVP card?
An RSVP card can be designed in several ways. Traditionally and perhaps more formally, an RSVP is left mostly blank, with a headline that reads something like "The favor of your reply is requested before [date]" or "Please reply by [date]". The wedding guest is then expected to write their name, whether or not they can attend, and a message to the hosts.
Nowadays, RSVP cards are formatted in a more "fill in the blank" style template. The headline may still read "Kindly respond by [date]" or "Please RSVP by [date]", but instead of an entirely blank card, there are printed fields for a guest to fill out. First is a blank space for the guests to write their names, along with the names of any additional guests or plus-ones. Then, there may be options for guests to check off whether or not they can attend. These fields may read: "Happily Accepts" and "Regretfully Declines", though more creative language may be used. There may also be a field for the number of guests attending.
Some event hosts may also choose to include other fields on their RSVP cards, such as having guests select their dinner entrée in advance, share where they'll be staying during the wedding weekend (this is useful so you can properly distribute welcome bags), or even request a song to be played during the reception. But really, the main goal is to find out exactly who will be attending your event.
*Pro Tip: Many couples and event hosts give each guest a number and write their corresponding number lightly in pencil on their RSVP card. This is done just in case the invitee forgets to write their name on their response. While this isn't entirely necessary, it's an extra failsafe so you're not scrambling to figure out which RSVP belongs to whom.
Why are RSVPs important?
RSVPs give an event's host and vendors an accurate head count in advance of the big day. For a wedding, this is particularly important so that the couple can let their caterer know how many people to expect (and if their guests have chosen their dinner entrees in advance, how many meals to make). The couple can also use this information to create their seating chart and escort cards, figure out how many favors to provide, and more.
When should the RSVP deadline be?
A wedding invitation is typically sent out about six to eight weeks before the event. Guests should be expected to return their RSVP card three to four weeks before the wedding. If invitees do not reply within the expected timeframe, the couple (or their family members) will need to follow up with a phone call, email, or text so that every person is accounted for. While there may very well be no-shows or unexpected attendees on the actual wedding day, the RSVPs should provide the event hosts with a very close approximation of the final head count.
Do I really need RSVP cards? Are there any alternatives?
While most wedding invitations these days include an RSVP card, online RSVPs are becoming much more commonplace. They're certainly a more eco-friendly option, and you don't have to worry about them getting lost in the mail. Many wedding website platforms (like WeddingWire's) offer an online RSVP system that syncs with your guest list, which makes the process streamlined and organized.