The Top 35 Wedding Questions Your Guests Will Definitely Ask You
Congrats! You're engaged! As the big day approaches, these are the wedding questions you'll want to have answers for at the ready.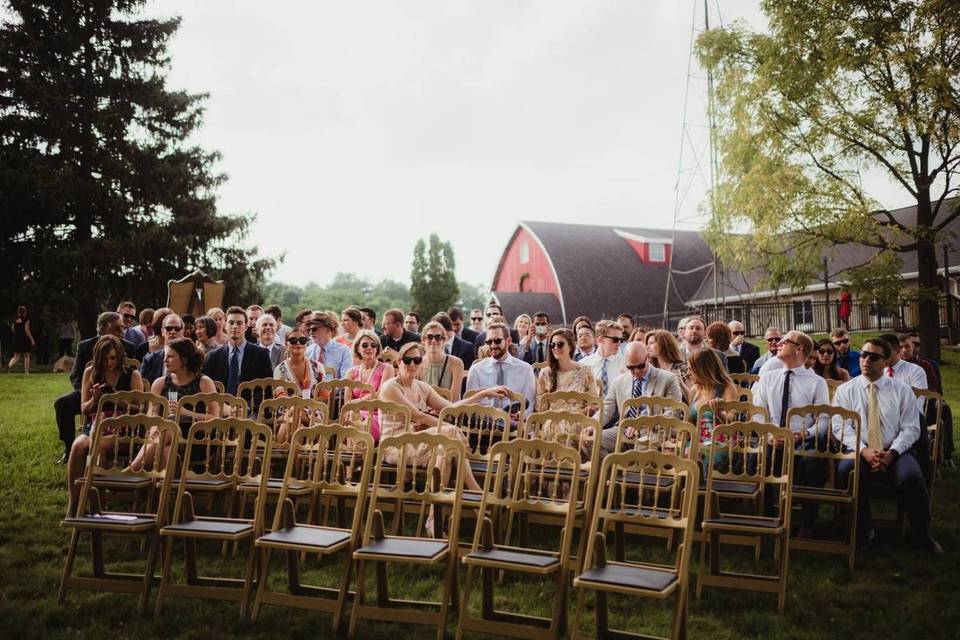 What's one of the most time-consuming wedding planning tasks that no one ever talks about? Answering your guests' (many) questions related to your big day! Yes, there are lots of wedding questions you'll receive via text, email, phone, Instagram DM, and in person—so you'll need to prepared to answer 'em! The easiest way to answer all of your family and friends' queries is to include an FAQ section on your wedding website, featuring a list of questions you're hearing often, along with your answers. Here's a list of the wedding questions you'll probably hear over and during your planning process.
1. When's the wedding day?
Pretty much the minute you announce your engagement, you're going to start hearing this wedding planning question. If you're not ready to answer, you can simply say: "We're just enjoying our engagement right now, but when we have something to announce you'll be the first to know!" You can also give a general season or year if you don't have a set wedding date yet.
2. Am I invited to the wedding?
Hopefully, the answer to this wedding question is yes so you can say "Of course!" and move on. But if the answer is no (first of all, awkward), then you can say "We're keeping our wedding guest list small because of budget/venue size/coronavirus restrictions. We wish we could've invited all of our loved ones!"
3. Who's in the wedding party?
This can be another tricky question, particularly if the person asking was not selected to be among your bridesmaids, groomsmen, bridesmen, groomsladies, etc. You can say something similar to the above, such as "We've decided to have a small bridal party, as our wedding budget is super tight right now."
4. What's your budget?
Say it louder for the people in the back: How much you're spending on your wedding is no one's business. If someone has the audacity to ask about your wedding budget or anything pricing related, tell them: "I'm really not comfortable talking about our budget, sorry."
5. Which wedding venues are you considering?
Yes, people will actually ask these types of inside-baseball questions, possibly because they want to comment on your wedding ideas and vendor selections. You can, of course, answer this question honestly—but just be prepared for your friend/family member's "helpful feedback". If you'd prefer not to share every little detail about your planning process, you can just say: "Oh, we're looking at a lot of the modern/rustic/ballroom/country club wedding venues in the area."
6. Why did you decide to host your wedding there/hire that wedding vendor?
For some odd reason, there are people who just love to poke holes in your wedding plans—and this question is an entry point into a critique. You don't owe anyone an explanation, so just say: "We think [venue/vendor] will be a perfect fit for our wedding day—thanks for asking!"
7. What's your color palette?
When you're planning a wedding, you'll find that some people want to know every single detail of the big day before it happens. What's the fun in that? There are some aspects of your wedding that should be a surprise—and that can include your wedding color scheme. You can tell the question-asker: "You'll just have to wait and see—at least until the wedding invitations are out!"
8. What's your wedding website address?
This is actually one of the most important questions you'll be asked, because once you have a wedding website set up, it will hopefully answer most of your guests' future queries! Make sure you include your website's address on your save-the-dates and other correspondence with your guests so they can check it before reaching out to you with additional questions.
9. What time is the wedding ceremony?
Queries about timing will certainly be among most-asked wedding questions you receive—don't be surprised if you get a few frantic texts the morning of your wedding. Even if you put the ceremony and reception times on your wedding invitation, website, etc., some guests won't get the memo. For those morning-of-the-wedding questions, simply hand your phone to your wedding planner or bridesmaid or groomsman to handle!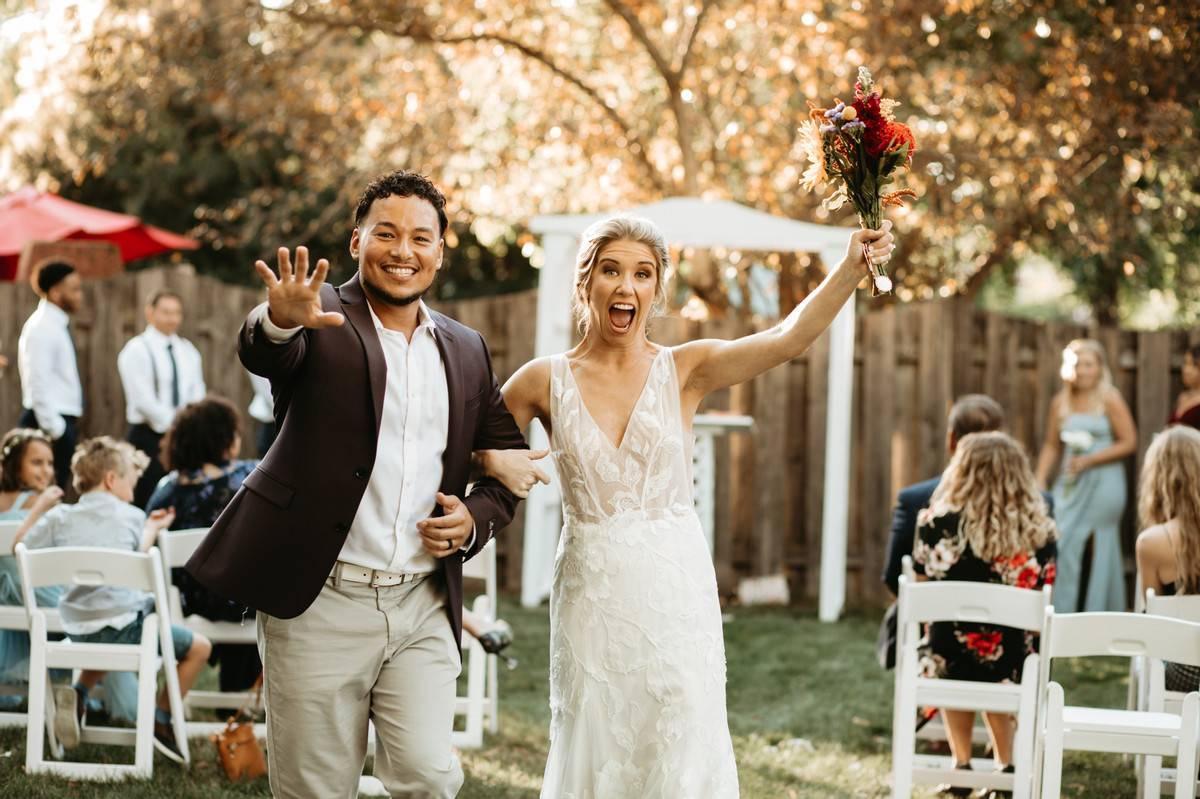 10. Where should I stay?
If you're hosting out-of-town guests, we highly recommend booking room blocks at a few hotels near your venue—and including this information on your wedding website. This way, your guests will know exactly where to stay and you can more easily arrange transportation, welcome bag delivery, and more.
11. What do you want as a wedding gift?
This is why setting up a wedding registry (and including it on your website) is crucial!
12. Can I bring a plus-one?
The plus-one debate is a tricky wedding etiquette topic. Our recommendation? If a wedding guest is in a serious relationship, they should definitely be invited with a guest. And if you're just inviting a few single guests, it's a nice idea to invite them with guests if your budget allows. However, if you're inviting a lot of single, unattached folks, you don't have to invite them with plus ones. If the guest asking this question is in a serious relationship, then you should give them the plus-one. But if not, you can blame your venue's capacity and/or budget.
13. Can I bring my kids?
Similar to the plus-one issue, you'll need to make a rule and stick to it. If you're saying "no kids", that means no exceptions (except if you're including a flower girl and ring bearer). Make sure your invited guests are clearly listed on your wedding invitations—but it's likely that someone will ask this question anyway. You can tell anyone who asked: "Unfortunately, for budget/capacity/safety reasons, we won't be able to accommodate any children."
14. Which airport should I fly into?
Another wedding question that can be easily answered with a solid travel section on your website. Be sure to include information about the best ways to get to your wedding location (airports, train stations, etc.) so that your guests can plan accordingly. Some airlines will even provide group discounts if a lot of your guests will be traveling on the same route.
15. Where am I sitting at the reception?
If you're already created your seating chart, we do not recommend giving your guest their table assignment in advance. Your guest may not like where you've seated them, and try to switch their table. Instead, just say something vague like: "We're still working on it!" However, if you're planning your wedding reception tables based on coronavirus safety precautions and seating guests with their households, it is totally okay (and actually a good idea!) to let your guests know about their table grouping in advance to avoid any confusion.
16. Where's my wedding invitation?
There's always someone who doesn't receive their wedding invitation due to a change of address, wrong address, or postal service snafu. If a guest mentions that they haven't received their invitation, send them a new one ASAP (this is why ordering a few extra invites is crucial!). If the person is not invited, see question #2.
17. What are you wearing?
Whether you're donning a wedding dress, jumpsuit, tux, suit, or other attire, your guests are going to want to sneak a peek before the big day. Don't feel forced to show anyone your attire in advance and you can simply say (with a smile): "It's a surprise!"
18. What should I wear?
This may be the most-asked wedding question you'll receive. Whether or not you include a dress code on your invitation your guests will still likely have questions—or text you outfits for your approval. You might consider including a rundown/definition of your wedding dress code on your website to help guests pick an outfit (and avoid receiving this question a zillion times!).
19. Do I have to wear a tux?
If you're hosting a black-tie wedding, then the answer to this question is "yes". But if your wedding dress code has some flexibility, then you can tell this guest that while you certainly can wear a tuxedo, you don't have to. Be sure to provide other options such as a dark-colored suit and tie, so the guest knows what to look for.
20. Have you picked out your first dance song yet?
Your first dance song should be kept a secret until your wedding reception—the surprise is part of what makes the moment so magical. And you don't need any unwanted feedback on your song choice. To answer this question, coyly say: "It's a surprise—and I can't wait for you to hear it!"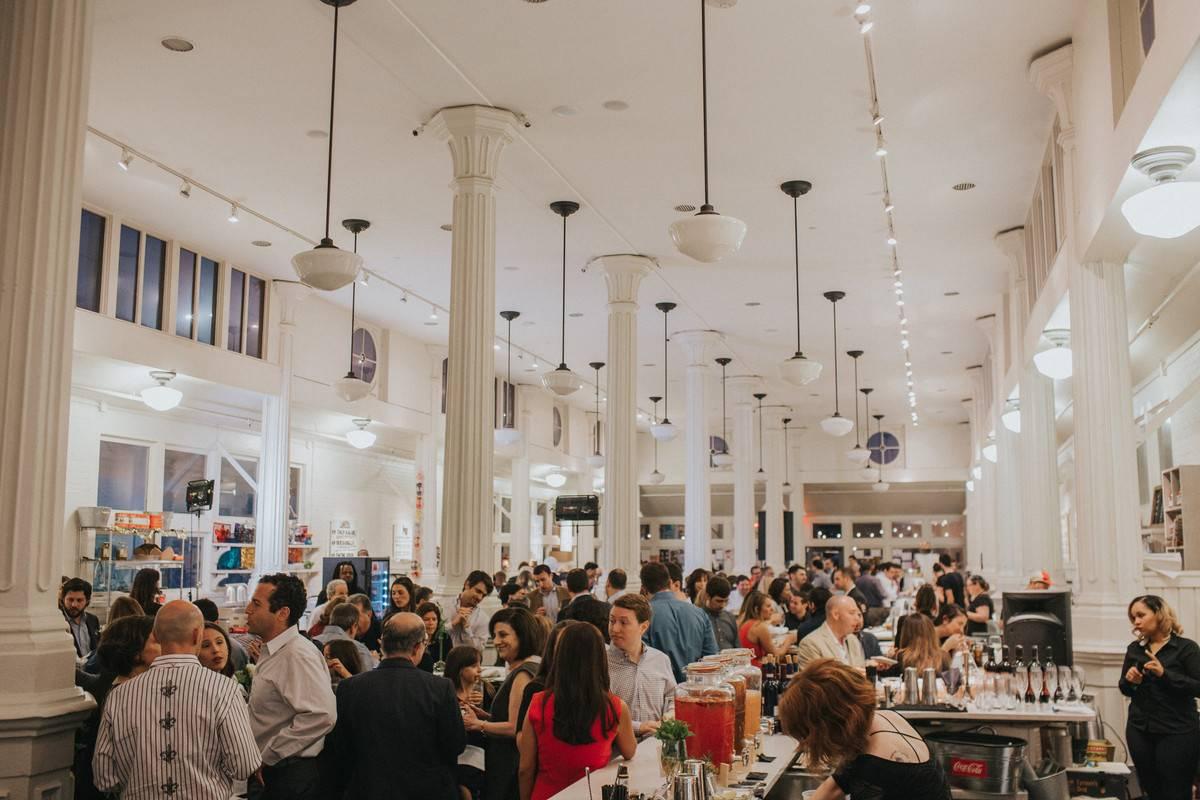 21. Aren't you so stressed out about wedding planning?
The best answer to this gem? "I wasn't until you asked me about it!"
22. Are you having an after-party?
If you're having an after-party, all of your guests should be invited. Be sure to include information about a planned after-party on your wedding website (unless it's a spur-of-the-moment thing where you and your guests decide to hit the hotel party after the reception!).
23. What hors d'oeuvres are being served during cocktail hour?
You're not required to give your guests a full menu rundown—that's between you and your caterer! If you'd like to share a few menu items to appease your wedding guests, that's totally okay though—particularly if they're concerned about dietary restrictions and/or allergies.
24. Am I invited to the shower/bach party?
The great thing about these pre-wedding parties is that you're not responsible for planning 'em! Any questions regarding the bridal shower, bachelor and/or bachelorette party can be referred to those who are planning these events—usually the maid of honor and best man.
25. Am I invited to rehearsal dinner?
Rehearsal dinner etiquette is a little tricky. Some couples opt to invite most or all of their guests to the rehearsal dinner, while others keep the guest list just to the wedding party and immediate family members. You can certainly be honest with your guest, if they're not invited, and just say: "We're keeping the rehearsal dinner small for budget/venue capacity reasons." Yes, you'll likely be giving this answer a lot throughout your planning process.
26. Are you having a morning-after brunch?
Again, you do not have to invite everyone to your morning-after brunch (if you're having one!). It can be kept super-intimate (just wedding party and immediate family), or you can also include those who have traveled to the wedding, or you can invite the whole gang!
27. Will there be a vegetarian/gluten-free/dairy-free option for dinner during the reception?
Your guests with dietary restrictions and allergies will likely be feeling some stress and anxiety in the weeks leading up to your wedding wondering the answer to a simple question: "Will there be anything for me to eat?" We recommend including a field on your RSVP card asking guests to include any of their dietary restrictions and/or allergies. You can share this information with your caterer to ensure that everyone can enjoy a delicious (and safe!) meal at your reception.
28. I forgot your wedding hashtag, what is it?
Try to make sure you include your wedding hashtag on any wedding-related social media posts so your guests won't have to ask this question. You might also include some signs throughout your wedding venue to ensure everyone has your hashtag handy.
29. Will there be an open bar?
You might think is an annoying wedding question, but it actually makes a lot of sense—guests want to know if they'll need to have cash on hand! We do recommend having an open bar if at all possible—even if that means limited the drink selection to stay within budget.
30. What safety precautions will you be taking at your wedding?
If you're getting married in the time of coronavirus, you'll likely get this question a lot, so be prepared to answer it. Including a COVID-related FAQ section on your wedding website is a good idea, so your guests can find all the answers to their safety-related questions in one place. And we do recommend sending your loved ones a safety email before your wedding day so they know exactly how things will look and the precautions you're taking.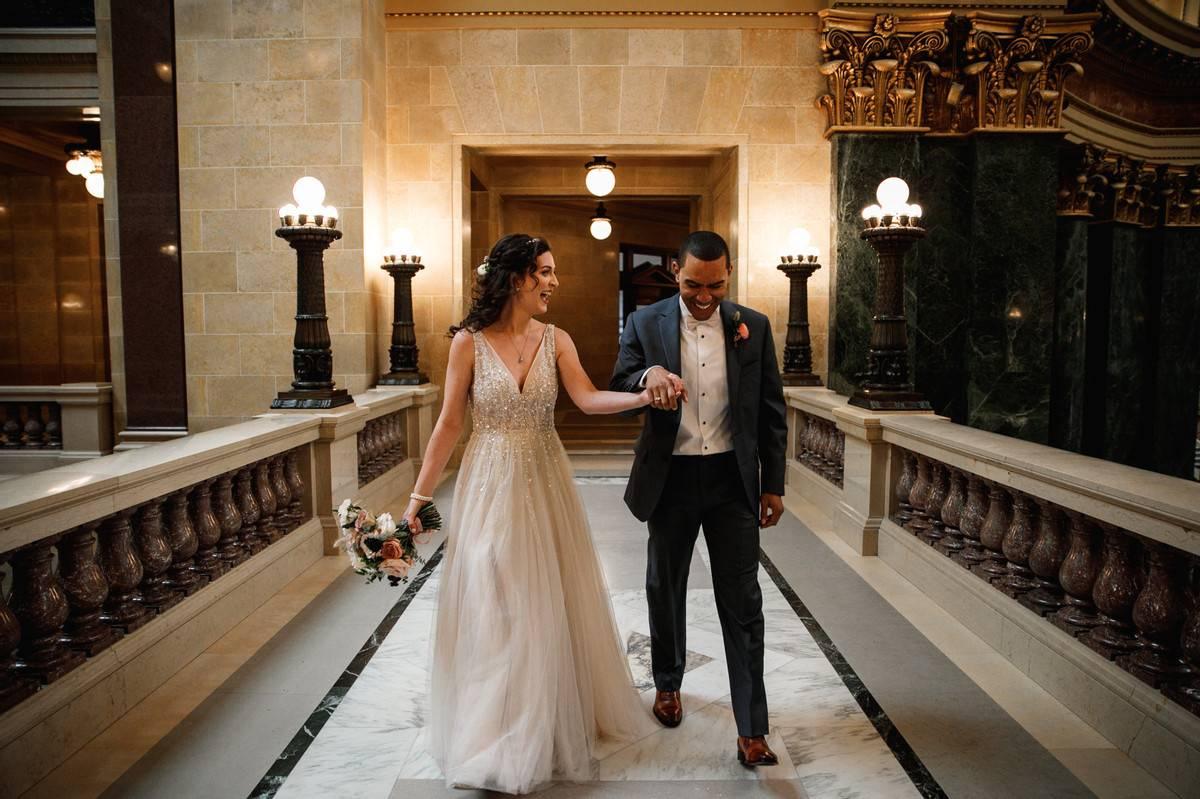 31. Can I request a song?
You'll want to talk to your DJ or bandleader about whether or not song requests will be allowed. Some music pros like them, others prefer to work with their own playlist. If you and your DJ/bandleader are okay with requests, you can ask for them in advance on your RSVP cards or wedding website so you can edit the list and share with your DJ. The most important thing is that your guests hit the dance floor!
32. Can I DIY this wedding-related item for you?
Unless your friend or family member is skilled in this area, we recommend leaving any wedding-related projects to the professionals.
33. Are you doing a first look?
People have their own opinions about whether or not a first look is a good idea ("It breaks tradition!" or "It saves so much time!"). But once you and your partner (in conjunction with your wedding photographer) have made a decision, hold firm.
34. Can I get you something that's not on your registry?
There's a reason why you have a wedding registry—so that you know you'll like your gifts! However, some guests might want to buy you something off-registry, and it's kind of hard to tell them no. Be gracious about any gift you receive, whether it's from the registry or not. "I'm sure we'l love it!" is the best response here (even if it's not entirely the truth).
35. How late does your wedding reception go?
Yes, your guests will want to know when your wedding begins, but they'll likely want to know the end time as well. If your wedding extends until the wee hours of the morning, expect your older guests to head out early. You can also provide transportation to keep your guests safe—just make sure you start running shuttles an hour or two before your reception's official end time so guests who need to leave early can do so.