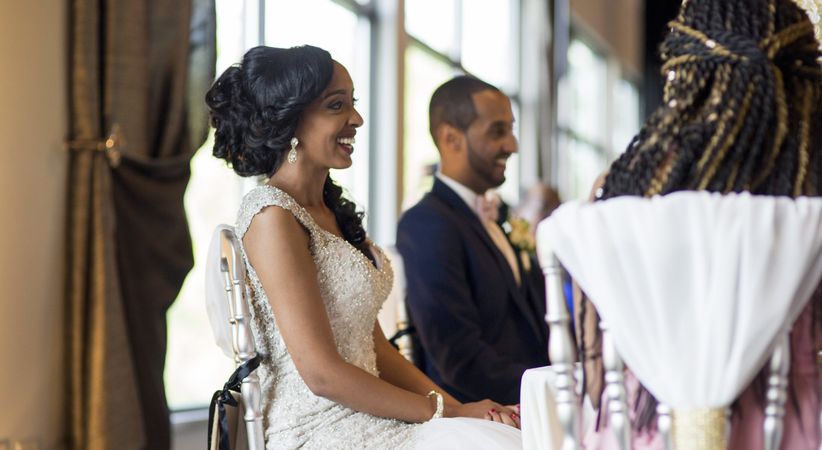 Photo: Bellagala Photography
As you plan your wedding, you'll likely receive a whole host of questions from family members and friends. Below are a few we're guessing you never want to hear again.
What time is the ceremony?
Where should I stay?
Use WeddingWire's hotel blocks to avoid hearing this question again »
What do you want as a wedding gift?
Point them in the direction of your registry »
Am I invited to the shower / bach party?
Can I bring a plus-one?
Our guest list guide has your answer »
Which airport should I fly into?
Where am I sitting at the reception?
Our seating chart tool can help you figure that out »
Am I sitting with [insert guest's name here] at the wedding?
Have you picked out your first dance song yet?
If you haven't, we can help with that »
Aren't you so stressed out about wedding planning?
Are you having late-night food?
Take our quiz to find out what you should serve »
When should I book my flight?
Photo: Swatch Studios
Are you having a welcome party?

Are you having a morning-after brunch?

Will there be a vegetarian option for dinner during the reception?

I forgot your wedding hashtag, what is it?
Create yours using WeddingWire's hashtag generator »

How do you fill out the reply card?

Can I wear X to your wedding?

What does "black-tie optional" mean?
Find out what each guest dress code means here »

Do I have to wear a tux?

What kind of alcohol will be at the reception?
Check out our tips if you're having an open bar »

Where are you having your rehearsal dinner?

Are you doing a first look?
Take this quiz to find out if you should »

Can I get you something that's not on your registry?

How late does your wedding go?