How to Tell Your Guests "No Kids" Without Offending Anyone
Telling your guests "no kids a the wedding" can be tricky, but you have to stand firm. Here's how to communicate your policy clearly (but politely).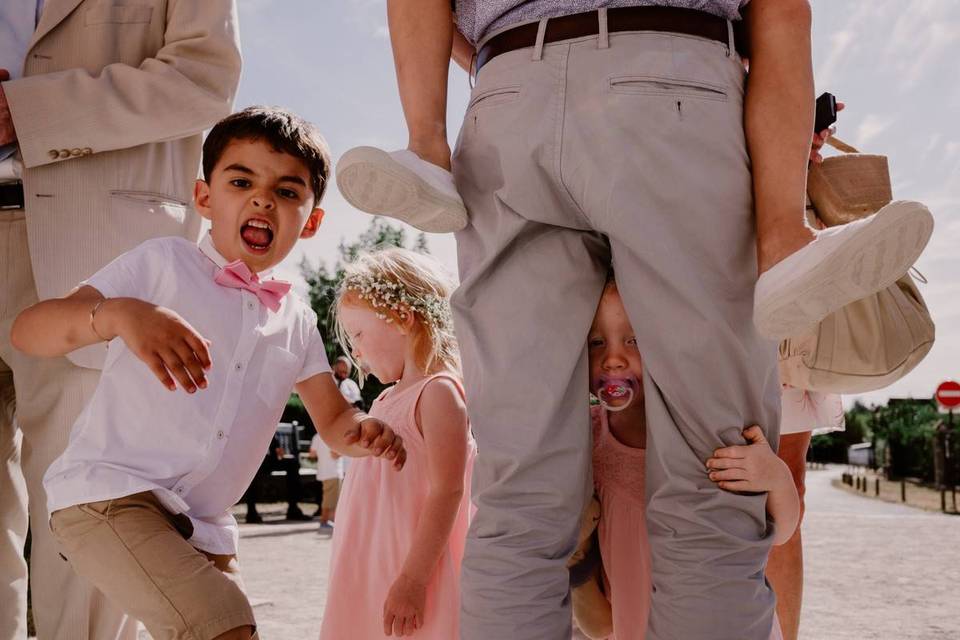 One of the more hot-button topics couples discuss in preparation for their big day is whether or not to invite kids. Many believe that a wedding is an adults-only affair, but others feel strongly that the guests who have young children deserve the freedom to decide on their own whether to bring their kids or find a sitter. The issue becomes even more complicated when close family or friends are involved. Often, these young children mean quite a lot to the couple getting married, so they may choose to include them in their big day.
There are several reasons for opting for no kids at your wedding. The most common reason is that it often places pressure on an already-tight budget. "If the couple is working with limited funds, then needing place settings and food for additional people (no matter their age) may not be possible—and eliminating children from the guest list is probably the easiest cut to make in that situation," says Leah Weinberg of Color Pop Events in Long Island City, New York. Sometimes it's as simple as the couple doesn't want to deal with the distraction most young children can cause, especially babies. "Whether it's a baby crying during the ceremony or a toddler running around during the best man's giving speech, a couple has every right to want to eliminate that from their day," Weinberg says.
While it might seem like an offensive thing to say on an invitation, a "no-kids at the wedding" policy is often appreciated, as it gives family or friends with small children an excuse to get a sitter and enjoy a night out as a couple. So how do you go above telling your guests that there will be no kids at your wedding? Keep scrolling to see what the experts say.
Inform close family members of this policy.
Make sure your immediate families know of your "no-kids at wedding" policy as soon as you've made the decision so that they can share that information with anyone they've invited. "If you have friends that have kids, be proactive and have the conversation with them early on that unfortunately they won't be able to bring their kids," says Weinberg. "Give them as much time as possible to make arrangements for childcare."
Address the invitations clearly.
The invitation should be addressed only to those invited, not every single person in the household. For example, "Mr. & Mrs. Peter Smith" instead of "The Smith Family." This drives home the message that their children are not mentioned, and therefore not invited.
Give guests the 411 on your website.
Etiquette expert Thomas P. Farley, a.k.a. Mister Manners, recommends that your wedding website include a brief mention of the fact that there will not be children at the reception so that guests are informed in advance. If you hold back this information, it could confuse guests and prevent them from coordinating a sitter in time.
Stay firm on the "no kids at wedding" rules.
A "no-kids" policy at your wedding needs to be an all-or-nothing rule, says Danielle Rothweiler of Rothweiler Event Design in Verona, New Jersey. "Where many couples get in trouble, is they invite those closest to them with their children, or have flower girls and ring bearers," she says. This can quickly hurt the feelings of well-meaning guests who made sacrifices in order to be a part of your big day. "You must be consistent and not make exceptions here and there," adds Farley. Otherwise, you're sure to hear some complaints.
Be as understanding as possible when guests bring it up.
Even though you might not be a parent yourself, it's important to have empathy for those who are parents. It's not always easy for them to part with their children, especially when they're so young, so maintain your composure and explain in a nice way why you have this policy. "Explain that, as much as you love their children, due to the large number of youngsters who could potentially have been on your guest list, you had to make some tough decisions, which included not having children in attendance," says Farley.