11 Questions Every Newly-Engaged Couple Has
We're here to help answer the questions spinning around in your head so you can actually enjoy your engagement.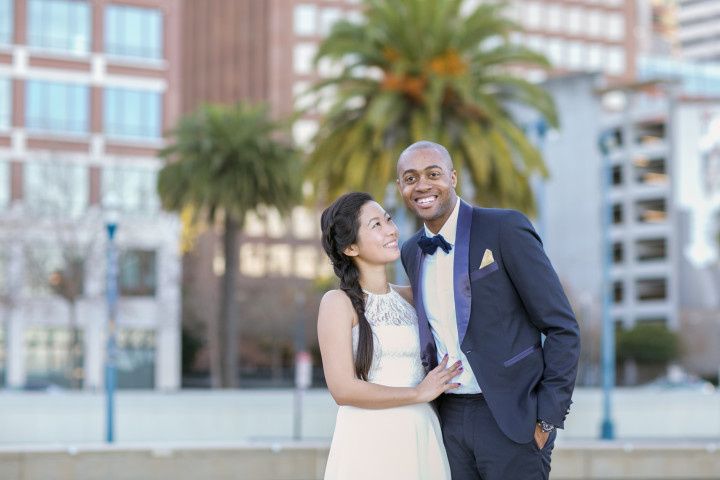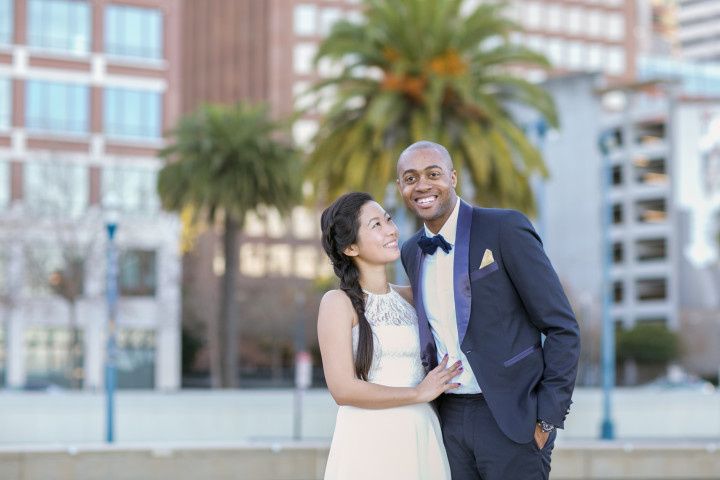 Photo: Ashley Paige Photography
After you've celebrated your #justsaidyes moment, it may seem like everyone from co-workers to your third cousin is hounding you about everything wedding related.


Who should we call?
Life would be a lot easier if your nearest and dearest all lived within a one-block radius of you so you could simply walk out your front door and shout "I'm engaged!" Unfortunately that's probably not the case and you'll need to make at least a dozen phone calls to friends and family to deliver the happy news (it's not the worst story to tell over and over!). It's best to divide and conquer on this one: your S.O. will tell their family, you'll tell yours, and then team up to call mutual friends. There's no need to do it all at once—stop and have a glass of champagne in-between calls!

How careful should I be with my engagement ring?
Our motto is to be better safe than sorry with this one, especially when you first get your ring. Chances are it won't fit you exactly right so you should get it resized as soon as possible. We also recommend getting the ring insured right away.

What picture should we post on social media?
One of the major dilemmas every newly-engaged couple faces in this day and age: what picture should we Instagram? Should we make a silly face or let the ring speak for itself? Should we put up the picture of the actual proposal even though we have our best Kim Kardashian cry faces on? Whatever you end up going with, make sure to hashtag #justsaidyes with your photo. You could be featured on WeddingWire's Instagram! And here's some more insider info on how to share your engagement on social media.

How do we even start planning our wedding?
As much as you wish your wedding Pinterest board would magically come to life exactly the way you've always dreamed, it requires a little more work to bring the day together. We recommend you first set a budget, find a venue, hire a planner, and make your guest list before doing anything else. Consult our vendor booking timeline for what to do next and use WeddingWire's free checklist tool to manage and assign tasks.

How do we decide on a budget?
First, you need to determine who will be paying for the wedding. Are you and your S.O. footing the bill yourselves or are either of your parents willing to help you out? Have an honest conversation with them and ask if they'd be able to contribute anything. Once you get that sorted out, it'll be easier to decide on an exact number to adhere to. Consider the size of your guest list as well: the more people you invite, the more money you'll spend. And don't forget to use WeddingWire's budget tool to keep track of your spending.

Where should we get married?
Is there some location where you've always dreamed of getting hitched? Do you and your S.O. have a meaningful place where you first said "I love you" or where you spent an anniversary? Are there certain members of the family that can't travel but it's essential that they be there? Ask yourselves these questions when picking a location. If you've got the city or town down pat but can't decide on a venue, consider the capacity limit, style, and price to help you narrow it down.

How do we set a date?
This may largely depend on the availability of your venue if you have your heart set on a specific place. Think about what season you want to get married in (if you can't decide, take this quiz). Consider the major life events of the close friends and family you're inviting (e.g. someone's due date), as well as major holidays.

Can our pet be in the wedding?
Being the avid animal lovers that we are here at WeddingWire, we say definitely include your pet if you want to (and if your venue is okay with it). It adds a personal touch and they're sure to be a crowd favorite. Check out all the ways to incorporate them here.

Who the heck should we invite?
The never easy feat of creating the guest list. First things first, find out what your venue's capacity limit is. Don't over-invite people assuming some won't come, because if they do then you're in trouble. Think about family members and friends you still keep in touch with. Decide on a rule about plus-ones that makes sense for you and apply to all of your guests. Here are a few things to consider while making the list, and don't forget to use WeddingWire's guest list tool to help you out!

How do we decide who should be in our wedding party?
Think about your wedding party in direct proportion to the number of guests you plan to invite. If you're having an intimate wedding, a wedding party with 12 bridesmaids and groomsmen seems a little backwards. Think about your S.O.'s siblings and your close friends and family members who've always been there for you. Here are a few more tips on picking your wedding party.

How early is too early to go dress shopping?
The answer is never! Feel free to start shopping shortly after you get engaged. The earlier you shop the more time you have to look around and make any alterations without worrying if the gown will arrive on time. Here are a few other reasons to shop early for your gown.