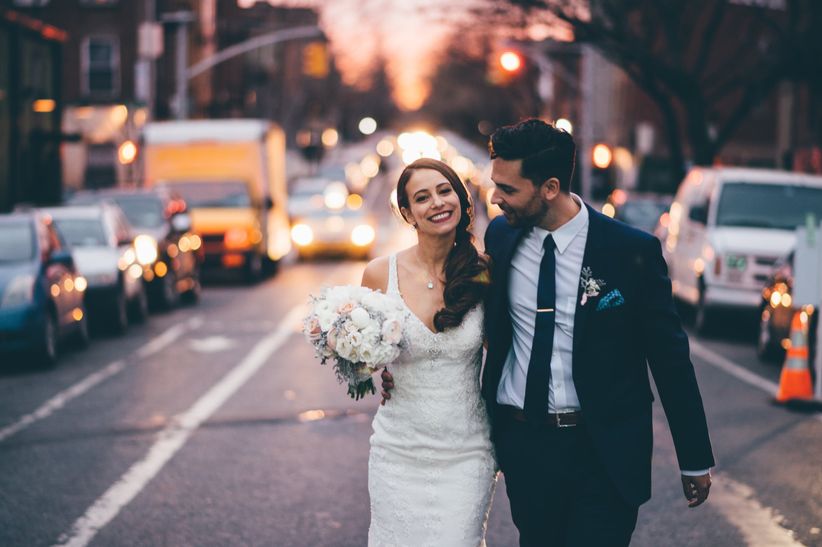 Photo: Bryan Sargent Photography
While some couples choose to wait many months before getting married, some couples want to get married, like, now. Sticking to a 3-month wedding planning timeline is entirely possible (4 percent of couples do it!)—if you're able to stay organized and be flexible in your decision-making. Since time is of the essence, let's get started.


Here's a 3-month wedding planning timeline to help get things moving!
Get the basics out of the way
-
Set your date
(Consider marrying on a day that's not Saturday—you might have an easier time finding available vendors on an "off" day.)
- Set a
budget
- Decide on
your guest list
(When working with a 3-month wedding planning timeline, it's a good idea to keep your guest list as small as possible. This will make finding a venue and vendors much easier.)
Hire a planner
There are lots of reasons why
wedding planners rock
, but if you're working with an extremely quick timeline they're a necessity. Their inside industry know-how will be vital in helping you book vendors and get organized, stat.
Ask your wedding party
A helpful and understanding wedding party is going to be even more vital with a short planning timeline—so choose wisely! Try to set expectations as best you can as early in the process as possible, so everyone is on the same page.
Find a venue
When it comes to booking a wedding on short notice, we recommend
finding a venue
that's all-inclusive, meaning that catering and other services are handled in-house. Search
WeddingWire
to find venues that might be available, and don't forget more off-the-beaten path restaurants that have private rooms, parks, and community centers, too.
Create a vendor team
With a shorter wedding planning timeline, you probably won't have a lot of available vendors to choose from. Delegate some responsibilities to friends and family members to help you research and hire the following vendors:
-
Officiant
-
Photographer
and
videographer
- Music pros (
ceremony musicians
,
band
and/or
DJ
)
-
Hair and makeup pros
-
Florist
(try not to focus too much about sticking to a specific color scheme or décor style here—be as flexible as possible with your wedding vision and keep things simple)
-
Caterer
(if your venue doesn't offer catering—you may want to research restaurants who can cater events, too)
-
Cake baker
-
Transportation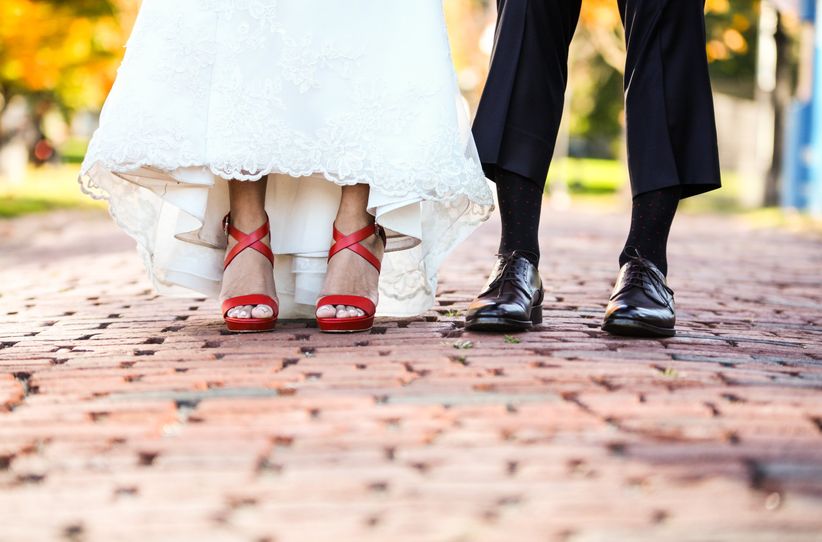 Photo: One Eleven Images
Shop for attire
You can absolutely find gorgeous wedding attire with a shorter wedding planning timeline. If you're looking for a wedding dress, check with bridal salons to see if they are having any sample sales, or research retailers that sell gowns off-the-rack (BHLDN, for example). If you're set on having the traditional bridal salon experience, be aware that you may have to pay hefty rush fees to order a wedding gown the "usual" way (call salons before you make an appointment to see if they can accommodate your timeline at all). As for suits and men's attire, you have a bit more leeway with timing, but it's best to shop sooner rather than later.

Set up registry
If you don't have time to get to a store and register, major retailers allow you to start your wedding registry online. You can always visit a store later on to see products in person.

Communicate with your guests
This is perhaps the most important step with a shorter wedding planning timeline. Make sure your guests are in the loop about your plans. Don't worry about sending a save-the-date through snail mail. Create a wedding website, and send the link to your wedding guests. They'll likely want to book travel and accommodations ASAP, so make sure you give them the heads-up on your plans.

Purchase wedding rings
Wedding rings are an important symbol of your marriage, so be sure to leave enough time to purchase ones you truly love (and want to wear all the time!).

Plan your honeymoon
We recommend taking some sort of honeymoon after your wedding day. It doesn't have to be a huge weeks-long adventure if your schedule and budget doesn't allow. Instead, plan a shorter "mini moon" that's driving distance or a short flight away, and save the big trip for a few months down the road.

Figure out the rehearsal dinner plan
Here's the thing—you don't have to have a huge rehearsal dinner. In fact, you don't have to have one at all. You can just plan an intimate dinner with just your immediate families and wedding party, or forgo the whole thing. If you'd like to go for it, planning a rehearsal dinner is a good task to delegate to family members.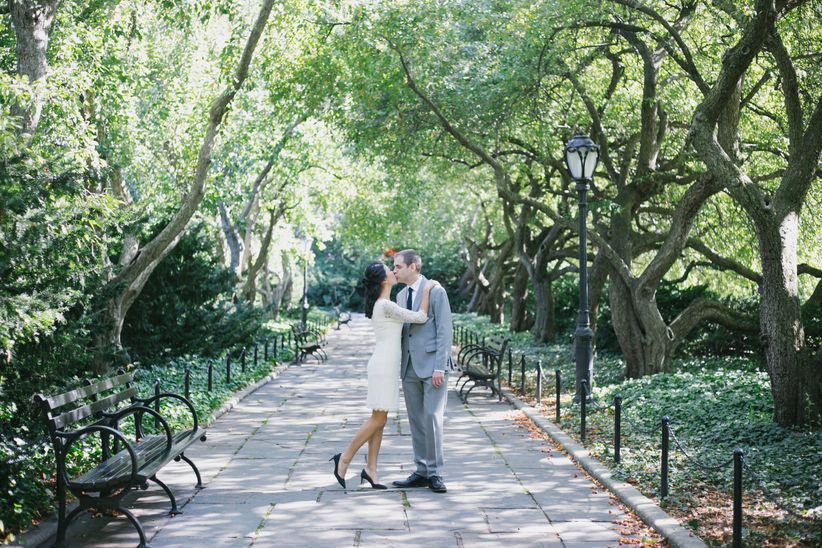 Photo: Olli Studio
Secure that marriage license
Make sure you and your partner understand your state's marriage laws—how long before your wedding you'll need to get it, if there are blood tests involved, how long it's valid for, etc. Without a marriage license, you're not actually married so…get on that.

Send out those invites
No matter how short your wedding planning timeline is, you should still try to send out your invitations about six weeks in advance to give your guests enough time to plan ahead. You may want to ask your guests to RSVP online through your wedding website to save time and postage.

Give a final head count
About two weeks before your wedding, you should have all of your RSVPs in. Provide your venue and caterer with a final headcount—and work on that seating chart if you're having assigned seating at your reception.

Confirm with vendors
A few weeks before your wedding, be sure to reach out to your wedding vendors to confirm all the details and be sure to provide all of your vendors with a wedding-day timeline to ensure things run smoothly.

Get married!
All that planning will surely pay off once you say "I do"—we promise! Enjoy your day and congratulations!