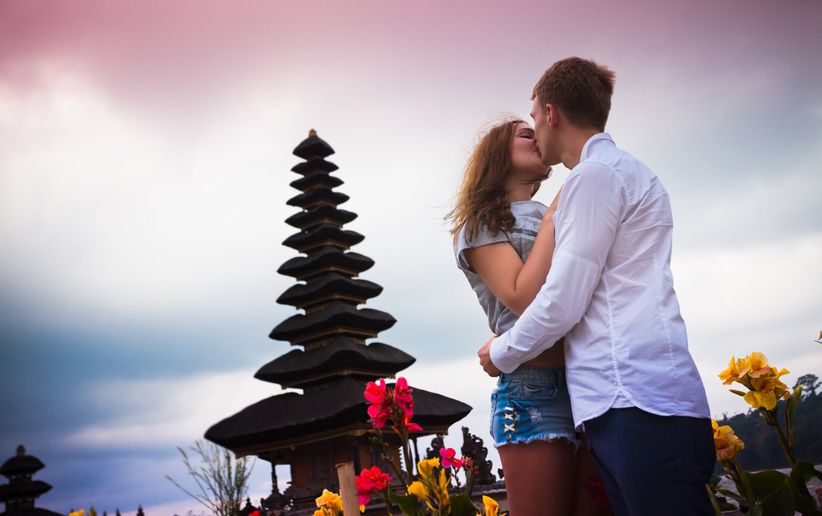 For late-spring honeymooners who made their relationship everlasting before the heat of wedding season begins, there are an endless slew of the best honeymoon destinations in May to choose from. However, if you want to indulge in privacy, savor uninterrupted romance and select a getaway that speaks to your unique relationship, it's important to look for regions that feature less crowds and specialized excursions.
From South America to the South Pacific, get inspired by the best honeymoon destinations in May.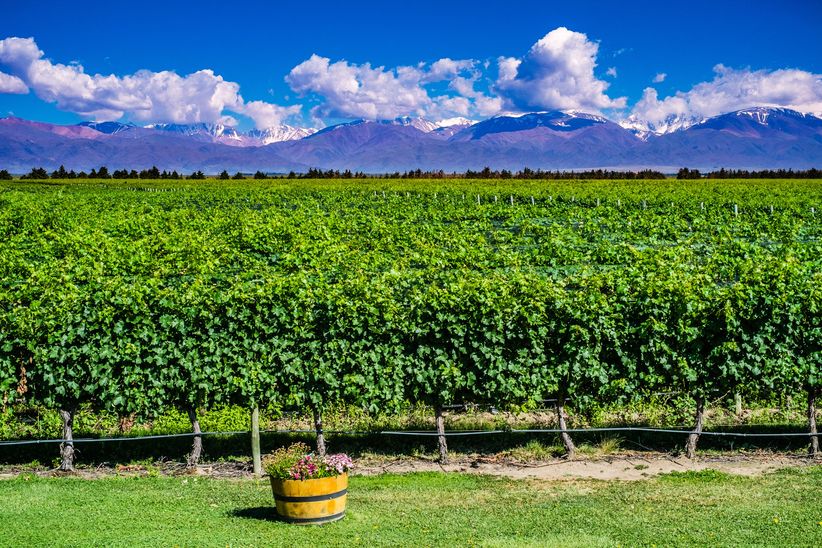 Mendoza, Argentina
If you'd skip the pina colada and getting caught in the rain to watch the sunset over the cascading vineyards with a full-bodied red in your hand, pack your bags and head to Mendoza, Argentina. You can begin your honeymoon getaway in Buenos Aires, soaking up the culture and chaos of this eccentric South American town before relaxing into marital bliss in wine country. Here, countless vineyards and wineries abound, many featuring one-of-a-kind pairings with melt-in-your-mouth Argentinian steak. If the food isn't enough to make you feel romantic, the soul of this warm, welcoming and sunshine-y country. Depending on how long you can skip out of the office, consider extending your stay to include a trip to the iguazu waterfalls, on the border where you'll be swept away by beauty.
Where to Stay: Since the most charming part of your honeymoon will be when you're a few glasses deep into wine, consider diving right into the local scene by staying at Casa de Uco, a vineyard estate and boutique resort. In the heart of the flavorful world of Malbec is the home of WTF Malbec Wine (short for 'Wednesday, Thursday, Friday') on a sprawling multi-acre property. Not only will you have more than your couple-share of vino, but you'll wake up to view of the Andes Mountains in the background. Romantic? For sure.
Bali, Indonesia
Truth be told, there's never a bad time to visit Bali—but it's certainly one of the best honeymoon destinations in May. With stunning beaches, sunsets you won't believe, warm weather and opportunities to visit a Balinese healer, rice paddy farms and more, it's an ideal escape for any adventurous couple. In addition to the affordable prices, Bali also has a slew of emerging restaurants and fitness options, allowing you to work out while you're celebrate your new marriage. From surfing classes and yoga by the Indian Ocean, your days can start with a vinyasa flow, include a Balinese healer and end with cocktails on a rooftop. While the end of the year features more rainfall, May features the same sunshine, with a little chance of precipitation.
Where to Stay: If it's important for you and your partner to shop locally, skip the chain resorts in Bali and opt for an Indonesian-owned property that offers a comprehensive luxury you'd hope for your honeymoon. At The Mulia, you can stay at the Mulia Suites, which overlook the ocean and feature a hot tub on your balcony and a soaking, freestanding tub in your bathroom. Or, if you'd like a bit more privacy for your post-nuptials vacation, splurge and book a villa that's tucked more into the jungle. Regardless of where you rest your newlywed heads, don't miss out on breakfast at The Living Room, where the endless options of food and thoughtful service will make you feel special. For a fancy we-just-got-hitched meal, book the chef's tasting at Soleil, where you surely won't be disappointed by the flavors. And since it is your honeymoon, reserve a day of TLC after all that wedding planning. After their recommended Balinese massage experience, you can infinity pools hop around the property, finishing with a quick paddle to their swim-up bar for a beer. Or four.
Kinosaki, Japan
Are you and your partner hoping to come home with even happier news from your honeymoon? And by happier, we mean a bundle of joy? Travel definitely changes once you become parents, so now is the best time to book those long haul flights to places you always dreamt of seeing, like Japan. As a sweet twist of fate, book a few nights where many local Japanese couples honeymoon in Kinosaki. A few hours from Kyoto by train, legend has it that an injured Oriental Stork flew to the natural hot spring onsens here and was healed, resulting in an everlasting supply of healing waters. Today, you can purchase a bell while you're here, signaling you'd like a stork to deliver the blessing of a baby to your marriage. Kinosaki is one of the best honeymoon destinations in May because you'll enjoy a slightly less crowded season, since it's right after the cherry blossom season in late April, and right before the hottest days of summer. After you've relaxed in the many onsens and sampled the local fare on your honeymoon in Japan, catch a short drive to the Kinosaki Onsen to go boating or lounge by Kai Beach.
Where to Stay: As a country that's committed to its culture and it's roots, staying in a traditional Japanese-style ryokan for at least a few nights is highly recommended for a couple who wants to truly experience this magical destination. Make sure you book ahead if you'd like a suite with a hot bath, since the top-rated property in Kinosaki — Nishimuraya — only has a few. Here, you can have the complete experience — from a chef's pairing meal with locally-sourced flavors to cuddling on the tatami mats at turndown — you'll be enchanted by the attention to detail at this resort. Don't worry if you miss out on one of the private bath suites though, since their sister property offers a private onsen experience for couples, too.
London, England
Though you might not instantly think of honeymoon passion when you imagine London, with the right itinerary — and ahem, attitude — this European standby can be a charming getaway. Since it's not too far from the East Coast, you can head to London right after your May nuptials, when rain and sweltering heat are far away. Instead, you'll enjoy mild temperatures as you tour through Westminster Abbey, pick up a gift at Harrods, walk across London Bridge, nibble on local foods at Borough Market and cheers to your marriage at sunset at The Shard. With an active nightlife, easy access to nearby countryside towns like Bath and friendly Brits, you'll feel comfortable away from home and happy to explore. Especially for history buff twosomes (or ahem, big fans of The Crown), a United Kingdom honeymoon offers plenty to stimulate your senses.
Where to Stay: Since the 16th century, the St. James neighborhood of royalty with residences, city squares and luxe boutiques. You can feel like the new queen and kings you are when you stay at DUKES Hotel, giving you easy access to stroll through Mayfair, catching pretty views of Blue Bridge, all while dining at eateries on nearby Jermyn Street. When you're back to your suite, stop by the Great British Restaurant for a traditional English meal and ask your Beditalion Butler to make the reservation for you. Because why not? It is your honeymoon after all. Cheerio!
Fiji
Did you go small with your wedding so you could go big for your honeymoon? If so, treat yourself to one of the most beautiful destinations on the planet and one of the best honeymoon destinations in May, Fiji. Every which way you turn your attention, you'll marvel at the colors of the water, the crispness of the vegetation and the panoramic views that surely, take your breath away. As if you weren't already madly in love with your new spouse, you'll feel the same way about this island. Ideal for a couple who wants to spend some time in Australia or New Zealand and splurge on a few days in Fiji, work Fiji into your honeymoon itinerary so you can brag about it to your grandchildren one day.
Where to Stay: During the month of May, you can reap big rewards at one of the highest-rated honeymoon luxury properties. With their Romantic Escape Package, Jean-Michel Cousteau offers couples a six-night that only cost the price of four. It's an all-inclusive experience that features cocktails for two, private island picnics and lunches, sunset canapes, spa treatments and scuba diving excursions. All set in the calm Savusavu Bay, you'll feel like you're the only two, in well, the world.